KYOSHI'S CORNER: ATOP REM HILL AND BELOW MILESTONE BERMS
Daryl on the ready.
By Kyoshi Becker
Can you guess what track we were at on Thursday? Those of you who chose Milestone don't read this enough. Glen Helen is our weekly office day away from a "normal" office. Thursday's focus was all two-stokes, with the exception of a 2017 Kawasaki KX250F. Daryl Ecklund was back from Utah, but Dennis Stapleton went missing. Where was Stapo? He got the bug to show up to the Loretta Lynn's Amateur National Championship and race to 12th overall. That's a pretty good finish considering he was racing against 39 of the fastest over-25-year-olds. He placed ninth in the third moto, his highest position. Will that earn him a factory ride? I doubt it. You don't find the next Austin Forkner in the Over-25 class—just former ones.
Back to business. What were we doing with two-strokes? Obsessing over jetting, of course! Jetting is a painstaking thing to meddle with. The two-strokes are the last bastion of carburetors in motocross. Inside the carb are jets and a needle. There is an pilot jet, main jet, needle, clip positions and an air screw to tinker with. For accurate jetting to be achieved we have to be conscious on the quality of the oxygen outside. We take elevation and temperature into consideration when tuning the jetting. Why the fuss? KTM switched to 38mm Mikuni TMX carburetors for the 2017 models after using Keihin carbs for decades. We made some changes to the main jet on most of our 2017 KTM and Husky two-strokes, but focused most of our attention on the pilot jet. We used the air screw to determine if the pilot was too big or small and then changed to the appropriate brass. If you magnify all of the jetting issues by three bikes (KTM 125SX, KTM 150SX and Husqvarna TX300) we were busy little beavers on Thursday. Fortunately, we had Tom Moen, Andy Jefferson and David O'Connor to help get it right.
What were we doing with the Kawasaki KX250F? Pipe testing. FMF made a one-off freshie for the 2017 KX250F and we were eager to slip it on. The results weren't as positive as we liked, so we sent the pipe back to FMF for another try. Since the pipe is still in Beta mode it isn't being sold yet. The beauty of the FMF pipes is that they are made in SoCal, so FMF can quickly modify and improve the design before choosing what pipes they sell to the public. They are very hands-on, too.
With Dennis Stapleton in Tennessee, who was our test rider? Daryl Ecklund resumed his old position and had a lot of fun riding for the camera. The KTM two-strokes were ridden on the REM and USGP tracks. Travis Fant came along to shoot video. You'll see the fruits of his labor in a few days.
Daryl ripping the 125SX for the camera.
Daryl explained the minute difference between jetting settings to two guys who know their stuff—Scott Youngstrand (left) and David O'Connor (middle).
We used the REM track at Glen Helen some of the time, because it offered something different. The unprepped REM track was dry and hard, while the USGP track was ripped deep and wet. 
Pro Circuit's Bones Bacon tried to convince former Pro Circuit rider, and now KTM R&D specialist, Casey Lytle to go bass fishing. It didn't take much convincing since Casey already had the hat. 
When we weren't on the USGP track, we spun laps around REM, even finding one small section of loam. The rest of the track had the consistency of a graham cracker.
Jody Weisel logged every jetting and suspension change in his book of notes. He was too busy to take his sunglasses off, so he just hung them from his ears.
Polisport let us try out one of their new plastic lift stands. The base and top fold flat so that it doesn't take up much room in your truck.
SURFERCROSS IS UPON US
Surfercross is one of the only races where you will see Jeff Matiasevich (1) take on Jake Weimer (12).
Along with premiere events, motocross has many amateur and just-for-fun races to keep us occupied. Surfercross is one of the more unique events. Both industry and professional racers/surfers descend upon Milestone the week after the U.S. Open of Surfing to participate. Started by Jeremy Albrecht and Mark Parsons, Surfercross teams up a surfer with a motocrosser and they compete in both disciplines. The first day is run like a team race. The racer will ride a lap, slap the surfer, the surfer rides a lap, and the cycle of hitting continues. Whoever finishes 12 laps first wins the motocross portion. The following day the team goes out to Trail 6 in San Onofre to test their chops at surfing. The surfing is watched by three judges, and whichever team gets the combined highest score wins the surfing side of the event. For the overall victory, both the racing and surfing scores are combined, and the best score wins the event.
Broc Tickle alerts Nick Wey to a gnarly crash.
Ivan Tedesco came out to compete.
Passing the torch.

KTM test rider Mike Sleeter (orange) and Jye Townend (yellow) wished they were still at Milestone.
Kaipo Chung blew up the edge of the Milestone track.
Mark Gabriel and Sean Lipanovich.
Milestone had a few good corners to kick up roost.
Teammates await their turn. 
The winners got their moment in the spotlight. Sunny Garcia, holding the 3, always enjoys himself on a board or bike.
Battles broke out regardless of the rider's skill.
COOPER WEBB 2015 NATIONAL SEASON STATS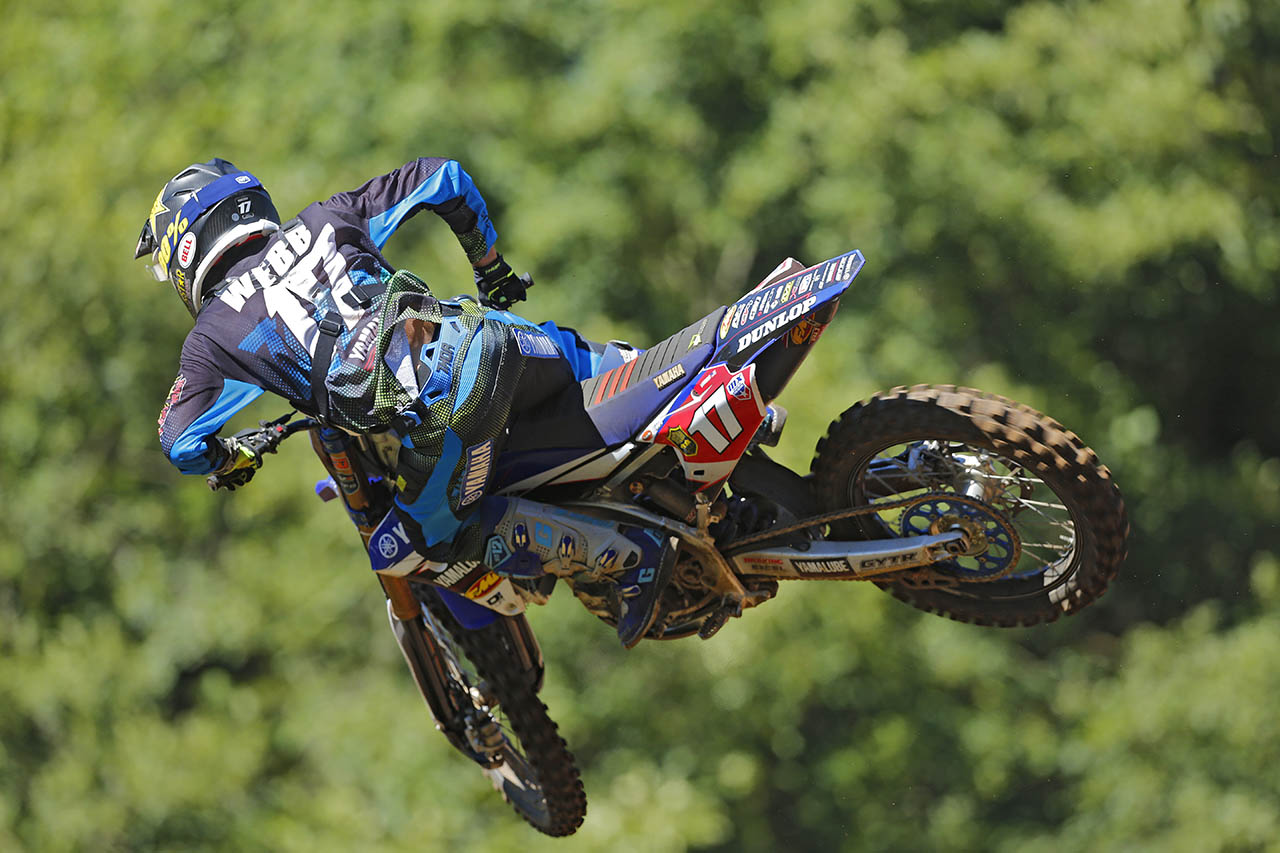 Cooper Webb is not  one of the silent actors in the sport. While that makes friends and enemies at the same time, Cooper's skill cannot be denied. Webb is a two-time 250 West Supercross Champion, but he has yet to earn an AMA National Championship. Last year, his title hopes were marred by a few torn ligaments and he missed about half of the season. Injury hasn't kept Cooper Webb completely down this season, as he was able to win the 2016 Supercross championship with a broken wrist. Things were less painful when the gate dropped at Hangtown for the first AMA 250 National. Webb not only raced the opener–he made the podium. In the middle of the 2016 season, Webb started to ride like a champion. With his wrist healed, he won a few rounds. Cooper seems poised to win the 250 crown before moving up to the 450 class in 2017.
COOPER WEBB'S 2015 STATS
Moto starts: 16 (He missed Glen Helen through High Point)
Moto wins: 3
Moto Podiums: 9
Overall Wins: 2
Overall Win Percentage: 8.3%
Overall Podium Percentage: 33.3% (four of 12 races, he had nine moto podiums)
Overall Points Earned: 246
COOPER WEBB'S 2016 STATS
Starts: 18
Moto wins: 6
Moto Podiums: 12
Overall Win Percentage: 25%
Overall Podium Percentage: 66% (12 of 18 motos)
Overall Points Earned: 372 (Leader)
MXA'S WEEKEND WINNERS
Tony Cairoli won is Switzerland, this time on a 450SXF, but it's probably too little too late to stop Tim Gajser.
AMA Nationals 450 Class: No Race. Series picks up at Unadilla Aug 13th.
AMA Nationals 250 Class: No Race. Series picks up at Unadilla Aug 13th.
MXGP 450 Grand Prix: Antonio Cairoli.
MX2 250 Grand Prix: Max Anstie.
Australian National 450: No Race. Series picks up at Toowoomba Aug 21st.
Australian National 250: No Race. Series picks up at Toowoomba Aug 21st.
Canadian 450 National: Kaven Benoit.
Canadian 250 National: Cole Thompson.
Maxxis British 450 National: No race. Next race August 21st at Preston Docks.
Maxxis British 250 National: No race. Next race August 21st at Preston Docks.
MXA CLASSIC AD: MARCH 1985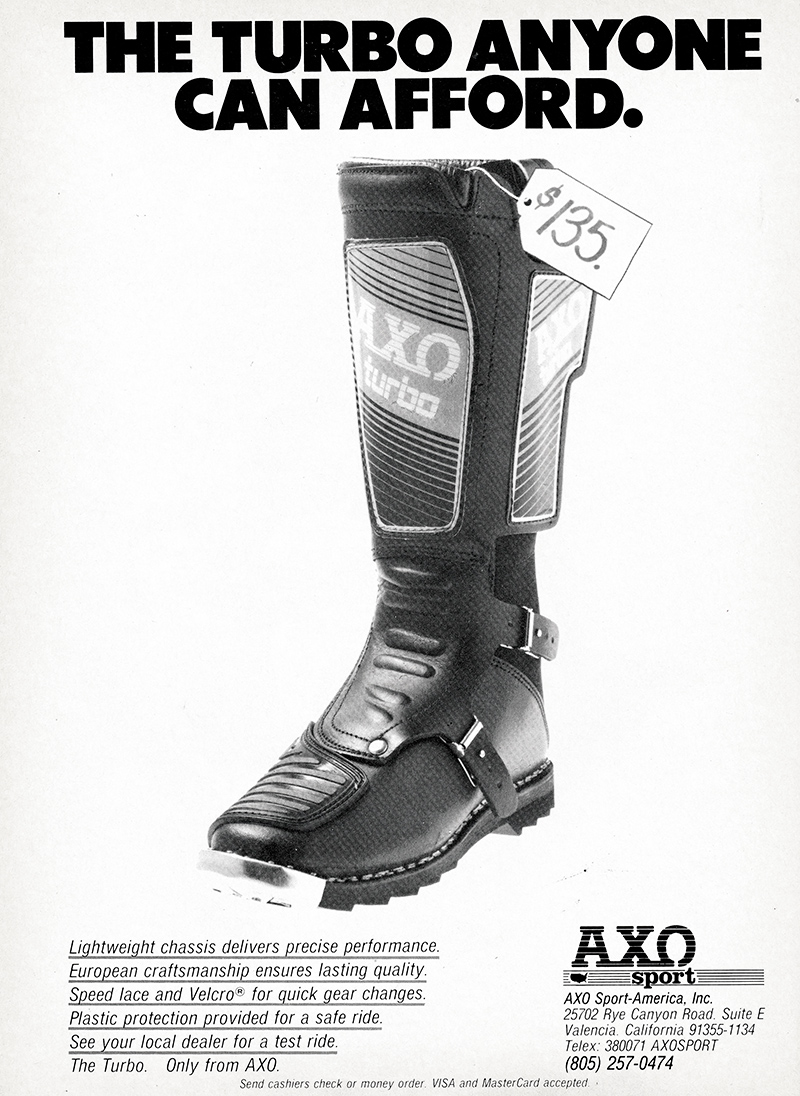 Speed Lace and Velcro? Sounds like something out of a "Back to the Future" film.  However, these AXO Turbo's cannot lace themselves.
AMATEUR SHOT OF THE WEEK
Chase Sexton racing the California Classic.
Chase Sexton was a successful Amateur up until Sunday. Now he's a rookie Pro who will line up for his first AMA National this weekend at Unadilla. Sexton was the toast of the 250 classes at Loretta's this past week. His performances earned him the Horizon award–given to the most promising Amateur prospect. It will be interesting to see how the Geico Honda rider does this weekend in New York.
PHOTOGRAPHIC RAMBLINGS
Jeff Matiasevich racing Surfercross.
Have I mentioned that dust can be a killer? Dust gets in lenses and often reduces the contrast of your images. If you can salvage the details in post-production, the dust can be a cool effect. In the above photo, I brought the contrast down after the photo was taken. The result is a warm feel that enhances the uniqueness of the photo.