KYOSHI'S CORNER: LIFE IN THE MXA TRENCHES
Click on images to enlarge
KYOSHI'S CORNER
Last week at MXA was dedicated to magazine production—a necessary evil that drastic cuts into our track time. With Jody, Daryl and Basher wrapping up stories for the upcoming magazine, all the focus was turned to editing. Editing a magazine is by no means an easy task (and is much more intensive than the throw-away world of internet editing). Once the copy is written, it has to be formatted, proofread and fit between the photos. On production week, the MXA wrecking crew becomes the MXA office nerd crew. Nobody is out testing bikes or even riding, for that matter. So, we didn't make our regular visit to "Pro Thursday" at Glen Helen this week, although we were rewarded with some great dirt on Saturday for the REM race. Not only were the conditions nice, but the new REM track was a blast for everyone who dared to ride it. The existing layout was discarded by linking up a number of sections to make multiple long fast sections. While the track was supposed to keep its middle curves and turns, all bets were off when REM regular Joe Sutter (Over-50) showed up with his Caterpiller. Jody, who only designs the AMA National, World Vet Championship, World Two-Stroke Championship and USGP tracks–but not REM–had been suggesting the same changes. Our fearless leader was pleased to see the longer straights and better use of elevation changes. Pictures below.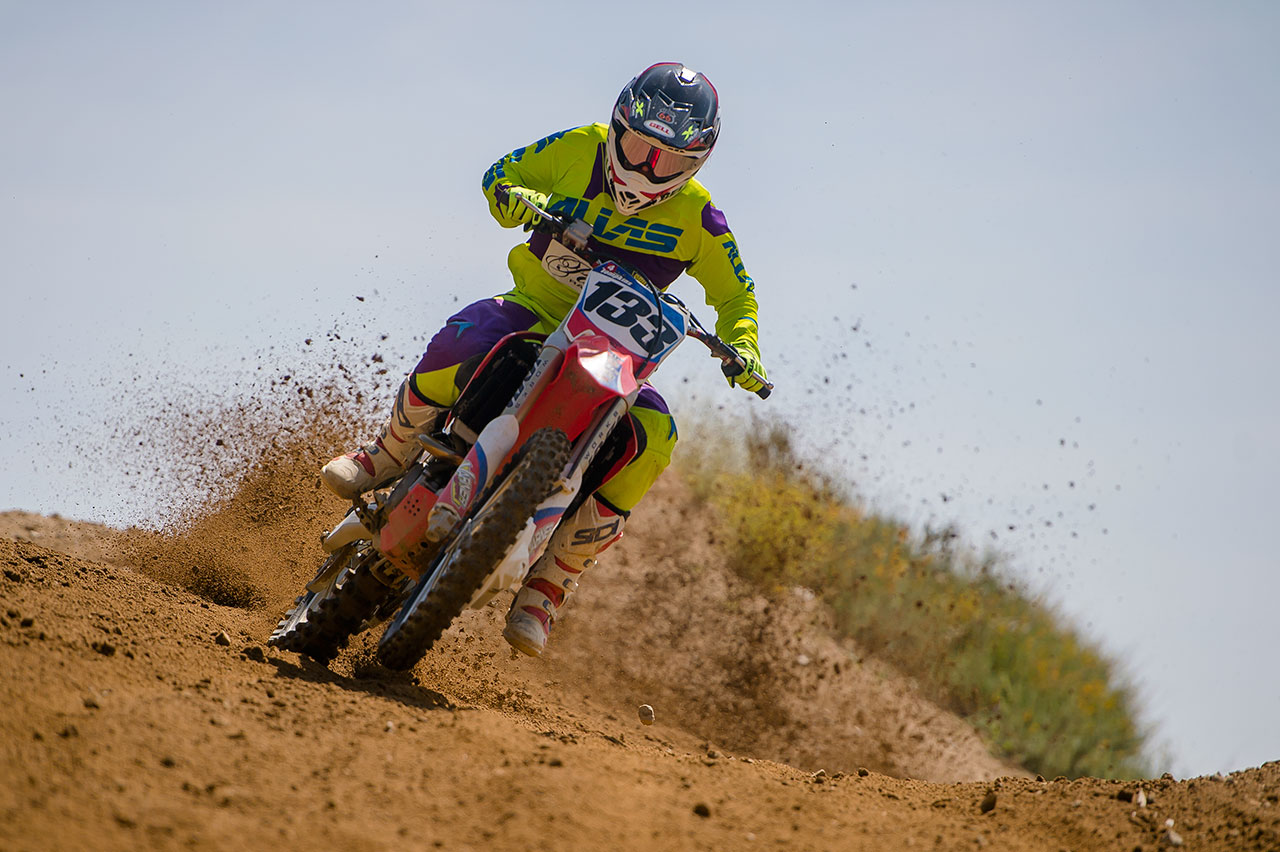 Cole Tompkins ripping up the second turn at REM.


Nicholas Ziegler grabbing some air and taking some dirt with him.

The Stingray, Michael Ray Craig, borrowed Jody's 2016 KTM 450SXF to race in the Over-40 Expert class.


 Luis Macias finished first overall in the 250 Novice class on a TM 85MX.
Two TM's at one race? At the same time? That's like finding two Unicorns drinking Appletinis at the same bar. Ralf Schmidt (28) won the Over-40 Expert class on MXA's TM 300MX project bike (although it belongs to Ralf, we just like to think we own it and are lending it to him). Ralf is the TM importer.

A desert rider doing motocross? Accomplished 250 class desert racer Dalton Shirley took his Husqvarna FC450 out for a race. 
"It is a fun track," said Jody Weisel, but we know he only said that because he beat arch rival Lars Larsson in the Over-65 Expert class. If Lars beat him, it would have been a different story.

Dennis Stapleton (184) raced MXA's project Pro Circuit Honda CRF250. Read about it in the June 2016 issue of MXA.
Oceanside's Rich Byrnes (518) was 6th in the Vet Novice class. 
THAT DARN RED CROSS FLAG
Different riding styles didn't keep either from committing to the jump.
Ryan Dungey and Jason Anderson: What do they have in common? Both currently train with Aldon Baker, both ride a European bike, and both have received a two-position penalty from the AMA for jumping in a Red Cross flag zone this season. While I do respect the AMA's decision to enforce the rules, (something they haven't done very well in the past), they do not take into consideration the lack of knowledge of the flaggers to properly warn the riders. At times it is hard for riders to see or react to a waving Red Cross flag. At any level (especially the top) a motocross racer commits to a jump well before he reaches it. Both Dungey (Detroit) and Anderson (San Diego) had already picked their lines coming off a turn and committed to the jump they were penalized for before noticing the flags. We understand the safety element of protecting a fallen rider and track personnel with the Red Cross flag, but if it's so important to the AMA, then they should step up and put more thought into flag placement. It's not good enough to display the flag, you have to show it where it will do some good.
There are two dynamics here. I suspect many, if not most of the flaggers for Supercross events do not race—if they did, they would know where the highest visibility spot for a flagger would be. Second, it is not enough to hold the flag or wave it daintily. A highly animated flagger is one who is doing his job properly. We have yet to see how this will play out for the last few races of the series. On the bright side, most AMA Nationals, especially the Glen Helen National, use hardcore motocross racers as flaggers to ensure the safety of the competitors on the field.
WEEKEND WINNERS

Jason Anderson crossed the finish in second, but the AMA ruled a jump by Ryan Dungey into a "no-double" zone was worthy of a two-position penalty. Photo: Brian Converse

Supercross 450: Jason Anderson (21).
Supercross 250: Malcom Stewart (50).
450 Grand Prix: No Race. Season will pick back up next weekend in Valkenswaard, Netherland.
250 Grand Prix: No Race. Season will pick back up next weekend in Valkenswaard, Netherlands.
Arenacross: No Race. Season will pick back up in two weeks in Ontario, CA.
Arenacross Lites: No Race. Season will pick back up next weekend in Ontario, CA.
British MX Championships 450: Tommy Searle
British MX Championships 250: Max Anstie
British MX Championships MXY2: Alexander Brown
MXA PRODUCT PHOTO OF THE WEEK
ICAN goggles: One can never have enough goggles, and we make no hesitation about getting hold of the latest stuff.
MXA CLASSIC AD | JANUARY 1993

Back before the days of digitally printed graphics, companies like Factory Effex would use screen-printing to produce vibrant colors and splashes. Check out this 1993 advertisement.

AMATEUR SHOT OF THE WEEK
Jake Hogan flying over the back tabletop at LACR.

Jake Hogan is no stranger to top-five finishes. This year he has been racing the Road To Mammoth and placed in the top 5 overall in all but the Open A class. As a frequenter to many of Southern California's premiere races, I look forward to seeing Jake growing into a premiere pro rider.
HOW IT WAS DONE IN THE GOOD OL' DAYS
Now, if I could remember the rider's name. This is at LACR.

Ah, the Speed Graphic. In 1934 it was the optimal camera for sports photography. It could be handheld and take quick photographs of non-stationary subjects. By the time motocross became a significant sport the Speed Graphic had long become obsolete along with other legendary film cameras that used roll film. Speed Graphic cameras are sheet film cameras requiring a new sheet of film to be loaded after every frame. See that notch on the right hand side? I didn't mention that I had to load the film into the holders, did I? That notch is so you can figure out what side is the exposure/emulsion side of the film, as these sheets are loaded in pure blackness. Quite an alien process today with digital cameras that crank out photographs like an auctioneer spits out numbers. The Speed Graphic does have a special place in my camera bag. The unique nature of the process allows me to slow down and enjoy the process as well as the race.
Photographer: Kyoshi Becker
Camera: 1934 Miniature Speed Graphic
Lens: 101 f/4.5 Optar (with an Etkar shutter)
Exposure: 1/400
F-Stop: 5.6
ISO: 100
Film: Arista 100 3 1/4 x 2 1/4