KYOSHI'S CORNER: LIFE IN THE MXA TRENCHES
Click on images to enlarge
KYOSHI'S CORNER
Dennis Stapleton on a tricked-out 2007 Kawasaki KX250.
Two-strokes, helmets and a little bit of liquid courage made for an interesting week. Production just started on the July issue of the magazine — meaning new bikes, products to test and Glen Helen on Thursday. On my way to Glen Helen last week where the I-215 and I-15 split there was a new traffic pattern where they opened up a new ramp. I mistakenly overlooked the correct lane, putting me on a path to the Mall rather than to the track. What can I say, I was late to work. While Daryl had already started shooting the 2007 KX250 and the 2016 KX250F project bikes without me, I took a peek at Jody's newest creation, the World Two-Stroke Championship track he designed. For the first time in years the track was going in the opposite direction. It was a bit weird to see riders go the backwards down Mt. Saint Helen. Initially, I thought the iconic Talladega first turn was excluded from the layout, but upon further inspection it was used for the start and start only. Even stranger when I asked about the possibility of going backwards for the May 28th AMA Nationals, Jody said that this was a one-race-only layout and that the National and USGP would be going the other way.
MXA had six bikes at the World Two-Stroke Championship, and, of course, they were ridden by many more than six riders. Virtually every bike was stock, unless the stock pipe had been smashed earlier in the year. Our test bikes ran on VP Racing T2 fuel, which has two-stroke oil mixed in already to make life easy. Good octane and no mixing makes for foolproof performance. We didn't have any bike failures on Saturday, however, we didn't win any classes either, although Braden O'Neal did score a solid second in the 125 Intermediates and the rest of the gang rolled out of the track as healthy as they rolled in. That's a good day.
Last Thursday attracted all sorts of riders to Glen Helen. Supercross stars Jason Anderson and Ken Roczen were testing their bike setups for the AMA 450 National series, while classic racers like Doug Dubach and Mike Brown were prepping to race the Two-Stroke Worlds. Our video guy, Travis Fant was back from his East coast travels and shot videos of our two project bikes—a 2007 KX250 that was infamous for its horrible turning ability and light-switch engine.We took the challenge of making it into something worth putting between our legs. The second project bike was a Hot Cams Kawasaki KX250F—and we had Arik Swan come down from up north to help us with the riding.
Travis makes sure the bike looks optimal for video by giving it some added rays.


Daryl catches up with motocross legend Doug Dubach in between sneezes.

Ken Roczen testing his AMA National bike setup.


"Just hit it in fifth gear pinned. You'll make it. I'll watch from here."

Arik Swan lays our project Hot Cams KX250F down for the camera.
SMOKING IS ALLOWED TODAY
Holeshots don't just happen, they have to be planned. Mike Alessi ponders which gate to pick.

As long as it has two strokes, we're racing! Once four-strokes became the staple of professional racing, there was no need for the original World Four-Stroke Championships—that had run since the 1970s (when only the diehards cared about four-strokes). That is where the World Two-Stroke Championship came into play—it replaced the thumpers on the calendar. The World Two-Stroke Championship is a gumbo of all things that smoke and go braapp. From Pro's to Pee-Wees — if you brought it, you could race it. Two-strokes are the heritage of motocross and many riders still love the classic way of riding. 2001 AMA 125cc Champion and current Endurocross racer Mike Brown came to race on his 2016 Husqvarna TC125. Motocross and Supercross staple Mike Alessi didn't pass up the opportunity to bring out his all-white Suzuki RM250 out on the only off-weekend in the Supercross schedule. Zach Osborne, Doug Dubach, Sean Collier, Austin Howell, Ryan Surratt, Mike Sleeter, Timmy Weigand, Justin Hoeft, Johnny Jelderda and Dennis Stapleton all came to Saturday's festivities.
One of the more pleasant aspects of the World Two-Stroke Championship is how uncommercialized it has remained. While Supercross is bought and paid for by energy drinks and the AMA Nationals remain a happy medium, the World Two-Stroke Championship is an event for the riders—sponsored by MTA and L.A. Sleeve who still believe in smokers. Thank you guys. The spectators got a good show and the focus was on the racing. While the Open Pro race was dominated by Mike Alessi, his borrowed RM125 died on him in the first few laps of the 125 Pro class. He might have swept both Pro races, but Alessi's departure from the 125 class opened the door for Ryan Surratt, son of former AMA 125 West Champion Wild Willy Surratt, to become the man to beat. He won both motos. The World Two-Stroke Championship was a great race to watch and I look forward to it next year.
Timmy Weigand is no newbie to the 125cc class. He raced 125's professionally from 2003-2005.
John Voegtli races an all-time classic, the Honda CR500.
Zach Osbourne put up a good fight in the second moto.

Sean Collier brings out his legendary KX500 for the annual festivities.
CRASH LIDS
The crew from left to right: Cole Seeley, Jesse Nelson, Shane McElrath, Mitch Oldenburg, Alexander Frye, Justin Hill, Taylor Roberts and Ivan Ramirez.

Troy Lee has been developing his new helmet, the SE4, for some time now. It is lighter and full of new features. Last Thursday we got to dig into the meat and bones of the SE4 as the Troy Lee's team laid out the new features. While MXA test crew has yet to test the SE4, but the feel and look is impressive. What particularity stood out was the weight of the helmet. We can't wait to get our hands on one.
WEEKEND WINNERS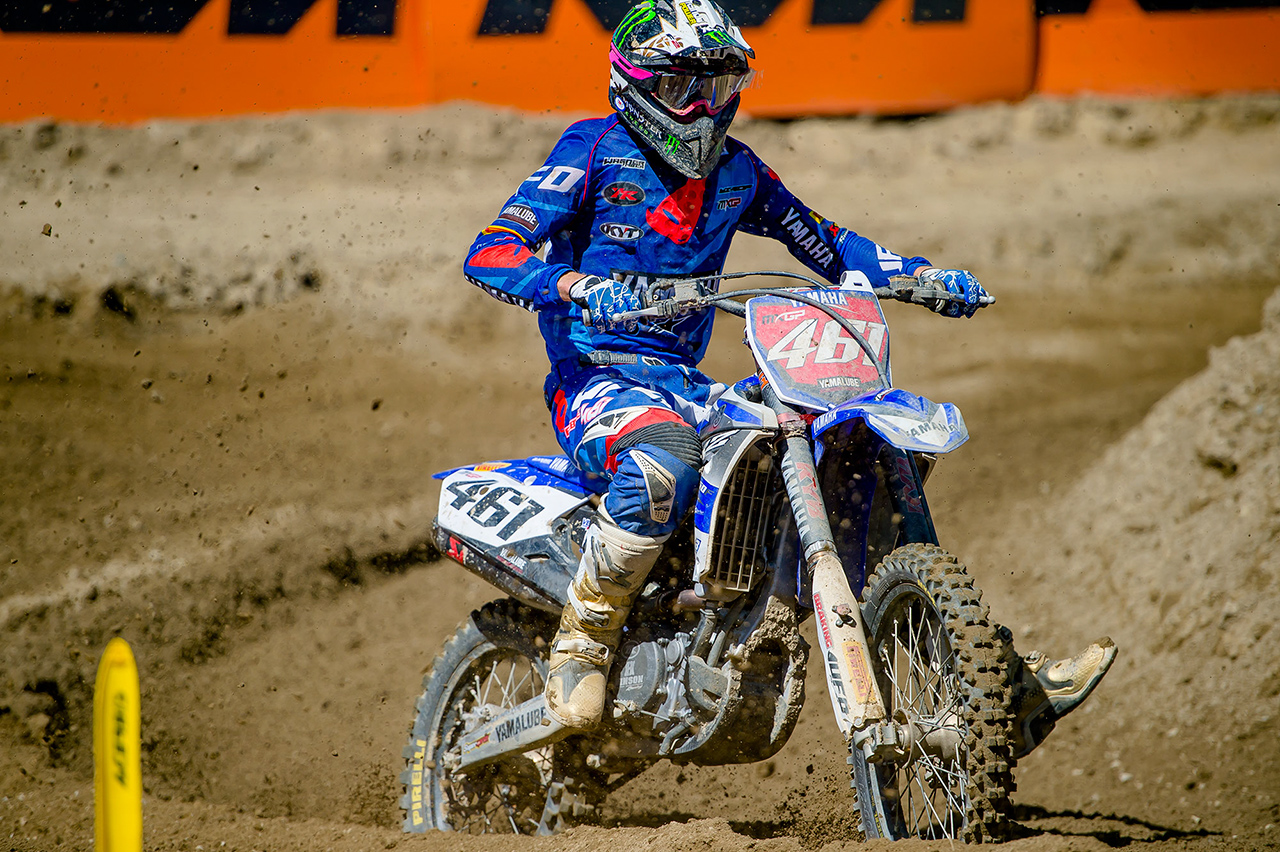 Romain Febvre continues to defend his championship.

Supercross 450: No Race. Season will pick back up next weekend in Santa Clara.
Supercross 250: No Race. Season will pick back up next weekend in Santa Clara.
450 Grand Prix: Romain Febvre
250 Grand Prix: Jeffery Herlings
Arenacross: No Race. Season will pick back up next weekend in Ontario, CA.
Arenacross Lites: No Race. Season will pick back up next weekend in Ontario, CA.
British MX Championships All: No Race. Season will pick back up next Month in Canada Heights, Swanley, Kent.
Two-Stroke National Pro Open: Mike Alessi.
Two-Stroke National 125cc: Ryan Susratt.
MXA PRODUCT PHOTO OF THE WEEK
Not in the studio eh? Other than your stereotypical bull-rider, no men love their boots more than motocrossers. At MXA we are always out to test more boots. These are the Sidi Crossfire 2 boots.

MXA CLASSIC AD | JANUARY 1993
Black and white Xeroxable ads were once a staple of magazine advertising. EVS knee braces alleviated the ailment of sidecar monkey knee bumping.
AMATEUR SHOT OF THE WEEK
Ryder DiFrancesco sweeping a local race back in his Cobra days.

Few motocross riders are instantly recognizable by the age of 10 without an introduction. So is not the case with the now Team Kawasaki amateur racer Ryder DiFrancesco. In 2015 Ryder earned 9 national championships. Out of 39 AMA sanctioned races he won 24 of them. That is a 61.5% win percentage, not including the non-AMA races he has competed in. A lot has happened for Ryder since the above photo was taken back in 2014 and we look forward to seeing his career explode.
HOW IT WAS DONE IN THE GOOD OL' DAYS

The curse of scanning in the early 2000's. The images are small by today's standards.

I love to get my hands wet in a darkroom, the smells, the feel, the meditative process. While I still shoot film on a regular basis, it is rare for me to print my work in a darkroom given the space it consumes. To be creative in the darkroom requires a different mindset. It is similar to how your positioning and body movement changes when you jump from a two-stroke to a four-stroke. Certain things are more difficult, where-as others can be much easier. The look of the above photo is a result of splashing developer on already exposed paper.
Photographer: Kyoshi Becker
Camera: Nikon N8008
Lens: 80-200mm f/2.8
Exposure: 1/1000
F-Stop: 4.5
ISO: 125
Film: ILFORD fp4