KYOSHI'S CORNER: LIFE IN THE MXA TRENCHES

Click on images to enlarge
KYOSHI'S CORNER
Tye Hames chillin' on the back of Daryl Ecklund's pickup before he rips around on the one-off BBR TTR150.

By Kyoshi Becker
Southern California is littered with dirt bike tracks. Many of them you will never know about. Along with professional staples like Glen Helen and Milestone, there are offroad riding areas and tracks naturally built out in the middle of nowhere. Instead of doing the normal MXA thing last week by heading out to Glen Helen, we figured a change of scenery was needed. We had our hands on something Yamaha should have developed a long time ago (and actually did have prototypes of back when the Honda CRF150 was introduced). Instead, BBR Motorsports did it for them. It is a built from the ground up BBR Factory Edition Yamaha TTR150. We took the one-off bike to a hidden track out in the unincorporated part of Los Angeles county. Often "wild" tracks succumb to weeds and washouts. Our managing editor Daryl Ecklund is quite familiar with these hidden gems and led us to one of the best hidden, and roughest sand tracks in Southern California. Sand tracks are hard on engines, but great for photos. Tye Hames was the lucky MXA guy who was assigned for photo riding.
BBR Motorsports went to town with their TTR150. Starting with a TTR125 engine that was modified to the tilt, they fabricated a frame from the ground up, vacuum formed fresh plastics and made just about every another part from scratch. It is the ultimate pit bike that money can't by. That's right, you can't buy most of the parts off this bike unless you want to make them yourself. It is the ultimate pit bike that has a chassis built for a National caliber Supermini engine.
The BBR TTR150 in all its glory.  
We aren't called the MXA wrecking crew without reason. Tye takes a soil sample.
Sand for days.
Tye sliding through a sand corner.
After dumping it the first time, Tye uses his get-out strategy this time.
Onto the next location.


Tye made jumps out of the huge sand whoops.


We stumbled across this corner just before the sun set.
A DAY AT MILESTONE
James Stewart putting in laps.
Many Supercross pros hit the local tracks last week. While much of the 250 West took advantage of the tacky dirt at Glen Helen on Thursday (a result of rain), a handful of 450 pros went to Milestone MX on Tuesday. Yoshimura Suzuki riders, James Stewart and Blake Baggett were testing for outdoors. JGR Yamaha riders Weston Peick and Phil Nicoletti were doing corner drills and working on riding technique.
It's no secret James Stewart's Supercross season has been subpar. From a concussion, to a back injury, he has yet to complete a main event in 2016. Santa Clara was the first race James looked healthy at in quite a while. Testing his Suzuki on the main track at Milestone, James exhibited flair that you don't see from many riders and is still one of the most enjoyable racers to watch.
Phil Nicoletti is back on the bike after sustaining a knee injury in Atlanta. He was injured in a three-way crash between him, Andrew Short and Wil Hahn.
Weston Peick jumps the table in the back. The industrial building in the background is a sure sign you're at Milestone MX.
James Stewart corners.
Phil Nicoletti.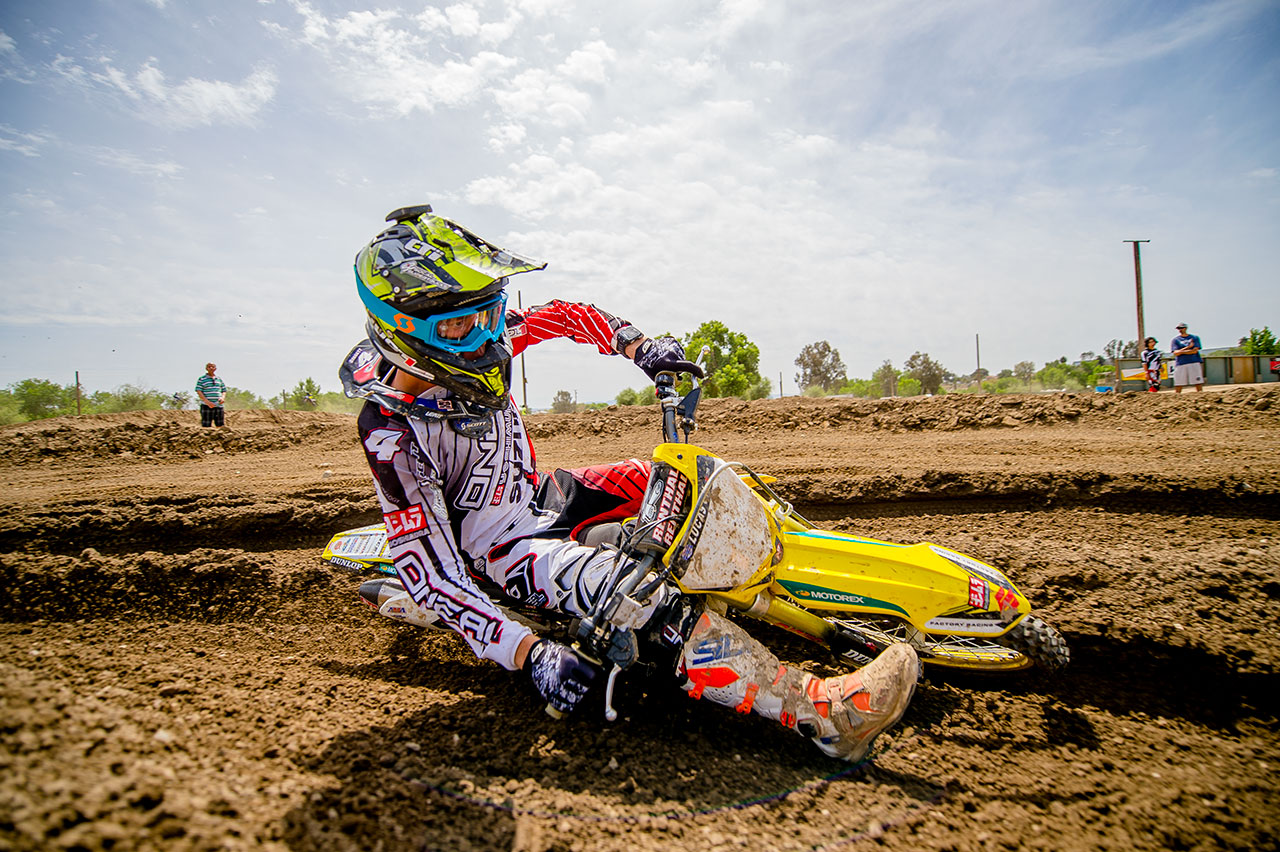 Blake Baggett.
WEEKEND WINNERS

Dungey had to work hard for the win in Indy.
Supercross 450: Ryan Dungey.
Supercross 250: Aaron Plessinger.
450 Grand Prix: Tim Gajser.
250 Grand Prix: Jeffery Herlings.
Arenacross: Ben Lamay.
Arenacross Lites: Jared Lesher.
Australian National 450:  No Race. Series to pick up April 17 at Appin Australia.
Australian National 250: No Race. Series to pick up April 17 at Appin  Australia.
California Classic 450 Pro: Bradley Taft.
California Classic 450 Open Pro Sport: Chase Sexton.
California Classic 250 Pro : Chase Sexton.
California Classic FMF 2 Stroke Challenge: Tristian Miller.
MXA PRODUCT SPOTLIGHT
The Golden Tyre GT216 HB is a 80/100-21 front tire. Its special V shaped tread pattern gives excellent cornering precision. Its lightweight, flexible carcass with reinforced shoulder knobs guarantees a large contact surface and good shock absorption against minor impact on uneven terrain. It has been developed for use in soft terrain conditions ranging from sandy to mid hard terrain.
MXA CLASSIC AD | MAY 1976

Silly gardeners, these trucks are for dirt bikes. Back in the day, truck manufacturers like Toyota chased the motocross crowd by advertising in MXA. It should be noted that 85% of MXa readers own a pickup truck.

AMATEUR SHOT OF THE WEEK
Jett Reynolds holeshots at this weekend's California Classic.

Jett Reynolds is an eleven year old that hails from the dusty town of Bakersfield. While he hasn't reached the fame of his teammate, Ryder Difrancesco, Jett is well regarded for his accomplishments. Along with six Loretta championships since 2011, Jett won a championship in the 85cc (9-11) class at both the California Classic and James Stewart Freestone Challenge this year. Out of up and coming kids to watch, Jett is one of the best. Below is a picture of his win yesterday.
HOW IT WAS DONE IN THE GOOD OL' DAYS
Tabletops.

Slide film was a staple of editorial photography. The ability to instantly see a photograph as a positive image and load it into a projector saved time and made it easier for editors to visualize the photographs they would run in a story. The downside was cost. Slide (or E6) as a process was far more expensive than negative color print film. For most average folks the cost didn't justify shooting slides because you would receive prints from your photo processor and not even see the negatives. What is a negative you ask? It is an image whose colors are reversed. White shows up as black, blue as orange, red as teal. It is the result of light burning into the silver hallides on the film to make the image.
Photographer: Kyoshi Becker
Camera: Nikon N8008
Lens: 80-200mm F/2.8