KYOSHI'S CORNER: LIFE IN THE MXA TRENCHES
Into thin air–Thunder Valley National in Lakewood, Colorado.
Lakewood, Colorado, is known for its high elevation. Located over 5500 feet above sea level, the environment is alien to someone who has only ridden in Southern California. I don't recall Thunder Valley being this green over the last few years, but luckily it evaded the massive heat wave that blasted Arizona and Nevada on race weekend. Forget heat though, as the thin air wreaks havoc on bike performance and tests the physical capabilities of America's fastest racers. Fortunately, the low oxygen levels didn't keep the racing elite from putting on a great show. Ken Roczen is on another level. While Roczen's confidence is at an all-time high, Colorado native Eli Tomac was noticeably agitated. The frustration was put to good use in the second moto, where after another bad start, Tomac rode at an almost possessed level. Even Ryan Dungey couldn't come close to the pace of Tomac in the second moto after being hampered by an early moto crash. Dungey was only able to get up to fourth position late in the race but as we later found out he got to fourth on a fractured vertebrae. Both Trey Canard and Cole Seely got their first moto podiums of the young National series, but still no overall. With Dungey out the next six-eight weeks it will be interesting to see if Trey Canard, Jason Anderson or Cole Seely can fill the third spot once occupied by Tomac or even move up higher.
While a long drive, the trip from California to Colorado was a fun time. It was sweet to see a copy of MXA in a small gas station magazine rack up in the Rockies. I also regrettably learned to pay attention to the octane in other states. 85 octane gasoline turns my V6 Camry into a 1965 Ford Galaxie with 12 chubby kids inside. I have never consumed so much Red Bull in my life, but liquid energy comes at a premium during 1000 mile drives. For those not familiar with the Southwest, it is essentially a giant construction zone in the middle of a desert. Speaking of the desert, I may just make it a road trip next year and bring along some motorcycles. There are some great places to ride in Utah and Colorado.
Karcher has now teamed up with Troy Lee Designs KTM as a sponsor. They were showcasing their power washers at Lakewood.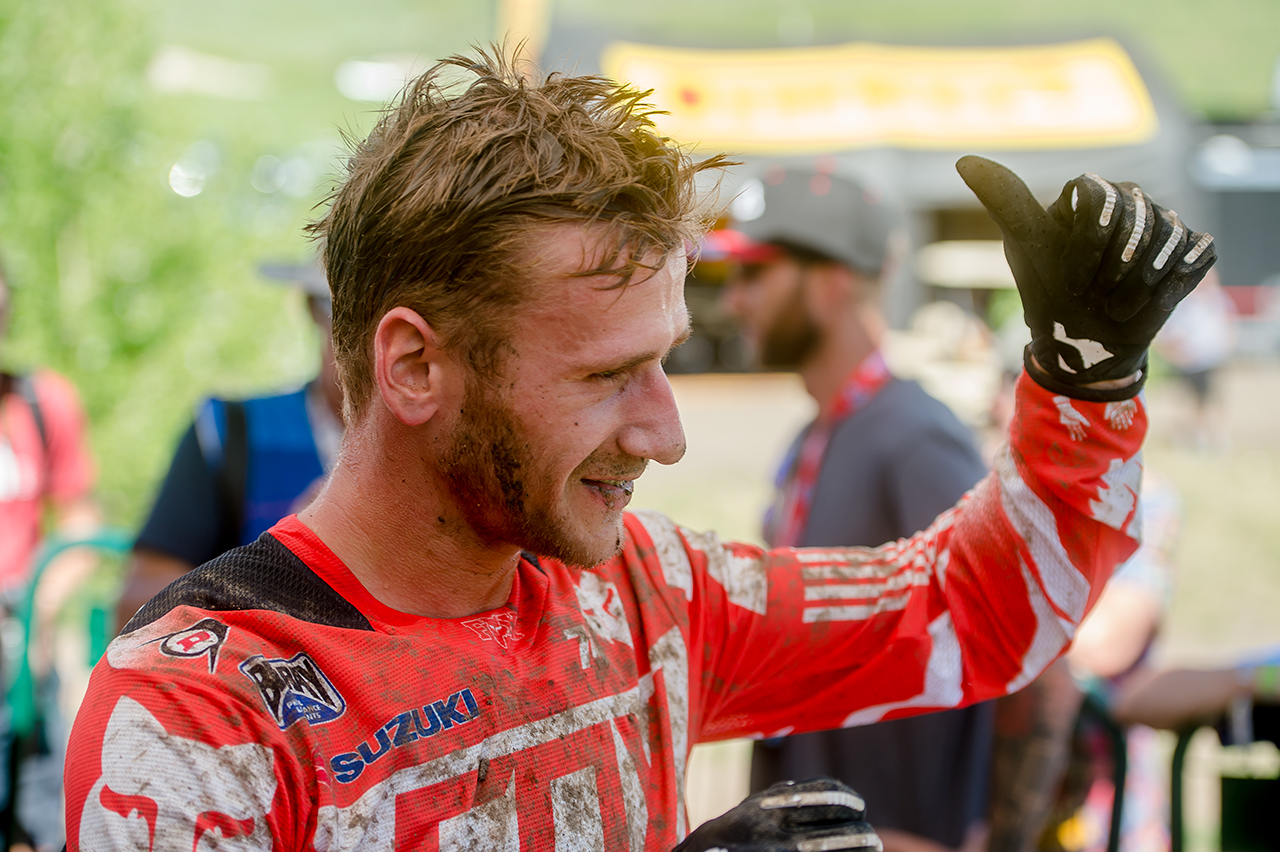 Ken Roczen was muddy after the motos, but the Thunder Valley dirt shower didn't put a damper on the overall winner.
Gared Steinke is back in his moto home. He went to Glen Helen in a pickup after the "Stankvan" broke down last week.
It's a bummer Jessy Nelson got injured in the second moto. While he wasn't in a podium position in Colrado, the California native is a great rider and had been improving as the season was taking off.


John Perry (left) was sporting his new MXA Air force shirt, while 1981 Motocross des Nations winner Chuck Sun missed the memo.
Brent Duffe points out a banner ad being towed behind an airplane to Justin Brayton.
Zach Osborne had a premium viewing spot to watch the 450 race. He probably spotted a good line or two from up there.
Bones Bacon tries to thumb a ride to the nearest stream and throw in a line. Boss Mitch Payton wasn't having it. 
TWO-STROKE WEDNESDAY?
Glen Helen had a line of 2017 250SX's that went on for days.
KTM knows two-strokes are still a big thing. For 2017 they have finally updated the 250SX model (the 125Sx and 150Sx got the revamp in 2016). While the 2017 KTM 125's and 150's had trouble getting through customs and were still in route, MXA got to pick up our test KTM 250SX (and spend a day at Glen Helen with everyone from Tom Moen to Casey Lytle to Roger DeCoster). The bike features a whole host of features and tweaks. Many parts are lighter, the frame is now based on the 450SXF, the pipe features a better welds and seams and the engine is completely redesigned.
Once we left Glen Helen, we got down to the business of serious testing. While I was in Colorado and Jody was racing at Glen Helen, Daryl Ecklund got in plenty of additional testing. Having had the bike less than a week we have already made jetting changes, tested different gearing and worked our way through the myriad of air pressures—and we noticed some key improvements. While the 2016 250SX wasn't exactly like riding a jackhammer, the engine vibration in the 2017 model was noticeably cut down thanks to a counterbalancer in the cases. Also, the WP AER forks may be the new king of KTM forks (it will take a little more testing to confirm that). As with many of their other bikes, the 250SX shows that KTM is receptive to their customers and to "industry experts," as they constantly produce newer models.
For those who think the two-stroke is dead—the 250SX engine is KTM largest selling engine type world-wide. Next in line in their 350SXF.
Dennis Stapleton takes the 2017 250SX for a spin.
And the 250SX takes Dennis for a spin.

Jody hashes out the details of the 2017 KTM 250SX with KTM's Casey Lytle. They would talk for a few minutes, then walk over and look at some tiny detail, then sit back down and talk some more, then walk over and repeat the process.


Dennis Stapleton flying over the hip jump in the back.
If there were questions that couldn't be answer, they would bring in a Pro from Dover, well actually, David O'Connor (right). It should be noted that as an Irishman, David does not want to be associated with Dover, England.
KTM's Tom Moen handled the tech briefing with his usual aplomb—before Jody tracked him down for even more questions. MXA is nothing if not persistent.

Someone had to get the honor of taking the 2017 KTM 250SX over its first jump. When we asked Dennis Stapleton to be the first, he thought we meant by riding it. Instead, we had him push the bike off the first jump once we were down shooting static photos.
The 2017 KTM 250SX in all its glory.

Glen Helen's Museum was the site of the KTM press intro for the 250SX. It's a cool place. Four days earlier Torsten Hallman was signing autographs here.

Roger DeCoster (left) and Jody (right) go back to the good old days, and even to the days when Roger worked at the magazine (between his Team Honda and Team Suzuki team manager gigs). Here, they discuss something that required a lot of hand gestures
Daryl Ecklund does a low-level fly-by.
Dennis blows up a Glen Helen berm.
ELI TOMAC 2015 NATIONAL SEASON STATS
Eli Tomac.
Eli Tomac started the 2015 National season as the rider to catch. The five motos he finished last year, he won. After sustaining shoulder injuries in front of his home crowd in Colorado, Tomac missed the rest of the 2015 season (click here to read the interview with Eli). He signed with Monster Energy Kawasaki for 2016, but was unable to start riding until late in 2015. His time off the bike was very apparent in the 2016 Supercross season. After starting the year off slowly, it took Tomac the majority of the series to dial in the bike. His one big highlight was at Daytona, where he won going away. Daytona is the closest a Supercross track gets to an outdoor environment, and he dominated. Three weeks into the 2016 National series Tomac has yet to match his impeccable speed of last year. Visibly frustrated, Tomac hasn't made any effort to hide his irritation with his results. Three weeks in a row he has had to settle for a third place overall finish. Hangtown was a 4-4, Glen Helen 3-3 and Thunder Valley 5-2. While the situation still has time to be corrected, Tomac is 29 points down from leader Ken Roczen, and he hasn't shown the speed of Roczen consistently (then again, who has?). That being said, Tomac's performance at the second moto showed he could keep pace with Roczen if he could just get a good start.
ELI TOMAC 2015 STATS
Starts: 6
Overall Podiums: 2
Moto Podiums: 5
Overall Wins: 2
Overall Win Percentage: 66%
Overall Podium Percentage: 66%
Overall Consecutive Podiums: 2
Overall Points Earned: 125
WEEKEND WINNERS
Was this an attempted Nac Nac or just a mysterious case of leg swag?

AMA Nationals 450 Class: Ken Roczen.
AMA Nationals 250 Class: Joey Savatgy.
450 Grand Prix: Romain Febvre.
250 Grand Prix: Jeffrey Herlings.
Australian National 450: No race until July 3rd.
Australian National 250: No race until July 3rd.
Canadian 450 National: Davi Millsaps.
Canadian 250 National: Shawn Maffenbeier.
Maxxis British 450 National: No Race. Series to pick up in Desertmartin, Northern Ireland June 12th.
Maxxis British 250 National: No Race. Series to pick up in Desertmartin, Northern Ireland June 12th.
THUNDER VALLEY RACEDAY CONDENSED NEWS
WINS AND FAILS
Ken Roczen didn't just get 1-1, he dominated.
Ryan Dungey crashed in the second moto. We would later find out he fractured a vertebrae which puts him out for six weeks minimum.
Eli Tomac came back from a terrible start in the second moto to get second place.
Thunder Valley is the first time Honda has had riders on the podium in the 2016 National season.
Josh Grant beat Eli Tomac in the first moto.
Joey Savatgy got the red plate back. He almost had a 1-1 sweep, but after passing leader Jeremy Martin, he crashed and had to settle for a second in the first moto.
Jessy Nelson had to be walked of the track after a painful crash.
THAT'S GNARLY
Aaron Plessinger crashed into teammate Alex Martin during the first lap of the first moto. Martin had the majority of riders pass him while he tried to start his bike. He was able to come back to eighth place and get third overall.
MXA CLASSIC AD | MARCH 1985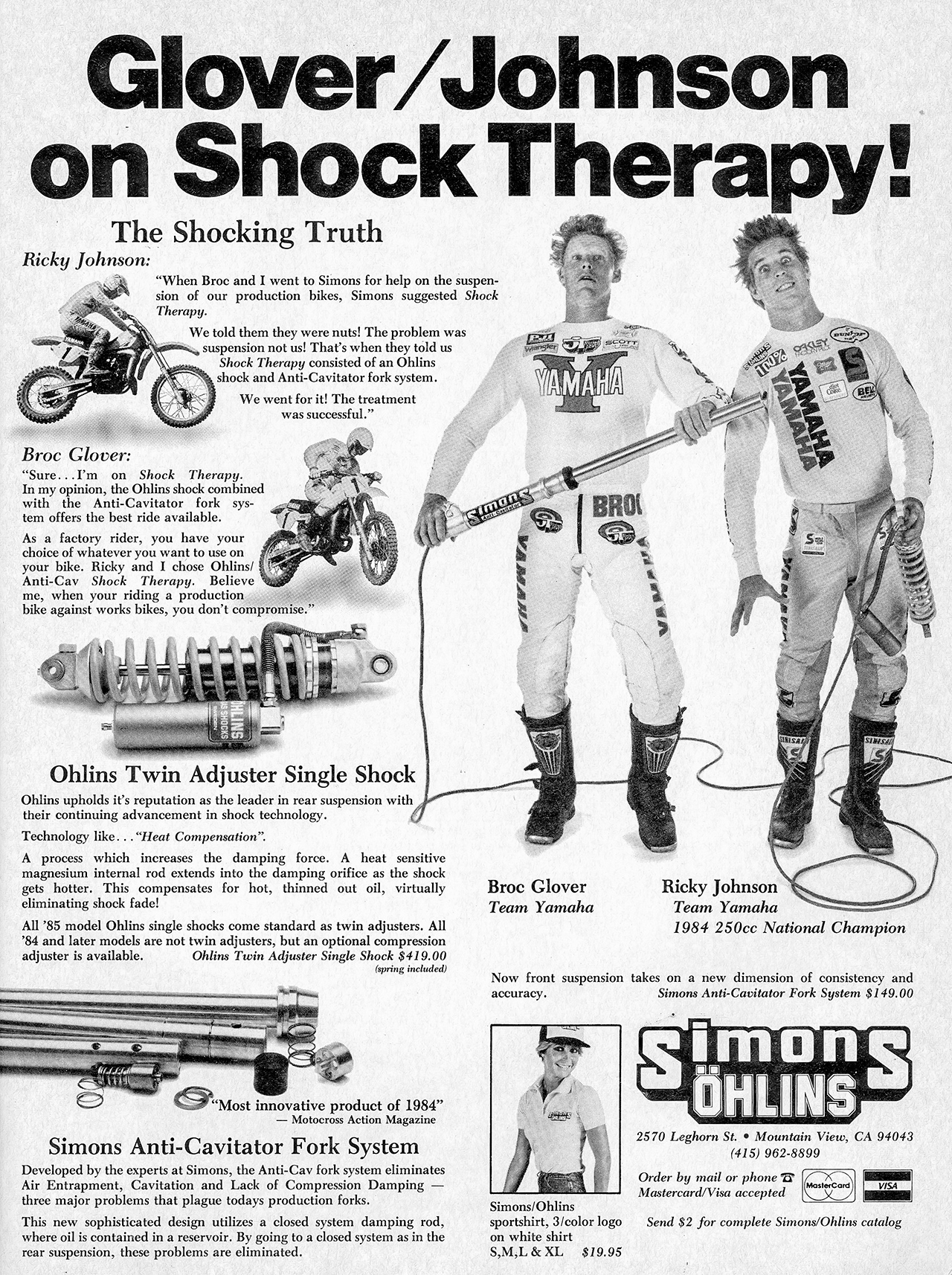 Are your forks in need of some adjustment? Simons Ohlins has some mods for you to order.

AMATEUR SHOT OF THE WEEK
Eric Burdell.
Eric Burdell is an up and coming motocross/desert racer. He also has done some of the smaller bike testing and photo shoot riding for MXA. Bouncing between the two disciplines may help Burdell turn out to be a very agile rider.
PHOTOGRAPHIC RAMBLINGS
Thunder Valley's Hollywood sign.

One of the hardest aspects of photography is telling a story. A photo of Ken Roczen can be cool, but without context, it could be any photo of Roczen anywhere racing anything. Some details are obvious, like him having the red plate on his Suzuki and wearing 2016 gear, but other details have to be chosen by the photographer. At every race I look for angles that will tell you as much as possible about the race–where it is and what is going on there. The above photo may not be the most technically perfect, but it has many of the elements needed. The Thunder Valley sign above the jump, the red plate, the green grass…all good elements. While this photo doesn't tell you everything, the elements tell you where and when this was taken. Roczen didn't have the red plate in 2015 and he wasn't on a Suzuki in 2014.