KYOSHI'S CORNER: LIFE IN THE MXA TRENCHES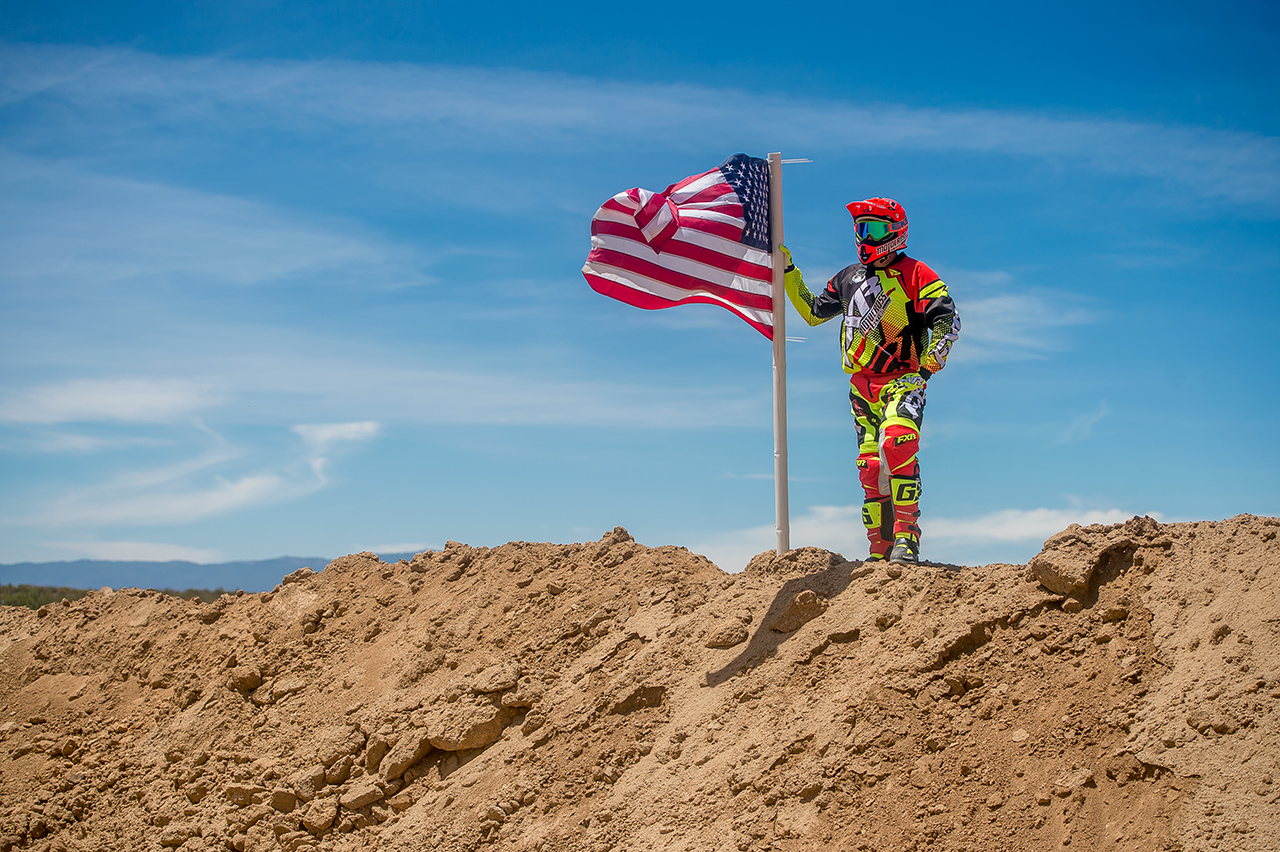 Dennis Stapleton lands his spaceship on a not so foreign planet and plants one for his home country.
By Kyoshi Becker
I was not back from Lakewood for more than 24 hours when I had to be in Huntington Beach for the 2017 Yamaha new model introduction. This whole past week has been occupied with 2017 bike releases. Yamaha, Husqvarna and Kawasaki all had something to show off. Husqvarna was quick to get their two-strokes out after their parent company, KTM, did the week before. Two of the Husky's that caught our fancy were the TC250 and the TX300 two-strokes. Both bikes are fairly similar, although they were built for different purposes. The TC250 motocross bike features new motor mounts, as well as a redesigned engine, frame, WP AER air forks and a whole host of other tweaks. The long-awaited Husqvarna TX300 offroad model not only featured the updates found in the TC250, but a larger gas tank, hand guards, a kickstand and a few other tweaks for desert riding. Last Tuesday, the MXA wrecking crew got to try these changes at Cahuilla Creek.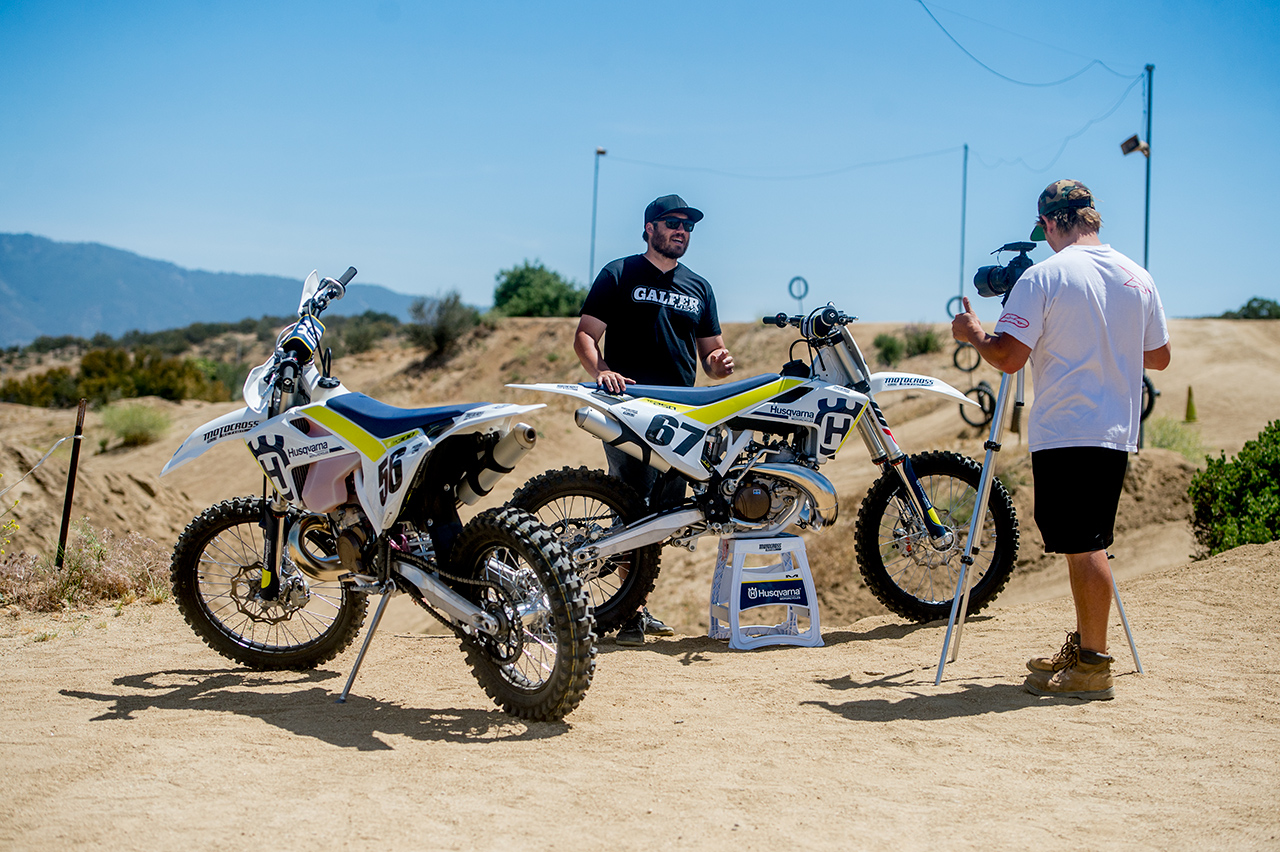 Travis (behind the camera) shoots the intro with Daryl Ecklund to the 2017 Husqvarna TC250 and TX300.
Dennis Stapleton was ready to provide some rip-roaring action for our cameras.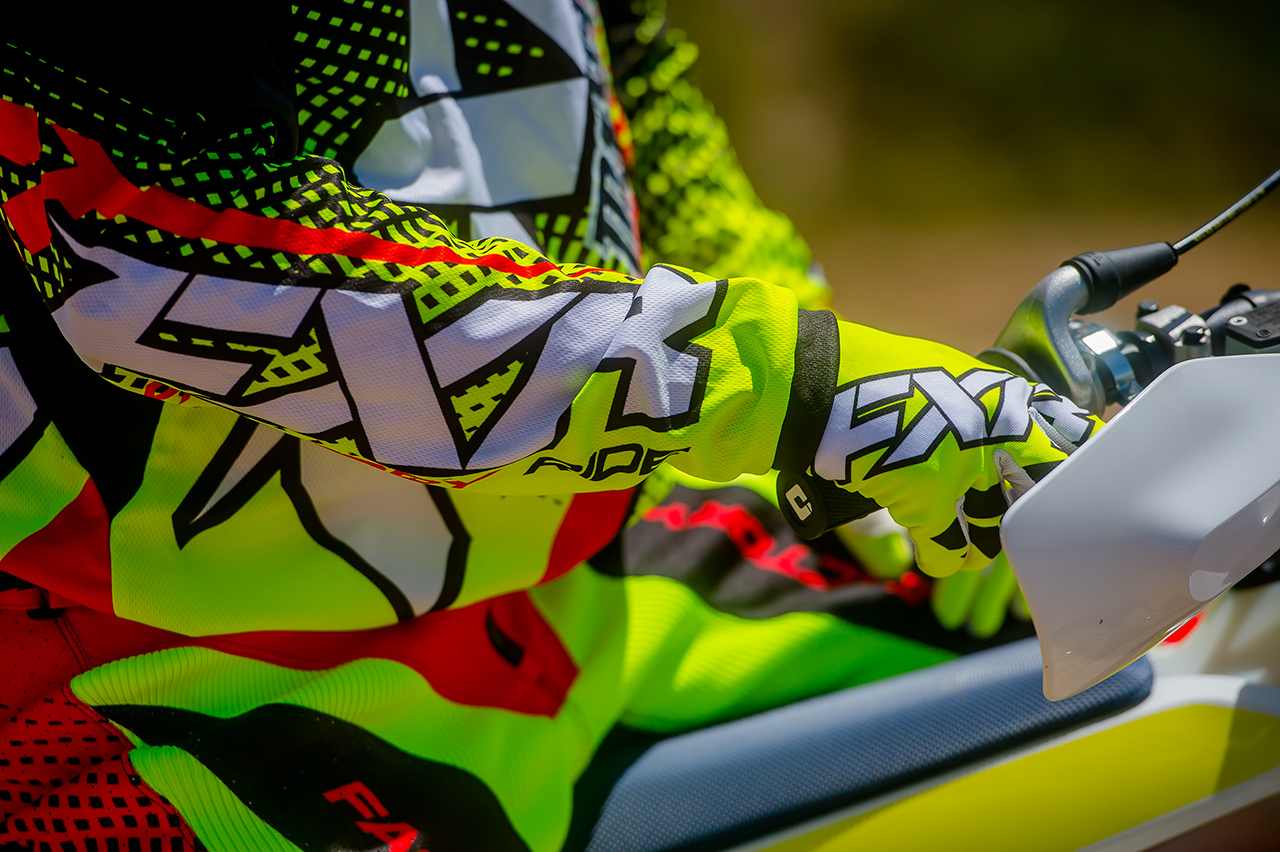 Check out the snazzy FXR gear we used.
Dennis Stapleton patiently waits between runs for the photographers to check the backs of their cameras to make sure they got the shot.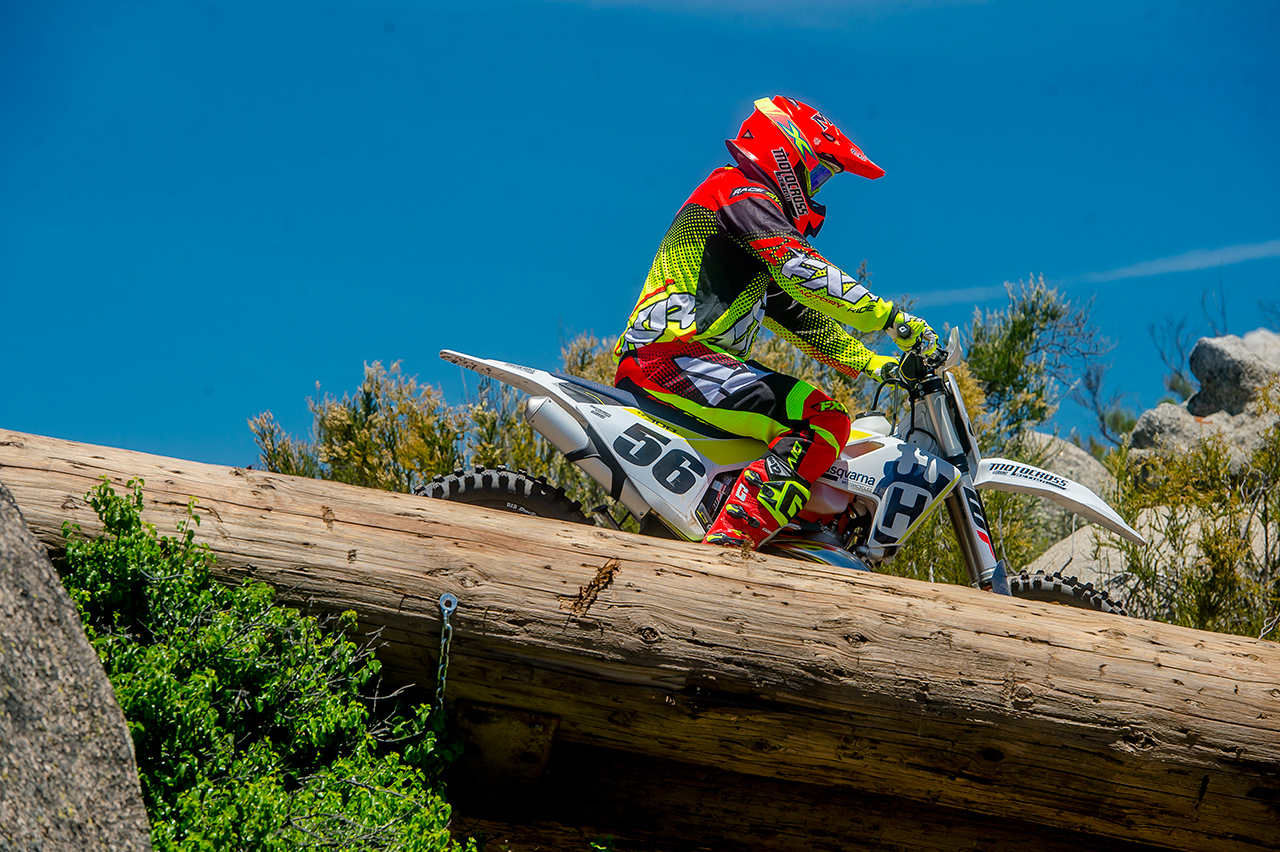 We only got him to go over this obstacle once.
Berms. You can tell the TX300 (shown here) from the TC250 at a glance because the TX300 has a larger white gas tank. The TC250 has a black tank.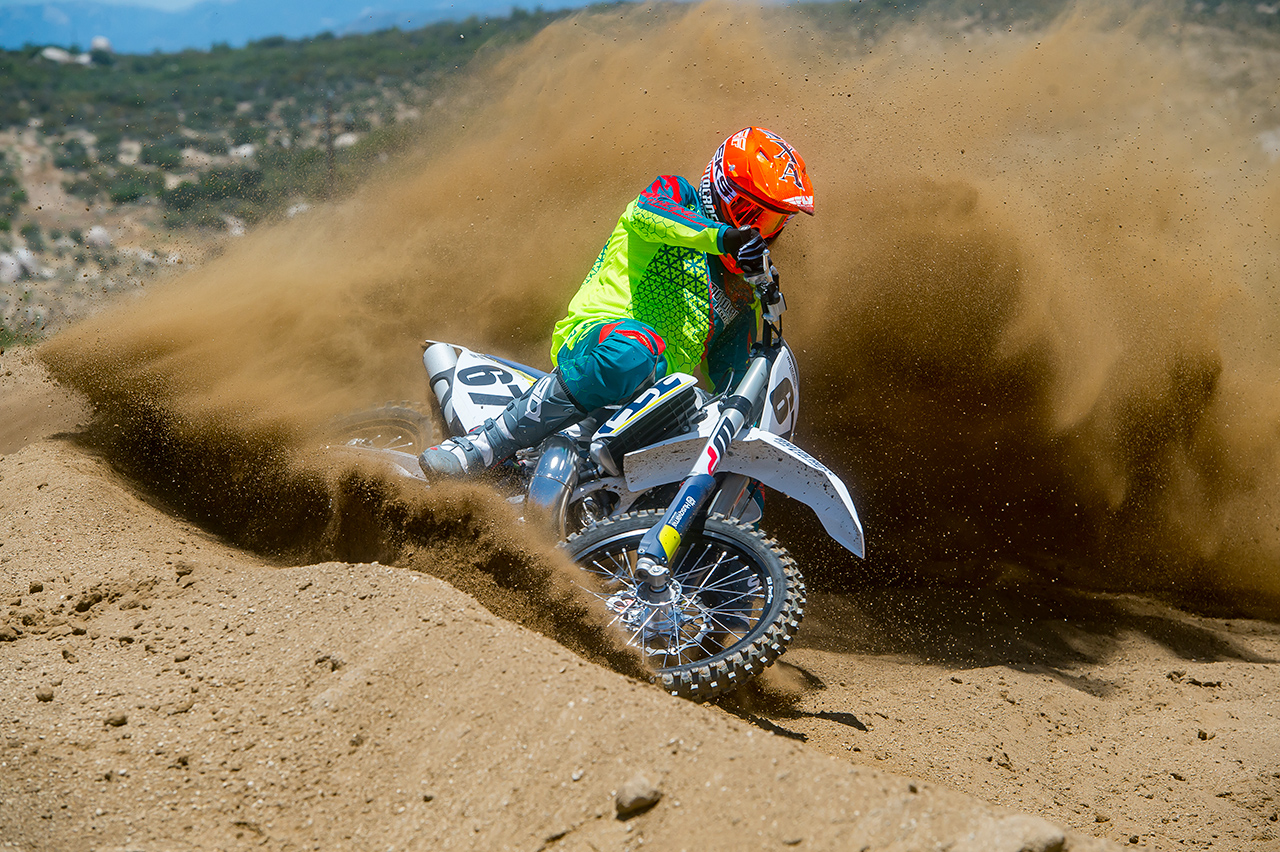 More berms on the 2017 Husqvarna TC300.


Much of the Cahuilla Creek track has a sandy base.


The TC250 in action.
No photo shoot is complete without breaking in the plastics.
More sand. Watch that right foot, Stapo!


Travis Fant and Daryl Ecklund at work.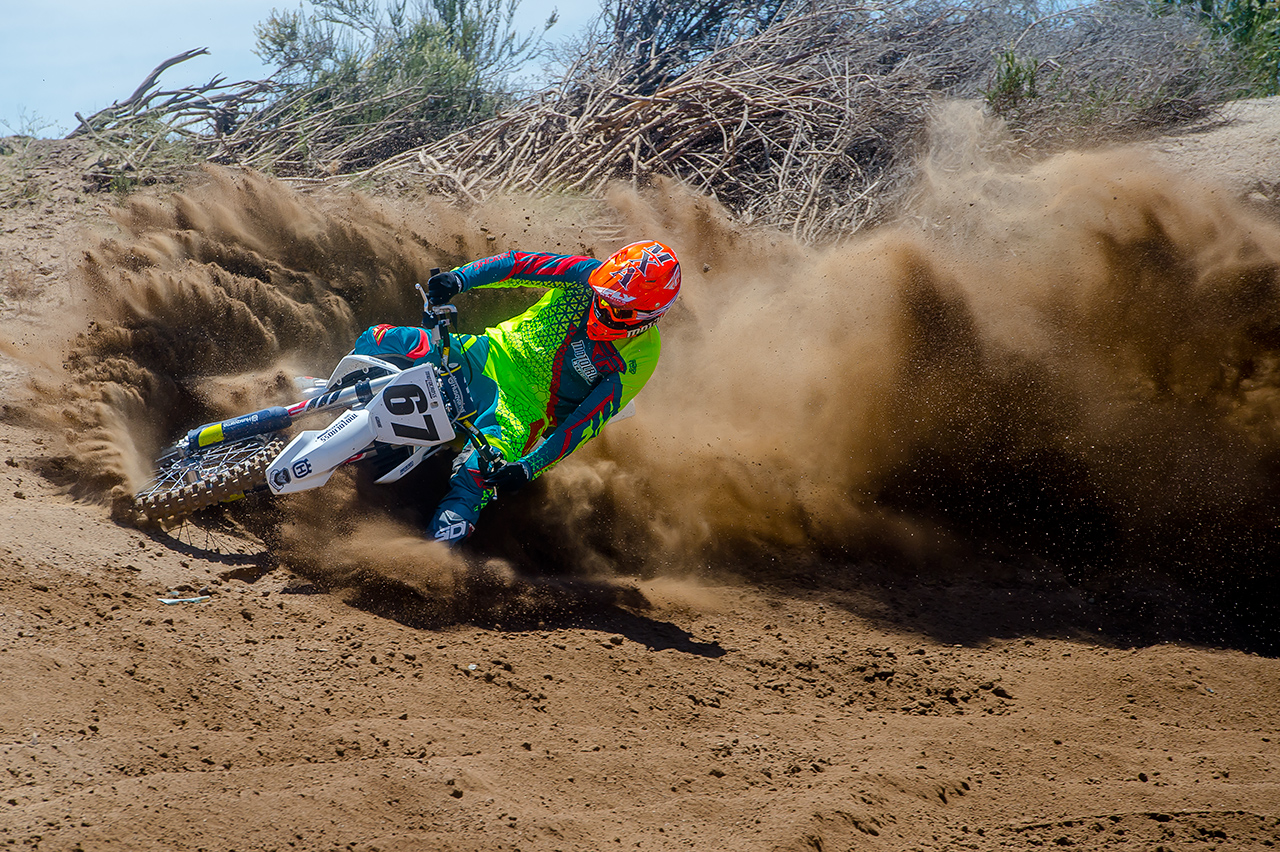 Sand explosion.
Smoking at Cahuilla Creek. The Cahuilla Creek tarck is located at almost 4000 feet on an Indian reservation. The nearest town in Anza, California.
Cahuilla Creek is a great place for shooting action photos.
YAMAHA'S 2017 MODEL LAUNCH
Last Monday, Yamaha released a smattering of 2017 bikes at a gala in Huntington Beach. While we were required to keep the big secret until Wednesday, there wasn't much to hide on the YZ450F. You can find all the specs here. The YZ450F is already a great bike, and while it ranked fourth best in the 2016 MXA 450 shootout, it had several features that topped all the other bikes. The big highlight of the release was the stylish SCR950. Essentially it is a heavily modified Yamaha Bolt designed to have many of the features found in a scrambles bike. The SCR950 is designed to have a balanced combination of features at a great price point of $8699. That being said, I do not recommend taking one out to a scrambles race. While the genesis of motocross is scrambles, racing a SCR950 at Glen Helen would just be silly. The other non-moto bike that grabbed attention was the all-new flagship in the FZ series, the FZ10. Designed to be a top-of-the-line sport bike, the FZ10 has the best features in its class.
2017 Yamaha SCR950.
2017 Yamaha FZ10.
The fork guards of the 2017 YZ450F are pretty cool.

This is the best looking hotel banquet room I have ever seen.
TWO-STROKES AND PROS
Daryl Ecklund checks Cowboy Jon Ortner's sag on MXA's KTM 250SX two-stroke, while ever vigilant Jody Weisel watches.

The week wasn't over after Yamaha's press launch. We went to Glen Helen to test and catch up with the guys at MX-Tech. While, Daryl spent much of his time going back and forth between the 2017 Husky and KTM two-stroke, our other test riders worked with the suspension mods from MX-Tech. In the morning, Jody and Jon Ortner spent two hours trying different air pressure settings on the 2017 KX450. Nothing more exciting to watch than two laps, change the air pressure, two more laps and change the air pressure again, two more laps and another air pressure change. Once they were satisfied, they shelved the KX450 until Sunday's.cMany AMA Pros were at Glen Helen on Thursday—even though it was their week off from the Nationals.


The MX-Tech guys, led by Jeremy Wilkey, drove in from Illinois, to show the MXA wrecking crew what they have been working. It included an CRF250 aluminum-framed 2001 Honda CR250 two-stroke with ultra-trick suspension.
Pro Circuit's (and MXA's) Bones Bacon had his stopwatch ready while working with Arnaud Tonus on Thursday.


Deegan Von Lossberg had never ridden a 250 two-stroke in his life before Thursday. He was impressed.

Shane McElrath.
Zach Osborne.


Deegan working on his CR250 corner speed.


Cole Seely got to enjoy Jason Anderson-free ride time for a change.
MX-Tech's WP AER-R fork mod feature three air valves, although we didn't run any air in the outer chamber (blue cap) The red cap is the main air chamber, while the white cap is the trick part of the system.


We had a lot of riders doing test laps and air pressures changes on MX-Tech's AER-R fork system. Most of the time, they railed this berm perfectly, but…
…every now and then they got in a little to deep, like Deegan, which looked even cooler than doing it right.
2017 KAWASAKI KX450F INTRO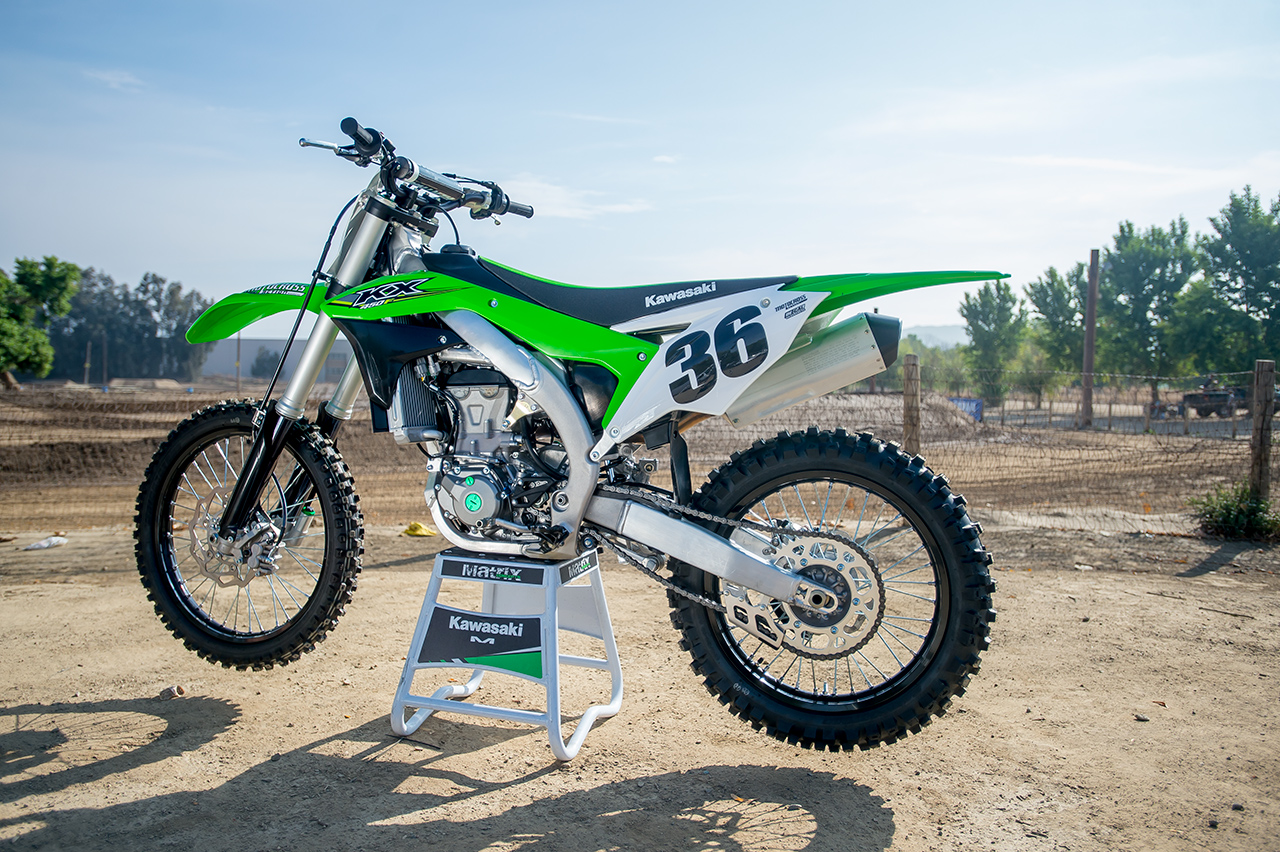 The 2017 Kawasaki KX450F.
On Wednesday the MXA wrecking crew was at Milestone Raceway for the 2017 Kawasaki KX450 intro. We were able to put a plenty of  laps on the 2017 KX450F on a very pleasant day at the track. We only did the KX450F on Wednesday, we don't get the 2017 KX250F for another 10 days. The 2017 Kawasaki KX450F is only in the second year it four-year update cycle, so most of the mods were merely tweaks that focused on last year's flaws—most importantly an improved ECU map (to end the popping and lessen the pinging). Other changes include revised Showa SFF-TAC air forks with lower pressures and better damping. There is also a new rising rate shock linkage, stronger seat base, a new swingarm castings and sublimated radiator shroud graphics.
Jody Weisel, Dennis Stapleton and Daryl Ecklund recite their favorite poems from Henry Wadsworth Longfellow.
Dennis Stapleton warming up on the KX450F.
It's best to hit the berms while they are fresh at Milestone.
California soil dries quickly.
Dennis Stapleton shows us how to leave a 40-foot long roost.
Stapo whips the Kawasaki.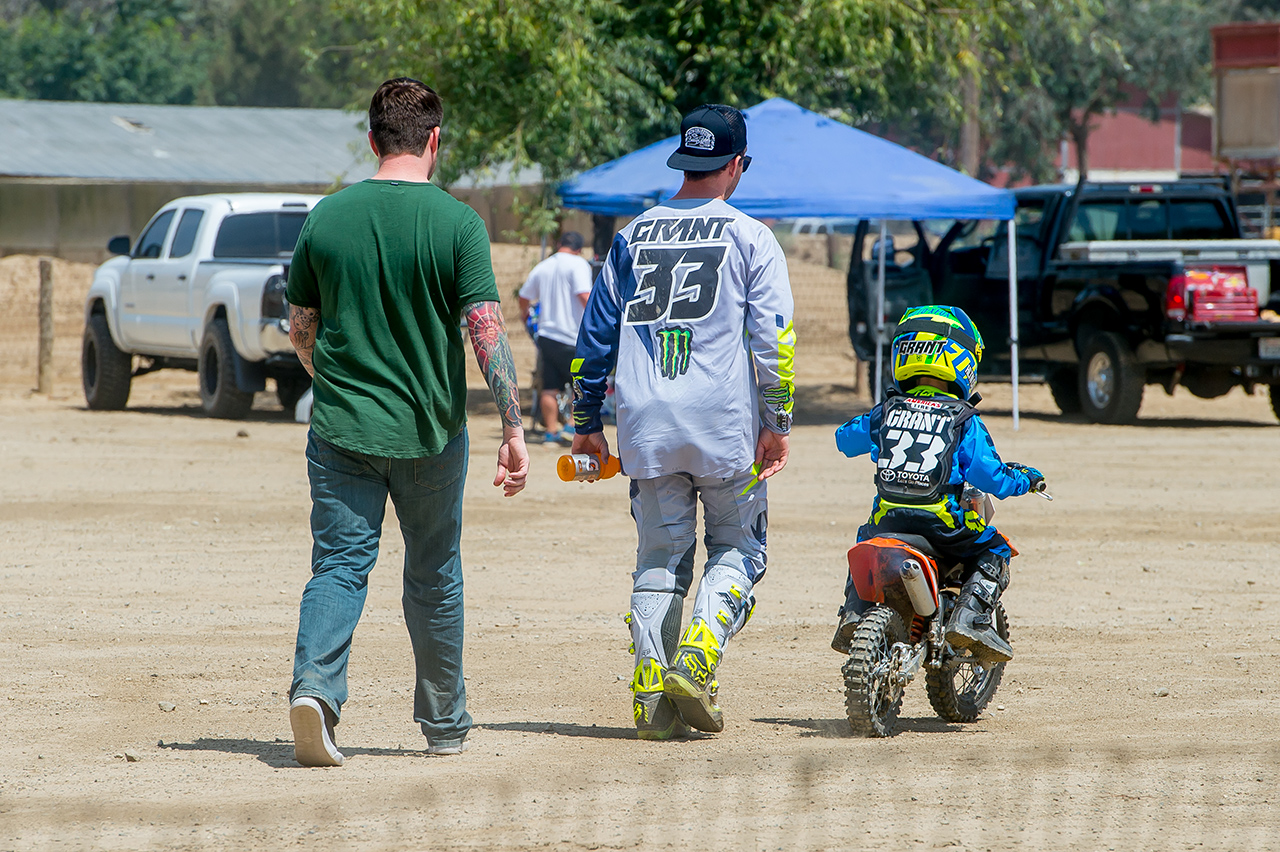 Josh Grant and son were at Milestone on Wednesday.
JUSTIN BARCIA'S 2015 NATIONAL SEASON STATS
Justin Barcia.
Justin Barcia started the 2015 National season coming off an injury. By the mid-season he was able to take his paltry finishes and turn them upside-down with wins and consistent podiums. Coming into Anaheim 1, "Bam Bam" was the second fastest rider until the race was red-flagged. Nobody knew why Barcia locked up during the restart and rode poorly. Then it was revealed that Justin crashed while racing mountain bikes and tore his thumb up. He ended up needing surgery and missed a bunch of races. Justin Barcia has been here before. We have yet to see if he'll be 100% when the gate drops at High Point this Saturday. He finished third overall there last year, so we may see the Barcia we remember explode in a few races.
JUSTIN BARCIA'S 2015 STATS
Starts: 24
Overall Podiums: 7
Moto Podiums: 12
Overall Wins: 2
Overall Win Percentage: 16.6%
Overall Podium Percentage: 58.3%
Overall Consecutive Podiums: 6
Overall Points Earned: 441
WEEKEND WINNERS
AMA Nationals 450 Class: No race.
AMA Nationals 250 Class: No race.
450 Grand Prix: No race.
250 Grand Prix: No race.
Australian National 450: No race.
Australian National 250: No race.
Canadian 450 National: Colton Facciotti (Davi Millsaps docked).
Canadian 250 National: Cole Thompson.
Maxxis British 450 National: Jake Nicholls.
Maxxis British 250 National: Adam Sterry.
RACEDAY CONDENSED NEWS
WINS AND FAILS
Davi Millsaps was docked 10 positions in the first moto of round two in the Canadian Nationals for jumping on a red flag.
Graeme Irwin lost his lead in the British Nationals after crashing and breaking his handlebars near the finish line.
MXA CLASSIC AD | MARCH 1985

Name dropping gloves. Need I say more?

AMATEUR SHOT OF THE WEEK
Johnny Garcia racing the 125 class.
I'm featuring Johnny Garcia again. Kicking off his racing career in 2006 in the 4-6 year old Pee-Wee class, Garcia has completed quite a few races. Where the New Mexican teen seems to do well is in the 450 class, finishing in the top two in more than three AMA-sanctioned races last year.
PHOTOGRAPHIC RAMBLINGS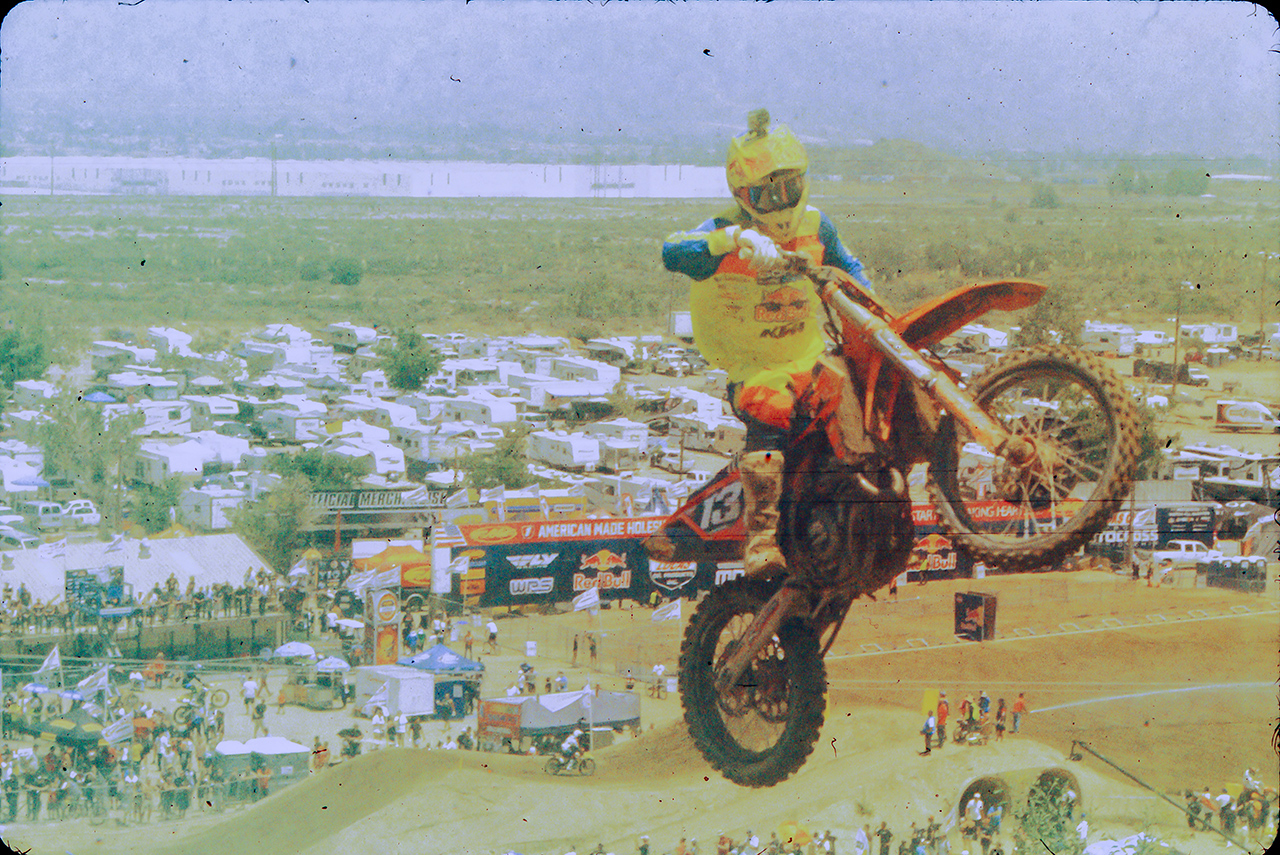 Jessy Nelson in 1970?

When was the above picture taken? May 28th of this year at the Glen Helen National. Snooping around the MXA office I found a small stash of expired slide film. While I have shot a fair amount of expired slide film, my own stash was kept in a cool dry and dark area for years. I know nothing about the history on the stuff I nabbed out of an ancient camera bag near my desk. The old film stock from that bag came out pretty bad by today's standards (see above). Nonetheless, the effect is kind of cool. I figured that any image out of expired film is a success.