KYOSHI'S CORNER: LIFE IN THE MXA TRENCHES
Jody Weisel (blue shirt) and Daryl Ecklund talk about their choice of hats in the 100-plus degree weather.
By Kyoshi Becker
With production week over on the September 2016 issue, the MXA gang had a chance to go outside and resume testing. Our main test rider, Dennis Stapleton, had just driven back from Mammoth the night before and we thought it would be a great time to put him on a few more bikes. The first bike was Sean Langham's trick Suzuki RM250 two-stroke. What originally started as a pet project turned into an all-out upgrade to the aging bike. One of the more cool features was the Italian-made gas tank.
Along with the Suzuki, we decided to try test the 2017 WP air forks, 2016 air forks and Pro Circuit-modified air forks on a 2016 Factory Edition KTM 450SXF (even though we had a 2017 KTM 450SXF sitting on a stand ready to ride). Then, we switched gears and started swapping the 2016 450SXF shock for the 2017 version—we were just looking for additional info about what KTM changed since the Factory Editions were released. After we tested all of the 2017 WP components against the 2016 parts (and some modified pieces) we turned our attention to to the 2017 KTM 125SX (and even had a 2017 KTM 150SX with us just in case we didn't have enough to do).
Luckily, we had both KTM's press relations crew and their inhouse test guys to support us in our lunacy. Meanwhile, another batch of KTM mechanics were there to help the KTM Pros that showed up at Glen Helen on this Thursday. Davi Millsaps, Dean Wilson, Shane McElrath and Mitch Oldenburg were among the riders that got a little help from the team.
Jody on Bone's WP AER air forks. As you get older things change. Jody used to test MXA fork settings for fast guys, now he tests fork settings for slow guys (and leaves the stiff stuff  for the young MXA guys). Photo: Dan Alamangos.
On the subject of forks, Jody let Stapleton "borrow" some Pro Circuit WP AER forks and a set of WP Cone Valve forks for Mammoth. Dennis returned the AER forks, but forget to give Jody back the Cone Valve forks (for the third week in a row). So, we focused our attention on Bone's revalved WP AER air forks. Dennis liked them and Jon Ortner loved them. Bones was at Glen Helen helping Tyler Bowers get ready for his Kawasaki fill-in ride for Josh Grant at Red Bud—but Bones broke away to come to our side of the pits to offer some tuning advice. Based on Dennis' and Jon's rave reviews Jody raced with them on Saturday at REM. What did he think? On Monday morning he sent them back to Bones with some suggestions (and a new set of test riders will try them again this Saturday on the USGP track). Bones has already revalved them three times, but he wants them to be right—so he isn't rushing us to pick a setting.
KTM's David O'Connor meticulously adjusts the air pressure on the forks.
Our 2017 KTM 125SX was "Ready" for flight. The MXA crew is always looking to break…er…we mean test parts.
Jody does some clicker adjustments, or is he sleeping on the job?
We made sure to muddy up this picture-perfect 2004 Suzuki RM250 project bike.
There is sand in the back of Glen Helen and we let our 2017 KTM 125SX blow it up. We would tell you where it is, but then the secret would be out.

DROPPING LIKE FLIES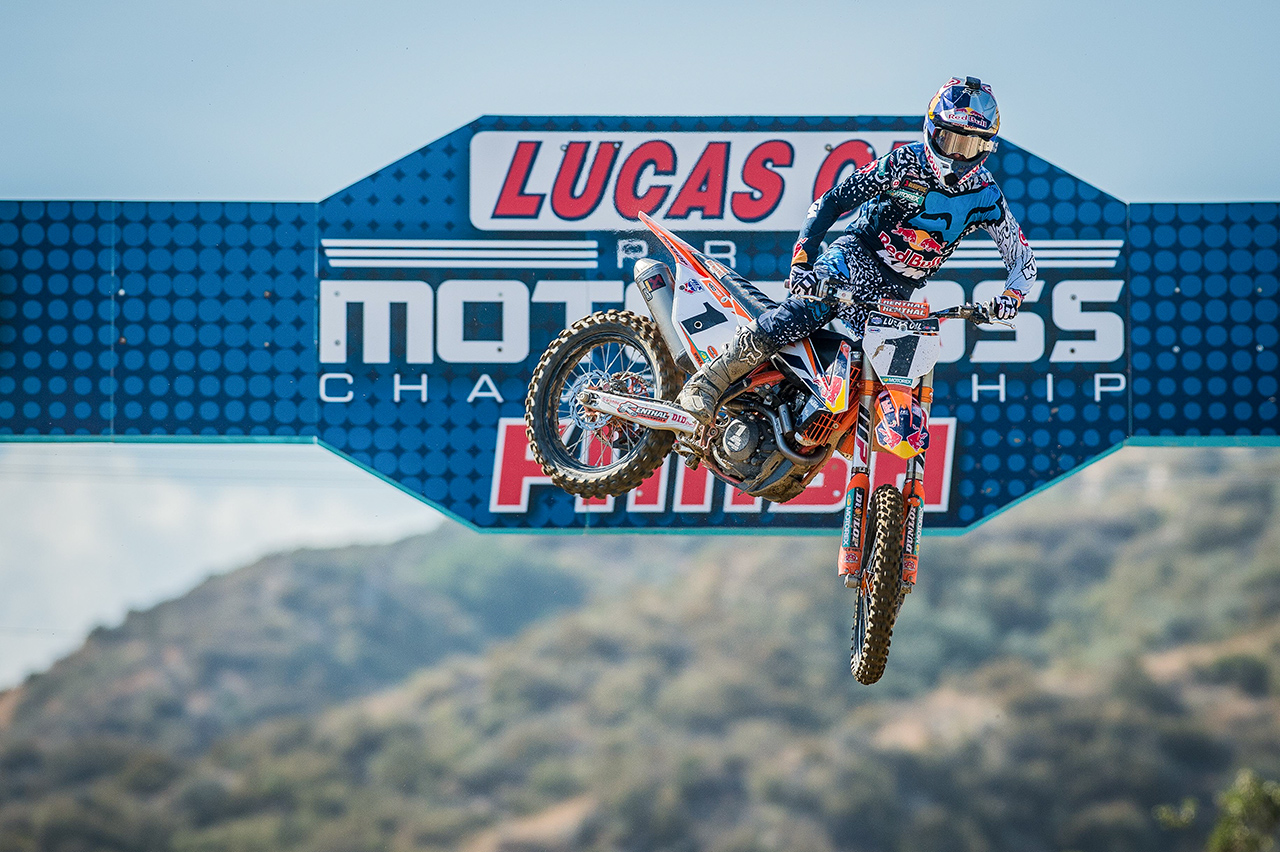 Ryan Dungey won Glen Helen, then he won a trip to the couch a round later. Photo: Brian Converse.
It is no secret that motocross is full of danger at every turn. Some of the greatest have ended a killer season with a dislocated shoulder, torn ACL or concussion. The 2016 season is no different. In Supercross, more than a handful of riders were taken out, including Justin Barcia, James Stewart, Jessy Nelson, Cole Seely, Trey Canard, Blake Baggett, Andrew Short, Davi Millsaps and Wil Hahn. The AMA 25-/450 National series has had some surprises in the injury category as well.
Ryan Dungey.

Ryan Dungey's injury was the biggest surprise of the season. Dungey is seldom known to crash, and even more rare is the fact that he gets injured. The only other Dungey injury any of us can remember is when he broke his collarbone during Supercross in 2012. This time around it was a C6 vertebra that was broken. Even more surprising is the crash that led up to the injury. It was a rather uneventful tumble. Either way, Ken Roczen is in the driver's seat for the title.
Jason Anderson.
While Jason Anderson isn't anywhere as consistent as Ryan Dungey, his injury does come as a big surprise. The wild New Mexican had his share of spectacular crashes, but this will be the first time "El Hombre" misses a series of races due to injury. According to team manager Bobby Hewitt, Anderson broke his collarbone in three places. With two of his riders on the sidelines, trainer Aldon Baker will have a few weeks of one-on-one time with Marvin Musquin.
James Stewart.

It's hard to pick a place to start in regards to James Stewart. Unlike the two riders above (Dungey and Anderson), James Stewart has had many injuries–many season-ending injuries to be more specific. And yet the multi-Champion has always rebuilt himself before. This year may be the hardest year for James Stewart, as he has struggled to complete a single race. In fact, he hasn't completed an AMA National this season, and only managed a single race in the AMA Supercross series. While he has had a whole string of injuries this year, including a dislocated shoulder at Hangtown, all of his woes seemed to be tied to the concussion he suffered at the Supercross season opener. Although he was cleared to race soon after the incident, he hasn't been the same and has cited blurry vision late in multiple races since. While we don't know the underlying reason for his crash at Hangtown, the injury kept him out of the first few rounds. He has yet to return.
Trey Canard.
Trey Canard isn't new to injuries. No one forgets his gruesome crash at the Los Angeles Supercross in 2012. While Canard has worked hard to reduce injuries, bad luck seems to still follow the Honda rider. He's dealing with a bulging disc in his back, and there's no set plan on when he will return. Let's hope he's healthy enough to race at Red Bud this weekend.
Josh Grant.
Josh Grant has also had season-ending injuries in the past, and arguably Cchampionship-ending injuries. His current injury seems to be something not sustained at the National races. He ended up getting surgery on both ankles while everybody else was prepping for Muddy Creek. Does Grant have a contract already signed for 2017? Me thinks so.
BLAKE BAGGETT'S 2015 NATIONAL SEASON STATS
Blake Baggett sets his eyes on Eli Tomac at Hangtown.
Blake Baggett ended the 2015 AMA Nationals fourth in points. While the Yoshimura Suzuki rider was not front and center in the 450 action, his consistency led to a few podiums. Many forget that Baggett was the 250 National Champion back in 2012. Baggett entered the 2016 Supercross season injured and couldn't race until Oakland. More injuries kept him off the track until Daytona, where he was only able to finish in 13th place. Come Hangtown, the native Californian put on a fantastic show in the first moto. After being passed by Eli Tomac mid-race, he set his sights on the Kawasaki rider, only to come back and take third. Unfortunately, a crash in the second moto resulted in a broken collarbone. He tried to race at Glen Helen, but succumbed to the pain and was forced to sit out the next two races. Upon returning at Muddy Creek he was able to salvage some points, finishing eighth overall.
BLAKE BAGGETT 2015 STATS
Starts: 24
Overall Podiums: 3
Moto Podiums: 3
Overall Wins: 0
Overall Win Percentage: 0%
Overall Podium Percentage: 25%
Overall Consecutive Podiums: 0
Overall Points Earned: 360
WEEKEND WINNERS
Tim Gajser, here leading Tony Cairoli (222), went 1-1 in Mantova, Italy, this past weekend. The Slovenian is on fire. Photo by Massimo Zanzani
AMA Nationals 450 Class: Ken Roczen.
AMA Nationals 250 Class: Cooper Webb.
MXGP 450 Grand Prix: Tim Gajser.
MX2 250 Grand Prix: Jeffrey Herlings.
Australian National 450: No race until July 3rd.
Australian National 250: No race until July 3rd.
Canadian 450 National: Davi Millsaps.
Canadian 250 National: Cole Thompson.
Maxxis British 450 National: No race until July 3rd.
Maxxis British 250 National: No race until July 3rd.
HIGH POINT RACE DAY CONDENSED NEWS
WINS AND FAILS
Once again, Alex Martin (26) was cursed by not being able to start his bike with the first kick. The same thing happened at Thunder Valley.
2016  250 West Supercross Champion, Cooper Webb, got his first overall win of the outdoor series.
While Joey Savatgy would come back to finish second overall, he crashed twice in the second moto.
Shane McElrath could have taken the overall win if Savatgy and Webb didn't make up as many positions as they did in the last three laps.
Eli Tomac gave us a race to watch, showing a wheel to Ken Roczen several times in the second moto.
While Ken Roczen would go on to win, his teammate Broc Tickle took third overall.
Weston Peick finally had a decent race, going 5-9 for a seventh place finish.
Muddy Creek was the first race TC125 "hero" Gared Steinke did not qualify into the main event.
MXA CLASSIC AD: JANUARY 1994
AMATEUR SHOT OF THE WEEK
Tristan Alexander racing at Perris.
Tristan Alexander is a contingency rider for KTM. He started riding at 2-1/2 years old. Based out of Montana, he frequently scores top-five results. Alexander will be one to watch in the future.
PHOTOGRAPHIC RAMBLINGS
A classic angle of Glen Helen's Talladega first turn, which was taken at the USGP last year.

As a photographer you are always looking for new locations to shoot at on a track. Fresh spots make new shots. Still, there are some locations you return to time and time again. The Talladega first turn at Glen Helen is one of those spots. No matter the race, that is a spot that will produce an interesting photo of the start. Talladega is a grand spectacle that can tell the whole story. It attracts the crowds, showcases the most riders possible and even has the name of the track in the photo. I love me some Talladega. My camera does, too.