KYOSHI'S CORNER: MY WEEK AT THE HELEN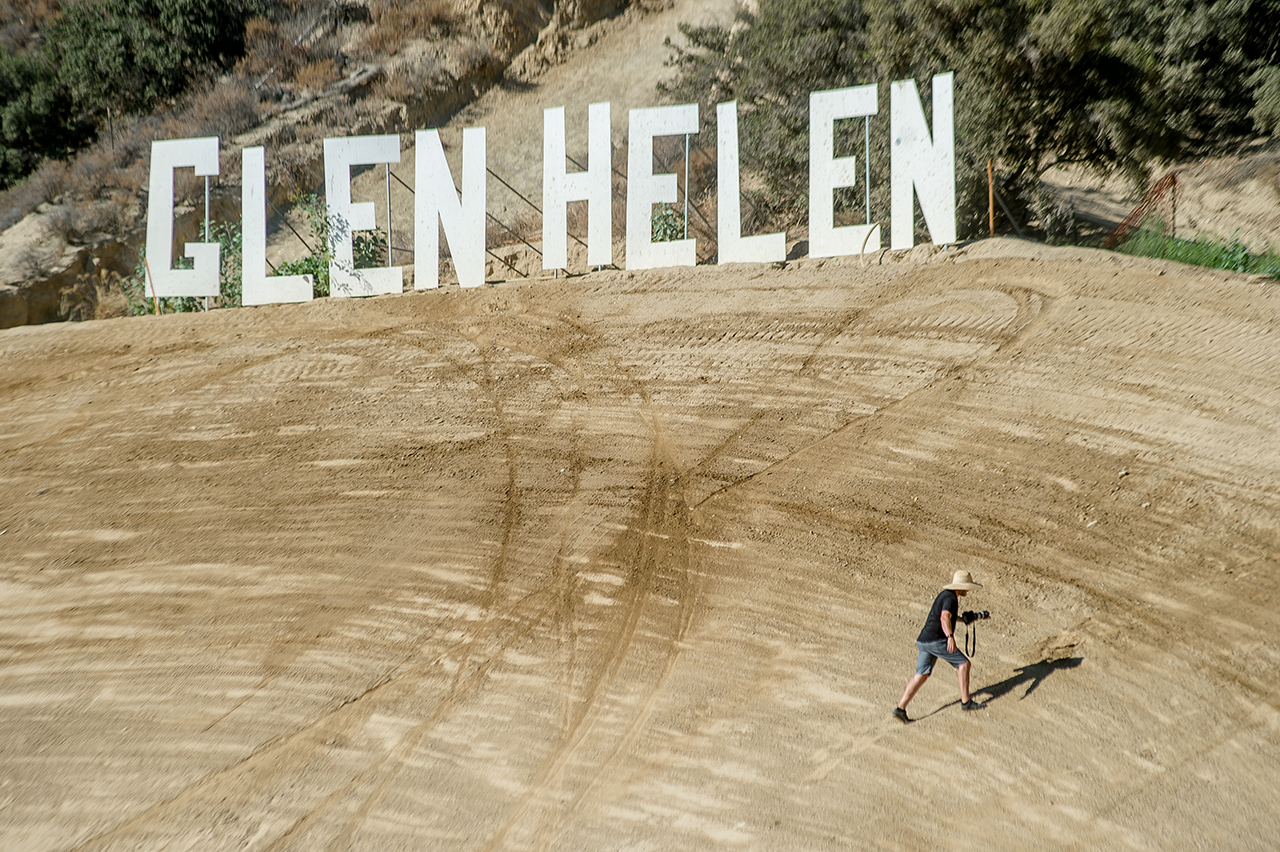 By Kyoshi Becker
If you spend enough time at Glen Helen you may hate it, you may appreciate it, or it just may feel like home. Before I worked for MXA I would only make the trek out to Glen Helen once or twice a month. Now, it is more like twice a week. Glen Helen is quite large and has many nooks and crannies. II'm guessing that only few tracks on the National circuit have as diverse of riding places as Glen Helen. That being said, on a day-to-day basis there are both mundane and memorable days. Last Thursday's MXA test day fell somewhere in the middle. There is always an ample amount of fun in photo shoots with sand and a two-stroke.
The first bike we shot on Thursday was the 2017 Husqvarna FC250 four-stroke. We figured the second bike, a 2017 Husqvarna TC125, would be better off in a more offbeat location, so we shot the FC250 four-stroke first. The track was well prepped and somewhat quiet. With the AMA season drawing to a close and raging California wild fires within view of the track, few riders showed up to practice. We started on the prepped track and ended up trying some locations off of it to get the perfect shot. We drifted even farther away when MXA test rider Dennis Stapleton switched to the TC125 two-stroke.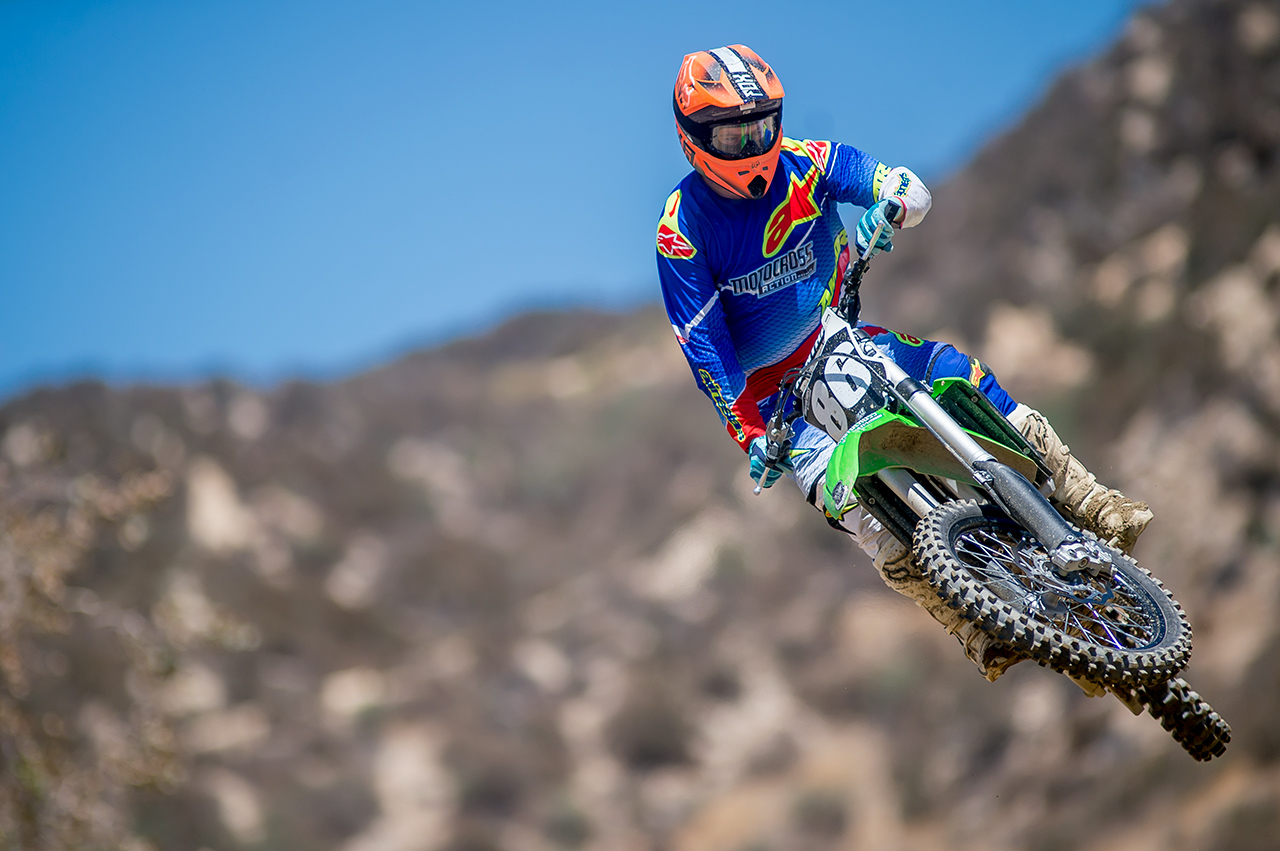 Daryl Ecklund was one of three MXA test riders testing the prototype FMF pipe on the 2017 KX250F.
Photo shoots weren't the only thing that occupied our time on Thursday. After we put the Huskys back in the stable (so they could wait for a second set of test riders on Saturday at "Un-Race 2.0,") we tested FMF's "updated" prototype pipe for the KX250F.  This was a second go-around with FMF's KX250F pipe—and to their credit, when we didn't like the first proto, they retooled it and came back with a new design. So what goes into day one of an MXA pipe test? We had three test riders ride laps on the stock pipe first. After assessing the stocker, the new FMF pipe and muffler were bolted on and the test riders took it out for a second round. Then, we added the FMF muffler insert and did the same series of test riders again. Next, we tried both the FMF pipe and the stock pipe with the green (stock) coupler and the white (aggressive) coupler. Finally, we ran the best FMF combination against the best stock combination for a final comparison. If all goes well, we will send more test riders out to race with the pipe.
As for what we thought, we sent the pipe back to FMF with a suggestion to try again before committing to a production run.
The 2017 Husky FC250 at the very top of the steeply banked Talladega first turn.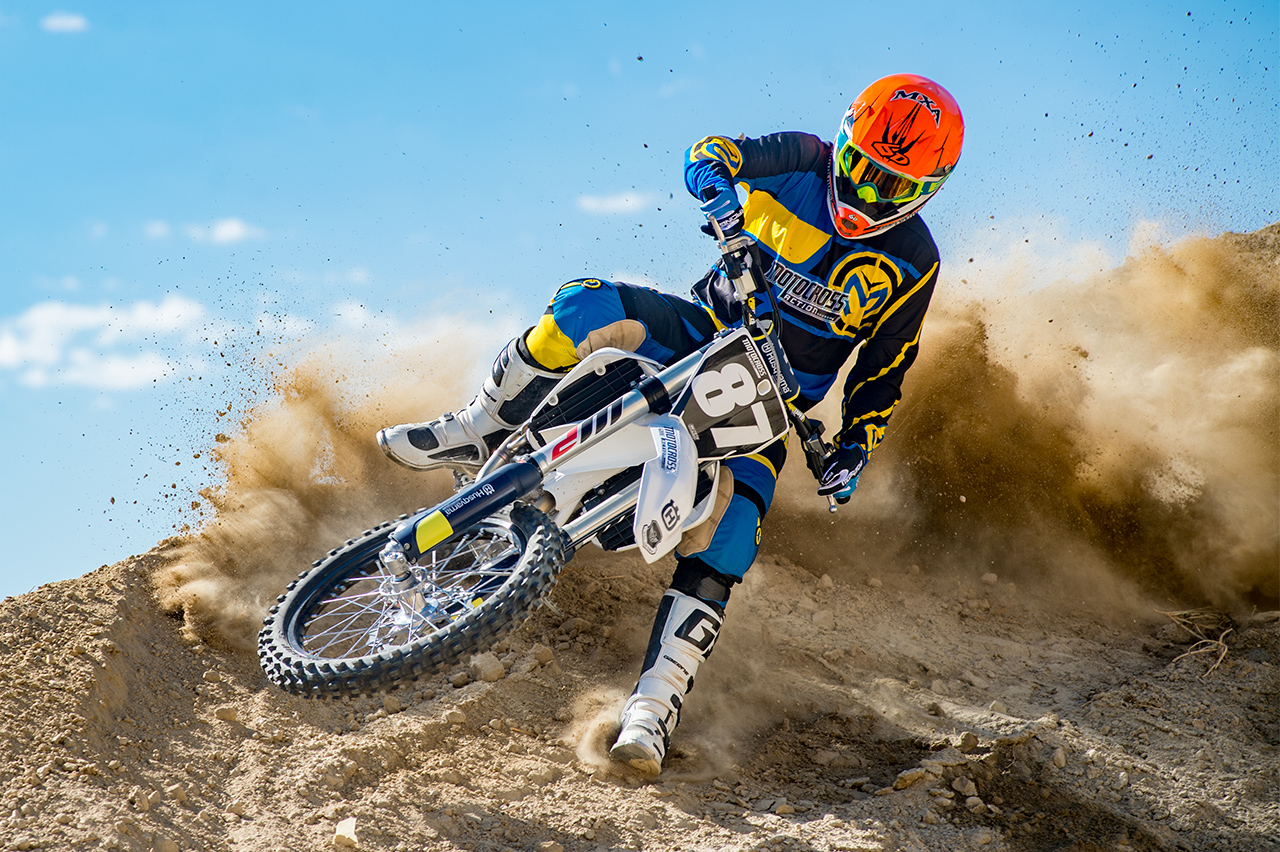 Dennis Stapleton found the backside of Talladega offered better options and lighting.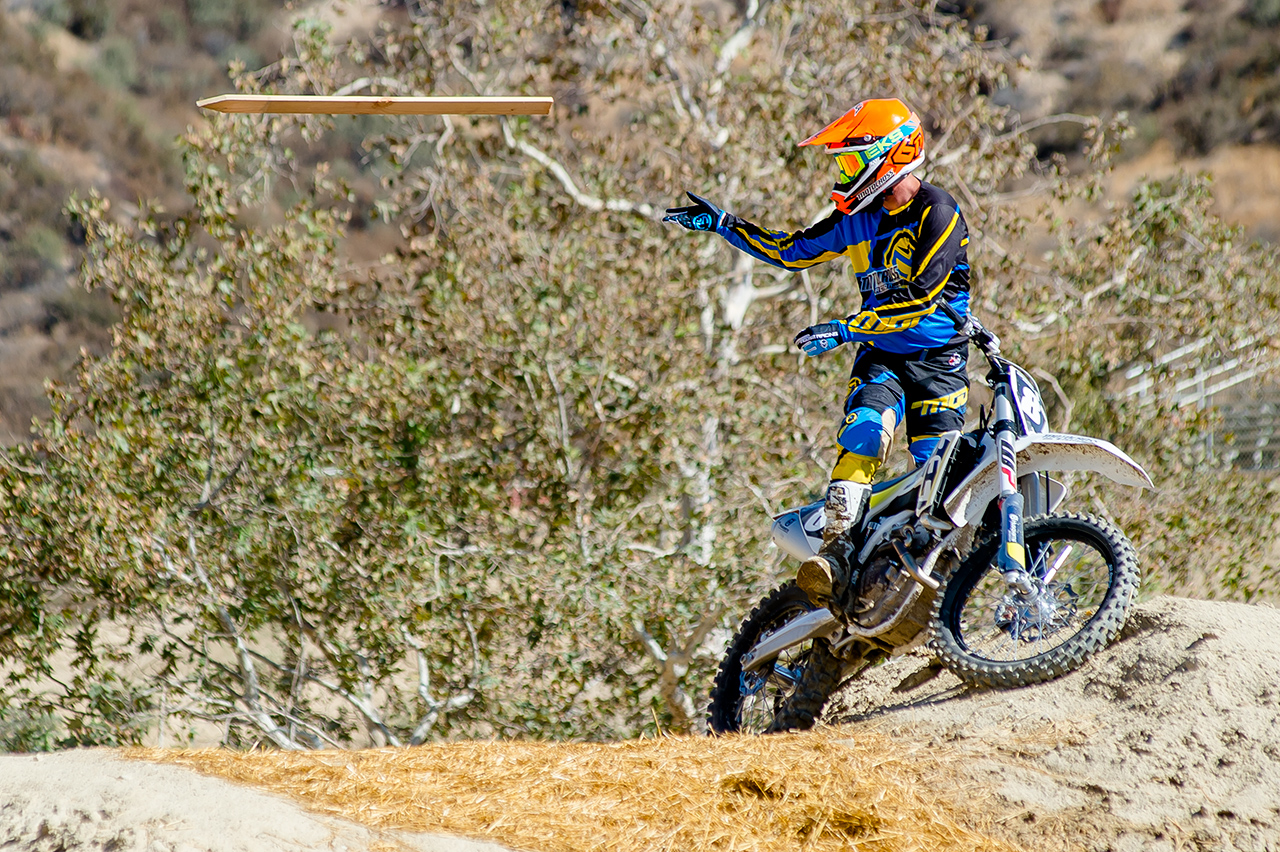 If anyone wonders who keeps digging up those wooden stakes, it's a giant groundhog.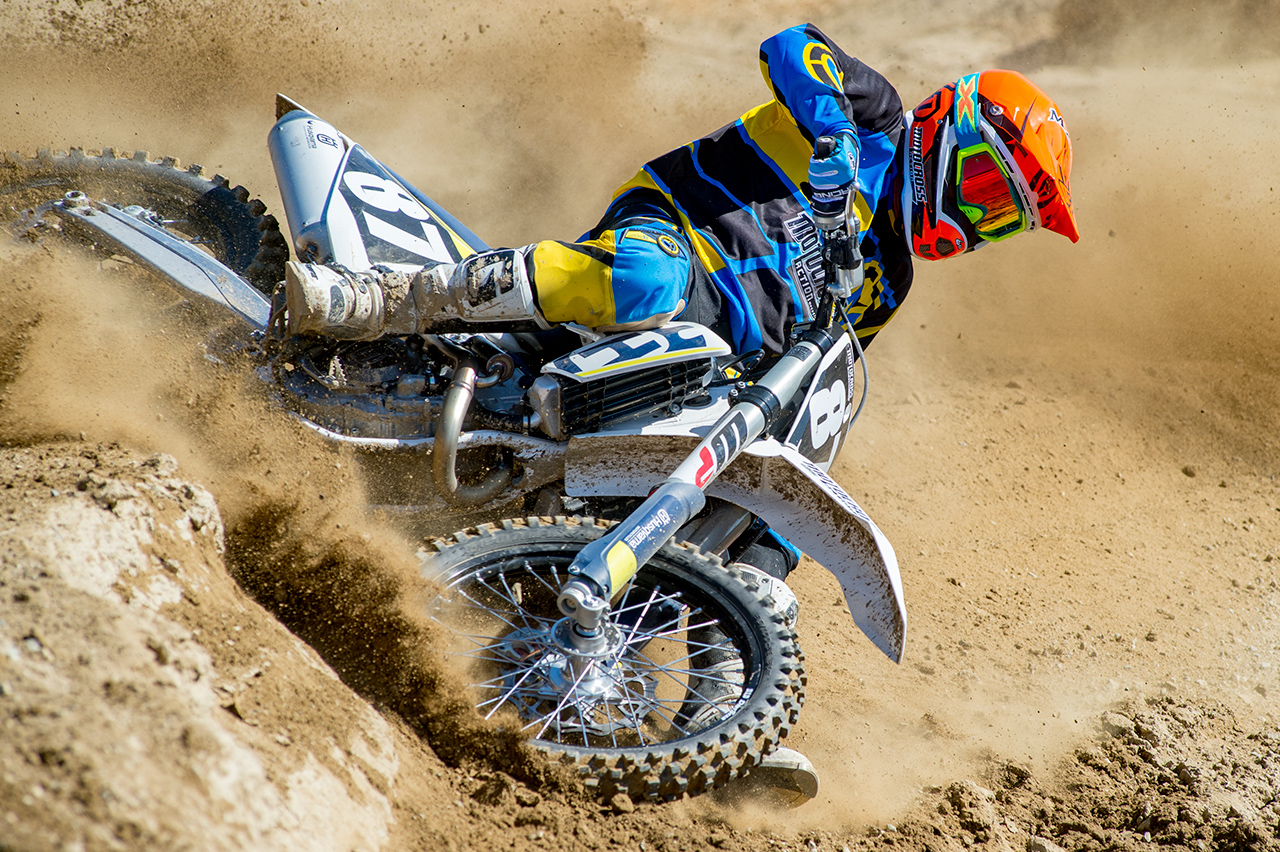 Digging deep into the corner.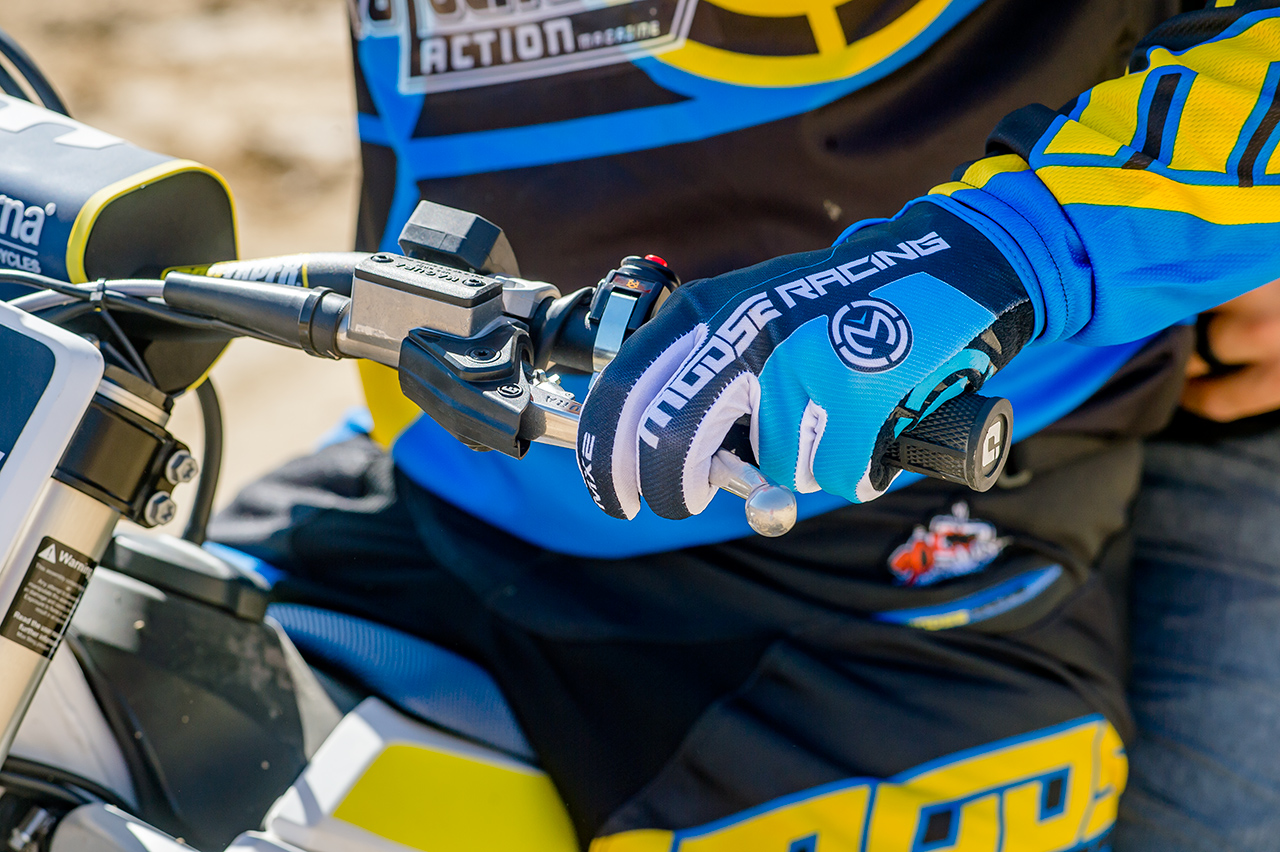 Moose Racing glove detail.
Jody track always down the factory test engineers to find answers to the questions that perplex him. Here, KTM's Scott Youngstrand and Jody discuss fuel pump issues.
How about that new Fly Racing gear? And the 2017 Husqvarana TC125?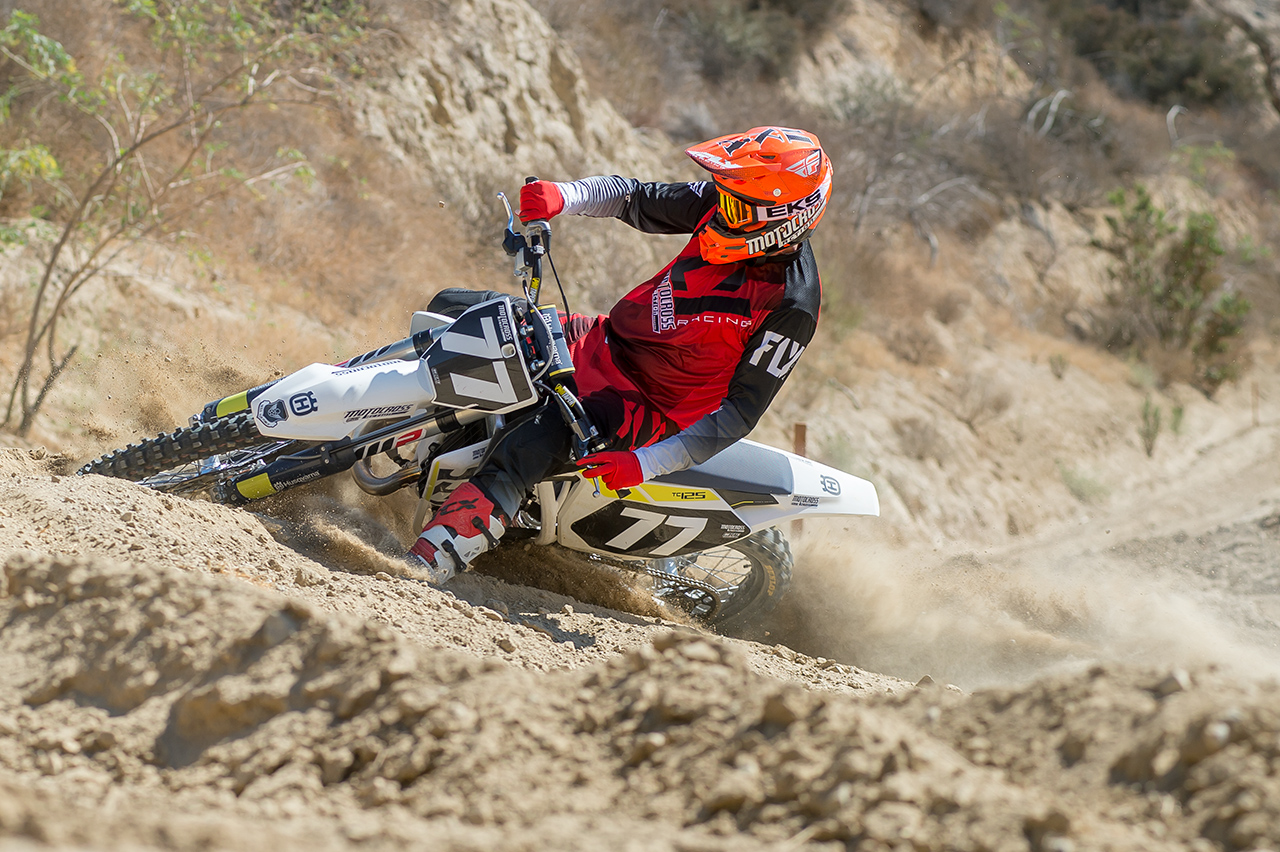 Dennis Stapleton surfs the sand on the 2017 Husqvarna TC125.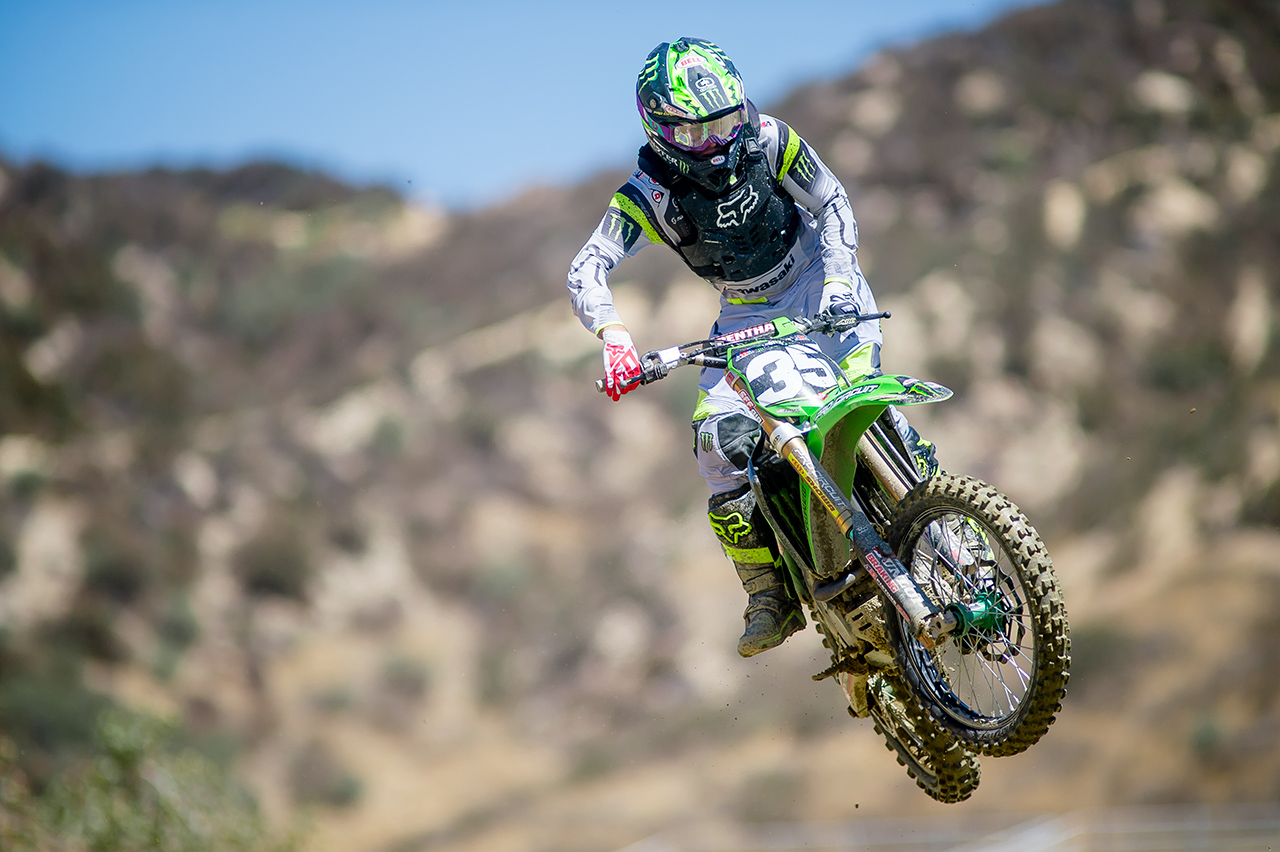 Chris Alldredge was one of only a handful to National guys out practicing at Glen Helen on Thursday. He raced Budds Creek two days later.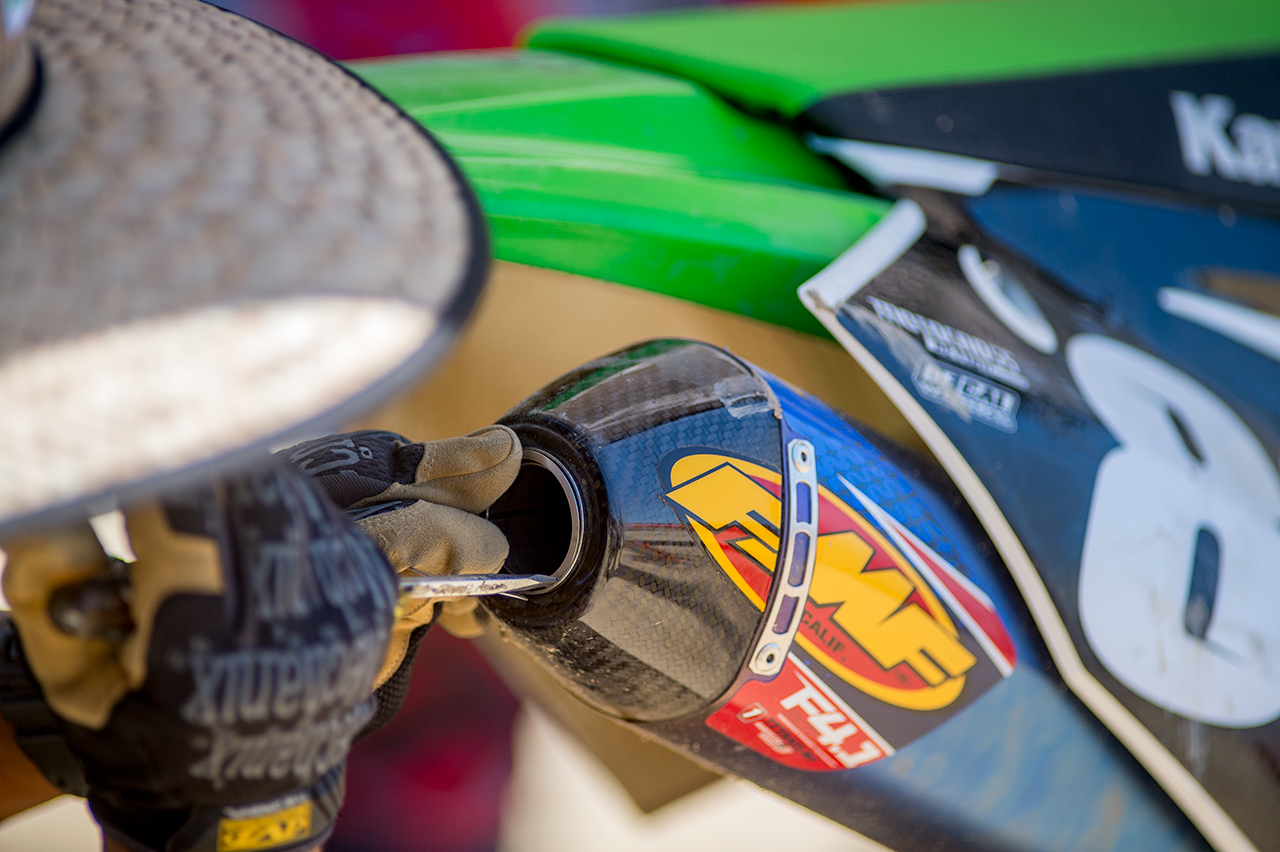 Jason McCune from Inside Line Connection installed the silencer insert for us.
Jon Ortner represent the Vet riders during the KX250F pipe test.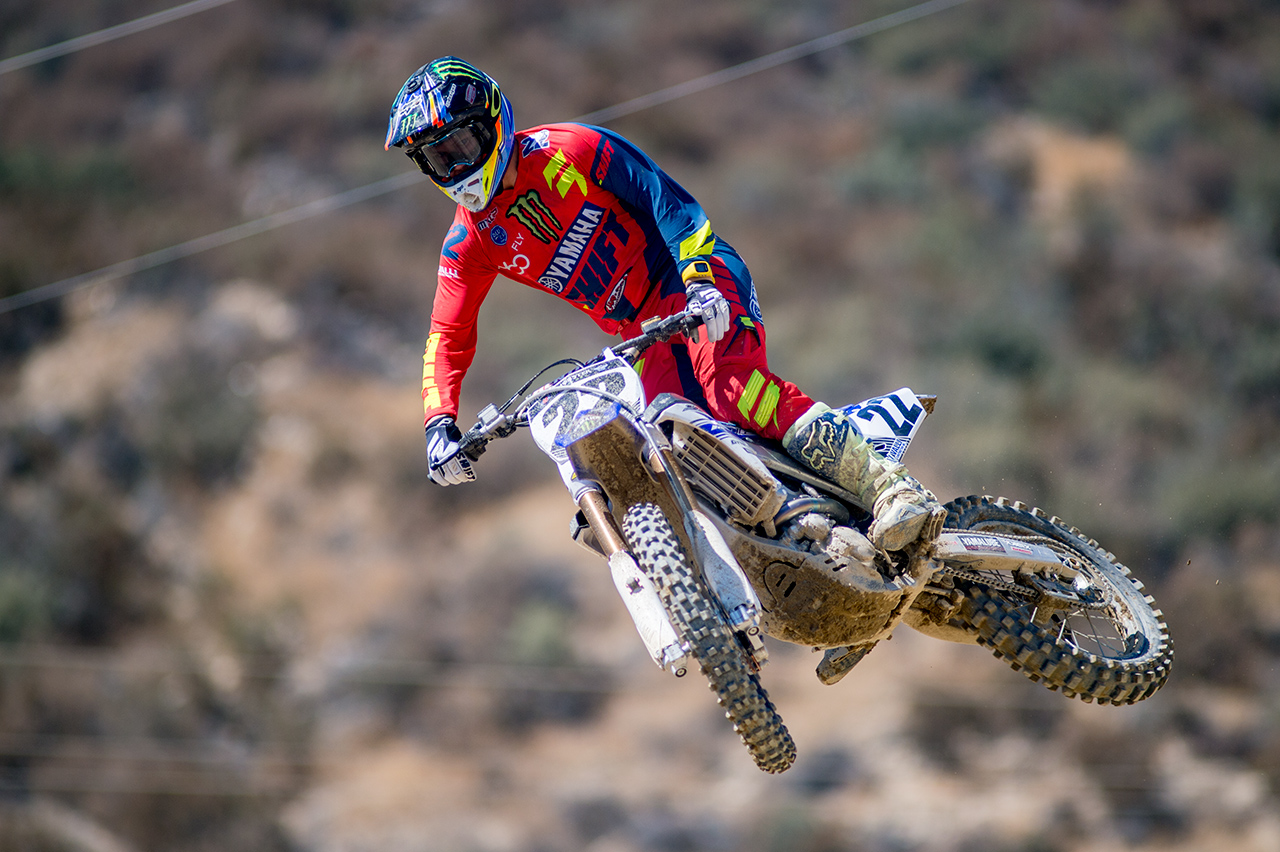 Chad Reed is back in the U.S. and was out testing to get ready for the two USGPs—Charlotte in two weeks and Glen Helen in three weeks.
THE "UN-RACE 2.0" REM RIDE DAY


Jody Weisel (84), on a 2017 KTM 250SXF, takes the inside line through the mud, while Kent Reed (491) and Mike Marion (35) go the long way, but cleaner, way around.
If it walks like a duck and quacks like a duck, is it a duck? Not without the transponder it isn't. REM racers cannot stay away from the track for very long or they get antsy. The organizers of REM's weekly motocross races decided to take a two-week break from racing. That was two weeks too long for REM's diehard racers. After convincing Glen Helen to prep the REM track, the racers went out to get their fix. From the sidelines the track looked like a normal REM race. Theoretically, only REM riders could "practice" on the track, since they were the ones who made the deal to get the track prepped and they also watered it themselves (the USGP track was open for everyone else). It turns out that the REM racers practice by racing against each other in groups made up of riders from the same class. The track was shortened so that it was easier to water (it had a one minute, 30 secopnd lap time), and a slew of racers came out to put in laps. The track on the hill is like a second home to most of these guys—who race at REM 40 times a year. It's a casual atmosphere as they gather with their moto family and share stories, parts, advice and even swap bikes. You can't stay away from home too long.
Not ever rider made it up Mt. Whitney. This rarely happens in a race, but was pretty common at the "Un-Race."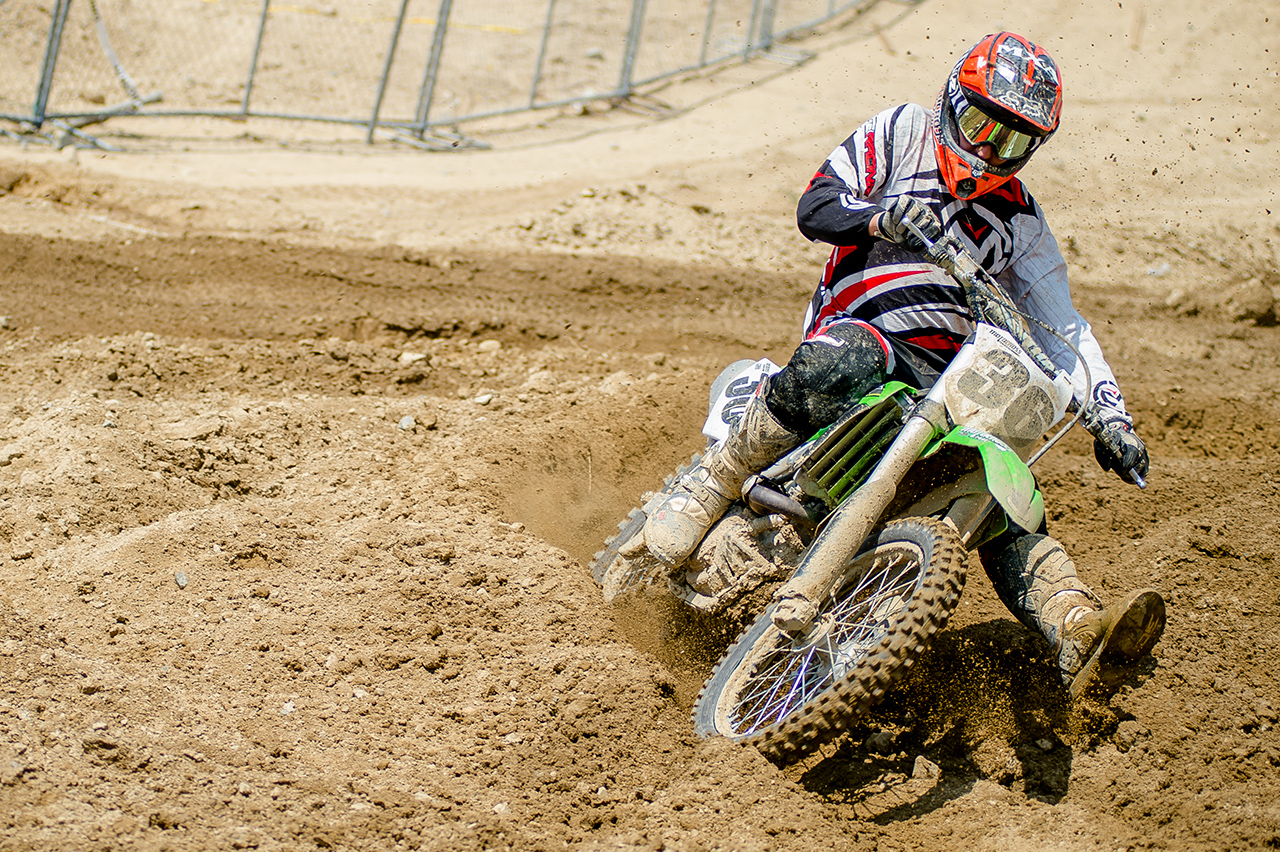 Chris Alamangos takes Jody's line on a 2017 Kawasaki KX450F. Lucky for the Aussie the inside line was dry after the water got splashed out.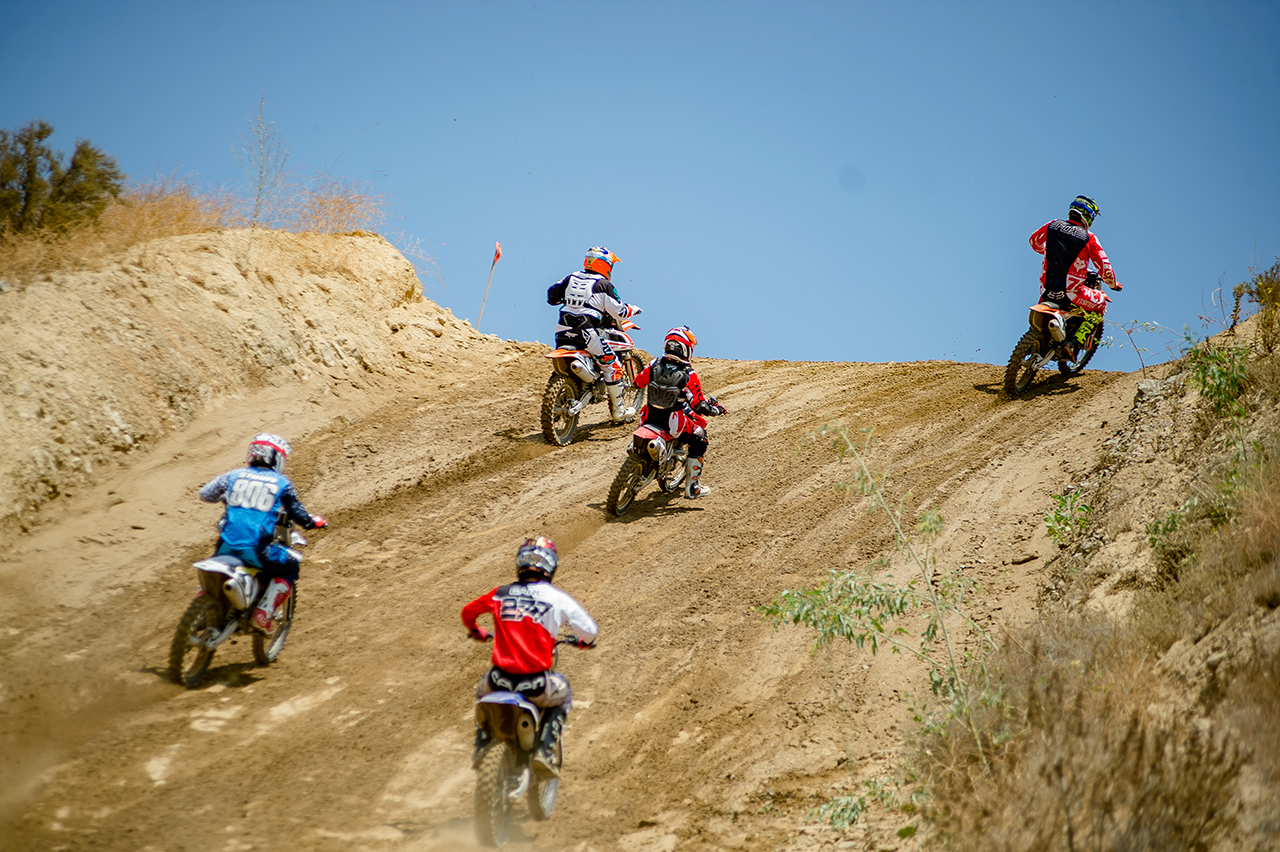 In this photo are three AMA Pro riders, a kid on a CRF150 and an old guy.

Will Harper went to help this tyke out, but he was shocked by what happened next. Go to the "Un-Race 2.0" story on the home page to see the next photo.
Randel Fout's doctors won't let him race until his badly broken left leg heals 100 percent. He got his fix by just riding around on Glen Helen's fire roads in his new line of invisible race gear

A SEA OF BOXES
Ever wonder what a delivery of next year's TMs looks like? Well, here it is. Wouldn't it be fun to open all of these? Photo by Ralph Schmidt.
COLE SEELY 2015/2016 NATIONAL SEASON STATS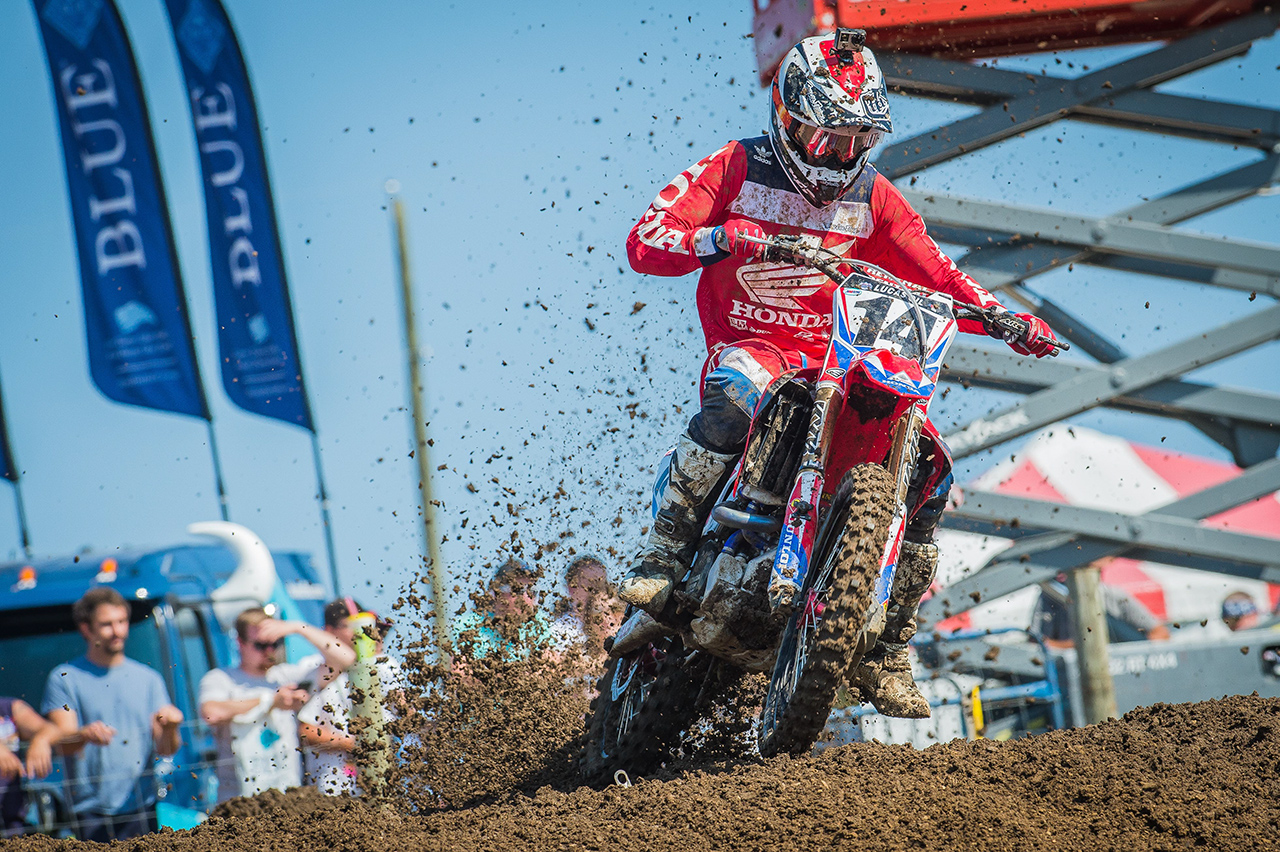 Cole Seely chopping through High Point mud.
Cole Seely is a 450 sophomore. His 2015 season started out strong after finishing the 2015 Supercross championship in third. Five podiums and a win is good confidence to build on for a rookie. His 2015 National season was off to a shaky start. On the start of the first moto Seely crashed on the second turn. He ended the day scoring no points. His season picked up at Glen Helen. Cole Seely had a bad ending to his 2015 National season. After getting hurt at Budds Creek during practice, he would go on to break his nose at Washougal.
COLE SEELY 2015 STATS
450 Total Starts: 10
450 Total Career Podiums: 0
450 Total Career Wins: 0
450 Win Percentage: 0%
450 Podium Percentage: 0%
Consecutive Podiums: 0
Total AMA Points Earned: 104
Cole's 2016 450 National season when he broke his finger by dragging it through a berm at Pala Raceway. The berm had a big rock hidden in it. Cole had to sit out the rest of the 2016 AMA Nationals.
Cole's little finger needed metal to get it back together.
COLE SEELY'S 2016 STATS
Starts: 10
Moto wins: 0
Moto Podiums: 2
Overall Win Percentage: 0%
Overall Points Earned: 151
MXA'S WEEKEND WINNERS
Cooper Webb won the 2016 AMA Lucas Oil National Championship in the 250 class.
Budds Creek 450 National: Ken Roczen.
Budds Creek 250 National: Zach Osborne.
AMA 450 National Champion: Ken Roczen.
AMA 250 National Champion: Cooper Webb.
Australian National 450: Dean Ferris.
Australian National 250: Nathan Crawford.
FIM450 Grand Prix: No Race. Series picks up at Assen, Netherlands, Aug 28th.
FIM 250 Grand Prix: No Race. Series picks up at Assen, Netherlands, Aug 28th.
BUDDS CREEK RACE DAY CONDENSED NEWS
Zach Osborne finally won an overall in the AMA Nationals.
WINS AND FAILS
Zach Osborne had a little unfinished business at Budds Creek. After leading a moto at Budds Creek a decade ago, Osborne wilted in the heat. After rebuilding his career in Europe, Zach is finally starting to gain ground on his second U.S. career with his first-ever AMA overall win at the track that first broke him.
Justin Barcia finished second overall for a season best.
Dean Wilson showed some speed, challenging Justin Barcia hard at Budds Creek.
Cooper Webb won his first AMA National championship and is the first winner of both Supercross and the AMA National championship since 2009 when Ryan Dungey won both.
Ken Roczen is now a double champion. It is also the first championship on a Suzuki since Ryan Dungey won in 2010.
Alex Martin captured another moto win and lost the overall by a tiebreaker.
Austin Forkner was also back on the podium. The rookie has had a strong season, making a few podiums and winning a moto at Washougal.
MXA CLASSIC AD: NOVEMBER 1988
When you are banished to a life behind bars you just may see things differently.

AMATEUR SHOT OF THE WEEK
Max Lee racing the AMA California Classic. 
Troy Lee is a dominant force in motocross fashion. His gear is worn by many and his brand is instantly recognizable. He also supportsa lot of riders, from the TLD KTM 250 team to their amateur offshoot program. He also has a son  who races. Max Lee is still fairly young, but is currently racing the 250 C class. This year he has amassed seven wins in 25 races. I wonder which team he will be on if he goes Pro?
PHOTOGRAPHIC RAMBLINGS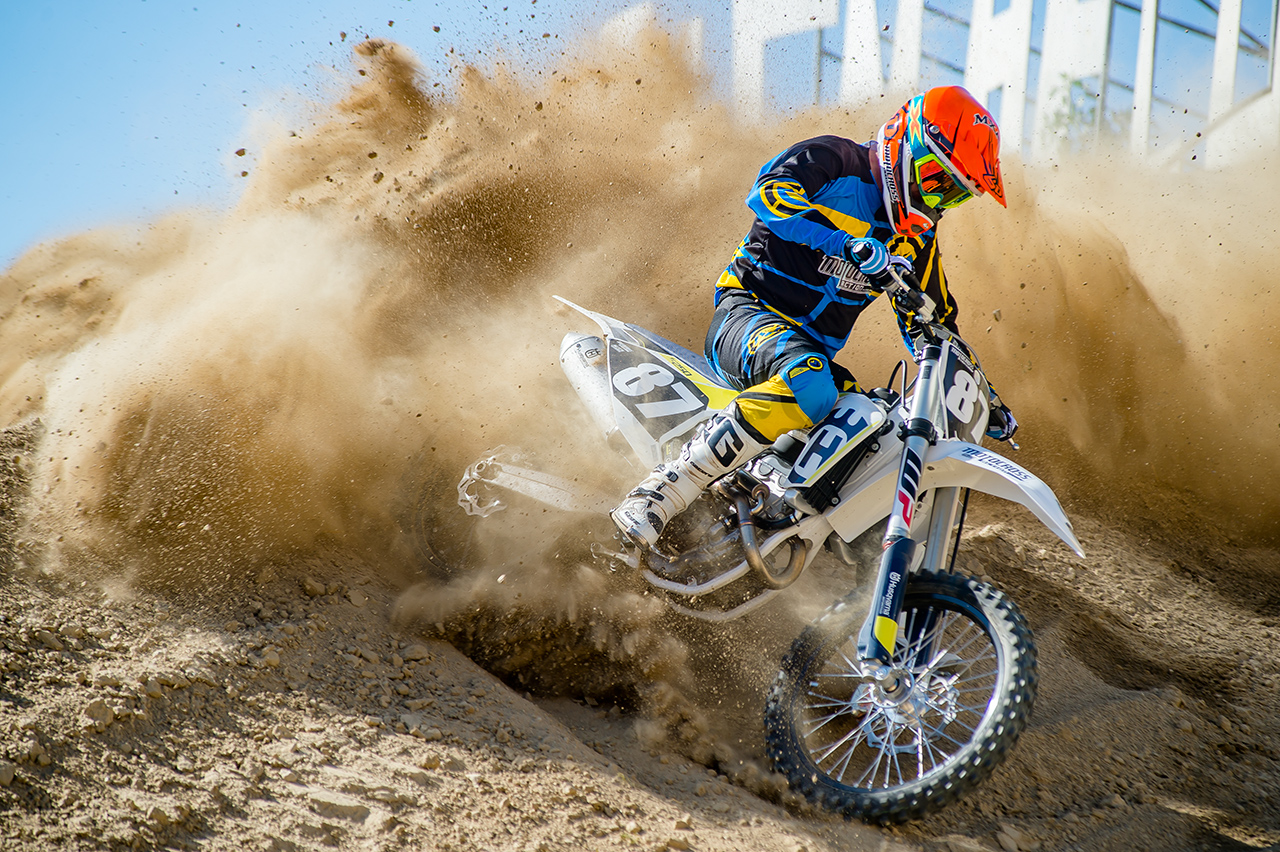 Dennis Stapleton whips the FC250 around the top of Talladega.
I am a big fan of backlighting. When the light source is behind the subject it often separates the rider from the background. It also can define the boundaries and make the subject pop. It also has a great effect on things like roost and water. In the above photo the sun is behind Dennis Stapleton to great effect.