KYOSHI'S CORNER: THE MOST ANTICIPATED RELEASE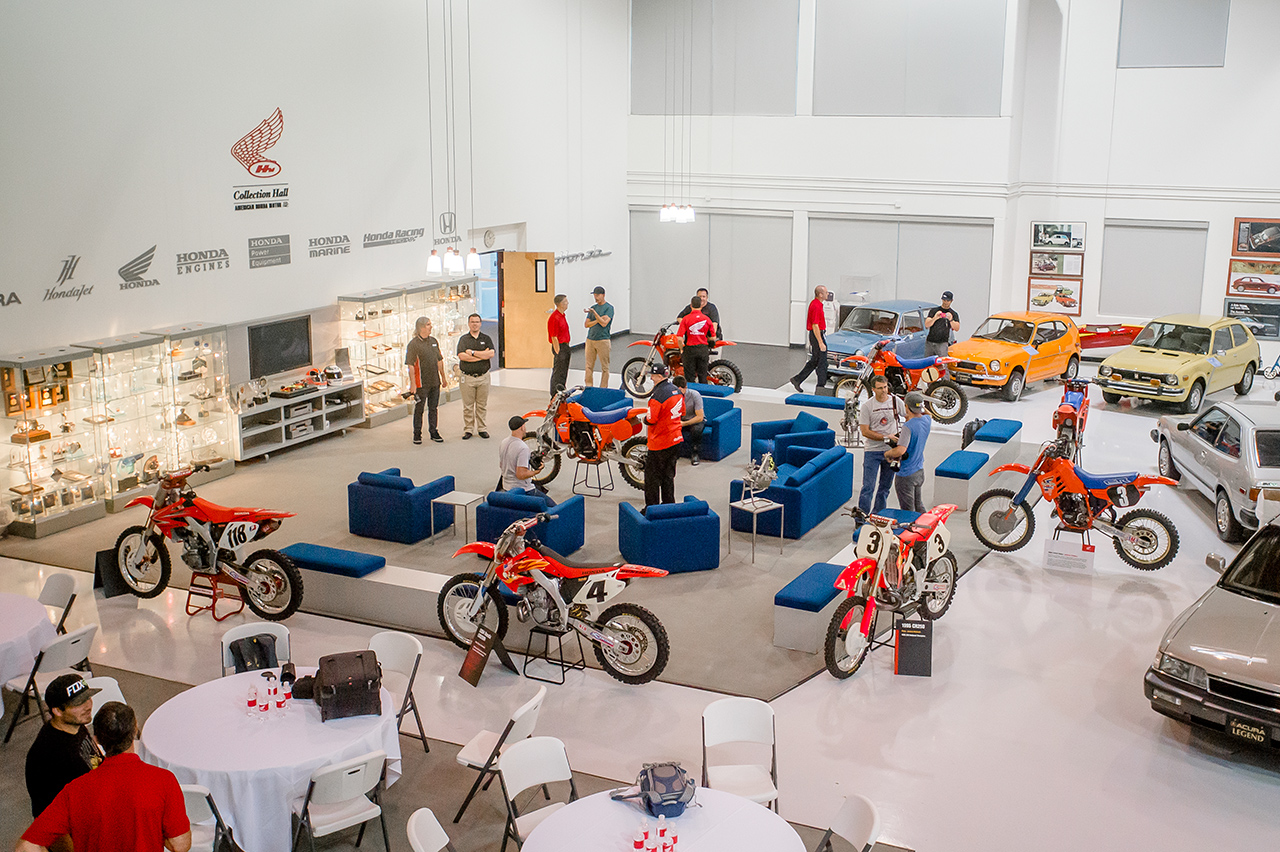 Honda brought out a slew of famous bikes to show off during their 2017 CRF450 unveiling.
By Kyoshi Becker
Most of the 2017 releases thus far are mid-cycle refreshes. From the BNG of the Suzuki RM-Z450 to the minor engine tweaks of the Yamaha YZ450F, most of the 2017 bikes aren't that groundbreaking. The reputation Honda built in the 1980's, 1990's and early-to-mid 2000's is unmatched by any brand. Gary Jones, Marty Smith, Bob Hannah, Ricky Carmichael, Jeremy McGrath, Jeff Stanton, Rick Johnson, Doug Henry, Jean-Michel Bayle and Johnny O'Mara are among some of Honda's champions. Even with their reputation, Honda hasn't been all that as visible on the top step of the podium in recent years. Additionally, their motorcycles took a dive in 2009 when they abandoned the formula that made their 2008 CRF450 such a great bike. They eventually saw the error of their ways, and for 2017 made the new bike much more like the 2008 model.
The CRF450 intro was held at the hidden Honda museum in Torrance, CA. Around noon they tossed the black sheet off the new bike and started naming changes. A new frame, new swingarm, new plastics and an oh-so-fancy-option for an electric start were the hits.  Believe it or not, they were still getting in parts for the bike as the intro was happening. The black plastic pieces on the pre-production lacked the matte texture of the final machine. While not present, Cole Seely was featured in the demo video (here). The absence of Trey Canard only seems to support the theory that Canard is moving onto KTM next year. While we will have to wait until October to throw a leg over the '17 CRF450, it is a pretty good looking bike. If the changes are as good as they appear, this CR450 will fare much better in the 2017 shootout.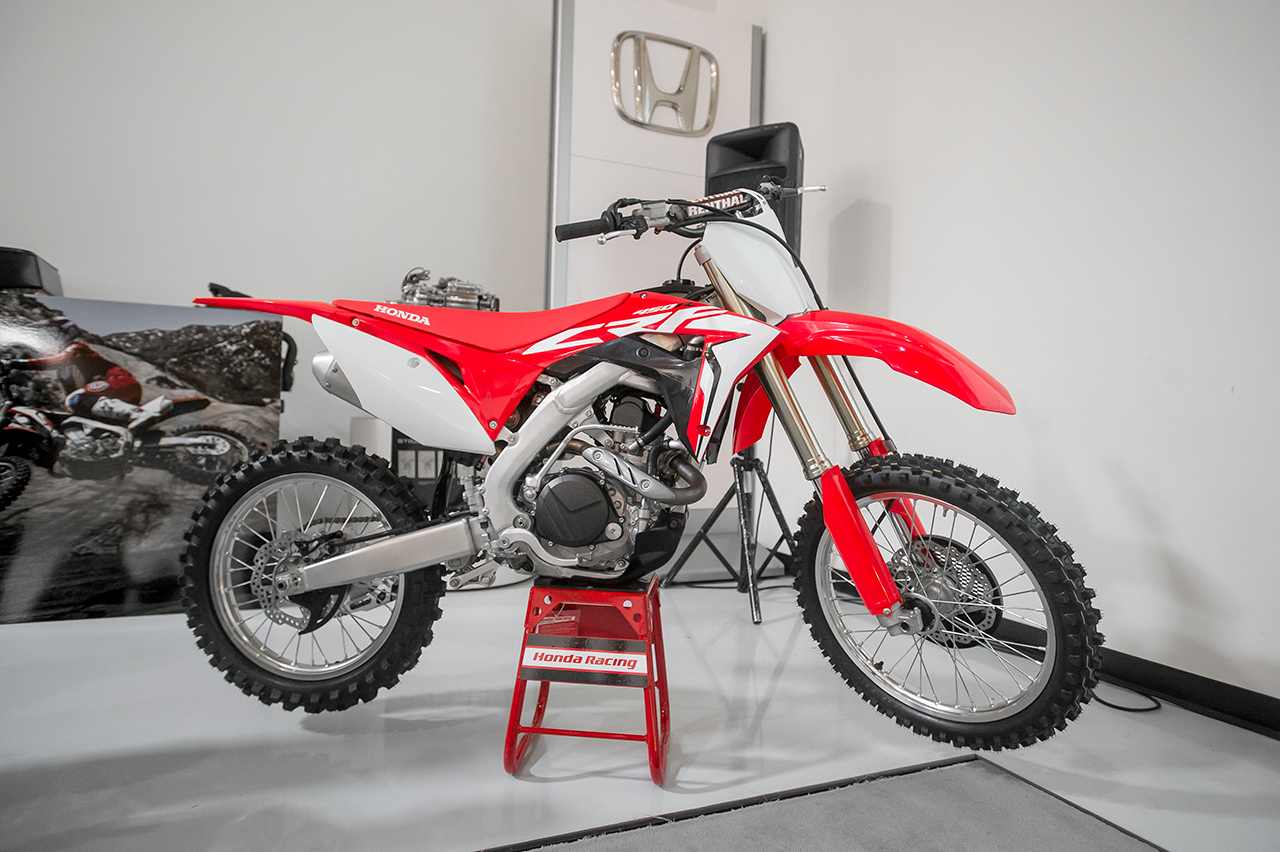 The CRF450 in all of its glory. It's quite an attractive thumper.
Ricky Carmichael's 2004 championship machine—also quite attractive.
Honda used to run ads for these trikes near the front of each MXA issue.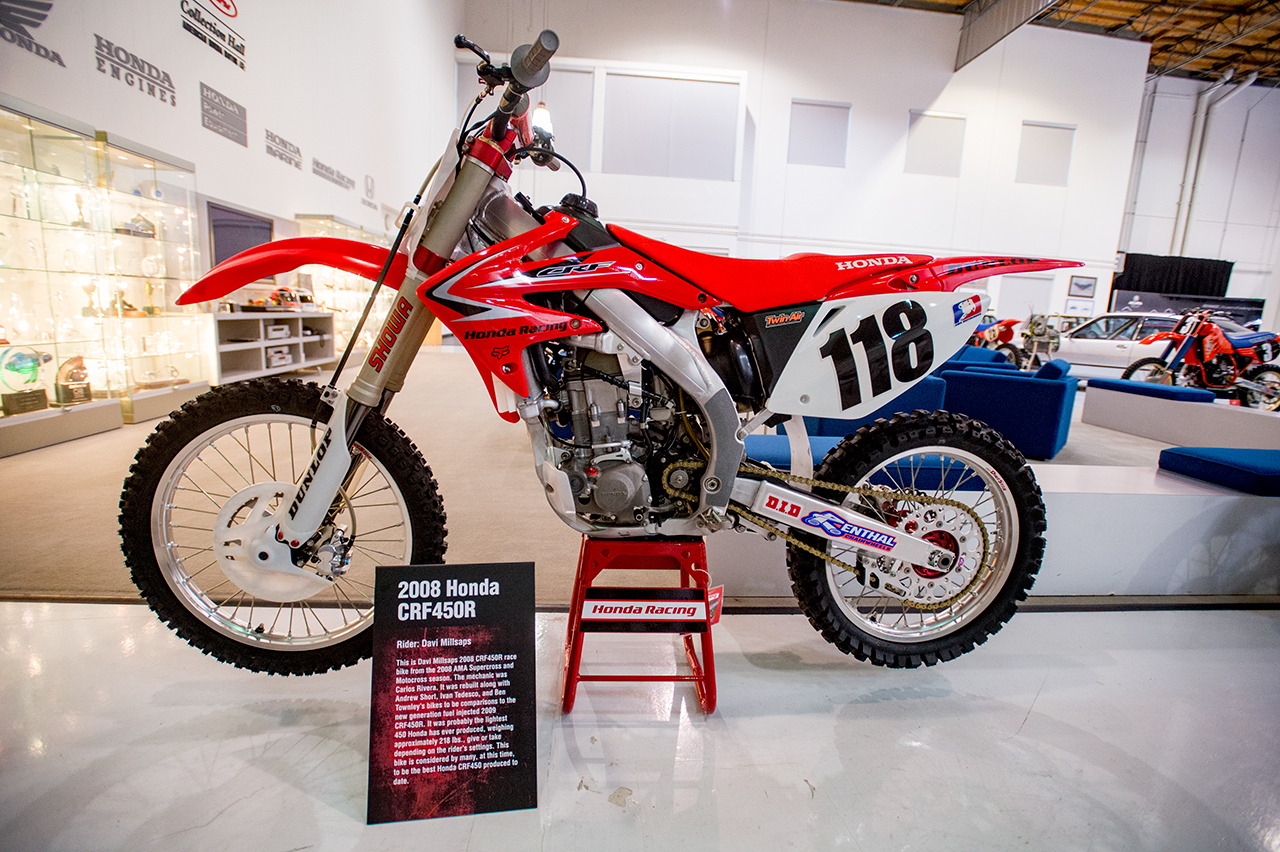 Honda claims this is the best CRF450 produced to date. Given it was built on a 2008 chassis, it probably is a solid claim.
The bike that pushed Honda into making two-strokes. Gary Jones earned that number one plate. 
There are lots of racing machines in the museum.
Honda's first USA motorcycle was a 1962 Super Cub 50. It was lightweight compared to similar motorcycles of the time and happened to be a four-stroke.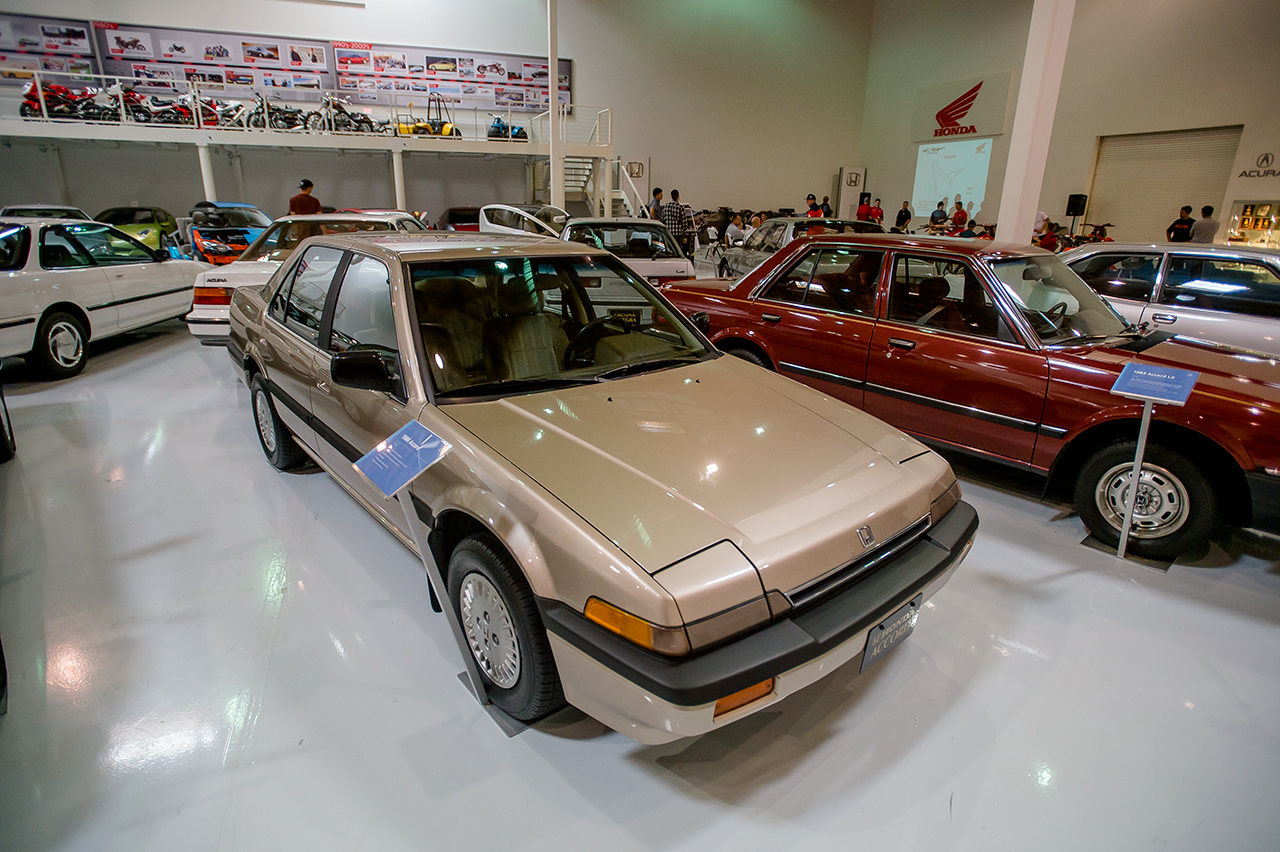 You know that roommate (or your kid in college) who has a beat up 1986 Accord? It probably reassuring to know that here is one in a museum that is polished, admired and loved.
THE LITTLE PROFESSOR DROPS BY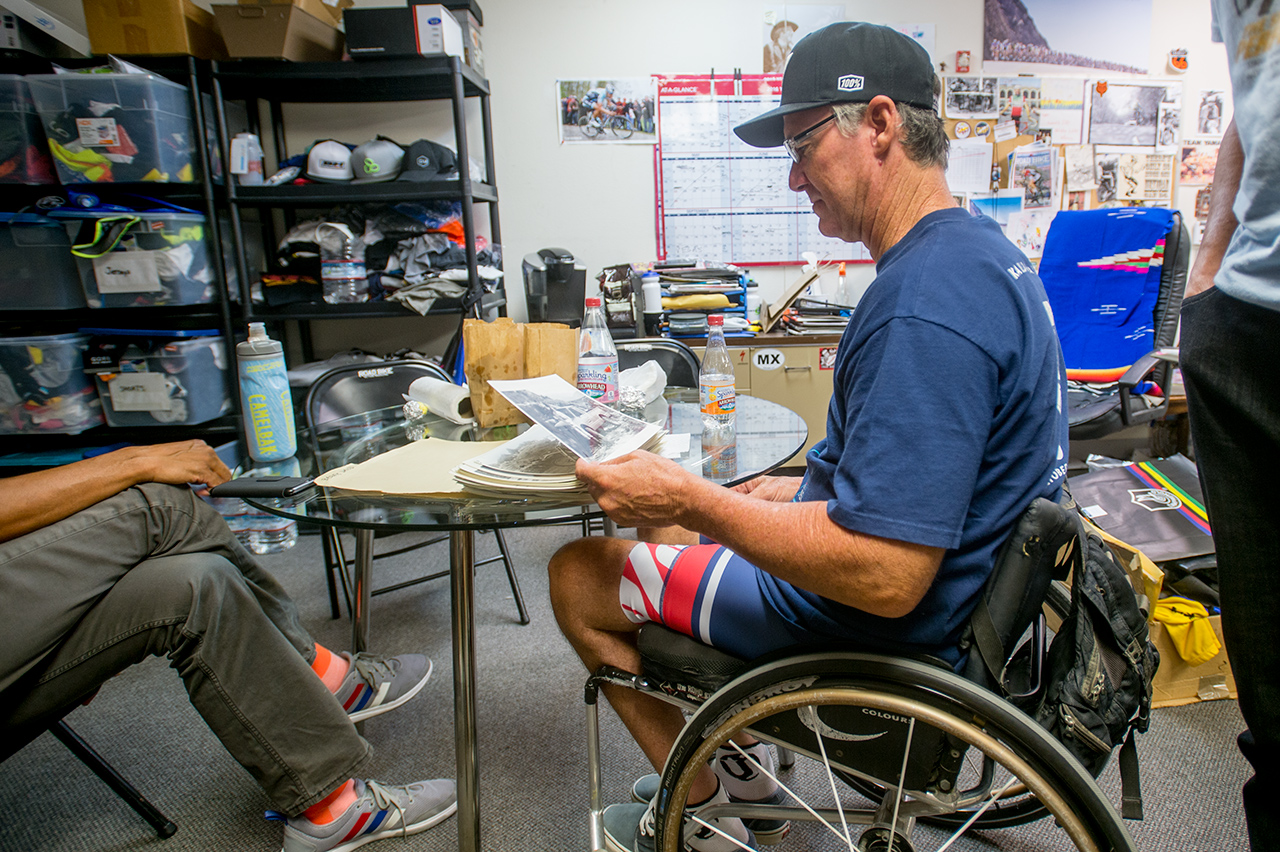 David Bailey came by to see what incriminating evidence we may have on him in our vast archives.
Usually production weeks are quite uneventful, with lots of picture hunting and reading. This week was different. Six-time Champion David Bailey stopped by the Hi-Torque offices after cycling around the Santa Clarita Valley to brief us on his next project. Bailey wants to race the Race Across America event with Doug Henry and two other riders. After his crash that left him paralyzed in 1987, Bailey advanced the designs of handcycles and went on to win the Ironman triathlon in 2000. Bailey is among the athletes that transcended their injuries. Much of the visit, Bailey told priceless stories about the glory days of his racing career.
David Bailey describes his road bike to Roland Hinz, Jody Weisel, Robb Mesecher and Greg Flanagan.
MARVIN MUSQUIN 2015 NATIONAL SEASON STATS
Marvin Musquin performs his favorite trick–a heelclicker.
Many forget that "Moving" Marv is a 450 rookie this year. Musquin won the 250 World Championship in 2009 and 2010. In 2011, Marvin Musquin came over from France to race with the top riders in the USA. KTM signed him and German Ken Roczen to the USA 250 team. After being a runner-up in several championships, Musquin would win the 2015 Supercross 250 East Championship. In 2015 he was a strong challenger to Jeremy Martin and was two points behind entering the last race at Ironman. He lost the championship by 13 points after his 250SXF died in the first moto. KTM moved him up to the 450 machine in 2016. They handed all of their 250 efforts over to the Troy Lee Designs KTM team. While Musquin had a slow start to 2016, he has made many podiums and was second overall last week at Unadilla.

MARVIN MUSQUIN'S 2015 STATS (250 class)
Moto starts: 24
Moto wins: 10
Moto Podiums: 16
Overall Wins: 2
Overall Win Percentage: 25%(3 of 12 races)
Moto Win Percentage: 41.6% (10 of 24 motos)
Overall Podium Percentage: 66.6% (8 of 12 motos)
Overall Points Earned: 479
MARVIN MUSQUIN'S 2016 STATS (450 class)
Starts: 20
Moto wins: 0
Moto Podiums: 8
Overall Win Percentage: 0%
Overall Points Earned: 325
MXA'S WEEKEND WINNERS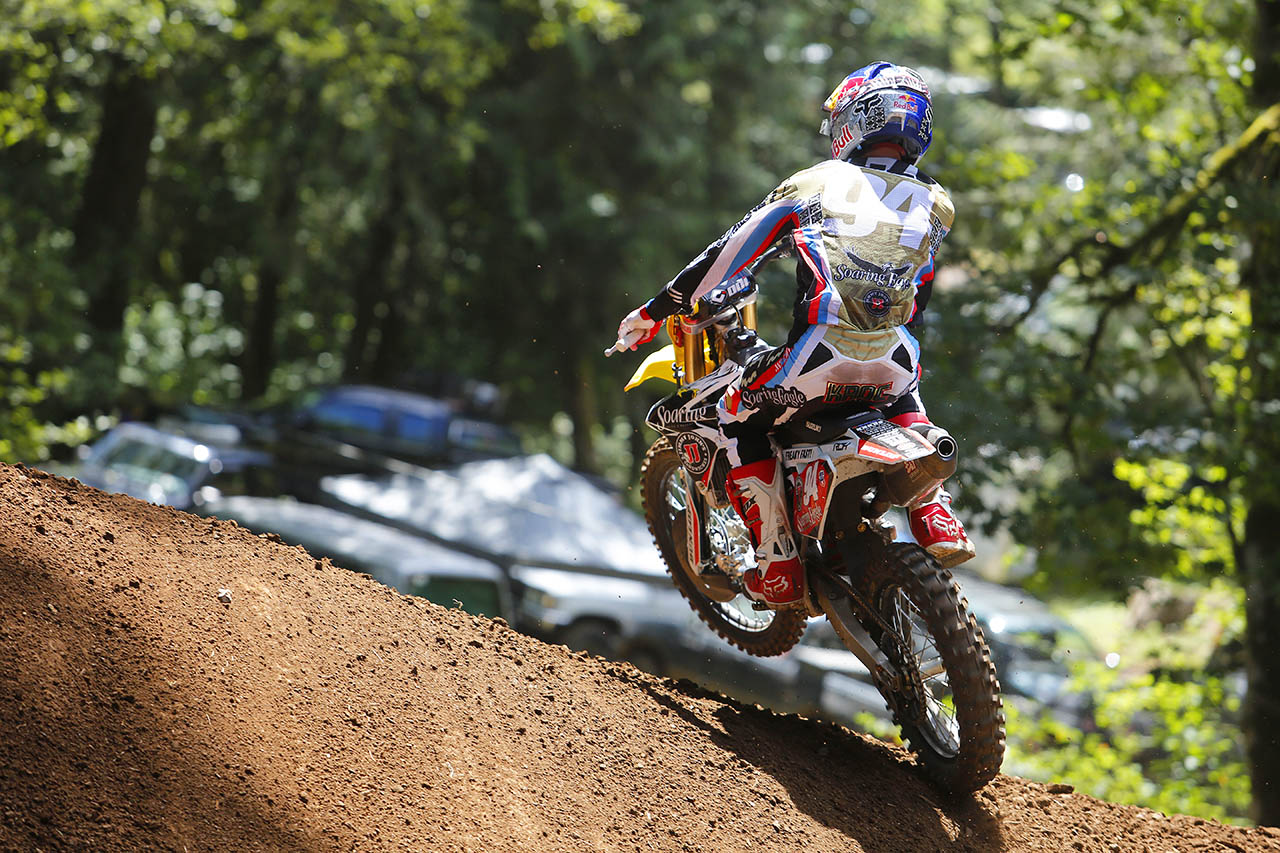 Ken Roczen raced strong at Unadilla.
AMA Nationals 450 Class: Ken Roczen.
AMA Nationals 250 Class: Cooper Webb.
MXGP 450 Grand Prix: No Race. Series picks up at Assen, Netherlands Aug 28th.
MX2 250 Grand Prix: No Race. Series picks up at Assen, Netherlands Aug 28th.
Australian National 450: No Race. Series picks up at Toowoomba Aug 21st.
Australian National 250: No Race. Series picks up at Toowoomba Aug 21st.
Canadian 450 National: Matt Goerke.
Canadian 250 National: Cole Thompson.
Maxxis British 450 National: No race. Next race August 21st at Preston Docks.
Maxxis British 250 National: No race. Next race August 21st at Preston Docks.
UNADILLA RACE DAY CONDENSED NEWS
Cooper Webb's strength is mating consistency with speed. Photo: Scott Mallonee
WINS AND FAILS
Team BTO Powersports KTM had a fiery start to the event. Their rig caught fire the night before the National. All of the factory KTM and Husqvarna teams helped the riders out with parts.
BTO's Benny Bloss got a career best of fourth overall at Unadilla.
Ken Rozcen pretty much has the championship at this point. He is 63 points ahead of Eli Tomac with two races left.
Marvin Musquin finished 3-2 for second overall.
Gared Steinke raced Unadilla on his trusty 125cc two-stroke. He wasn't able to finish the consolation race.
Jessy Nelson sustained a serious injury in the second moto. The AMA red-flagged the race.
MXA CLASSIC AD: JULY 1982
Are you a winner? Don't be a loser, ride a Suzuki. That is Wes Cooley, Mark Barnett, Kent Howerton and Terry Vance in the ad.

AMATEUR SHOT OF THE WEEK
Jago Geerts won in Orlyonok, Russia.
In the USA, much of the amateur focus is on AMA-sanctioned races like Loretta Lynn's. However, there is a race abroad that focuses on the MXGP hopefuls. The FIM Junior Motocross World Championship happens near the end of the GP season and talent comes from world wide to race it. This year it was held in Orlyonok, Russia. Jago Geerts won the overall in the Junior 125cc race, which is the premiere race of the event. When Jeffery Herlings moves up to the 450 class in 2017, the 16-year-old Geerts would be a likely successor.
PHOTOGRAPHIC RAMBLINGS
The trusty old 80-200mm f/2.8 on my old D90 after shooting a local mud race back in 2011.
My 70-200mm f/2.8 VR2 lens is jacked up. I finally sent it in to be repaired. In the meantime I have some backup gear to shoot with. The 80-200mm's I own are ancient by camera standards. Most of them were built in the mid-to-late 1980's. Compared to the current 70-200mm they really show their age. The autofocus is slow and the images are soft in the corners. Their one advantage is price. When I was getting started in photography a brand-new 70-200mm was priced (and still is) past $2000. The 80-200mm's ran about $300-$400. What happened to the D90 in the photo above? It was broken while photographing a rodeo.