KYOSHI'S CORNER: LIFE IN THE MXA TRENCHES
Click on images to enlarge
KYOSHI'S CORNER

This video screengrab has a special place in my heart. 
By Kyoshi Becker

As many of you may have noticed, there is a new guy at MXA (me). What started out as just contributing photos finally led to an opportunity to join the team (which I gladly took). I have been photographing motocross since 2011. Thank you to everyone who helped me get here. While I have much to learn, under the tutelage of Jody, Daryl, Basher and the many who walk though MXA's doors, I'll get up to speed.
The man on the KTM in the above photo is Kurt Caselli, the desert racing legend from my home town. While I never really knew Kurt well, our few interactions left an impact on me that few other riders could have. I remember where I was when we learned he was taken from us. While there is a clear line between desert racing and motocross, Kurt was a man who bridged the gap, embodying the overall dirt bike racer as a persona. We won't forget you Kurt.
MY FIRST ACTUAL PRODUCTION WEEK
Cody Leighton shows us what a mechanic is made of.
MXA is known for its technology-packed magazines and to keep them that way, the MXA editors spend a great amount of time producing, refining and editing content. Crunch time came this past week as the final edits and layouts for the May 2016 edition were being completed. El Pollo Loco lunches at our desks and a myriad of endless tweaks set the tone for my baptism under fire during my first-ever production week. It helped that we didn't have to go to the Dallas Supercross round—because that would have taken a couple days out of our schedule (and since we had been to every race up to this point and would be sending John Basher and Dennis Stapleton to both Atlanta and Daytona—we needed a break). Although the core MXA staff weren't going to Dallas, we had our loyal freelancer Brian Converse was there and we kept on top of the scores, crashes and action.
Johnny Jelderda flying through the whoops on Hayden Mellross' 51Fifty YZ250F.
We wrapped up the bulk of the May issue on Monday and immediately headed from our dim neon office lights to the bright SoCal sunshine at Milestone on Tuesday for a bike test. Unfortunately, everyone was late due to complications on the nearby freeways. All our gears have shifted to the June 2016 issue, so Daryl Ecklund, Johnny Jelderda and I were going to spin some laps on Hayden Mellross' 51Fifty Yamaha YZ250F. The staff at 51Fifty was very helpful in explaining the setup and I did interviews with team manager Craig Monty and mechanic Cody Leighton between riding and shooting. We always learned things during a test—and Johnny Jelderda, who is racing the 250 West, just may be making some tweaks on his privateer Yamaha after riding the 51Fifty machine of the Australian Mellross.
Johnny Jelderda may just have the world's happiest pooch.
While we were at Milestone we got to catch up with Vince Friese. Vince, who is known for his aggressive riding style, is a pretty chill dude and we had a good talk. To told us how many laps he likes to use for practice (20) and the secrets of his good starts. It was a busy day as Johnny and Daryl were busy on Milestone's Supercross track, and I was shooting, interviewing and watching everything that was happening (and for a change, I was getting paid to hang out at a racetrack).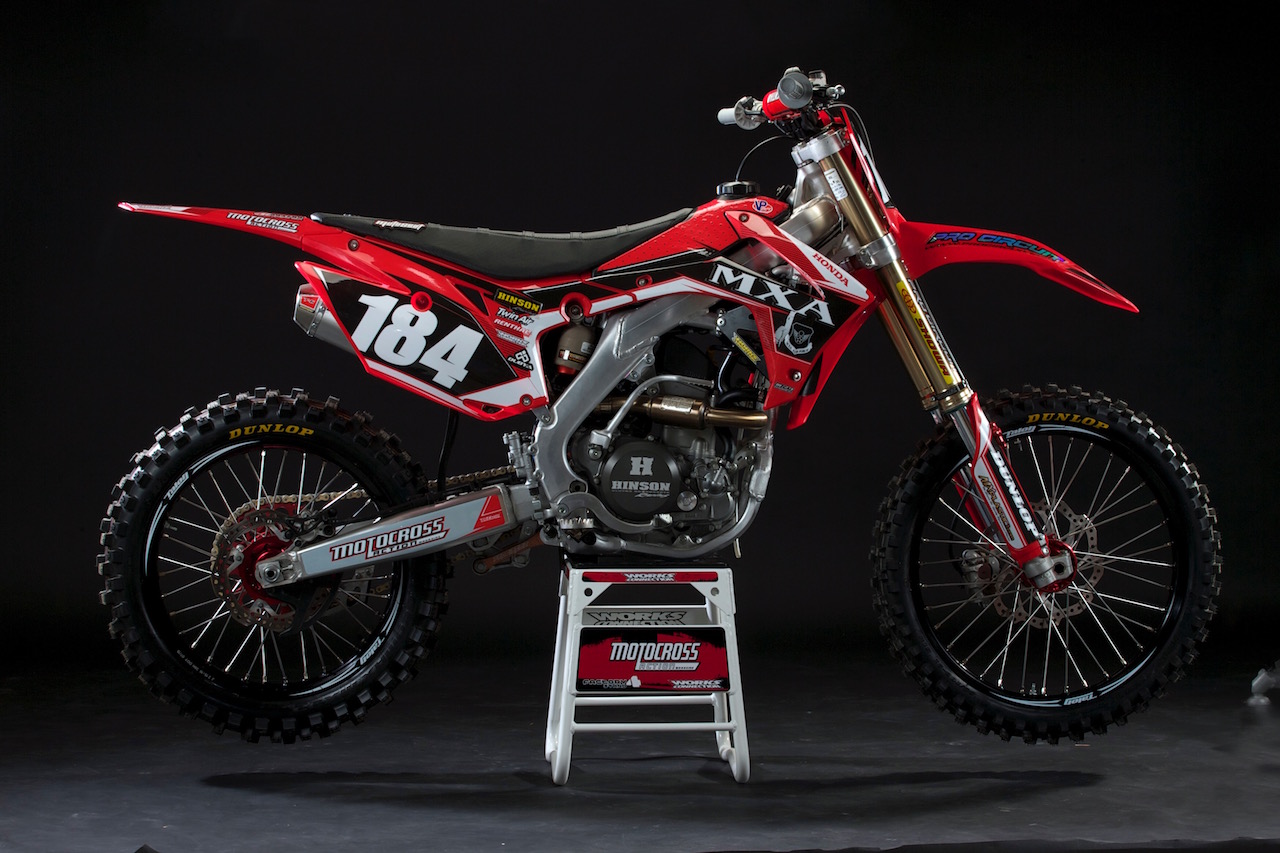 Our Pro Circuit Honda CR250 is scheduled for its shake-down cruise on Thursday at Glen Helen. It makes 44 horses—up from 38 stock.
A CAUTIONARY TALE OF GLEN HELEN
We had missed last Thursday's test day at Glen Helen because of our production schedule, but it didn't matter because it rained. What's the big deal with the rain? Ask the KTM Product Development test crew—they went to Glen Helen on Thursday and tried to wait out the rain, but finally gave up and decided to leave. However, while they sat in the pits waiting for the rain to quit, the river that crosses the road into Glen Helen had risen. The road was flooded and the County closed it to traffic. To get out they had to cut through the prison (next to Glen Helen), get a guard to open the back gate and drive through the Rosene Ranch housing project.
The MXA gang will be back at Glen Helen this Thursday (no rain is scheduled). Jody Weisel is meeting with the KTM test guys for another round of WP AER air fork testing and he and Davey Coombs are scheduled to go over details for the May 28th Glen Helen 250/450 Nationals. Daryl has some YZ125 exhaust pipes to evaluate. Dennis Stapleton will be doing the photo riding for the 2016 Honda CRF250 project bike that was just finished last week (and he will be on a plane on Friday morning for Atlanta for 10 days of carousing through Georgia and Florida with John Basher and MXA's Travis Fant). As for me, I will be shooting photos of all the action.
AMATEUR SHOT OF THE WEEK
At this size, you can triple the whoops.
The few hours I am not working on stories for the MXA website or shooting bike tests for the magazine, I like to go back to my roots and shoot at the local races. Following talent early on is both a fun hobby and a gamble to see if I am photographing the next big thing in ten years. Lucky for me, my only stake in the bet is valuable time. This Sunday was no different as I went out to a local track in Lancaster, California, and shot photos of a fast 65cc rider named Rob Hoskins. While Rob has yet to show his talent at a National Amateur series, he is proving himself in the California Gold Cup where his 13-point lead makes him the top rider in his class. There is only one more race in the series to go for Rob.