LATEST 2020 MXGP RACE SCHEDULE: TWO TRIPLEHEADERS, ONE DOUBLE HEADER, 6 COUNTRIES AXED & MXDN MOVED
No matter how you cut it, 6 MXGP's at two sand tracks, like Lommel above, favor Jeffrey Herlings (84). However, four GPs in Italy in one season don't hurt Tony Cairoli's chances.

An updated 2020 FIM Motocross World Championship was released on Friday, July 3, 2020. This is not the first second, third or last updated MXGP schedule that the fans will see, but, as of this moment, and this time of pandemic uncertainty, this schedule boasts 15 confirmed GP races—although eight of those 15 races are being held at three tracks. The Kegums track in Latvia will host three GPs in seven days (Sunday, August 9, Wednesday, August 12 and Sunday, August 16). In September the Faenza track in Italy will have a double-header race week with races on Wednesday, September 16, and a followed-up race on Sunday, September 20. Then, in October Lommel will host three consecutive GPs in Belgium on the same Sunday/Wednesday/Sunday cycle as Latvia on October 18, 21 and 25.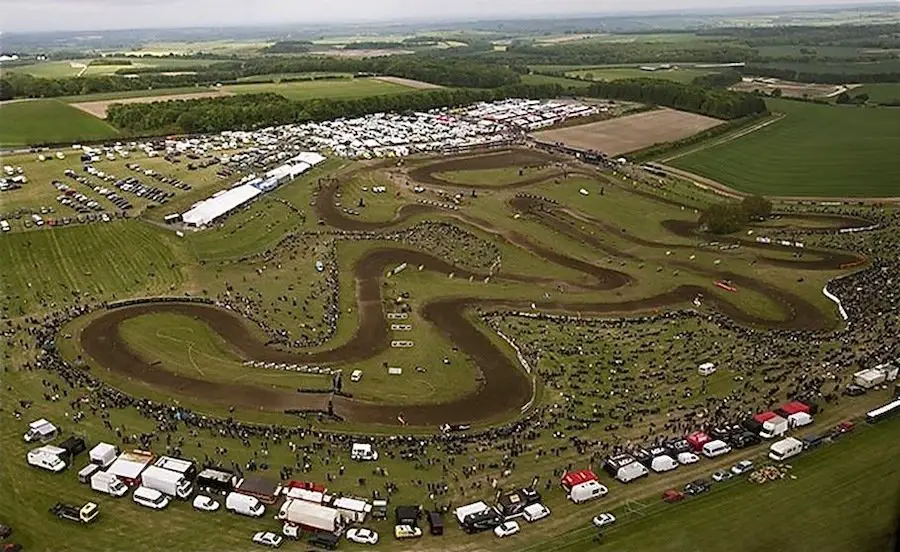 Matterley Basin will replace Ernee, France, as the location of the 2020 Motocross des Nations.
The first MXGP event, since the World Championship series was stopped after rounds one and two were held at Matterley Basin and Valkenswaard back in early March, will be the AMA Supercross-like Latvian trio of races—and only 1000 spectators will be allowed to attend each of the three events. It appears to be a failed attempt to make the Latvian triple-header seem more international, the three Grands Prix will be billed as the GP of Latvia, GP of Riga and GP of Kegums (not unlike "Fly-Away" races, these are "Drive-Away" races). By the way, the only "Fly-Away" race left of the schedule is Argentina, which will be the last GP of the season on November 22 (it will be summer in Argentina in November).
Obviously, with three nations taking up 8 of the 15 dates more than half of the 2020 FIM World Motocross Championship will take place in three nations. And Italy will actually have four MXGP races in total with Faenza (2), Mantova and Trentino all making the calendar. All of this means that some countries will not be on the 2020 schedule.
Who got the axe? The Czech Republic, Sweden, Finland, Germany and, unless otherwise announced, Russia and Portugal don't have dates. Additionally, Turkey, which is on the schedule, is iffy for 2020.
The 2020 Motocross des Nations at Ernee, France, has been canceled, but will be moved to England's Matterley Basin track on the same ill-timed September 27th date (which would be the second time that the MXGP series went to Matterley in 2020). It is ill-timed because that date is in mid-season—with 7 GPs scheduled after it. Hardly the season-ending jubilee that the MXDN is known for. Ernee will get the MXDN in 2023, but according to the MXGP organizers, Italy will have  it in 2021 and the USA will get it in 2022.
For the 2020 season, the MXGP race day schedule will be changed to the AMA National schedule, which means no Saturday timed qualifying for gate pick for Saturday's qualifying races for gate pick for Sunday's GP. Yes, it does sound stupid when said out loud. The 450 and 250 GP classes will be held on one day (sometimes on Sunday and sometimes Wednesday) with timed practice in the morning and the main races starting at 12 Noon. The day before each MXGP race, the support races will run. There will be two support class races at every event (except in Argentina). There will be 4Women's race, 8 EMX125 events, 9 EMX250 races, 4 EMX Open races and 1 EMX two-stroke race.
We give the GP organizers credit for working hard to come up with solid dates to use as a guide to the 2020 World Motocross Championship. It can't be easy to schedule races without knowing what each government is going to allow (and limited numbers of spectators will be common place). Yes, it is messy and instead of the "2020 World Motocross Championship," it looks a little like the "2020 Latvian/Belgian/Italian Motocross Championship." But, it's better than a total wash-out of the 2020 racing season.