LEGENDS UPDATE: SUCCESSFUL RACE ACROSS AMERICA
Click on image to enlarge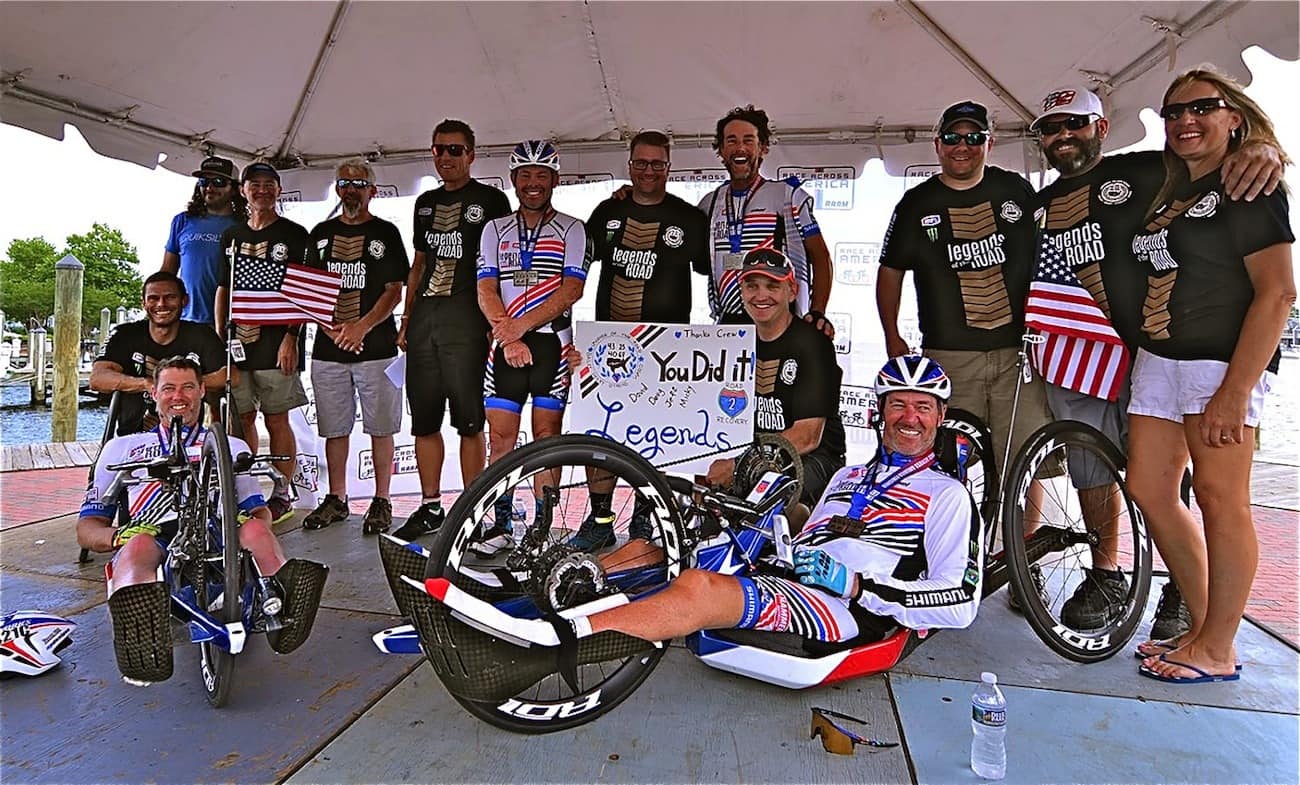 The team is much larger than the four-men who put in the sweat equity. It's also the people who catered to their needs for 3070 miles (MXA even had a test rider in the crew—John Perry, fourth from left in back row).
Team: David Bailey, Micky Dymond, Doug Henry, Jeff Ward
Place: Second in four-man team (50-59)
Distance: 3070 miles
Time: 7 days, 19 hours, 58 minutes
Average speed: 16.33 mph average
Finish: City Dock, Annapolis, Maryland
From www.road2recovery.com: A truly unique team of racers crossed the line at City Dock to take second in the four-rider age 50-59 category. These athletes are all "Legends" in every sense of the word. All are retired from one of the most grueling and physically demanding sports there is and come to RAAM with a legion of loyal fans from all over the world.
But these four aren't known for their ultra-cycling. These guys all had highly successful careers in motocross and Supercross, sports where men ride 240-pound, 60-horsepower machines over treacherous terrain that taxes their strength, stamina, skill and endurance. Many will be surprised that sports trainers regard top-level motocross racers to be among the most conditioned athletes of any sport. And as with most of the top motocross riders, these guys used cycling in their training and all have deep knowledge and respect for cycling.
Founding member of the team Micky Dymond is a two-time 125cc Motocross Champion, former Supermoto champion, and a member of RAAM 2014's winning 4-rider team, the "Legends of the Road." Micky's RAAM effort kindled an interest in one of the biggest names and most-loved champions of U.S. motocross, David Bailey, a 250cc and 500cc champion whose career ended when he was paralyzed in a 1987 racing crash. He later went on to be a highly competitive physically challenged triathlete with several top finishes and a victory at the Ironman World Championship in Hawaii.
Together the two recruited another fan favorite, Jeff Ward, the only motocross racer to win the 125cc, 250cc, 500cc and Supercross championship. After he retired from motocross Ward had a successful auto-racing career, the highlight of which was a second place finish in the 1999 Indianapolis 500.
The fourth member was Doug Henry, winner of a 125cc Supercross championship, a 125cc motocross championship and a 250cc motocross championship, who after retiring from motocross kept his competitive fire going in Supermoto events, where he unfortunately suffered a paralyzing crash. Bailey and Henry rode hand-cycles custom-built by Dan Gurney Racing while Dymond and Ward rode standard bicycles.
These four men who were once fierce and competitive rivals teamed up for the 3,070-mile test of determination and will that is RAAM for themselves and for Road2Recovery. The Road 2 Recovery Foundation is a 501(c)(3) non-profit organization founded to help professional AMA-licensed Motocross/Supercross members with financial assistance if they sustain career-ending injuries as well as providing motivational, emotional, and spiritual support to these individuals and their families. www.road2recovery.com