WHAT IT'S LIKE TO RIDE THE 2018 FUEL-INJECTED KTM TWO-STROKE
Click on images to enlarge
Daryl Exklund might not have been happy with how short his trip to Austria was, but with riding like this how could he complain. 
This is a busy time at MXA. The AMA Nationals have started, 2018 bikes are being introduced weekly and we are busy testing all-manner of products. As a rule we often have to split Jody Weisel, Daryl Ecklund and Dennis Stapleton up to get everything done. So, this past week, Jody was busy at Glen Helen building the National track for this Saturday's 250/450 National (and testing forks for the next issue), while Dennis was racing in the 125 Dream Race at the Hangtown Nationals (and finishing in the top ten), which left Daryl Ecklund with the dirty job of flying to Europe to try out the 2018 KTM 250XC-W TPI fuel-injected two-stroke. Daryl was the best man for the job — a former AMA National Pro with significant offroad racing experience, he could tackled the wilds of Austria with a steady hand—while the other two MXA prima donnas stayed at home.
What follows is Daryl's story of his whirlwind trip to ride a bike that people have been asking for, or at the very least, asking about for a long time. The first production-based, fuel-injected, two-stroke, offroad bike. We brought this story to the home page (it also appears in the Mid-Week Report) because we think that everyone who loves two-strokes needs to learn more about the future.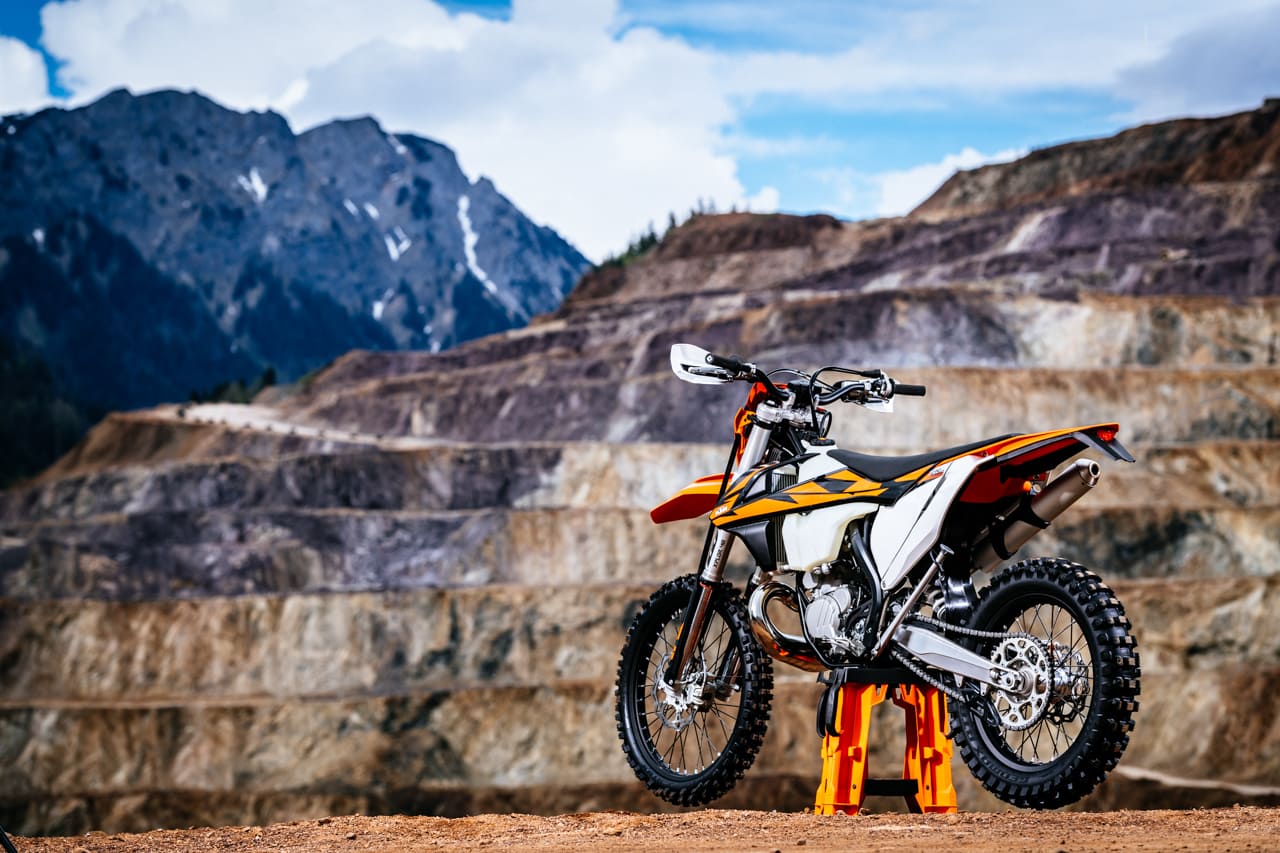 The 2018 KTM 250XC-W overlooking the Erzberg mine.
HERE IS WHAT DARYL DISCOVERED
Would you travel 24 hours to be somewhere 36 hours and then to travel back home for another 24 hours? For some reason, this is the norm when a motorcycle manufacturer ships me overseas for a new bike intro. Sweden, Japan, Holland, Austria or any other far away place—I'm in, I'm on the bike and I'm out. It is like being stuck between a rock and a hard place. I want to complain about the long travel and super short time abroad, but, on the another hand, I can't really complain. However, I don't even get acclimated to the time change or get to indulge in a foreign country's culture before I'm back on a plane headed home. Okay, I am going to stop myself here because I am complaining. The real truth is that I get to go to places that only a few get to go to and I get to ride bikes that almost no one has thrown a leg over. I want to be there, and I would still go in a heartbeat just to have a taste of a short motorcycle experience in a foreign land thousands of miles away from MXA's ancestral test tracks.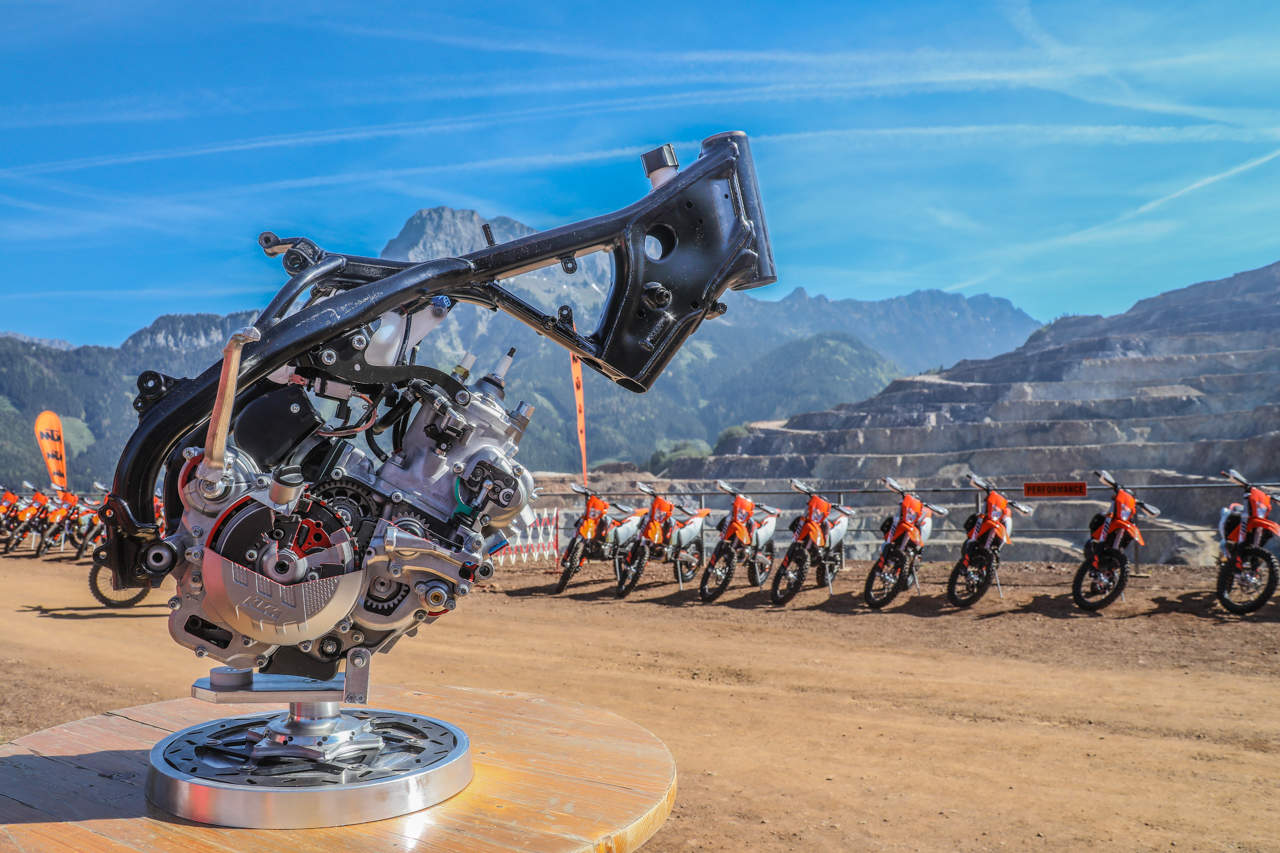 The complete frame and engine of the 2018 KTM 250XC-W TPI. 
This time around, KTM asked MXA to come to the heart of the biggest and hardest offroad race in the world, the Erzberg mine. Pictures do not do this mountain justice. I came here to test KTM's new TPI fuel-injected two-strokes (250cc and 300cc) and to ride them in the most grueling terrain known to man. The 250XC-W TPI is a bike that KTM has had under wraps for several years now. KTM's engineering department have been working on the development on this technology for the last ten years. They went so far as to  developed a direct-injection prototype, but it was extremely heavy and wasn't what they were looking for. They threw it away and started over with the transfer port injection concept.
This was KTM's first attempt at fuel injection. This is a direct injected cylinder that they developed ten years ago. It was heavy and didn't work as well as the current Transfer Port Injection engine. 
KTM's goal was to make these fuel-injected models have the same kind of power spread and weight as the current carburetor models. They found they could accomplish this by using transfer port injection — in which the fuel is injected into the pressure wave to the incoming fuel charge. KTM will only be bringing in the 250XC-W TPI into the States. But MXA rode both the 250 TPI and the Europe-only and 300 TPI. When I boarded the flight to Austria I must confess that I had low expectations for these bikes. I thought they were going to be slow due to having to pass Euro-4 emissions tests. Yes, they would be clean, but I was sure that they would be a little boring at the same time.
There was a line of TPI KTMs as far as the eye could see.
Once at Erzberg, I met up with 2015 Erzberg Rodeo champion Jonny Walker to go riding with him on the 250XC-W TPI. He was going to be my tour guide—who better to navigate me up, down and through the mountain. The 250cc TPI machine delivered a light throttle with a quick response. From the low-end to the midrange, the power was sluggish. I had to feather the clutch or downshift to get the rpm up. But then, from mid to top, it felt like a light switch was hit and the bike took off. The meat of the power was very high in the power range. The sudden delivery was very hard to time correctly and if you misjudged where the power was going to kick in, you could actually looped out from the surprise (I know because I did). I do, however, feel the power could be brought down with a few adjustments to the power valve as well as gearing changes.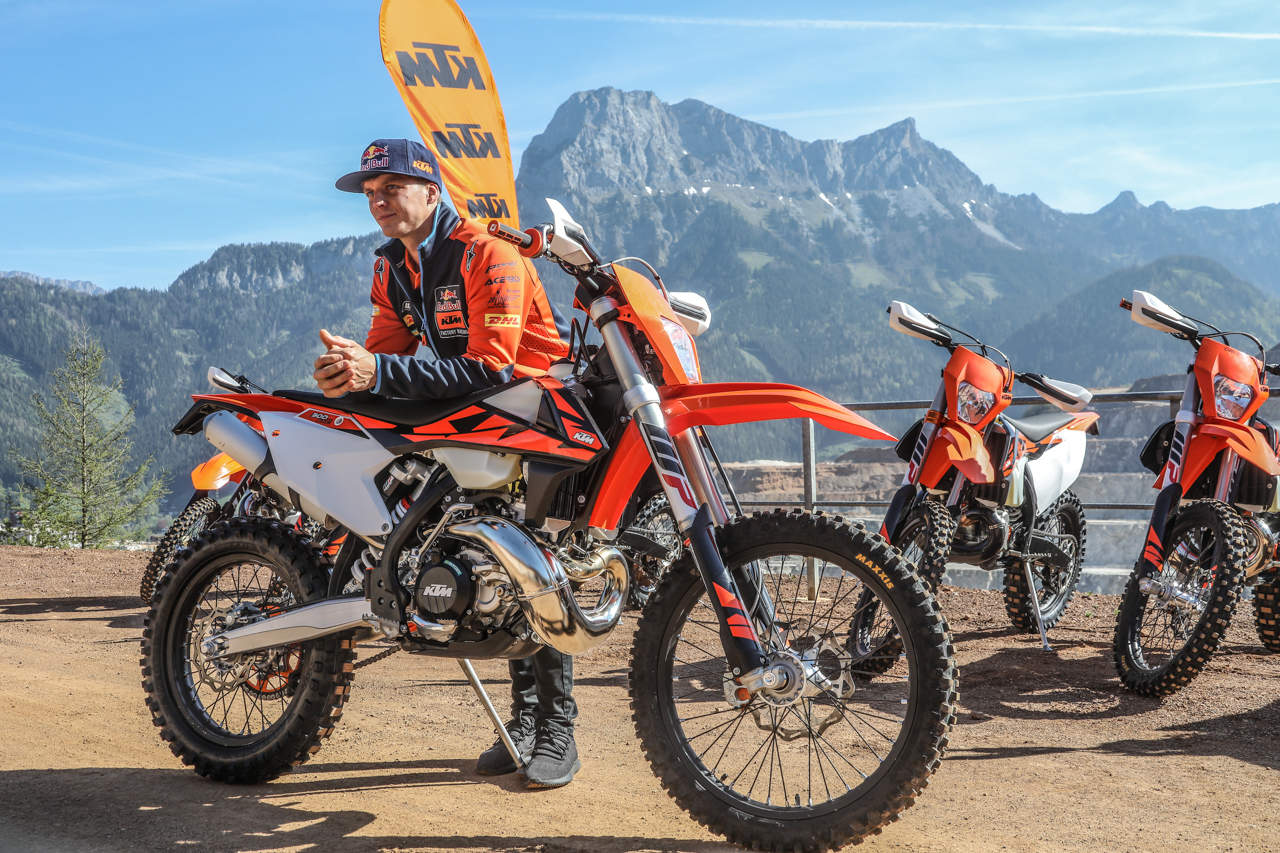 MXA's guide during our stay in Asutria was 2015 Erzberg Rodeo Champion Jonny Walker. Where he was capable of going was amazing. 
I say this with confidence due to the time I spent on the 300XC-W TPI machine. Why? Because the power of the 300 was remarkable. It had power when you needed and where you wanted it. I could ride a the 300XC-W TPI a gear high and just cruise around effortlessly. The power was strong. We are talking as strong or stronger than MXA's 2017 Husky TX300 (which has the same engine as the KTM 300XC engine—sans fuel injection). The MXA test riders like the 2017 Husqvarna TX300 offroad model so much that we turned it into a TC300 motocross version (a model that neither KTM nor Husky make).
As for now, the transfer port injection (TPI) engine will only be offered in the offroad models' since they are the ones that have to meet stringent environmental rules. But, there will eventually be fuel-injected motocross bike versions.
I have to say I'm a little bummed that the 300XC-W TPI model isn't coming to the U.S. market. However, thanks to lots of experience on the 2017 KTM 250SX, Husky TC250 and MXA's modded version of the TX300, I feel the 250XC-W TPI model's small blemishes will be easy to iron out. This was a only a blitz trip to Austria to ride the fuel-injected KTMs. And, by the way, I leave in seven days for Japan to ride the 2018 Suzuki RM-Z450, but thankfully this time I'll be overseas for a full week.
Look for a full write up about KTM's two-stroke breakthrough, along with full technical data and the joys of spending 48 hours in transit for 36 hours of being in Austria in an upcoming issue of MXA. To subscribe to MXA  click here.