LOOKING BACK: GIANT 2017 WORLD TWO-STROKE MOTOCROSS CHAMPIONSHIP PHOTO GALLERY
Glen Helen built a new start for the World Two-Stroke Championship. It didn't turn 180-degrees, but instead shot straight up a steep hill. Here, Zach Bell (100) leads Mike Sleeter (11), Jon Ames (179), Travis Bell (17) and R.J. Wageman (621).
Photos by Debbi Tamietti & Dan Alamangos
Let us return to a time long ago and a land far away! Nope, just messin' with you. This is a look at the photos that Dan and Debbi shot at the 2017 World Two-Stroke Motocros Championships two years ago. The new edition is this Saturday, April 20, 2019—but it's always nice to look back and see where we've been. Enjoy.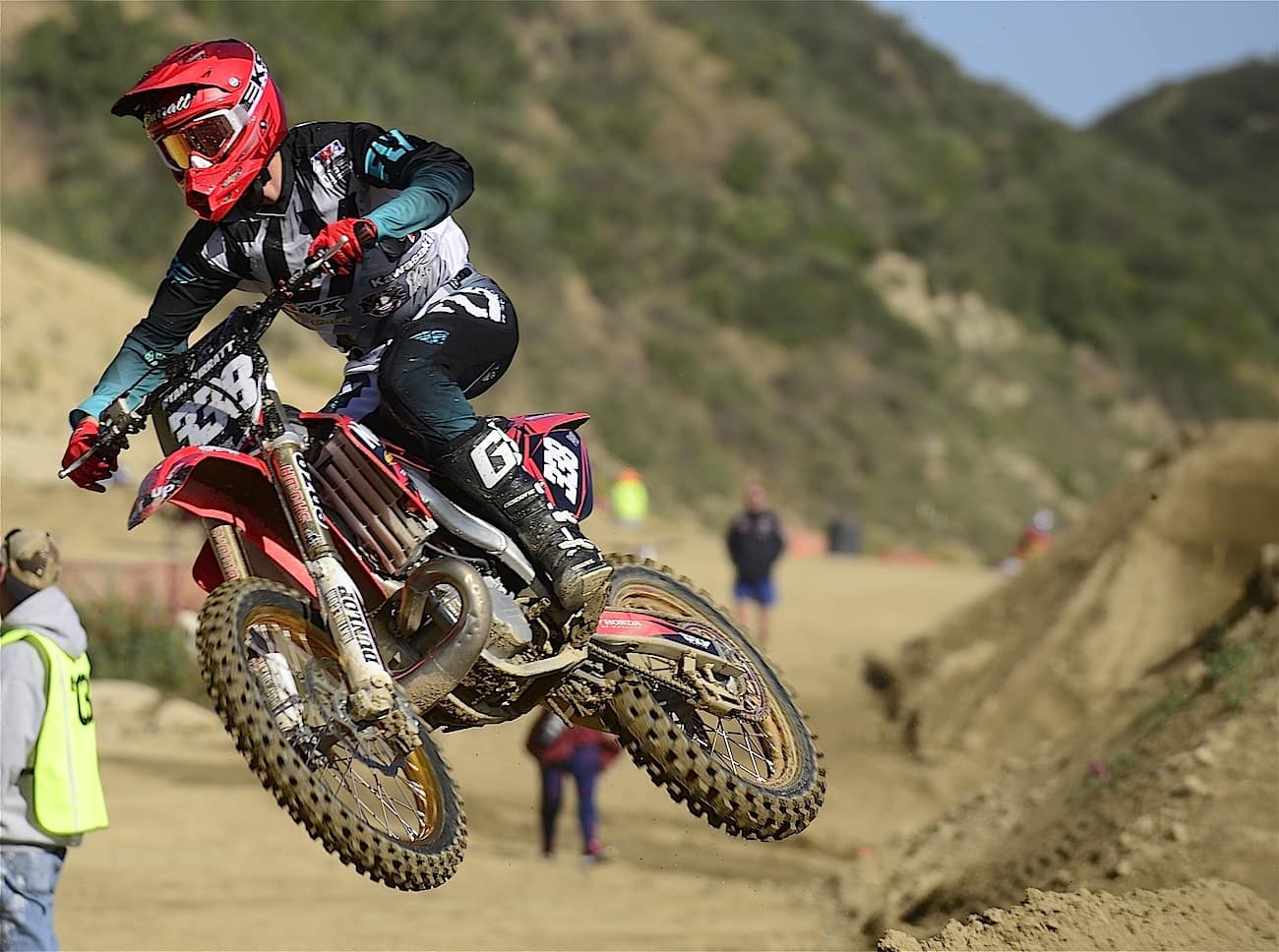 Ryan Surratt's 4th in the first moto left him with a solid mathematical chance of winning, but when Zach Bell crashed and Ryan ran down early leader Johnny Jelderda he was in like Flynn.
Mike Sleeter (111) won the World Two-Stroke Championship in 2015 and ended tied on points with Ryan Surratt this year for the crown. Surratt had won the 125 title in 2016.
Zach Bell (100) was shot out of a cannon in the first moto. He opened up a quick lead and never relinquished it. The second moto wasn't as easy. Zach's 1-6 gave him 4th overall.
MXA test rider Johnny Jelderda raced MXA's project TM 300MX. The TM folks were thrilled when Johnny holeshot the second moto and led for four laps. Jelderda finished 5th overall.
You might recognize the name Jon Ames from the AMA Arenacross series, but it turns out that he not just limited to indoor racing. Ames' 2-4 was good enough for 3rd overall.
Robbie Wageman (141) swept both motos of the 125 Pro class.
Sean Collier (207) is always a favorite at the World Two-Stroke Championship. His booming KX500 is a powerful weapon on a track the size of Glen Helen. Surprise! Sean dropped his KX500 in favor of a TM 300MX. Unfortunately for Sean, he suffered crashes that left him chasing from behind all day. Sean was 10th with a 16-8 day.
After getting a 6th in the first Pro moto, Justin Jones got a flat tire in moto two. He kept going to get a 20th in the moto, but 6-20 score left him in 14th.
The camera's long lens foreshortens the background. This all-new sand section is much longer than it looks. It will be in the the 2019 World Two-Stroke Championship track this year also.
Travis Bell (17) raced Chad Clemen's unbelievable 2003 Honda CR250 into the top ten. It has a three-speed transmission, Terry Varner engine and Kayaba A-kit suspension.
The 2017 two-stroke track used the cut-through pass on Mt. Saint Helen. Although the track doesn't go all the way to the top of the hill, it is visible to every spectator and the riders think it offers more passing opportunities. The cut-through  is in this year's Two-Stroke track design, but going in the opposite direction.
MXA's Dennis Stapleton was running in the top ten until he crashed in moto one and dropped back to 14th. Dennis was racing MXA's project Husqvarna TC250 (with Factory Connection's coil-spring conversion kit in the WP AER forks). Dennis ended up 11th overall.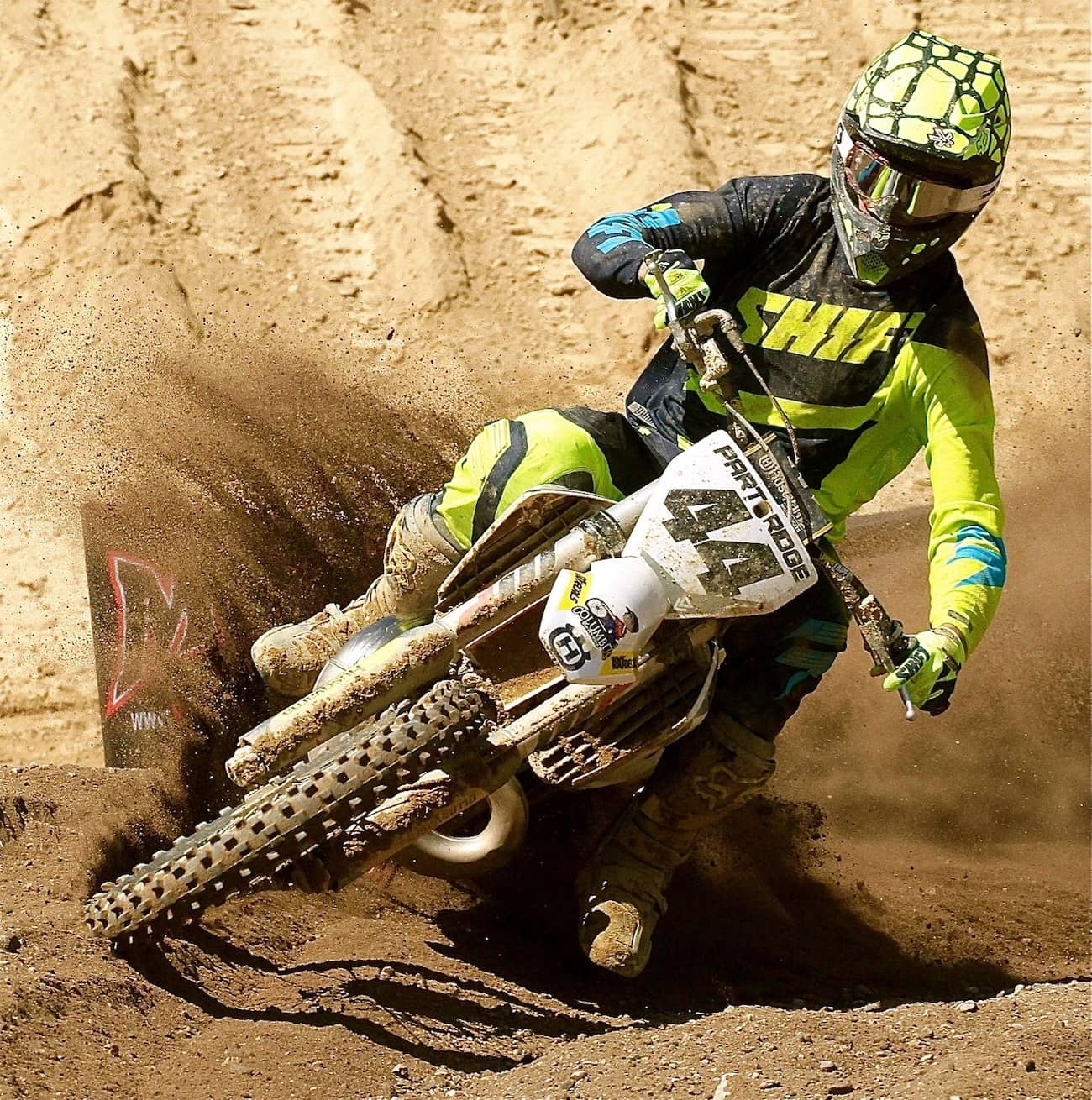 Kyle Partridge (44) never really came to terms with the great outdoors. His 22-16 day does not highlight his real talent, but it does show how tough it is to be a two-stroke hero.
Brandon Scharer (154) raced a fairly basic Honda CR500 in the midst of all the fancy high-tech two-strokes. Here, he tries to keep pace with R. J. Wageman's 7th place aluminum-framed Suzuki RM250. Brandon's first moto woes left him with a 28-3 day. He coulda been a contender.

Jered Thomas (311) and his restored and trick Kawasaki KX250 are under attack from MXA's Brian Medeiros (68) on a box-stock 2017 YZ250. None of them would make the top 20.
The Pro classes weren't the only tough classes at Glen Helen. The Over-50 Pro class was equally tough. Former Grand Prix winner and Offroad Champion Rodney Smith (31) held off Husqvarna's Andy Jefferson for the win, while Pete Murray, Jon Ortner, Steve Butler and Jungle Jim Chamberlain pursued the leading duo.
Andy Jefferson (17) was the first black motocrosser to ever qualify for an AMA Supercross main event. That was 38 years ago. Today, Andy works at Husqvarna and still knows how to get around a track. He raced MXA's project TC300 —  since Husqvarna doesn't make a 300cc motocross version, it is built from the electric-start Husqvarna TX300.

Steve Butler was Jeff Emig's mechanic when Jeff raced for Team Yamaha, he would go on to become the Yamaha team manager, but now works in the R&D department at Yamaha. Steve was fifth in the Over-50 Pro class. It was his first-ever race as a freshly minted 50-year-old.
FACES AT THE RACES
Rodney Smith gave Beta a class win. Photo: Jon Ortner
Jody Weisel built the track, watered the track and raced the track n the Over-60 Expert class. Photo: Debbi Tamietti
Andy Jefferson. Photo: Jon Ortner
Five-year-old Logan Fout poses in Glen Helen's photo booth. Photo: Jon Ortner
You don't have to be orange to work at KTM, but if you step under their orange awning, like David O'Connor, you are orange whether you like it or not. Photo: Jon Ortner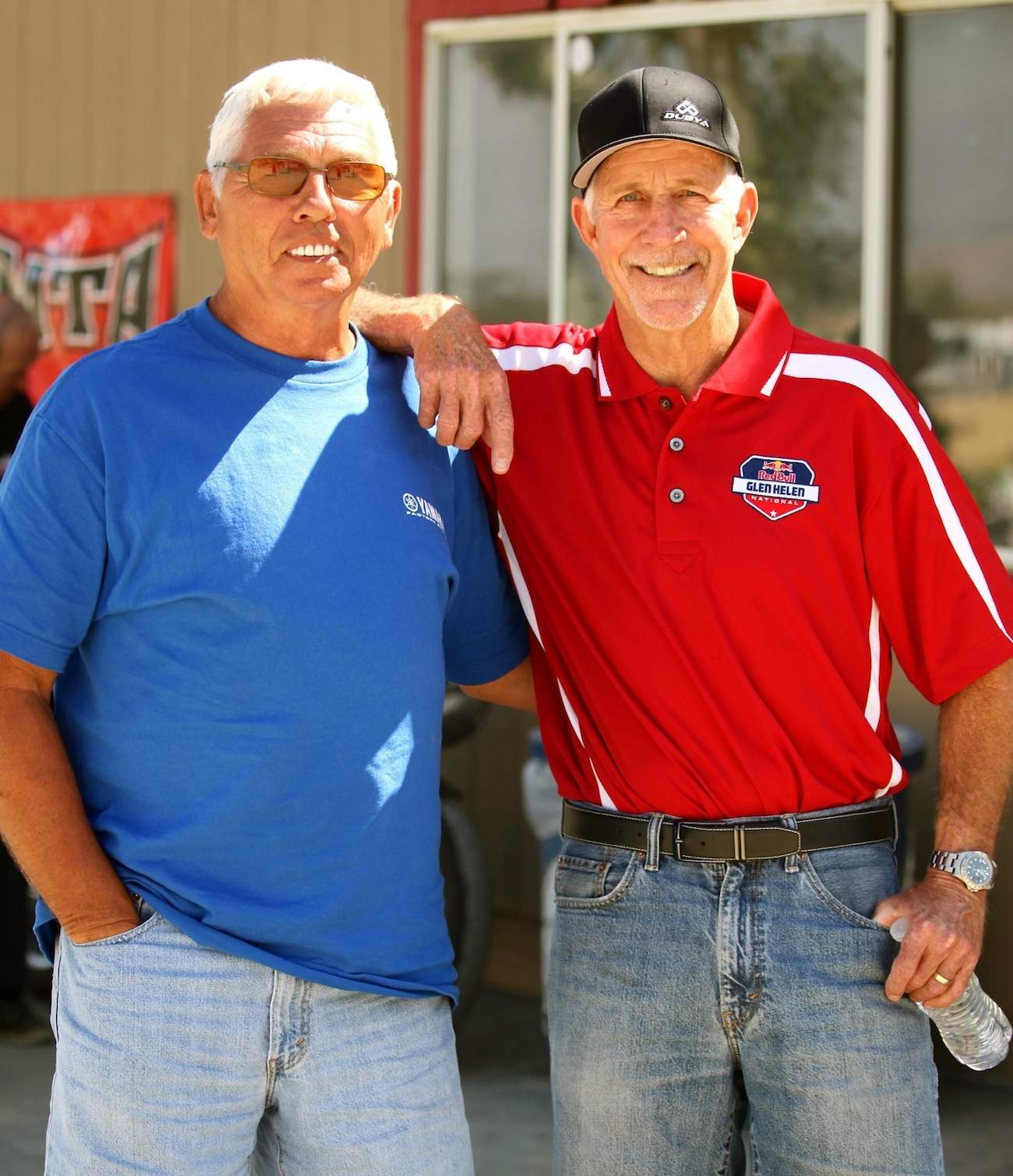 Alan Olson,  Chad Reed's Yamaha mechanic, AMA Supercross Mechanic of the Year and a nine-time World Vet Champion, (left) plays golf every week with AMA Hall of Famer Tom White, who was also an AMA Grand National dirt tracker and World Vet Champion. We miss Tom, who passed away. at the end of 2017. Photo: Debbi Tamietti
Jungle Jim Chamberlain, Steve Butler and Pete Murray. Photo: Debbi Tamietti
Four-time 250 National Champion Gary Jones (left) and his son, ISDE and Baja 1000 winner, Justin Jones. Photo: Rich Stuelke
Jessy James Shedden enjoys a sno-cone. Photo: Jon Ortner
The late Tom White has founded and funded the World Vet, World Four-Stroke Championship and World Two-Stroke Championship with either the White Brothers or Dubya USA. Tom was kind enough to let MTA take over sponsorship of the two-stroke race a few years ago—but he still came out to announce the Pro races. Photo: Jon Ortner
WORLD TWO-STROKE CHAMPIONS (2010-2018)
2010 …Bobby Garrison (Hus)
2011 …Austin Howell (Yam)
2012 …Michael Leib (Hon)
2013 …Sean Collier (Yam)
2014 …Sean Collier (Yam)
2015 …Mike Sleeter (KTM)
2016 …Mike Alessi (Suz)
2017 …Ryan Surratt (Hon)
2018 …Zach Bell (Hus)