LOOKING BACK-MXA CLASSICS: The AMA 500 Nationals Rage On, Can-Am's 125 Drops The Japanese Bikes, FMF Porky Heads, The Most Expensive 125 You Could Buy (Courtesy Of Jeff Ward)
LOOKING BACK – MXA CLASSICS
ÿ
ÿ
Husky-mounted Paul "The Baz" Boudreau was giving Al Baker and his Can-Am a quick look back as the two MXA test riders battled it out at the long-gone Indian Dunes. ÿ
ÿ
ÿ
Hodaka held down the coveted inside cover ad page touting the handling characteristics of their beloved 100cc Super Rat MX bike. Standout features included: "Super suspension with 2-position alloy rear shocks with cooling fins, plastic fenders, 36″ wide handlebars, reed valve induction and a 28mm Mikuni racing carb." It's just a guess, but I'd say only about six million riders in the 1970's got their start on a Hodaka…in fact, long ago at the equally long- gone Claude Osteens Cycle Park, the Hodaka Ace 90 was the first "big" bike I ever rode.ÿ For more on the Hodaka, head to Tom White's
Early Years of Motocross
.ÿÿ
Thanks to the FMF stickers that were found on Marty Smith's factory Honda, this was an ad that caught every MX grommets attention in 1976. The porcupine heads were an especially hot item that instantly gave your bike the exotic look. Unlike today, when big bore kits are popular, FMF was successful with the 100cc sleeve-down kit which was raced locally in SoCal with great results by FMF's 100cc specialist, Greg Toyama. Opened in 1973, under the high-revving eye of FMF founder Donnie Emler, theÿ
Flying Machine Factory
lives on today with "Uncle Donnie" still at the helm.ÿ
ÿ
ÿ
This issue's race coverage centered on the AMA 500cc Nationals and story from the Ravenna, Ohio, round was provided by master MX shooter Jim Gianatsis.ÿ Seven different brands placed in the top 20 with only one Honda, two Yamahas and two Suzukis making it in. It was a big day for factory Suzuki rider Billy "Sugar Bear" Grossi as he went 2-1 for the overall victory on the two-mile course. The win gave him the series points lead. The previous weeks winner, Brad Lackey, put his Euro lessons to good use by almost winning the overall ? he went 1-12 with a front flat while leading moto two ruining his effort. A highlight on the course was a ski jump over a steam crossing that claimed several riders including Jimmy Ellis (on a punched out 355cc Can-Am)ÿthat was removed for the second moto. The Ohio round was the last in the season's march toward the infamous season finale in New Orleans…see below.
QUOTE:
"Bad Brad is about to zap Karsmakers to take over the lead in the second moto. It took him two laps to get around the Honda roadblock and Brad later claimed, "Every time I'd pull up beside Pierre he would center punch me!"
ÿ
The issue also featured a test of the Canadian Can-Am 125 MX-2 which Can-Am claimed made 24 horsepower at 9000 rpm ("that seems a shade high," the test said). The oil-injected, rotary valve engine had a six-speed transmission and "waved goodbye" to the YZ125 and CR125 on the uphill start at Saddleback. The 210-pound bike (with a half tank of gas) had 5.50 inches of rear wheel travel and sold for a whopping $1295.
ÿ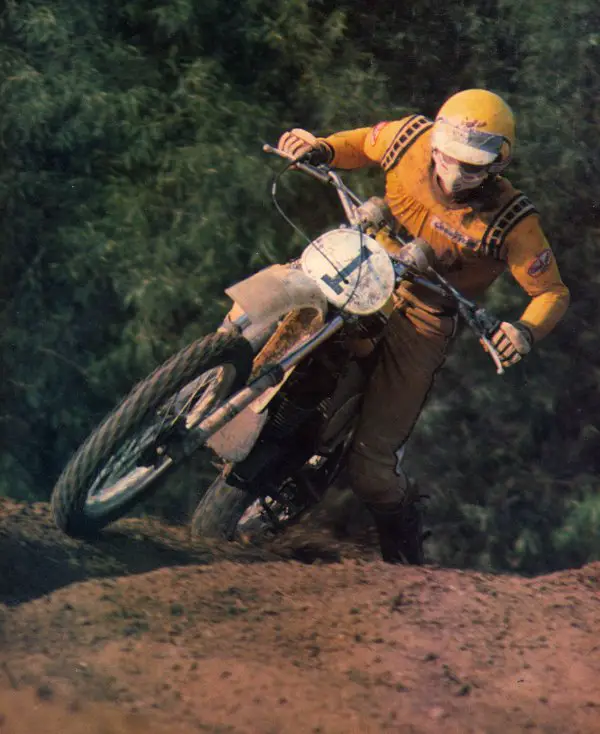 Coming into the final round of the 500cc national series, five riders had a shot at the title: Billy Grossi, Jim Weinert,ÿ Pierre Karsmakers, Steve Stackable and Kent Howerton. Before the Open class title could be called however, there was the 125 National to run and after losing the opening round at Hangtown to Yamaha's Tim Hart, Marty Smith had gone on a tear and won six consecutive races giving him his second series championship. Notable finishers in the "tiddler" class included second place finisher Danny Turner (on a Bultaco!), Honda privateers and future factory Honda riders; Steve Wise & Warren Reid, and some guy named Phil Alderton, who in later years wouldÿgo on toÿrun the Honda of Troy racing team before settling in as a weekly irritant to Jody at the REM races.
ÿ
In the 500 class that day, eight brands were represented with seven different brands filling the top seven places overall. The second moto was run just as the sun was setting and it was an eventful race with crashes, team tactics, broken bikes and a repeat champion in "Jammin" Jimmy Weinert who became a back-to-back champ on two different brands (Kawasaki in 1975). Owing to his outright studliness, Marty Smith also collected enough points on a big-bore bike during the year to claim ninth overall. For a sensational video re-cap of the New Orleans thriller, head to the
Motocross Files
.
ÿ
Owing to the technological creativity of the day, Jeff Ward Racing Products was touting their own version of the ultimate 100cc race bike. Owing to his own diminutive size, Wardy took the opposite approach from everyone else and instead of sleeveing down a full-size CR125, he started with a custom frame and slapped a bigger engine inside. At "around $2000" the ad boasted that the super-fast mini was the "most expensive 125/100cc motorcycle." Like many other hop-up shops, JWRP also offered the highly popular air fork conversion kits. ÿ
ÿ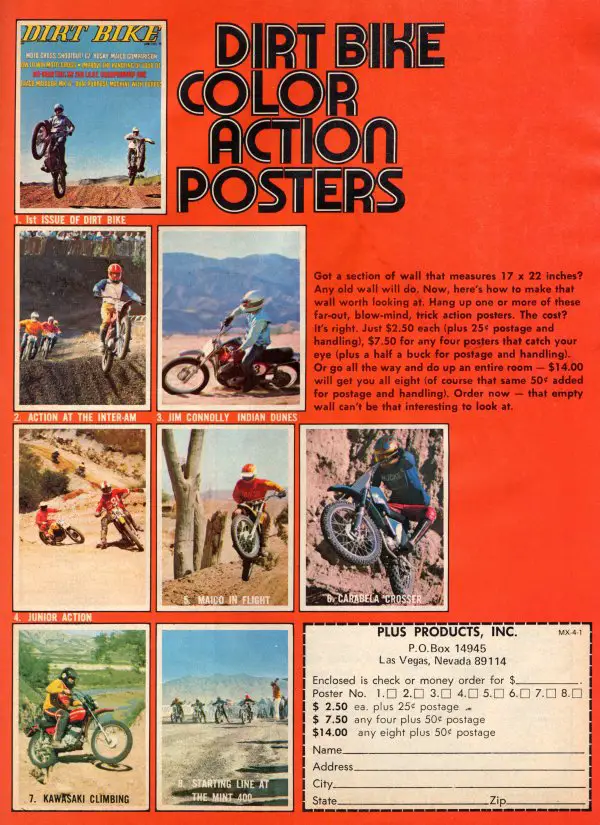 Okay, how many of you grizzly old timers had one of these posters up on your bedroom/garage wall when you were growing up? I personally ran with the "Carabela 'Crosser" and "Action at the Inter-Am" in my room. The first issue of Dirt Bike was a real keepsake.
ÿ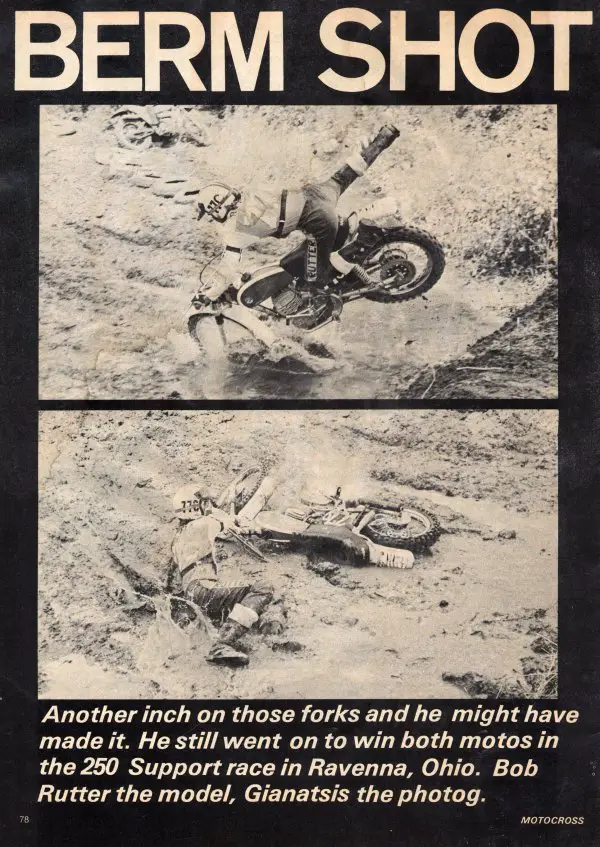 This issue's Bermshot page featured Bultaco rider Bob Rutter crashing his brains out on the creek crossing ski jump at the Ravenna, Ohio, National. Amazingly, Rutter still collected himself to go on and win both of the Support class motos.
ÿ
ÿ
By 1976 new materials were starting to be used for riding gear. Besides their pig skin leathers, Trim and Northstar gear was also available in either denim or nylon. Luckily, denim died, while nylon survived. The Trim brand never really caught on after the 1970s, butÿNorthstarÿleathers were made somewhat famous on the National circuit by Florida's Monte McCoy…and "pit tootsies" everywhere.
ÿ
ÿ