MANTOVA GRAND PRIX 450 OVERALL RESULTS: FEBVRE EARNS SECOND PODIUM OF 2020 AND IT'S A WIN
Romain Febvre's most recent podium was a third place at the MXGP of Latvia on August 9th which was the first round of MXGP after the COVID-19 break. It was also the third round of the season and his only other podium in 2020.  
2020 MANTOVA 450 OVERALL RESULTS
1. Romain Febvre (Kaw)…3-1
2. Jorge Prado (KTM)…1-6
3. Tim Gajser (Hon)…5-3
4. Tony Cairoli (KTM)…4-4
5. Jeremy Seewer (Yam)…2-9
6. Gautier Paulin (Yam)…10-2
7. Glenn Coldenhoff (Gas)…7-5
8. Mitch Evans (Hon)…6-7
9. Jeremy Van Horebeek (Hon)…8-8
10. Jordi Tixier (KTM)…11-10
Other notables: 11. Henry Jacobi (Yam) 12. Clement Desalle (Kaw); 13. Ivo Monticelli (Gas); 15. Brian Bogers (KTM); 14. Dylan Walsh (Hon); 16. Tanel Leok (Hus); 17. Calvin Vlaanderen (Yam); 18. Evgeny Bobyshev (Hus). 26. Thomas Covington (Yam).
ARMINAS JASIKONIS INJURY UPDATE
Rockstar Husqvarna rider Arminas Jasikonis missed the Wednesday race at Mantova after crashing during the second MXGP race in Lombardia on Sunday. The Rockstar Husky stated via instagram that  Arminas was taken to the hospital, was diagnosed with a traumatic brain injury and was put into a medically induced coma. MXA hopes for a full recovery for the Rockstar Husqvarna rider.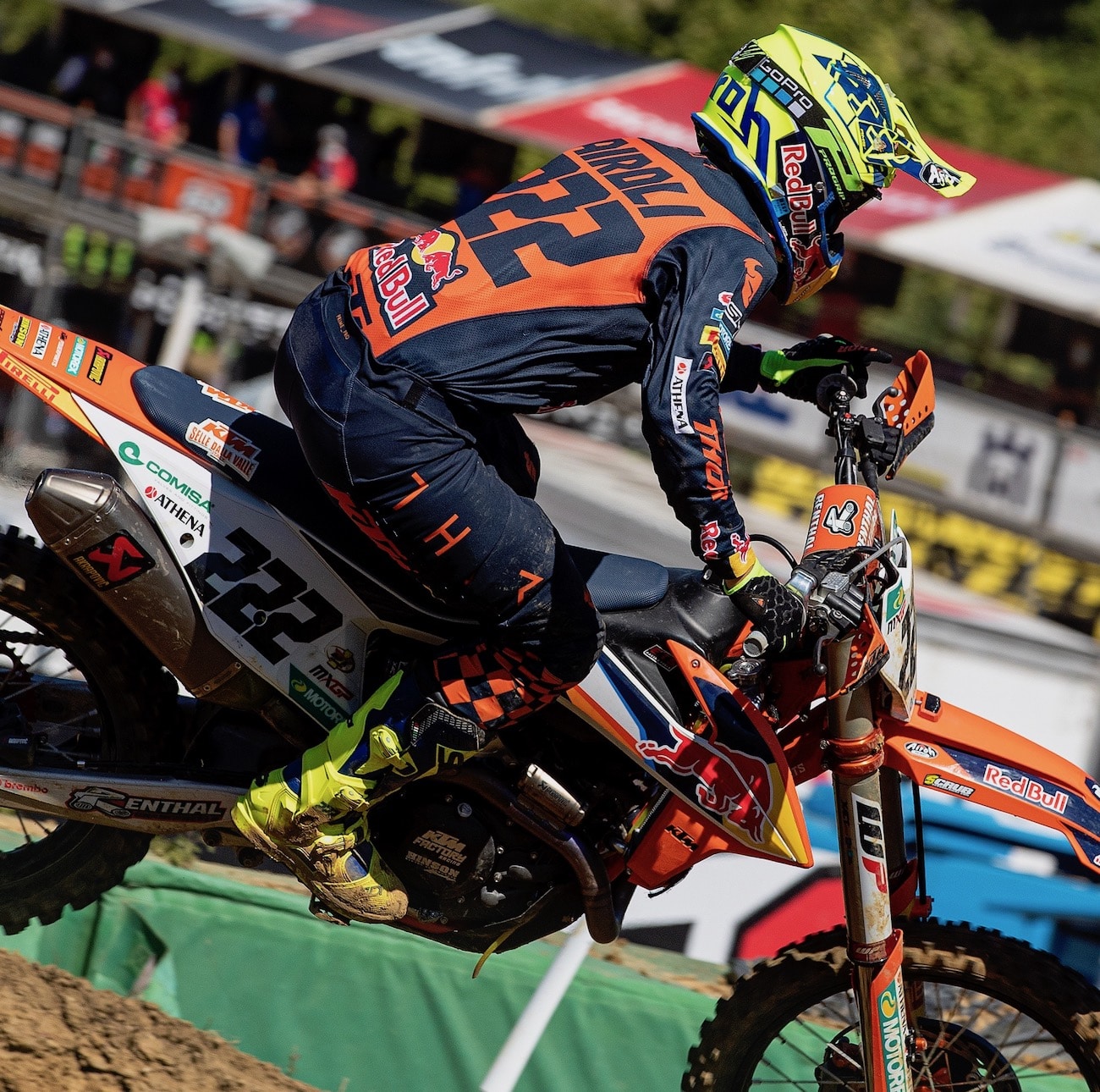 35-year-old Tony Cairoli sits second in the MXGP 450 Championship, only 5-points behind Tim Gajser.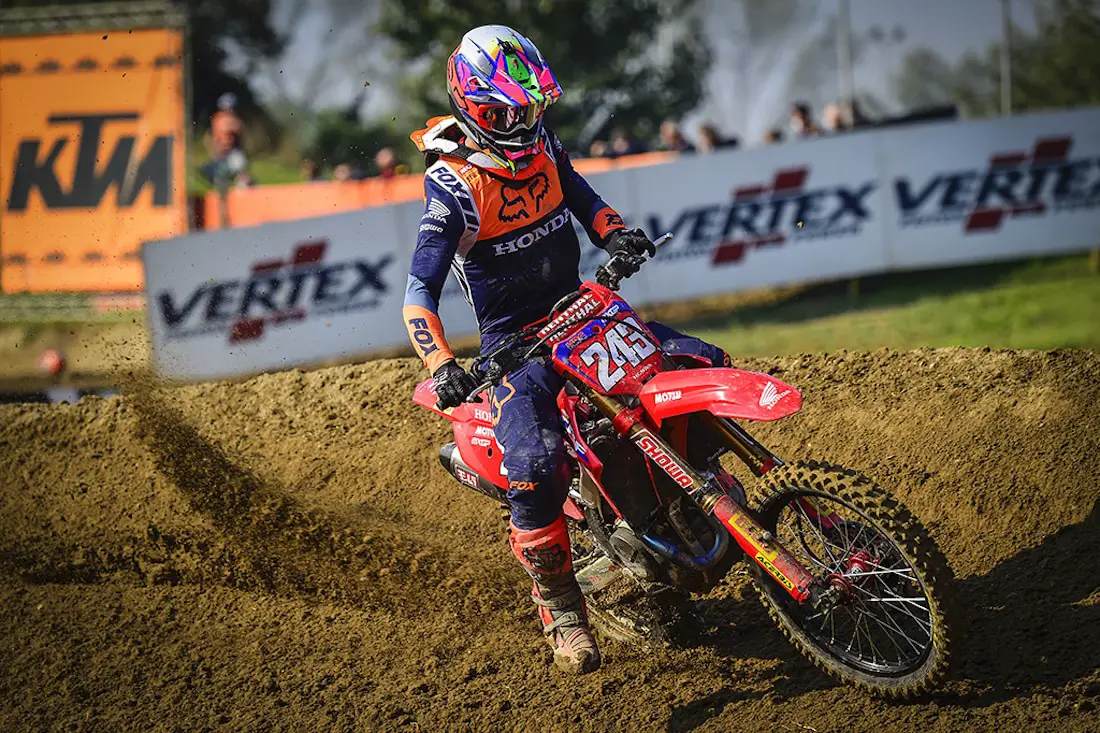 With 5-3 moto scores compared to Tony Cairoli's 4-4. Tim Gajser didn't gain any points on old man Cairoli in the 450 Championship standings.
CURRENT 2020 FIM 450 GP POINTS STANDINGS
(After 10 of 18 rounds)
1. Tim Gajser (Hon)…352
2. Tony Cairoli (KTM)…347
3. Jeremy Seewer (Yam)…334
4. Jorge Prado (KTM)…317
5. Glenn Coldenhoff (Gas)…303
6. Romain Febvre (Kaw)…275
7. Jeffrey Herlings (KTM)…263
8. Gautier Paulin (Yam)…257
9. Arminas Jasikonis (Hus)…248
10. Clement Desalle (Yam)…238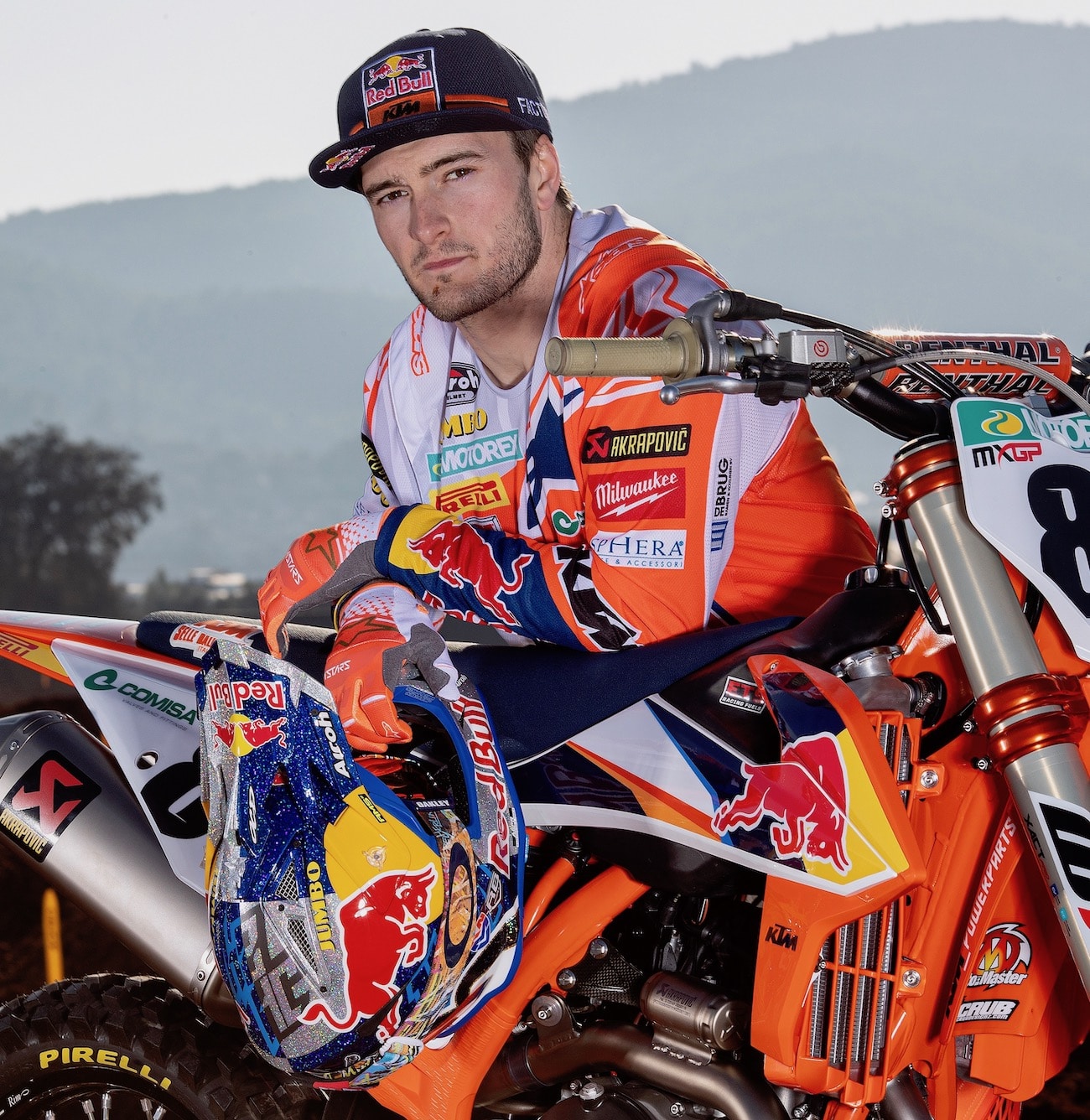 Jeffery Herlings has dropped back to seventh in the MXGP 450 Championship since he has missed the last four rounds due to injury. 
450 Rookie from Australia, Mitch Evans took 8th overall with 6-7 moto scores. It's always a bummer when your moto scores are worse than your overall finish, but that's what happens when other riders around you are inconsistent. Gautier Paulin went 10-2 and Jeremy Seewer went 2-9.
Photos: Honda, KTM, Yamaha, Ray Archer, MXGP