MARTY TRIPES BIG 3 TWO-STROKE VINTAGE RACE ROUND ONE GALLERY AND RACE REPORT
MARTY TRIPES BIG 3 TWO-STROKE VINTAGE MOTOCROSS SERIES RACE ROUND ONE GALLERY AND RACE REPORT
By Josh Mosiman
The 2019 Marty Tripes Big 3 two-stroke vintage motocross three-race series kicked off in Anza, California at the Cahuila Creek track on September 21st.  I had never been to a vintage race before and I heard they were paying good money to the Pros, so I grabbed MXA's stock Yamaha YZ250 two-stroke—which happened to be the only two-stroke available to use at the time—and I was off to the races! Coming into the race it wasn't easy to access information, but I did read in big bold letters "$10,000 cash payout at each event" and "$10,000 contingency." I wasn't in it for the contingency since the bike technically isn't mine, but I was looking forward to that $10,000 cash prize! Unfortunately for me, I found out that the prize money was split between fifteen different expert classes, from the Marty Tripes 100cc Works Revenge class, to Vintage (1974-75 and older bikes), Post Vintage (1975-1981), Early Modern (1982-1989), Mid Modern (1990-2008) and Late Modern (2009-20). Plus, each vintage group had a separate class for Open, 250 and 125 bikes. This meant I was only battling for a small piece of the pie. But, even if I didn't make any money, I wanted to go and check out some vintage racing and see what it was all about.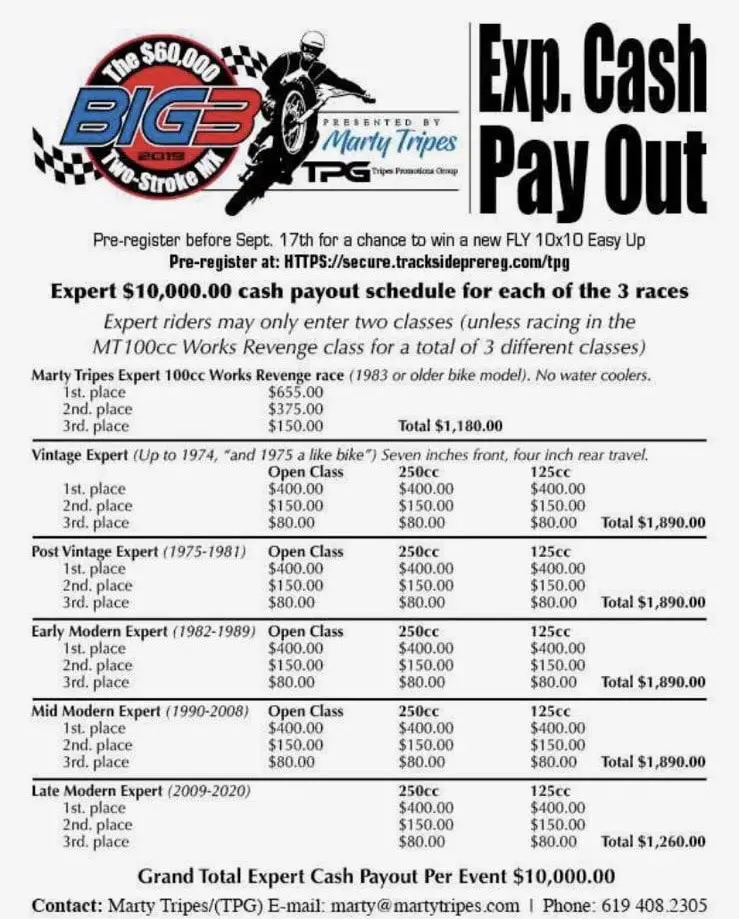 This was the pay out break down per class. Too bad you were only allowed to ride two classes. (unless you were racing the Works Revenge class, then you could run a max of three)
I was really wishing I had brought a 125 to race in the Late Modern 125 class as well, but unfortunately all three of our 2019 125s were being built for a cool 125 project bike shootout that we're working on and they weren't ready to be used. Round two and three of the series are coming up quick. Round two will be back at Cahuilla on Saturday October 26th and round three will be at Glen Helen November 16th.
VINTAGE RACING ON THE VET TRACK
Marty Tripes decided to hold the first round of the Big 3 race series on the vet track at Cahuilla. 
Instead of sending 50 year old bikes to go race on the big and fast main track at Cahuilla, it was a smart decision by Marty to hold the race on the vet track instead. Although I showed up on a modern 2020 Yamaha YZ250 two-stroke and would've much rather have been on the main track, the racing was much better on the vet for the majority of the classes. The track stayed smooth all day without and ruts or big bumps, but I'm sure it would've felt a lot rougher  if I was on a vintage bike. Round two of the series will also be held on the Vet track at Cahuilla and round three will be held on the REM track at Glen Helen.
OPEN FACE HELMETS
There were only a few brave riders with open face helmets on. Wouldn't this mouth guard make it hard to breathe?
Nick Lapaglia also wore a sweet open face helmet during practice.
Nick put on a full-face helmet for the races, but it was funny to see his facial expressions here in practice as he rails the top of the berm.
RYAN SURRATT AND HIS 2006 HONDA CR250
Ryan Surratt and his 2006 Honda CR250 two-stroke.
Ryan Surratt showed up to Cahuilla Creek and easily won his Mid Modern classes. He signed up in the Mid Modern Open class and 250 class and after winning both he took home $800 cash.
Ryan Surratt throws some style over the finish line on the Cahuilla Creek vet track as he wins $800.
TOMMY CROFT'S 1969 HODAKA SUPER RAT

This 1969 Hodaka Super Rat was a popular attraction.
Tommy Croft is like many other vintage riders and he wanted to find and rebuild a replica version of the first bike he had when he was a kid. He powder coated the frame the original red color from 1969 and after about two years of tracking down parts all over the country, he restored it and made it like new again. California Hodaka built the engine and they started it up and rode it in another bike, then Tommy drained the fuel out of it and hasn't started it since. He said "I didn't want it to get scratched up, I've won a few shows with it and I just have it as a show bike."  Tommy rode for Hodaka back in the day and he has a blast showing off this bike and recalling memories with everyone who's ridden a Hodaka before.
The other side of Tommy's Hodaka Super Rat.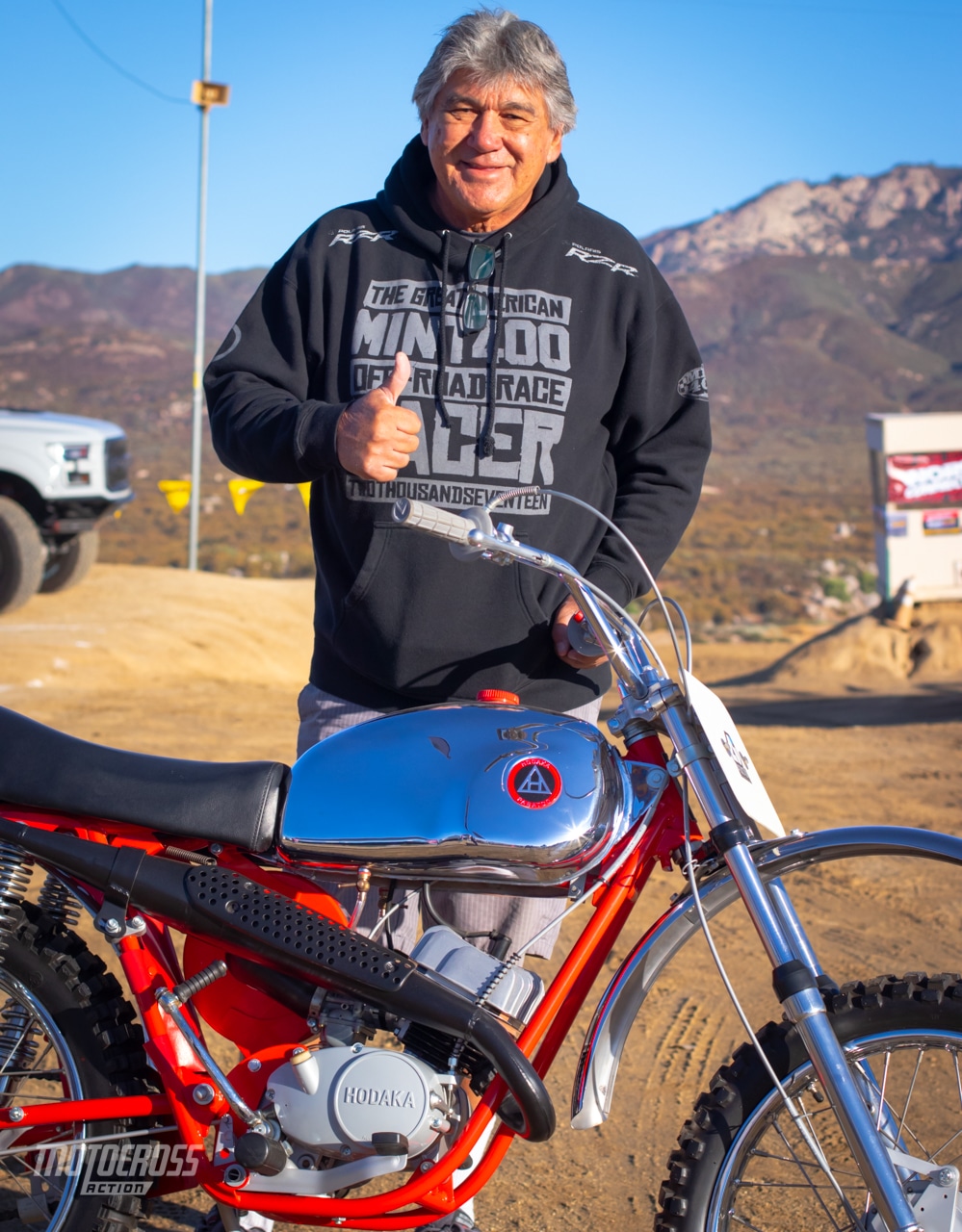 Tommy Croft and the bike.
It must've been hard to hit keep your feet on the foot pegs and hit the rear brake back in the day! It doesn't seem like there's much traction, but it sure is clean!
NICK LAPAGLIA AND HIS 1982 YAMAHA 100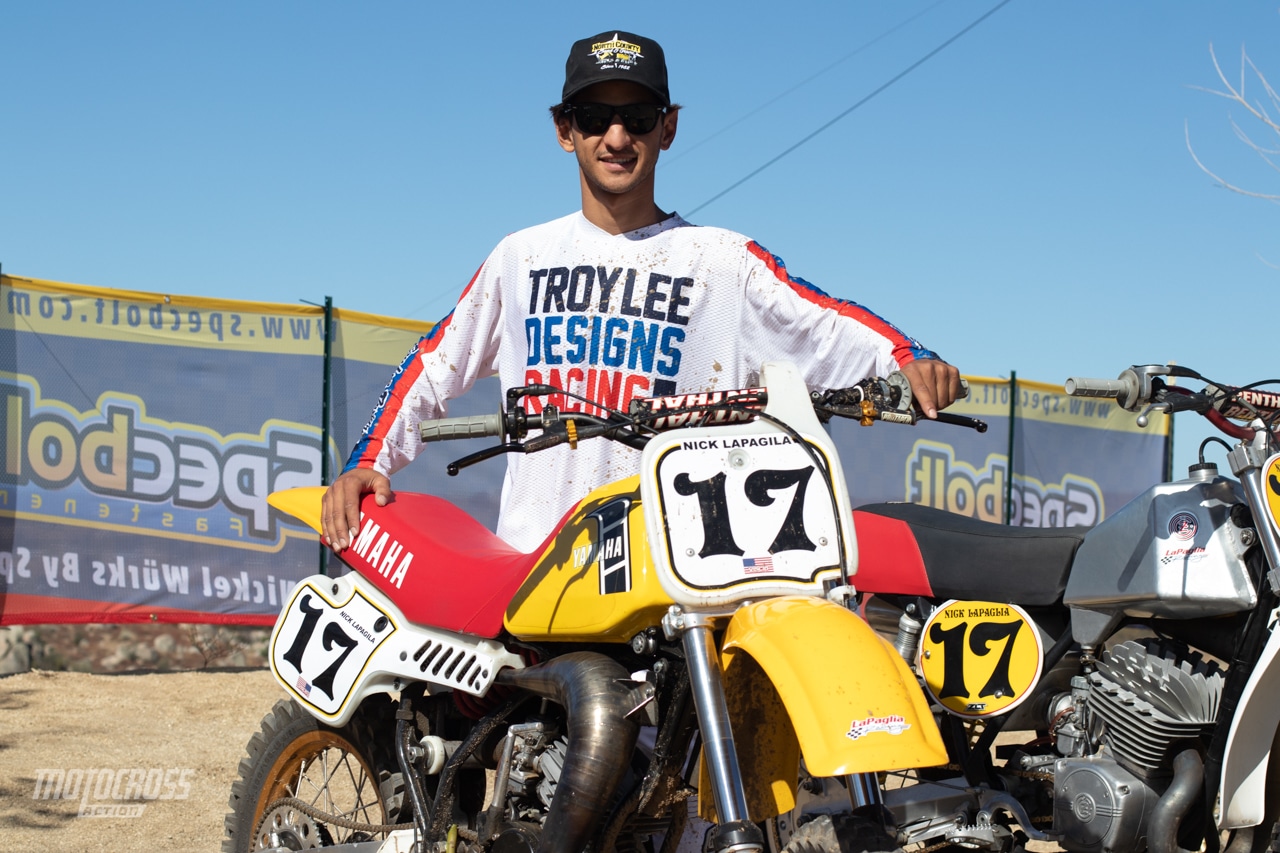 Nick Lapaglia was kind enough to pose for some photos and chat with me about vintage racing.
After hearing from a few guys that Nick Lapaglia was the guy to beat, I had to come over and talk to him and check out his bikes before the racing got started. Nick, younger brother of Michael Lapaglia has been involved in the vintage racing scene since 2015. Nick said: "The vintage racing kicked off for us at the Mammoth Motocross Smokin' Fire Vintage national, a race that we've been going to since I was a little kid and we acquired a few vintage bikes to go racing there. Then we found out about the CalV MX Series shortly after that. So we've been doing it for the passed four to five years."  Nick's line up for race day consisted of the 1982 Yamaha 100 and 1974 Husqvarna 250 and a 1973 CZ 400 to race in the Vintage Open class.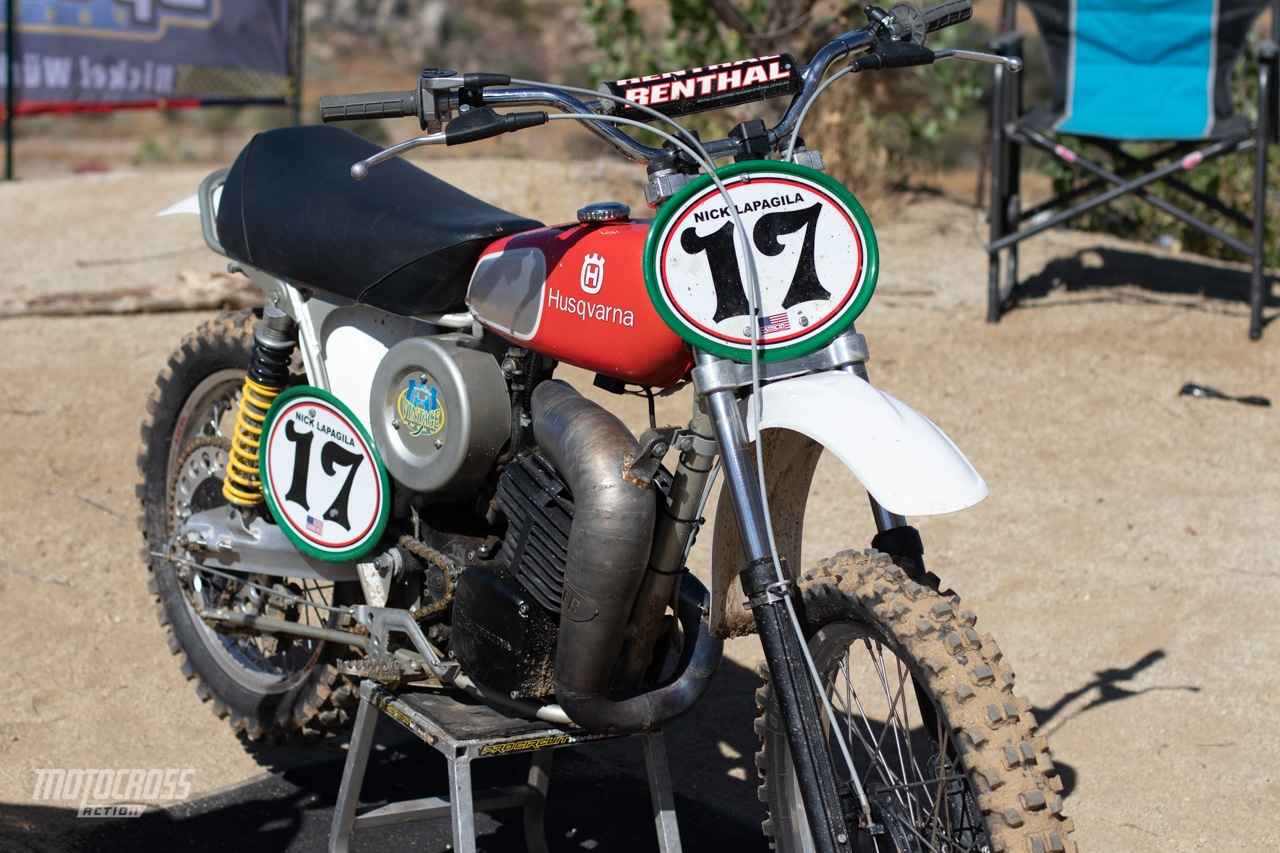 Nick Lapaglia's 1974 piston port Husqvarna. 
Nick said:"The  Marty Tripes Big 3 race is pretty cool because it's bringing a lot of different guys out here that we don't usually see in the vintage scene. The fact that there's a little bit of money on the line is pretty anticipating. Usually we're spending money out at these races. So to get little back, or at least shoot for that, is pretty neat and it gives us something to look forward to. And a new series of vintage racing is always welcome. It's great because there are so many of these bikes laying around and they're all out there, you don't have to spend $12,000 on a new 450, you can get a vintage bike instead. We have a fun community in the vintage scene."  With the high paying $655 Works Revenge class being his third class and the other two paying $400 for the win, Nick had $1,455 up for grabs. Unfortunately Nick said after the races: "I made a foolish mistake and missed my gate on the first moto of the Works Revenge 100 class. So I walked away with $800 which was still a great payout."  Nick would like to thank his supporters: CR Performance, Maicos Only, Vintage Husqvarna and his family.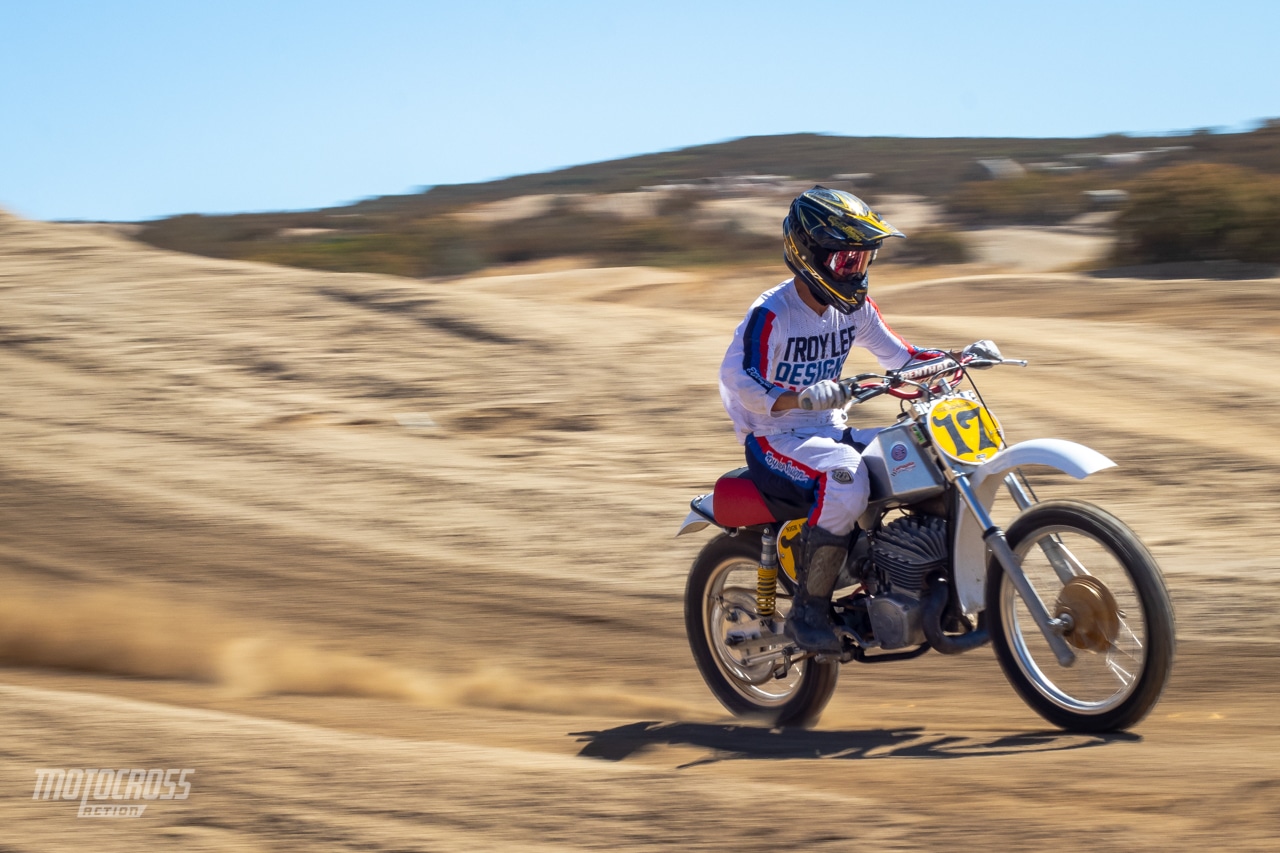 Nick Lapaglia is obviously heavy into vintage bike racing, he was super fast on all three of his bikes.  
When I first got to the race and I saw that the Works Revenge 100cc class was paying $655 to the winner, I had an idea. I thought about finding a 100cc bike and working out a deal to rent or borrow it. Obviously I would pay them back some of my winnings. Then I saw an opportunity! Someone had vintage bike rentals and I got really excited, maybe they would work a deal! I approached the friendly man as he was working on a rental bike, but unfortunately they didn't have anymore available for the day and it was going to be a few hundred dollars if I wanted to rent one that could keep up with the front runners at the next event. I didn't propose my idea as I saw how much time, effort and money went into preparing a vintage bike and I also was doubting my abilities to win.
This is what a mid-moto whip looks like on a 1973 CZ 400. I haven't experience much vintage bike ridding in my young career so this was a first to see one sideways on purpose.
After watching Nick Lapaglia ride just one lap, I was glad I didn't go through the trouble of betting on myself to win on another persons vintage bike. I've ridden stock KLX110s and 140 pit bikes many times and I was always fast on those, but that is a totally different ballgame. After watching Nick ride I knew that he was serious. Not only was he good at riding the bike that was 20+ years older than him, but he was also good at working on the bikes too because his bikes worked well.
JOSH MOSIMAN'S YAMAHA YZ250 TWO-STROKE GOPRO VIDEO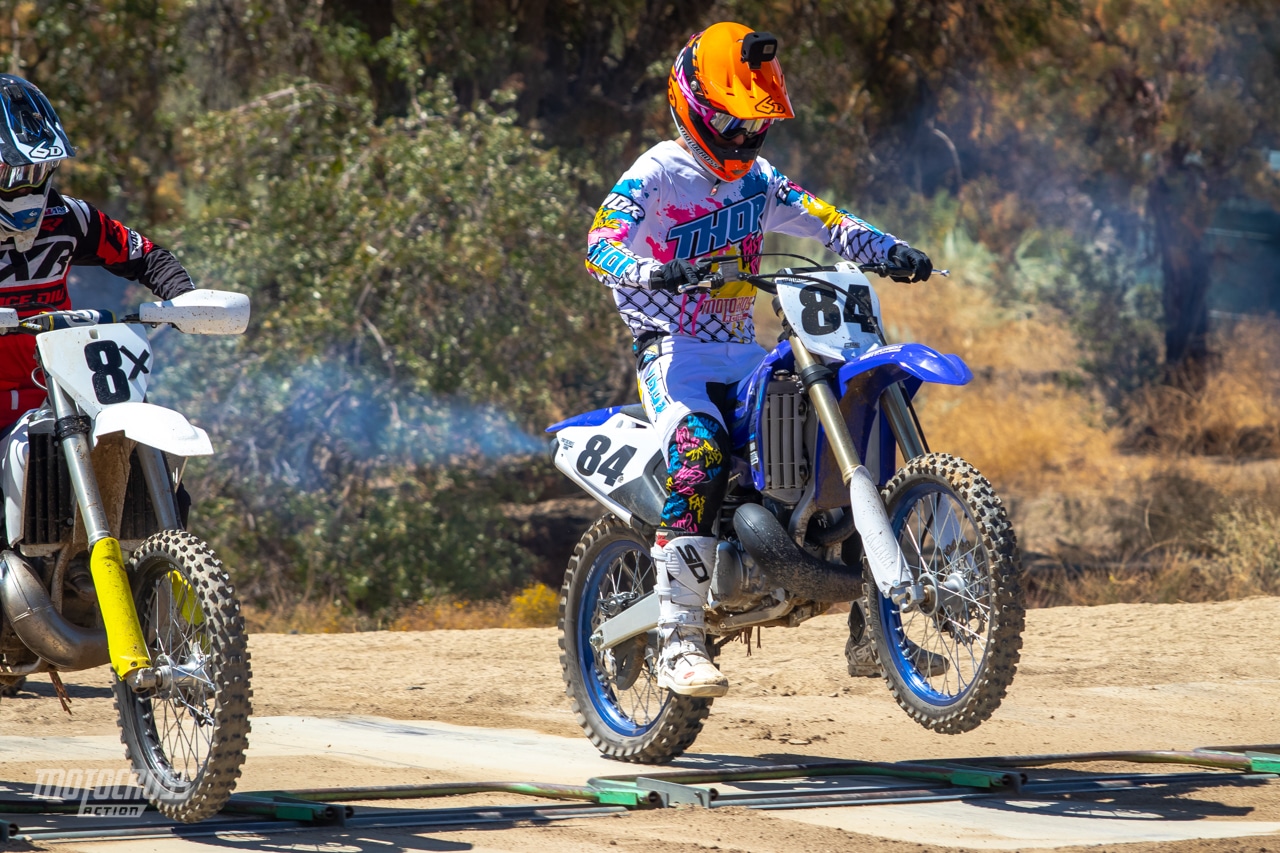 How about that? Wheeling off the start on concrete!
I was pretty surprised with my wheelie off the start in the first Moto and although my jump off the gate was super smooth, I still wasn't able to beat Richard Taylor to the first turn. Richard was riding on Dirt Bike Magazine's YZ250 two-stroke project bike that was built for Mike Brown to race at the 2019 Two-Stroke World Championships and it was fast! Richard is also a great rider, so I knew I was going to have my hands full if I was going to beat him and earn the nice $400 prize. I gave it everything I had in Moto 1, and as you can see in the GoPro video at the 4:39 second mark I even tried yelling at Richard to hopefully fluster him into making a mistake, but it didn't work. I got close again at the end when a few lap riders held him up in the final corners, but he was too quick for me and he took the win.
Richard Taylor #3 and Josh Mosiman (me) behind him. This was my view for the entire race.
When lining up for Moto 2, I decided to try the intimidation and lean technique on Richard. First I started right next to him, just so he knew I meant business. Then my goal was to get a better start and lean over to take his line away coming into the first turn. But unfortunately he was too quick off the start and I wasn't able to make it happen. Richard beat me to the first turn again, but I didn't give up! I came in hot to turn number two and tried to open a door that wasn't there, I leaned in from the outside on Richard to hopefully make a pass but instead I just bounced off him and sent myself flying off the track… It didn't work, but I was able to save it and get back on the track quickly. Without losing too much time, I was able catch back up to Richard but I was never close enough to make the pass and I would cross the line second again. After the Moto I went over to Richard's pit to apologize for my dumb move in the second turn, he and I laughed it off and shook hands. We both gave it our all on the track, but once it was over we were back to being buddies.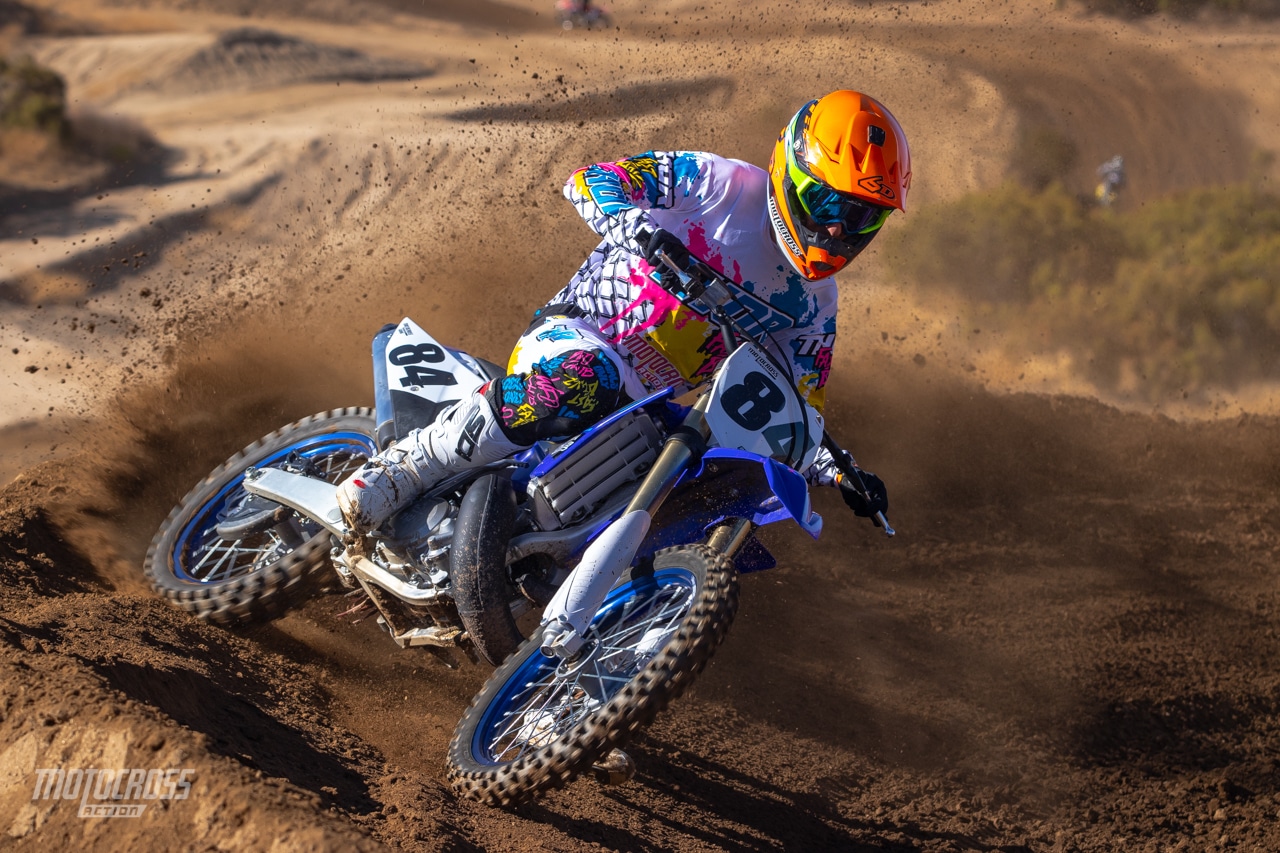 My friend Ben Stevens grabbed my camera and took this awesome photo.
Unfortunately I wasn't able to take the win, but I did get some cool GoPro footage while chasing Richard around the track and I also was able to meet some awesome people and see lots of cool vintage bikes!
RICHARD TAYLOR 
Richard Taylor and his Dad, Rich Taylor, owner of EKS Brand Goggles on the line together for the Late Modern 125 expert class.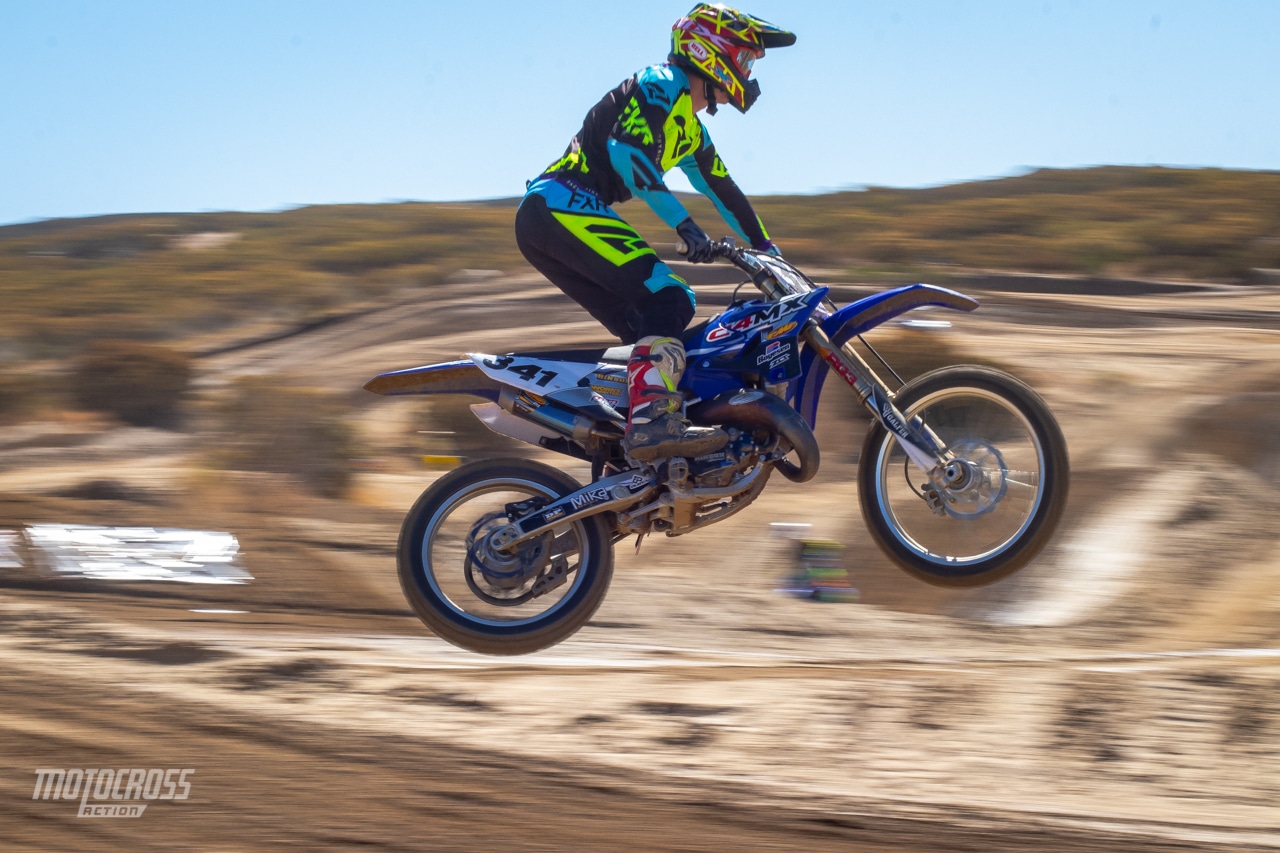 Richard Taylor was smart and brought two bikes to the event. He won both the 125 and 250 Late Modern classes to earn $800 on the day.
GRANT LANGSTON'S VINTAGE BIKES
The Maico boys had a nice set up with some cool display bikes out. Grant Langston had two Maicos there but Grant wasn't able to show up and race. 
THREE-WIDE BATTLES
These three riders had an awesome battle. 
The upside to a smooth track is that it allows riders to go back and forth across the track to make passes. Here #52 dives up the inside.
The #50 lost the position for a brief moment and then gained it back coming into the next corner.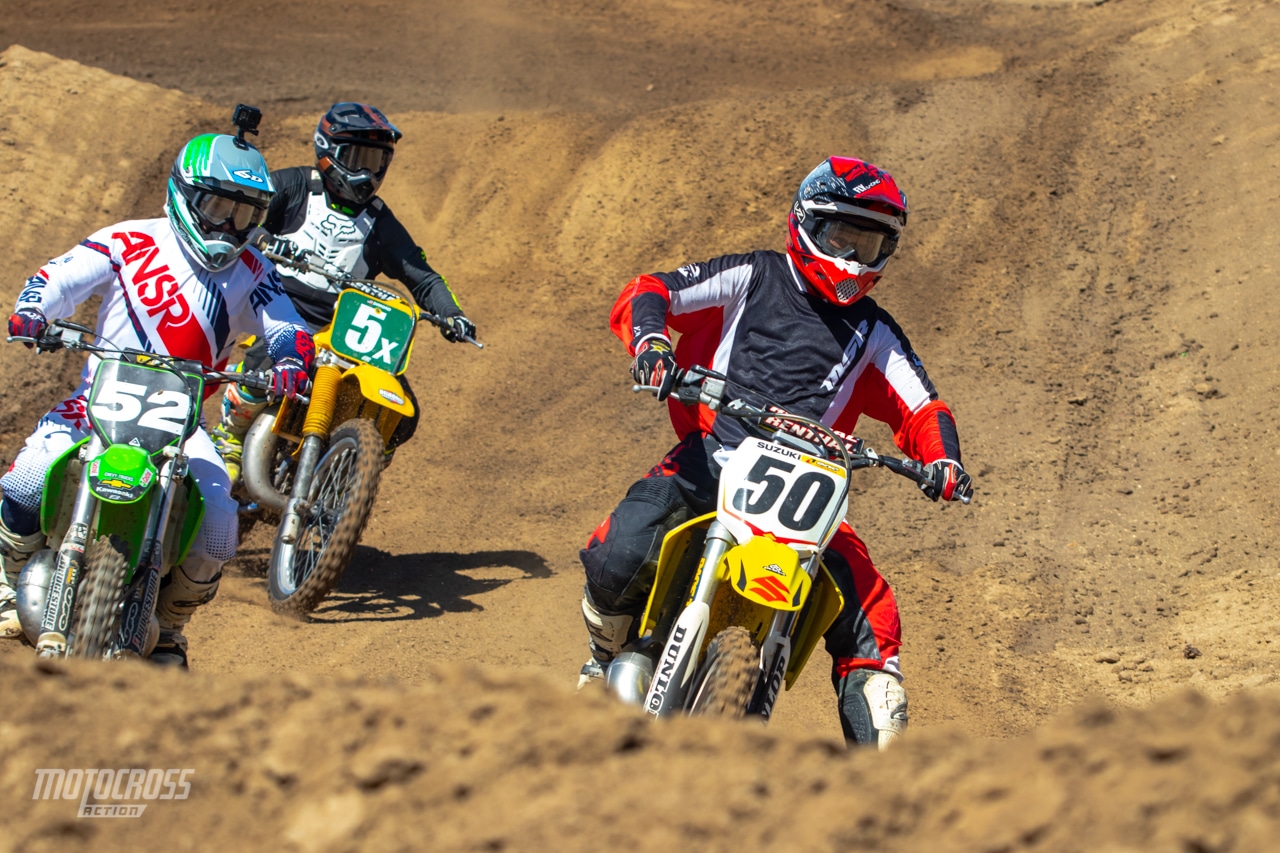 Number 5x is headed for the inside on the next turn and the battle continued.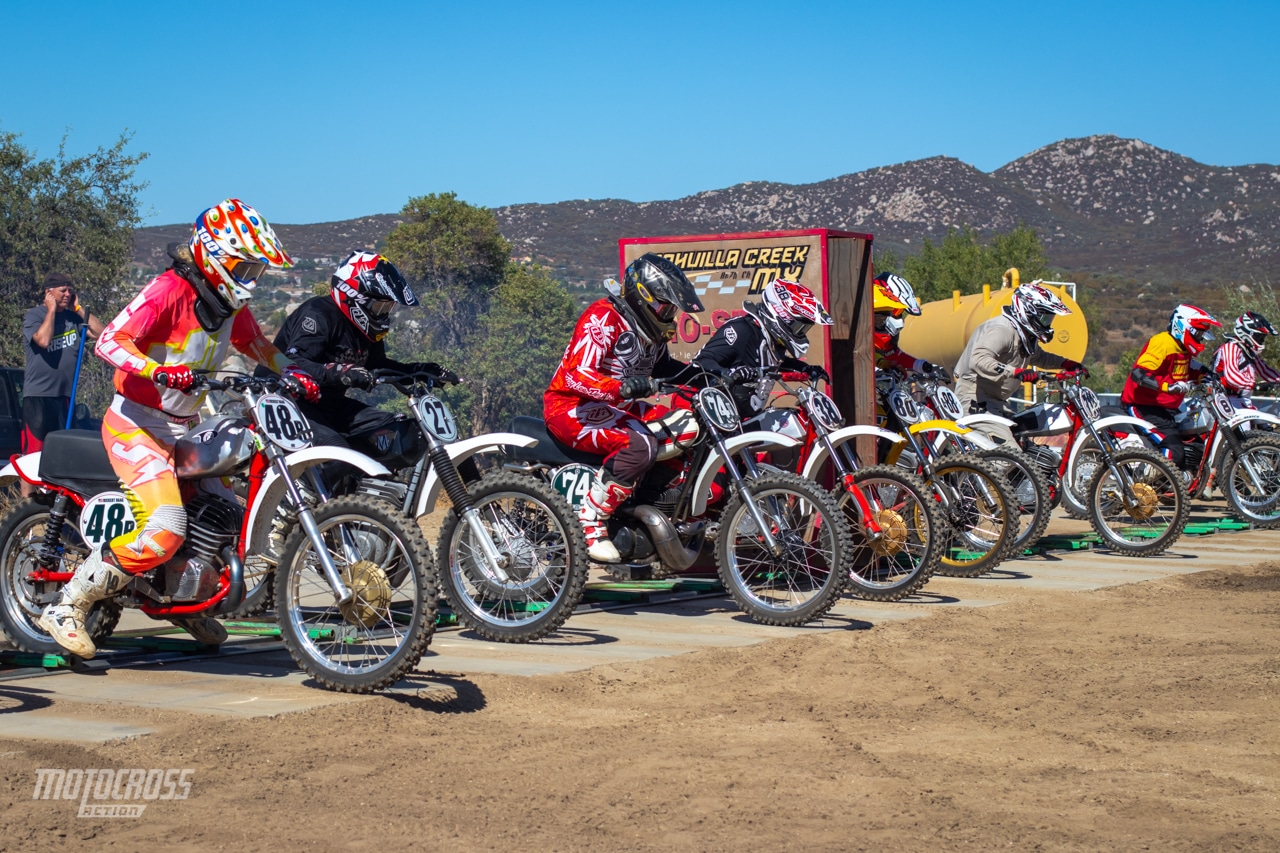 This was the first race of the day and one of the bigger classes.
MARTY TRIPES' BIG3 THREE-RACE TWO-STROKE SERIES
Marty  Tripes has two more rounds of his Big3 series on October 26th and November 16th that will include 1975 and under vintage classes, 1981 and under Post Vintage classes, 1990 and under Early Modern classes, 2020 and under Modern class, 65cc and 85cc mini classes, a support class for four-strokes and the Marty Tripes 100cc Works Revenge race for two- or four-strokes under 100cc. For more info email Marty at [email protected] or phone (619) 408-2305 .