MATT GOERKE TAKES OVER CANADIAN NATIONAL LEAD
Click on images to enlarge
Matt Goerke won the overall with a 2-1 after Dillan Epstein won the first moto.
450 CLASS
Matt Goerke ran second for most of the first 450 moto. He was unable to pass the leader Dillan Epstein. Dillan Epstein may have been on his way to his first big Pro win when he led the second moto for 11 laps, but then Dillan fell down and Goerke got the top spot. Matt'ss 2-1 moto scores gave him the overall. Rockstar Husqvarna's Christophe Pourcel looked like he was going to run away with the Canadian 450 National Championship, but Pourcel faltered in Calgary. He finished third in the first moto, but fell in the first turn of moto two. His 3-8 finishes put him in fifth place at day's end, which cost him the points leader's red plate.
450 RESULTS: CALGARY CANADIAN NATIONAL
1. Matt Goerke (Yam)…2-1
2. Dillan Epstein (Kaw)…1-4
3. Colton Facciotti (Hon)…4-2
4. Tyler Medaglia (Hon)…6-3
5. Christophe Pourcel (Hus)…3-8
6. Mike Alessi (Kaw)…5-5
7. Kyle Chisholm (Hon)…7-6
8. Tim Tremblay (Yam)…8-7
9. Cade Clason (KTM)…9-10
10. Scott Champion (Kaw)…11-9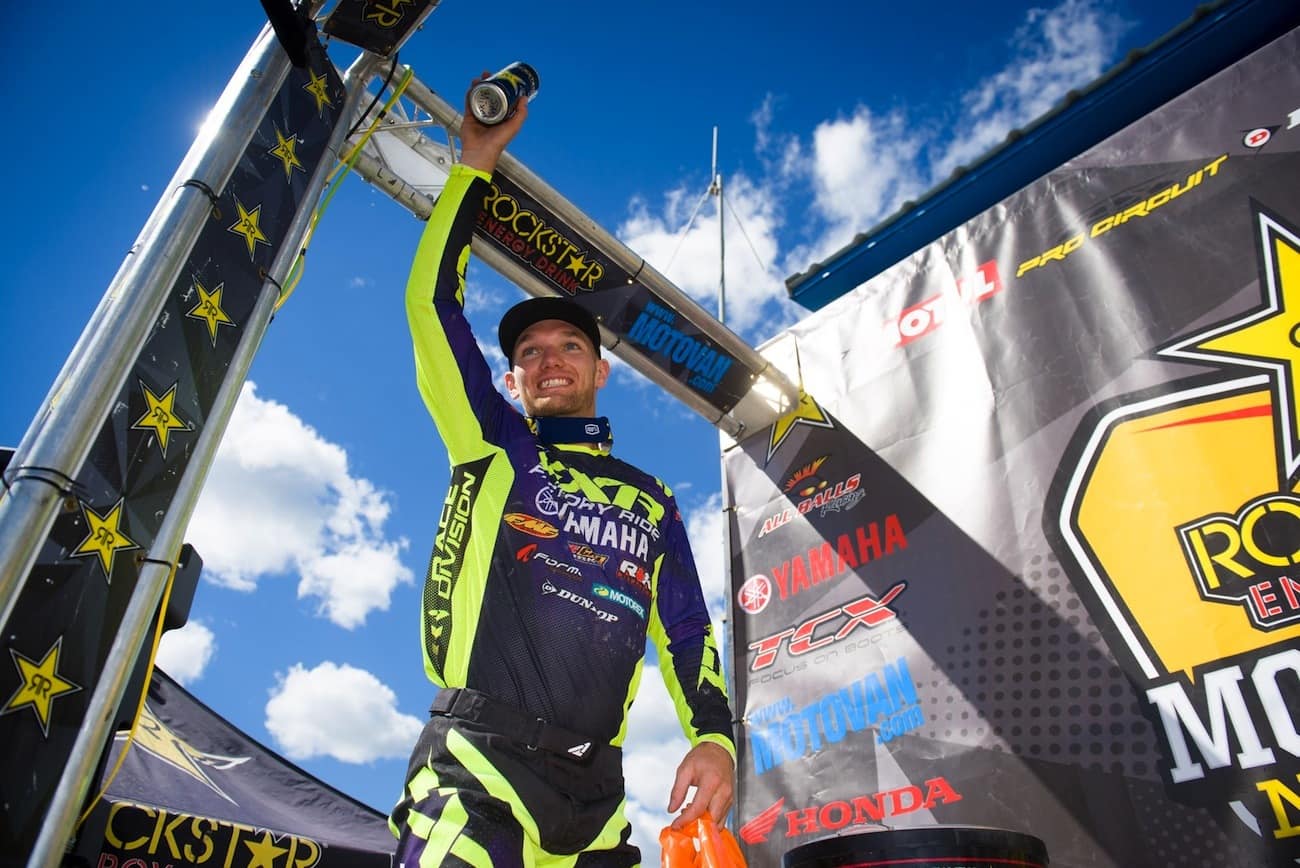 Shawn Maffenbeier lost a lot of points at Prince George a week ago, but he made up for it at Wild Rose.
250 CLASS
Shawn Maffenbeier may not have had the 250 classred plate heading to his hometown racetrack, but Shawn has clearly been the fastest rider in the class and showed that with perfect 1-1 moto finishes. KTM Canada's Cole Thompson will leave Calgary with the red plate, but he said, "Shawn blew my doors off!" Cole had to settle for second on the day with 2-2 moto finishes.
250 RESULTS: CALGARY CANADIAN NATIONAL
1. Shawn Maffenbeier (Yam)…1-1
2. Cole Thompson (KTM)…2-2
3. Josh Osby (KTM)…3-5
4. Jacob Hayes (Kaw)…6-3
5. Ryan Surratt (Kaw)…5-4
6. Tallon LaFountaine (KTM)…8-6
7. Jared Petruska (Yam)…11-7
8. Kein Denzler (Yam)…9-10
9. Hayden Halstead (Yam)…13-8
10. Chris Fortier (Yam)….12-9
CANADIAN NATIONAL 450 POINTS STANDINGS
(After 3 of 10 races)
1. Matt Goerke…162
2. Christophe Pourcel…155
3. Dillan Epstein…150
4. Colton Facciotti…146
5. Tyler Medaglia…134
6. Mike Alessi…122
7. Kyle Chisholm…114
8. Cade Clason…98
9. Scott Champion…88
10. Tim Tremblay…87
CANADIAN NATIONAL 250 POINTS STANDINGS
(After 3 of 10 races)
1. Cole Thompson…164
2. Shawn Maffenbeier…145
3. Josh Osby…139
4. Jacob Hayes…134
5. Ryan Surratt…127
6. Jesse Pettis…125
7. Tallon LaFountaine…106
8. Hayden Halstead…96
9. Dylan Wright…95
10. Casey Keast…93
SEE THE CALGARY ROUND RIGHT HERE

Photos: CMRC