THE WORKING MAN: JOHNNY JELDERDA

Click on images to enlarge
Out at Milestone, Johnny was comparing his bike to Hayden Melrosse's YZ250F
Johnny Jelderda is a privateer Supercross rider and one of MXA's most talented test riders. Last year, Johnny made four main events in the 250 West Supercross series. Based out of Menifee, California, Johnny works as a Graphic Designer at JPD Designs in Temecula to pay for his racing. One benefit of working at a sign shop is his ability to make his own custom graphics for his bike.
Are you racing Supercross in 2016? Yes, my focus is on the 250 West class. I haven't been able to make a main event so far as I've been out of the bubble and not quite where I want to be. It is a starting point though.
Sitting at a desk all day probably doesn't help with fitness. I work 40 hours, four days a week and on the fifth day I am traveling to the races so it's pretty tough.
What's your favorite track so far this season? I really liked San Diego 2. I felt that it flowed well, everything seemed to come together. I felt like I rode a lot better there. My fitness was up a little bit more than the past few races. So it is a good building stone going into Santa Clara.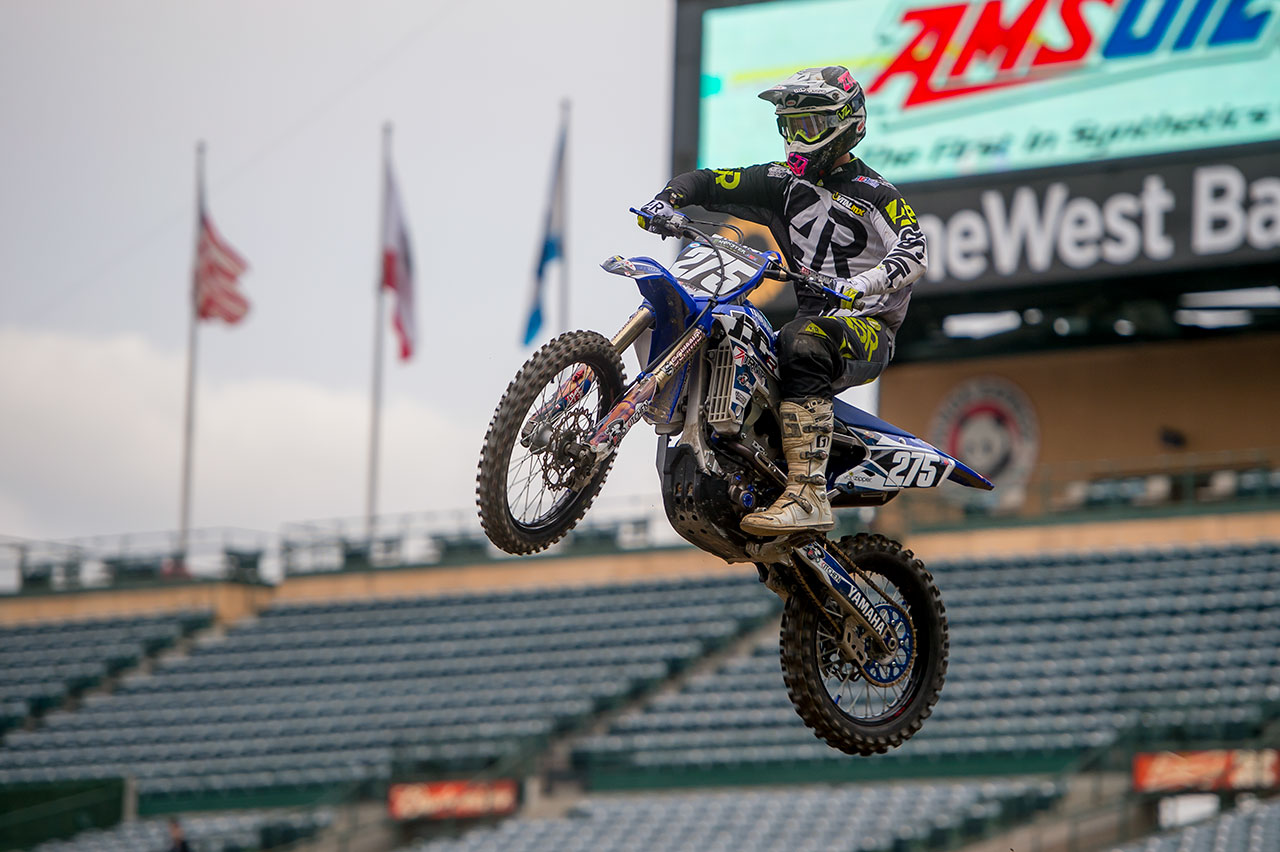 Qualifying in Anaheim.

The whoops in San Diego looked treacherous.  Those whoops were pretty gnarly. It is what it is, I mean in Supercross you just got to deal with it.
What was your opinion of the long start in Arizona? That thing was a lot of fun, we really got to open it up. That was the fastest I have ever gone on a Supercross track. It was interesting and I really liked it. I was able to hit 5th gear by the time we got near the first turn.
How did you get involved with MXA? I did a Military appreciation race where I got to meet Daryl Ecklund. We exchanged phone numbers. Soon after, Daryl called me to come out with the MXA crew and do some photoshoots and testing. We got going from there.