REM GLEN HELEN: ALESSI STOPS BY ON HIS WAY FROM FRANCE TO CANADA

Click on images to enlarge
Photos by Debbi Tamietti and Dan Alamangos
Mike Alessi (1-1) came to REM after racing in England and France to get a warm-up race before heading for the Canadian Nationals for the next two weeks. Mike says his focus is on the USGP in September. Photo: Debbi Tamietti
The REM motocross races at Glen Helen have reached the midway point in the 2015 season. The 40-race long series started on January 10 and will run until December 19, 2015. It is a grueling schedule, and while it offers SoCal racers consistent place to race, most REM racers are so hardcore that they try to race all 40 races. They show up sick, injured, with casts just removed, sometimes without the casts removed and with disapproving spouses sitting at home every Saturday of the year.
Sean Collier (207) made a surprise one-moto appearance in the 450 Pro class on his Kawasaki KX500 two-stroke. He finished third and then went to a vintage race on Glen Helen's other track. Photo: Debbi Tamietti
Robbie Wagemen (108) chased Sean Collier for second in the 450 Pro class for 20-minutes and finally got him on the last lap. In the second moto, Wageman didn't have Collier to chase and Alessi was too far ahead to see. Photo: Debbi Tamietti
Of course, REM can't race every weekend because they have to make way for other Glen Helen events. For example, REM does not race next weekend because Glen Helen will be hosting a Quad/UTV Madness event on Friday, June 12, followed by the grueling "Last Dog Standing" offroad race on Saturday, which is immediately followed up by the even more grueling 10-Hours of Glen Helen Endurance race — which starts at midnight after the "Last Dog Standing" race and runs until 10:00 a.m. on Sunday.
Benny Breck used a 4-3 to get third in the 450 Pro class behind Mike Alessi (1-2) and Robbie Wageman (2-2). Photo: Debbi Tamietti
REM will return on June 20th, June 27th and a special July 4th race on the AMA National track. REM will race four weekends in August, but only race twice in September because of the USGP on September 19 and a WORCS race on September 27. In October REM will race on the 3rd, 17th, 24th and at the big Octobercross race on the 31st. REM will skip October 17 because of the 24-Hours of Glen Helen endurance race. November has two races and December has three (the missing dates are because of the Dubya World Vet Championship on November 7-8, Thanksgiving weekend, Christmas and New Years.
Spencer Burns (782) does his best San Jose Mile imitation as he flattracks his way to third in the 450 Intermediate class behind Austin Burke (1-1) and Michale French (2-2). Photo: Debbi Tamietti
REMAINING 2015 REM RACE SCHEDULE
June 20
June 27
July 4…National Track
July 18
July 25
Aug. 8
Aug. 15
Aug. 22
Aug. 29
Sept. 5
Sept.12
Oct. 3
Oct. 17
Oct. 24
Oct. 31…Octobercross National Track
Nov. 14,
Nov. 21
Dec. 5,
Dec. 12
Dec. 19…Final points paying race
For more info racing at REM, go to www.remsatmx.com
Sean Cantrell won the 250 Intermediate class. Photo: Dan Alamangos
Jon Ortner (10) cranks his YZ250 two-stroke around a corner, while his outside foot floats above the peg. That's a light touch. Photo: Dan Alamangos
Joe Sutter (11) and Luther French (2) share the airspace over Glen Helen. Luther was 2nd in the Over-50 Experts and Joe was 7th. Photo: Debbi Tamietti

It is obvious that reading comprehension is at an all-time low in this country as Mark Hall (40) ignores a clearly stated Interstate 5 highway sign to pass Dan Alamangos in the Over-50 Expert class. Photo: Debbi Tamietti

Not every day goes as planned, Terry Cook (303) needed the help of his friends to get his stricken RM-Z450 off the track. Photo: Dan Alamangos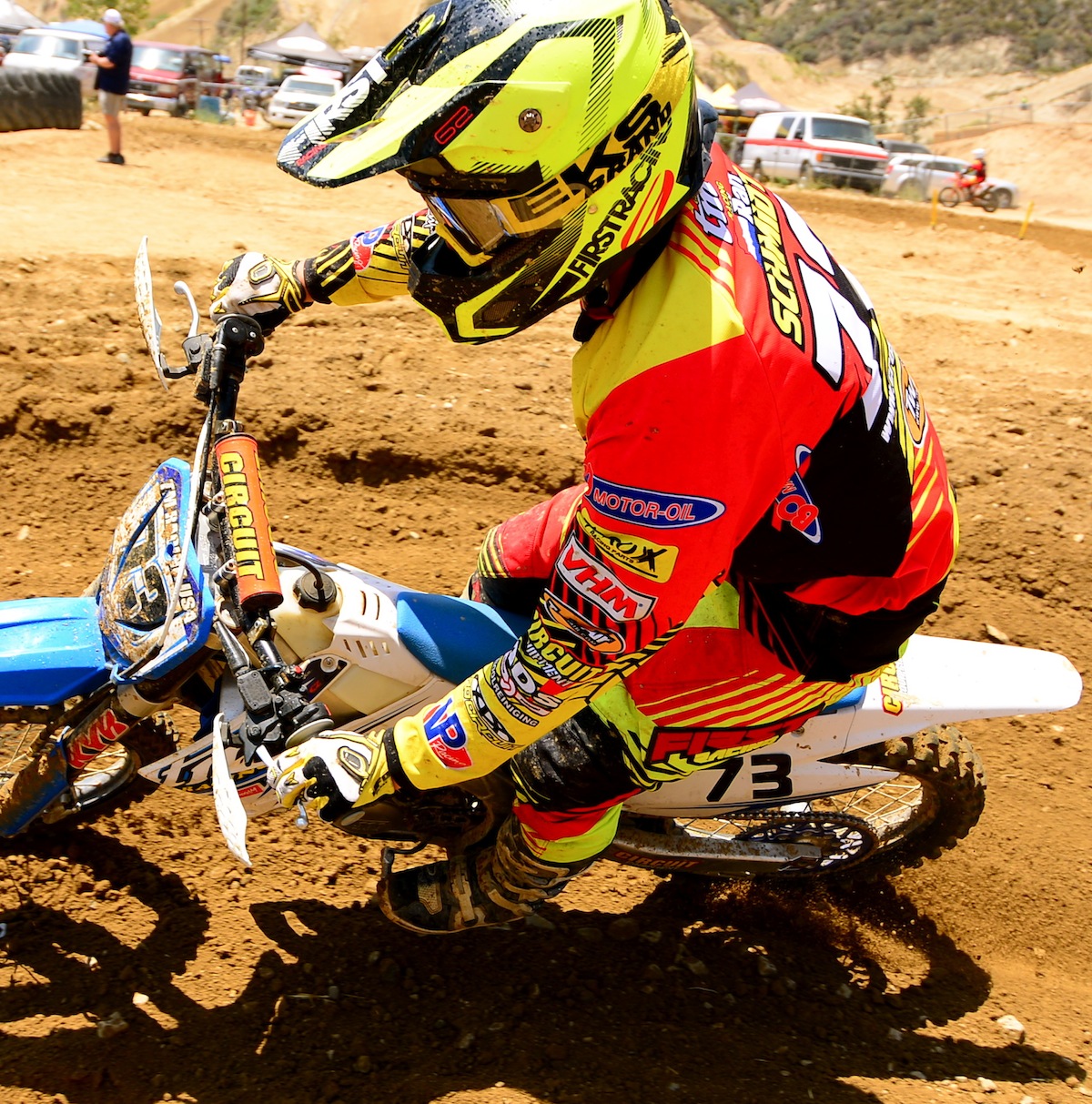 TM importer Ralf Schmidt went 4-5 to finish 4th in the Over-40 Intermediate class behind Scott Lindley, Luca Trussardi and Mike Hibner. Photo: Dan Alamangos
Gavin Leachman's 2-1 beat Stilez Robertson's 1-2 for the 85 Expert gold. Photo: Debbi Tamietti
Hollywood stunt coordinator Mic Rodgers (115) , currently working on "Point Break II," leads Ken Reed (491) in the Over-60 Expert class. They finished 5th and 6th. Photo: Debbi Tamietti
If this photo was shot with a telephoto lens we'd admire the focus, but since it was shot with a 35mm lens, we admire photographer Dan Alamangos' bravery for getting this close. Photo: Dan Alamangos
Just a wild guess, but we believe that Over-40 Intermediate Robin Hall (412) may have had an off-track excursion. Photo: Dan Alamangos