MIKE ALESSI TO RACE WORCS OFF-ROAD EVENT AT GLEN HELEN
MIKE ALESSI TO RACE WORCS OFF-ROAD DOUBLE-HEADER AT GLEN HELEN & 2020 WISECO WORLD TWO-STROKE CHAMPIONSHIPS TOO
The last news we've reported on Mike Alessi was about him winning two classes at the Pasha 125 Open Two-Stroke race at Glen Helen in the 115-degree heat and taking home $1500. And, not too long before that, we reported on Mike's injury after he was hit by a truck while out exercising on his road bike in Florida. Now, we have more Mike Alessi news as he has a Smartop Bullfrog Spas Honda CRF450 built up with mousse tubes, an oversized tank and blue backgrounds for the WORCS Off-Road double-header event this Saturday and Sunday at Glen Helen.
Originally, Mike's 2020 September/October schedule consisted of two-stroke racing on his Blendzall sponsored YZ134 and YZ325 two-strokes. He already raced at the "Pasha 125 Open" and this weekend he was scheduled to be at Washougal for their 125 Dream Race, but extreme smoke from the wild fires on the West Coast gave the 125 Dream Race promoters no choice but to reschedule to October 10th-11th (one week after the Glen Helen World Two-Stroke Championship).
Instead of sitting on the couch at home, Mike Alessi and his Dad Tony chose to go racing on a completely different bike in a much different discipline. But don't worry, Mike's two-stroke month isn't over, he'll be at the 2020 Wiseco World Two-Stroke Championships at Glen Helen in two weeks.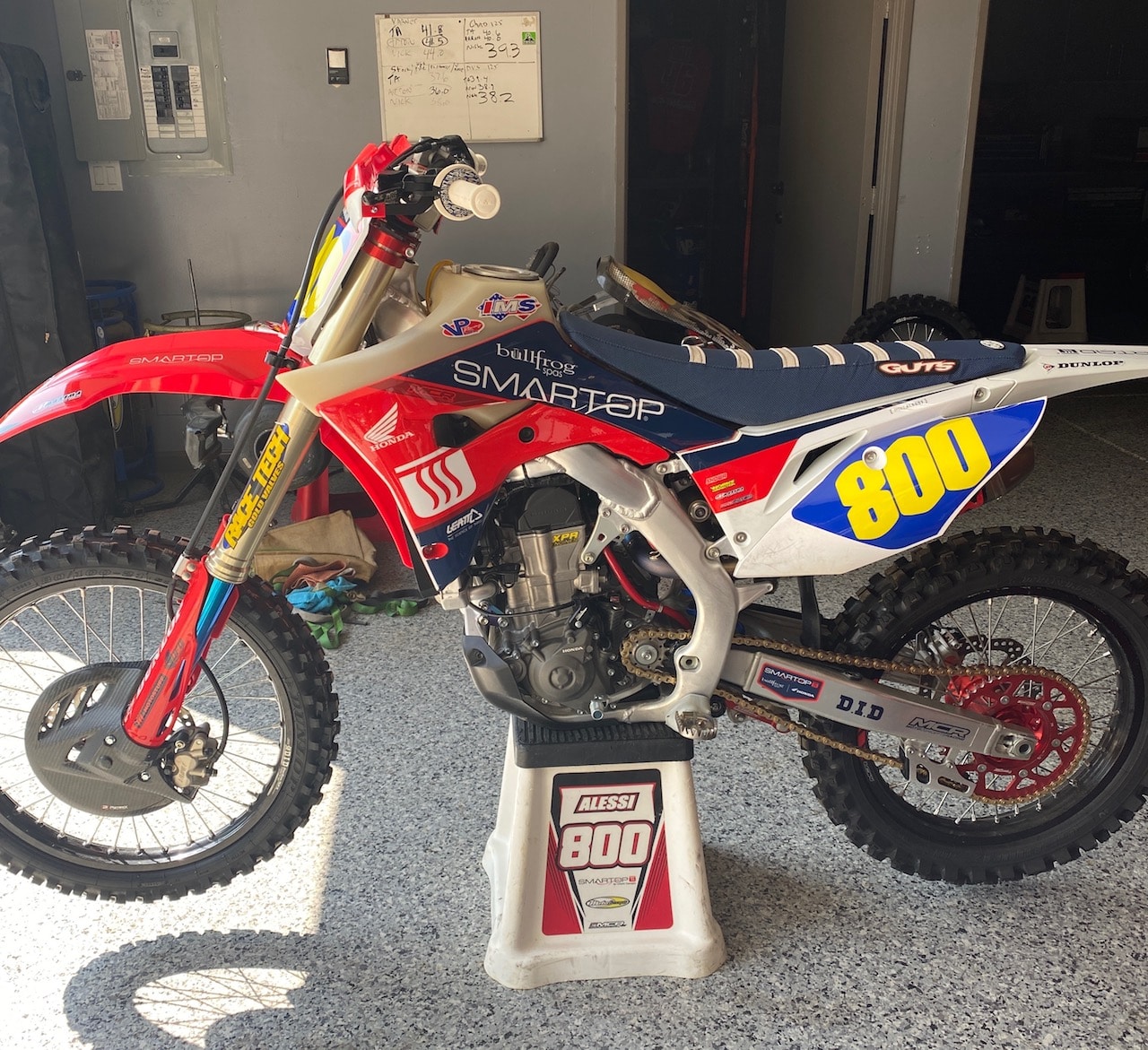 Mike Alessi's CRF450 for the Off-Road race this weekend at Glen Helen.
With the jumbled up 2020 WORCS schedule due to state restrictions, instead of being a single round weekend with the Pros doing timed qualifying on Saturday and racing a two-hour long moto on Sunday, WORCS has decided to use Glen Helen on September 19th-20th as a double-header. With two-rounds of racing in one weekend, they decided to shorten the Pro race from two-hours, to 75-minutes + 1-lap. This might play into Mike's advantage because we know he hasn't been practice two-hour long motos lately, more like 20- and 30-minute motos to prepare for his two-stroke only schedule that he originally planned for this month. Mike's competition this weekend will be factory KTM rider Taylor Robert, SLR Honda riders Cole Martinez and Trevor Stewart, RPM KTM rider Dante Olivera, 3Bros Husqvarna rider Dalton Shirey and more. Zach Bell would've made the list, but he is currently out with a collarbone injury.
Mike Alessi suiting up before the WORCS race. 
Mike Alessi practicing on his Blendzall Yamaha YZ125 two weeks ago at Glen Helen.
Lately Mike has been seen spending a lot of time on his Blendzall Yamaha YZ125 and YZ134. Originally, Mike was scheduled to race the Washougal 125 Dream Race this weekend in Washington, but that race has been postponed. However, he will be back on his two-strokes for the 2020 Wiseco World Two-Stroke Championship at Glen Helen on October 3rd.
Mike Alessi giving MXA test rider Josh Mosiman some tips about his ESR built YZ325 bike. 
The MXA Wrecking Crew recently tested Mike's ESR built Yamaha YZ325 bike that he raced at the 2019 Monster Energy Cup in Las Vegas. We also tested his Yamaha YZ134 that he raced at the Pasha 125 Open. Mike told us that he will be attending the 2020 World Two-Stroke Championships at Glen Helen in two weeks on October 3rd to race both the Open class and the 125 class. And yes, the 125 class allows bikes up to 150cc's.
Make sure to subscribe to Motocross Action Magazine so you can read our in-depth articles and get all the details on Mike's YZ325 and YZ134 two-strokes. Click here to subscribe.