MIKE BROWN INTERVIEW: "I'M NOT THE FASTEST GUY OUT THERE, AND I NEVER WAS"
"I HAD A CHANCE TO GET ON THE TEAM IF I KEPT GETTING GOOD RESULTS. ANYWAY, I ENDED UP GETTING A SUPERCROSS-ONLY DEAL WITH PRO CIRCUIT. THE REST OF THE SEASON DEPENDED ON HOW I DID INDOORS."
By Jim Kimball
MIKE, YOUR FIRST BIG-TIME RIDE WAS WITH MITCH PAYTON'S PEAK HONDA TEAM BACK IN 1992, BUT YOU LOST IT. WHY? Yes, it was 1992 when I signed with Peak Honda. In 1991, I did well doing my own privateer thing. I did well enough at all the Nationals that year, and Mitch Payton talked to me. He said that I had a chance to get on the team if I kept getting good results. Anyway, I ended up getting a Supercross-only deal with Pro Circuit. The rest of the season depended on how I did indoors. But, I ended up losing the deal after the Supercross series with my poor results. I did not really know how to train, so it was hard for me. I did not have a Supercross track or anything like that back east where I lived. That is no excuse, but I never had anything to train on and nobody to show me the ropes. Anyways, I lost the deal in 1992 and went back to the privateer route for the end of 1992 and 1993.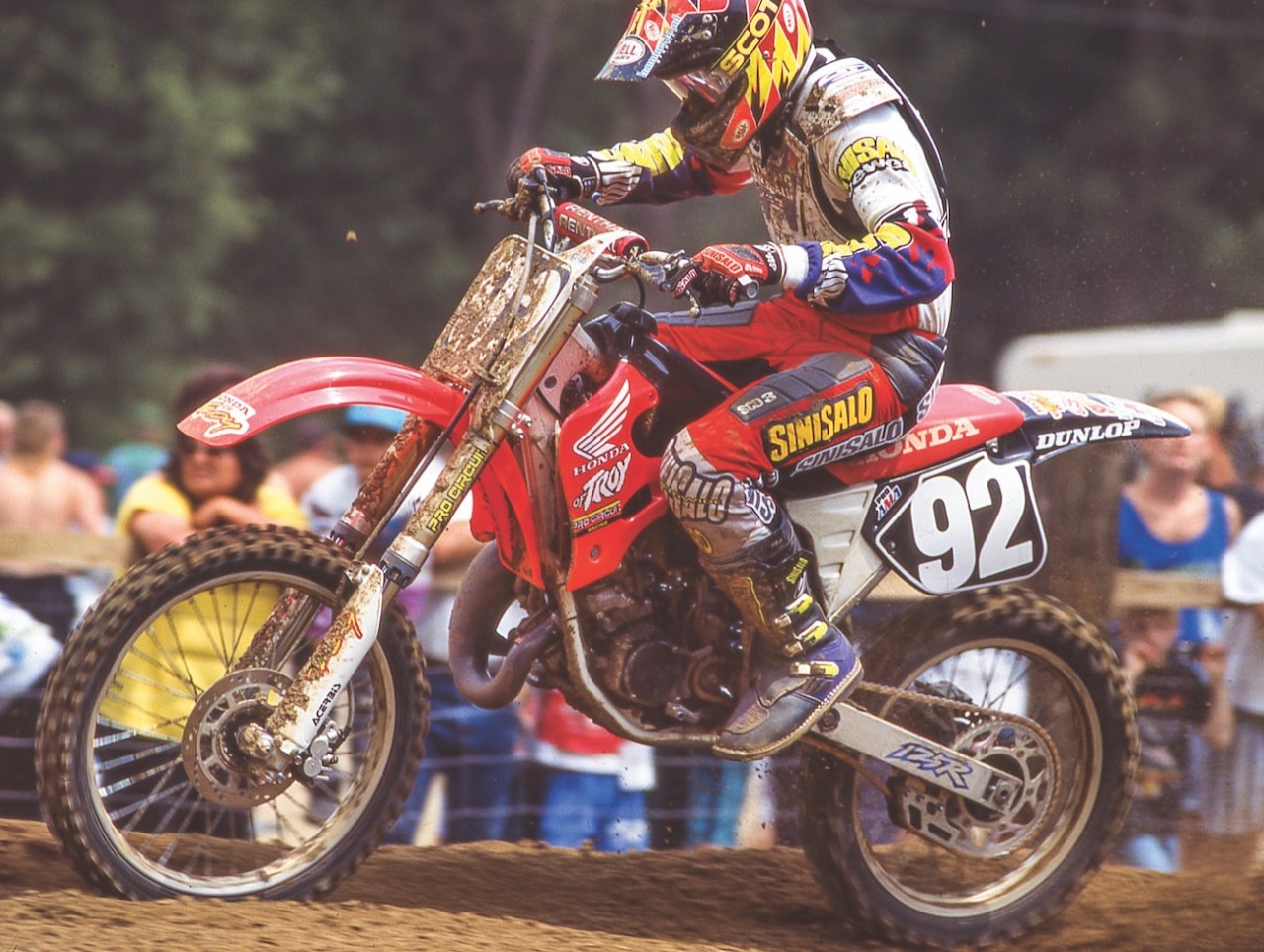 A very young Mike Brown back in 1993 when he had a real job.
AFTER GETTING LET GO FROM TEAM PEAK, YOU ACTUALLY QUIT RACING AND GOT A REAL JOB? Yes, in 1993 I got a real job. I started working for the local motorcycle dealer, Jim's Motorcycles, and I was there for probably two or three months. All my friends started mountain biking, so I got into the biking stuff pretty big and heavy. That carried over into racing cars and kart—and ultimately racing a little bit of motorcycles. I worked for a few months and realized that $250 a week was not going to get me through life. I saw that the bicycle riding had upped my fitness and did a few Nationals in 1993 and did decent. And that carried me into a ride with Honda of Troy for 1994.
HOW DID YOU DO? In 1994 I came back full force and did Supercross and motocross. I did well that year. I won the Pontiac 125 East Supercross and did well in the Nationals, which got me the ride for 1995 and 1996 with Honda of Troy. Amazingly, my whole life turned around when I got the job at Jim's Motorcycles and got myself a bicycle. I learned a little bit of training; it showed me that it helped, and I was into training from then on.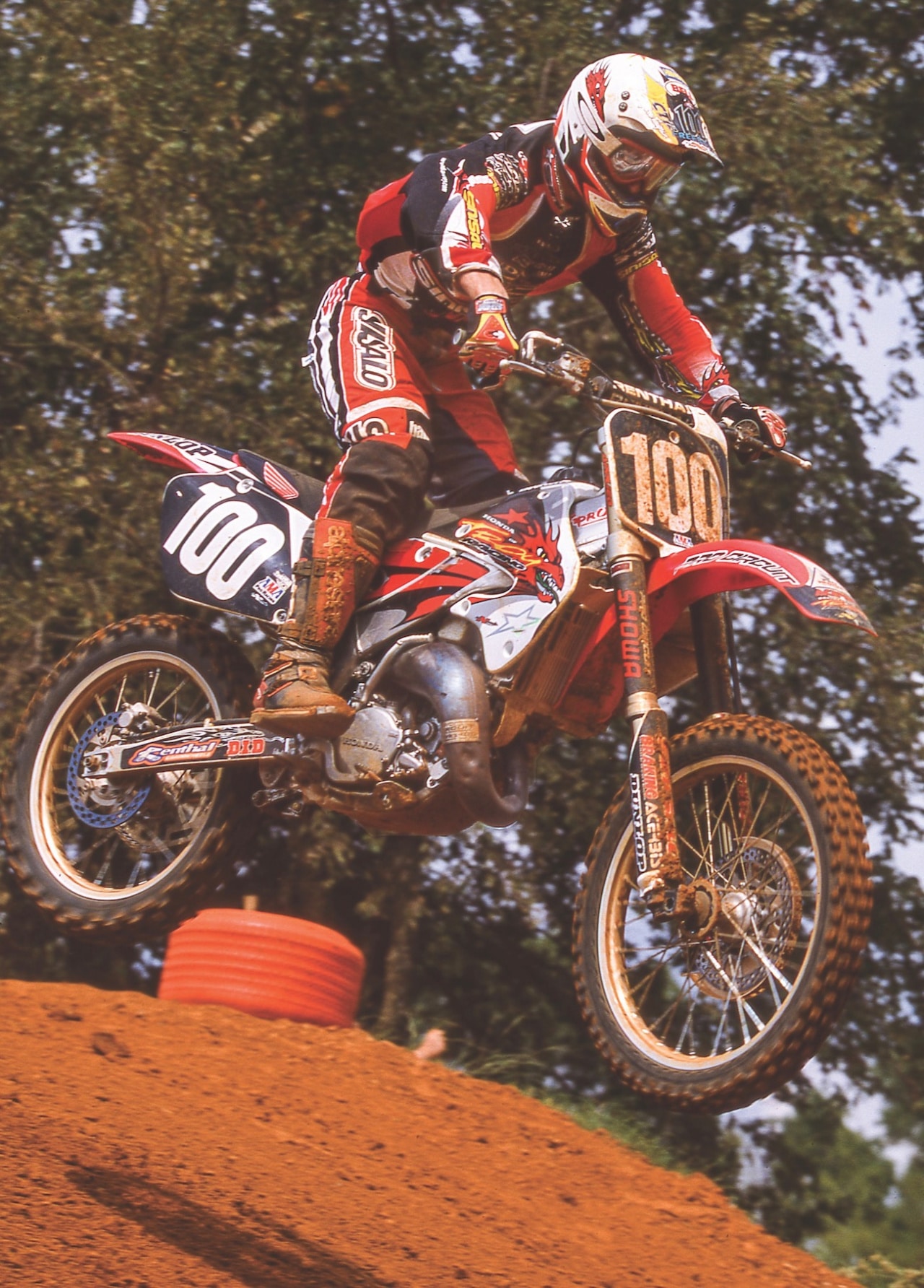 Mike liked racing for Honda of Troy, but in 1999 they became Yamaha of Troy and Mike did not fit into their plans.
WHAT HAPPENED WITH HONDA OF TROY? YOU ENDED UP MOVING TO EUROPE AND RACING THE 125 WORLD CHAMPIONSHIPS. In 1994, 1995 and 1996 I was at Honda Troy, but in 1996 I pointed out of the 125 Supercross class. For 1997, I could not get a 250 ride because every team already had 250 guys. So, I went to Europe for the 1997 season. Then Honda team manager Erik Kehoe wanted me to come back on to Honda of Troy to race the CR250 two-stroke in the 1998 Supercross and the 125 in the outdoor Nationals. But little did I know that Honda of Troy planned to become Yamaha of Troy for 1999. I lost the ride because it was an all 125 team. Back to Europe again I went.
YOU WERE GREAT ON A 125 BUT COULDN'T MAKE THE JUMP TO THE THEN-PREMIER 250 TWO-STROKE CLASS. WHY? I don't know. I never got along with the 250. I always suffered from arm pump, and I still do to this day, but it seemed that on the 125 I never got arm pump. When I got on a 250, I couldn't relax enough—or perhaps there was just too much pressure. Now when I get on a 250 two-stroke, it is easy compared to the 450s. In short, when it counted, I struggled with arm pump and couldn't get comfortable on one. Today, I love riding 250 two-strokes.
"I DID WELL. I WON THREE GP'S AND HAD 10 PODIUMS IN THOSE
TWO YEARS. I WAS ON A GOOD TEAM, BUT THE BIKE
MAYBE HELD ME BACK A LITTLE BIT."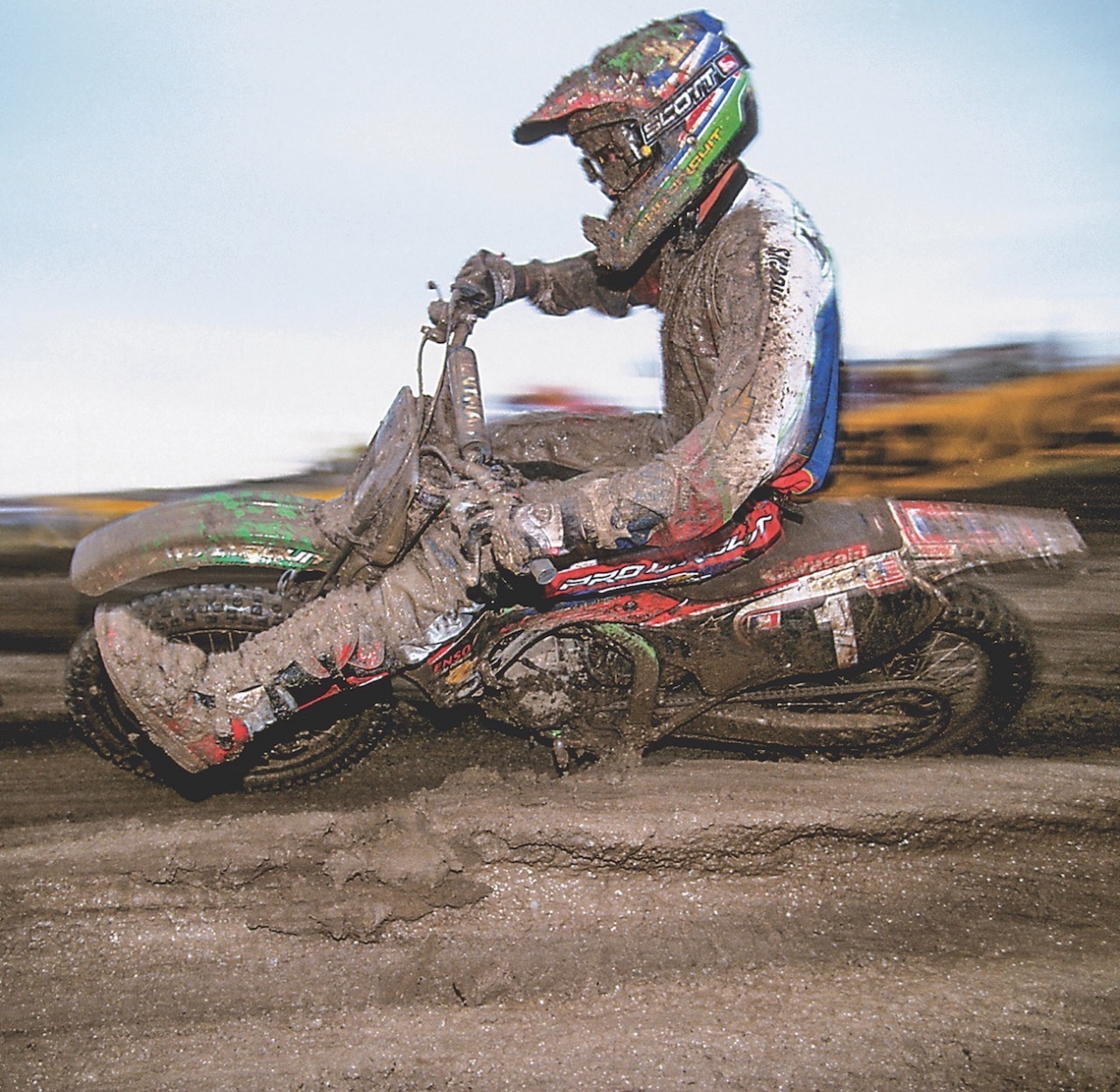 The number one plate on Mike's Pro Circuit Kawasaki came after a hard-fought 2001 AMA 125 National Championship.
YOU FINISHED THIRD IN BOTH THE 1999 AND 2000 FIM 125 WORLD CHAMPIONSHIPS. It was good for me to go over there. I learned a lot. I really had to adjust how to ride a 125, because those guys ride totally different over there with their cornering speed. I did well. I won three GPs and had 10 podiums in those two years. I was on a good team, but the bike maybe held me back a little bit. But all I learned in Europe helped me come back to the USA in 2001. Being over there learning how to ride the bike differently transitioned well for me over here.
WAS THE 125 WORLD CHAMPIONSHIP WHERE THE RIVALRY WITH GRANT LANGSTON STARTED? Oh yes! He was a young kid then coming in, and I think he won the 125 Championship in 2000. We battled a lot. He was a great rider, had great bikes, and we were supposed to be together on the KTM team in 2001. That did not end up happening, but we carried it on for a couple of years in the AMA series. We battled back and forth all the time. He was a ferocious competitor and a great competitor. He is my friend these days. Like I said, Europe helped me a lot with growing up and learning this side of motorcycles.
SPEAKING OF FEROCIOUS COMPETITORS, YOU ARE EASYGOING OFF THE TRACK BUT VERY AGGRESSIVE ON IT. TRUE? Yes. I have been like that my whole life. I like to think that I am a nice guy, and I would never do anything to hurt someone, but when I put my helmet on, I become super competitive. Whether I am playing basketball, go-karting or racing motocross, I want to win. If I were going to race the 450 tomorrow, I would not put my helmet on if I thought I was going to get last place. I put it on to win. There may be no chance of me winning at times, but I never think that way. Even at 47 years old, I still love it as much as day one.
TELL US ABOUT THE CONTROVERSIES BETWEEN YOU AND GRANT LANGSTON. In Europe, Kurt Nicoll was the head guy at the time, and he was transferring to the USA to be the KTM manager. When I was in Europe, I had signed a letter of intent to race for KTM in the AMA series. I knew the KTMs were great bikes in Europe but did not know if they were going to have the good stuff in America. I knew Mitch Payton. I had ridden for Mitch previously. I knew he had great equipment. I loved his team management style. At the last second, I switched it up and jumped to the Pro Circuit Kawasaki team. I know that was not a good thing to do, but I was nervous about going to KTM. Looking back at it, I know now that either team would have been great. It worked out that KTM turned its U.S. team around in one year and had a great team, too.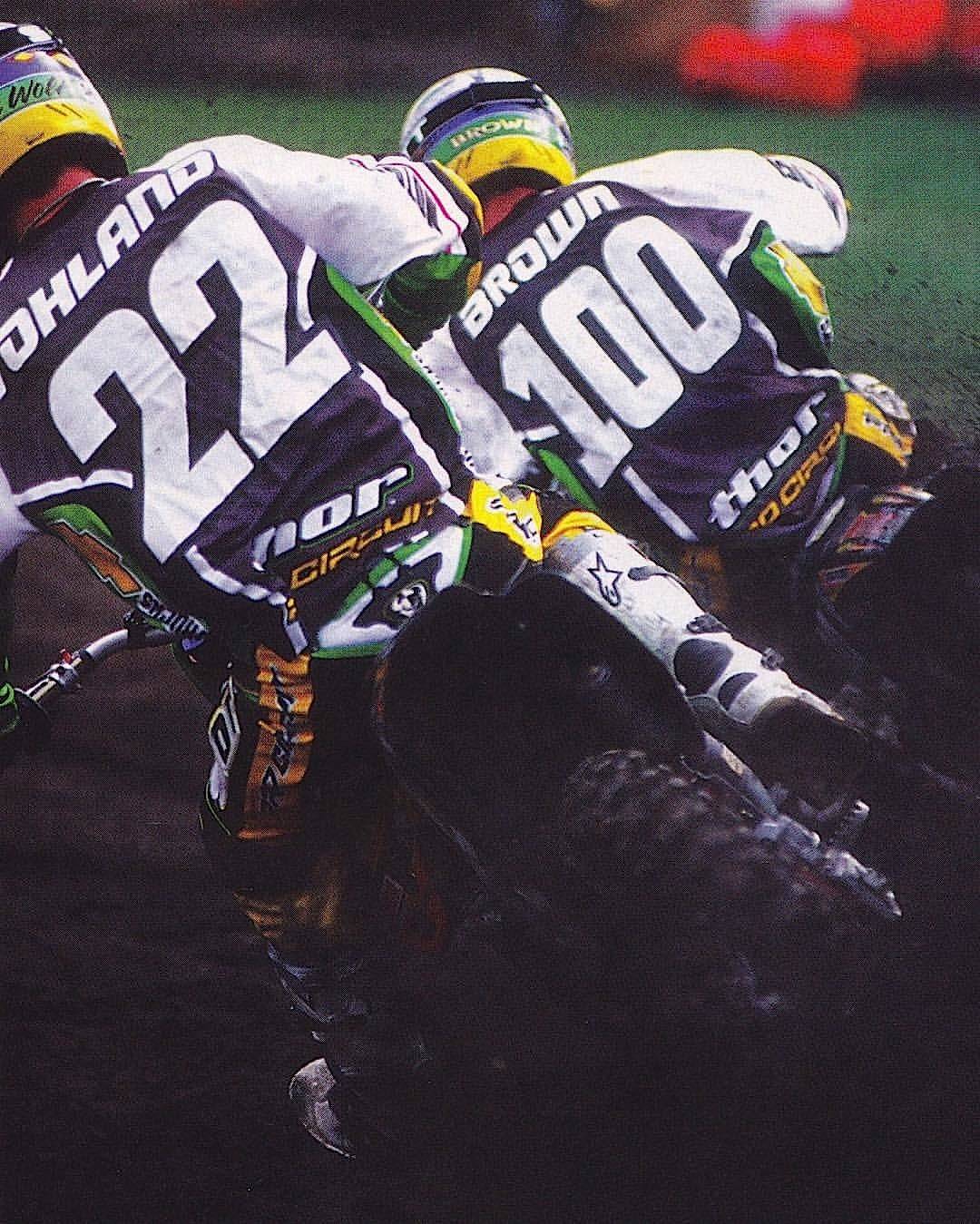 Mike raced for Mitch Payton twice and wishes he had been smart enough to stay there longer. Here, Mike and Tallon Vohland fly the colors.
IN THE END, YOU BEAT LANGSTON FOR THE 2001 AMA 125 NATIONAL TITLE IN A SERIES THAT WILL GO DOWN IN THE RECORD BOOKS AS ONE OF THE MOST HARD FOUGHT IN HISTORY. For sure. When you look back on it, there were all these great guys in there. People did not really know how we were going to do in Supercross. We did okay that year, but in motocross we turned a lot of heads. I think the corner speed that Langston and I brought back to America helped us be up front against Pastrana, Hughes, Fonseca, Ramsey, Sheak, Wey, Schnell and Tedesco. We outshined everybody else with just speed and the way we rode the bikes. Europe is totally different, and now everybody is seeing how they ride the bikes there, especially in the mud and the sand. I think that 2001 was probably one of the best years for battling and smack-talking against each other, I am sure.
WASN'T THAT AT THE DAWN OF FOUR-STROKES? Yes. In 2003, the four-strokes started coming in. That was my last year with Pro Circuit, and this was another deal that I should not have changed, but I did. I could have stayed with Pro Circuit Kawasaki. Their new four-stroke was coming out, and I did not know how it was going to be. Yamaha of Troy already had its four-strokes out, so I switched to Yamaha of Troy. Sadly, I did not agree with some of the stuff the team was doing, and I went back to Europe again from there. Maybe another crazy mistake, but you never know until you do it.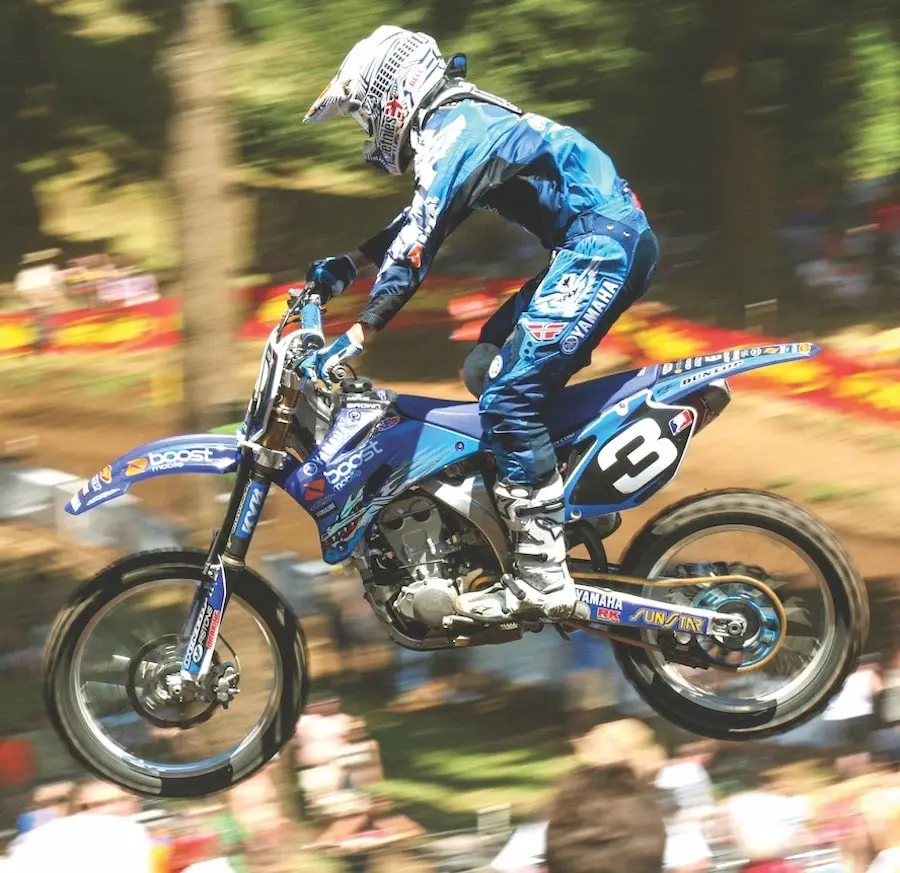 In 2003 Mike was offered a chance to race for Yamaha of Troy, but left after the first year of a two-year deal.

YAMAHA OF TROY HAS THE MOST 250 FOUR-STROKE EXPERIENCE. WHY DID THE TEAM IMPLODE? I had a two-year deal with them, but I left during my second year. I got out of my contract and went to Europe again. It wasn't the bikes at Yamaha of Troy, it was the management. Team owner Phil Alderton was a great guy. I loved riding for him, but the stuff he was into wasn't a part of me. It went downhill pretty quickly. I got out and went to Europe for another year. It did not work out there again for me, so that was a bad two years for me in my career again.
BUT YOU CAME HOME AND DID YOUR OWN PRIVATEER HONDA DEAL. WAS THAT A GOOD MOVE? That was in 2005. Europe did not work. I never got my money from the team I was riding for, so two weeks before the first 250 National I got myself bikes and a truck and went to Mitch to get my engines done. I had a pretty good points lead leaving Budds Creek, and blew it from there on out that year. I went from winning to not taking the championship in 2005. I really think I had a good chance that year. Then in 2006, I went to the Rockstar Suzuki and the Bill's Pipes Team—that was another bad mistake. I was riding well, and the Suzukis were pretty good, but it was not a team that was prepared to go out and win. They had no direction. They were great people but very unorganized. Suzuki gave them everything they needed but never helped them with any support engine-wise. We were always struggling.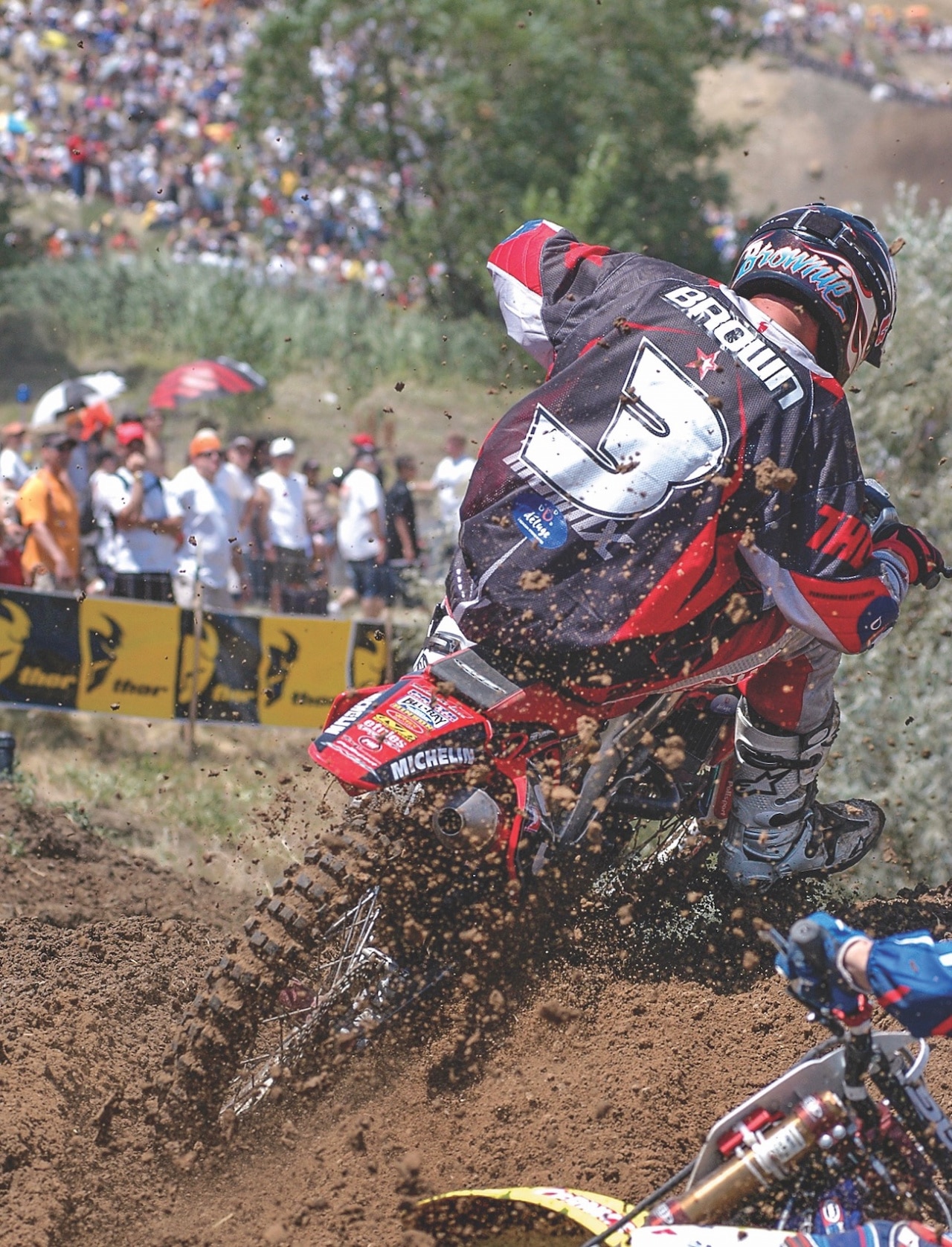 At 47 years old Mike has been a vagabond his whole racing career.
WHEN DID YOU OFFICIALLY RETIRE FROM PROFESSIONAL MOTOCROSS? I went to Europe again for 2007 and 2008 with Honda and rode the GPs over there on the 450. I was seventh in 2007 and 18th in 2008 but missed half the 2008 season. I enjoyed the racing, but at the end of 2008, I already had enough and wanted to come home. On my airplane ride home, I luckily got a call from Kurt Nicoll to come back and race off-road for KTM. That restarted my career again doing off-road for another 10 years almost, and I never really stopped. So, it was a lot of off-road, and now I am back into motocross a little bit. I kept doing my training. Even if I was not racing, I was still doing my biking and my gym work and riding a motorcycle here and there a lot, so I never stopped since I started really.
YOU STILL WENT ON TO ACCOMPLISH A LOT IN RACING. DIDN'T YOU WIN THE WORCS CHAMPIONSHIP? Yes, and WORCS racing was awesome. It is probably one of the most fun series I have ever done. It was a struggle to learn, though. I won a couple X Game gold medals and did the Baja 1000, 500, and 250 and won a lot of races there. Within eight or nine years, I covered about everything but car racing, I would like to do that, too!
WHAT WAS THE BIGGEST CHALLENGE YOU FACED IN ALL OF YOUR RACING? The transition from two-strokes to four-strokes. I raced the two-strokes for so long. Today's riders don't know because they have never raced two-strokes, but switching over from riding a twostroke to a four-stroke, you have to ride it totally different—almost the opposite of what you do on a two-stroke. Changing midway in my career was really a big deal for me. I am sure a lot of the older guys would say the same thing.
OLD HABITS ARE HARD TO BREAK. YOU ARE STILL SWITCHING BRANDS AND ARE AT YAMAHA NOW. I talked to Yamaha last year but couldn't make a deal. Then Mike Guerra at Yamaha came through and helped me with bikes and parts. Nothing big right now, but maybe next year we can improve a lot. I have bikes in Canada, California and Tennessee, so they are supporting me in whatever I want to do. At my age, I can't expect a whole lot, but to be up here racing at 47 in the 125 class or anything I want to do, they will support me in. So that is the fun part about it, and I am just grateful to be doing this.
"THE MAIN THING IS THE WORK ETHIC AND LETTING PEOPLE SEE THAT. PEOPLE LIKE RIDERS WHO WORK AND ARE NOT SCARED TO PUT THE EFFORT OUT THERE."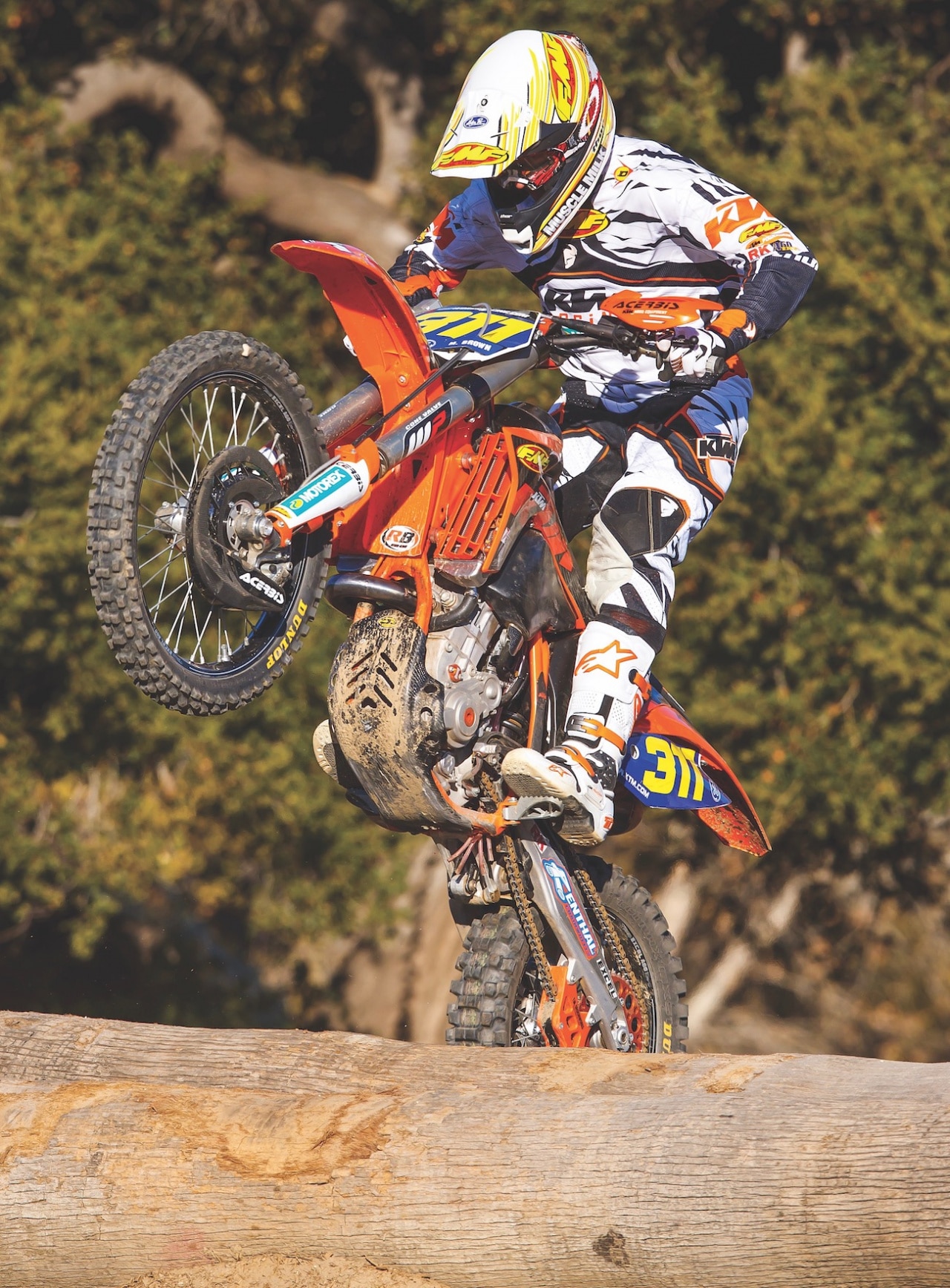 Every year Mike told his friends that he was going to retire, but every year he found a new challenge —and the switch to off-road racing was good for him.
DO YOUR TWO SONS, BRANDON AND COLLIN, WANT TO FOLLOW IN YOUR FOOTSTEPS? They both are good riders, but my older son is a basketball kid. They are both great little basketball players. My older son has a few scholarship offers already for college and he is only 16. He lives away from home playing basketball in West Virginia at a high school there. For a 16-year-old kid, I have never seen anyone that focused, and that makes me proud. The little one is the same way. He is going off to school to play basketball, and they are like me about riding a motorcycle. They are aggressive and they want to win, and I like seeing that.
WHAT ADVICE WOULD YOU GIVE TO ASPIRING MOTOCROSS RACERS? Try as hard as possible. Give it everything you've got. Listen to people and what they are going to tell you. Many of the kids coming in do not know how to train. I hate seeing so many privateer guys with a lot of talent who don't have the tools to do it. There are some very fast kids in this world who will never have a shot at being at the top. You have a 10-year window to prove yourself. The main thing is the work ethic and letting people see that. People like riders who work and are not scared to put the effort out there.
Most of the kids coming in with the big motorhomes will never make it. Their dads have money, and the kid thinks, "Do I really need to be out here in this mud today?" You see that a lot. I have grown up with some rich people and some poor people, and the privateer guys who are paying their own way are going to give it 110 percent. The kids who get everything for free really don't have to go push it to get a factory ride because they already have one as an Amateur.
ANY FINAL COMMENTS ABOUT YOUR RACING? I'm not the fastest guy out there, and I never was, but racing is about being smart, making the right choices and keeping up with the training. I have had a great career, and I thank all the people along the way for supporting me.