MILESTONE SUPERCROSS PRACTICE | PHOTO GALLERY
The current 250 East points leader, Austin Forkner was out at Milestone putting in some fast laps this week.
Photos by Josh Mosiman
If you've read our latest mid-week report you know that our Assistant Editor, Josh Mosiman has some pretty tore up hands right now. He competed in the Lake Havasu WORCS off-road race and as a result of two hours of racing in the sand, he now has some pretty gnarly blisters.
Josh's hands from last weekend's WORCS race in Havasu.
Instead having Josh test bikes, we asked Supercross rider, Jerry Robin to come out and wear the orange helmet for the day. While Jody, Daryl, Travis and Jerry were testing the project bikes and taking photos of them for the magazine, Josh grabbed his camera and walked over to the Supercross track. Josh actually raced Supercross and qualified for main events in 2018 before joining MXA as a full-time employee. Now instead of training on Supercross, he's learning how to test bikes and products, write articles and use a camera. While his friends (and previously his competitors) were working on their Supercross skills and dialing in their bikes, Josh was working on his photography skills and learning about new camera settings. Here are a few of Josh's favorite photos from the day.
Martin Castelo rode for the BarX Suzuki team for the first five rounds of the year and he finished a career best of 6th place in San Diego. Now the rider from Ecuador has switched to the JMC Husqvarna team for the remainder of the 250 West Coast series.  
 With all the rain we've had in Southern California, the tracks have had a lot more ruts than usual. Here Garrett Marchbanks rails a deep rut on the Milestone Supercross track.  
Garrett's mechanic lets him know that he has one lap to go. Instead of riding long motos, Garrett was doing interval sprint laps. Intervals are great for building speed, confidence and endurance. He would go as fast as he could for a lap and then slow down, and cruise for a lap to lower his heart rate, and then go fast again. This helps you increase intensity to your riding, while also giving you a chance to catch your breath in between each lap.  
Cole Martinez has a nice Motocross Action Magazine logo on his graphics. He was riding the Twisted Development RM-Z450 that we tested recently with Josh Grant. Look for this bike in the April issue of MXA as it is on the cover. Don't believe us? Look below.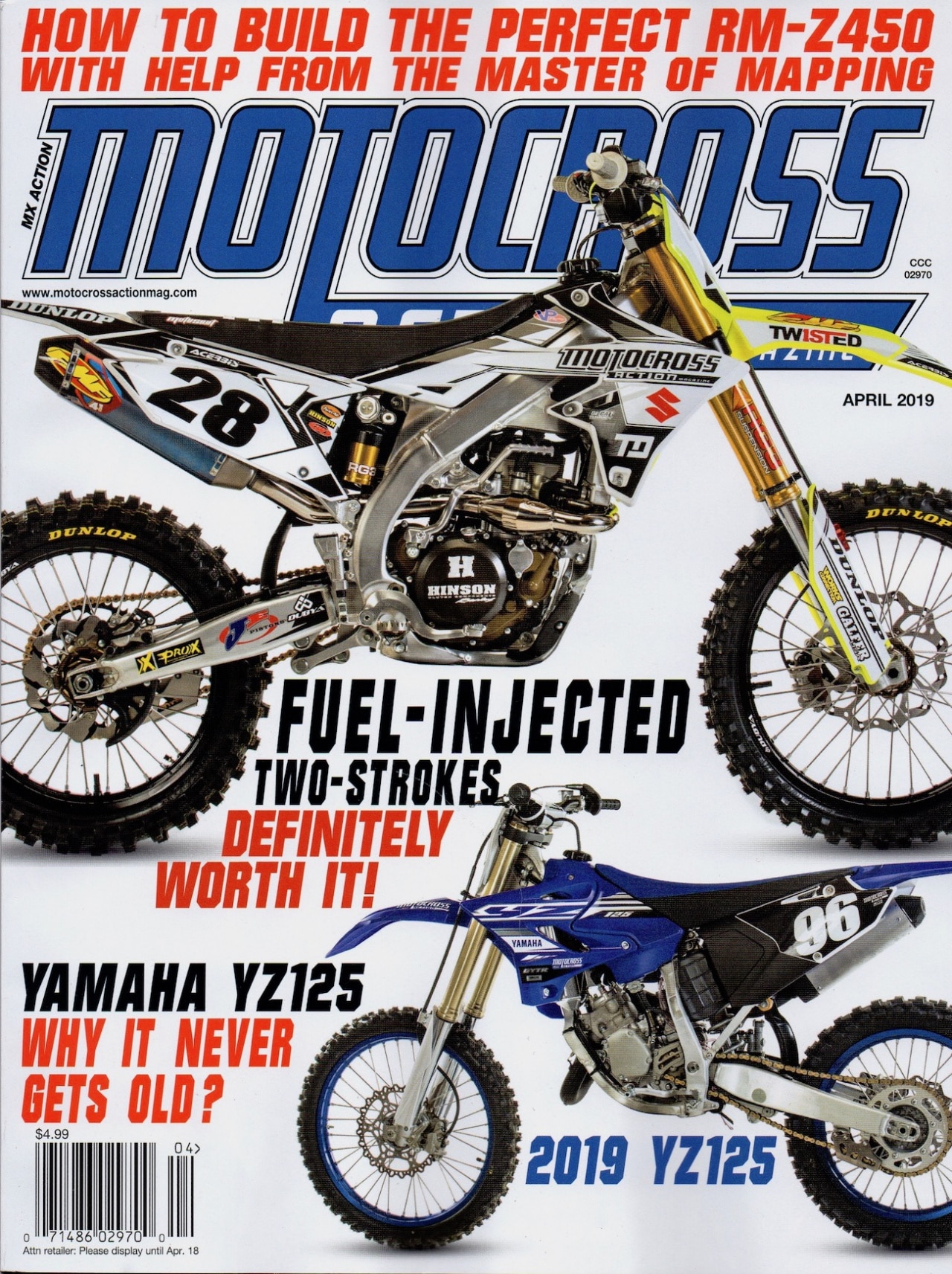 Jaime Ellis's built Twisted Development RM-Z450 on the cover of the April issue of MXA.
Austin Forkner used to spend most of his time training at Robby Reynard's facility in Wellston, Oklahoma, but this year Austin switched up his program. He's been living in Southern California and riding the local Supercross tracks and the Pro Circuit test tracks. So far it seems like whatever he's doing differently is working out well for him.
Mason Wharton threw some whips and looked back to make sure we got it on camera. 
Austin Forkner puts the hammer down on a step-on-step off.
It was good to see Dylan Merriam getting some laps in. After crashing at Anaheim 1, Dylan raced at Phoenix and finished 15th in the 250 main event with an injured back. After struggling with the injury at Anaheim 2, Dylan took a few weekends off before jumping up to race the 450 class in Dallas and then back down to the 250 class for the East/West shootout in Atlanta. He missed both main events, but now with some more time to practice before Seattle, we expect to see Merriam back in the main event. 
Martin Castelo was looking more and more comfortable with his new Husqvarna FC250 each lap. 
Hunter Schlosser came all the way from Texas to get some Supercross riding in. Here he triples through the rhythm section with the Milestone sign and the lush green grass in the background.  
Josh was trying to get artsy with the angles on a few of these photos.
Brandon Leith is also new to the Husqvarna brand. He switched from Kawasaki to the JMC Husqvarna right before Anaheim 1. 
Hunter Schlosser stretches out the triple in to the rhythm section.
Martin Castelo gets low in the deepest rut on the track.

Cole Martinez skims through the whoops.
Bradley Lionnett was getting some laps in with his new gear and helmet sponsor, Leatt. 
Austin Forkner rails a rut while Josh gets the shot from the other side of the fence.
Garrett Marchbanks has some fun after a good day of training.
Dylan Merriam with his elbows up and eyes forward.
Mason Wharton leans back and holds it wide open through the whoops.