MITCHELL HARRISON INTERVIEW: CAPITALIZING ON OPPORTUNITIES HEADING INTO 2020 WW RANCH NATIONAL 

MITCHELL HARRISON INTERVIEW: CAPITALIZING ON OPPORTUNITIES HEADING INTO 2020 WW RANCH FLORIDA NATIONAL 
As a rookie for the powerhouse Star Racing Yamaha team in 2016, Michigan native Mitchell Harrison showed some respectable results. Unfortunately for him, the team had expectations of winning races, and an already full team going into 2018. Then he was signed to the Rockstar Husqvarna team, and his results improved. Still, his one-year contract was not renewed. Relegated to privateer status on the Rockwell Yamaha team for the 2019 supercross season, Mitchell showed flashes of brilliance, but also had multiple bike problems. Finding a home later that year with the Bud Racing Kawasaki team in Europe, Mitchell had an up and down time racing in the MX2 class. Harrison returned to that same MX2 team for the 2020 season, but he was only able to complete two World Championship rounds before Covid-19 derailed racing. When motocross resumed in the GP series, travel bans kept Mitchell from traveling back to Europe. In the end, what was turning into huge negative quickly switched gears as Mitch Payton awarded Harrison (along with Darian Sanayei) with a fill-in-role at the Monster Energy Pro Circuit Kawasaki team to fill-in for injured Austin Forkner, Garrett Marchbanks and Jordon Smith. With a fifth overall at RedBud 2, Mitchell is right on pace with the top guns. Now ninth in the 250 point standings after Millville in a stacked field, we caught up with the now 22-year-old.
By Jim Kimball
MITCHELL, IT SEEMS LIKE COVID-19 WAS A BLESSING IN DISGUISE FOR YOU. Oh, for sure, it was a blessing in disguise. This (Pro Circuit Kawasaki) is the number one team and I am fortunate enough to have the opportunity to be a fill-in rider for them, so you can't beat it. Under the circumstances so many people had it so rough and so bad and where I got so lucky, I am truly blessed. It is just a great opportunity for me.
Mitchell Harrison scrubbing so low that he's literally scrubbing dirt off the top of the jump on his way to a fourth overall finish at RedBud 2.
IT LOOKS LIKE YOU ARE RIDING BETTER THAN EVER. I think I have improved. The Monster Energy Pro Circuit Kawasaki is a phenomenal bike and it makes it easier on me. Coming back from Europe, I learned a lot about myself as an individual and just my riding style. It is completely different riding over there. I think overall, I have improved on my riding and now it is showing each week. I am just getting closer and closer to the top and more consistently getting up there, so overall, I think I am a lot better.
IT ALWAYS INTRIGUES ME SO MUCH WITH THE LEVEL OF RIDERS IN THE 250 CLASS. I think this is the most stacked year so to run up front is a huge thing. It is funny, they may call me a veteran now, but I am only 22 years old. Still, we have 16-year old's in this class, and they are ripping. Guys like Ty Masterpool and Jett Lawrence, I mean hats off to those guys, they are holding their own. It is such a deep field and if you can be anywhere towards the front, you deserve to be there.
Mitchell Harrison has ridden for Star Racing Yamaha, Rockstar Suzuki, Rockwell Yamaha and Bud Racing Kawasaki. Now, he has a fill-in ride with the Pro Circuit Kawasaki team for the 2020 AMA National season.
THE PRO CIRCUIT KAWASAKI TEAM HAS NOT HAD THE BEST SEASON IN OUTDOORS, BUT YOU HAVE KIND OF BEEN THE SHINNING STAR. I think the Pro Circuit Kawasaki team is really happy with me as a fill-in rider but again, they are Pro Circuit and they want to win! So, I also get that feeling that fourth is good, but we want to win. My teammate Darian was racing with a hurt shoulder and hats off to him. He was really riding through the pain, and he was riding well. Unfortunately, he is out for the rest of the season now. Cameron McAdoo has his good weekends, and has bad weekends, and I have done the same. Overall, we just need to be a little more consistent up front.  Also, I think this bike deserves to be winning and that is what we need to focus on.
Mitchell is heading to the 2020 Florida National ninth in the 250 point standings.
IS IT TOO SOON TO TALK ABOUT NEXT YEAR, AND WHERE YOU MAY BE? Next year is still wide open. I have not discussed anything with Mitch because I am really focusing just on myself and each race. If it gets to the last round and he seems really interested, that would be awesome—I would love to be here. At least I am opening up everybody's eyes again. I felt like I got pushed off of my last team here, and now I can really prove that I still belong up here. This is where I am meant to be.
YOU MENTIONED "PUSHED OFF," ARE YOU REFERRING TO YOUR ONE-YEAR DEAL WITH ROCKSTAR HUSQVARNA? Yes, that honestly upset me, and got me a little irritated. But hats off to Michael (Mosiman, Rockstar Husqvarna), he is really proving that he deserves to ride. He is a really good guy. It just did not work out and they did not want me again, so that sucked. I had to turn to Europe, and I was not doing the best. With racing in Europe there is a lot that goes into that with a different style of racing, so it took me a bit. That is why I feel like I got pushed off, People probably thought "he is over in Europe, and not doing well." But that's what happens in motocross.  It is unfortunate but if you are not winning all the time or at least showing that you can win, you are going to be just out the door immediately. It is a small sport, and there is lots of talent.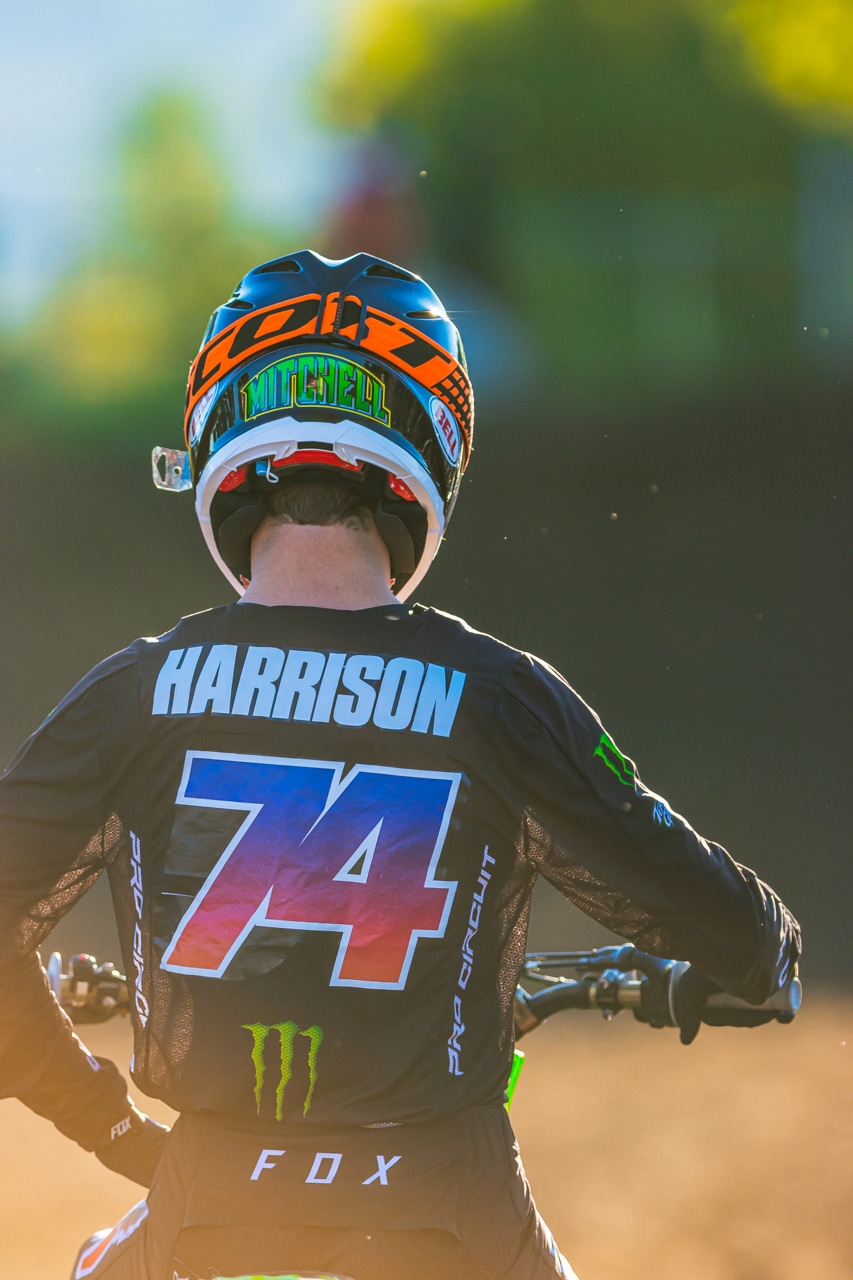 You can see Mitchell Harrison at the 2020 Florida National this Saturday, September 26th. To see the TV schedule for this weekend, click here.
ARE YOU HAPPY WITH WHERE YOU ARE AT RIGHT NOW IN YOUR RIDING AND FINISHES? You know, I think the first race I was, "oh sweet, I can still do this." I've been riding pretty well and that felt good, but when I am not near the front, I'm not happy. Red Bud was the best finish of the season. I was thinking "Wow, I was right there, and I could have really done something." The goal is to win, especially on this bike. I think I just need to take these little victories, good riding, some victories, good starts and just it step by step. I should not really be thinking about "the win" as much as my riding. I think that has truly improved and I am riding really well, so that gets me excited.