2020 SUPERCROSS SEASON POSTPONED & FIVE MORE ROUNDS CANCELED DUE TO CORONAVIRUS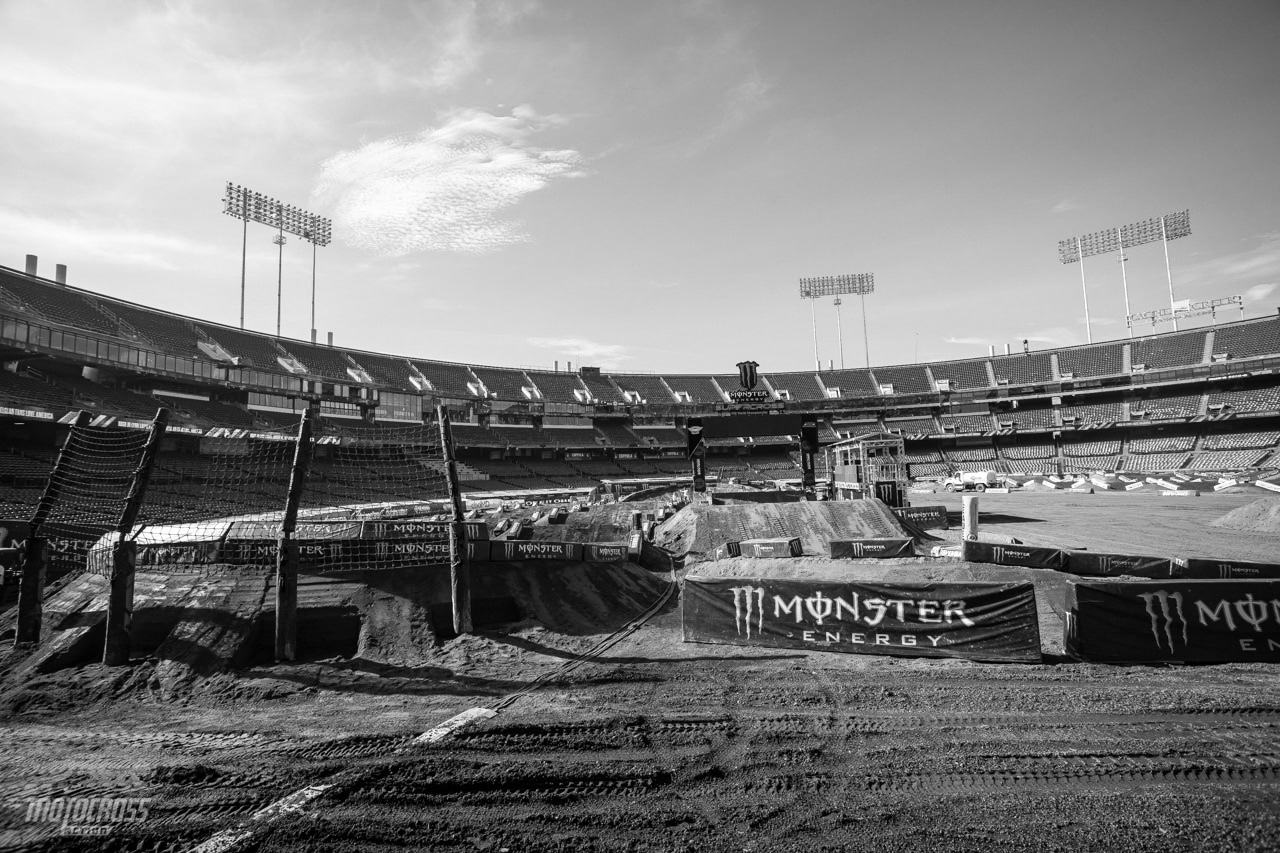 THE 2020 MONSTER ENERGY SUPERCROSS SEASON HAS BEEN POSTPONDED DUE & FIVE MORE ROUNDS CANCELED DUE TO CORONAVIRUS PANDEMIC
(UPDATED MARCH 13TH, 2:20P.M. PST)
The 2020 Monster Energy Supercross has been postponed as the Coronavirus pandemic continues to restrict gatherings of more than 250 people around the world. We are very sad to report this and although the chances are slim, there is still a slight bit of hope for another round of Supercross. FELD Entertainment did announce that they are cancelling the Denver Supercross and Foxborough Supercross as well. They haven't cancelled the final two rounds in Las Vegas, Nevada, and Salt Lake City, Utah, just yet. They've only postponed those races "until further notice." Until then, the Championship is on hold and no Champions will be crowned. Read below for the full press release from FELD Entertainment.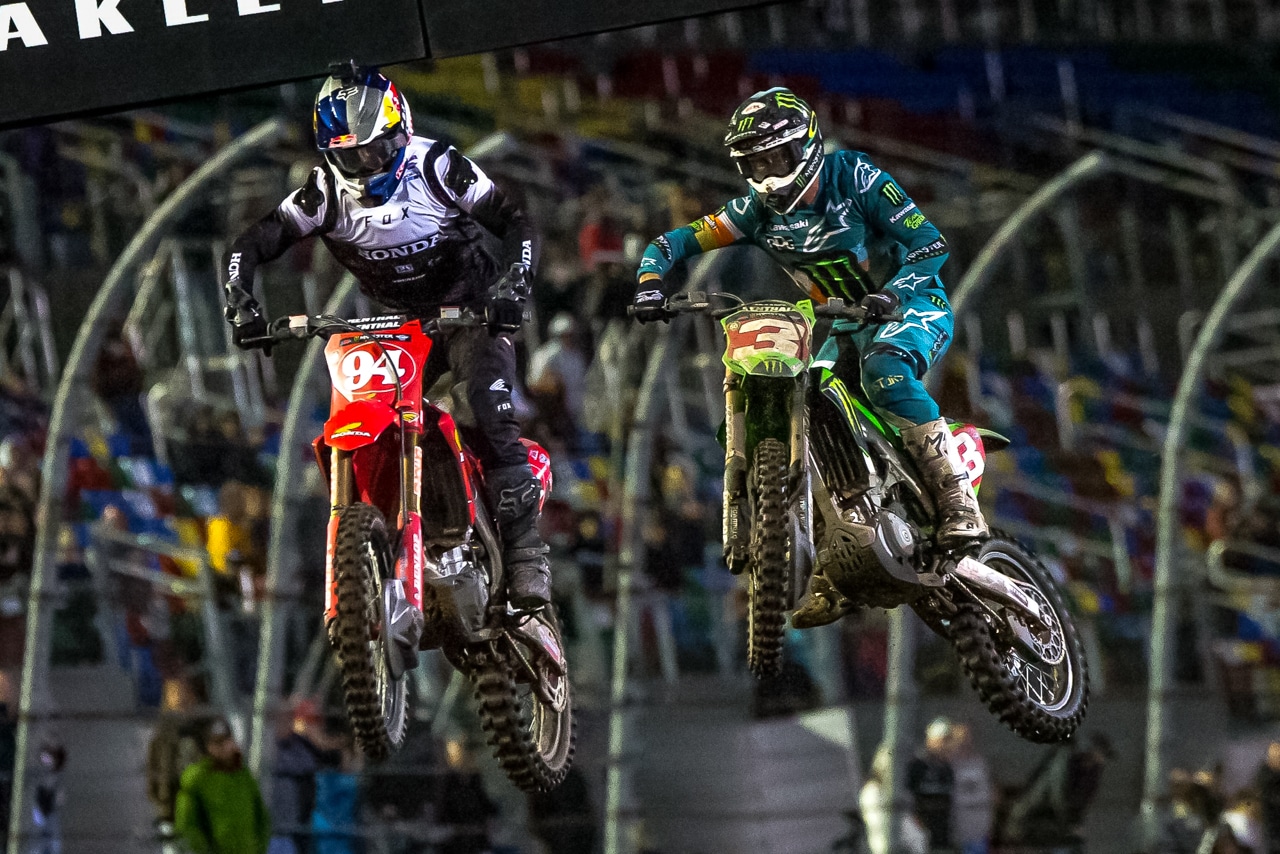 It's looking more and more like Eli Tomac's late-race pass on Ken Roczen in Daytona could've been the pass for the Championship. Since both riders were tied going into the race, whoever finished in front of the other would leave with the points lead. Now, it's looking like the chances of these guys racing again anytime soon are getting slimmer by the hour. 
FELD Entertainment Press Release: "Due to the increasing spread of COVID-19 and expanding restrictions on domestic and international travel, and in accordance with national state and local governments prohibiting large group gatherings, the 2020 Monster Energy AMA Supercross, an FIM World Championship, season has been postponed until further notice.
The following Supercross events have been cancelled:
• March 14 in Indianapolis, IN at Lucas Oil Stadium
• March 21 in Detroit, MI at Ford Field
• March 28 in Seattle, WA at CenturyLink Field
• April 4 in Denver, CO at Empower Field at Mile High
o *Includes Sunday Supercross Futures Cancellation
• April 18 in Foxborough, MA at Gillette Stadium
o *Includes Sunday Supercross Futures Cancellation
Event ticket refund information can be located on the venue or ticketing website. If you purchased your tickets elsewhere, contact your point of purchase directly.
The health and safety of everyone attending and competing in our live events, as well as our touring personnel, is our top priority. We will continue to monitor the situation.
We value you as a fan and appreciate your patience and understanding during this unprecedented time."
Ken Roczen and Eli Tomac congratulating each other after the Main Event in Daytona.
(UPDATED MARCH 12TH, 5:45P.M. PST)
Just a short two hours after the 2020 Indianapolis was canceled, we now find on the Detroit, Michigan, Ford Field website that round fourteen of the 2020 Monster Energy Supercross season has been canceled. The race was scheduled to happen on March 21st and now the Ford Field website is directing spectators to customer service to have their tickets refunded. Click the link below to read learn all about how the Coronavirus is affecting Supercross.
Via FordField.com: "In accordance with the restrictions on travel and group gatherings amid COVID-19 concerns, the Monster Energy AMA Supercross scheduled on March 21, 2020 at Ford Field in Detroit has been cancelled."
"Refunds through Ticketmaster will automatically be refunded to your credit card.  For additional information, contact customer support at www.ticketmaster.com/customerservice.  For event purchases made with a credit card directly from the Ford Field Box Office, all purchases will automatically be refunded to your credit card used at time of purchase. Additional inquiries should be directed to customer support at www.fordfield.com/events/ticket-information."