MOTCROSS ACTION MID-WEEK REPORT: 6D ATR-2 INTRO, CR250 & MORE

#WHIPITWEDNESDAY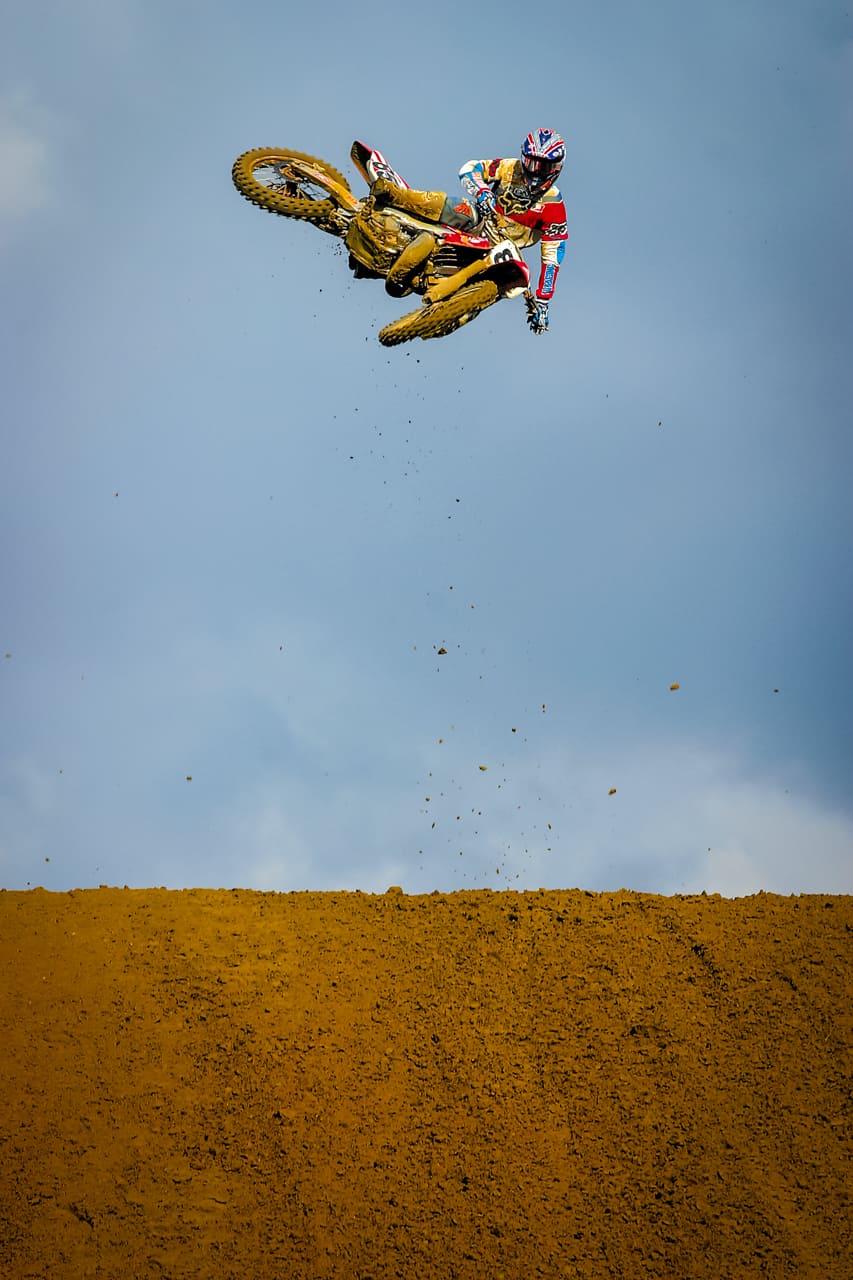 Rider: Ricky Carmichael
Bike: 2003 Honda CR250
Event: 2003 MXDN in Holland
Lens: 70-200mm f/2.8
Focal length: 200mm
Exposure: 1/750sec
F-stop: f/9.5
ISO: 200
TWO-STROKE SPOTLIGHT: BRANDON BLADEN'S 2003 HONDA CR250
Dear MXA,
In 2014 I bought a clean 2003 Honda CR250 for $2000. I rode the bike for about a year and put a couple things on it and sold it to a young teenager for $2300. Fast forward three years and I'm riding a 2016 YZ450F (after owning a 2016 RM-Z450 that I hated the forks so bad, I ditched it and went with the YZ-F–thanks to you guys) I ride desert with my little brother and just like to have fun. My brother had a 2013 YZ450F and hated it. I didn't care much for it either compared to my 2016 Yamaha. So, my brother started talking about getting a newer YZ like mine.
Knowing that he had never ridden a 250 two-stroke, I recommended he give it a shot. He didn't think much of it due to the lack of fuel injection. Somehow I managed to get him on a 2016 YZ250X that a friend of mine owned. He rode it, and bought it shortly after and loves it. I then rode the two-stroke. I grew up on two-strokes, and all my hero's made smokers look so sweet (RC, McGrath, bubba etc) I will admit, the lack of engine braking takes getting used to for about 15-20 minutes, but then it's all "smiles per gallon" from there.
I heard that my old 2003 Honda CR250 was ridden hard and put away wet for two years and had been sitting for another year. I called the kid and asked if he'd sell it. He text me back and said he would. I went and looked at the bike. It was beat. The pipe and silencer were destroyed. All the plastics were shot. Save for the shrouds which I desperately tried to clean up since I put the Woody Woodpecker graphics on them being the Carmichael fan that I am.
Oddly enough the seat cover was in mint condition though. More carnage was found. Bent radiator, bad chain and sprockets, rear shock was blown, levers off of who knows what, float set all bent up, rear wheel cracked and front bent. Anyway, I loved that bike and since it was my old bike from years past, I had to get it back. I told the kid all that was wrong with it and I offered him $750. He initially wanted $1500. To my surprise he was super cool and gladly sold it to me for $750. I about crapped my pants. I bought it and went to work. Rocky Mountain had my name memorized in the weeks after that. I ordered tons of stuff: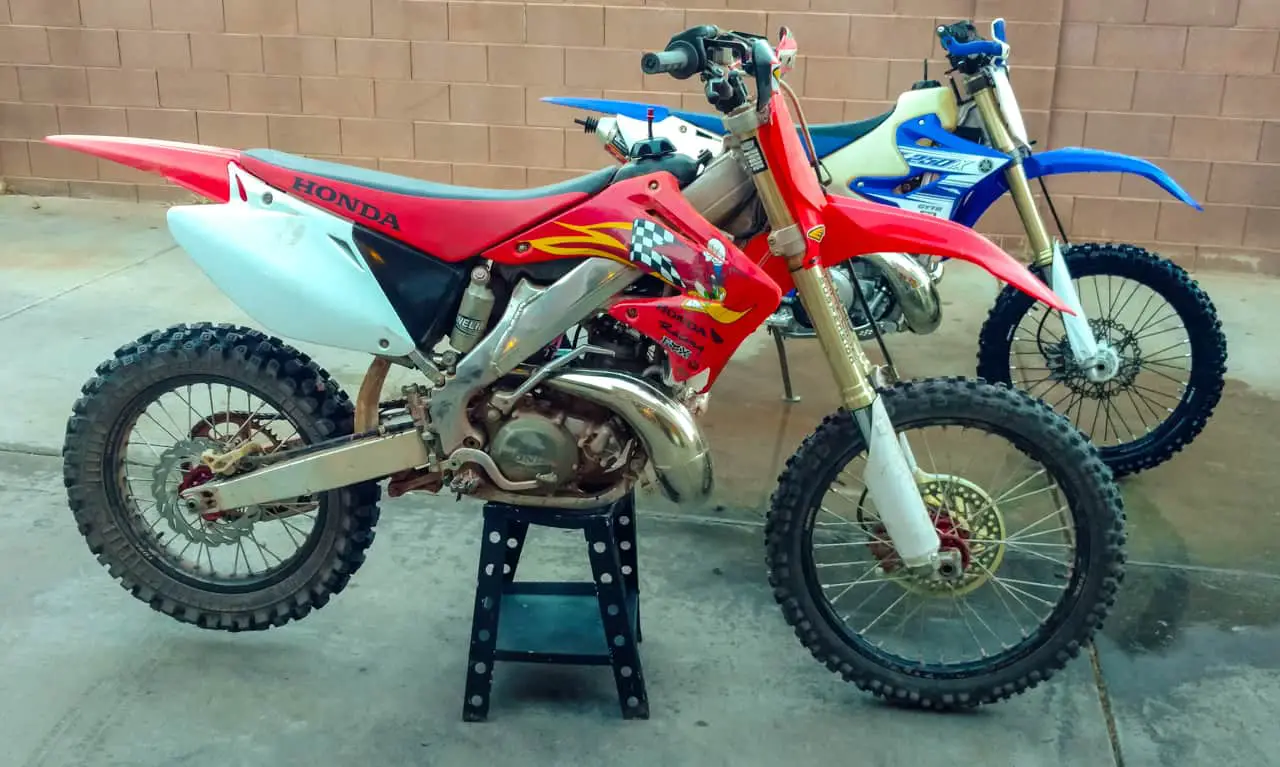 -Tusk wheel set with an 18″ rear wheel
-Tusk clutch plates and springs
-new brake pads and rear disk
– FMF gnarly/shorty combo
–Cycra plastics
-Cycra handguards
–Bridgestone Battle Cross X40 front and rear
-Primary Drive chain and sprockets
–ODi lock on grips
-Pro Taper oversized clamps
-Pro Taper CR high bend bars
–ICW repaired my radiator
-Fineline suspension rebuilt the rear shock.
-Carb rebuild with stock Honda float set
Plenty to get done. But Im glad to report that with all that being said, the bike had great compression and once I got the carb to quit puking fuel out of the over flow she started first kick and ran great. What's better is that I'm into it $2100 total. Runs great! Updated the front end to a 2016 and it's super fun. I love two-strokes. I love four-strokes. But mostly I just love dirt bikes. We'll see how long I can keep both my YZ450F and the CR. But it's been fun to build it, and it's great that I got a bike back that I thought I'd never see again. Thanks MXA for all the great articles and info. You're the best!! I hope you enjoy my long story. I have enjoyed every second. –Brandon Bladen
Editors Note: Please keep those submissions coming. If you would like your bike to be featured in the "Two-Stroke Spotlight," please email me at [email protected]. All I ask is that you give a breakdown of your bike and a detailed description of the build. Please also send a few photos of your steed. By submitting your bike for the "Two-Stroke Spotlight," you agree to release all ownership rights to the images and copy to MXA. Please don't email me spam or try selling me Taylor Swift concert tickets or email me spam. Happy submitting your smoker.
MOTO | TRIVIA
Who is the rider? Answer at bottom of page.
SHOT RACE GEAR PARTNERS WITH TRADERS RACE TEAM FOR 2018 EAST COAST SUPERCROSS SEASON
Jayce Pennington (#231).

Press Release: Shot Race Gear announces partnership with Traders Racing team for 2018 East Coast Supercross series.
Shot Race Gear has once again teamed up with Traders Racing for 2018 East Coast Supercross series with a 3 man team of Luke Renzlan (#38), Nick Gaines (#49) and Jayce Pennington (#231).
"We are very pleased to continue our relationship with Shot Racewear for the 2018 season. The riders are very happy with the performace of the gear as the fit and comfort has been above par from day one.  We look forward to helping grow the Shot brand in the future and help develop the product to fit everyones needs and wants" Says Kenny Day, the Team Manager for the Traders Racing Team.
Luke Renzlan (#38).
MTA Distributing National Marketing Manager Jeff Laird said "Following the success of Traders Racing team in 2017 with East Coast Supercross and National Motocross season, we felt this would be a successful partnership for 2018".
For more information about Shot Race Gear visit www.shotracegear.com
INSIDE JUSTIN BOGLE'S FACTORY JGR SUZUKI RM-Z450
 The full collection of Inside the Pro's bikes.


THEY SAID IT | ARLINGTON SUPERCROSS
Weston Peick: "Practice went really well. I qualified sixth, which I was happy with. I didn't get the start I was hoping for in the heat race, because I got tangled up through the first turn. There were a few times where I had to get aggressive in order to get around riders, but it worked in my favor. It was nice winning the heat race and having that momentum heading into the main. I didn't realize how rough and choppy the track was going to get. We went a bit too stiff with the rear shock setting, which wasn't the right choice when the track developed into what it was. Regardless, I showed good speed. I need to capitalize on those situations, and am looking forward to next weekend."
Jimmy Decotis: "The main was insane! I've never been that happy to get a bad start. I hope everyone involved is okay. I struggled to get off the gate and missed my shift. Then I saw everyone flying, and I started working through the pack. All of a sudden, I was in fifth place. I kept my lap times down and scored my first career podium. I went back to the rig and got a round of applause. It was unreal! That feeling makes me want to work hard every day so I can do it again."
Cole Seely: "I'm obviously frustrated because I want to be further up there and on the podium, but tonight was the hardest-fought fifth I've ever had to work for. I think I rode a lot better than the result shows. I was also happy with how I managed the race, my energy, and effort. I came from seventh and had to battle with riders on the way up, then [Jason] Anderson was charging and we battled back and forth a bit until he got by. Then I went straight back to being pressured by [Cooper] Webb until the end. I laid it all out there, especially on that last lap because I knew Cooper was behind me and was going to try and stick a wheel in anywhere he could; I was just trying to ride defensive but still be fast. It was a hectic night of racing so I'm happy to get out of here uninjured. We did a lot of work to the bike this week, even though it's risky because things are pretty different when you show up to the race versus the test track, but I was pretty confident in what we had found. I'm happy to take a step in the right direction. It feels validating that we made a good change, and I have a good direction to work in and fine-tune."
Austin Forkner: "The first lap was very chaotic with the riders going down in the first turn and everyone trying to settle in. I made a mistake and went down, costing me some time. I was able to get in a groove and start picking off riders, but the front group was already pretty far ahead. I almost got the next two guys who connected on the final lap, but just missed out. We'll take what we've learned and come back strong next week."
Martin Davalos: "It's a tough pill to swallow when you put in the work all day long and then get taken out on the start of the main event," said Davalos. "I've been in this position before and am not going to give up on my hopes for a championship. It just got a little more challenging. We'll see how I feel this week and will hopefully be back out on top next weekend."
Eli Tomac: "Once we got going, it was just staying consistent and just me and the bike. It was just a good day. We've never had a great finish here in Dallas, so this is something I've always wanted to check off my box, which is a win here in Dallas so, yeah, it feels awesome."
Zach Osborne: "It was OK; I probably was not fastest guy all day, but I just had some luck there in the main and it happened. I'm just happy to get this first one out of the way. It's been a really long wait; the last six weeks have felt like an eternity."
JOIN MXA'S SNAP CHAT FEED
If you are a Snap Chat user then add us to your stories. Get sneak peaks of everything moto. Our Snap Chat name is motocrossaction. Or just take a Snap of the picture above and it will add MXA automatically to your feed.
6D ATR-2 INTRO | DEEGAN COMPOUND 
 The 6D ATR-2 is a lighter, safer and more compact version of the 6D ATR-1. 
Today the boys at 6D invited the MXA crew out to their ATR-2 intro that was held at Brian Deegan's humble abode, which is also dirt bike heaven. The 6D ATR-1 paved the way for a new era of helmet safety with bringing to attention the importance of low-speed impacts and rotational energy. This pushed other helmet companies like Bell, Troy Lee Designs and Shoei to address the issue. The 6D ATR-2 is literally all-new from the ground up, although it is still using the ODS system, it has been upgraded. 6D not only made a safer helmet, but also made more compact. This helmet has a laundry list of new features. The MXA wrecking crew got our hands on a few of them to start testing this week. Be on the look out for a MXA Team Tested review on the 6D ATR-2 in a future issue on MXA. If you missed the Team Tested review of the 6D ATR-1, check out it.
The brains behind the 6D operation, Bob Weber and Robert Reisinger took us through the ATR-2 presentation. 
ENTIRE 30 MINUTE 6D ATR-2 PRESENTATION
A closer look at the inner workings of 6D's ODS system.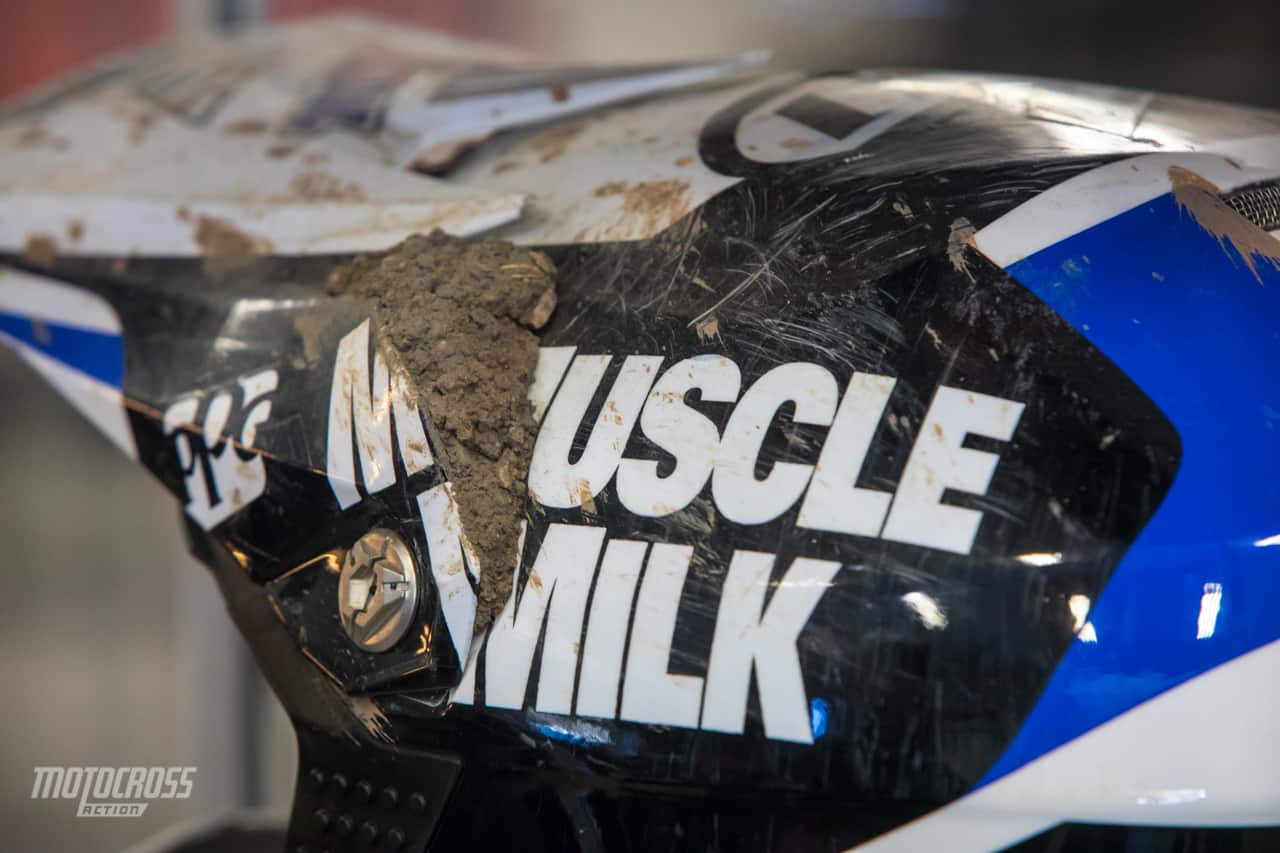 They had a display Eli Tomac helmet from the bad crash he had in 2016 in Thunder Valley. 
Haiden Deegan was launching big gaps on his KTM 85SX at the intro. 
There are many color options to choose from. 
If you ride mountain bikes or street bikes, 6D also makes a a helmet to suit your needs.
A special thanks to the Deegan family for letting us have a blast at their house.
TALK MOTO WITH MOTO MINDED PEOPLE. JOIN MXA'S FACEBOOK GROUP CHAT

We love everything moto and want to bring all moto junkies together into one place to share their two cents, ideas, photos, bike fixes, bike problems and much more. To check it out first you must need to or already have a Facebook account. If you don't, it isn't much work and you could even have an alias so nobody knows it is you. To join click HERE. After you request to join we will accept your request shortly after.
CLASSIC PHOTO
Casey Lytle back in 2003 racing a KTM 125SX. Ironic that he works at KTM all these years later.
Moto Trivia answer: Sébastien Tortelli