MOTO-MASTER PRESENTS THE GREAT BRITAIN MXGP RACE REPORT

By John Basher
Much has happened in the weeks since the last MXGP in Spain. Ryan Villopoto is still nursing a broken tailbone. Don't expect to see him until the MXGP of Italy on June 14th at the earliest. Journeyman Xavier Boog was called up to take his place at Monster Kawasaki. Tony Cairoli finally found his groove and won his first MXGP of the series in Spain. All it took was a switch to a KTM 450SXF to do so. Tony is trying to dig himself out of a points hole. Romain Febvre, the hotshot young factory Yamaha rider, wowed everyone in Spain. The question was whether he could do one better by winning a 450 moto. Jeffrey Herlings, the pride of the 250 class, didn't win in Spain. Instead it was a surprise victory for a first-timer in Valentin Guillod. Could Herlings re-establish dominance? There were so many questions that needed answering. Matterley Basin, a beautiful track in Great Britain, provided a glimpse into the near future, as well as how the series will play out as it reaches Glen Helen at the end of September. Here were the stories from the Great Britain MXGP.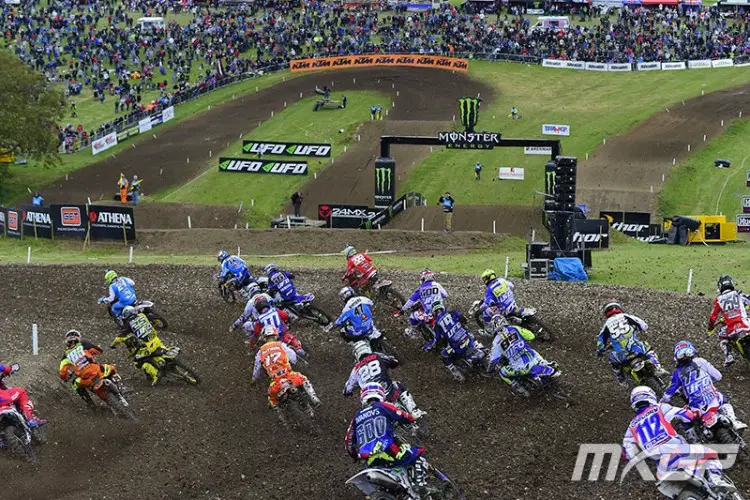 Tony and the 450: Cairoli made the decision after Valkenswaard, where he pile-drove himself into the thick sand, that the KTM 350SXF wasn't cutting it anymore. Tony jumped up to the 450SXF in Spain and promptly won. The eight-time MXGP Champ found his groove once again, and all it took was an extra 100 cubic centimeters. Not surprisingly Cairoli rolled into Matterley Basin with the tried-and-true 450SXF. Guess what? The Italian won. He wasn't dominant–Romain Febvre and Clement Desalle had his number in the second moto, aided by a tip-over while Tony was running fourth–but he was consistent enough to snag his second consecutive overall. By winning, Cairoli became the winningest rider at Matterley Basin, capturing his sixth victory at the track and surpassing such greats as Joel Robert and the superb Stefan Everts.
History shows that Tony Cairoli typically hits his stride around halfway through the series. He's peaking at the right time in 2015, which is great for Tony and terrible for anyone not named Tony. It'd be easy to compare Cairoli to a fine Italian wine, but it's more appropriate to compare him to another Italian libation–Grappa–which will burn you and leave you feeling dazed and confused after two helpings.
Nagl's consistency: Max Nagl's consistency this season has hardly wavered. Sure, the German baked in the Thailand sun, but apart from that bugaboo the IceOne Husqvarna rider hadn't finished off the box. Then Great Britain happened. Things looked good from Nagl in the first moto after he scored a third. Davide Guarneri's misfortunate crash and KO caused a restart, which infinitely helped Nagl, who was buried deep in the pack at that point. For all intents and purposes, third in the first moto was as good as a win. However, Nagl the enforcer became Nagl the sheep among a pack of hungry wolves in the second moto. He managed fifth on the moto and fifth on the day. That doesn't sound like a bad day, unless you consider that Clement Desalle (second overall, 44 points) and Tony Cairoli (first overall, 45 points) are hot on your heels in the standings. Nagl's 36 combined points from Great Britain leave him up by four on Desalle and 21 on the quickly closing Tony Cairoli.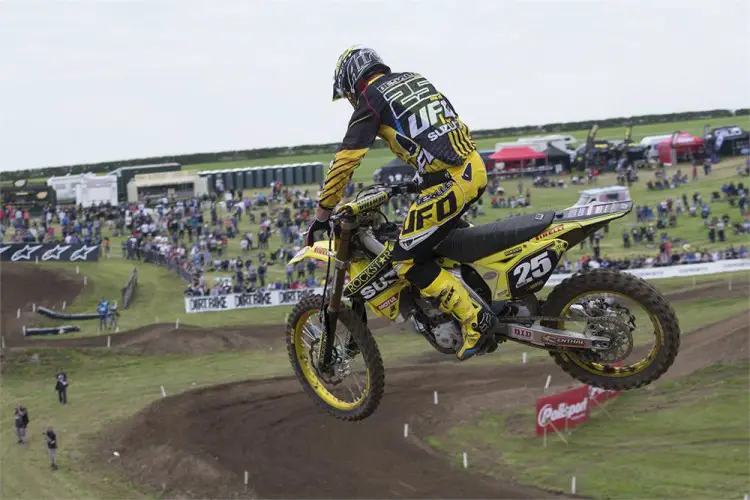 Second-best for Desalle: The series dealt Clement Desalle another glancing blow in Great Britain. The Belgian sits second in the point standings. Not coincidentally, Desalle finished second at Matterley Basin. It was the fourth time in seven rounds that Clement has been the bride's maid. Others below Desalle in the point standings–Tony Cairoli, Gautier Paulin, Ryan Villopoto–have won a MXGP this year. Not Clement, though. It shouldn't much matter to Desalle, given that he's only four points back in the standings, leads Cairoli by 17 points, Paulin by 54, and Villopoto's name doesn't enter the championship equation. Still, to sniff the top step of the podium and watch as some distinguished Youthstream guest hands the first place trophy to a competitor must eat away at the Belgian. Desalle's time will surely come, but things didn't go to plan in Great Britain.
Alessi's gamble: Did Mike Alessi have a good outing in Great Britain? No. At one time a serious title threat for a U.S. outdoor crown, Alessi's time up front seems to be no more. It's not as much as a lack of speed that's the problem, rather a rash of injuries have stymied Mike's advance back toward the front. Having said that, Americans should applaud Alessi for taking a leap of faith by racing the Great Britain MXGP. Through a long and drama-filled racing career, Mike has made a lot of poor spur-of-the-moment decisions. However, he has tried to right his wrongs.
This year only three others from the Red, White and Blue have traveled abroad to fight for American pride. Ryan Villopoto and Thomas Covington signed on before 2015 began, while Darian Sanayei raced the EMX250 class in England (and won the first moto). The idea that Alessi would welcome a new challenge is evidence that he's trying to rejuvenate his career. It's certainly confusing that he would do so by racing select GPs, Canadian Nationals, and U.S. Nationals, given that he won't be a contender in any series. However, no one can take away the fact that Mike isn't seeking out the fastest challengers from here to Timbuktu.
Mike Alessi went 22-17 for 19th overall. He finished 1:22 behind the second moto winner, Romain Febvre. Alessi is slated to race this upcoming weekend at the MXGP of France. Stay tuned…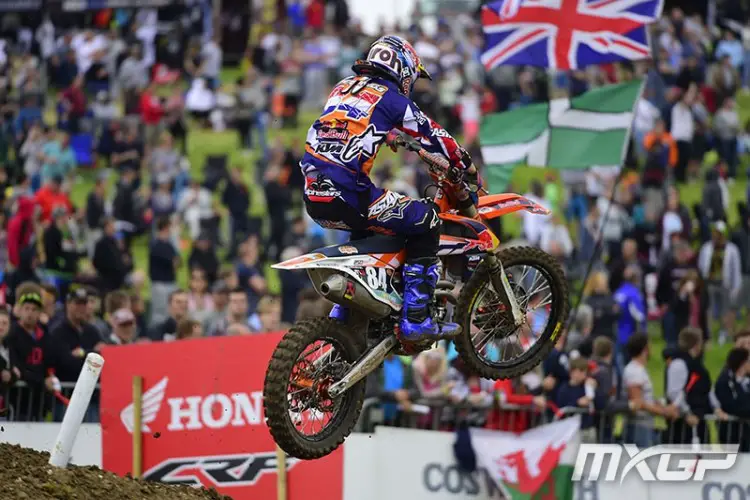 Could Herlings rebound: Jeffrey Herlings had a spectacular crash in Spain that left him bruised and battered with a bad back that seemed to hamper the "Bullet" in Matterley. Still, Herlings at 75 percent is still better than a healthy field…except for the flawless Valentin Guillod. The Swiss star, fresh off a win in Spain, used newfound confidence and blistering speed to stay with Herlings. While Jeffrey won the first moto, Guillod was too much for Herlings in the all-too-important second moto. Herlings and Guillod split moto victories, and the nod went to Valentin for his second moto heroics.
Despite the loss, Jeffrey Herlings still has nearly 100 points over second place (Guillod). It will take a rash of DNFs for Herlings to squander such a substantial lead. Even so, the fact that there's now a worthy foe in Valentin Guillod does well for a class that has lacked championship excitement due to injury (Dylan Ferrandis), crashes (Tim Gajser), or poor decisions (Jordi Tixier).

THE WINNERS
450 Class: Tony Cairoli
It wasn't a perfect day for Tony Cairoli, but the Italian was good enough to get the deed done. In the last two rounds Cairoli has gained eight points on Clement Desalle and nine on Max Nagl. The series is long, with 11 rounds remaining. Cairoli is in a good spot, even if 21 points down on Nagl.
250 Class: Valentin Guillod
The Swiss sensation won again, only in Matterley he did so by putting it to Jeffrey Herlings. Guillod was helped in Spain by Herlings hitting the deck. In England he had Jeffrey's number. It's interesting that before Spain, Valentin's best moto finish was fourth. However, in the last four motos he has finished 6-1-2-1. As a result, Guillod has rocketed up the point standings. He seems most capable of sticking with Herlings until the end of the series…right now.
In case you've lost track of the 250 class winners through seven rounds, take a look below:

Qatar – Jeffrey Herlings
Thailand – Jeffrey Herlings
Argentina – Dylan Ferrandis
Italy – Tim Gajser
Netherlands – Jeffrey Herlings
Spain – Valentin Guillod
Great Britain – Valentin Guillod
GREAT BRITAIN GP OUT-TAKES
Photos by MXGP
Russia's Aleksandr Tonkov had an off day, going 8-7 for 7th overall.
Jordi Tixier finished third again, though he's 119 points behind Jeffrey Herlings.
Shaun Simpson did Great Britain proud when he holeshot and led part of the first moto.
Tyla Rattray doesn't have the same speed that he showed in the U.S., but the South African is anchoring the Monster Kawasaki factory team while Ryan Villopoto is out with injury. Rattray finished 10th overall in Matterley.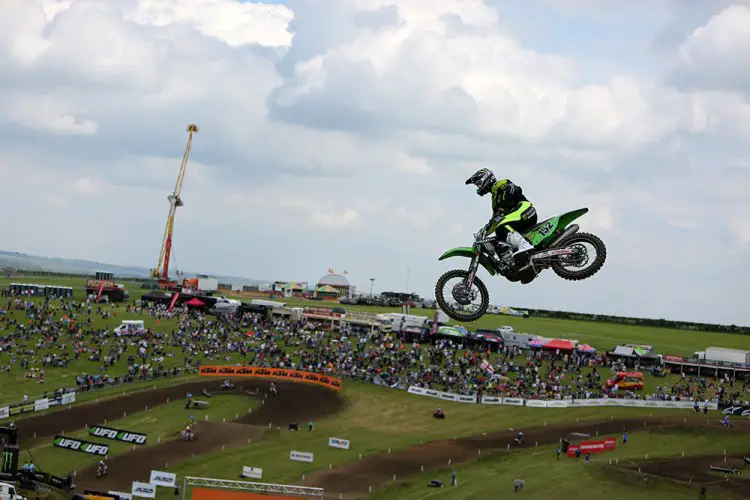 Petar Petrov was called up to fill in for the injured Dylan Ferrandis. He went 11-9 for 10th overall.
America's Thomas Covington looked at home on the fast and jump-laden Matterley Basin track. He finished ninth overall.
Xavier Boog got the call to fill Ryan Villopoto's shoes at Kawasaki through the French GP.
Max Anstie was impressive on home turf. He was oh-so-close to winning the first moto in the 250 class, but ended up third. The Brit finished fifth overall.
What is it with race winners doing heel clickers? Romain Febvre celebrated his first ever 450 class moto victory exactly how Marvin Musquin did at Glen Helen on Saturday…by clicking his heels together. There's no place like winning.
Evgeny Bobryshev goes big en route to fourth overall.
Gautier Paulin has been hot and cold this season. He stomped the field in Valkenswaard, but couldn't put it together in Matterley. Paulin went 6-7 for seventh.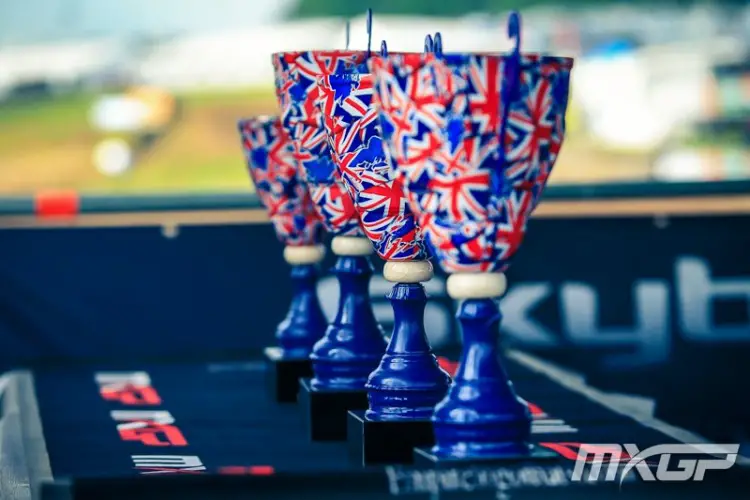 The trophies were adorned with Union Jacks. Very cool.
Christophe Charlier was captured at warp speed. Unfortunately a stomach bug ruined his day.
MXGP OF GREAT BRITAIN HIGHLIGHTS
GREAT BRITAIN GP RESULTS: 450 CLASS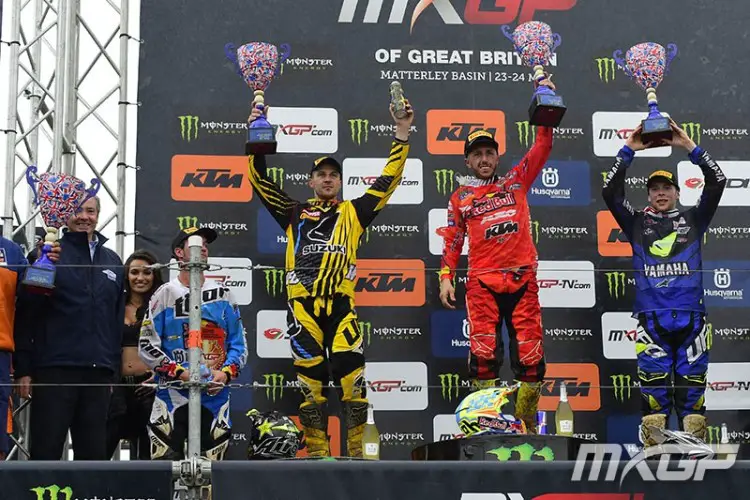 1. Tony Cairoli (KTM)…1-3
2. Clement Desalle (Suz)…2-2
3. Romain Febvre (Yam)…7-1
4. Evgeny Bobryshev (Hon)…4-4
5. Max Nagl (Hus)…3-5
6. Shaun Simpson (KTM)…5-6
7. Gautier Paulin (Hon)…6-7
8. Ken de Dycker (KTM)…11-8
9. Jeremy Van Horebeek (Yam)…10-9
10. Tyla Rattray (Kaw)…8-11
GREAT BRITAIN GP RESULTS: 250 CLASS
1. Valentin Guillod (Yam)…2-1
2. Jeffrey Herlings (KTM)…1-2
3. Jordi Tixier (Kaw)…5-3
4. Pauls Jonass (KTM)…4-4
5. Max Anstie (Kaw)…3-6
6. Jeremy Seewer (Suz)…6-5
7. Aleksandr Tonkov (Hus)…8-7
8. Benoit Paturel (Yam)…9-8
9. Thomas Covington (Kaw)…7-10
10. Petar Petrov (Kaw)…11-9
2015 FIM 450 POINTS STANDINGS



(After 7 of 18 races)
1. Max Nagl…295
2. Clement Desalle…291
3. Tony Cairoli…274
4. Gautier Paulin…237
5. Romain Febvre…235
6. Evgeny Bobryshev…207
7. Shaun Simpson…145
8. Ryan Villopoto…124
9. Todd Watters…121
10. Tyla Rattray…118
2015 FIM 250 POINTS STANDINGS
(After 7 of 18 races)
1. Jeffrey Herlings…308
2. Valentin Guillod…216
3. Pauls Jonass…213
4. Dylan Ferrandis…205
5. Aleksandr Tonkov…189
6. Jordi Tixier…189
7. Jeremy Seewer…182
8. Tim Gajser…169
9. Julien Lieber…167
10. Max Anstie…158
The MXGP series continues next weekend in Villars sous Ecot, France, for round eight. Note that this race report was brought to you by the brake masters at Moto-Master. Please visit them at www.moto-masterusa.com. Thanks for reading.
Photos by Massimo Zanzani, HRC Honda, Suzuki, and MXGP