MOTO-MASTER PRESENTS THE MXGP OF BELGIUM RACE REPORT

By John Basher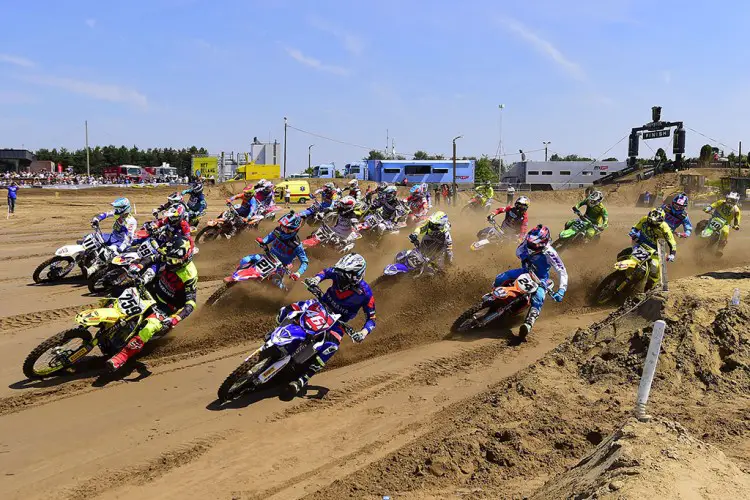 The start was the only smooth part of the Lommel track.
There's nothing quite like Lommel. It is, without question, one of the gnarliest circuits in the world. Deep, dense sand forms Volkswagen-sized whoops that require the very best out of every rider. Lommel can be tamed, but doing so requires gymnast-like balance and incredible leg strength. Every lap is essentially like squatting the weight of your body several dozen times. The Belgian track proved fruitful for the English on Sunday, as Max Anstie (250) and Shaun Simpson (450) emerged victorious with double-moto sweeps. Simpson launched a huge quad jump all day long, which helped him stay ahead of sand master, Gautier Paulin, and 450 points leader, Romain Febvre. As for Anstie, he left all challengers in a wave of sand. What other newsworthy stories came out of Lommel this weekend? See below:
Gajser gets rewarded: The Slovenian has been one of the best in the 250 class not named Jeffrey Herlings, and his tenacity and speed have paid off. It was announced this week that Tim Gajser signed a five-year deal with HRC Honda that will extend through the 2020 race season. The 18-year-old has a lot of life left in the 250 class, and given the FIM's rule allowing riders under 23 to race the 250 class for as long as they want–regardless of the number of titles they win–Gajser can race a CRF250 four more years. For the record, the AMA National rulebook allows riders to compete in the 250 class for as long as they wish, regardless of age or number of titles won.
The latest victim of Saturday qualifying: Add Tommy Searle to the list of riders injured during a senseless Saturday qualifying race. The Brit, who many Americans should remember racing for Red Bull KTM here in the U.S. some years ago, has had a disastrous 450 GP season. Tommy has hit the deck more times than a one-footed tap dancer. Searle broke several ribs on Saturday.
Jordi Tixier (1) has a long way to go if he wants to defend the 250 crown.
Jordi down 40: Do you remember when Jordi Tixier lost his cool (literally) in Thailand, punched an FIM official, and was barred from racing in Argentina? Those lost points didn't mean a whole lot way back in March. After all, it was a foregone conclusion that Jeffrey Herlings would win the title/ Then things went sideways. Herlings crashed out, and so did Dylan Ferrandis and Aleksandr Tonkov. All those rounds later, Tixier is still on the outside looking in, but he's 40 adrift of the lead. Imagine how different things would be if Tixier didn't go Ronda Rousey on an official way back when.
Desalle out for good: Belgium's hometown hero, Clement Desalle, loves Lommel. He was made to punish sand, but instead a bum shoulder got the best of him. Desalle originally dislocated his shoulder in France, took time off to let it heal, and then promptly knocked it out during timed practice on Saturday in Lommel. Surely a collective cry from the Belgians was heard from Antwerp to Luxembourg.
Clement had this to say about his injury: "My shoulder was out again today in time practice. I think it was the last time today on the bike at a GP for this season. I'll need a surgery."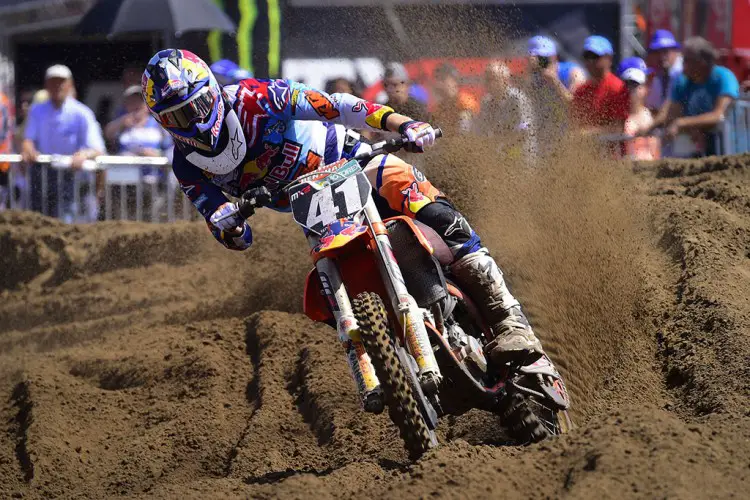 Pauls Jonass (41) is the surprise points leader in a series that is so surprising that it shouldn't actually be surprising that Jonass is leading.
250 Standings: There was a massive shake-up in the standings after the sands of Lommel settled on Sunday afternoon. Pauls Jonass, hand-picked and nurtured by the KTM powerhouse, was atop the standings. It was a shock to the Latvian, who admitted, "I never expected to be holding the red plate in my hands this soon. I thought maybe in three years, but not now, so it is amazing." Amazing, indeed. Jonass went 2-2 on the day to propel himself into the lead, four points ahead of Tim Gajser. As for Gajser, he had trouble handling the rough-and-tumble circuit on Sunday, going 5-7 on the day, and falling down the standings. Still, with four rounds remaining, Honda's great hope is within striking distance (and there aren't any more sand races on the schedule). As for Valentin Guillod, last week's winner in the Czech Republic, he had a miserable outing in Lommel. A first-moto 12th place was compounded by a second moto DNF from a cracked engine case as the result of landing on Belgian Brent Van Doninck over a blind jump. Guillod's misfortunes leave him 25 points (one full moto) behind the leader.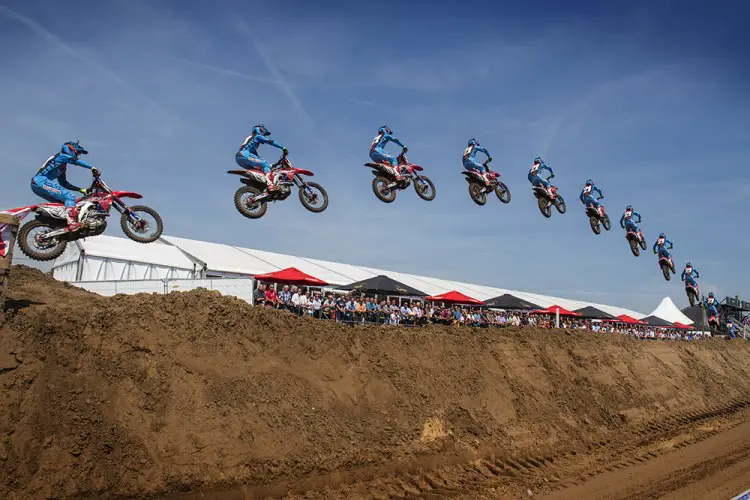 Gautier Paulin gained four points on leader Romain Febvre this weekend. At this pace he'll have to clone himself ten times (as seen in this photo) in order to make up the gap.
450 Standings: There's not a whole lot to talk about in the 450 standings following Lommel. Why? Gautier Paulin gained four points on Romain Febvre. Big whoop, considering that Febvre leads the chase by 84 points with eight motos to go. Given the math, Paulin has five motos to make up a 75-point gap before he can even start to think about having a shot at the 450 title. However, stranger things have happened. In other points news, Evgeny Bobryshev jumped up to third by way of attrition. Tony Cairoli, unable to race, dropped to fourth. Surprisingly, Max Nagl, who hasn't raced since breaking his in the Saturday qualifier in Teutschenthal, is still in the top five overall standings.
VIDEO: TAKE A LAP AROUND LOMMEL WITH BOBY
Be sure to stand up, because it's a rough ride
THE WINNERS
450 Class: Shaun Simpson (1-1)

How often does a privateer win against a field of full factory works bikes? Well, how often does it snow in Florida? Shaun Simpson did the unthinkable when he won the Saturday qualifying race and backed it up with a double-moto sweep on Sunday. Simpson was far and away the strongest 450 rider. It didn't matter that he wasn't on unobtainable factory equipment or that prior to Sunday he was not much of a player this season. Lommel was his coming out party. Congrats to the Brit, as well as the Hitachi Construction Machinery Revo KTM team. Be sure to cheer on Simpson next weekend in Unadilla, where he'll use the time off from the GP series to test himself against America's best talent.
250 Class: Max Anstie (1-1)
In hindsight, Max Anstie should be within striking distance, if not leading the 250 point standings. However, inconsistency thwarted his progress early on in the season. However, the Brit has stormed back in recent races. Anstie claimed five of the past six motos and sits seventh in the standings. It is possible for Max to win the title, but it'll take a stroke of luck for him to dig out of a 46-point deficit. I'm not betting against him.
CRASH VIDEO: COVINGTON GETS BUCKED OFF THE BRONCO
MASSIMO ZANZANI'S LOMMEL PHOTO GALLERY
MXGP OF BELGIUM HIGHLIGHTS VIDEO
BELGIAN GRAND PRIX FINAL RESULTS: 450 CLASS

1. Shaun Simpson (KTM)…1-1
2. Gautier Paulin (Hon)…2-2
3. Romain Febvre (Yam)…3-3
4. Evgeny Bobryshev (Hon)…5-4
5. Kevin Strijbos (Suz)…..7-5
6. Jeremy Van Horebeek (Yam)…4-9
7. Todd Waters (Hus)…8-6
8. Glenn Coldenhoff (Suz)…6-12
9. Tyla Rattray (Kaw)…12-7
10. Gert Krestinov (Hon)…9-10
Other notables: 11. Dean Ferris; 12. Christophe Charlier; 13. Pritt Ratsep; 13. Filip Bengtsson; 16. Jose Butron; 17. Nathan Watson
BELGIAN GRAND PRIX FINAL RESULTS: 250 CLASS

1. Max Anstie (Kaw)…1-1
2. Pauls Jonass (KTM)…2-2
3. Petar Petrov (Kaw)…3-4
4. Julien Lieber (Yam)…6-3
5. Harri Kullas (Hus)…4-5
6. Tim Gajser (Hon)…5-7
7. Jeremy Seewer (Suz)…8-8
8. Benoit Paturnel (Yam)…10-9
9. Jordi Tixier (Kaw)…7-12
10. Brian Bogers (KTM)…11-13
Other notables:  11. Davy Pootjes; 12. Thomas Covington; 14. Brent van Doninck; 15. Jens Getteman;18. Ben Watson; 19. Valentin Guillod
2015 FIM 450 POINTS STANDINGS
(After 14 of 18 races)
1. Romain Febvre…547
2. Gautier Paulin…463
3. Evgeny Bobryshev…423
4. Tony Cairoli…416
5. Max Nagl…360
6. Shaun Simpson…356
7. Clement Desalle…331
8. Jeremy Van Horebeek…324
9. Glenn Coldenhoff…290
10. Kevin Strijbos…287
2015 FIM 250 POINTS STANDINGS

(After 14 of 18 races)
1. Pauls Jonass…433
2. Tim Gajser…429
3. Jeffrey Herlings…423
4. Valentin Guillod…408
5. Jeremy Seewer…395
6. Jordi Tixier…393
7. Max Anstie…387
8. Julien Lieber…340
9. Petar Petrov…262
10. Benoit Paturnel…259
It will be 21 days before the Grand Prix riders line up again. On August 23rd the action will heat up in Mantova, Italy, for round 15 of the MXGP series, or, for those paying close attention, the third Italian GP. That'll happen when Youthstream releases a calendar that's more of a pipe dream than a realistic representation. But I digress. With that, I recommend stealing yourself away from the computer, going to your garage, and taking a close look at the brakes on your moto weapon. Are the pads fried? The rotors bent? Are the rotors puny? In that case, take a look at what Moto-Master (www.moto-masterusa.com) has. They make a great product, and they also sponsor this race report. In the meantime, have a great few weeks fellow MXGP fans.
Photos by Massimo Zanzani, HRC Honda and KRT Kawasaki.