MOTO-MASTER PRESENTS THE MXGP OF CZECH REPUBLIC RACE REPORT

By John Basher
I'm a red-blooded American. I like to watch a game of baseball. My eyes well up with tears whenever Lee Greenwood's "God Bless the USA" epic comes on the radio. I love the US and A, so it should go without saying that the AMA Nationals hold a special place in my heart. Having said that, the racing taking place on U.S. shores doesn't hold a candle to the unbelievable storylines in the MXGP series. It's hard to cover all of the news taking place in the Old World in great depth since the last round in Latvia, so I'll give you the CliffsNotes version.
* Tony Cairoli, then second in the point standings and the only serious challenger to 450 rookie Romain Febvre, announced (via Instagram, mind you) that he was going to sit out Loket and Lommel in order to give his elbow the proper time to heal. That will give him just shy of a month to lick his wounds. His chances of a ninth Grand Prix title, however, are basically kaput.
* Jeffrey Herlings, the 250 points leader, took off Latvia in order to allow his crushed pinkie more time to heal. The fact that Herlings could take a round off–especially after scoring a total of 25 points in four of the previous motos–showed how far ahead he was in the points race. Despite skipping Latvia, Jeffrey had a 46-point gap on second place.
* Clement Desalle, once the 450 points leader until Max Nagl took over, suffered a dislocated shoulder in France. Desalle dropped from third to sixth and has been all but eliminated from the title picture. However, the Belgian has a job to do for factory Suzuki, even if this is likely his last season with Suzuki (rumors have him going to Kawasaki in 2016 and joining Jordi Tixier). Loket was a statement race–his chance to show the world that he should still be considered a front-runner for wins.
What happened on the marbly hardpack in Loket, Czech Republic? Read on:
The Romain train continues.
Febvre stomped the competition in the 450 Saturday qualifying race and followed it up with a 1-1 victory on Sunday. It was the seconf time he won both motos in a Grand Prix (the first time was in Sweden). The surface catered so well to Febvre's riding style that only a fool would have bet against the house. Febvre was Kevin Windham at Unadilla. He was Jim Tarantino at Saddleback. He was, in other words, magnificent on a surface that resembled concrete with ruts that were formed during the Mesozoic Era. No one compared to Febvre at Loket. He was magnifique.
Jeffrey Herlings goes down…again. Here's the thing. I've noted in several Moto-Master MXGP reports this year,  the Saturday qualifying races are worthless. They mean nothing in the grand scheme of things. There's Saturday free practice, followed by Saturday timed practice for gate pick in the Saturday qualifying race. After that there's a Saturday qualifier, and for what? Gate pick for the first moto on Sunday. It's dumb and pointless. How many practice, time qualfiers and  heat races do the GP riders have to go through just to get gate pick for the next obstacle that Luongo has thrown in their path. Worse yet, riders are getting broken off left and right during the unnecessary Saturday qualifying races. Jeffrey Herlings was this weekend's victim. He crashed in front of an unsuspecting Jordi Tixier, who T-boned "The Bullet" straight into the hospital. Herlings suffered a dislocated hip and it put a premature end of his already accident-filled season.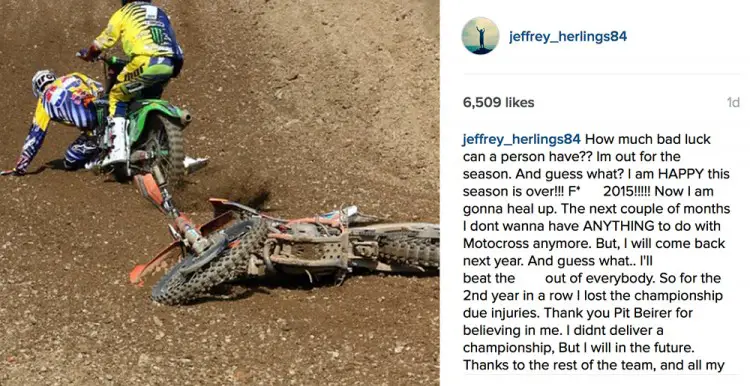 Sunday evening Jeffrey Herlings took to Instagram to express his thoughts and feelings on a snake-bitten season, while showing the type of snarky arrogance that caught my eye. To use expletives might show passion, but it raises a red flag about the professionalism and attitude of a rider. Stating that you're going to "beat the [censored] out of everybody" and "for the 2nd year in a row I lost the championship due [to] injuries" is a disservice to everyone else in the 250 class. This brings up a valid point regarding Jeffrey Herlings. It will be laughable if he remains in the 250 class next year. Isn't it obvious that being the big fish in a slightly smaller (but growing bigger by the race) pond is part of the reason for his downfall? He's more cocky than confident. Herlings is eligible to race the 250 class again in 2016, but he would be doing himself, and the MXGP series, better by moving to the 450 class. Then we'll all get to see if Jeffrey really can beat the you-know-what out of everybody. As for now, he's the one beating up himself.
Gajser versus Guillod.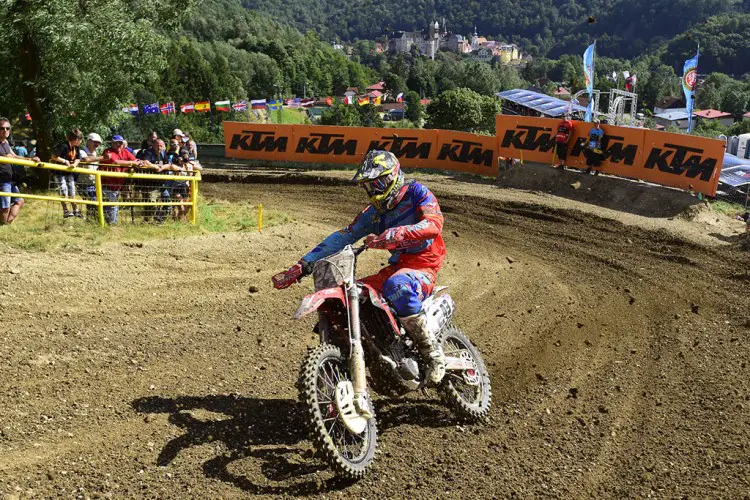 Tim Gajser missed out on a chance to take the 250 points lead.
Loket was yet another opportunity for Tim Gajser to seize the day and make up the massive points deficit in the 250 class. Again he left valuable points on the track. The Slovenian crashed out in the first moto after tangling with a wall. A second place finish in the second moto was damage control on a day where Tim had the perfect opportunity to take the red plate away from Herlings. Instead Valentin Guillod rose the occasion. The Swiss mister went 2-1 on the day, gained 25 points on Gajser, and now sits locked with Tim for the championship.
Hot or Not. Who made waves in the landlocked country of the Czech Republic? Who floundered on the hardpack? Take a look:
450 Class:
Romain Febvre (HOT) – What else to say about the points leader, who went 1-1? Perfection.
Gautier Paulin (NOT) – If the first-year HRC Honda rider is going to have a turkey's chance of rising above on opening day in upstate New York, then he must do better than going 7-7 for seventh overall in a class that is missing many of the preseason favorites…of which he was once one.

Evgeny Bobryshev (HOT) – Paulin's teammate, Bobby is going to win a 450 overall before the season is over. #Truestory
Glenn Coldenhoff (NOT) – Was his overall win in Latvia a fluke? Going 8-11 for eighth overall sure seems like it.
Clement Desalle (HOT) – 3-3 moto scores for third overall are the building blocks upon Desalle which Clement will use to reach the top step of the podium.
250 Class:
Valentin Guillod (HOT) – The question is not whether Guillod is good enough to win the 250 title (he is), but whether he will be consistently good enough to finish out the season the way he rode in Loket.
Tim Gajser (NOT) – Gajser had one job to do in Loket, and that was to score points. Instead, just like Desmond Hume pushing the button in "Lost," Gajser bombed it.
Pauls Jonass (HOT) – Would you just look at that? Pauls Jonass, the spry young KTM whippersnapper, is in the points picture. He went 4-3 for second overall. That's a very good showing from the lost Jonass brother (did you know the Jonas Brothers net worth is $30 million? I bet Pauls wouldn't mind teasing his hair and belting out tween love songs in a soprano-ish tone).
Max Anstie (NOT) – Loket was Anstie's weekend. He won the Saturday qualifier and cruised away with the first moto victory. However, putting together four straight gold motos surely would have knocked the Earth off its axis. Max tumbled himself into oblivion while leading the second moto and failed to finish the race. Anstie's weekend was hot, then it was not.
Jordi Tixier (HOT) – Center-punching Jeffrey Herlings in the Saturday qualifying race probably gave Tixier, the defending 250 Champ, nightmares on Saturday night. Tixier holds no blame in the Herlings' accident. It was a blind jump and Herlings was down on the other side of his bike. He did well on Sunday, going 3-5 for third overall. He's only 29 adrift of Gajser and Guillod.
THE WINNERS
450 Class: Romain Febvre (1-1)
With the absence of Tony "Eight-Time" Cairoli and a double moto sweep by Romain "The Train" Febvre, the Frenchman's points lead has ballooned to 88 over Gautier Paulin. With a maximum of 250 points up for grabs over the remaining GPs, the Yamaha rookie is sitting pretty for what very well could be his first MXGP title. Some might say that Febvre has lucked into the top position. Those same people are surely ill-informed near-sighted nitwits. Championships are won by scoring points, remaining consistent, making the most out of bad situations, and staying healthy. Clearly Romain Febvre is tops in all categories. Good for Romain. He is the beacon of light in an otherwise ominous 2015 450 class.
250 Class: Valentin Guillod (2-1)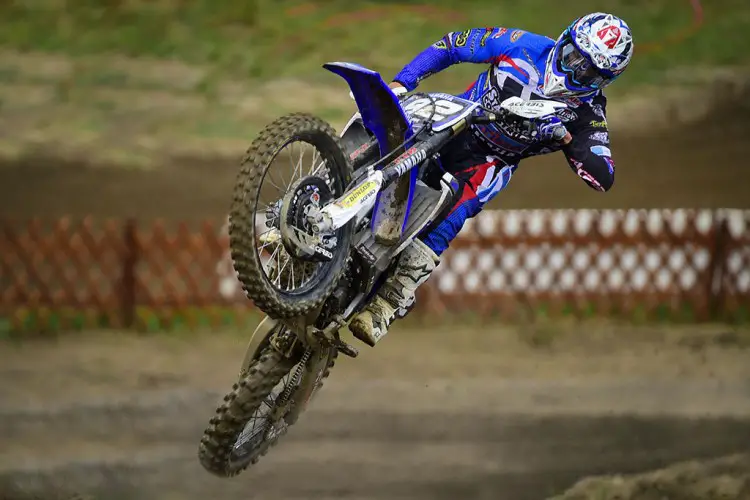 Wait just a minute. Valentin Guillod, the darling of the 250 class two short months ago, seemingly went on hiatus during the month of June. Sure, he logged a second and fifth in moto scoring, but those moments were overshadowed by crashes and dumpster-worthy results. He was back up to speed in Sweden, only to nosedive in Latvia. Then, just like that, he was ready to rumble in the Czech Republic. His grand showing this weekend put him in a tie with Tim Gajser for second in points. With Herlings out for the season, it's a two-horse race for the title (albeit with Pauls Jonass, Jordi Tixier and Jeremy Seewer stalking from a distance). 
CRASH VIDEO: GAJSER'S WALL RIDE GONE AWRY
Crank the volume and listen to the exuberant announcer go wild
MASSIMO ZANZANI'S CZECH PHOTO GALLERY
MXGP OF CZECH REPUBLIC HIGHLIGHTS VIDEO
CZECH GRAND PRIX RESULTS: 450 CLASS
1. Romain Febvre (Yam)…1-1
2. Evgeny Bobryshev (Hon)…2-2
3. Clement Desalle (Suz)…3-3
4. Kevin Strijbos (Suz)…..5-4
5. Jeremy Van Horebeek (Yam)…4-5
6. Shaun Simpson (KTM)…6-6
7. Gautier Paulin (Hon)…7-7
8. Glenn Coldenhoff (Suz)…8-11
9. Tyla Rattray (Kaw)…12-8
10. Nathan Watson Hus)…10-10
Other notables: 12. Tommy Searle; 13. Jose Butron; 17. Todd Waters; 18. Filip Bengtsson; 20. Dean Ferris; 27. David Philippaerts.
CZECH GRAND PRIX RESULTS: 250 CLASS
1. Valentin Guillod (Yam)…2-1
2. Pauls Jonass (KTM)…4-3
3. Jordi Tixier (Kaw)…3-5
4. Benoit Paturnel (Yam)…5-4
5. Petar Petrov (Kaw)…6-6
6. Julien Lieber (Yam)…7-8
7. Max Anstie (Kaw)…1-30
8. Jeremy Seewer (Suz)…11-7
9. Brent van Doninck (Yam)…9-9
10. Tim Gajser (Hon)…33-2
Other notables: 11. Brian Bogers; 12. Ivo Monticelli; 13. Robert Justs; 17. Davy Pootjes; 18. Harri Kullas; 20. Ben Watson; 21. Thomas Covington.
2015 FIM 450 POINTS STANDINGS
(After 13 of 18 races)
1. Romain Febvre…507
2. Gautier Paulin…419
3. Tony Cairoli…416
4. Evgeny Bobryshev…389
4. Max Nagl…360
6. Clement Desalle…331
7. Shaun Simpson…307
8. Jeremy Van Horebeek…294
9. Glenn Coldenhoff…259
10. Kevin Strijbos…257
2015 FIM 250 POINTS STANDINGS
(After 13 of 18 races)
1. Jeffrey Herlings…423
2. Tim Gajser…399
3. Valentin Guillod…399
4. Pauls Jonass…389
5. Jordi Tixier…370
6. Jeremy Seewer…369
7. Max Anstie…337
8. Julien Lieber…3058
9. Aleksandr Tonkov…256
10. Benoit Paturnel…236
Grand Prix action continues this next weekend as the series heads to the deep sands of Lommel, Belgium, for round 14. Can Romain Febvre extend his points lead over sand specialist Gautier Paulin? Who will lead the 250 standings after Lommel? Will anyone else suffer the consequences of Saturday qualifying races (I hope not). For that information and more, please check back next Sunday for the MXGP race report, brought to you by the double-sided grinding rotor specialists at Moto-Master (www.moto-masterusa.com). Thanks for reading.
Photos by Massimo Zanzani, HRC Honda and KRT Kawasaki.