MOTO-MASTER PRESENTS THE MXGP OF SWEDEN RACE REPORT

By John Basher
What was supposed to be a foregone conclusion before the MXGP series began–Tony Cairoli and Jeffrey Herlings would likely emerge victorious as the SoCal sun cast long shadows at the series finale at Glen Helen on September 20–is no longer the case. Certainly it's evident that KTM's power players are at or near the top of the points charts, but both have been slowed by injuries. We have included a photo of the injuries that Jeffrey Herlings' suffered in his second moto crash in Sweden. It is at the very bottom of this story, after the race results. Don't look at it if you are squeamish.
Tony Cairoli (hand) has battled through immense pain for several races. A surprise crash-turned-broken leg sustained by then series points leader, Max Nagl, provided a glimmer of hope for the Italian in what has proven to be an arduous year for many of the MXGP elite. However, Tony probably didn't expect an onslaught of spectacular rides by France's Romain Febvre. After all, a 450 rookie normally suffers teething problems. Not Romain Febvre…at least not yet. The factory Yamaha rider has won four Grand Prix races in a row. As a result, Romain has amassed a 39-point lead in the 450 standings, gaining 30 points on Cairoli in Uddevalla, Sweden, alone. Romain's dominance was on full display around the hardpack and slick historical Swedish circuit on Sunday when he secured victory in both motos and collecting a cool 50 points on the day. Tony Cairoli was not as fortunate. The eight-time GP Champion tangled with David Philippaerts in the first moto (a move Cairoli deemed a blatant take-out maneuver by his countryman) and clawed his way up to 13th after falling to 22nd. Tony was on damage control in the final moto of the day, ending up third for seventh overall.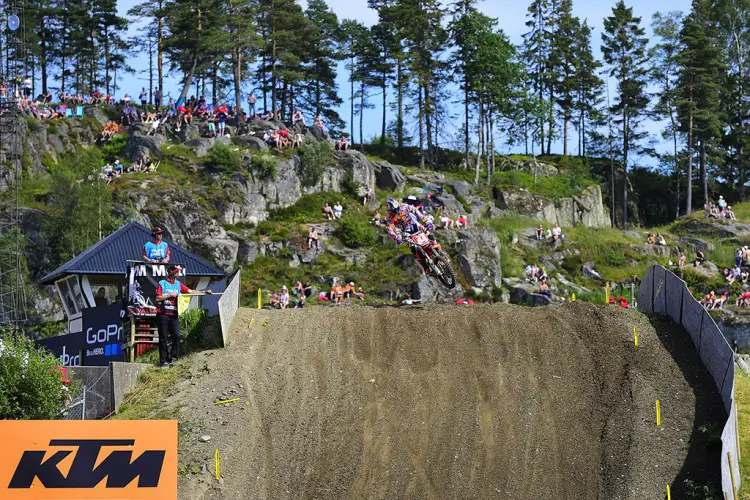 Jeffrey Herlings proved in Uddevalla that it will take more than a freshly plated collarbone to keep the Dutchman down. Herlings could have easily sat out the Swedish GP and remain far ahead in the 250 standings. However, that's not Jeffrey's style. Remember that Herlings hit the deck hard in Germany after scrubbing a jump so hard that his handlebars hooked the ground and his KTM 250SXF spit him to the ground. He didn't score a single point in Teutschenthal. Nevertheless, he was still up on second place by 100 points. When he won the first moto in Sweden it was clear that a plate and nine screws didn't hinder Jeffrey. What ruined a fairytale day for "The Bullet" was a first turn crash in the second moto. The fall left him with a badly cut pinky finger. He couldn't continue onward. It marked the fourth moto this season that Herlings failed to score a point. Somehow he still leads the points chase by 78, although in the past two races he has dropped 61 points. Maybe the 250 title isn't clearly the runaway pit pundits claimed it would be.
What else happened in Uddevalla? See below.
Gautier Paulin was the top finisher for HRC Honda, in ninth. That's not good enough.
A bad weekend for HRC Honda: Surely the duo of Gautier Paulin and Evgeny Bobryshev would capitalize on a depleted field of stars. After all, Max Nagl, Clement Desalle, Ken de Dycker and Ryan Villopoto are out with various injuries. That didn't stop Kevin Strijbos, Dean Ferris, Todd Waters and Shaun Simpson from waxing the factory Honda riders.
Bobryshev had this to say about his weekend in Sweden: "To be honest, today has not been a positive day. The track was really bad condition by the end and with so many bumps and ruts, it becomes quite dangerous for the riders. For me the first race was a shame because I was in second after a good start, but then I lost control and damaged the clutch lever so had to stop. In the second race I could close up, but I just stayed in the same place where I started because there was no line or place to pass."
It has become clearly obvious that track conditions this season have not been up to the standards as in years past. Bobryshev, Gautier Paulin, Clement Desalle and several other established stars have made a big stink about inferior track conditions. What's the reasoning for the poor surface? I can give you two from Uddevalla–EMX250 and EMX300. With all of the free and timed practices on Saturday for the 250 and 450 classes, as well as qualifying races, along with more practice and two motos each on Sunday, adding in two extra classes over the race weekend has been detrimental to the welfare of a circuit that's hardpack to begin with. It's apparent that the MX1 (450) and MX2 (250) GP classes aren't in favor of the FIM running European-spec classes on the same track, though they are creative in expressing their distaste.
Will any of these riders pack up and head for America?
Star power choosing sides: The battle has long raged between American motocross and the Grand Prix series. Which series has the superior racers? Which series is better? Those, along with a million other debatable questions, create an ocean-wide split between the AMA Nationals and FIM Grand Prix. In the last MXGP race report, presented by Moto-Master, I wrote, "In the MXGP-versus-AMA Nationals war over talent, Luongo wins this round. If you're keeping track at home, the FIM has managed to attract Americans Ryan Villopoto and Mike Alessi while keeping their heavy hitters in Cairoli, Herlings, Nagl, Desalle, Strijbos, Tixier, and now Febvre, in Luongo land. What say you, MX Sports?"
The next day MX Sports answered the question. Davey Coombs' reply is below:
"Roczen, Musquin, Pourcel, Tonus, Reed… And Villopoto and Alessi didn't race the nationals last year either, and apparently they won't be racing any more GPs in Europe this season, though maybe next year for Alessi." 
"And don't forget that with guys like Tony Cairoli, Max Nagl, Clement Desalle, Kevin Strijbos, and Jeffrey Herlings are all extraordinarily fast outdoor riders, one reason why they never made the move to America could be that they all seemed to lack that most important of talents for teams here in this hemisphere, and that's supercross talent. When guys like Greg Albertyn, Sebastien Tortelli, Shayne King, Alessio Chioidi [sp.], Ben Townley and Tyla Rattray came here after winning FIM World Motocross titles, that was their achilles heel."
Coombs also weighed in on Saturday qualifying races held at every Grand Prix, which I am quickly becoming opposed to, due to the growing number if injuries resulting from a race that means very little in the overall picture: 
"But I agree with you 100 percent on their redundant Saturday qualifying races following timed qualifying for gate picks. Our guys already do 17 rounds of supercross before they set a boot outdoors, and the last thing they want is even more competitive racing packed into their work schedules. They only have maybe fifty riders per race over there between both classes, and with the attrition rate what it's been, these qualifying races can have a terrible effect on the championship, as Tony, Clement and now Max will all tell you."

~DC
MX Sports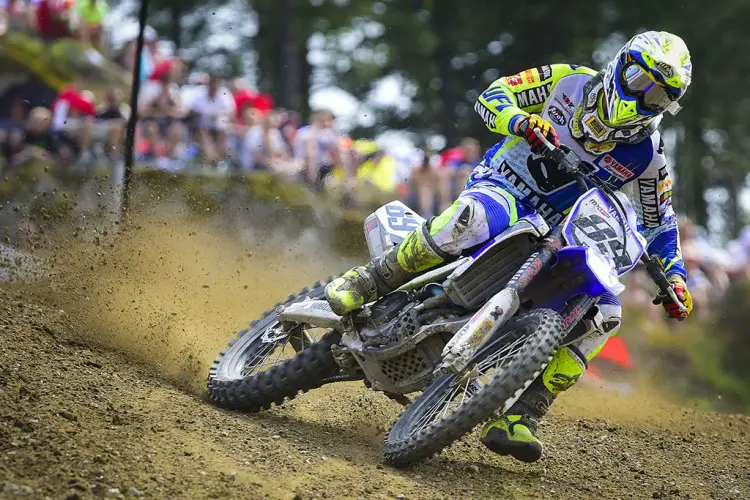 Jeremy Van Horebeek seems to have recovered from a broken foot sustained in Trentino.
The other Yamaha rider: So much attention has been put on factory Yamaha's Romain Febvre, and justly so, although there's another rider worth mentioning–Jeremy Van Horebeek. The Belgian finished second overall in the point standings last year and looked to climb one notch in the standings for 2015. However, a broken foot at the Trentino MXGP in Italy knocked him out of action for two rounds. Mediocre results at the following two rounds–Great Britain and France–sparked rumors that maybe Van Horebeek wouldn't return to greatness. Wrong. Five times in the past six motos he has finished inside the top five. His 3-5 moto scores were good enough for second overall in Uddevalla. He stood right next to teammate Febvre on the podium. Jeremy only has one place to go after Sweden–up.
Meet Vsevolod Brylyakov. He's Russian, and his name is harder to spell than antediluvian or succedaneum.
Tongue twister: Can you say Vsevolod Brylyakov's name three times fast? Heck, it took me a minute just to spell the Russian's name correctly. The privateer Honda rider had a career day in Sweden, finishing 5-5 for fourth overall. Before Uddevalla Brylyakov's best single moto score was a ninth. Well, folks, Vsevolod is on the rise! Props to this kid, who desperately needs a nickname. V-sev? Bry-ly? I'll figure something out.
THE WINNERS
450 class: Romain Febvre (1-1)
By winning in Uddevalla, Romain Febvre became the winningest 450 racer this year. He surpassed former points leader, Max Nagl, by stringing together four victories (and consecutive wins, at that). Romain's points lead has ballooned to 39 over Tony Cairoli. In Sweden he was kept honest in the second moto by Kevin Strijbos, but blew the doors off everyone in the first moto.
With seven rounds remaining and 350 points up for grabs, the 450 title is a long way from being decided. However, here's some food for thought: only Tony Cairoli, Max Nagl (out with injury), Gautier Paulin and Evgeny Bobryshev are within 100 points of Febvre. The HRC Honda riders have endured their fair share of problems thus far, and with Nagl out for a long time, it's going to be a Cairoli-versus-Febvre showdown for the title.
250 class: Tim Gajser (2-1)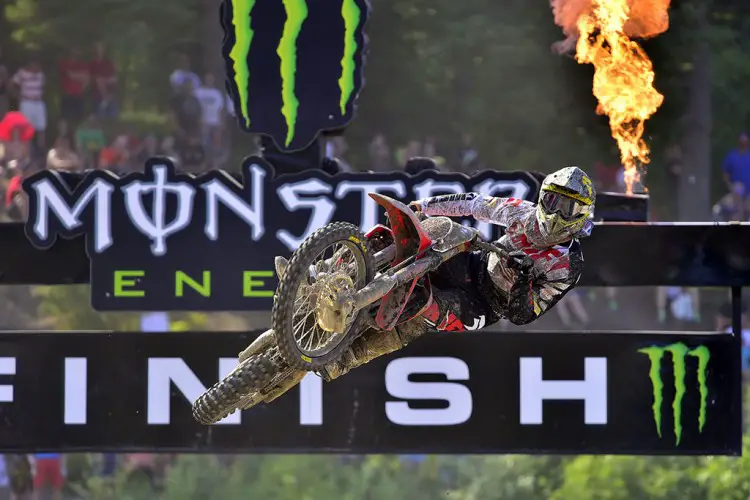 Imagine if Tim Gajser hadn't collapsed in Thailand and raced the second moto in the heat. Imagine if he hadn't crashed violently in Valkenswaard and scored more than 11 points on the weekend. Imagine if he raced at Matterley Basin. If none of those things happened, then Gajser could be leading the points very easily. The Slovenian has four Grand Prix wins this year–the same amount as Jeffrey Herlings. Fire up the popcorn machine and sit back, because the 250 title fight is getting rather interesting. It's mind-boggling to think that Gajser was sitting fifth in the point standings only two rounds ago and now controls second. Will he be first after Glen Helen?
CRASH VIDEO: SEARLE SLIP & SLIDES
MASSIMO ZANZANI'S SWEDEN GALLERY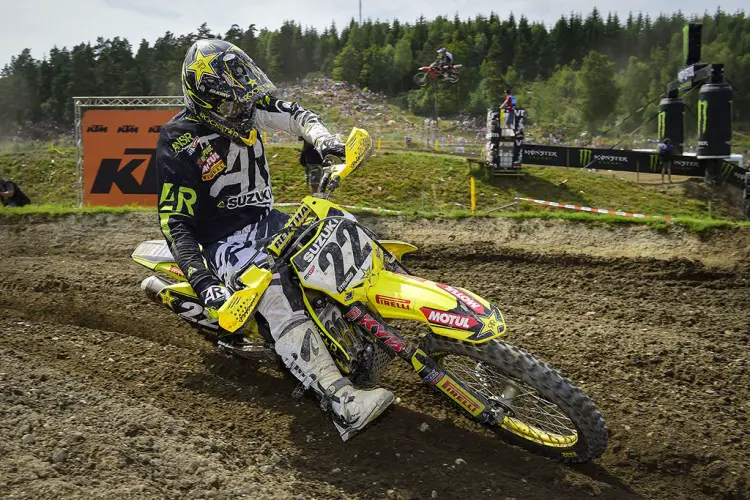 Kevin Strijbos is finding his form after coming back from injury. Strijbos finished third overall in Sweden.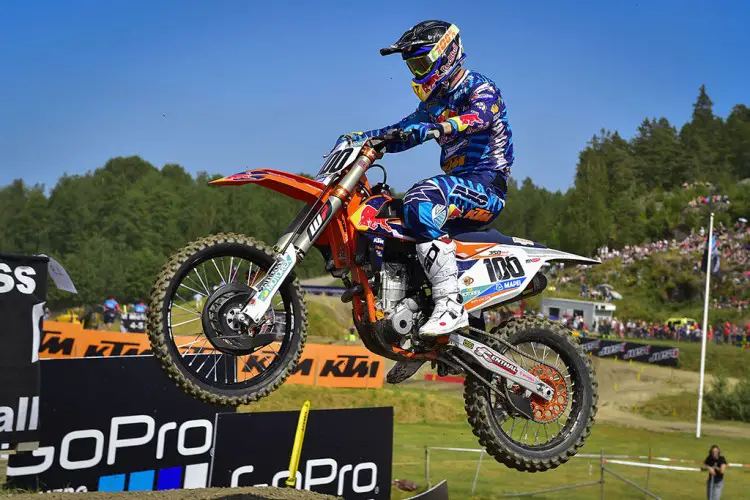 Tommy Searle's bad luck and poor results continued in Sweden.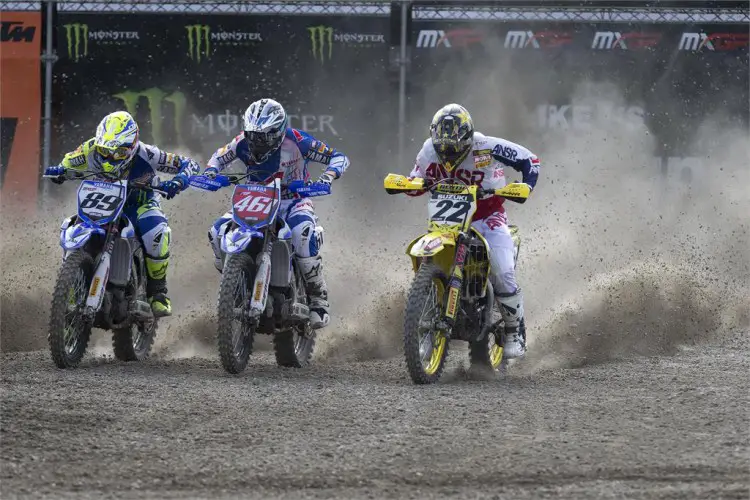 Romain Febvre (461) nailed both holeshots, although Strijbos (22) edged inside Febvre in the second moto. It was a lead that wouldn't last for very long.
Glenn Coldenhoff went 9-6 for eighth overall.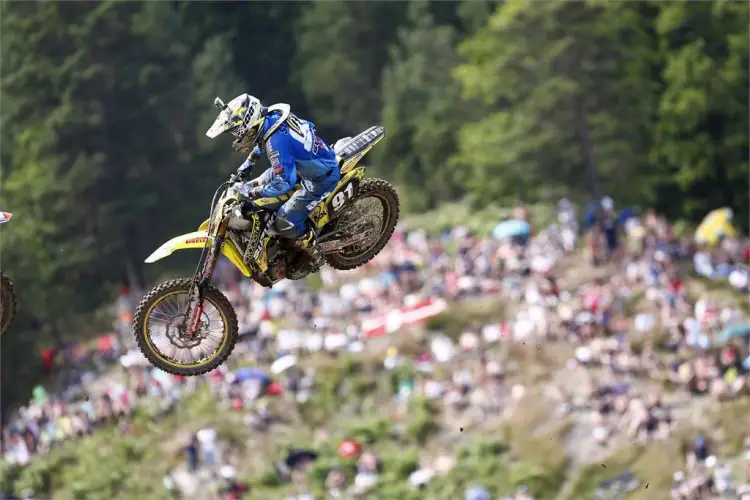 Jeremy Seewer styled it out for third overall in the 250 class.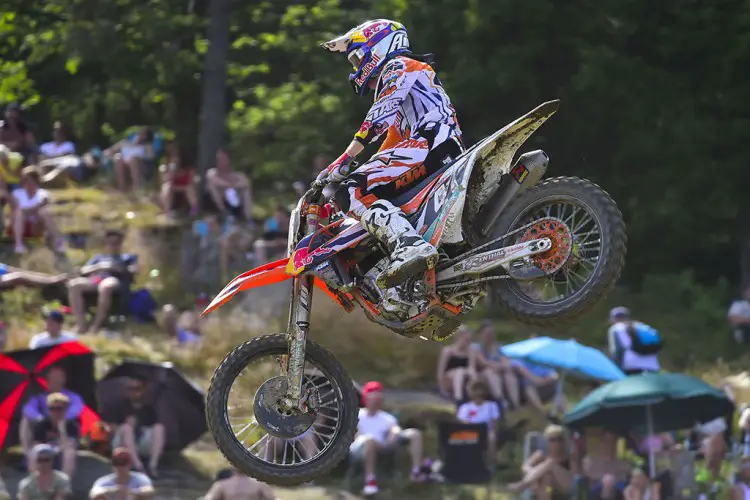 Pauls Jonass had a terrible crash in the second moto after finishing fourth in the first moto. He ended up 11th on the day and dropped to fifth in the standings.
Jordi Tixier hit the deck in the first moto, but rebounded by finishing third in the final moto. It was announced this weekend that Tixier signed with KRT Kawasaki for the 450 class next year.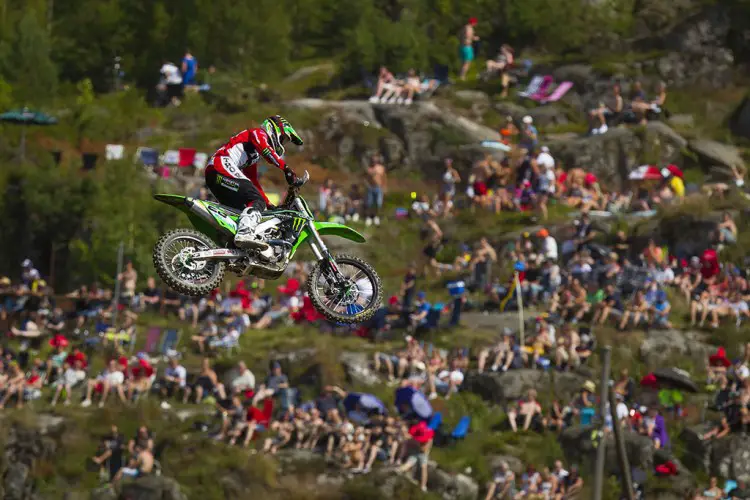 Tyla Rattray is retiring after this year. He was 11th in Sweden.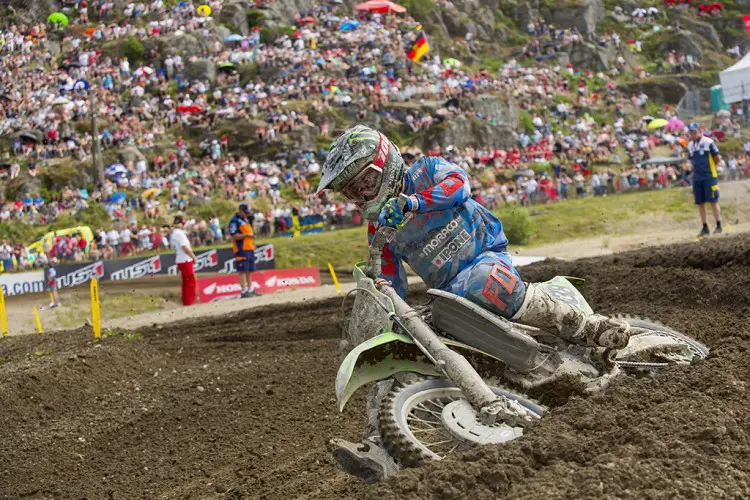 David Herbreteau is just the latest rider filling in on the CLS Kawasaki team. He had a forgettable day.
Valentin Guillod has been hampered by race injuries, but he's soldiering on. The Swiss rider finished second in Sweden.
America's Thomas Covington couldn't come to terms with the hardpack Uddevalla circuit. He finished 16th.
Jeffrey Herlings was pleased after winning the first moto only weeks after breaking his collarbone. However, he went out in the second moto and didn't score any points.
Max Anstie continued his string of one bad moto/one good moto in Sweden.
Dean Ferris is becoming a force in the 450 class.
Evgeny Bobryshev crashed and suffered a mechanical in the first moto. 
Brian Bogers had a favorable weekend in Sweden and scored a fifth overall.
MXGP OF SWEDEN HIGHLIGHTS VIDEO
SWEDISH GRAND PRIX RACE RESULTS: 450 CLASS
1. Romain Febvre (Yam)…1-1
2. Jeremy Van Horebeek (Yam)…2-5
3. Kevin Strijbos (Suz)…..8-2
4. Dean Ferris (Hus)…7-4
5. Todd Waters (Hus)…4-7
6. Shaun Simpson (KTM)…3-11
7. Tony Cairoli (KTM)…13-3
8. Glenn Coldenhoff (Suz)…9-6
9. Gautier Paulin (Hon)…5-10
10. David Philippaerts (Yam)…7-9
Other notables: 11 Tyla Rattray; 13. Evgeny Bobryshev; 17. Filip Bengtsson; 18. Jake Nicholls; 24. Rasmus Sjoberg; 28. Tommy Searle.
SWEDISH GRAND PRIX RACE RESULTS: 250 CLASS
1. Tim Gajser (Hon)…2-1
2. Valentin Guillod Yam)…3-4
3. Jeremy Seewer (Suz)…7-2
4. Vsevolod Brylyakov (Hon)…5-5
5. Brian Bogers (KTM)…8-8
6. Brent van Doninck (Yam)…6-11
7. Jeffrey Herlings (KTM)…1-24
8. Robert Justs (KTM)…11-9
9. Jordi Tixier (Kaw)…24-3
10. Benoit Paturnel (Yam)…12-10
Other notables: 11. Pauls Jonass; 13. Julien Lieber; 14. Max Anstie; 16. Thomas Covington; 17. Ivo Monticelli; 21. Davy Pootjes.
2015 FIM 450 POINT STANDINGS
(After 11 of 18 races)
1. Romain Febvre…419
2. Tony Cairoli…380
3. Max Nagl…360
4. Gautier Paulin…351
5. Evgeny Bobryshev…319
6. Clement Desalle…291
7. Shaun Simpson…257
8. Jeremy Van Horebeek…232
9. Todd Waters…224
10. Glenn Coldenhoff…196
2015 FIM 250 POINT STANDINGS
(After 11 of 18 races)
1. Jeffrey Herlings…423
2. Tim Gajser…345
3. Valentin Guillod…335
4. Jeremy Seewer…311
5. Pauls Jonass…307
6. Jordi Tixier…306
7. Max Anstie…263
8. Julien Lieber…259
9. Aleksandr Tonkov…256
10. Dylan Ferrandis…205
The MXGP series returns to action next weekend in Kegums, Latvia, for round 12. As you might recall, Kegums was the site of last year's Motocross des Nations, where France emerged victorious. Romain Febvre wasn't on that team, though he's a clear favorite to pilot France in this year's running of the MXDN in his home country. Special thanks to the gents at www.moto-masterusa.com for supporting the MXGP race report. I shouldn't need to tell you to check out Moto-Master, but I'll do so anyway. I'll see you back here next weekend. Thanks for reading.
DANGER! DANGER WILL ROBINSON — GO NO FURTHER IF YOU ARE SQUEAMISH
JEFFREY HERLINGS' LITTLE FINGER: TO THE BONE
Photos by Massimo Zanzani, HRC Honda, Suzuki & KRT Kawasaki