MOTO-MASTER PRESENTS THE THAILAND MXGP RACE REPORT

Flat as a board, hard to pass and riddled with jumps, the Thailand track was favored by quickest to the first turn.
By John Basher
Ryan Villopoto and Jeffrey Herlings won, but what else happened on the outskirts of Bangkok, Thailand, on a blistering Sunday afternoon?
Weather: Thailand in early March is steamy, evidenced by the near 100-degree temps in Bangkok. It was scorching at the track and wreaked havoc on the GP racers. Jeffrey Herlings admitted to fainting after the first moto. Others became ill from dehydration, which forced Youthstream to take action. They did…after the first motos were complete. It was determined that the second 250 (MX2) and 450 (MXGP) motos would be shortened by five minutes after a meeting with Youthstream, the FIM and several team managers. Several riders struggled from heat exhaustion, including Jordi Tixier and Jeremy Seewer, who both failed to finish the opening 250 moto, Tim Gajser, who did finish in third but later collapsed, and a handful of 450 riders who struggled to finish their moto. Apparently Seewer, Gajser and Tixier had to receive IV treatment after the first moto and therefore were not allowed to race the final moto. HRC team manager Roger Harvey was happy with the decision by the FIM and Youthstream to shorten the second motos. "We are happy with the decision," Harvey said. "Some riders can ride in this stuff and some can't and for rider safety this is a good decision." For the record, the first 450 moto was 34:09 long. The second 450 moto was 29:10.
Thailand track shuffle: The Thai GP was moved from Si Racha to Nakhonchaisri – 35 miles west of the Thai capital of Bangkok–this year. Si Racha was a jump track with slight elevation and softer dirt that rutted up. Nakhonchaisri, on the other hand, was Thailand's version of Lake Elsinore. It had massive jumps and terrible dirt. The GP riders typically remain quiet in their contempt for poor tracks, because Youthstream has a track record of cracking down on riders who complian, but in Thailand they were more vocal than normal. With another new stop in Argentina only a few weeks away, the sport has to wonder if Argentina will be the third embarassing track of the 2015 season. Or will it be up to the standards of famed circuits like Saint Jean d'Angely, Uddevalla or Lommel? We are guessing it will be embarassing. But, on the good side, Luongo's check will clear.
Ryan Villopoto (2), Clement Desalle (25), Gautier Paulin (21) and Tyla Rattray (28) were among the 29 racers to gate in the 450 class. The lone 450 Thailand racer isn't pictured.
Getting closer: There were 33 riders in the 250 class at Thailand, which was considerably better than the 26 at Qatar. Why the spike in race entries? Six of the racers were from Thailand. Thanarat Penjan had the best results for the home team by scoring 25th overall. He beat out Phanuphong Somsawat, Jaturong Jomjaturong, Jugkrit Suksripaisan, Piyanat Koetsiri and Napapol Veerakul (please don't check my spelling). In the 450 class there were 29 racers–the same amount as the week before. The only Thai rider in the field was Chaiyan Romphan. He finished 24th and has bragging rights for beating 450 stalwarts Jeremy Van Horebeek, Ken de Dycker and Tommy Searle. They crashed out, but it's what's on paper that matters most.
Bizarre happening: When HRC's Gautier Paulin tried to pass Kawasaki's Tyla Rattray through a rhythm section in the first moto the two got together. Contact happens frequently among racers, but the slingshot that occurred between Paulin and Rattray was downright strange. Paulin blamed Rattray for switching lines mid-air, but the video shows that Rattray wasn't completely at fault. Regardless, the two came together and then quickly separated like oil and water; like Taylor Swift and ex-boyfriends for those privy to pop culture; like the white-and-gold dress crowd from the black-and-blue dress folks (I totally think the gown is black and blue). View the Paulin/Rattray incident below and decide for yourself what really happened:

There's no doubting Thomas here. Covington finished fourth overall in Thailand.
The other American: Thomas Covington is the sole American in the 250 class, and he represented the red, white and blue well in Thailand. Covington was a solid 4-4 on the day for fourth overall. He jumped up three spots in the standings to seventh. Remember that Thomas began last year's 250 GP campaign on a hot streak before cooling off in Europe. A year of racing under his belt should have done wonders. He has the speed to challenge for the checkers (take a look at his qualifying race in Qatar) and is figuring out consistency. Wouldn't it be something for Covington and Villopoto to win on the same day? That would sure be something – although it probably unrecognized by the vast majority of Americans fans because they don't know and have never heard of Thomas Covington. Covington went straight to Europe out of the Loretta Lynn ranks. In a strange twist, Covington has no American fan and almost no European fan base.
Get used to hearing Pauls Jonass' name. Just remember the 's's. He's sssmoking fast.
The thriple 'S' threat: Pauls Jonass, the biggest sports star to come out of Latvia since Sandis Ozolins, is the real deal…or would be if king Jeffrey Herlings didn't have a stranglehold on the 250 class. Jonass is the latest member of the Red Bull KTM powerhouse. He is billed as KTM's next great threat for the 250 title, and justly so. In Thailand he scored 4-3 moto results for second overall. The 18-year-old is third in the point standings.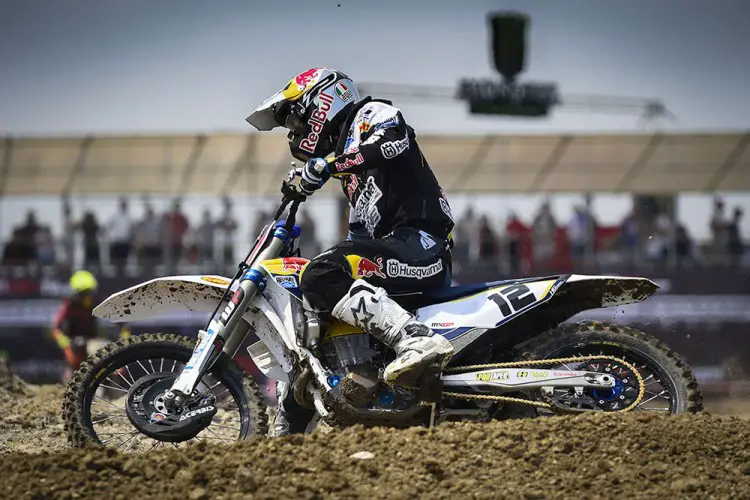 Max Nagl, winner of the Qatar opener, struggled in Thailand.
Max, wherefore art thou?: Max Nagl won convincingly in Qatar. He was nowhere to be seen in Thailand. The German struggled all day long. Starts were instrumental in doing well at Thailand, but Nagl wasn't gating well in comparison to Qatar. He crossed the first lap in eighth the first moto and 14th the second moto. As a result, he only managed seventh on the day (4-11 moto scores). The off-weekend pushed him back to third in the point standings. The points lead and red plate were subsequently taken from the Husqvarna rider and given to Clement Desalle.
THE WINNERS
450 Class: Ryan Villopoto (1-3)
Ryan Villopoto (2) shot away from the field in the first moto and came back from a pedestrian start in the second moto to secure the overall victory.
One week made a world of difference for Ryan Villopoto. His decision to fly back to Europe and squeeze in a few days of testing instead of heading straight to Thailand from Qatar paid off. Aside from that Villopoto had several things play into his favor. (1) Heat. Ryan used to spend his summers dominating at U.S. tracks (where racing in broiling hot summer sun was part of the deal). If we didn't race when it was 100 degrees in SoCal, we wouldn't be able to race from July to October. Tell me that Red Bud, Budds Creek and Utah aren't broiling in June through August. The Euros wilted in Thailand, while Villopoto blew through the heat and humidity as if to say, "What? You call this hot?" (2) Track. The Thai circuit was seemingly build specifically for RV. Note the massive jumps and the hard pack dirt. Villopoto was immediately comfortable on the Lake Elsinore-esque track, given that he won the 450 Saturday qualifying race by 33 seconds. (3) Experience. The first GP race jitters were gone. Last week I wrote how Villopoto would win, only I didn't think it would happen this soon. RV squeaked out the overall by going 1-3 (45 points) over Clement Desalle's 2-2 (44 points) at Nakhonchaisri. While Desalle would have won the overall at an amateur race, based on his better placement in the second moto compared to Villopoto, it wasn't to be for the Belgian. I'm not a fan of either the MXGP or AMA National scoring system (where season long points are counted for the day's overall scores), except for when it benefits Ryan Villopoto and American glory. Ryan's win moved him up to fourth in the 450 point standings. He is 18 points back of the leader, Desalle.
Ryan Villopoto had this to say about his weekend in Thailand:
"We only had two days to test when we went back to Europe but we made good progress with the bike. We made some big suspension changes and then some fine tuning here. I think the track here is not only new for all of us, it is also a little more jumpy than the usual GP track and suited me. For sure there will be weeks when a track suits me best, and other weeks when the track suits the European guys. I didn't ride this sort of heat for one and a half years, and it even started snowing when we were training in Belgium on Tuesday, so it was a shock change for all of us. I guess I have some things to learn too. I also backed off my pace in the qualifier but I think the other guys did so even more to save energy in the heat. There's a strategy to GP racing but I'm gradually getting used to it. I got pushed around a little in the first few turns of race two but when I got to third I just tried to be smart, and at this stage of the season a safe third is better than risking a crash. It's cool to come here to Thailand and see things which you would normally only see in the movies; it's a bizarre experience."
250 Class: Jeffrey Herlings (1-1)
Jeffrey Herlings (84) was unmatched in Thailand, just as he was in Qatar.
Jeffrey Herlings was overwhelmed with emotion after winning the Qatar GP. It was his first win since breaking his femur in a pit bike race last summer. The wunderkind from Netherlands was much more subdued after winning the Thailand GP, probably because he was battling heat exhaustion and a possible case of food poisoning. The battle among his innards were far more challenging than the competition he faced, as Jeffrey walked away from the field for the second weekend in a row. He won by a combined 17 seconds with a bum tummy. Wow. After two rounds he is perfect, having won all four motos and both Saturday qualifying races. He is already 22 points ahead, though that wide gap was helped by Julien Lieber's huge endo in the first moto after passing Tim Gajser for third. Lieber failed to score any points.
Here's some food for thought. By my calculations, Herlings scored his 45th MX2 (250) GP overall win in Thailand. Of those wins, the KTM rider has scored perfect 1-1 moto scores on 35 occasions. That is unbelievable. It is rightful and just to state that Jeffrey Herlings has been the king of the 250 class since 2012, even if he didn't win last year's title.
MXGP CRASH OF THE WEEKEND: JULIEN LIEBER AUGERS IN
THAILAND GRAND PRIX OUT-TAKES
Tyla Rattray looked much better in Thailand than he did in Qatar. He finished ninth overall. It's not where he wants to be, but he's making progress just like teammate Ryan Villopoto.
Ryan Villopoto (2) takes a look back at Clement Desalle (25) pulling an unorthodox maneuver in the air. Notice Tony Cairoli (222) buried rather deep in the pack.
Dylan Ferrandis (4) used good starts to finish third overall and keep within sight of Jeffrey Herlings in the point standings. He's 22 back of Herlings (or, in Thailand, Hurlings).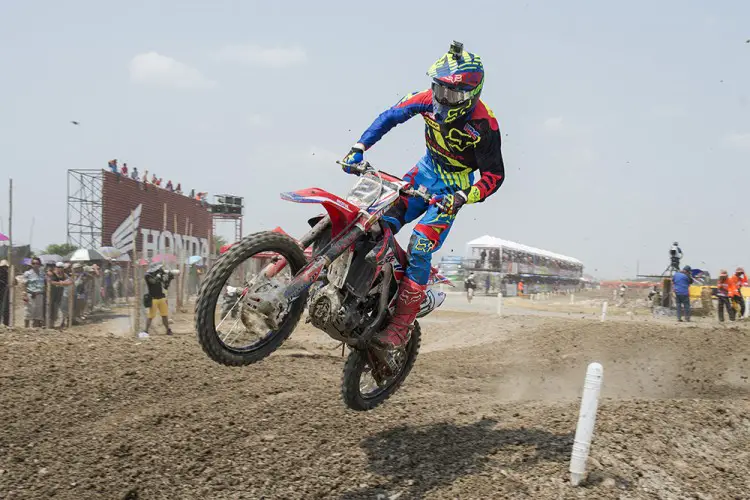 Gautier Paulin should be happy that he's still healthy after the rodeo rides he had in Thailand. The HRC rider was sixth on the day.
Tony Cairoli had to come from behind in the first moto to third and won the second moto. In an effort to continue the U.S. versus the world debate, Ryan Villopoto won a moto before Cairoli did. Just saying…
Ryan Villopoto and Clement Desalle share a moment on the starting line. They were probably reminiscing about their shared distaste for roast duck on a skewer, which happens to be a popular dish in Bangkok.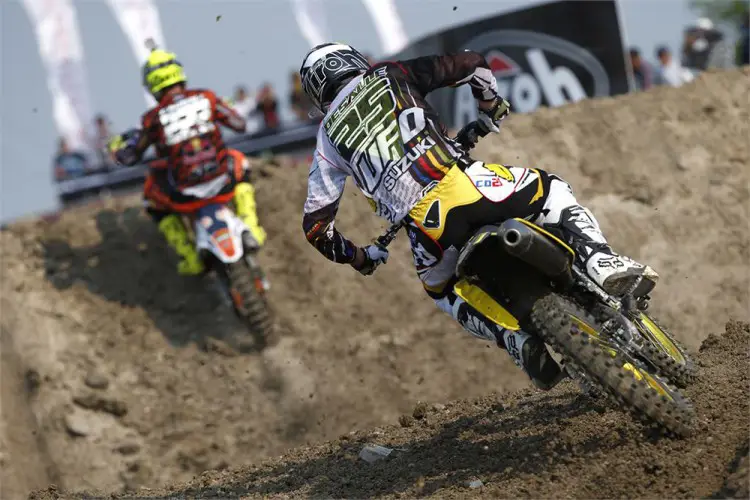 Clement Desalle is the points leader heading into Argentina in two weeks.
VIDEO: MXGP OF THAILAND HIGHLIGHTS

THAILAND RESULTS: 450 CLASS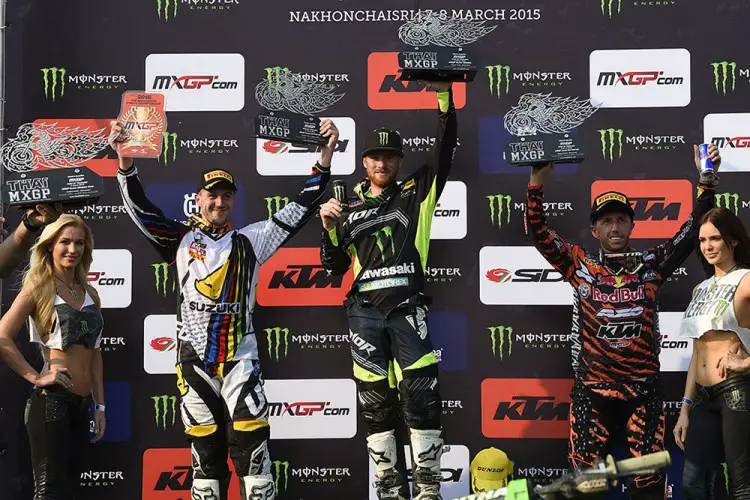 1. Ryan Villopoto (Kaw)…1-3
2. Clement Desalle (Suz)…2-2
3. Tony Cairoli (KTM)…5-1
4. Romain Febvre (Yam)…3-4
5. Kevin Strijbos (Suz)…6-5
6. Gautier Paulin (Hon)…7-6
7. Max Nagl (Hus)….4-11
8. Todd Waters (Hus)…9-7
9. Tyla Rattray (Kaw)…8-8
10. David Philippaerts (Yam)…12-10
Other notables: 11. Evgeny Bobryshev; 12. Shaun Simpson; 13. Dean Ferris; 19. Steven Frossard; 25. Jeremy Van Horebeek; 27. Ken DeDycker; 29.Tommy Searle.
THAILAND RESULTS: 250 CLASS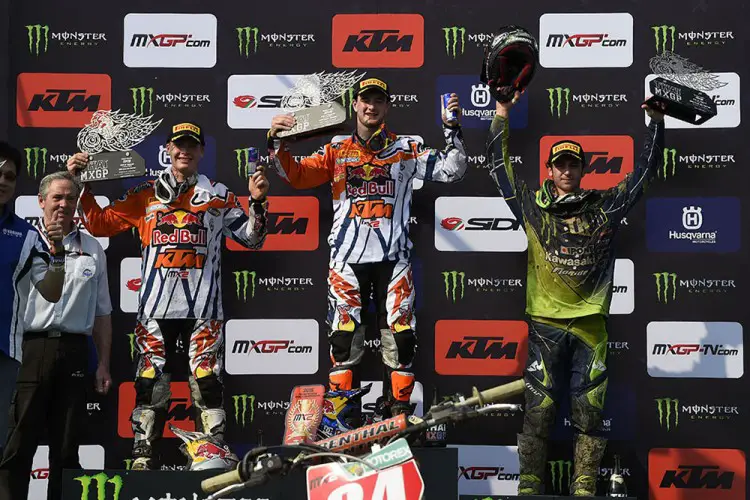 1. Jeffrey Herlings (KTM)….1-1
2. Pauls Jonass (KTM)…4-2
3. Dylan Ferrandis (Kaw)…2-4
4. Thomas Covington (Kaw)…5-5
5. Valentin Guillod (Yam)…6-6
6. Mel Pocock (Yam)…8-7
7. Aleksandr Tonkov (Hus)…9-8
8. Petr Petrov (KTM)…10-9
9. Julien Lieber (Yam)…32-3
10. Brian Bogers (KTM)…11-11
Other notables: 11. Tim Gajser; 12. Robert Justs; 13. Benoit Paturnel; 15. Jens Getteman; 17. Gota Otsuka; 18. Jeremy Seewer;  19. Jordi Tixier; 24. Ben Watson.
2015 FIM 450 POINTS STANDINGS
(After 2 of 17 races)
1. Clement Desalle…88
2. Tony Cairoli…79
3. Max Nagl….78
4. Ryan Villopoto…70
5. Romain Febvre…67
6. Gautier Paulin…67
7. Kevin Strijbos…55
8. Evgeny Bobryshev…45
9. Todd Waters…40
10. Shaun Simpson…38
2015 FIM 250 POINTS STANDINGS
(After 2 of 17 races)
1. Jeffrey Herlings….100
2. Dylan Ferrandis…78
3. Pauls Jonass…70
4. Julien Lieber…62
5. Valentin Guillod…58
6. Aleksandr Tonkov…56
7. Thomas Covington…53
8. Tim Gajser…52
9. Petar Petrov…41
10. Jeremy Seewer…38
The racing resumes on March 29th for the MXGP of Patagonia Argentina. Look for a full race report, brought to you by the brake-stopping-masters at www.moto-masterusa.com. Thanks for reading.
Photos by KRT Kawasaki, Massimo Zanzani, Rockstar Energy Suzuki and HRC Honda.