MOTO-MASTER PRESENTS THE TRENTINO MXGP RACE REPORT

By John Basher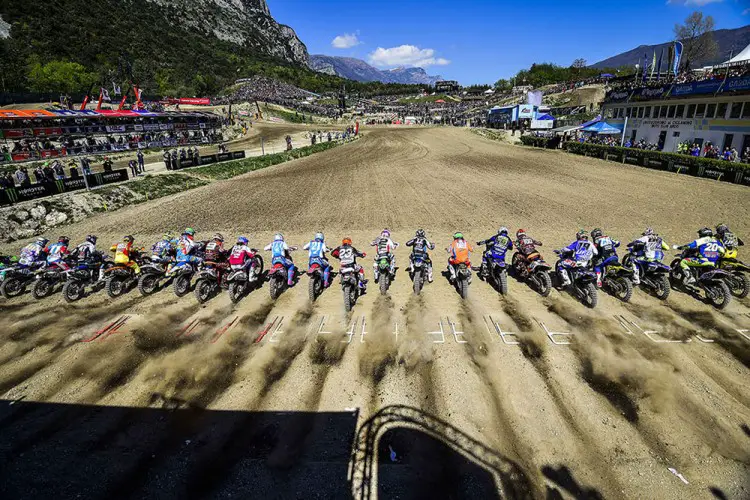 Trentino marked the first round of the European swing in the MXGP series. The race teams returned to familiar ground after racing on the infield of a race car track at night (Qatar), in broiling heat (Thailand), and in South America (Argentina). The Pietramurata race track, nestled up against the picturesque Dolomite mountains in Italy, brought legions of fans out to watch as their king, Tony Cairoli, battled against the usual suspects–Clement Desalle, Max Nagl, Gautier Paulin and Evgeny Bobryshev, to name a few–as well as Ryan Villopoto.
Italy would prove to be the real test for a few key characters in the story that is MXGP in 2015. They are:
Tony Cairoli.
Tony Cairoli: The Italian has owned the 450 class for the past six years. The Red Bull KTM rider has won by consistency, striking when others are vulnerable, remaining healthy and making smart racing decisions. When Tony left Argentina sitting third in points–ten back of Clement Desalle–the Cairoli camp wasn't panicking. In fact, he was coming up roses. Why? The flat, jump-laden track of Qatar isn't a favorite of Cairoli's, yet he came away with a fourth overall. The sweltering heat of Thailand typically wreaks havoc on the Europeans, but Tony gutted out a second moto win. He rounded out the flyaway races by going 2-2 for third overall.
The Trentino race was supposed to be the Tony Cairoli show. After all, it was his home GP. After winning the opening moto it seemed a foregone conclusion that "King Tony" would wax 'em again. Only it didn't happen. Max Nagl, having built a strong lead over the course of nearly two months, powered away to victory and the overall. Nagl rained on Cairoli's parade, but don't shed a tear for Tony. He's one point adrift from having the red number plate back on his mighty Katoom.
Max Nagl.
Max Nagl: Everyone was surprised to see Max Nagl emerge with the opening round victory in Qatar. Heck, even Nagl seemed shocked during the post-race interview. A poor showing in Thailand should have deflated Max's sails…only it didn't. The German came storming back to capture the overall. In Trentino the IceOne Husqvarna rider chugged away like a locomotive, styling at the front on the slick surface while everyone else tip-toed on the hardpack. Amazingly, despite capturing three of four GP overalls, Nagl isn't the points leader. He follows Clement Desalle by one measly point. The beauty of Nagl's success is that he was bounced from factory Honda last year and the Red Bull KTM stalwart before his stint at Honda. Max has found a happy home at Husqvarna. It shows.
Ryan Villopoto.
Ryan Villopoto: With the series going to Europe and many of the GP riders having extensive experience racing at Trentino (the circuit has been on the schedule for the past two years), everyone was on even ground…save for Ryan Villopoto. RV was at a disadvantage before the gate even hit the dirt. That's not so much of an excuse for Villopoto's lackluster showing in Trentino, but it does point to the uphill battle that Ryan will have if he wants to rip the title from the clutches of Cairoli and the other cast of characters. Villopoto's 4-30 (that's not a typo) moto scores sunk him in the point standings to the tune of 47 behind Max Nagl. If you're keeping score that's nearly a full Grand Prix race weekend gap on the leaders.
The Trentino result was no one's fault but that of a ham-fisted Ryan Villopoto. He finished a mere four seconds behind moto winner Tony Cairoli, but sandwiched in that precious time was Max Nagl and Clement Desalle. Fourth wasn't any reason for Villopoto to hang his head. Unfortunately in the second moto Ryan grabbed a handful of throttle while racing by the mechanic's area in an effort to keep Clement Desalle at bay. RV looped out in an "Oh my gosh, I gotta see that again!" type of crash that was hard to fathom. It came in the latter stages of the moto while Ryan was running third. Is he hurt? Kawasaki of Europe didn't reveal anything of interest, other than to say that he wasn't available for comment following the race. Villopoto did take to Instagram and say, "Rough day at the office to say the least. Thanks to my team and fans for the support." He has a few days to lick his wounds before lining up at Valkenswaard, Netherlands, this upcoming weekend. That's not much time to heal up from a huge getoff. Send your positive vibes Villo's way.
Villopoto's tumble seen 'round the world.
I'll play the devil's advocate and weigh the outcome had Villopoto kept it on two wheels. For starters, he wouldn't be 47 points back in the title chase. It's not so hard to believe that he would have finished third or, at worst, fifth. Instead he fell (no pun intended) 20 points back of the leaders in one race weekend. Are his chances of the 450 title out of grasp? Maybe it's the American blood coursing through my veins or that I've witnessed Ryan Villopoto enter "Beast Mode" and slash a deficit down to nothing, but I think he still has a shot. After all, there are 12 (13 if Luongo can find another goose to lay a golden egg) GPs left. That's 600 points up for grabs. The series is young. Having said that, Villopoto needs to settle down and grind out wins, rather than get shot off the back of his Kawasaki SR450.
Clement Desalle.
Clement Desalle: It's obvious that Belgium's Clement Desalle is sick of playing second fiddle to Tony Cairoli. Every racing generation tends to produce one standout sensation. Roger DeCoster. Bob Hannah. Jeremy McGrath. Ricky Carmichael. Stefan Everts. Tony Cairoli. Then there are those riders who have the misfortune of racing at a time when la creme de la creme were stringing together one title after another. Steve Stackable. Damon Bradshaw. Ezra Lusk. Kevin Windham. Clement Desalle is in danger of falling into the realm of second-best. Runner-ups don't spray the champagne, get the big bonus check, or have their name etched into the history books. Nope, instead they're labeled as the first person that so-and-so manhandled.
Desalle is proving that he should be taken seriously. For three straight rounds the Suzuki rider has been at the top of the point standings. The gap narrowed in Italy after he gave up nine points to Nagl and Cairoli. The season is young, but Cairoli is famous for chipping away at the point standings. Nine points doesn't seem like a lot. Think again. Even if Tony could grab five points at every round, that would be 60 points by series end. That, folks, is how Tony Cairoli wins titles.

THE WINNERS

450 Class: Max Nagl
Nagl hasn't had this hot of a start to a season since 2011. In fact, this is the best that Max Nagl has ever done so early in a season. The IceOne Husqvarna rider went 2-1 for the overall. If you're keeping track at home, Nagl's moto scores this year have been 1-1-4-11-3-1-2-1. It's not a dominant effort, but imagine how far ahead Max would be if not for a tumultuous Thai showing.
250 Class: Tim Gajser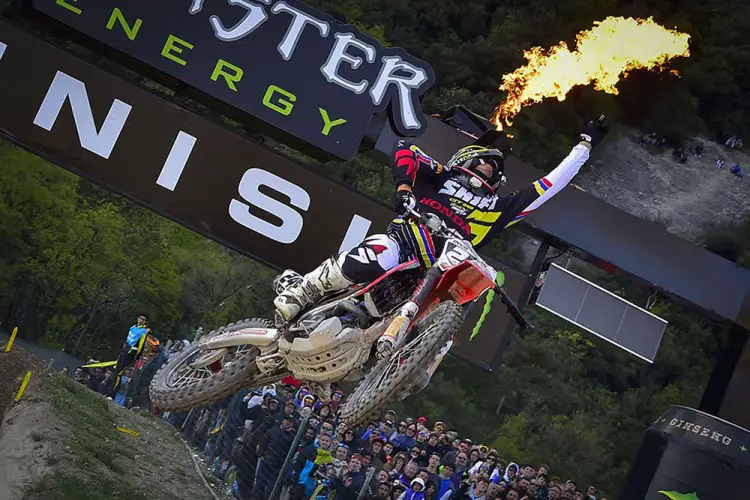 So there's this 18-year-old kid from Slovenia named Tim Gajser, and he won the 250 class this weekend against Jeffrey Herlings. That's like David dropping Goliath to the ground. Trentino marked Gajser's first GP victory. He did it by logging near perfect results. A 2-1 is good enough for the win regardless of scoring systems at Chicken Licks Raceway (that's for you, Jody) or GP/AMA scoring. Gajser has been up and down in the results this year–exactly what one would expect from a wet-behind-the-ears 250 racer. The win moved him up from seventh to fourth in the standings. More importantly, the win makes Gajser the biggest celebrity in Slovenia. Way to go, Tim! An interesting note: this was the first time a Slovenian has won a MXGP round. It was also Honda's first 250 class win since Marvin Musquin did the deed back in 2009.
VILLOPOTO'S TUMBLE
CAIROLI VS. NAGL VS. DESALLE VS. VILLOPOTO
TRENTINO GRAND PRIX OUT-TAKES
MXGP OF TRENTINO HIGHLIGHT VIDEO
ITALIAN GP RESULTS: 450 CLASS
1. Max Nagl (Hus)….2-1
2. Tony Cairoli (KTM)…1-2
3. Clement Desalle (Suz)…3-4
4. Romain Febvre (Yam)…7-3
5. Gautier Paulin (Hon)…5-5
6. Evgeny Bobryshev (Hon)…8-6
7. Ken DeDycker (KTM)… 9-7
8. Davide Guarneri (TM)…11-9
9. David Philippaerts (Yam)…13-8
10. Shaun Simpson (KT)…12-10
Other notables: 11. Ryan Villopoto; 12. Todd Waters; 13. Tommy Searle; 14. Jeremy Van Horebeek; 15. Glenn Coldenhoff; 33. Steven Frossard.
ITALIAN GP RESULTS: 250 CLASS
1. Tim Gajser (Hon)…2-1
2. Jeffrey Herlings (KTM)…1-2
3. Jordi Tixier (Kaw)…3-3
4. Dylan Ferrandis (Kaw)…5-4
5. Max Anstie (Kaw)…4-7
6. Jeremy Seewer (Suz)…7-6
7. Valentin Guillod (Yam)…6-8
8. Benoit Paturel (Yam)…12-5
9. Brent Van Doninck (Yam)…11-10
10. Julien Lieber (Yam)…10-11
Other notables: 11. Pauls Jonass; 14. Petr Petrov; 15. Aleksandr Tonkov; 19. Thomas Covington Adam Sterry (KTM)…11-11
2015 FIM 450 POINTS STANDINGS
(After 4 of 17 races)
1. Clement Desalle…171
2. Max Nagl….170
3. Tony Cairoli…170
4. Romain Febvre…129
5. Gautier Paulin…128
6. Ryan Villopoto…124
7. Evgeny Bobryshev…100
8. Todd Waters…78
9. Jeremy Van Horebeek…75
10. David Guarneri……70
2015 FIM 250 POINTS STANDINGS
(After 4 of 17 races)
1. Jeffrey Herlings….172
2. Dylan Ferrandis…159
3. Pauls Jonass…133
4. Tim Gajser…126
5. Julien Lieber…101
6. Valentin Guillod…101
7. Jeremy Seewer…99
8. Aleksandr Tonkov…95
9. Thomas Covington…86
10. Jordi Tixier…75
The Grand Prix series resumes next weekend in the sands of Valkenswaard, Netherlands. Look for a huge race report, brought to you by the fine folks at Moto-Master (the GP is practically in their backyard). If you're looking to improve the performance of your brakes then visit www.moto-masterusa.com. Thanks for reading.
Photos by KRT Kawasaki, Massimo Zanzani and HRC Honda.