MOTO-PHOTO GALLERY: SHOT WITH ONE LEG & A BODYGUARD
Click on images to enlarge
Photos by Debbi Tamietti
The Pro winners: ISDE Gold Medallist and Baja 1000 Champion Justin Jones (1) took the 450 Pro win, while Troy Lee Designs Sean Cantrell (37) won the 250 Pros.
MXA photographer Debbi Tamietti has been missing from the local SoCal races for almost two months after tearing her ACL while skiing. Luckily, from her point of view, she didn't miss shooting too many races because of California's torrential weekly rainstorms—that canceled races on a regular basis in Januray and February. Debbi has shot AMA Nationals, Grands Prix and the Motocross des Nations, but the races she loves to shoot the most are the weekly REM races at Glen Helen. Not just because her husband, former Pro Val Tamietti, races there every weekend, but because Debbi knows virtually every single rider in the pits on a first name basis. She is inundated with requests from riders to shoot their photo during the races—because everyone wants to see an action shot of themselves on the internet. Debbi tries to fulfill requests, but if she doesn't, it's not her fault. Debbie shoots the photos, but she doesn't pick them. The space is limited and the photos are selected to advance the story of the race or for artistic reasons. But she tries. In fact she tries so hard that this weekend her doctor told her that she could go to the races, but that under no circumstances could she go out on the infield to shoot photos. So, she shot from the outer edges of the track and brought her childhood friend Donna Lemmon to act as her camera caddy and bodyguard (assigned to throw herself in front of Debbi should an errant bike come their way). These are the photos that Debbi shot with one leg in a brace and an overprotective friend hovering nearby. Enjoy
Dennis Stapleton won the Vet Pro class on MXA's 2017 Honda CRF450, but is already in North Carolina with Daryl Ecklund (and John Basher) to test a bevy of Joe Gibbs bikes for an upcoming issue.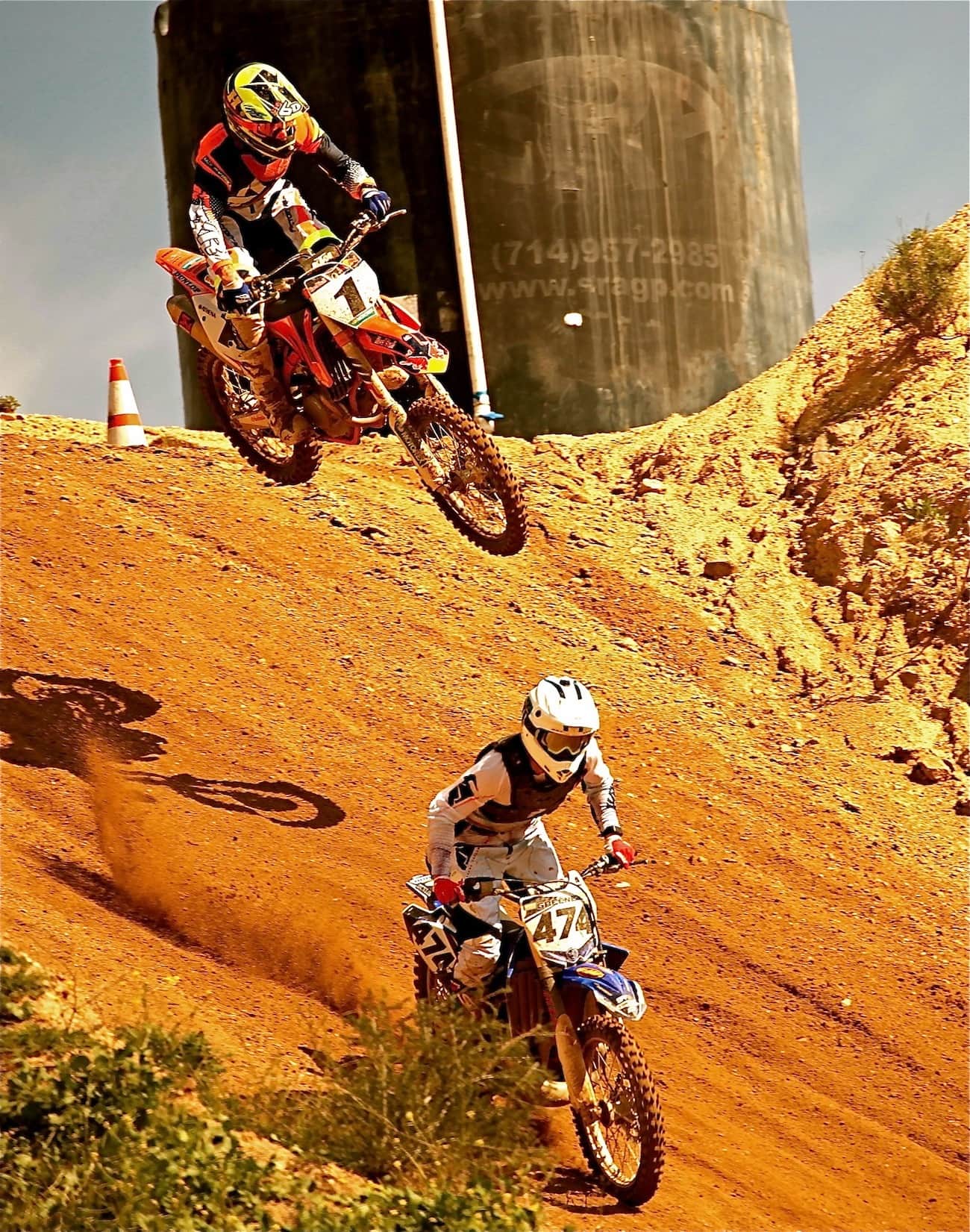 Justin Jones sails down Mt. Whitney as lapper Mitch Greene (474) hugs the near side of the track to stay out of the way. REM racers are very courteous.
Gavin Todora (917) swept both motos of the 450 Intermediate class, as John Roggero and Ty Cullins traded 3-2 and 2-3 scores for second and third.
Jeff Niblack's 1-2 was good enough for the gold in the Over-40 Intermediate class — second moto winner Mike Carter had a 7th in his first moto (and ended up 4th overall).
Chris Alamangos borrowed his brother Dan's camera to shoot a few pics while Dan was on the starting line waiting for his race to start. Here, Debbi shoots Chris shooting Justin Robinson (104). Chris would later crash in his second moto and spend the night in a hospital with a bruised lung and four broken ribs. But, the Aussie brothers, don't need no stinkin' ambulance, Dan drove Chris to the hospital in his van.
Jon Ortner (10) was sponsored by O'Neal Racing for his complete AMA Pro career (back in the 1980s), but got other sponsors over the years. Now, he's back in the O'Neal family.
Because REM is where the motorcycle industry comes to race, you shouldn't be surprised to find that there are more older motocross racers at REM than anywhere in the world. This is the start of the Over-60 Expert class and there are even more Over-60 Intermediate riders waiting for the second gate to fall. Notable riders in this photo are 1980 AMA National Champion Chuck Sun (63M), Joe Pena (911) and four-time 250 National Champion Gary Jones (88 on an enduro bike). They would go 1-2-3. That is Val Tamietti behind Chuck Sun.
The biggest class at REM is always the Over-50 Novices. It is packed and the racing is ultra-tight. Here, Chuck Cook (827) leads Darren Berg (2), Dan Paulson (236) and Steve Chandler (hidden between Cook and Berg). Of this group Paulson was 8th, Berg 9th, Chandler 14th and Cook 17th.
The aluminum gas tank on David Cincotta's Suzuki RM450 cracked along a weld during his first moto. MXA lent David their 2017 Husqvarna FC250 for the second Over-40 Expert moto. David went 2-2 for second.
Pasha Afshar is one of the unsung heroes of motocross. The Hollywood stuntman and producer has quietly sponsored and helped Pro riders for many years, buying them bikes and giving them travel money. If you look closely you might have seen a "Pasha " logo on the jersies of many AMA privateers. For helping riders in need (not to mention capturing the heart of his beautiful wife lovely Noemi), he was named "2016 Sportsman of the Year" during REM's yearly award ceremony
This is a battle of the Factory Editions. Gary Stoltenberg (781) on a 450SXF-FE and Randy Skinner (26) on a 250SXF-FE drag race to the next turn. Skinner had a mercurial 7-3 day in the Over-50 Intermediate class for 5th, while Stoltenberg, coming back from injury, had a safe and sane 14-13 score.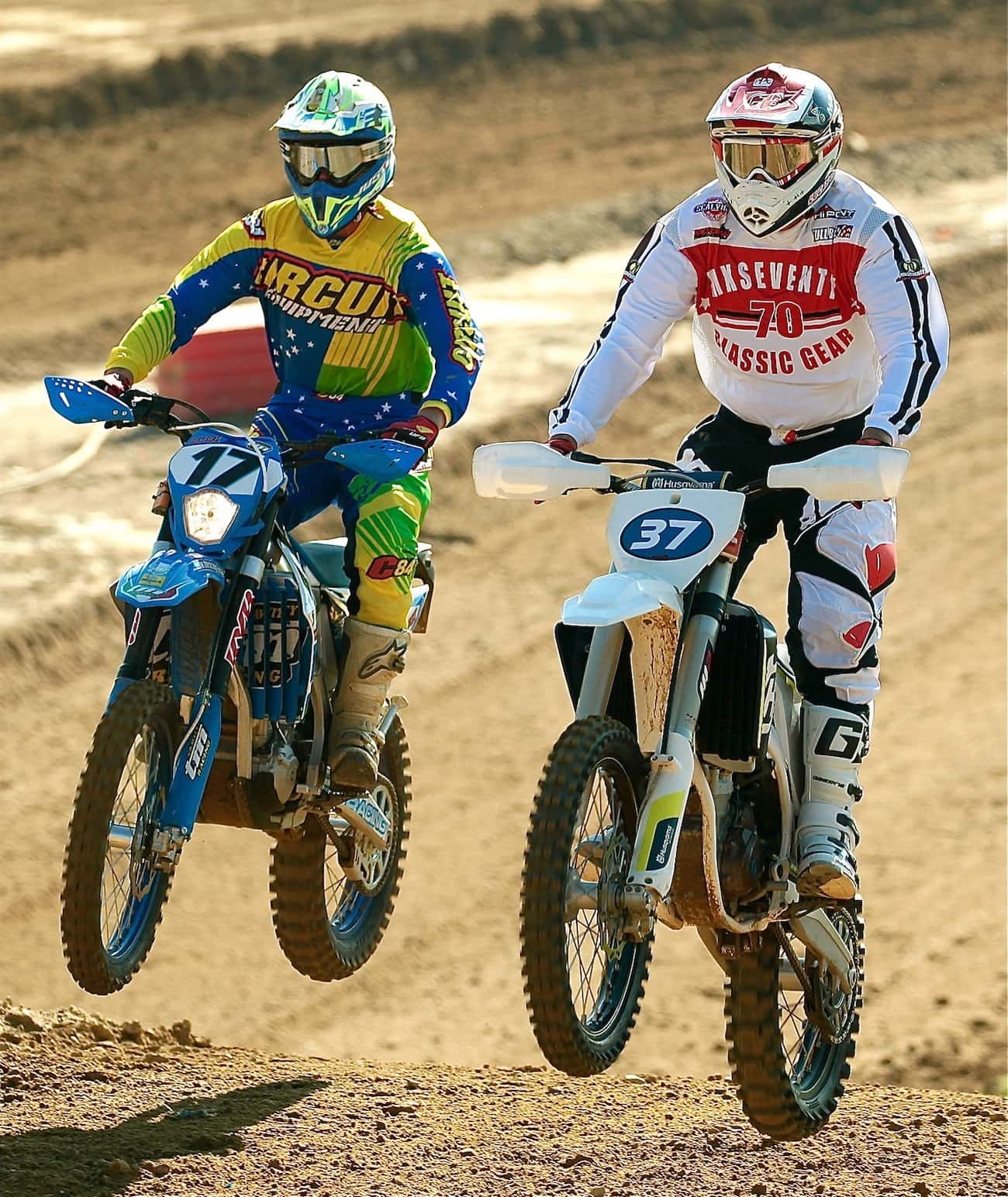 This is a battle of the TM importers. On the left is the current TM USA importer Ralf Schmidt (17), while on the right is former TM USA importer Pete Vetrano (37).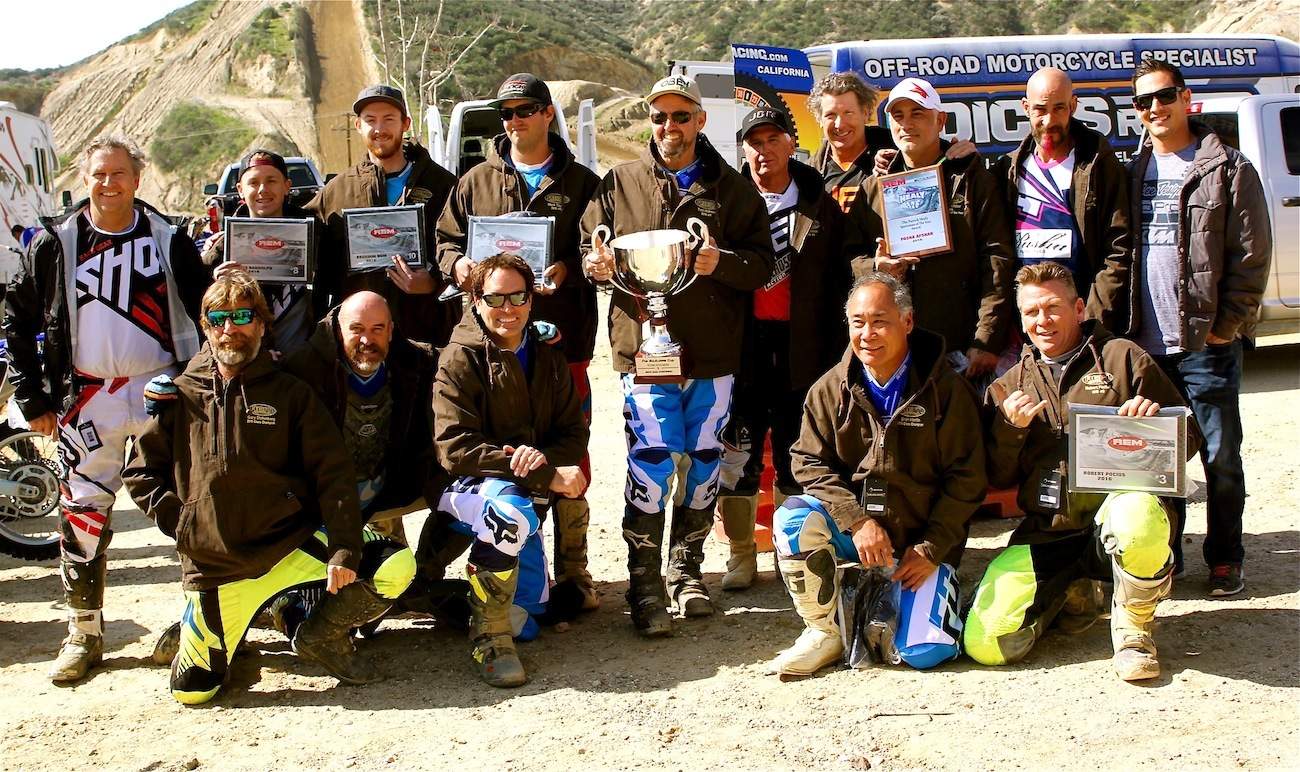 These are the Glen Helen racers who earned the most points over 2016's 40-race motocross schedule. On the far left is the father of Patrick Healy, who while dying from cancer asked his father to give his race bike to a deserving racer. REM names it's yearly "Sportsman of Year" award after Patrick Healy. On the far right is Sean Boulware, whose father, Dennis Boulware, was the only four-time REM Champion. After Dennis died of a heart attack, while at the races, the large #1 cup that Tom Holmes (center) is holding was named the "Boulware Cup."
Motocross photographers love to take photos of other motocross photographers. Debbi captured MXA's Dan Alamangos going 4-5 in the Over-50 Expert class on MXA's 2017 KTM 250SXF Factory Edition.
Gene Boere (62V) had a terrible 2016. He had a family death, illness and, worst of all, got bit by a Brown Recluse spider that sent his body into renal failure. He's back in 2017 — and for a change is healthy and happy. Gene went 6-8 in the Over-60 Intermediate class.
What is going on with Dirt Bike's Ron Lawson. Why does he have a white tube sticking up from his triple clamps. Is this some new-fangled, do-it-yourself, liposcution device? Our guess is that it the uncut end of the zip-tie he used to hold his front number plate cable guide to the crossbar.