MOTOCROSS ACTION MID-WEEK REPORT
#WHIPITWEDNESDAY
Rider // Josh Mosiman
Bike // 2022 Yamaha YZ125
Location // Glen Helen
TWO-STROKE SPOTLIGHT: THOMAS EGGER'S 1989 HONDA CR250 PROJECT
Restored 1989 Honda CR250.
Hello MXA!
Here are some pictures of one of my many project bikes. This is my 1989 Honda CR250R. –Thomas Egger.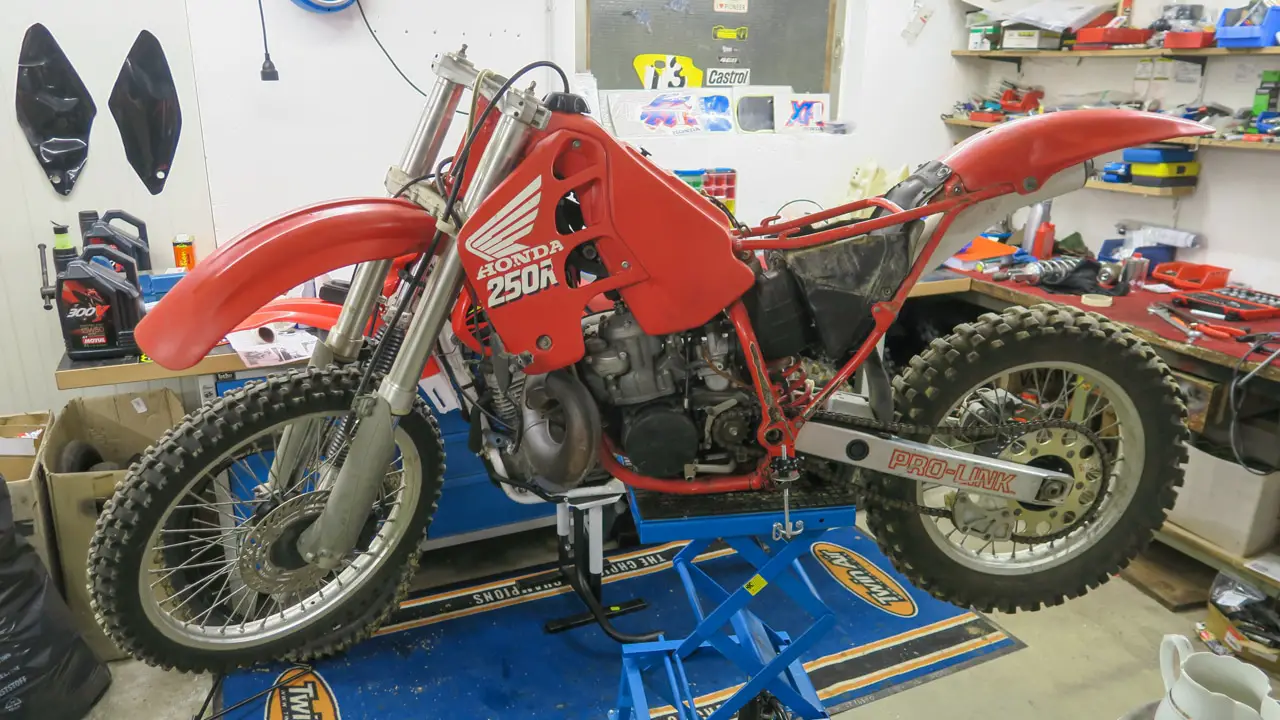 EDITORS NOTE: Please keep those submissions coming. If you would like your bike to be featured in the "Two-Stroke Spotlight," please email me at [email protected]. All I ask is that you give a breakdown of your bike and a detailed description of the build. Please also send a few photos of your steed. By submitting your bike for the "Two-Stroke Spotlight," you agree to release all ownership rights to the images and copy to MXA. 
ASK THE MXPERTS: WHY THERE IS AN AMA WEIGHT LIMIT?

Sometimes they cut it a little close on Joel Robert's works Suzuki.
Dear MXA,
   Why is there a weight limit in motocross? It seems like production bikes would get lighter if they let the factory teams build ultra-light machinery?
Rules, to the chagrin of those who write them, rarely work when their main reason for existence is social engineering. Racing, whether cars, bikes, boats or planes is resplendent with social rules. By social engineering, we are not talking about what color clothes you're allowed to wear (although for years the AMA had rules requiring white pants in the pits and banning solid black leathers) or affirmative action at the AMA. No, social rules are those designed to bring more equality among competitors (even if they aren't equal). NASCAR is the most famous for this, they give a 1/4 of air dam and take a 1/4 of spoiler to try and make all brands equal on the track. Even in horse racing, jockeys have to wear weights to guarantee that every horse carries the same load.
Motocross has experimented with social rules for years. Perhaps the most famous of all the equality attempts was the claiming rule. The claiming rule was written to keep a racer, team or manufacturer from spending too much time, money or effort in building a world-beater bike — because if they did, any competitor (in the same race) could lay down $3500 and buy the bike. It's a very esoteric concept of equality — the belief that the bikes will remain fairly equal because they could change hands at the end of the day. It is great in theory, but the first time a privateer claimed a factory Honda CR250 (and drove away with it) all the factories threatened to pull out of racing. Seven days after John Roeder claimed Marty Tripes 1978 Honda, the claiming rule no longer existed. It's no surprise that spineless officiating does little to encourage equality.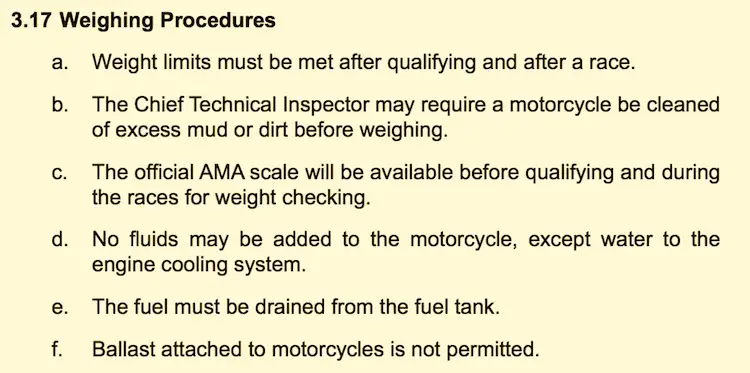 You might think that the weight limit was established to keep the factory bikes from being so much lighter than production bikes that it would be unfair for the privateers. Not true. Well, as an excuse it is true — but it wasn't privateers that they were trying to help with the weight limits. It was someone else. Here is the true story.
Perhaps the best social engineering in motocross was done in 1973 to keep Suzuki from driving the European manufacturers out of the sport. A short time after entering Grand Prix racing, Suzuki was fielding 187-pound 250's and 202-pound 500's that demolished the competition in the hands of Joel Robert and Roger DeCoster. Cubic dollars, which the Japanese had from the early 70s street bike boom, and Husqvarna, Maico, CZ, Bultaco and CCM didn't have (they didn't make street bikes), were calling the shots. The Euro manufacturers whined that they couldn't compete, so the FIM instituted the weight rule. Rather than wait for the European bikes to get their weight down, the FIM decided to bring the weight of the works Suzuki's up.


Starting in 1973, 250cc bikes had to weigh more than 198 pounds and 500s could weigh no less than 200 pounds. The effect was immediate. Suzuki didn't have time to develop all-new bikes for the 1973 season, so they poured molten lead into the frames of Robert's RH250 and DeCoster's RN370 to bring them up to the new weight limit. Joel Robert, claiming that the lead ruined the handling of his featherweight Suzuki, lost the 250 World Championship (after winning it for five straight years). Roger DeCoster fared better, he edged out Maico-mounted Willi Bauer for the third of his five World Titles. "It seriously affected the handling of our bikes," said DeCoster. "The bike had already been built when the weight limit came down. The factory had no choice but to add weight wherever they could."
Almost 48 years later the weight limit is still in effect (although Team Honda and Ricky Johnson dodged the scales twice with bikes that were underweight without incurring any penalty). Under current AMA rules the minimum weight for 2016 are: 125cc two-strokes 194 pounds; 250cc two- or four-strokes 212 pounds; 450 four-strokes 220 pounds. The bikes can be weighed after a race at the AMA's discretion. For weighing, the gas tank must be empty (although the radiators can be full). Ballast of any kind (like the lead that Suzuki poured in it frames in 73) is illegal.
It should be noted that no matter how light works bikes got, production bikes did not come down in weight. In fact, production bike weights only got lower after the AMA instituted the production rule that banned full-on works bikes. Why did production bikes get lighter after works bikes were banned? Because the factory teams had to start with a production bike instead of a blank sheet of paper — thus the production bikes got lighter to get closer to the weight limit.
Historically, the only championships that could claim to have been affected by the FIM/AMA weight limits were those inaugural ones in 1973. Joel Robert might have been a seven-time 250 World Champion except for social engineering to save the European motorcycle manufacturer's pride. Did the weight limits save the European manufacturers? No. All of the major Euro players from 1973 are out of business today (save for thrice sold Husqvarna).
CLIFF DIVING
MXA | MOTO | TRIVIA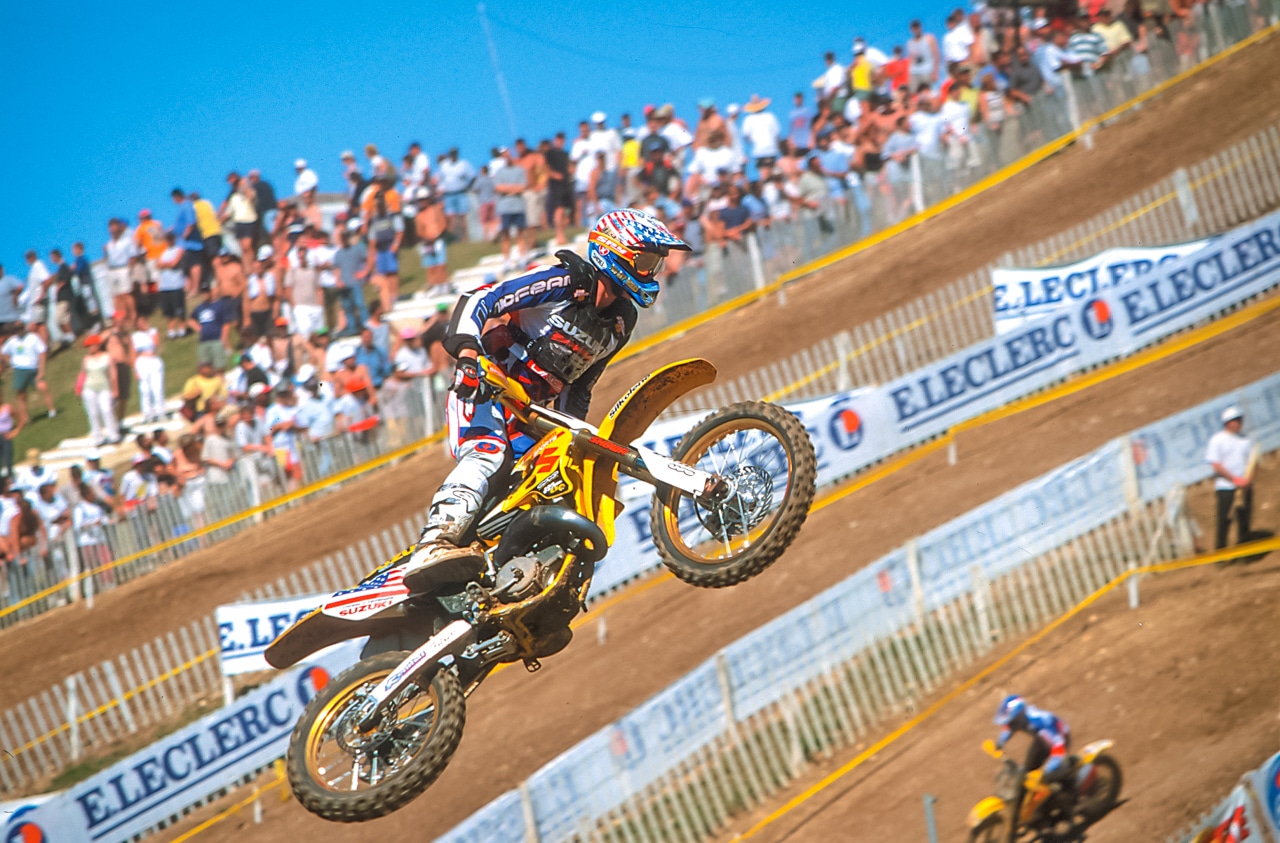 Name the rider and year. Answer at the bottom of page.
LEVI KITCHEN BREAKS SCAPULA 
10 STEPS TO WASHING YOUR BIKE | By Brian Medeiros
Step 1: To make your job easier, before you leave the track you want to scrape off any packed up dirt and mud off your engine cases and under your fenders (doing this will help speed up the process).
Step 2: Once you get home and get unloaded you want to remove your seat and air filter. Carefully wipe away any dirt from your airbox and insert your airbox wash cover. The reason for removing your seat is not only to wash your airbox but to prevent getting your seat wet and breaking down your seat foam.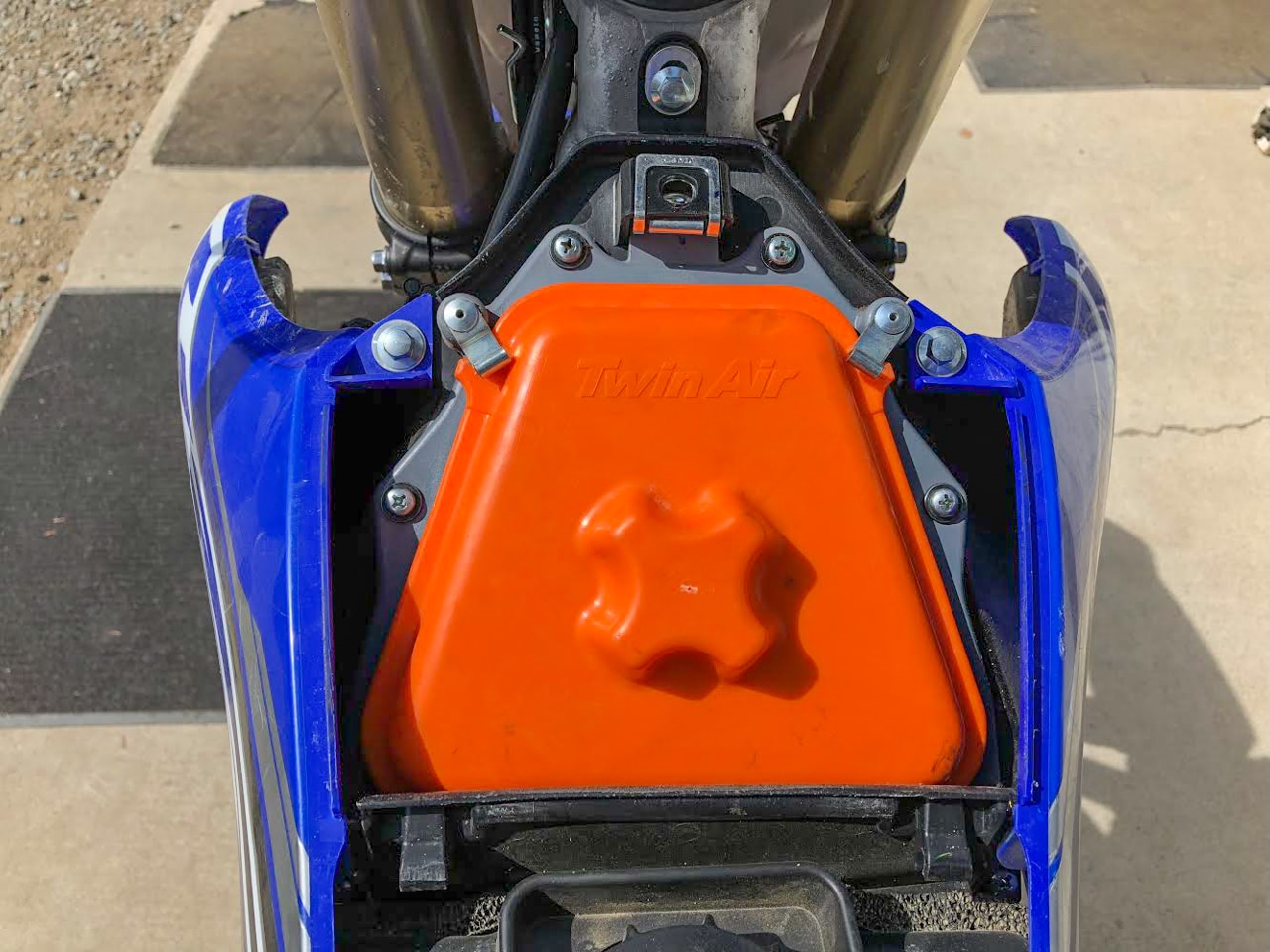 Step 3: Wheel your bike over to your wash area and use your stand to prop it up on its side. Using your pressure washer spray off any dirt and grime that is on the underside of your motorcycle. Avoid any direct contact with your pressure washer to any electrical connection's and pivot point's of your motorcycle
Step 4: Once you have the underneath of your motorcycle clean proceed to put it up on your stand, continue to spray off all the loose dirt.
Step 5: At this point, you want to get your spray bottle filled with the soap of your choice (in this case Mr. Clean) and soak your bike in soap.
Step 6: Once you have your bike all soaped up, take your green scotch brite pad and scrub your frame, always remember to scrub parallel to your frame to avoid leaving scratch marks. (KTM & Husky owners skip this step).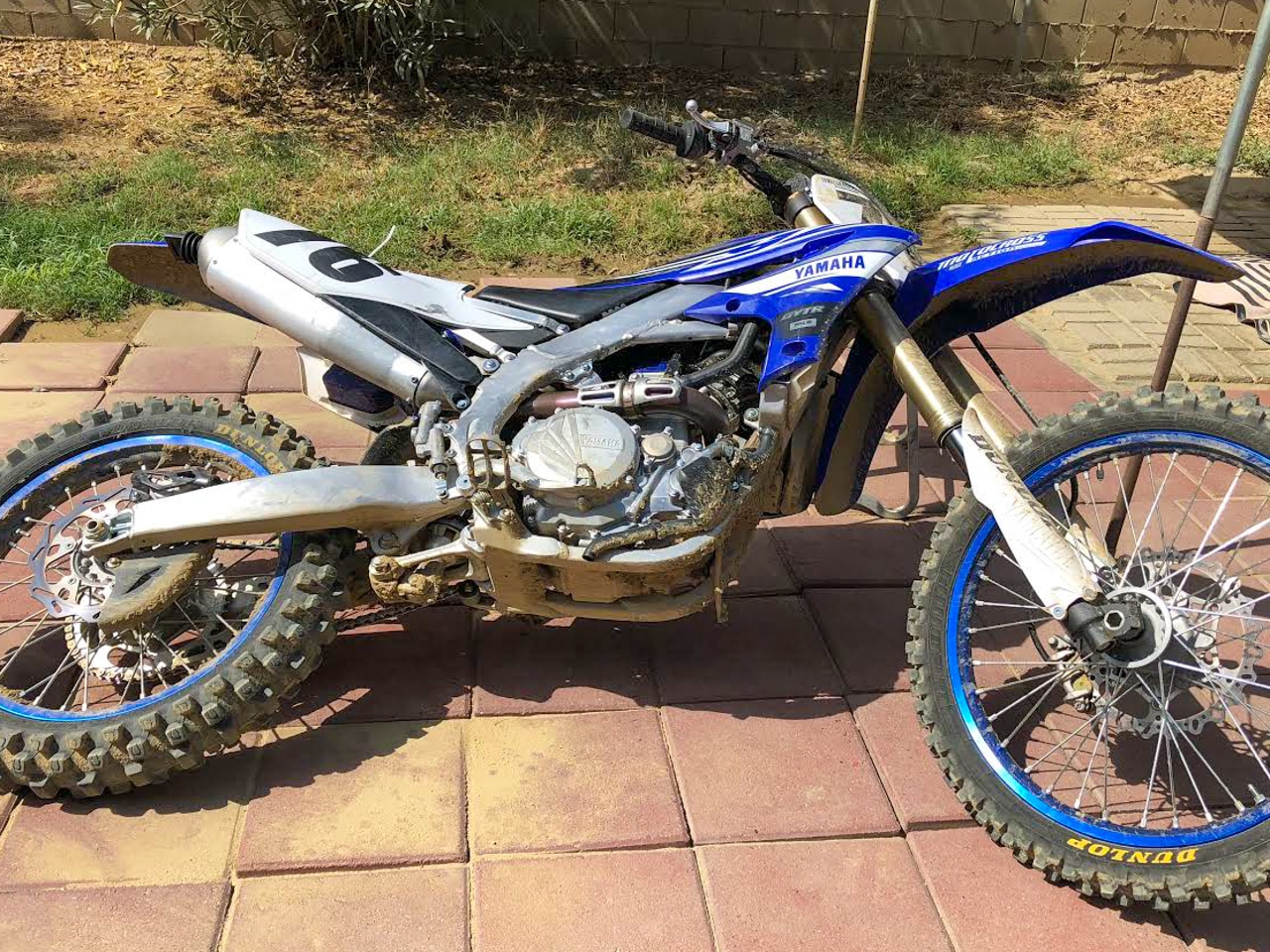 Step 7: Spray off all soap and remaining dirt that is on your motorcycle continuing to avoid direct contact with electrical connections and pivot points.
Step 8: Now that you have your motorcycle all clean, wipe it down with a clean towel or if you have a compressor blow off any access water, again avoiding direct contact with your electrical connections and pivot points.
Step 9: Remove your airbox wash cover and wipe away any water that may still be in your airbox and install your new air filter. Install your seat and spray it with Windex and wipe it down with a clean towel
Step 10: Start your motorcycle and let it run for a few minutes, this will help evaporate any water that may still be sitting on your motorcycle. If it is time for an oil change this will be a good time to do it since the engine oil will be nice and warm. Also, take some chain lube and make sure your chain is properly lubricated to prevent corrosion.
Notes: Washing your motorcycle is never as fun as riding it, but it is an important role in making sure your bike is clean and ready for another day of riding with your buddies. When washing your bike always remember to inspect all worn parts to see if it's time for them to be replaced (chain, sprockets, chain guide, sliders, brake pads, etc.) We hope that this information will help you keep your motorcycle in tip-top shape.
PRO CIRCUIT BONES BACON | SUSPENSION 101
LOST BUT NOT FORGOTTEN | 1983 HONDA CR250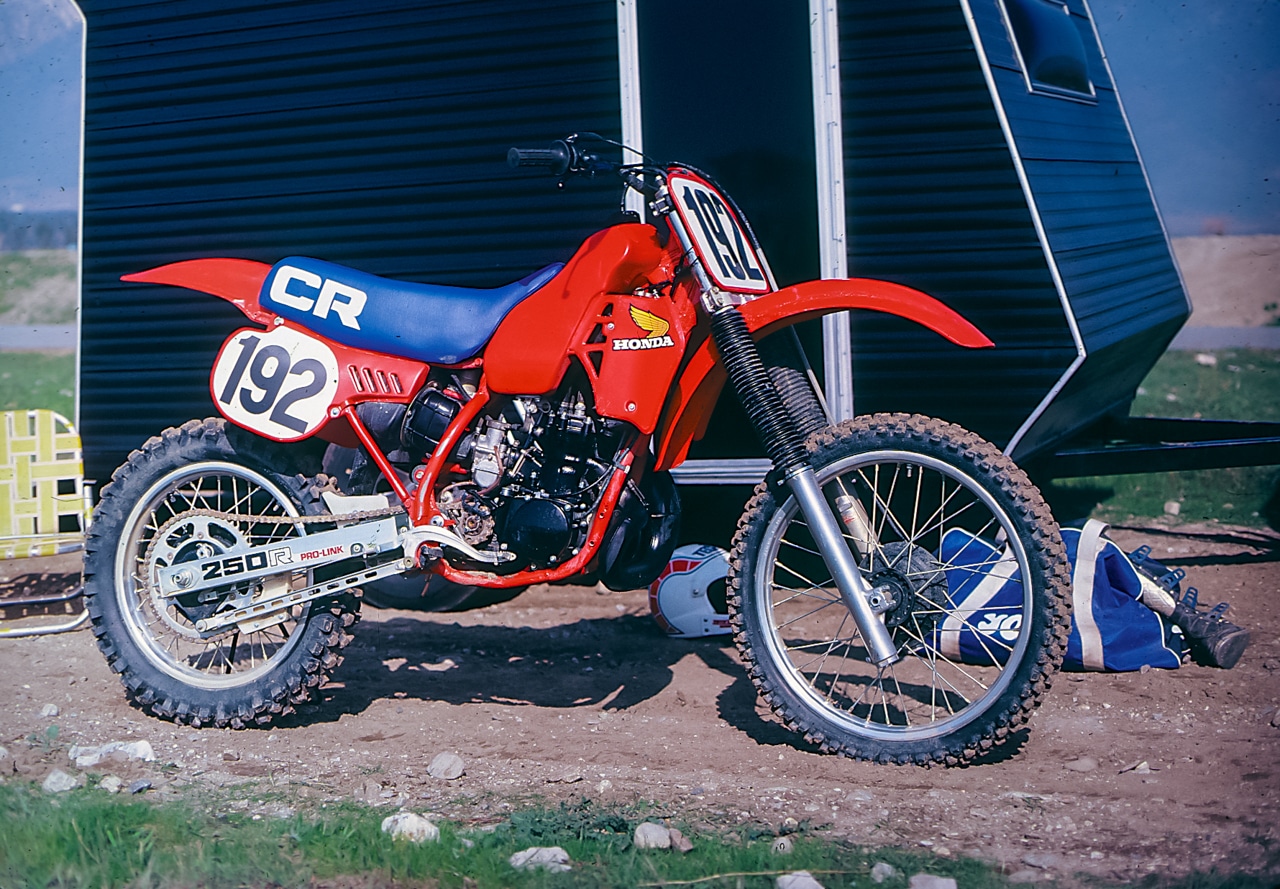 MXA TEAM TESTED: HUSQVARNA TC150 BIG-BORE ENGINE KIT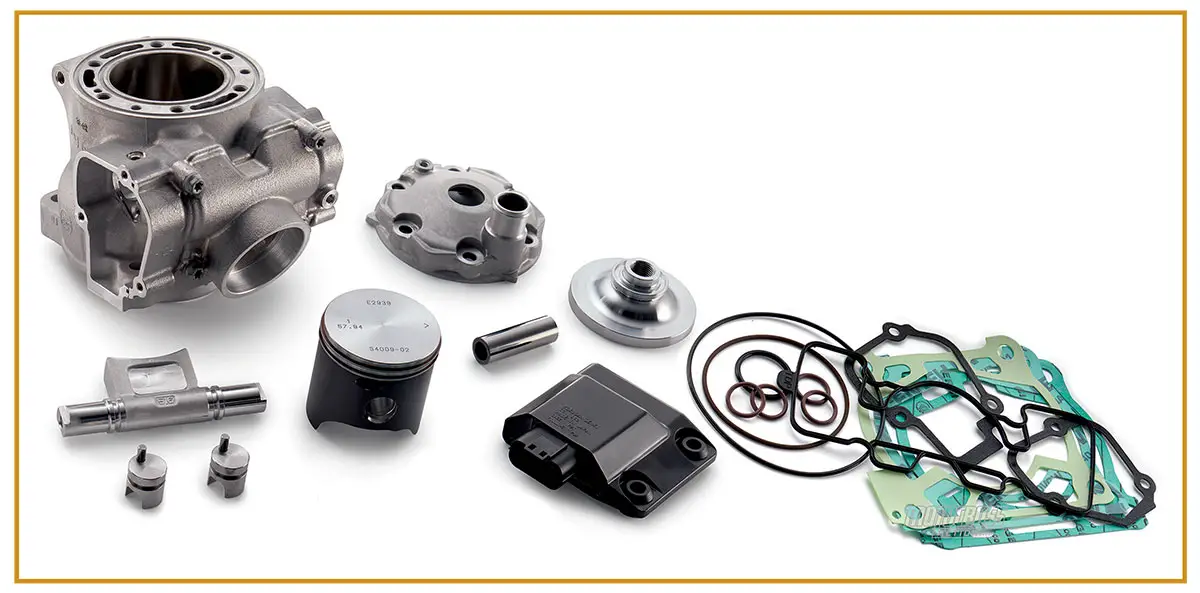 WHAT IS IT? If you are looking for a little more oomph from your Husqvarna TC125, there is a simple bolt-on big-bore kit that will give it to you.
WHAT'S IT COST? $799.99 (head, cylinder, piston, rings, gaskets, ECU, wrist pin and power valve)
CONTACT? Your local Husqvarna dealer.
WHAT STANDS OUT? Here's a list of things that stand out with the Husqvarna TC150 big-bore engine kit.
(1) Problem. Husqvarna doesn't offer a 150cc two-stroke, just a 125. This fact, and this fact alone, made the MXA wrecking crew want a Husqvarna TC150. You always want what you can't have.
(2) The job. How do you make your own TC150? Husqvarna offers a $799.99 big-bore kit. All we had to do was order the kit and spend an evening in the garage swapping top ends. Since the stroke remained the same and only the bore was increased, the cases could be left alone. The transition was no tougher than changing a piston and rings.
There were a few tricks to installing the Husqvarna TC150 engine kit. First, we had to swap out the black box for the new one supplied in the kit. Second, the jetting had to be watched closely on the first ride. Surprisingly we had to go one main leaner; you will have to fine-tune it for your altitude, temperature and riding style. Third, the only part we had to steal from the TC125 engine was the power-valve linkage. We didn't want to do this, so we ordered all-new power-valve links to install in our TC150 top end. Since we left the TC125 cylinder intact, we could set it on the shelf as a complete race-ready 125cc top end (head, cylinder, piston, rings and power valve) for an emergency.
(3) Price. For today's day and age, the price is not outrageous for a bolt-on item. You would spend more at your local hop-up shop.
(4) Performance. The TC150 has a heavy throttle feel, as the bike tends to rev slower than the TC125. It was even noticeable that it revved slower than the almost-identical KTM 150SX. Third gear under a load was a little harder to shift compared to the TC125 because of the added torque. There was no doubt that the 150cc big-bore engine was more powerful than the TC125 engine. It could easily clear jumps that the smaller engine struggled over. However, it wasn't as fluid from gear to gear, and most MXA test riders felt that they could turn faster lap times on the 125cc engine than on the 150. Race gas really brought the TC150 to life, as the big-bore head has more compression. A 50/50 mix of C12/pump gas was an easy fix. If you want to run the more exotic VP MRXO2, you will need jetting changes.
(5) Buyer. Overall, Novices, Vets and play riders preferred the TC150 over the TC125. Intermediates to Pros picked the TC125.
WHAT'S THE SQUAWK? We don't know why Husqvarna doesn't offer a production TC150, but because they don't, not every Husky dealer is in tune with the Husqvarna's accessory division, which means you might be searching for parts at your KTM dealer. For example, the 300cc Power Parts upgrade kit for the 2019 TC250 and KTM 250SX isn't available yet, but you can order the cylinder, head, black bx, piston, rings and power valve parts from the KTM 300XC to build a do-it-yourself 300cc Husky or KTM.
MXA RATING: There is a ready-made audience for a big-bore-anything—and the same thing is true for the Husqvarna TC150. It is the perfect way to make your 125 have more power while keeping your 125 options alive.
TALK MOTO WITH MOTO MINDED PEOPLE. JOIN MXA'S FACEBOOK GROUP CHAT


We love everything moto and want to bring all moto junkies together into one place to share their two cents, ideas, photos, bike fixes, bike problems and much more. To check it out first you must need to or already have a Facebook account. If you don't, it isn't much work and you could even have an alias so nobody knows it is you. To join click HERE. After you request to join we will accept your request shortly after.
CLASSIC PHOTO
Costa Rica's Ernesto Fonseca back in 2001 on the Yamaha of Troy team. He went on to win the 125 West Coast title that year.
---
Moto Trivia answer:  Travis Pastrana racing a Suzuki RM125 at the 2000 MXDN with teammates Ricky Carmichael and Ryan Hughes in Saint-Jean-d'Angély where they went on to win.