MOTOCROSS ACTION CLASSICS: APRIL 1989 ISSUE
By: Zap
 
Giving just a hint to the age of neon that the motocross world found itself in two decades ago, Chris Hultner did the photo duties for the 1989 MXA 250 shootout when he snapped Ray Sommo, Mat Watson, Larry Brooks and Doug Dubach drag racing bikes from the "Big Four" at Reche Canyon for the cover.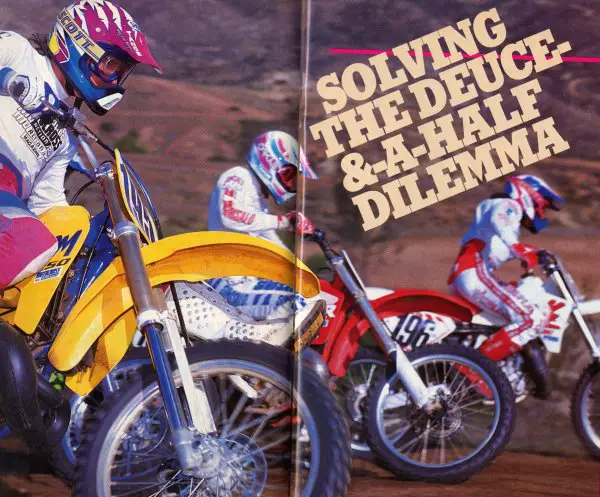 Over the years no other magazine has tested as many motocross bikes as Motocross Action. Equally so, no other magazine has so often been accused of playing favorites in our shootouts; a claim that is debunked by the simple fact that MXA has been called at different stages both HondaAction and YamahaAction…but only when Honda and Yamaha made the best bikes. When their bikes fell off the top of the MXA test riders charts, the bikes stopped winning shootouts. For some reason, MXA has never been called KawasakiAction even though the KX250F and KX450F have won the majority of shootout over the past five years. As for the winner of the 1989 MXA 250 Shootout?it was the Honda CR250.


Answer Products was into big hair and spandex-clad girls to highlight their 1989 gear (which was used by top riders like Micky Dymond, George Holland and Johnny O'Mara at the time).


Besides the 250 MXA Shootout, the other big story in the April 1989 issue was an 18-page feature called "The 100 Greatest Motocross Photos."

Okay, I do remember some of the other photogs getting sniffy about the title, claiming that these weren't the "greatest" photos in an artistic sense. We told them that an artistic photo is no good if it doesn't tell a story. These photos told stories. Take this page for instance. There is a photo of Marty Smith getting a big smooch for winning the High School Motocross Championships, a funny shot of Bevo "The Czar of Motocross" Forte with a giant wrench, a great shot of future factory Can-Am and Honda rider Jimmy Ellis powering through a loamy berm aboard his Yamaha SC500, classic crŠme de la crŠme shot of Johnny O'Mara, Rick Johnson and David Bailey celebrating at the MX des Nations, an awesome face plant shot of Jurgen Nilsson and a photo of Doug Mocket and Mike DiPrete, who ran motocross in the late 1970s (some say they ran it into the ground, but we think DiPrete was a good administrator). 

This page was near and dear to me because it not only featured a shot of America's fastest female racer (and my enduring heart throb since 1976) Sue Fish, but it also had a great shot of the Palfreyman brothers jumping their BMX sidehack at the awesome Yarnell downhill course in Sylmar, California (where I also used to race at in my pre-MX days). In later years, both Andy "Bro Sho" Jefferson and a pogo-sticking Doug Dubach would become two of my best moto friends.

For some reason Jody decided to run a picture of me from the 1981 AMA National at Carlsbad when I was wrenching for CMC # 1 Tony Gomez, who was making his AMA National debut.
Tony made the mistake of asking me to be his mechanic instead of his dad Sal. I ruined Tony's day when I not only showed up looking like a sideshow punk rock freak, but worse, I inadvertently dropped the detent spring from the drain plug while changing his oil. No detent spring, no shifting! Sorry Tony. The best thing about being on this page was that it was the closest that I ever got to one of my biggest motocross heroes, the late/great Gaylon Mosier. In the continuing MXA hi-jinks that was Lance Moorewood, he is shown jumping over former pro racer/MXA editor David Gerig for some laughs.

How about this shot of mad scientist Dave Miller with his hopped-up shopping cart?
Like Donny Emler before him (who Dave apprenticed with) Dave Miller typified the wild side of the SoCal go-fast wars with his Miller Mano (later DMC) products and concept bikes. Speaking of SoCal, two of its more famous riders ? Marty Tripes and Warren Reid ? were shown abusing their race bikes in different ways, Marty by bottoming out his factory Honda and Warren by leaping up Suicide Mountain at what was then the world's greatest motorcycle playground and racetrack, Saddleback Park.

Does anyone remember Apico gear? Unless you were a big fan of David Thorpe or Jeff Leisk, probably not. Flagrantly colorful with that pure Euro look, Apico was brought into the states by longtime motocross product distributor and team sponsor, TUF Racing. The Apico Airflex pants featured a built-in kidney belt and sold for $105.

While the CMC Golden State Series was taking place in Northern California, I covered the the first round of the Goat Breker-promoted California Winter Series from Perris Raceway. That's Larry Brooks in the photo. Not only was this former factory rider Goat's first foray into the world of race promoting, it was also the first race for a new French import by the name of Jean-Michel Bayle.
The MXA story started off with a color shot of Honda privateer Larry Brooks racing back through the pack after two miserable starts. In the end, Jeff Matiasevich took the 125 win over future offroad hero Ty Davis, while Bayle took the 250 class win over Jeff Stanton and Johnny O'Mara. Local hero "Radical Ron" Turner took the 500 class and future Team Kawasaki road race manager Mike Preston took the Vet class over Turner, Gary Semics, Gary Jones and former CMC # 1, Val Tamietti.

Wait, did I say the Apico gear was flagrantly colorful? How about these race duds from Clover? Three-time World Champ Eric Geboers might think that "Victory Begins With a Dream," but those three outfits seem downright nightmarish if you ask me.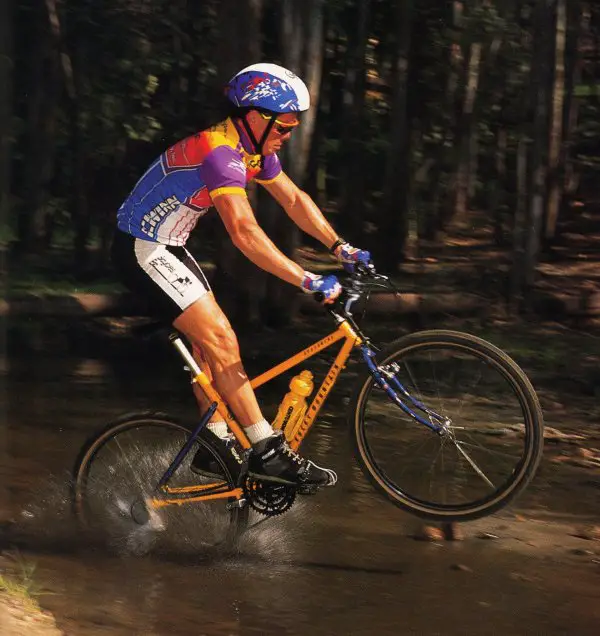 Back in 1989 Jody and I were running both MXA and Mountain Bike Action. MBA was the industry leader when it came to testing new bikes and products. Since many of the top AMA Pro riders were just beginning to discover mountain bikes as an efficient training tool we featured a story in MXA introducing the growing sport to the motocross world. Jeff Ward is shown blitzing through a stream.
The story started off with a photo of a MBA test rider named John Tomac and a comparison between a Honda CR250 that sold for $4000 and a Univega Alpina Pro that sold for $700 (and weighed 28 poinds). Today, a high-end mountain bike costs more than a brand-new Honda CRF450 and weigh about 19 pounds. John Tomac had a great bicycle career and his son, Eli, is following in his dad's footsteps in motocross. We also took Jeff Ward (above) out into the wilds of of Irvine to shoot photos along with Mike Bell, who at the time had transitioned from factory motocross racer to a successful Expert class mountain biker. Even on a mountain bike Wardy exhibited picture perfect style as he wheelied across a creek.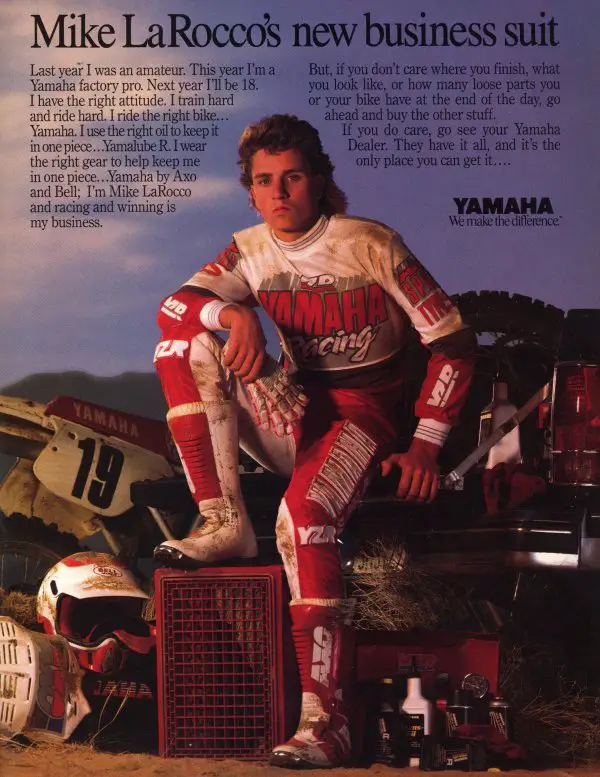 Yamaha partnered with AXO to help get their new line of race gear going and the ad featured 17-year-old rookie Pro Mike LaRocco who was sporting a sweet coif.

Besides the race action out west, the April 1989 issue also featured Todd Smith's coverage from round one of the 19th annual Florida Series and started off with a shot of TUF Suzuki rider Keith Bowen battling Mike LaRocco. Bowen would end up third behind LaRocco and race winner Damon Bradshaw. John Kitsch took the 125 class with future offroad rider Fred Andrews taking the Open class.

Larry Brooks returned for an encore performance in this issue when he showed up modeling Thor's new $134.95 Viking line of race gear. How about all that pink!

MXA heralded a truly "Great Moment" with recently crowned 500cc World Champion Eric Geboers. That the Belgian rider had won the Open class title that year was not so much a feat in itself as it was his making history by becoming the first rider to ever win a world title in all three classes (125, 250 and 500). His titles in the 125 and 250 class came when he raced for Team Suzuki. Oddly, Eric thought a great way to celebrate was to jump out of an airplane!