MOTOCROSS ACTION CLASSICS: DECEMBER 1976 ISSUE
By: Zap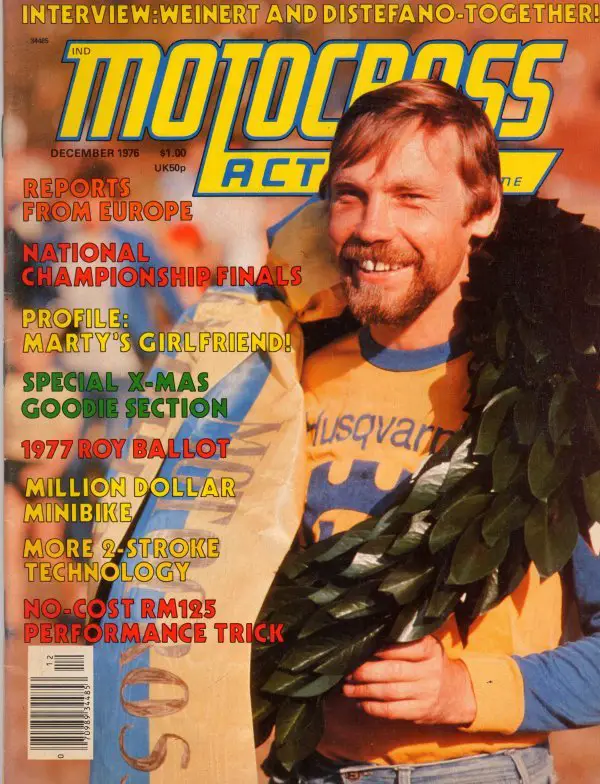 At various times in his career, Finland's Heikki Mikkola was known as both the  "Flyin' Finn" and the "Fierce Finn." He was in fact, a little of both, but after winning the 1976 250 World Championship title, Mikkola showed up on the cover determined to forever be known as the "Smilin' Finn." With his overall victory, Mikkola, who would later get hired by Yamaha and win two 500cc world titles (1977-1978) for them. All in all, Mikkola won the 1974 500 World Championship, 1976 250 World Championship and the 1977 and 1978 500 titles (he was the first rider in two different classes
).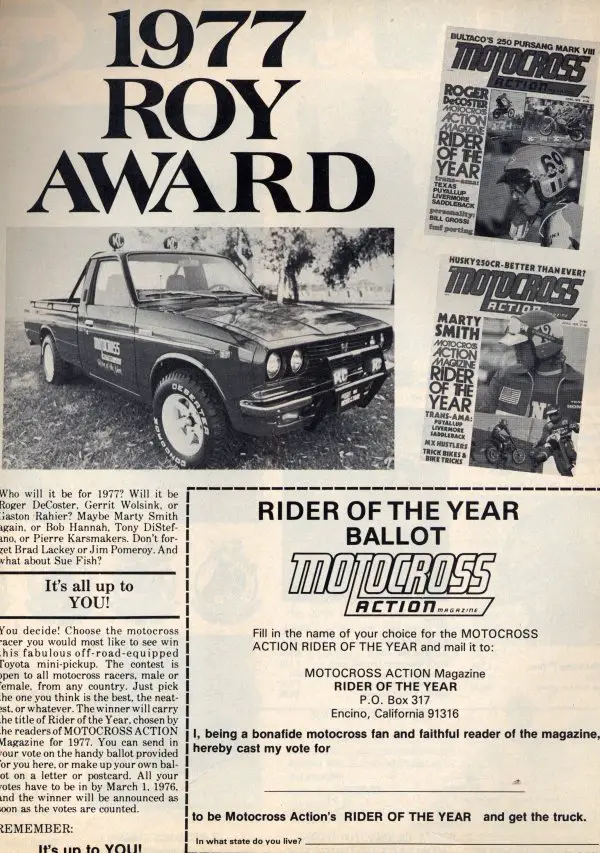 Back in the day Motocross Action used to sponsor a "Rider of The Year Award" with votes generated from the rabid MX fans. The winner of each RoY contest won a decked-out Toyota pickup truck. This was the third year running of the contest which had already been won by Roger DeCoster in 1974 and Marty Smith in 1975.  
The late 70's marked the heyday of motocross hop-up companies in Southern California and between the alphabet shops (FMF, D&G, PDI, T&M). There was also a rash of new shops started by racers themselves ? or as was often the case, their enterprising dads. AJ Racing Products was named after up-and-coming mini sensation AJ Whiting, who would later ride for Team Tamm. Owing to the simpler times it was back then, I'll never forget the time AJ's dad Art drove to my parents house in the Hollywood Hills to deliver a new down pipe for my brother's JT-1 Mini Enduro ? now that was service!
New Jersey's own Mickey Kessler tries an aerial block pass to start off the coverage of  the 125 AMA National held in San Antonio, Texas. Already five rounds in, Yamaha's Bob Hannah had built a nearly insurmountable points lead with another win here aboard his exotic water-cooled OW Yamaha while reigning champ Marty Smith was forced to make due with a hopped-up production bike when Honda pulled his super trick RC125 from the field for fear of it being claimed (the going price to win a factory bike was $2000). Seven of the top ten finishers in the 125 class were all SoCal regulars from the CMC circuit. Penton-mounted Ricky Kidd took both motos of the 250 support class. 
Talk about a power couple! In a very rare occurrence, this issue ran a two-page story not on Marty Smith, but on his then girlfriend Nancy Sauer, who kept the two-time 125 National Champ company as he simultaneously raced the National and GP circuit. The best bit of inside info from the story was Nancy's preference for calling her man – "He's just Martin to me."  Martin and Nancy are still married.
After AJ Whiting and Jeff Ward, Brian Myerscough was another big name SoCal mini rider who decided to start his own go-fast mini shop. The race kit consisted of a pipe, radial head, piston, jersey and a can of sweet smelling Blendzall pre-mix. Myerscough Machine was run by NMA founder Ted Moorewood (father of long-time MXA test rider Lance Moorewood).
Coverage of the 250 Swedish GP featured a two-page spread poster of the fastest Marxist/Leninist racer that Russia had in it's Commie arsenal, Guennady Moisseev, who had traded his long-time CZ in for a more modern KTM. Guennady (the 1974 250 World Champ) claimed both moto wins, but couldn't stop Mikkola from taking the title by one point. The win marked Husqvarna's 12th world title and coincidentally, the race was located about 45 minutes from the factory town of Husqvarna. American Jim Pomeroy would card a series fourth overall on his Bultaco.  
Already well known as one of the best hop-up shops in SoCal, D&G decided to run a page of all their moto related schwag. How about a new helmet (with graphics kit) selling for $49?


This is issue was obviously dedicated to smiling, newly crowned Husqvarna riding champs. After Mikkola on the cover, MXA's coverage of the AMA National finals started off with a full pager of Maico's Gaylon Mosier (who almost won the first moto). The Wheelsmith Maico-backed rider finished fourth overall on the day and ninth in the series. But, the day's biggest drama surrounded the close battle between championship contenders Kent Howerton and Gary Semics with the title going to… 
…a smiling Kent Howerton, who in later years was lured away from Husky by Suzuki to win three 250 National Championship titles as well as the wrath of of Bob Hannah during the Saadleback National (shown below).

MASSACRE AT SADDLEBACK DVD