MOTOCROSS ACTION CLASSICS: FEBRUARY 1988 ISSUE
By: Zap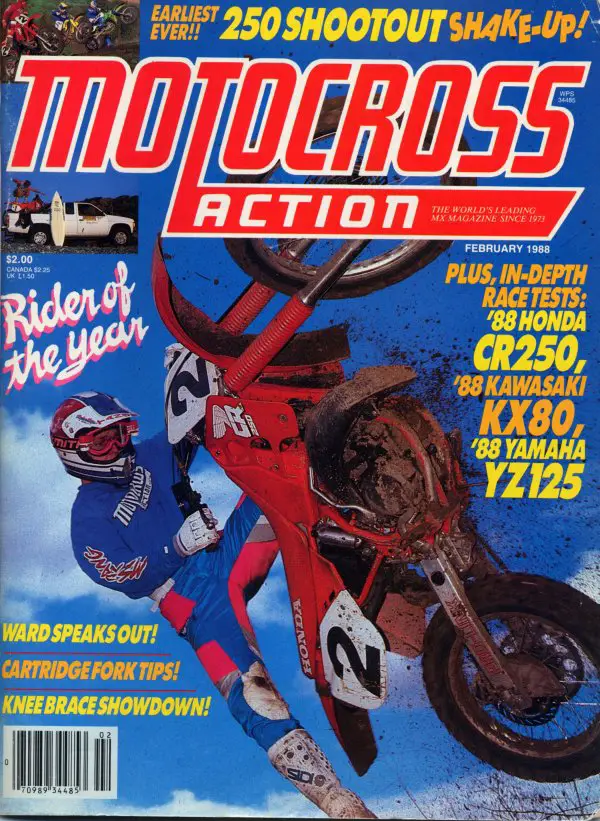 This was, of course, a big issue as it had the 1988

MXA

250 Shootout inside, which was always one of the biggest sellers of the year.  I'll always hold this sky shot of Doug O'Donnell close to my heart as it was my first-ever cover shot for

MXA

. By some stroke of luck I out dueled Todd Smith (who was a far better photographer than I) for the trifecta of cover shots. In the upper left corner there was a small shot of then-

MXA

test riders

Larry Brooks, Mike Hooker and Paul Winn. There was also a shot of

MXA

's "Rider of the Year," Rick Johnson, but more on that later.
1988 250 SHOOTOUT OVERVIEW:
Yamaha YZ250: " If looks could win races the YZ250 would be on top of the motocross charts. But looks don't win races, so Yamaha went ahead and built a winning machine. In stock trim the YZ is the best production 250 of 1988."
Kawasaki KX250: "The green machine is the horsepower champ of the year. Awesome vibes from the bottom to the middle. Quick delivery on the low end would help, but nothing beats raw ponies."
Honda CR250R: "After being the dominant 250 motocrosser for the last four years, Honda took the long fall out of the top spot. Even worse, it has fallen out of the top two (behind Yamaha and Kawasaki)."
Suzuki RM250: "A good bike with excellent rear suspension, the Suzuki RM250 is competitive, but not omnipotent. It's worst flaw is poor handling, which can't be fixed with ready cash."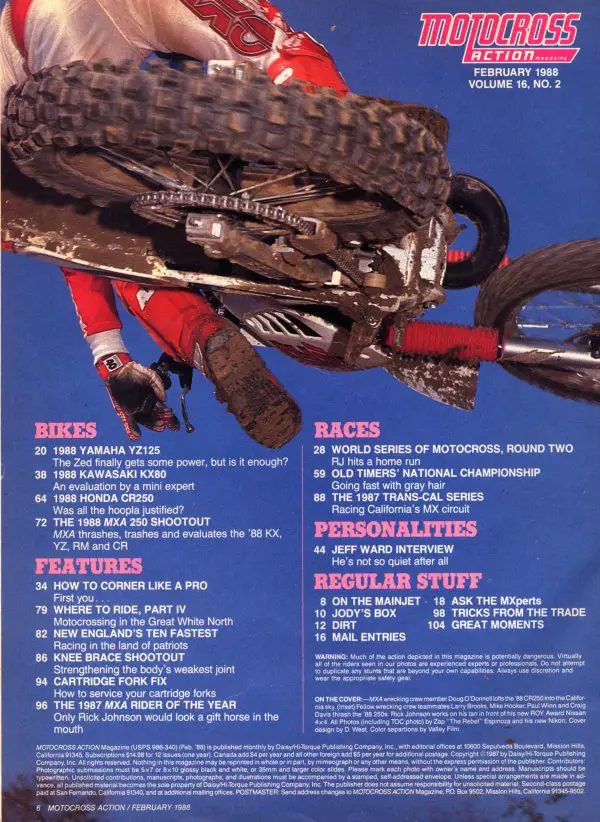 After my shot got chosen for the cover, I also managed to crawl underneath a jumping Larry Brooks for the Table of Contents shot of him aboard the new YZ125. Big news for the '88 model was a new and improved clutch, relocated power valve, Ohlins (type) shock, a rear disc to finally replace the drum brake, and best of all, a new powerband.
QUOTE: "For 1988 Yamaha is producing the most competitive 125 since 1980. This bike can win races and it doesn't take a back seat to any of the red, green or yellow bikes."
Besides his dominating on-track rides, Rick Johnson was also making a name for himself off the track with some quasi-controversial ads. Although not nearly as talked about hisnude "Rodin's Thinker" ad for Fox (which Fox repeated this month with Ryan Dungey), this Oakley ad was still pretty eye-catching given RJ's name brand as a star rider
This month's Euro race action was highlighted with round two coverage of the three-race World Series of Motocross, which was a sort of like the Motocross des Nations turned into a seven-race series. The only problem was that the hastily arranged series was unable to pull all the talent and factory interest that the promoters were hoping for. Still some big names showed up at intermittent rounds. We covered race # 2 from Maggiora, Italy, and Honda's Rick Johnson roundly beat the Euros and took the series lead (after also winning round one). Italian rider Michele Fanton got the full page photo from the race, but finished outside the top ten.
The February 1988 issue also contained a knee brace shootout which compelled Innovation Sports to run their equally eye catching (and stomach turning) ad that featured a rider enduring a level of pain that most of us don't even want to think about. In later years, Innovation Sports would sell out to a Dutch medical firm.
Although he got aced out of the cover shots, Todd Smith proved capable enough to land a great photo and interview with Jeff Ward. Ten years into his Pro career, Jeff had already racked up one 125 outdoor, two 250 Supercross and two MX des Nations titles with plenty more to come. In the interview Wardy talked about his plans to race in Europe (he never did), if the Euros could ever beat the Americans (no), if he was among the best riders of all time (he didn't think so), if he modeled himself after Marty Smith (he did) and who the slowest of the fast guys was (Ron Lechien). Eventually, Jeff Ward would rate as one of America's greatest riders ever with a winning career that would span over four decades.
QUOTE: "Usually I got lapped and had to fight to stay out of last place. I knew I'd make it, but I knew it would take time." Jeff Ward on the early years.
By the time the February 1988 issue came out both the 1987 Nationals and Supercross seasons were long over. Luckily, there was the CMC-promoted seven-race Trans-Cal series. The story from the final race at Carlsbad Raceway followed the series long Intermediate class battle between California Yamaha riders Erick Hilton and Steve Lamson. Lamson would take both 125 and 250 class titles before going on to become a 125 National Champion with Team Honda. Yamaha used the Trans-Cal to fly their Michigan-bred up & comer Jeff Stanton out to do some race testing of the 1988 race bikes. Ty Davis took the 125 Pro class title and some kid named Mike Metzger took the 60cc 9-11class title on his Kawasaki.
QUOTE: "Racing two classes for seven weeks was difficult, so winning both classes was a real achievement for me and my family. This was my last race as an Intermediate and I'm really looking forward to turning Pro. I think I'll do well in the Pro class because I'm into racing 100 percent and all I want now is a factory ride." Steve Lamson.
We also ran an update on the who's who of racing in New England. In the story we noted that after California, the six states that comprised "New England" had the second most number of riders running two-digit plates on the AMA circuit. Among them was the reigning (and seven-time) NESC champ Joe Waddington, who a few years later would make the move to California where he became a frequent member of the

MXA

wrecking crew. Here, David Rudniki gets a holeshot on a typically rocky New England track.
Ah yes, the infamous

MXA

Rider of the Year photo shoot with Rick Johnson and his new Nissan King Cab 4×4 truck prize. As I said earlier, Todd Smith was

MXA

's chief in-house photog back then and for this job I was there acting as his Mexican back-up. For this all-important photo shoot with the #1 rider in the world, we hurriedly drove RJ's new truck out onto the beach near San Diego to get the job done before the sun went down and/or we were arrested for trespassing. Todd began shooting away getting all the best shots while I stood on the sideline getting some indiscriminate shots. Pose after pose Todd fired away…only to find out that he had forgotten to put film in his camera. Doh! While RJ shook his head in disbelief, we all had a good laugh. This was actually RJ's second

MXA

"Rider of the Year" truck and for the previous photo shoot we made the "Bad Boy" to come to my hometown of Hollywood to shoot the truck in front of the Palace nightclub. Good times.
A variety of two-stroke pipes (aka expansion chambers) filled the

Tricks From the Trade

section. Check the names: PSI, Krause, Crotch Rocket Factory, Banzai Bros. and a little company named Pro Circuit. Here it is almost 25 years later and the two-stroke market is making a comeback. Braaap!