MOTOCROSS ACTION FLASHBACK! HOW THE "THE LITTLE SHOP THAT COULD" GOT STARTED
THIS IS PRO CIRCUIT'S 1980 12-PAGE CATALOG WITH JEFF JENNINGS ON THE COVER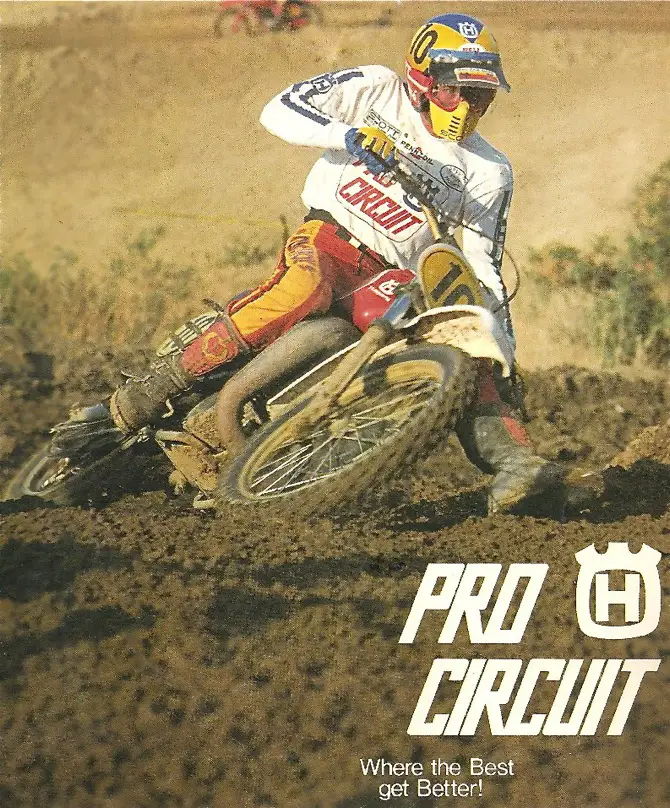 Most people don't remember Jeff Jennings, but he was the rider that Team Suzuki hired when they lost Bob Hannah to Yamaha. David Bailey once said that Jeff Jennings was "the most stylish rider I have ever seen."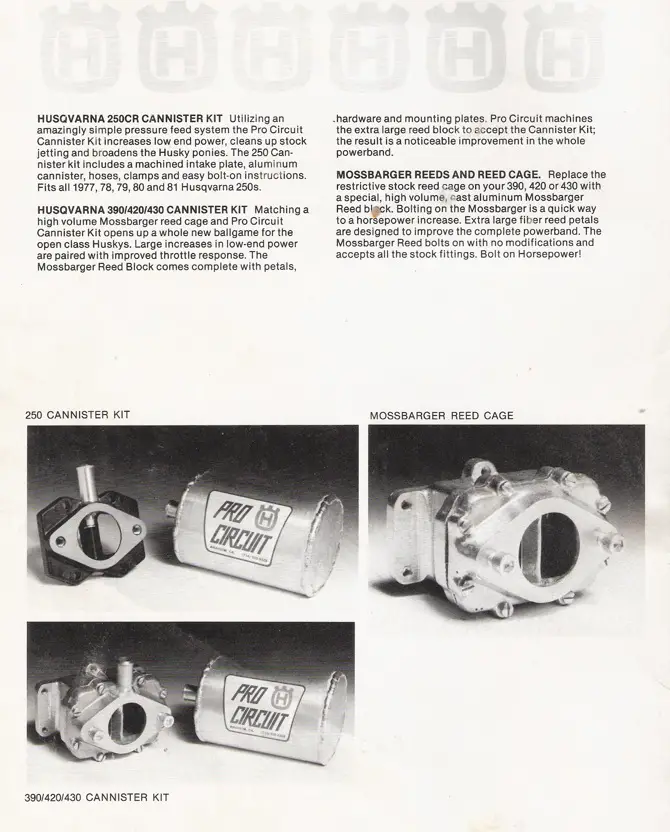 This page is like a time capsule back to 1980. It features hand-welded aluminum boost bottles and Mossbarger reeds for Husqvarna 250, 390, 420 and 430 models.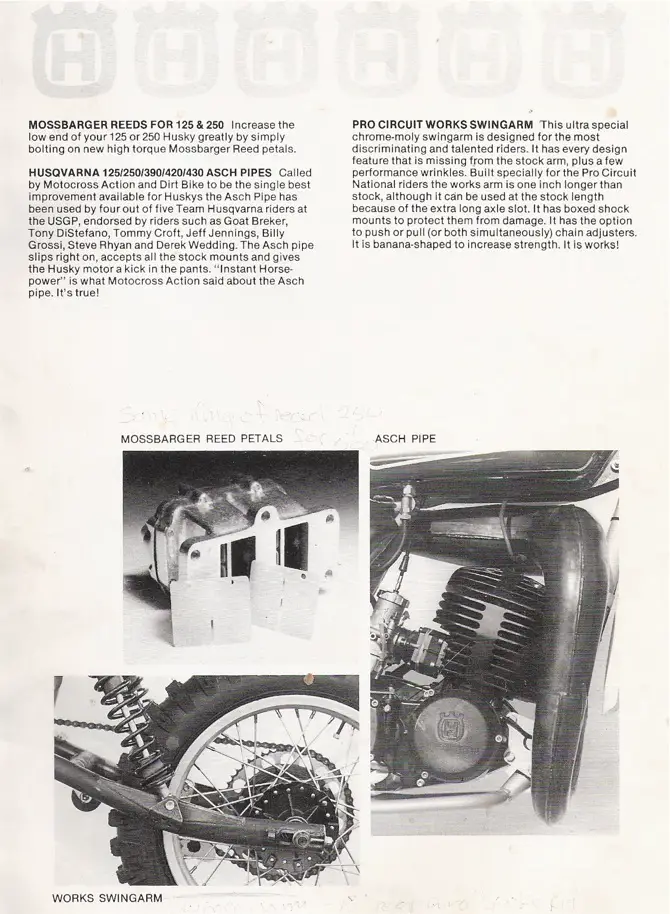 Pro Circuit started out having their exhaust pipes developed by Rick Asch, currently of Team Kawasaki. Asch did the specs for Mitch Payton and Pro Circuit built the pipes. Later, when Rick got busy at the Kawasaki team, Mitch took over the R&D.

Chain guides and chain rollers were very important in the late 1970s and early 1980s because bikes of this generation threw their chains all the time.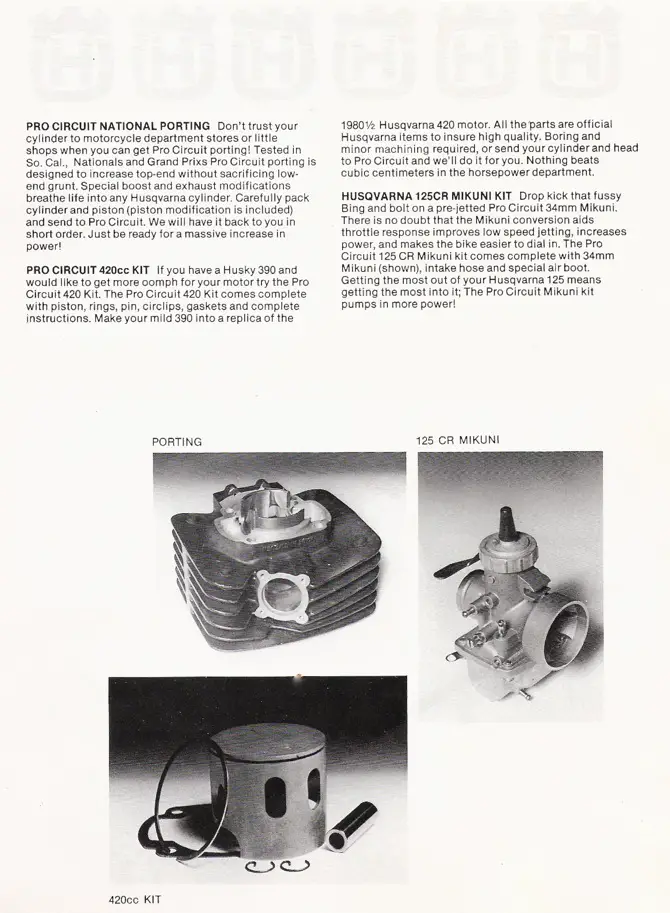 Mitch Payton rose to fame as an engine tuner by porting Husqvarna cylinders. If he could make Huskys fast, then he could make anything fast. Mitch also sold a big-bore kit that turned a 390CR into a 420CR. And a replacement Mikuni for the CR125's Bing carb.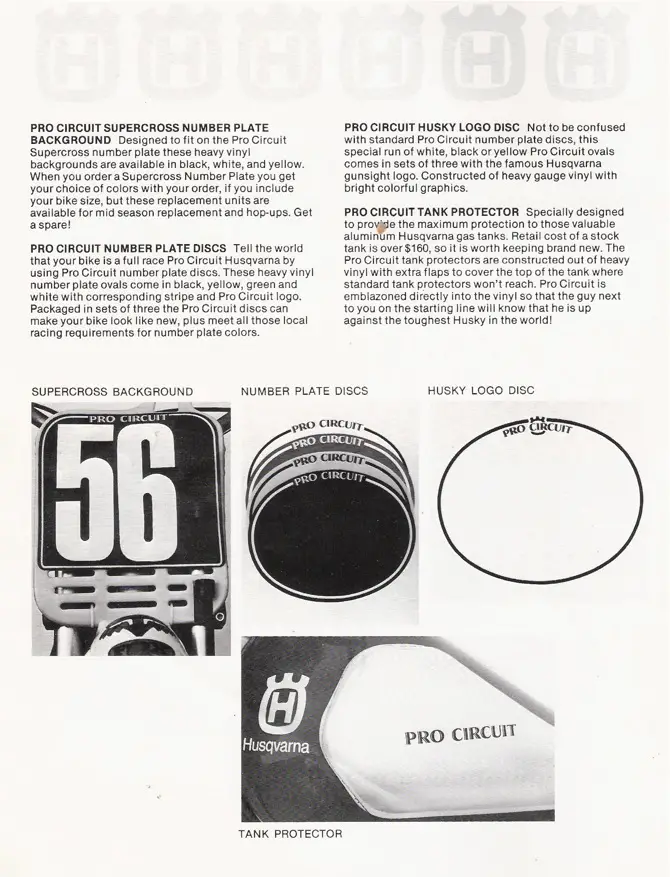 Pro Circuit sold numbers and number plates for Husqvarnas.

In 1979 the old-fashioned round number plates were mounted next to the airbox. The FIM banned them because they couldn't be read by the scorekeepers. Pro Circuit responded with a plastic side panel that moved the numbers behind the rider's leg.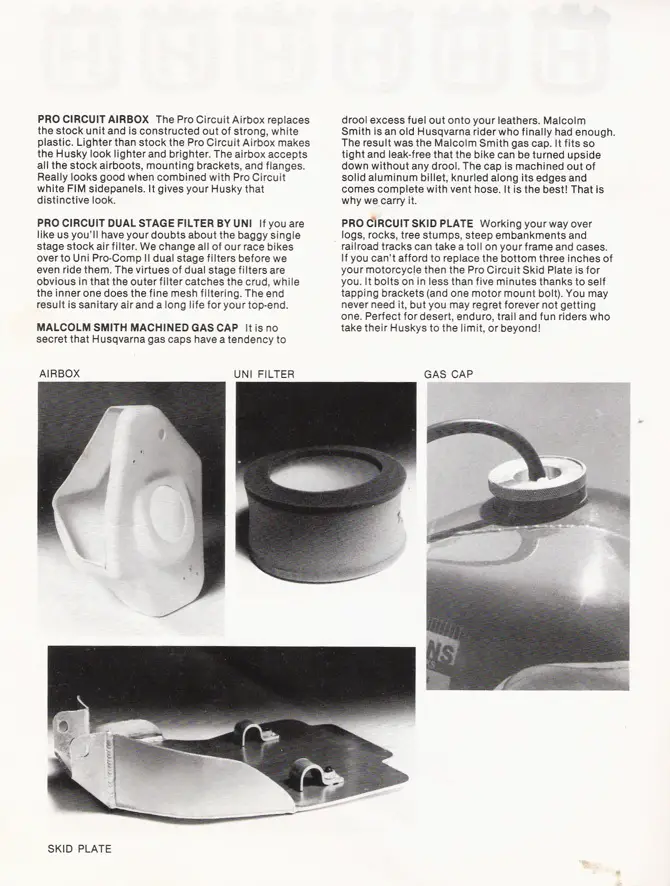 Pro Circuit sold a special lightweight airbox, along with the requisite Malcolm Smith aluminum gas cap, skid plate and Uni air filter.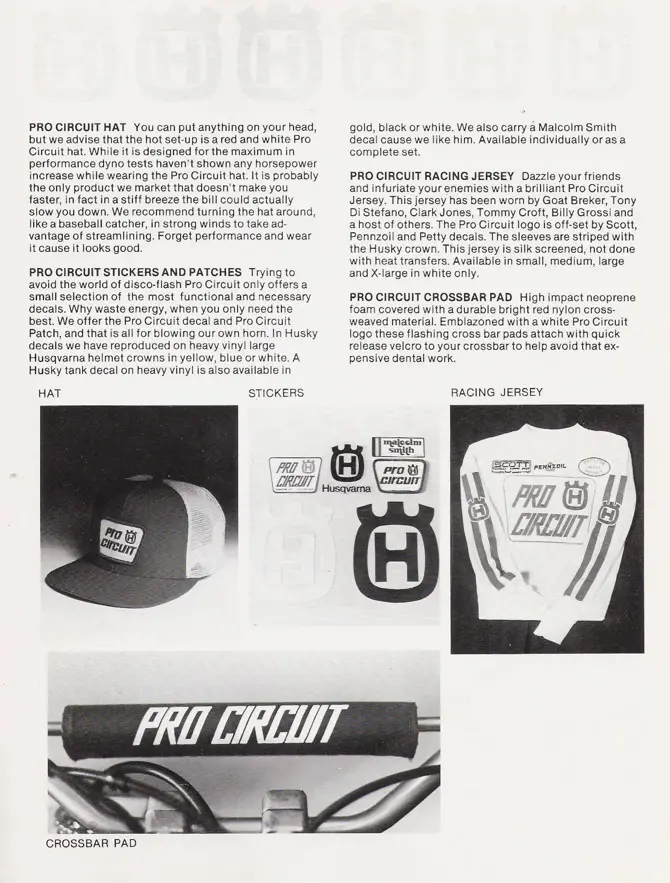 Pro Circuit doesn't use its old logo anymore, but it's Superman-style crest was very popular in the 1980s.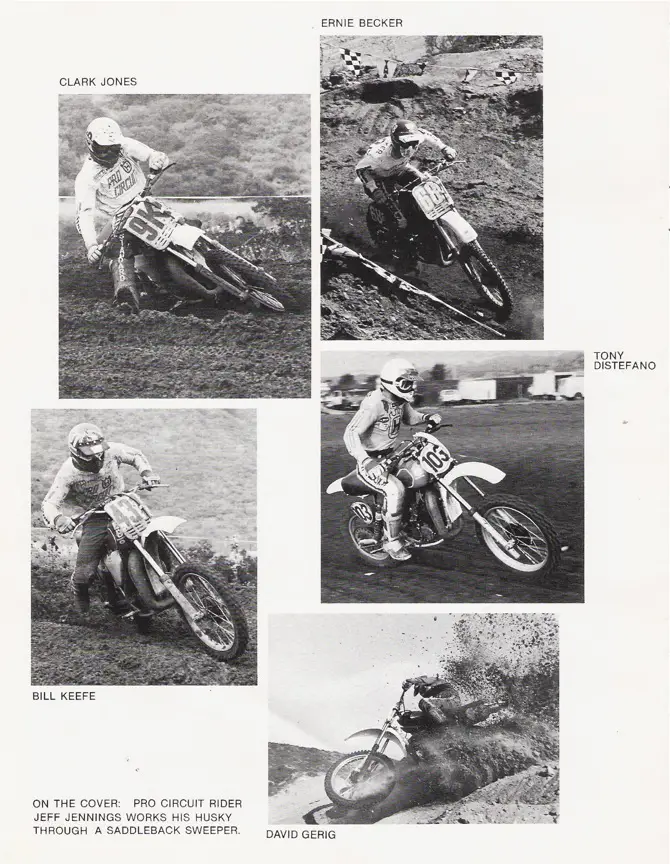 Tony DiStefano, Jeff Jennings, Clark Jones, Ernie Becker, David Gerig and Bill Keefe raced for Pro Circuit this year. Clark is now the MotoConcept team manager. Bill Keefe was the Canidae Kawasaki team manager and is now the General Manager of Troy Lee Designs. Ernie Becker races sports cars (and still races at Glen Helen). David Gerig was one of a host of MXA test riders who raced for Mitch.

Troy Lee, Mike Monaghan and Steve Wiseman were Pro Circuit regulars. Pro Circuit build a single-shock Husky five years before the Husky factory did.