MOTOCROSS ACTION INTERVIEW: ROGER DECOSTER ON THE CYCLES OF LIFE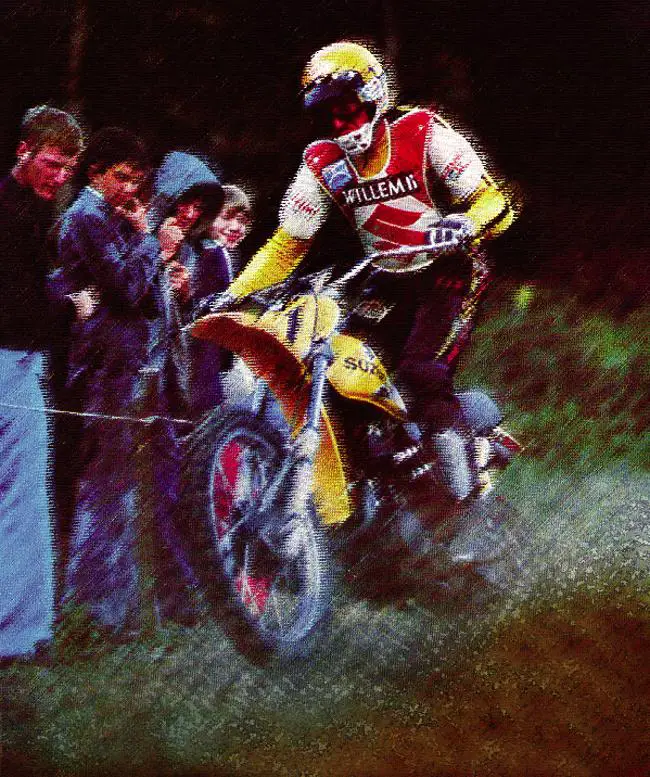 As it was and evermore shall be? The Man.
What goes around, comes around. Bad things come in threes. What goes up must come down. You can't win 'em all. All's fair in love and war. There is an innate desire to boil life's experiences down to easy-to-remember clich'es. Our natural tendency is to view the events of our lives as cyclical, despite the obvious impossibility of all circumstances ever being repeated in the same exact pattern. But with scientific support in the form of lunar cycles, ant colonies and overly long Oscar ceremonies, the inherent tendency to see cycles in our lives take on more significance than simple coincidence can explain. And that goes for the repetitive life of Roger DeCoster.
The MXA wrecking crew sat down with Roger to discuss a life full of events, full of troubles, full of change and full of challenges. If it seems as though DeCoster is always repeating himself, perhaps life really is a merry-go-round. In the interest of full disclosure, it should be noted that MXA has a special relationship with Roger DeCoster because he worked for us for two years (between Team Honda and Team Suzuki).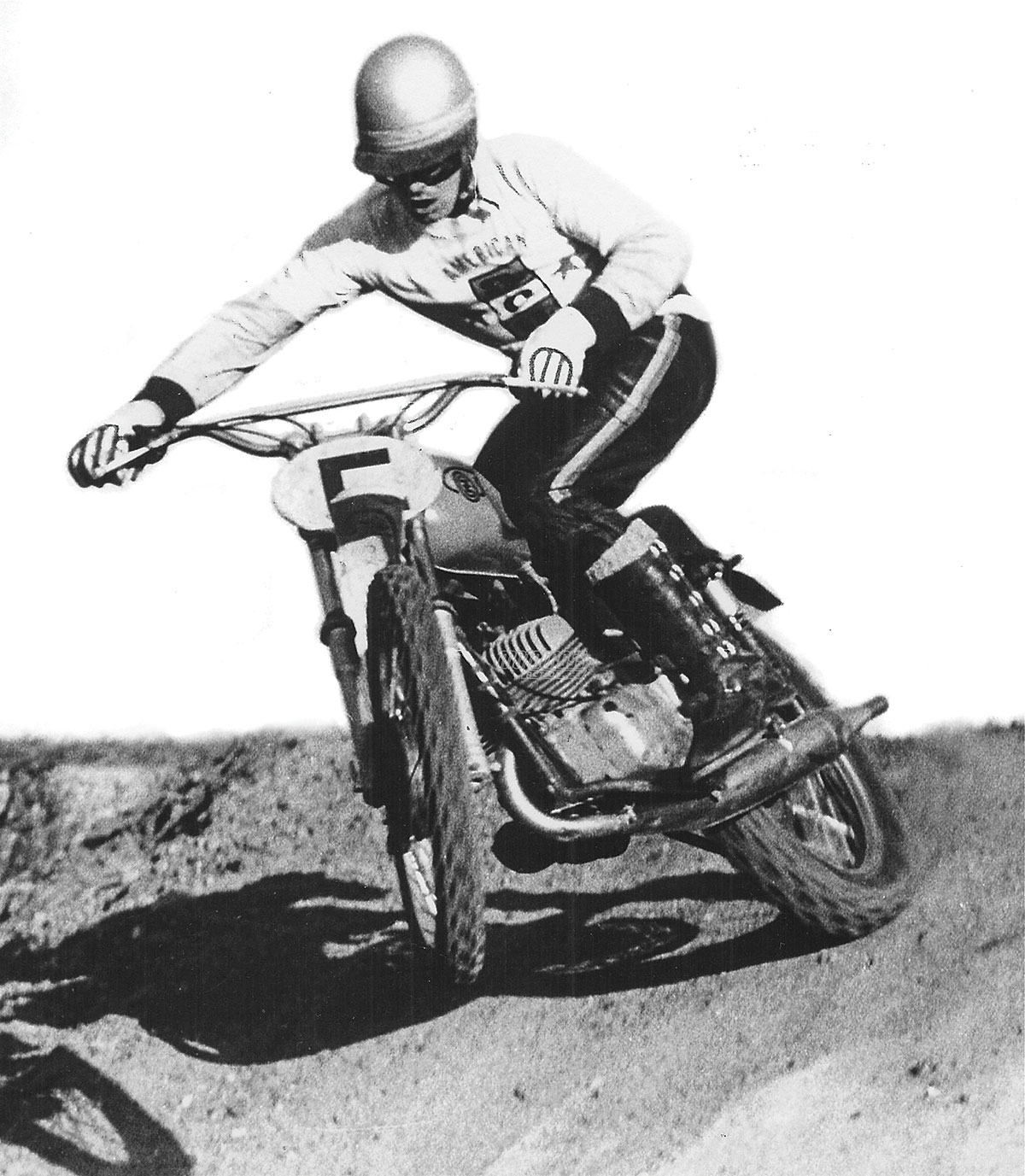 Roger DeCoster on a CZ before he became a five-time 500 World Champion.
"MY MECHANIC, ALL OF THE CZ MECHANICS REALLY, WOULD SELL
THE RIDER'S PARTS ON THE WAY TO THE RACES. THEY
POCKETED THE MONEY."
YOUR FIRST EXPERIENCE DEALING WITH A FACTORY TEAM CAME WHEN YOU RACED FOR CZ. TELL US HOW YOUR TIME AT CZ CAME TO AN END? In 1970, I felt that I could run with Joel Robert and Sylvain Geboers. CZ wanted me to race in the 250 class to try to neutralize the new Suzuki team, which had hired Robert and Geboers away from them. They made me a lot of promises to support me and agreed to provide me with bikes, a mechanic and parts. They also agreed to pay me $5000. I'm still waiting for that check. The Suzukis were amazingly light and very fast compared to my CZ 250. My CZ could run with them on certain types of tracks, but there were always issues. My mechanic, all of the CZ mechanics really, would sell the rider's parts on the way to the races. They pocketed the money. At the end of the 1970 season, I finished third overall. I felt that I was strong and could beat Joel and Sylvain. I think the Japanese teams saw that too, because they started to talk to me about riding for them.
"THE MIKUNI CARB WAS SUPERIOR TO THE CZ'S JIKOV CARB. WHEN THE JIKOV WAS BRAND NEW, IT WAS A GOOD CARB, BUT IT WORE OUT QUICKLY BECAUSE IT WAS MADE FROM BAD MATERIALS."
HOW DID SUZUKI APPROACH YOU? It wasn't like it is today. We were all very friendly and spent a lot of time socializing. After the last Grand Prix of 1970, Suzuki asked me if I would like to ride Joel Robert's works Suzuki for a few laps on the track. It was a big step above my CZ. It ran clean off the bottom. On the CZ, we had to hold them wide open to clean them out and were often forced to lean the bike over to get it to run clean. The Suzuki was crisp and had great throttle response. The Suzuki's Mikuni carb was superior to the CZ's Jikov carb. When the Jikov was brand new, it was a good carb, but it wore out quickly because it was made from bad materials.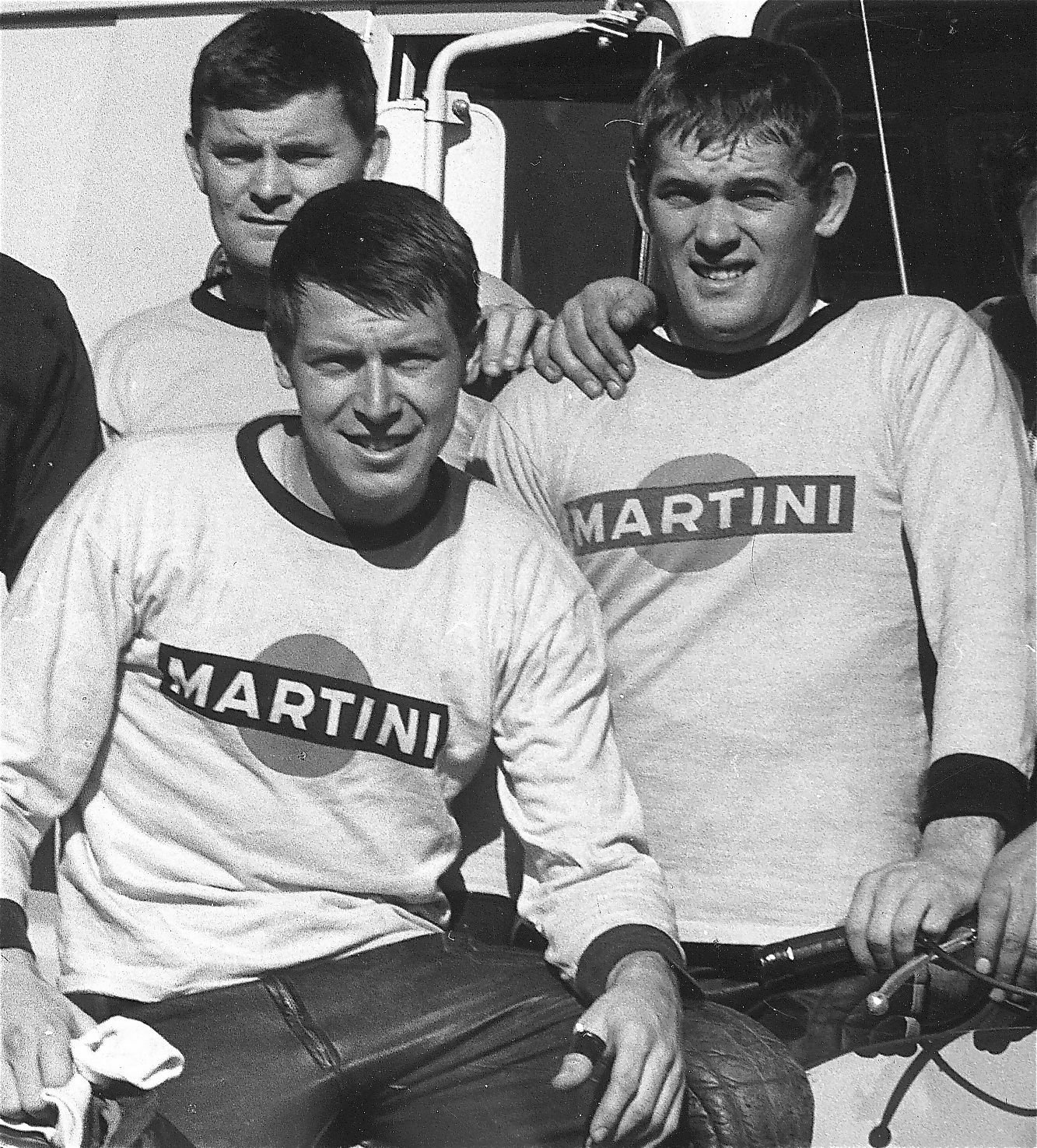 Roger DeCoster, Dave Bickers and Joel Robert were the CZ powerhouse of the late 1960s.
SO, YOU LEFT CZ. THEY DIDN'T PAY YOU, AND YOU MOVED TO SUZUKI? Yes. Suzuki wanted me to race the 250 class with Joel Robert. Sylvain Geboers was going to race the 500 class. But, Sylvain didn't want to race the 500 class because he didn't think that the Suzuki 370 had been tested enough. So, even though they hired me as a 250 rider, I was moved to the 500 class for 1971. They sent me two bikes and some parts for the preseason races, but I didn't see my actual race bike until the Friday of the first GP of the year in Italy. They sent two bikes, a mechanic and a translator. I went 1-1. It was the first time that a Japanese-built bike had won a 500 GP.
YOU HAD A NINE-YEAR RUN AT TEAM SUZUKI. WHY DID THE RELATIONSHIP SOUR? Over my last few seasons with Suzuki, we hadn't been winning. The guys who were running the team thought that they needed to get younger riders. I was 36 at the time, but I didn't think that Gerard Rond or Jean-Jacque Bruno were better than I was. The bike just wasn't as good as what Honda and Yamaha had.
"HONDA HAD TALKED TO ME ABOUT RIDING FOR THEM, BUT I TOLD THEM THAT I WAS HAPPY AT SUZUKI. THEN, AT THE END OF THE 1979 SEASON, I COULDN'T GET SUZUKI TO TELL ME ANYTHING."
DID SUZUKI FIRE YOU AT THE END OF THE 1979 SEASON? No. I always thought that I was going to be with Suzuki for the rest of my career. Honda had talked to me several times before that about riding for them, but I told them that I was happy at Suzuki. Then, at the end of the 1979 season, I couldn't get Suzuki to tell me anything. My contract was up for renewal, but every time I asked them about it, they shrugged it off. They wouldn't tell me if they were going to renew the contract, but they also wouldn't tell me that they weren't. I was frustrated because my relationship with them had never been this cold.
HOW DID YOU END UP AT TEAM HONDA? The next time Honda called, I told them that I might be interested in talking to them. They invited me to Japan. But, before I went to Honda, I flew to Hamamatsu to ask the Suzuki race managers about the 1980 season. They seemed embarrassed and wouldn't give me an answer. So, I left Hamamatsu and went straight to Tokyo to meet with Team Honda. They made me a good offer. It wasn't about the money, because they agreed to pay me the same amount that I was making at Suzuki, but they said that they would give me a three-year contract and that I could race one year, two years or three years, and when I was done racing they would give me a position in race management. They also said that I could test new bikes, work with young riders and have a career after my racing days were over.
SO, YOU SIGNED WITH TEAM HONDA FOR 1980? Yes. I raced the 1980 GP series for Team Honda. I finished fifth overall and won the final Grand Prix of my racing career. Then, I flew to America to start working on the American team for 1981.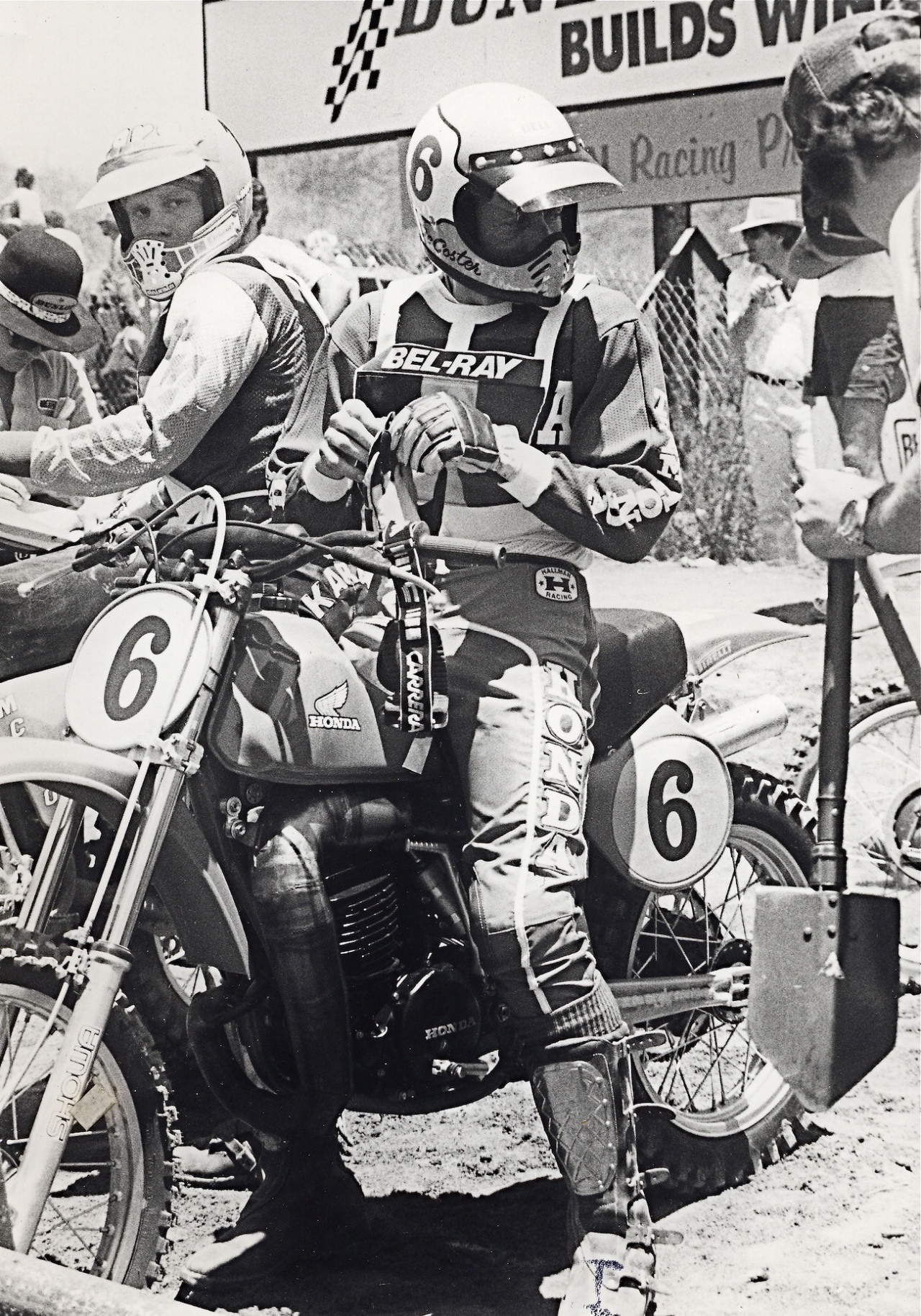 Roger raced his final year on the 500 GP circuit for Honda—and won the last-ever Grand Prix he raced.
HOW WERE YOUR 13 YEARS AT TEAM HONDA? I had a fantastic time at Honda. We tried lots of creative things, won lots of races and set the standard by which all race teams were measured. Best of all, when the production rule was put into effect, Dave Arnold and I were heavily involved in the development of the production CRs. It was a great time.
"HONDA STARTED TO CHANGE. IT GOT HARDER TO GET THINGS DONE. THE MEN WHO HIRED ME HAD MOVED TO DIFFERENT DEPARTMENTS. IT
JUST WASN'T THE SAME AS IT WAS IN THE 1980s."
BUT, JUST AS WITH CZ AND SUZUKI, IT ALL CAME TO AN END. WHAT HAPPENED AT HONDA? In the 1990s, the sales department got more involved in racing. Honda started to change. It got harder to get things done. The men who hired me had moved to different departments. It just wasn't the same as it was in the 1980s. I had been there for a long time, and even though Team Honda was a great success, there were a lot of people at Honda who didn't think that I was important. I can understand that on some level. The team was powerful. The bikes were good. We were winning. Although I felt that I had done a lot to make that happen, they just saw the success, not the people behind it. So, they didn't renew my contract for 1993.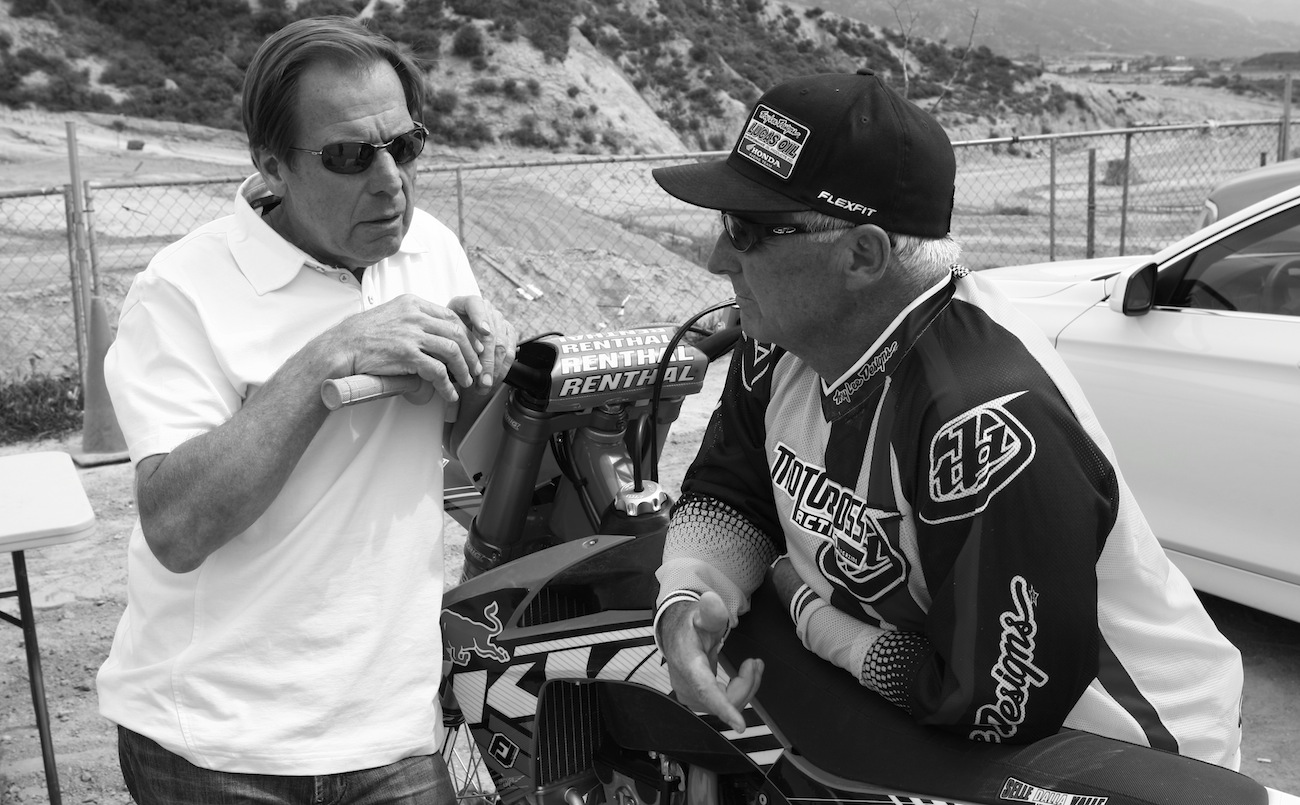 Roger and Jody Weisel (right) go way back, which is why when Roger left Team Honda, Jody immediately got him a job at MXA and Dirt Bike magazines.
THAT'S WHEN THE MOST ILLUSTRIOUS PART OF YOUR CAREER HAPPENED. It is true that working at MXA gave me the opportunity to take a break from the week-in/week-out grind of racing. I had never had any kind of normal schedule. Working for MXA was fun. It allowed me to test every bike made and see the sport from a different perspective. It was a good time.
BUT, YOU LEFT MXA? Sylvain Geboers was running Suzuki's Grand Prix team, and he contacted me about coming to work for Suzuki USA. He told me that Japan wanted me back. They asked me to come to Japan to talk about taking over Team Suzuki. They had all of the people that I worked with when I was at Suzuki in the 1970s meet me at a reception. It was like a reunion. It was very cool. It was a smart move on their part, because it made me forget the bad times with Suzuki and remember the good times.
"IT ALL SEEMED SO ROSY, BUT WHEN I GOT TO SUZUKI, I DISCOVERED THAT THERE WASN'T EVEN A RACE SHOP. THE TEAM WAS WORKING OUT OF
THE BACK OF THE WAREHOUSE IN THE PARKING LOT."
SO, YOU CAME BACK TO SUZUKI AFTER BEING GONE FOR 15 YEARS? They gave me a three-year contract. They made me a lot of promises about how things were going to be and the level of support they were going to supply. It all seemed so rosy, but when I got to U.S. Suzuki, I discovered that there wasn't even a race shop. The team was working out of the back of the warehouse in the parking lot.
THAT HAD TO BE A SHOCK. My first few years at Suzuki were very tough. I didn't feel that the people at Suzuki—the bosses in Japan, the managers in America, the mechanics or the riders believed that Suzuki could win. They had an inferiority complex. It's hard to work for people who don't want to put out a full effort.
BUT DIDN'T SUZUKI MAKE YOU PROMISES? Yes, but my every move was thwarted because my bosses at U.S. Suzuki wouldn't fight for the budget we needed to be competitive. We were just treading water.
Jeremy McGrath.
WHAT TURNED SUZUKI AROUND? In 1997, we got Jeremy McGrath. He came to the team very late, and the bike wasn't very good. It needed some work, but Suzuki fought the changes we needed. We were still running the Showa conventional forks. I told them that we needed the stiffer upside-down forks, but they said that their test riders didn't think so. I told them that their test riders weren't hitting the kind of jumps that American Supercross riders were, and that the whole process of testing in Japan wasn't rigorous enough to build a bike for an AMA Pro. Shockingly, Jeremy could have won the 1997 Championship. He had some issues with Steve Lamson at the Los Angeles Coliseum and a flat tire at Charlotte and, in the end, we only lost the Supercross Championship by seven points.
THAT SEEMED LIKE A GOOD START, WHY DIDN'T IT WORK OUT? The whole process demoralized Jeremy McGrath. He really didn't even put out a full effort in the 1997 AMA Nationals. To keep him for 1998, I needed to be able to get the full support of the Japanese factory. I asked for it, but they ignored my requests. I told them that if I couldn't offer Jeremy a better bike, more technical help and a full commitment, I couldn't keep him. They didn't respond.
"ONCE THE SUZUKI EXECUTIVES IN JAPAN HEARD THAT JEREMY SIGNED WITH YAMAHA FOR 1998, THEY CALLED ME AND TOLD ME TO OFFER HIM $1,000,000. THAT HORSE HAD ALREADY LEFT THE BARN."
WHAT HAPPENED WHEN JEREMY McGRATH LEFT SUZUKI? It had a negative impact on the whole company. It severely damaged our reputation?which wasn't that good before that. As always, once the Suzuki executives in Japan heard that Jeremy signed with Yamaha for 1998, they called me and told me to offer him $1,000,000. That horse had already left the barn. It wasn't about the money. It was about the bike and the team.
WERE YOU BACK TO ZERO AFTER THE JEREMY DEAL WENT BAD? Yes and no. Our bikes started to get better and better in the 1990s. Unfortunately, we couldn't attract the best talent because of our reputation. We had a bunch of riders who didn't amount to much, but our race bikes kept getting better, even when we didn't have good riders. There were some bright spots. We had Travis Pastrana win a 125 title in 2000, but Travis was more interested in being famous. Between the concussions, the freestyle and his parents, he squandered what could have been a great racing career. Then, Greg Albertyn won the 250 title in 1999. He always gave it his all.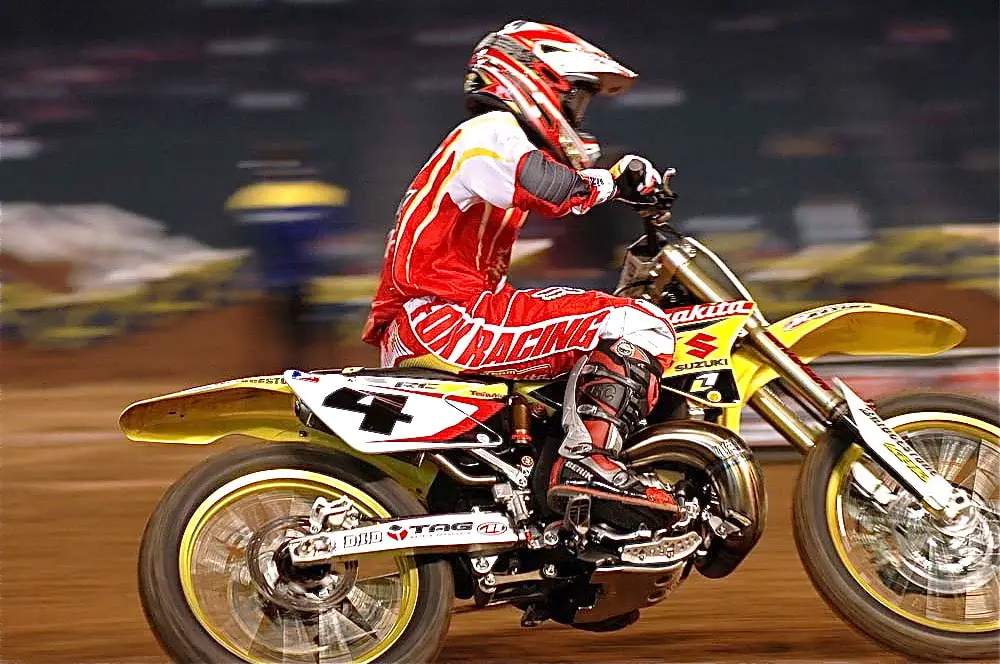 Ricky Carmichael.
HOW DID YOU LAND RICKY CARMICHAEL FROM HONDA? One thing that a racer always knows is how good his competition's bikes are. He may not be riding that bike, but he can tell when a competitor's bike goes through the whoops better, is faster off the start or turns inside lines. Even though we weren't winning races, Ricky saw that our bikes were working.
"RIDERS WHO MAKE DEALS FOR MONEY AREN'T AS SMART AS ONES WHO MAKE DEALS FOR THE BEST BIKE. RICKY IS SMART. HE RAISES
THE GAME OF THE PEOPLE AROUND HIM."
ARE YOU SAYING THAT MONEY WASN'T AN ISSUE IN SIGNING CARMICHAEL? Riders who make deals for money aren't as smart as ones who make deals for the best bike. Ricky is smart. He raises the game of the people around him. He gives his all, and he demands it from the people around him. Ricky was good for Suzuki.
RC WINNING EVERYTHING COULDN'T HAVE HURT? Once Ricky started winning, the atmosphere at the team changed.
BUT, SUZUKI DID THE SAME THING TO YOU IN 2010 THAT THEY DID TO YOU IN 1979, DIDN'T THEY? Yes. In a way, my end at Suzuki in 2010 was the same as 1980. I felt, just as I had in 1979, that I was going to end my career with Suzuki.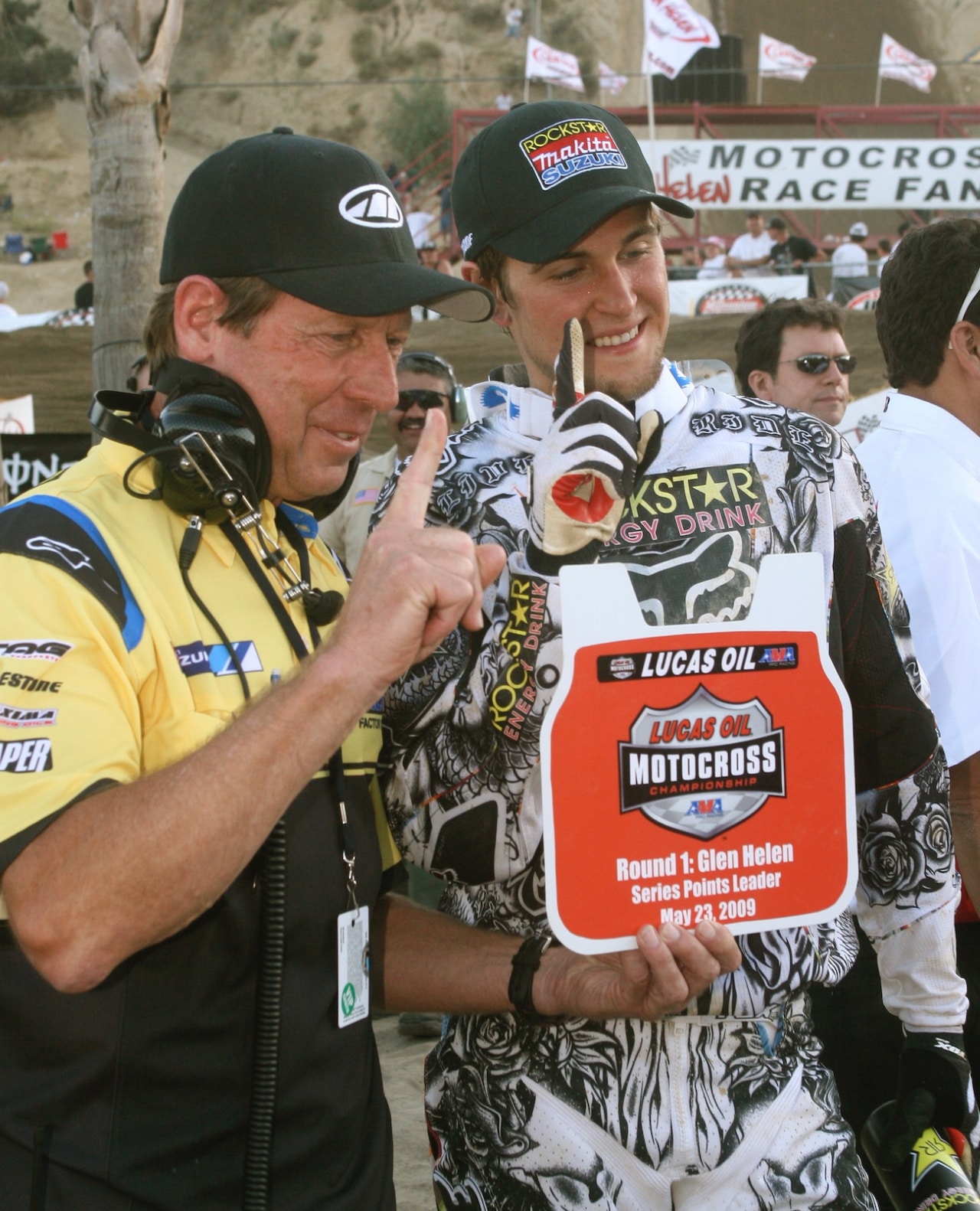 Roger hired Ryan Dungey when Ryan was still an Intermediate. That's like buying Apple stock at $22 a share.
WHAT HAPPENED THE SECOND TIME? In recent years, I have been managing the team and doing the sponsorship deals. I had formed a good relationship with Rockstar and Makita. It was a give-and-take relationship that was working for all of us, but there were people at Suzuki that seemed opposed to the outside sponsors. They didn't want to give the sponsors what they needed. They didn't understand that a deal is a deal.
FOR EXAMPLE? Take Ken Roczen. I had always planned for Ken Roczen to get full factory support from Suzuki when he made the move to the USA to race Supercross. But, as the time got close, Suzuki wanted me to put him at Bill Keefe's support team. Bill has done a great job with his team, but that isn't what we promised Ken. He was a Grand Prix winner who raced for the Suzuki factory team in Europe, and he had been promised that he would get full factory support. I wanted to live up to my word. There were other issues where it was obvious that Suzuki and I weren't on the same page.
AND THEN YOUR CONTRACT CAME UP FOR RENEWAL? I want to be clear that at no time during my time at Team Suzuki had I ever had a one-year deal. So, when contract time came up, I asked Suzuki to have a meeting with me. They told me that I had to meet with Yoshimura—not them. I had a good working relationship with Yoshimura, but I worked for Suzuki.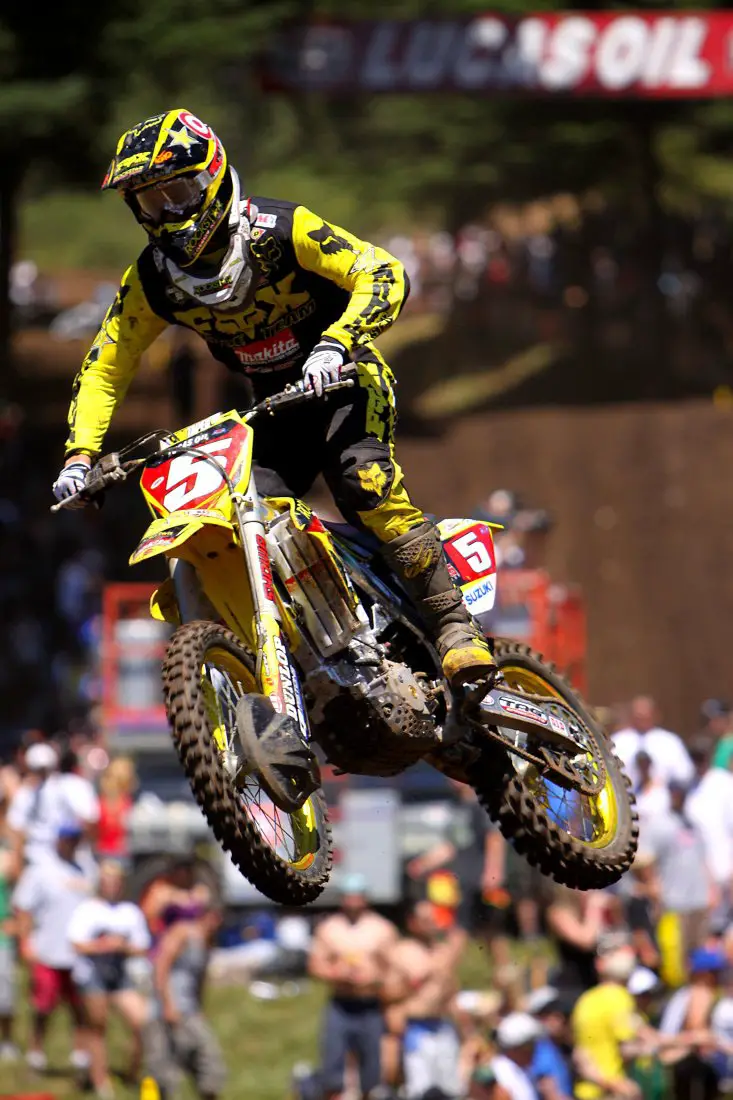 After Roger left Suzuki, Ryan Dungey fulfilled the last year of his Suzuki contract and then joined Roger at KTM.
AND WHAT DID YOSHIMURA TELL YOU? They told me that I could only get a one-year deal. I told them that I wanted a three-year deal. I waited to hear back. In the meantime, I finalized the sponsorship deal with Rockstar and made plans for 2011.
WERE YOUR CONTRACT TROUBLES WITH SUZUKI ABOUT THE MONEY? No. The one-year deal was actually for less money than I was making. I understand the recession and was willing to accept less. A pay cut was no problem as long as it was part of a three-year contract.
"RYAN SENT A LETTER TO SUZUKI ASKING IF I WOULD BE THERE IN 2011
AND EXPRESSING HIS PERSONAL CONCERNS. THEY TOLD
HIM THAT I WOULD BE THERE."
IS IT TRUE THAT RYAN DUNGEY WENT TO BAT FOR YOU WITH SUZUKI? Yes. Ryan sent a letter to Suzuki asking if I would be there in 2011 and expressing his personal concerns. They told him that I would be there.
HOW DID YOU FEEL ABOUT WHAT HAPPENED TO YOU AT TEAM SUZUKI? In many ways I was bummed out. We built this thing together. For many years we struggled, but we had been the winningest factory team in the sport. I think that the Japanese managers don't see a problem until it is in full crisis mode. In Japan the engineers had 30 years to get on the same page as the American riders, tracks and teams. Maybe the decision makers in Japan are out of touch, but my working relationship with their engineers was always very good.
BUT YOU LEFT SUZUKI FOR KTM. HOW DID THAT HAPPEN. My old friend Selvaraj Narayana, who works at KTM, had heard through the grapevine that I didn't have a deal with Suzuki. He called and arranged for me to talk to Pit Beirer, who is in charge of all of KTM's racing programs.
Selvaraj Narayana (right) is well known to most racers from the 1970s as the face of Maico. Today, Sel works at KTM and he was the man who made the first step to get Roger to KTM.

"JUST AS IT HAD HAPPENED WITH JEREMY MCGRATH, SUZUKI CALLED ME IMMEDIATELY AFTER HEARING THAT I WAS SIGNING WITH KTM AND
OFFERED ME A THREE-YEAR DEAL. IT WAS TOO LITTLE, TOO LATE."
DID YOU SIGN ON THE SPOT WITH KTM? No. I felt that perhaps Suzuki was just waiting for Ryan Dungey to clinch the 450 National title before they talked to me about my 2011 contract. When all the brass from Suzuki showed up at Southwick to watch Ryan clinch the 450 National Championship, I was sure that they would take the time to sit down with me and work out my contract. They didn't. They just didn't want to talk to me. Two days after Ryan clinched the 2010 AMA 450 National Championship, I had a three-year offer from KTM. I agreed. Just as it had happened with Jeremy McGrath, Suzuki called me immediately after hearing that I was signing with KTM and offered me a three-year deal. It was too little, too late. I had given KTM my word.
OF ALL THE RIDERS YOU HAVE WORKED WITH, WHOM ARE YOU MOST PROUD OF? Ryan Dungey. I'm very proud of my time with riders like Ricky Carmichael, Jean-Michel Bayle, Jeremy McGrath and Ricky Johnson, but they were established stars. My role in their careers was to help them, but not to mold them. In Ryan, I had a kid from the very early stage of his career all the way to the top. I was proud to be able to give him the things he needed to show what he was capable of. I didn't give him the talent—I just gave him the chance.
"THE 250 TWO-STROKE MAKES MORE HORSEPOWER, BUT IT MAKES IT OVER A NARROWER RANGE, WHILE THE250 FOUR-STROKE MAKES LESS POWER, BUT HAS A BROAD POWERBAND. I THINK THEY ARE EQUAL MACHINES."
DO YOU THINK THAT 250 TWO-STROKES SHOULD BE ALLOWED TO RACE AGAINST 250 FOUR-STROKES? Yes. I think it would be fine. The two-stroke makes more horsepower, but it makes it over a narrower range, while the four-stroke makes less power, but has a broad powerband. I think they are equal machines. The two-stroke would be better in sand and deep loam, while the four-stroke would be better on harder dirt. It takes a more talented rider to race the two-stroke and I can see where it would be difficult for most of the current 250 four-stroke riders to make the change. I'd wouldn't oppose a rule change.
HOW WOULD YOU DESCRIBE THE METHODS THAT HAVE MADE YOU SUCCESSFUL AT HONDA, SUZUKI AND KTM? It may sound funny, but I think that one of my strengths is that I'm a slow learner. I don't like change. I go to the same restaurant all the time. When I get to that restaurant, I eat the same food every time. I'm steady, but I'm determined. Once I learn that something is good, I never forget it.