MOTOCROSS ACTION MID-WEEK REPORT: (07/01/10)
By: Zap

PHOTO OF THE WEEK: The Eternal 3x


There is a reason that Jeff Ward is a motocross treasure – he's been at it longer than just about anyone! 
MXA PRESS RELEASE: Works Connection Tach/Hour Meter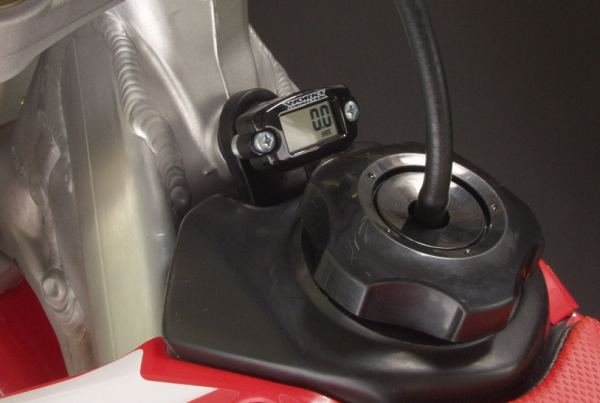 ú Large, easy to read LCD screen
ú Ultra-compact  1″ x 2″ design
ú Tach displays current RPM anytime engine is active
ú Records max RPM reached every ride
ú Measures up to 20,000 RPM
ú Hour meter tracks total hours up to 99,999
ú Spinning arrow icon displays while engine is active
ú Adjustable settings for Fast/Slow updates and High/Low spark sensitivity
ú Mounts anywhere with heavy duty, die-cut Peel-n-Stick (included)
ú Optional bolt-on mount bracket available for $14.95 (sold separately)
ú Easy installation (single wire lead wraps around spark plug wire)
ú Fits 2 strokes & 4 strokes
Retail $34.95. For more info, Works Connection. 

THE TOUR de FRANCE BECKONS: Checking In With Jeff Spencer


Taking a break from working with Tyla Rattray & Trey Canard, Jeff poses with autographed jerseys from Alberto Contador and Lance Armstrong.
Of all the people who would have some useful insight about what to expect in this year's Tour de France, Jeff Spencer would definitely be one of them. Jeff was right there alongside Lance and company for all seven of Tex's Tour victories. Two years after Lance "retired" following the 2005 Tour, Jeff was called back to provide his support services for the team that was now led by an up-and-coming Spaniard by the name of Alberto Contador. The result? Chalk up yellow jersey number eight for the all-around mind and body practitioner from Southern California.

A former Olympic cyclist himself, Jeff has spent the last few decades creating a diverse training program for athletes of many different stripes. From major league baseball players to National Championship caliber motocross riders (David Bailey to Andrew Short), Jeff has shown a real knack for helping the athletes he trains find a path to success.
With his behind-the-scenes knowledge of both Lance and Alberto's Tour de France winning efforts (Jeff admits the seven to one ratio gives him much more insight with Lance), I sat down with Jeff in his backyard patio to give us a breakdown of what distinguished the two biggest protagonists in this years race.
"While I have to admit that Lance is my hands-down sentimental favorite, as a racer Alberto is right where he needs to be in his career development. If there's one thing that's similar about them it's that they are both different from everyone else. In terms of the Tour de France, they both believe the same thing ? they belong in the yellow jersey. On the bikes they are are fearless, but not reckless. Where Alberto has biology on his side, Lance has the wisdom.
"Both of them have a real elusive side. They have also each faced catastrophic health challenges where they've both faced their own mortality. That right there is a rite of passage, a key factor really, in what sets them apart from everyone else.
"As for July, all I know is that the proverbial 'tale of the tape' is gnarly. When you add everything up I think it's close to a dead heat between these two champions. Remember, no matter how strong the team leader, he can't win the race by himself. With the Tour de France it's always about the team and I think as far as Team Astana is concerned, they are a bit untested compared to Lance's RadioShack team. Lance's team has the mojo, the proverbial tenth rider made up by their acknowledgement of and 100% commitment to a common goal.
"Lastly, with the Tour de France there's always the 'X-Factor' to consider. The X-Factor can be things like sickness, the pave', team dynamics, equipment and as always, the dark horse factor. Is there another guy out there who can surprise us all? I can't wait to find out."

For the full interview with Jeff Spencer, be sure to check out the August issue of Road Bike Action which should be hitting the newsstand any day now.
Speaking of Pedaling – Here's Some Of The Latest Bike Tech

Specialized just released images of their 2011 line-up with the Tarmac SL leading the bunch. Look for an Astana version to be leading the Tour underneath Alberto Contador soon.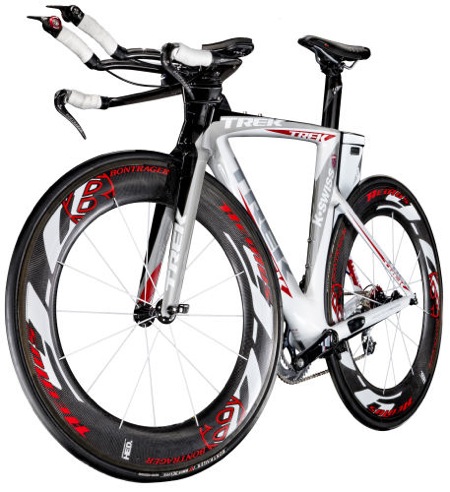 Here's is the latest Speed Concept bike from Trek that Lance and his Radio Shack teammates will be putting to good use in the Tour de France next week. Don't forget that the Tour starts on July 3 this year and the Lance versus Contador dogfight is one you won't want to miss. Be sure to follow along daily at Road Bike Action and every night on the Versus Channel to catch all the action. I'll be off to France for the start (this year in Rotterdam), so look for my RBA Tweets & posts with all the latest news from the start line.


The Focus Izalco team teams the German engineered carbon frame with the German made Lightweight wheels. This is the $10,000 Team Milram replica bike.

Carbon wheels (both tubular and clincher) are all the rage right now. The newest and most fab looking on the scene are the Mad Fiber wheels from long-time wheel man Ric Hjertberg. At 1085 grams a pair for $2500.

You'll find the Orbea Orca underneath the Euskaltel team in July. Set up as a team replica bike, the Orca sells for $7699.
MXA MINI-VIEW: Erik Kehoe's GP Memories

MXA: You raced a few USGP's back in the day, what do you remember about them?
Erik: "Yeah, I raced the 125 GP at Delmont, Pennsylvania, and the 250 GP at Unadilla. The photo (above) was taken at the 1987 Unadilla 250 GP. The one thing I'll always remember about Unadilla was the tall grass on the track. Before they would let you ride, the grass would be knee high, it was really wild.  The first few laps of practice were always kinda hard because the grass made everything slippery so it was easy to misjudge how much to slow for the corners. But, after awhile the grass would get worn down and it was on! The track was loamy and the traction was amazing. The other thing I remember is that when I would be on the track I would always smell something burning ? like a car or a motor home.
"The GP's were always cool because there was always some intrigue about the Europeans, they were the guys we read about, but only raced against once a year so this was our chance to size ourselves up against them. You could feel the excitement in the atmosphere too. Unadilla had a great, enthusiastic fan base and as much as racing is always a calculated risk, hearing them cheer so much always made you want to push a little harder."
MXA WRECKING CREW PHOTO GALLERY, PT. 1: Through the Ages With The World's Longest Serving Motocross Test Squad


One of the O.G. MXA test riders was Pete Maly, here wringing out an early 1970's Bultaco on the International Track at Indian Dunes.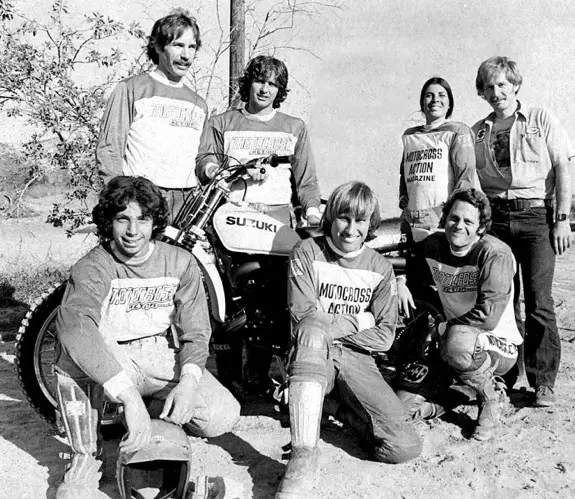 The MXA wrecking crew in the 1970's: (Front row, left to right) Curt Evans, Pete Maly, Al Baker. (Back row, left to right) Paul Boudreau, Jody Weisel, Cherry Stockton, Alan Hahn (mechanic)..

The MXA wrecking crew in the early 1980's: Lance Moorewood (front left), David Gerig (back left), Gary Jones (back right) and Jody Weisel (front right).

Fast forward to the mid '80's, long before the modern four-stroke revolution took-off, MXA was busy converting off-road bikes for motocross use. Here, current Rockstar/Canidae Suzuki team manager (and former MXA test rider) Billy Keefe puts in some laps aboard a heavily modified Suzuki DR400 at Carlsbad.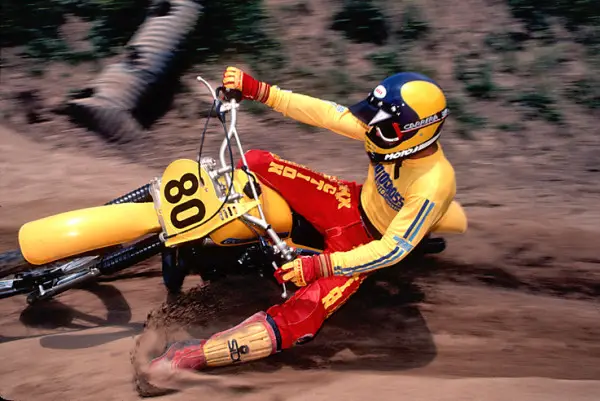 Talk about a pure definition of railing a berm, here courtesy of Lance Morewood.

Current San Manuel team boss (and still MXA test rider) Larry Brooks doing his thing aboard Harry Evert's 1975 World Championship-winning twin-carbed Puch 250.

This is Saddleback Park in 1977. That is a 1977 Montesa 250VB. The test rider is still at MXA today.
MXA MINI-VIEW: Paul Turner's Factory Fix

MXA: Hey Paul, when I was talking to Steve Wise he mentioned that you made some late-night/back room changes to the factory Honda that made it a much better bike to ride. What was that all about?
Paul: "It was 1982. If you remember, the first water-cooled works bikes had the radiators up high, right in front of the gas tank. Those bikes handled worse than the air-cooled version because of the weight being higher. Japan was really pushing for the riders to start using the water-cooled bikes, and the engines really did run better, so I got out a cutter and TIG and moved the radiators down and back towards the center of the bike. The bike handled pretty well then, so to finish the season I had to make it more pretty and fab spares too. I hand-formed the radiator shrouds out of aluminum and we had them powder-painted to look like the factory plastic ones. Wise ended up getting hurt or something, so Donnie Hansen raced it."
AND WHAT IT ALL BECAME…

Years after he was a factory Honda mechanic, Turner took  a liking of mountain bikes and in 1988, along with Steve Simons (inventor of the upside-down Simon's fork used by Brad Lackey to win the 1982 500cc World Championship title), started up a company called Rock Shox. The suspension company was a huge hit and it forever transformed the world of offroad cycling. Eventually, the core group of the company brain trust would include (L-R) Turner, former Honda/Kawasaki MX team manager Roy Turner, Simons and Jeff Ward's former mechanic, Mike McAndrews. Today, Rock Shox is owned by the Chicago based Sram Corp and Paul Turner is off in Hawaii raising a family and no doubt thinking back to his days driving to the Nationals with former Honda grommet (now MX boss) Gary Martini.
MXA PRESS RELEASE: EVS Revo 4


For more info, head to EVS Protection.

MXA GALLERY


With over three decades of serving the motocross community, Motocross Action Magazine has no doubt pumped out more issues dedicated to the sport than the all issues of the other mags combined. Back-in-the-day, MXA also produced a collection of special issues. As I was once again trying to clear a path to the back of my garage, I came upon a small, but invaluable treasure trove of motocross history. Here are the covers of the 1970's era MXA specials that I've been holding onto since I was a kid. Look for a more comprehensive look inside them in the future.

The late, great Gaylon Mosier made the cover of this issue which celebrated the annual end-of-the-year Trans-AMA series which pitted the best of the Europeans against the best American's. The Trans-AMA was probably the best MX series there ever was.

Talk about a strange cover shot, here's a mid-kiss Gerrit Wolsink (with Pierre Karsmakers looking on enviously) on the cover of this issue featuring a round-up of all the motocross champs for the year. How about a special issue for the Trans-AMA and motocross champs and neither one featuring DeCoster on the cover!?

This was a wild & woolly special that featured a little bit of everything. By 1982 the cover price had jumped to a whopping $2.50!! Remember blue boots?

AND LEST WE FORGET OUR FRIENDS AT DIRT BIKE?

The always fast, friendly and fabulous John "The Flyin' Hawaiian" DeSoto (aboard his factory Kawasaki at Saddleback Park) graced the cover of this photo special. How about Texas locals Jack Hicks and Steve Hackney getting star billing along with DeCoster, Lackey and Blackwell?
MXA SCHWAG CONTEST:


Okay, let's make this a simple one…all you have to do is identify rider #352, tell me what made him great, and send the answer to MXA Schwag. The randomly chosen winner will receive a Moose Schwag pack: t-shirt, cap and sweatshirt. Photo by the always great Jim "The Greek" Gianatsis.
PARTING SHOTS: Speaking of Champions & The Trans-Am