MOTOCROSS ACTION MID-WEEK REPORT
#WHIPITWEDNESDAY
Rider: David Vuillemin
Bike: 2004 Factory Yamaha YZ250
Photographer: MXA Archives
TWO-STROKE SPOTLIGHT: MATTHEW WESTBURY'S 2000 KAWASAKI KX250 PRO CIRCUIT/SPLITFIRE REPLICA
"Here is my 2000 Splitfire Kawasaki KX250 that I am almost done building. Thought you guys would enjoy." –Matthew Westbury.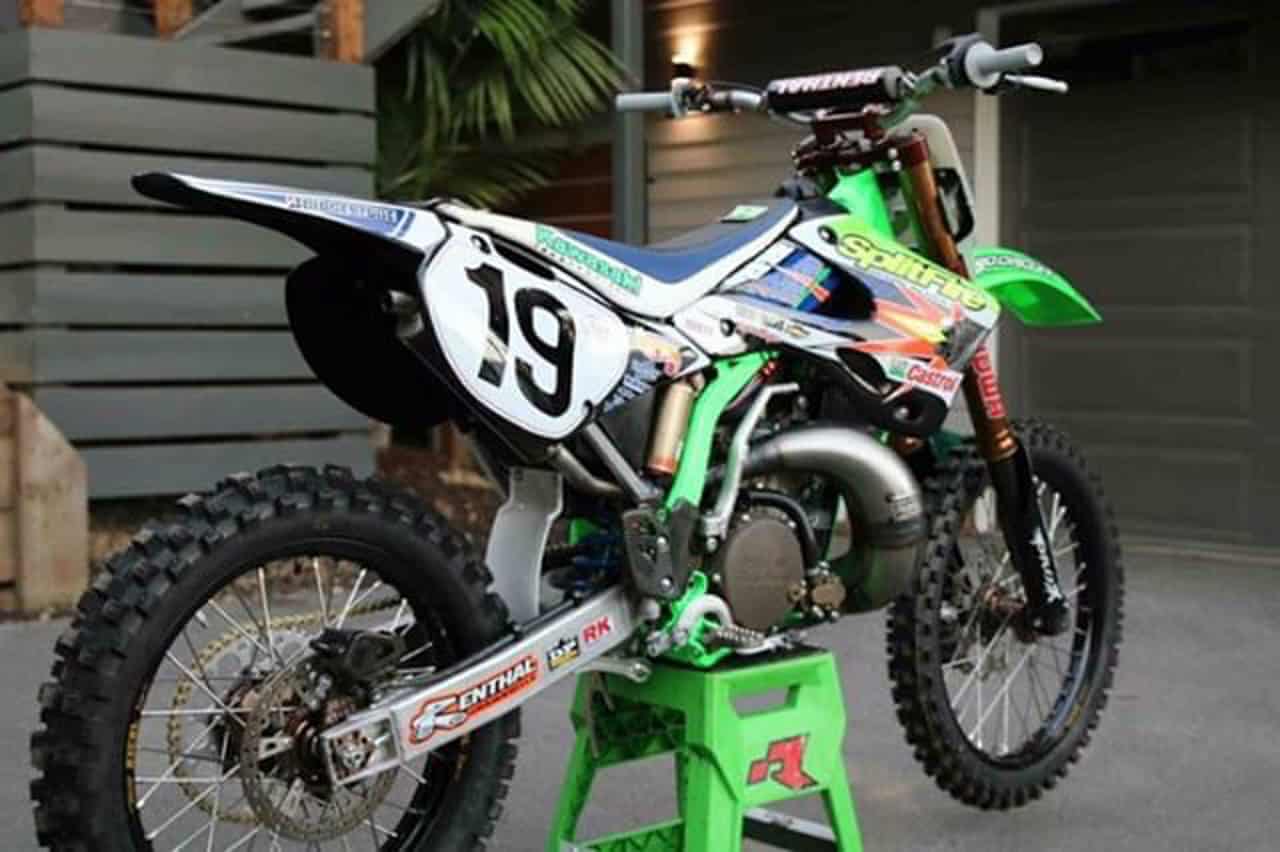 Editor's Note: Please keep those submissions coming. If you would like your bike to be featured in the "Two-Stroke Spotlight," please email me at [email protected]. All I ask is that you give a breakdown of your bike and a detailed description of the build. Please also send a few photos of your steed. By submitting your bike for the "Two-Stroke Spotlight," you agree to release all ownership rights to the images and copy to MXA. 
MOTO | TRIVIA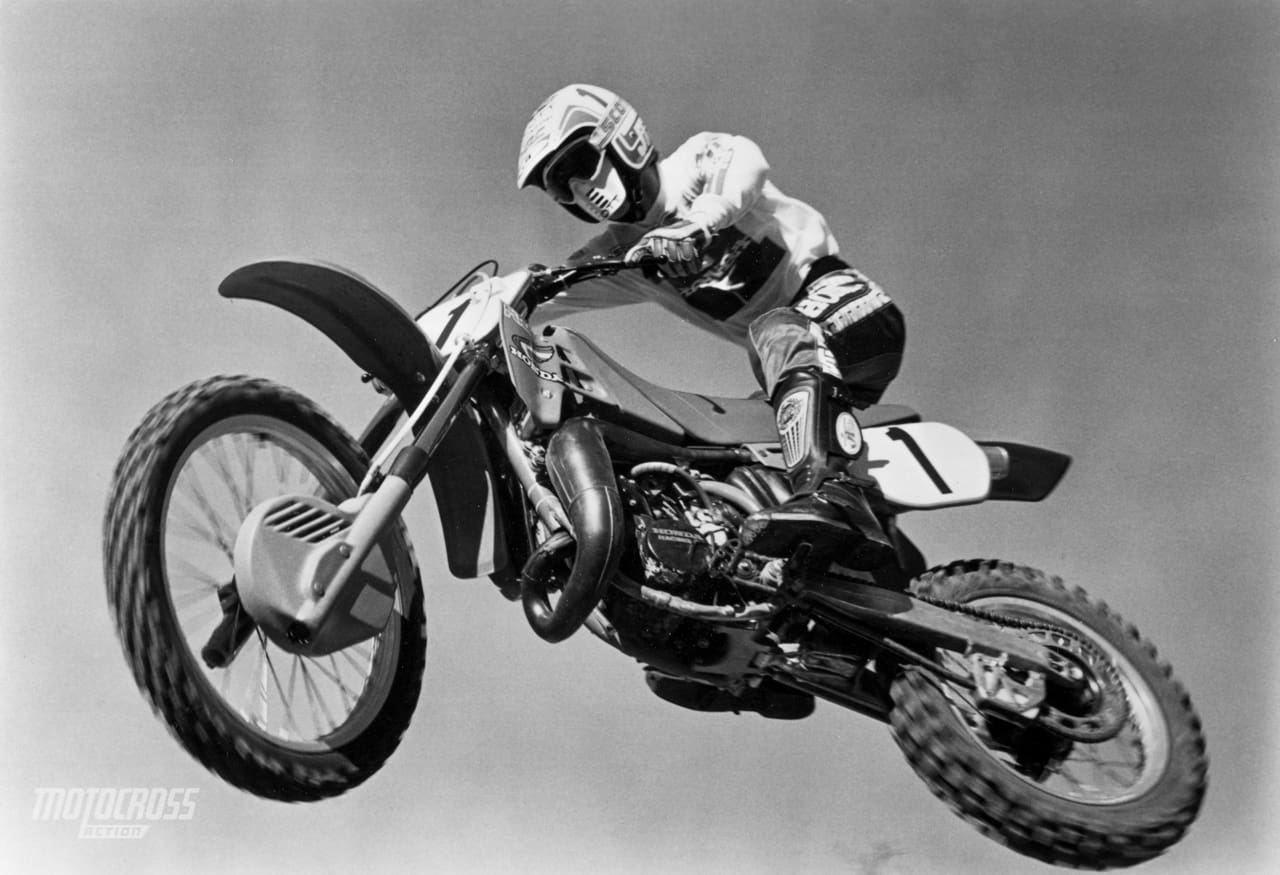 Name the rider and year. Answer at bottom of page.
DO YOU UNDERSTAND YOUR BIKES GEARING?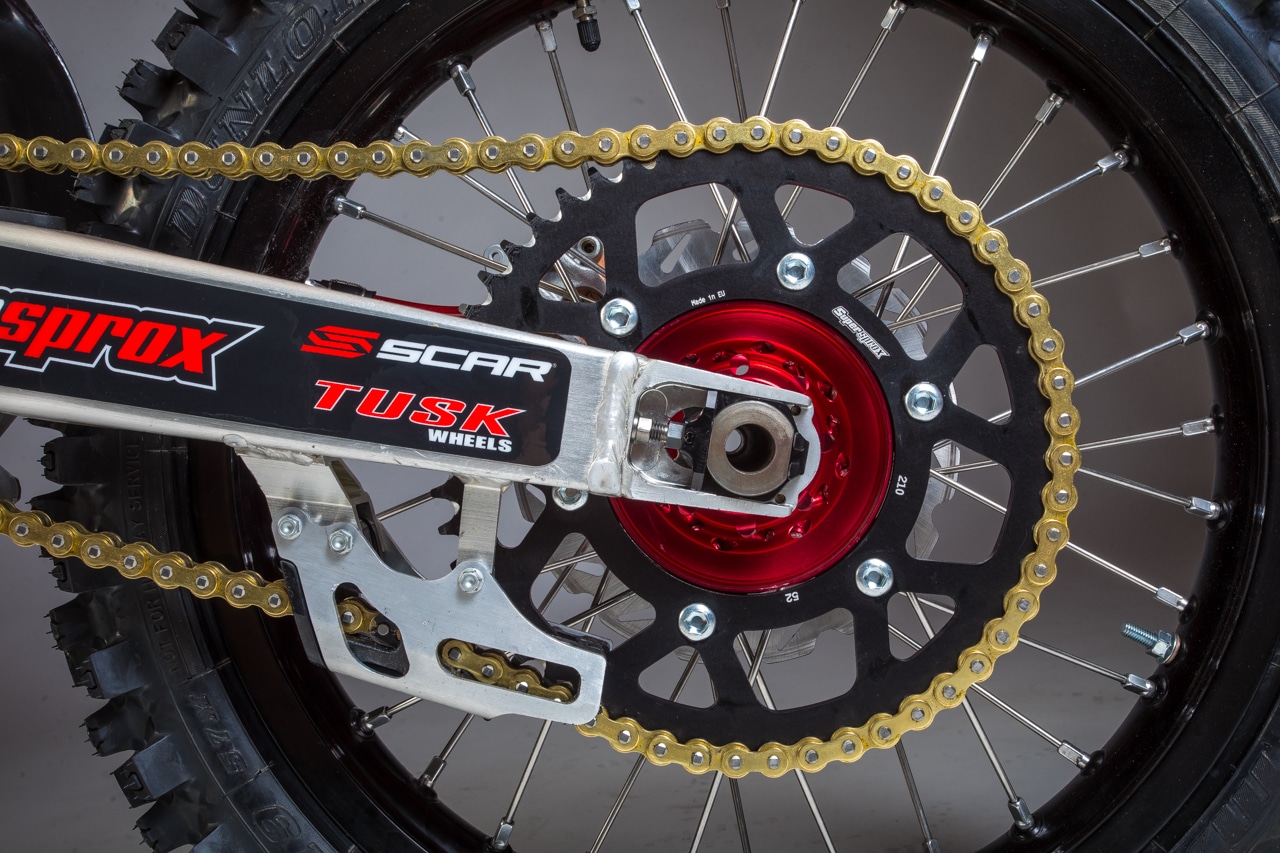 Gearing is the simplest and cheapest tuning trick on the planet.
GEAR RATIOS
Dear MXA,
MXA always talks about gearing a bike up or gearing it down. Then sometimes you guys say that this gear ratio is 3.77 and the other sprocket is a 3.65. What does all that really mean?
It is a simple math equation. There are two sprockets on every bike: (1) The smaller countershaft sprocket is attached to the engine. (2) The larger rear sprocket is attached to the rear wheel. The two sprockets are measured by their number of teeth. As a quick rule of thumb, the more teeth on the rear sprocket, the lower the gearing. Conversely, the fewer teeth on the countershaft sprocket, the lower the gearing.
Once you know the number of teeth on your bike's countershaft sprocket and rear sprocket, you can determine a reference number—called a "gear ratio"—that tells you exactly what is happening to your motorcycle's driveline. You get the gear ratio by dividing the number of teeth on the rear sprocket by the number of teeth on the countershaft sprocket. For example, a 13-tooth countershaft sprocket will divide into a 49-tooth rear sprocket 3.77 times. This gearing combination is said to have a 3.77 gear ratio, because that is how many times the countershaft sprocket turns before the rear wheel makes one full revolution.
The higher the gear ratio number, the lower the gearing. Thus, the 3.77 of a 13/49-tooth combo becomes a 4.00 if you add three teeth to the rear sprocket (13/52). Every time the gear ratio number goes up, you lessen top speed but increase acceleration. Conversely, if you want to mellow the engine's hit and increase the speed in each gear, you should seek a smaller gear ratio number. For example, using our stock 13/49 as a starting point at 3.77, a 13/46 combo would produce a 3.54 gear ratio.
When thinking about your bike's gearing, the goal is to maximize performance for your riding style, skill level and track conditions. For example, a 14/52 gearing combo has a 3.71 gear ratio. But, if the bike's owner wanted lower gearing, he would most likely add one more tooth to the rear sprocket. This 14/53 combo would lower the gear ratio to 3.79 (compared to the stock 3.71).
But, if the rider wanted the gearing to be lower than that, he would be in a conundrum. Switching to the logical 54-tooth rear sprocket would give him a lower 3.86 gear ratio, but the large 54-tooth rear sprocket would have trouble clearing the chain guide and put excessive wear on the chain itself. In this case, the better solution would be to switch to a 13-tooth countershaft sprocket and mate it to a 50-tooth rear sprocket. This 13/50 gearing would be lower than either 14/52 (3.71) or 14/53 (3.79) at a 3.85 gear ratio.
Most MXA test riders try to gear their bikes so that they can use third gear on the bike more, especially if the power lags on the shift from second to third gear. Choosing the proper gear ratio is a cheap way to make your bike perform better by making it feel more powerful (by gearing it down) or more manageable (by gearing it up). The chart above gives you the gear ratios for the most common sprocket combinations.

RIDE ENGINEERING INTRODUCES NEW REVERSIBLE AXLE BLOCKS FOR YZS AND YZ-FS
Press Release: These new reversible axle blocks improve chain adjustability from gearing changes and wear (chain stretch). Each block has two positions depending on which way they are placed in the swingarm (12.5 or 3.5mm longer than stock). They are precision machined to reduce rocking for more accurate chain alignment. Each block is wider than stock to easily align the precision laser lines with the swingarm marks. Getting the rear wheel square is a snap even for rider's that wear glasses. They are just $54.95 per set and available in red or blue. Fitment includes all of these models: 2010-2020 YZ250F/YZ450F (Part Number: YZ-RAB10-MB & YZ-RAB10-RA) 2002-2020 YZ125/125X/250/250X; 2002-2020 WR250F/450F; 2015-2020 YZ250FX/45FX; 2002-2008 YZ250F/426F/450F (Part Number: YZ-RAB00-MB & YZ-RAB00-RA)
MXA GEAR GUIDE | MOOSE RACING M1 GEAR
Helmet: Moose Racing F.I. Session—$159.95
Goggles: Moose Racing XCR Hatch—$54.95
Jersey: Moose Racing M1—$34.95
Pants: Moose Racing M1—$109.95
Gloves: Moose Racing SX1—$24.95
Boots: Moose Racing M1.3—$149.95
www.mooseracing.com
MXA TESTS HAIDEN "DANGER BOY" DEEGAN'S KTM 112cc SUPERMINI
TAKE THE MXA 2020 READER SURVEY & HAVE A CHANCE TO WIN FREE THOR GEAR!

Score free head-to-toe Thor gear now! Complete our reader survey we'll take your input to help improve future web and monthly print content of Motocross Action. One lucky winner will be chosen at random to receive a free gear ensemble from Thor (style and/or color may vary). This year's Thor (www.thormx.com) gear giveaway includes the following: Prime Pro jersey and pants, Sector Split with MIPS helmet, Radial boots, Sniper Pro goggles, and Agile gloves. That's $750 worth of products, so don't miss this opportunity to win all this stylish gear for free! Fill out the entire survey!
FLY RACING FORMULA HELMET PRODUCT REVIEW 
WHAT IS IT? The Fly Racing Formula Carbon helmet was a project that started from scratch. WPS and Fly Racing's Craig Shoemaker wanted to make the safest helmet that money could develop with the technology available. After years of R&D, the Formula helmet was brought to fruition.
WHAT'S IT COST? $649.95.
CONTACT? www.flyracing.com or (208) 319-3079.
WHAT STANDS OUT? Here's a list of things that stand out with the Fly Racing Formula carbon helmet.
(1) Helmet safety. When 6D released its ATR-1 helmet design back in 2013, it brought awareness to the importance of minimizing rotational acceleration. Since then, Bell's Flex helmet and Shoei's VFX-EVO helmet have incorporated proprietary technologies to reduce the effects of angular impacts. Many other helmets have diverted rotational energy with the MIPS system. Fly Racing wanted to develop a helmet that incorporated as many of the known innovations as possible into one helmet. Fly didn't focus solely on rotational acceleration, but also how riders crash and where most impacts occur on the rider's head.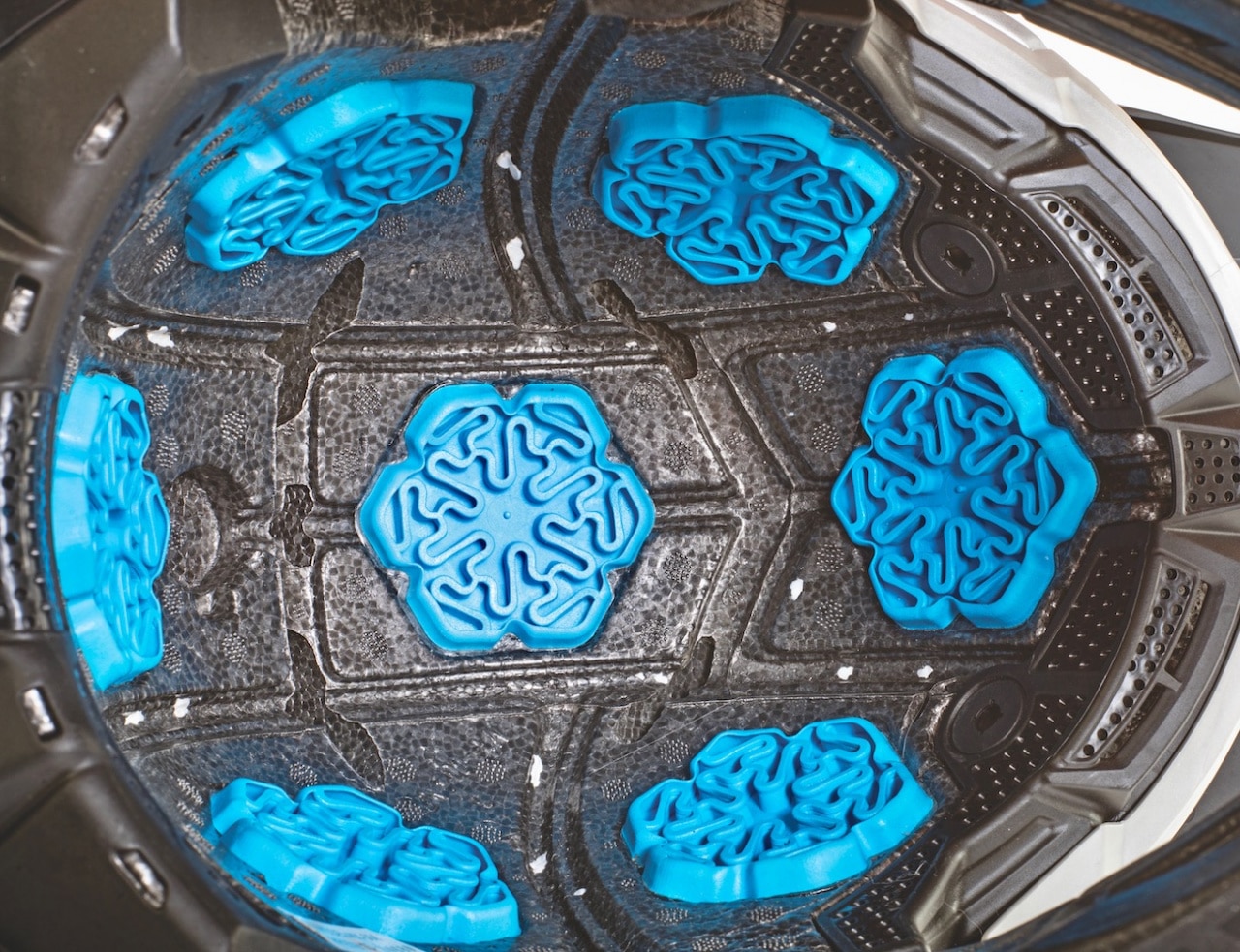 (2) Adaptive Impact system. The Formula helmet combines its features into a single Adaptive Impact System (AIS) grouping. Here are some of the technologies that make up AIS: (a) Energy cells. The Formula helmet uses flexible and absorptive Rheon energy cells to absorb impacts. Their unique shape and maze-like structure allow them to move and shear in order to dissipate rotational energy. Rheon is the same material that Leatt uses in its GPX helmet, although the design and the number of cells is much different. Fly uses seven strategically placed cells in the EPS liner to absorb the impact. (b) Conehead technology. This Australian-developed idea uses cones molded into the helmet's foam liner. Using different densities between the foam in the cones and the foam surrounding them, the cones create a very progressive crush pattern. This design was used in Kali helmets in the past. (c) Expanded EPS. Fly Racing research has shown that the majority of impacts to the head occur on the forehead and side of the head, which is why Fly Formula helmets use a much thicker layer of lower-density EPS in these areas to improve the so called "suspension" of the helmet.
(3) Weight. The Fly Formula helmet hits the scales at 1305 grams. For reference, a Suomy helmet is 1155 grams, while a 6D ATR-2 is 1506 grams. Neither the lightest nor the heaviest, the Fly Formula helmet can easily claim to reduce strain on the rider's neck while reducing leverage upon impact.
(4) Added features. The Formula helmet has a 12k carbon fiber shell, meaning that the band of carbon fiber is wider, resulting in a stronger structure. The nylon visor is unbreakable, and the graphics on it can't crack in a crash. The visor is designed to break away in a crash so that the visor doesn't increase rotational acceleration when it catches on the ground.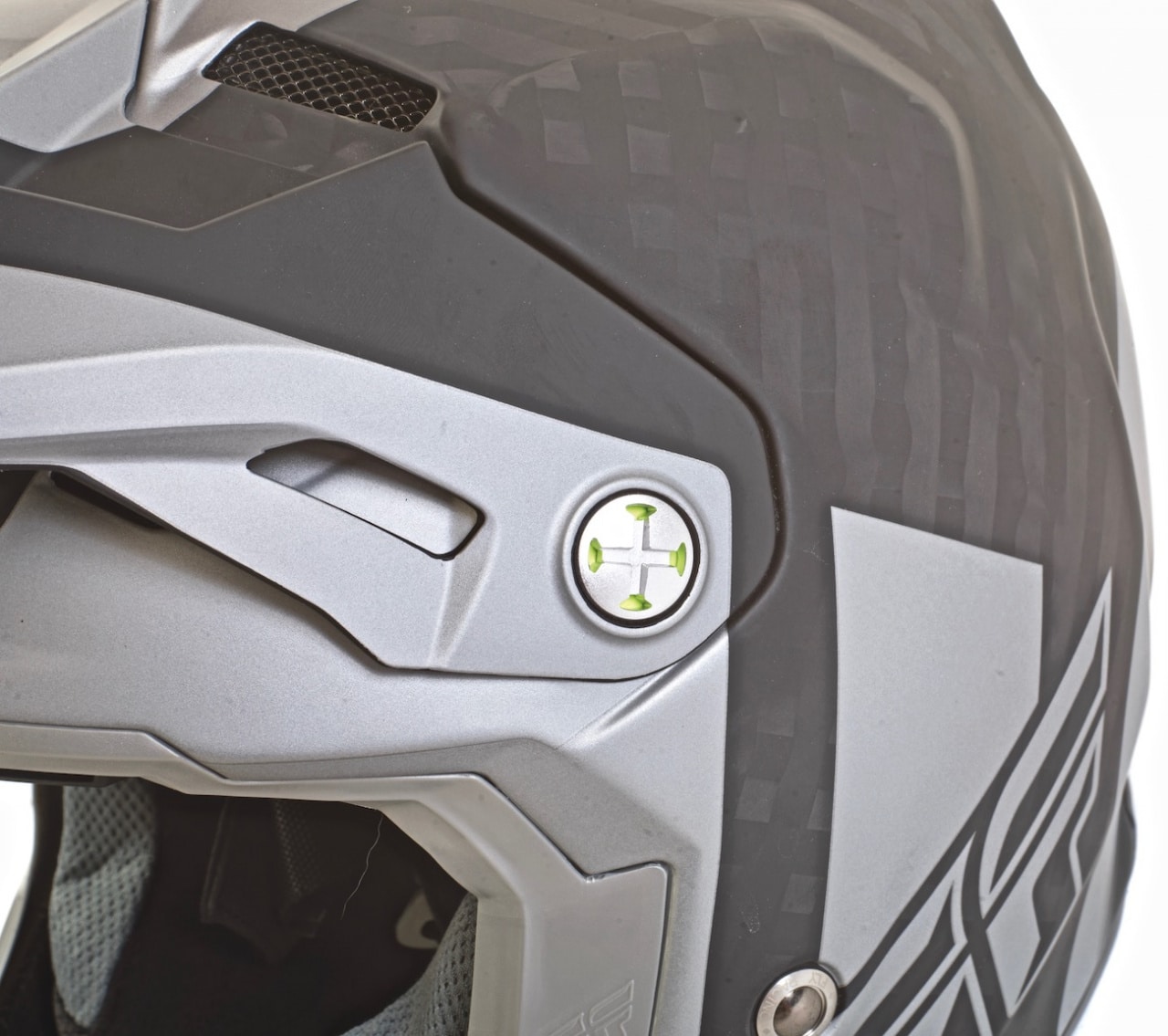 (5) Performance. In Fly Racing's independent helmet testing, the Formula helmet is one of the safest helmets made, but virtually every helmet company has independent lab studies that support the same claims. The real test of a helmet is not how well it performs in the lab but on the race track. The MXA test riders looked at the lab test results and were impressed, but it is real world use that determines greatness. How was the sizing? Was it comfortable? Did the liner chafe our skin? Did the cheek pads stay in place? Was the visor adjustable? Was the goggle port too small or too large? Did the ear ports offer any sound deadening? Does air flow into the vents and out of the exhaust ports? And finally, were the aesthetics pleasing? Every MXA test rider was happy to report that the Fly Formula was A-OK in every category. It was comfortable, plush, strong, attractive and as safe as any helmet can be. It is great helmet.
WHAT'S THE SQUAWK? We love the nonbreakable visor, but sometimes it comes out of the helmet bag pretzeled into odd shapes.
MXA RATING: This is a great helmet in every way. It offers superior protection, style and comfort. It is the complete package of looks, comfort and scientifically backed safety.
HAVE YOU SEEN THE AUGUST 2020 ISSUE OF MXA? SUBSCRIBING IS THE BEST DEAL IN  MOTOCROSS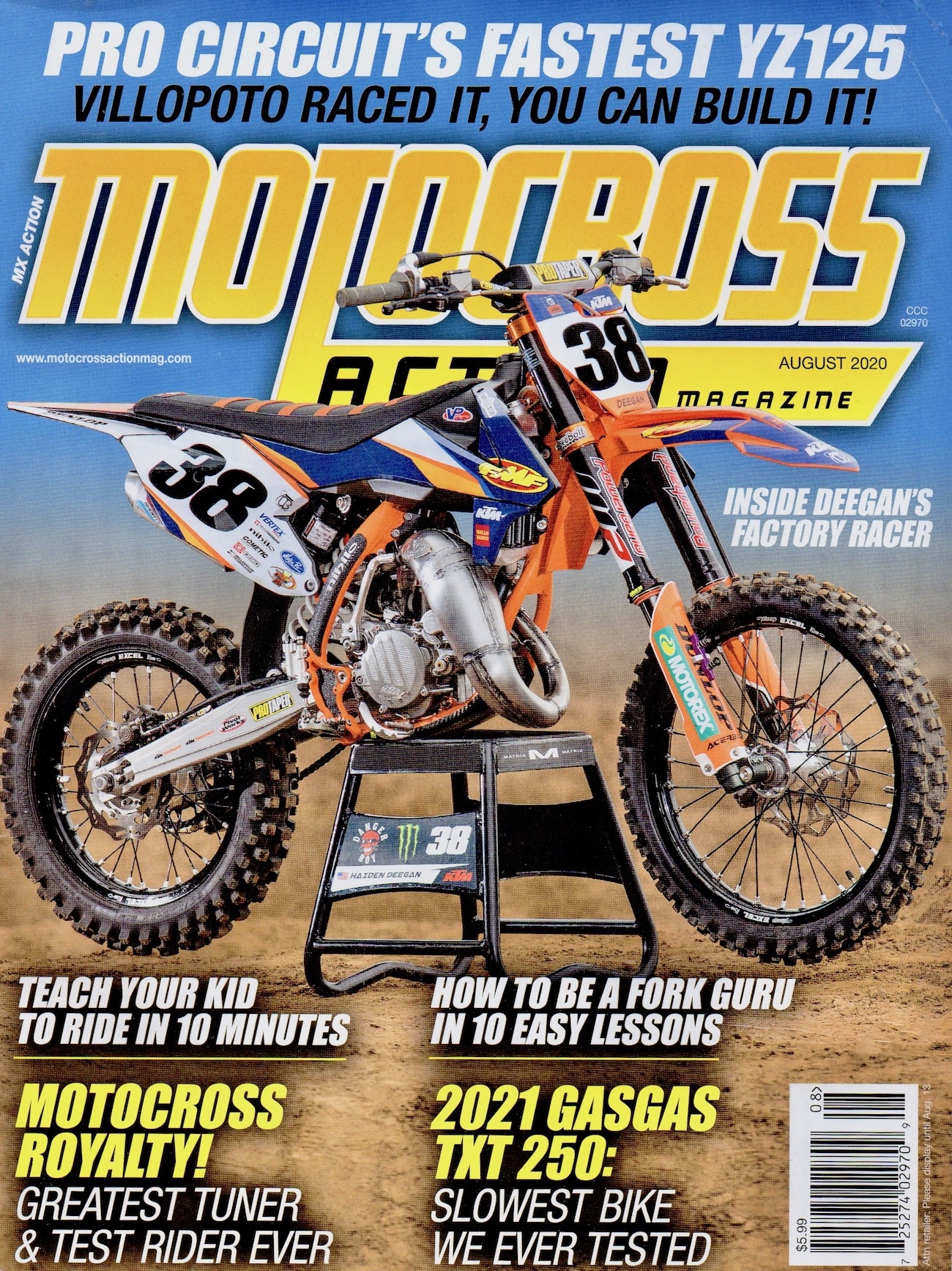 In this issue, out this week, we testa full race Pro Circuit Yamaha YZ125 that we built for the World Two-Stroke Championships. We also had Doug Dubach shepherd our GYTR-kitted YZ450F through its hop-up phase. Unwilling to leave well enough alone we herded up a bunch of kids to help us test a Stacyc electric balance bike, ask a kid to let us ride his full-race Supermini and not only resurrected a 2005 Honda CR125, but blew it up, while we were at it. If that wasn't enough we interview Rocket Rex Staten to prove that we weren't afraid of him.
HOW TO SUBSCRIBE TO MXA SO THAT YOU NEVER MISS ANOTHER ISSUE OR SPEND A PENNY
If you subscribe to MXA you can get the mag on your iPhone, iPad, Kindle or Android by going to the Apple Store, Amazon or Google Play or in a digital version. Even better you can subscribe to Motocross Action and get the awesome print edition delivered to your house by a uniformed employee of the U.S. Government. You can call (800) 767-0345 or Click Here (or on the box at the bottom of this page) to subscribe.
MXA WRECKING CREW AT THE PASHA 125 OPEN: Photos by Ryan Vitelli
MXA's Assistant Editor Josh Mosiman on the line for the Pasha 125 Pro race at Glen Helen. It was a 100+ degree day of motocross and the 20-minute motos were tiresome. However, the MXA crew got their money's worth. RevD Photography snagged some cool photos of the orange helmet squad on their two-strokes. For the full MXA race report of the Pasha 125 Open, click here.
Josh Mosiman's 6-2 moto scores earned him 4th overall and empty pockets on his way home. However, the podium finishers earned a great pay day with $750, $500 and $250 going out to the top three overall. Photo by: RevD Photography
See how the left foot peg is pushed up? Squeezing with your legs is key to getting a good start. Mosiman was second around the first turn. Photo by: RevD Photography
Josh Fout doesn't normally race the Pro class, however there were no other options for him as Pasha only featured three classes for the 125s. Either Pro, Over-40 or Over-50.He wasn't old enough for the Over-40 or Over-50, so the Vet Intermediate raced with the Pros. Josh went 11-11 for 12th overall. Photo by: RevD Photography
Josh Fout held his own against a fast class of 125 Pros on MXA's box stock 2020 KTM 125SX. Photo by: RevD Photography
Australian Dan Alamangos is good on the track and behind the lens. Plus, he's easy to find because he loves the all white Thor Prime Pro gear. Alamangos was sixth in the Over-50 125 class on a 2020 Husky TC125. Photo by: RevD Photography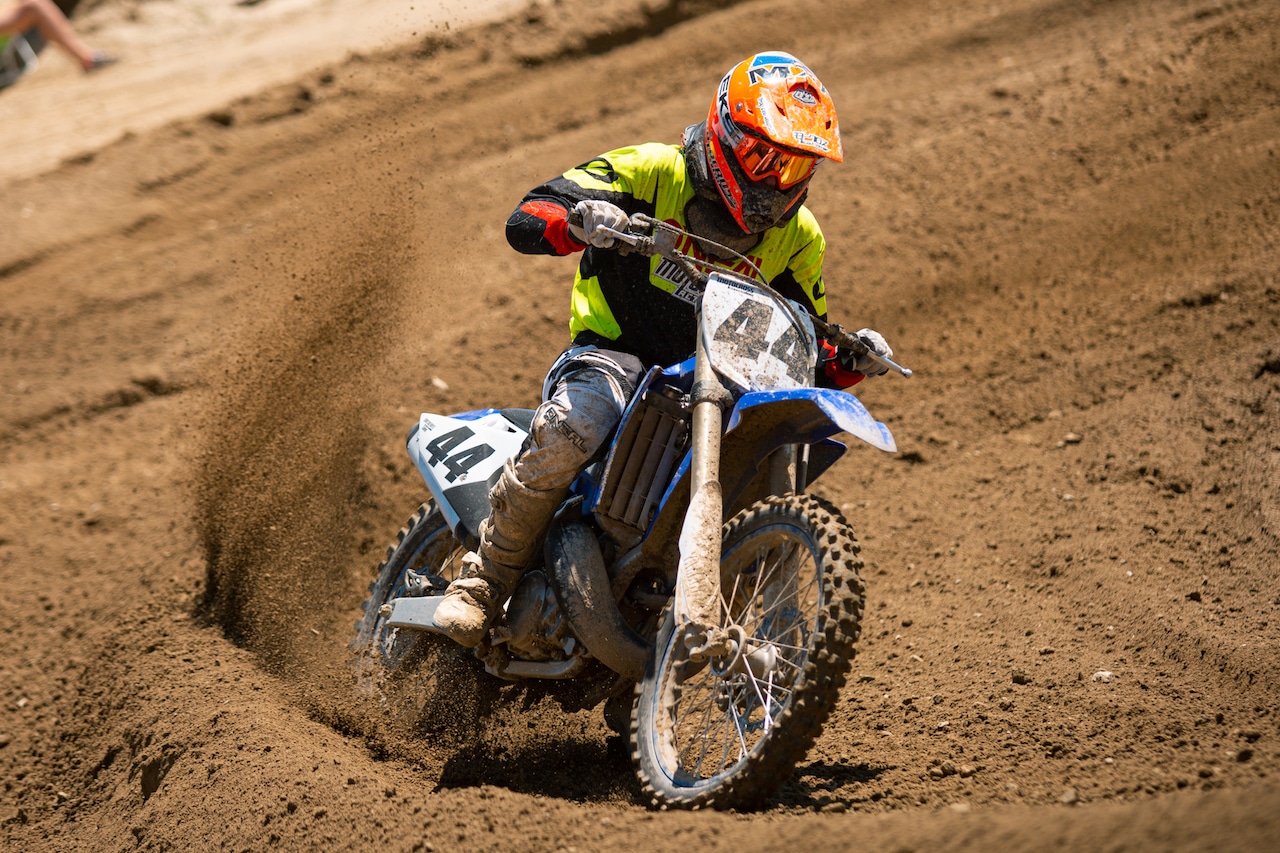 Mike Monaghan rode for motos in the broiling heat and his motos were back-to-back when his 250 two-stroke class conflicted with his regular. Mike only races two-strokes and given his choice he always picks 2020 Yamaha YZ250X. He likes the easier to use power and softer suspension on Glen Helen's  rough track. Photo by: RevD Photography
2021 450 FOUR-STROKE SHOPPING LIST ALTHOUGH WE ARE MISSING SOMETHING YELLOW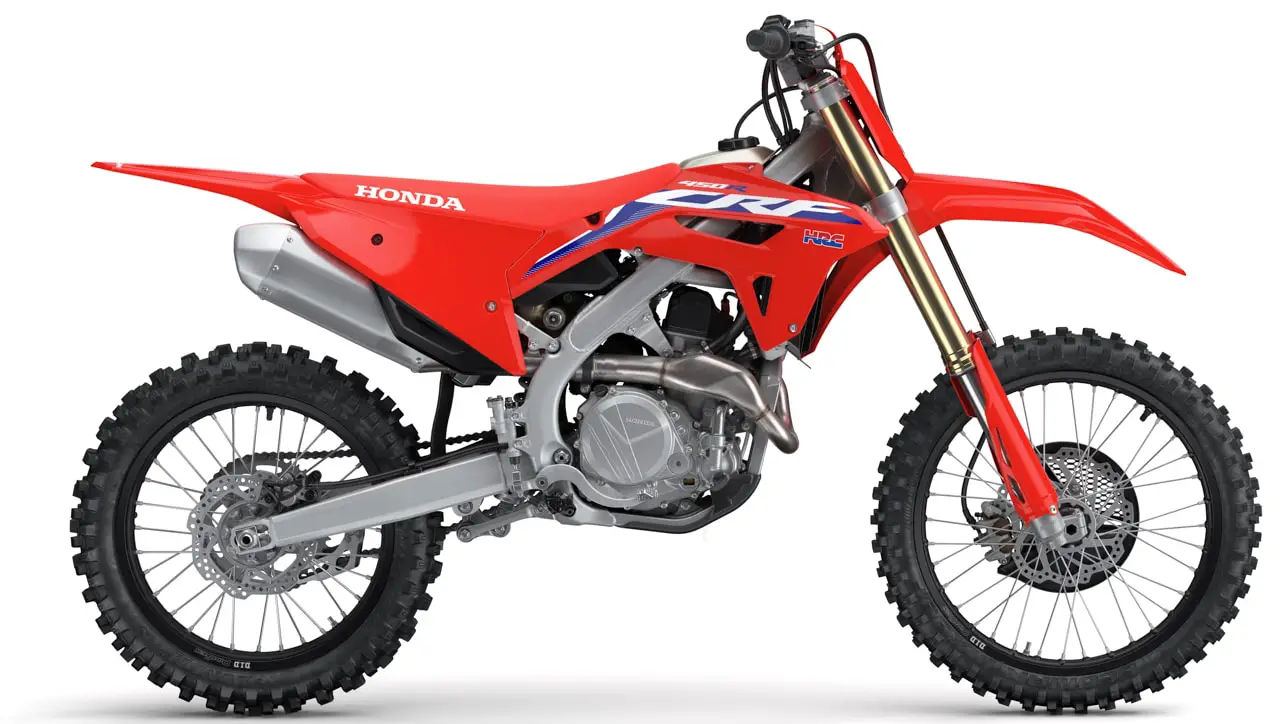 2021 Honda CRF450.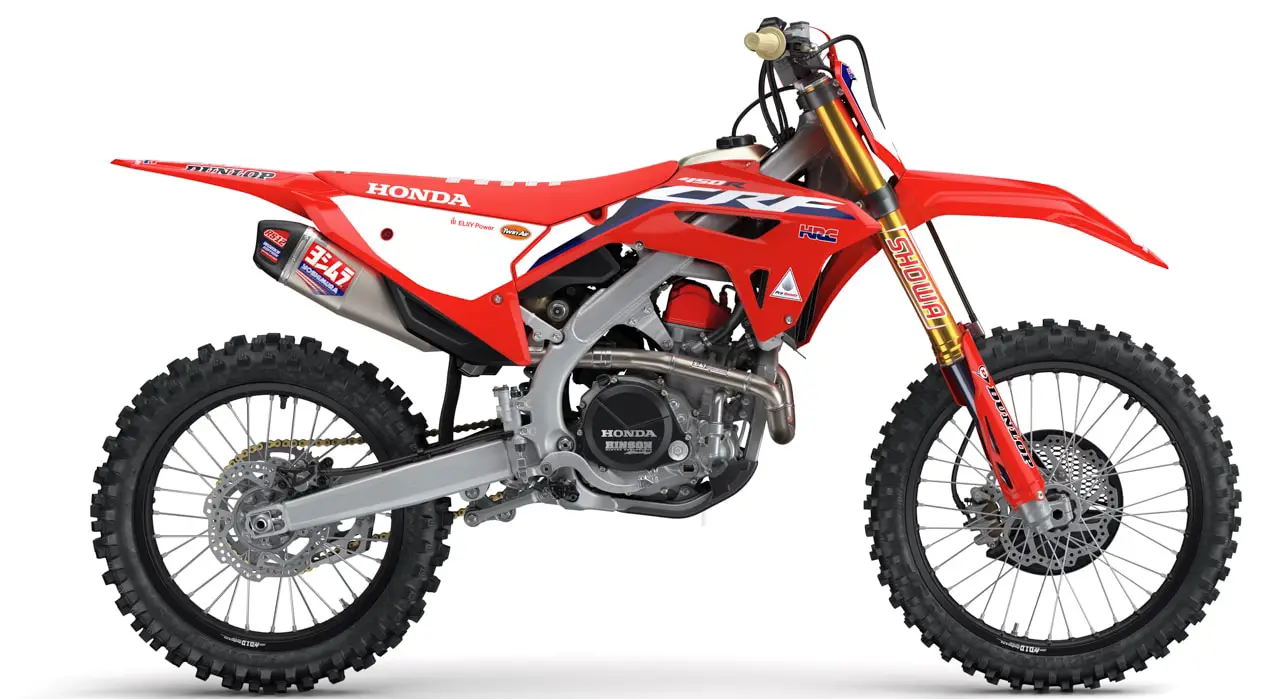 2021 Honda CRF450WE.
2021 KTM 450SXF.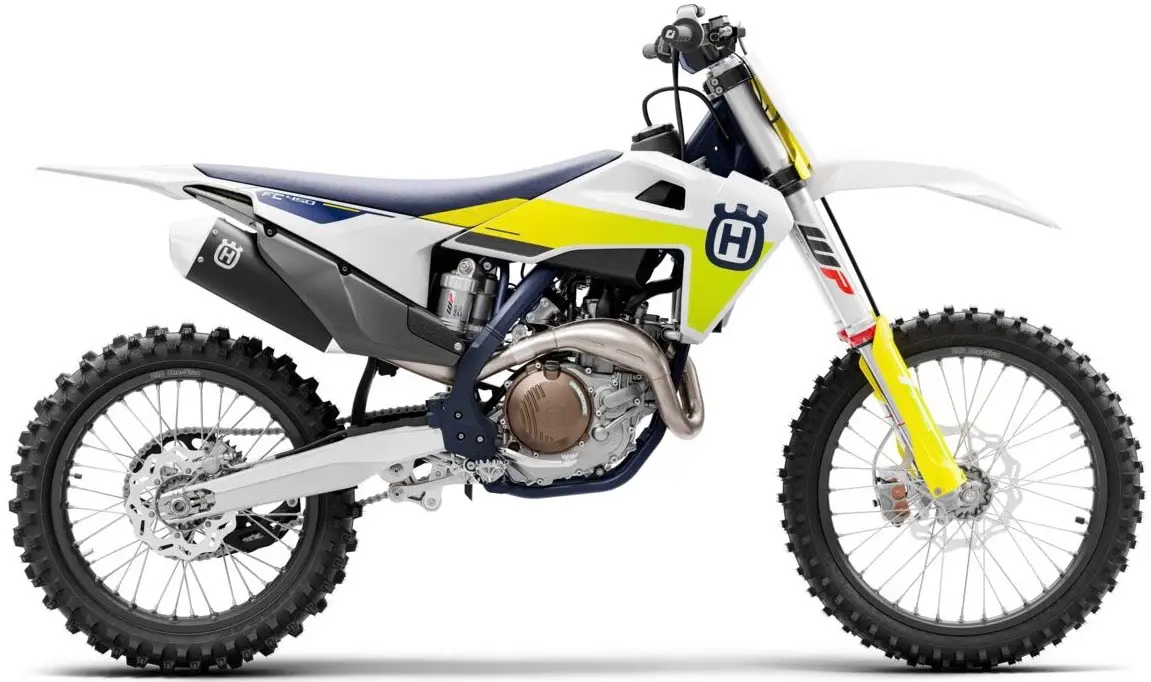 2021 Husqvarna FC450.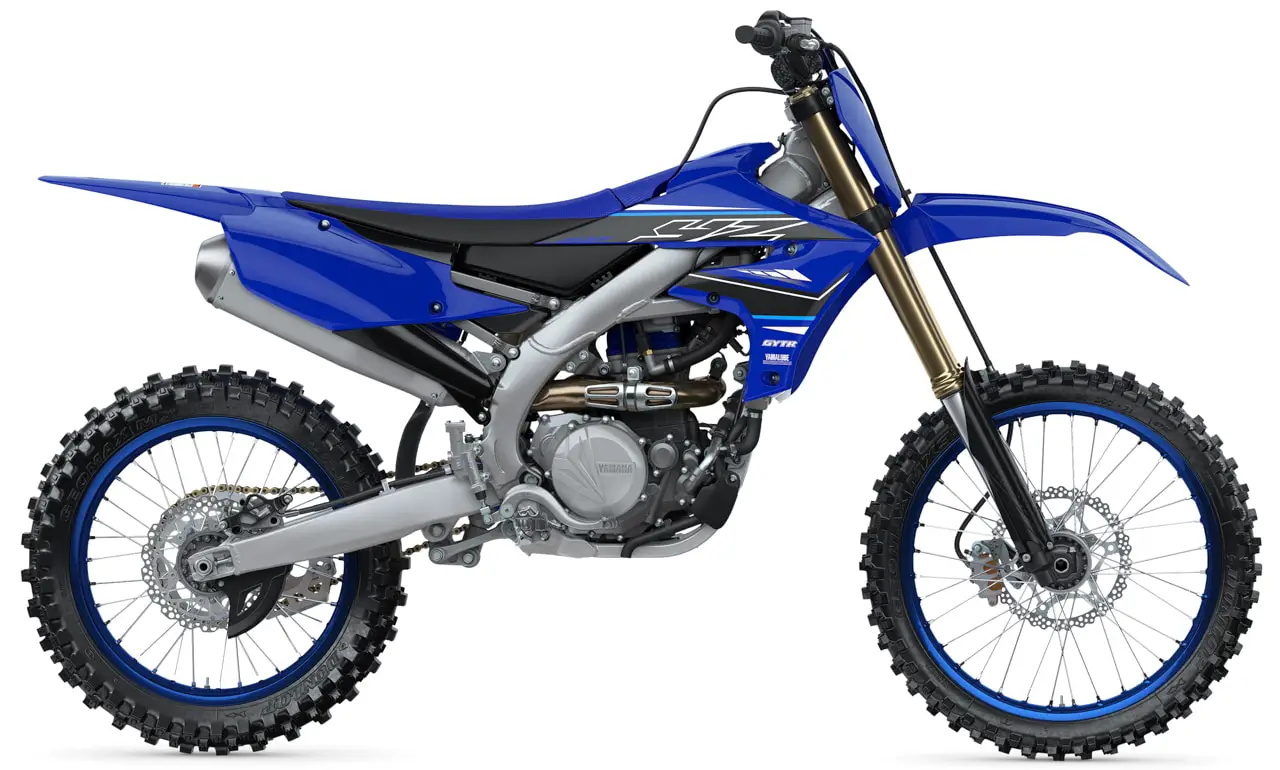 2021 Yamaha YZ450F.
2021 Yamaha Monster Energy Edition YZ450F.
2021 Kawasaki KX450.
MXA YOUTUBE CHANNEL | HIT THAT SUBSCRIBE BUTTON

The MXA wrecking crew is everything moto related. Check out our MXA YouTube channel for bike reviews, Supercross coverage, rider interviews and much more. And don't forgot to hit that subscribe button.
TALK MOTO WITH MOTO MINDED PEOPLE. JOIN MXA'S FACEBOOK GROUP CHAT

We love everything moto and want to bring all moto junkies together into one place to share their two cents, ideas, photos, bike fixes, bike problems and much more. To check it out first you must need to or already have a Facebook account. If you don't, it isn't much work and you could even have an alias so nobody knows it is you. To join click HERE. After you request to join we will accept your request shortly after.
CLASSIC MXA PHOTOThis is the cover of the 1993 August issue of MXA. We were surprised that the cover-all shrouds did not become the look of tomorrow's motocross bikes—especially for teams and riders trying to find outside sponsors.
---
Moto Trivia answer: David Bailey 1985