MOTOCROSS ACTION MID-WEEK REPORT
#WHIPITWEDNESDAY

Rider: Christian Craig
Photographer: Daryl Ecklund
Location: 2019 Washougal National
Lens: Fixed f/4 300mm
F Stop: f/6.3
ISO: 800
Shutter speed: 1/1600
TWO-STROKE SPOTLIGHT | FERNANDO ARANGO MENESES 2004 YAMAHA YZ144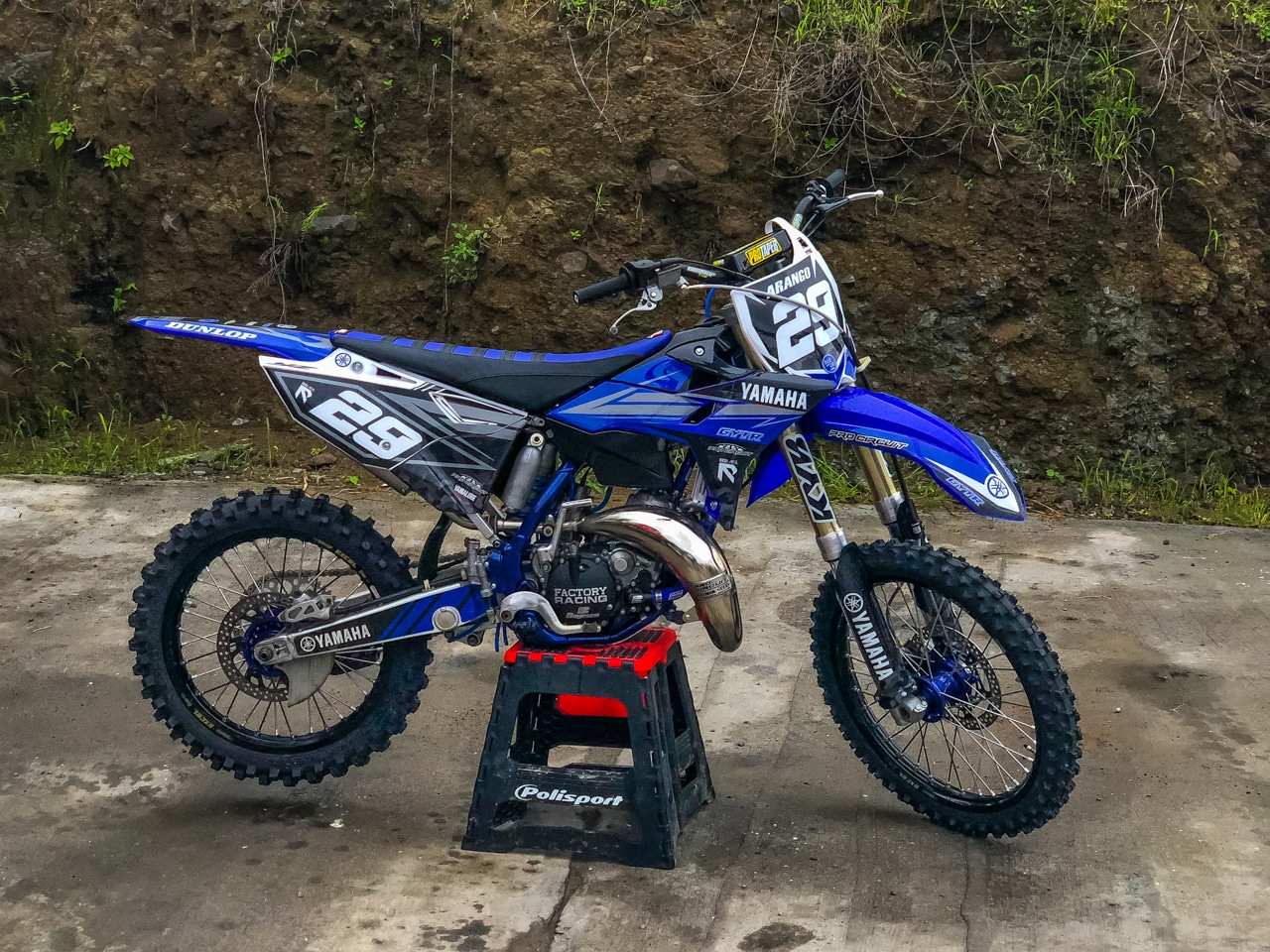 2004 Yamaha YZ125 made into a 144cc.
"Hey MXA, this is my 2004 YZ125 2004. I fully rebuilt it with an Athena 144cc kit, Rtech plastic kit and much more extras!"–Fernando Arango Meneses.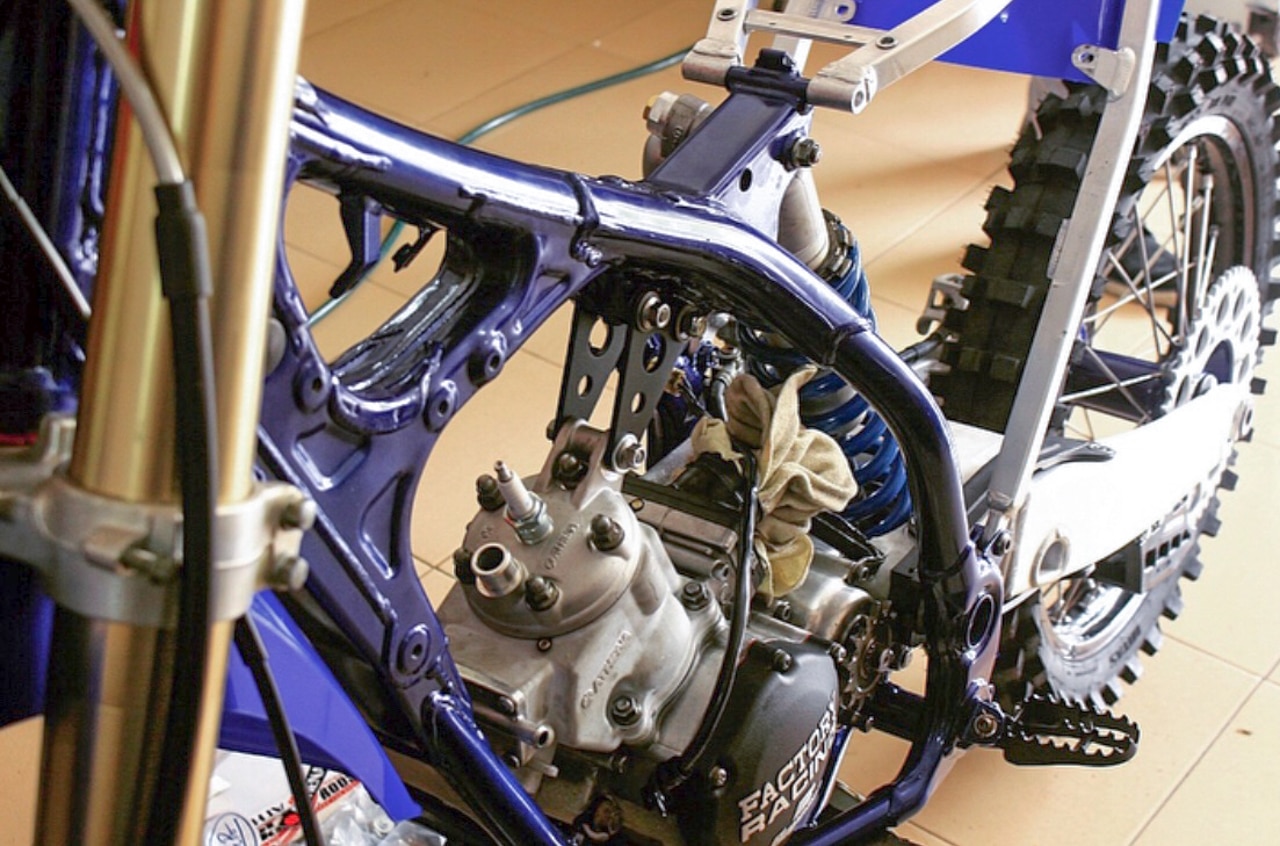 In the middle of the build. 
MOTO | TRIVIA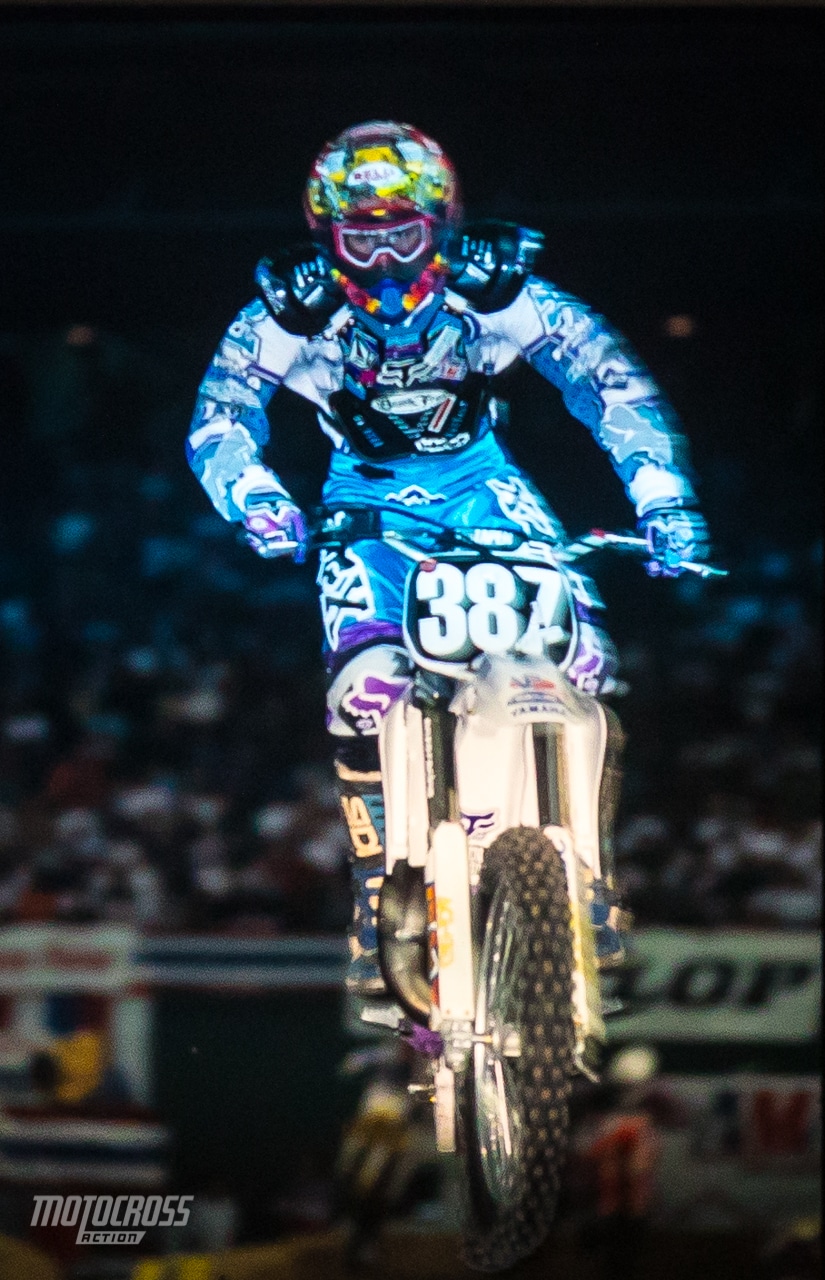 Who is this rider and what year was it taken? Answer at the bottom of the page.
THE 2021 MXA TEST BIKES ARE ROLLING IN
The first 2021 model we got our greasy hands on was the 2021 Kawasaki KX450. There are minimal changes to the bike, however, enough to tell a difference on the track. We did an in-depth first impression video on it. See below.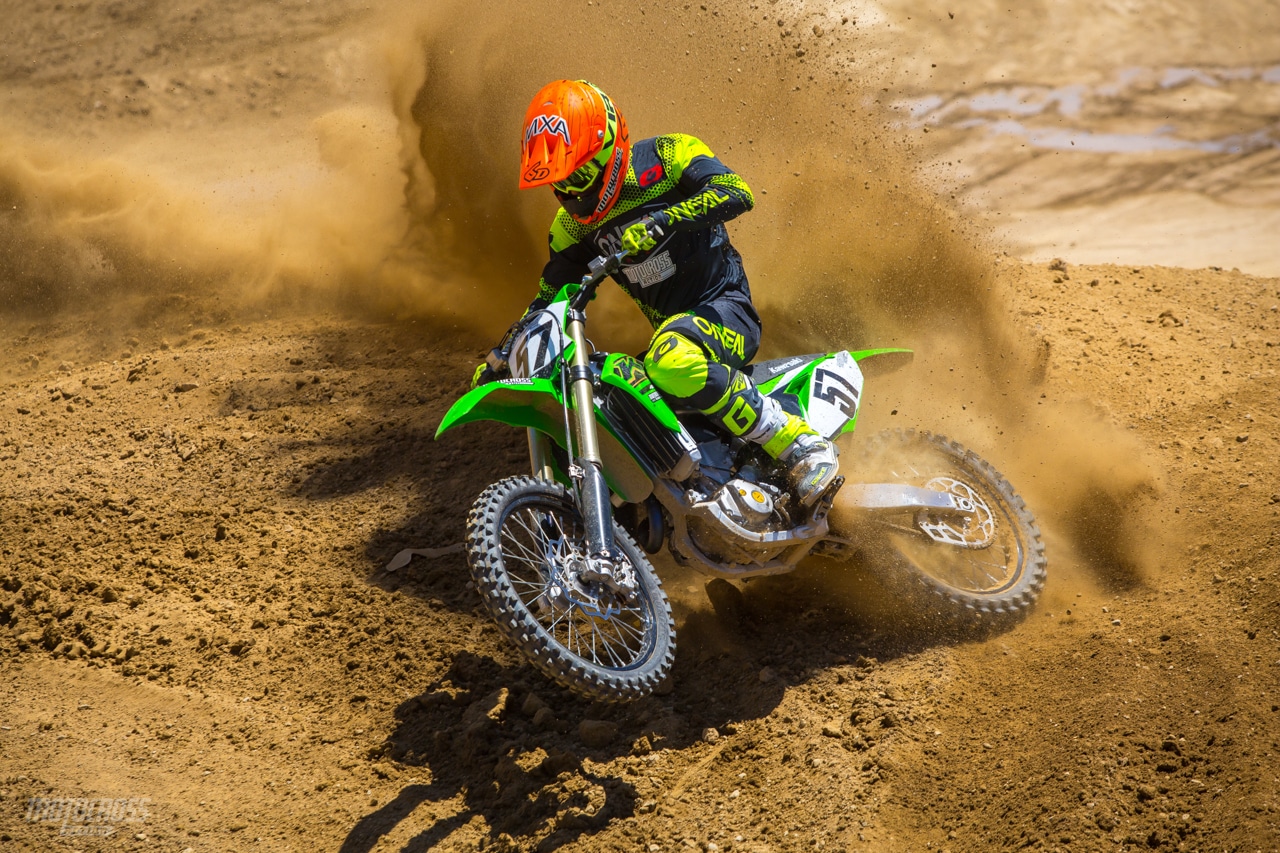 MXA's Josh Mosiman hooks up in the Glen Helen and corner for Travis Fant's camera.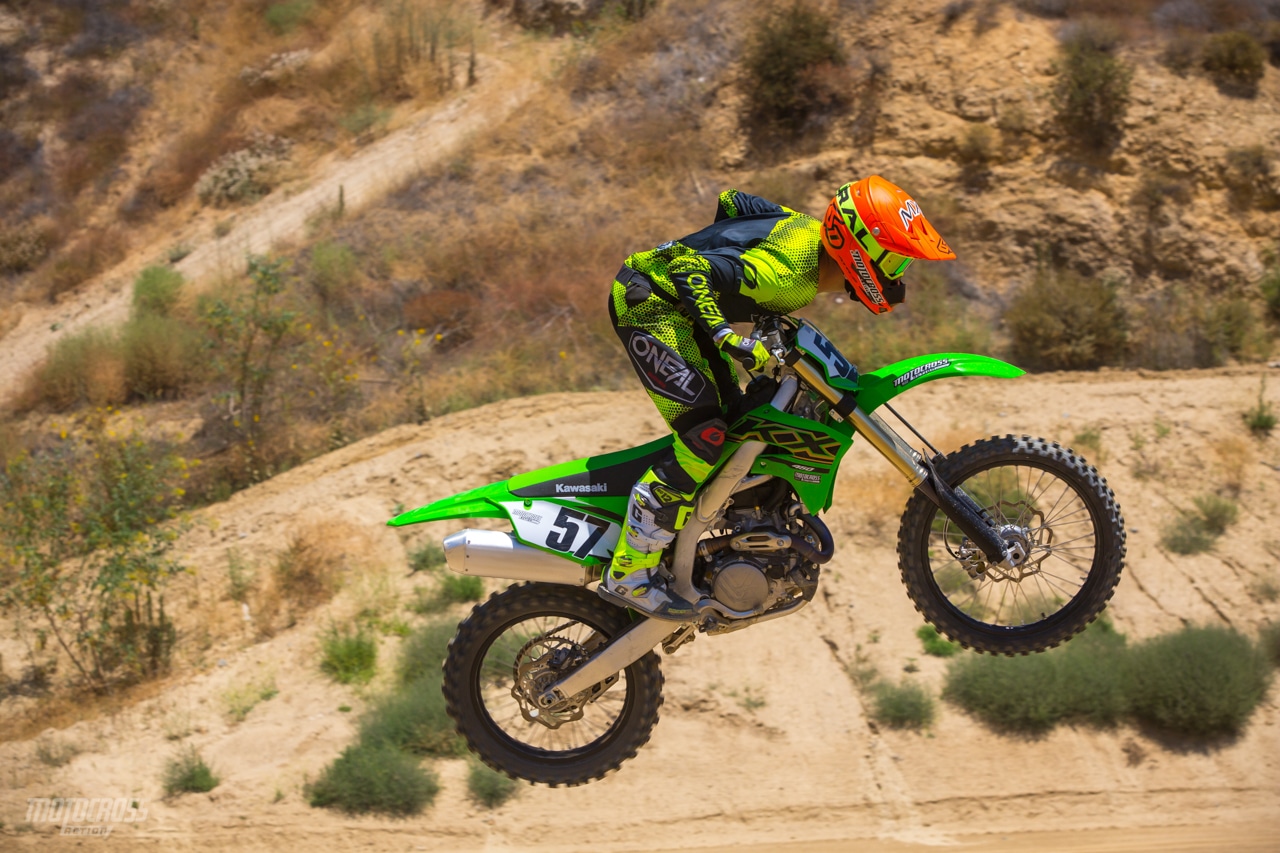 The KX450 is a bike the is easy to get comfortable on. This was the first day of many on the KX450 for the MXA test riders. However, Kawasaki has an unlimited parts budget to keep it together for us.
MXA FIRST RIDE VIDEO 2021 KAWASAKI KX450
2021 HUSQVARNA FC450
We got some time in on the 2021 Husky FC450 this Tuesday at Glen Helen with Husqvarna. Up next, on Thursday, we have a date with the 2021 Yamaha YZ450F. 
LOST BUT NOT FORGOTTEN | MIKE KIEDROWSKI'S 1995 FACTORY KX250
Mike and his Factory 1995 KX250.
Mike racing his Factory KX250. 
THE ART OF HOW-TO TURN EFFECTIVELY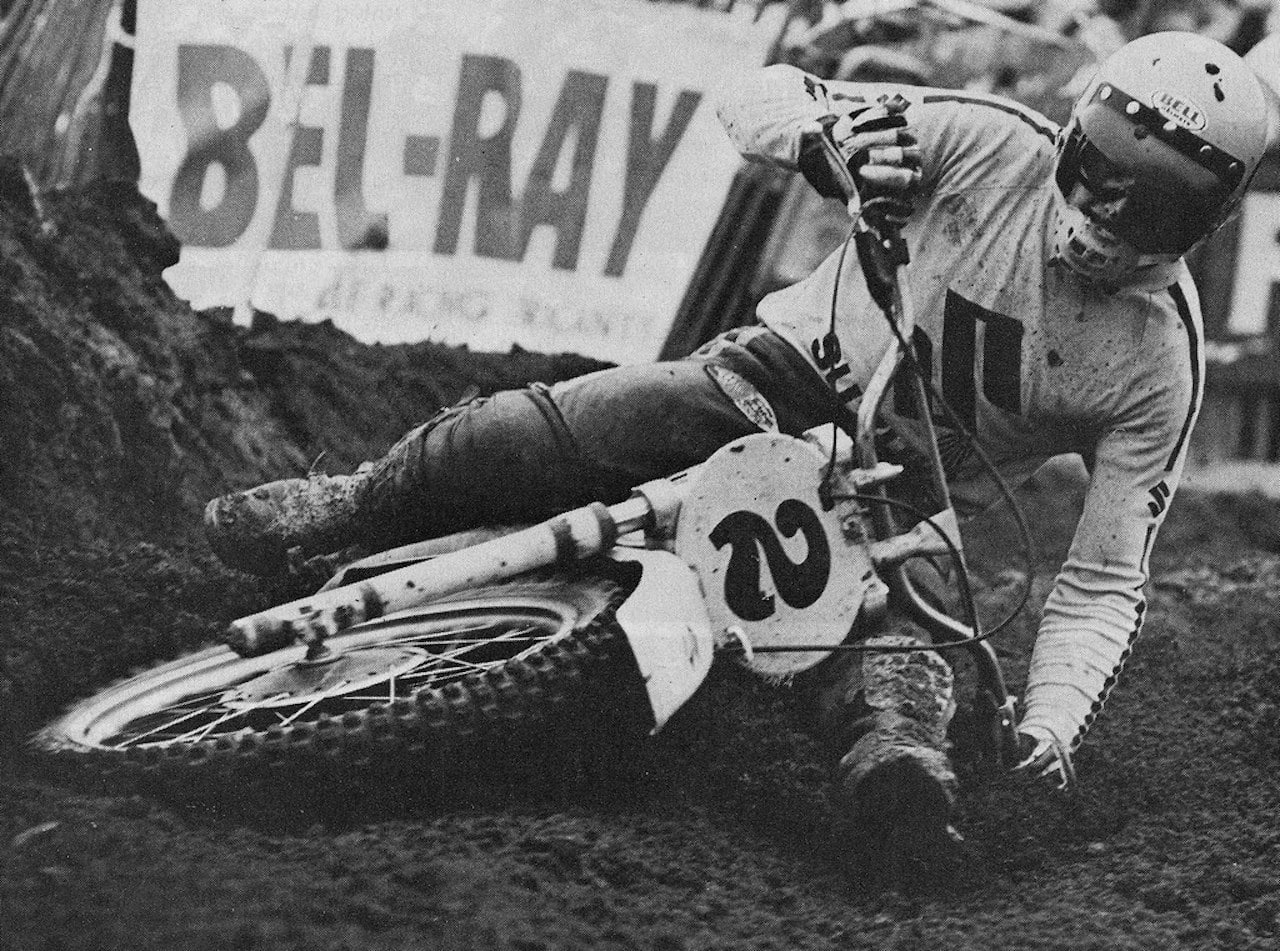 Roger DeCoster at Carlsbad raceway dragging bar. 
Have you ever seen the photo of Roger DeCoster at Carlsbad cranking his works Suzuki through the Mechanic's Turn? It is an awesome depiction of motocross prowess. The Man has his bike laid down so far that the clutch lever is pushing dirt and his left leg looks like a snow ski carving through brown powder.
"Foot out and sliding" is the epitome of motocross coolness, but it's really not how a motocrosser's legs should be used. Any rider can get away with using his leg as a prop, ski or tripod if the traction is perfect, his skill level high enough and conditions right, but it's not wise to make a habit of it.
The main reason for sticking your inside leg out in a corner is to move body weight forward. As the leg is projected in the direction of travel, the rider's hips are held in place on the saddle.
RULES AND REGS OF LEGS
Rule One: Extend your leg directly forward (keeping it as close to the center line of the bike as possible). Do not stick it out sideways like an outrigger unless you want it ripped backwards.
Rule Two: Do not touch the ground with your foot. Why? Because when the foot hits the ground the counterbalance effect of the leg is lost and the bike goes from being balanced on two wheels to being supported on three points. Touching the ground changes the bike's balance point.
Rule Three: Your leg is not a skid. It is a counterbalance (much like the long pole used by tightrope walkers). It should not slide along the ground in any manner. If it accidentally hits the ground, immediately lift it up and hold it approximately four inches above the surface.
Rule Four: Never fully extend your knee joint. Always keep a slight bend in the knee to help absorb punishment and to maintain enough flexibility in the knee to allow the leg to be withdrawn should the bike fall down.
Rule Five: As the corner is completed, retracted the extended leg directly back to the footpeg. Do not swing it backwards or let it dangle.
Rule Six: Never let your outstretched leg get drawn behind the bike. If your foot is pulled towards the rear of the bike, you risk running over your own leg, twisting your knee severely or smacking your ankle against the rear axle bolt.
Rule Seven: Should the bike begin to slide out while your leg is extended you have two choices: (1) Pull it back to the footpeg and try to save the bike with throttle and brake control or (2) stomp your foot onto the ground at a right angle to the bike to try and keep it upright. Never leave your leg extended as the bike slides out or the handlebars will leverage your upper thigh (with your knee as the fulcrum point). That hurts.
NEW RIDE ENGINEERING BILLET SHOCK COLLAR
Ride Engineering's billet shock collar is something that KTM needs to take note of. 
Press Release: This machined billet product is designed to replace the stock plastic upper shock spring collar. Many of the stock plastic ones on KTMs and Husqvarna motorcycles are very tight and create a lot of drag on the shock body making sag adjustment difficult. Using precision machining the Ride Eng. billet shock collar fits perfectly and rotates smoothly. Furthermore, we have added engraving to simplify setting shock sag.
Our product has engraving marks in quarter-turn intervals (1 full rotation changes sag about 4mm) and even provides directional arrows. For example, rotating to the right the collar travels up thereby increasing sag 1mm for every quarter turn.
Please note the shock must be disassembled to install and to remove the stock plastic collar. MSRP $59.95 With two part numbers we cover all these applications (WP & Showa): KTM from 2012-20.5 (SX/SX-F/XC/XC-F/XC-W/XCF-W/
EXC/EXC-F, 125/150/250/300/350/450/500), Husqvarna from 2014-2020 (FC/TC/TE/FE/TX/FX 125/150/250/300/350/450/500), Kawasaki KX450 2019-20 and Suzuki RM-Z450 2018-2020.
HAVE YOU SEEN THE AUGUST 2020 ISSUE OF MXA? SUBSCRIBING IS THE BEST DEAL IN  MOTOCROSS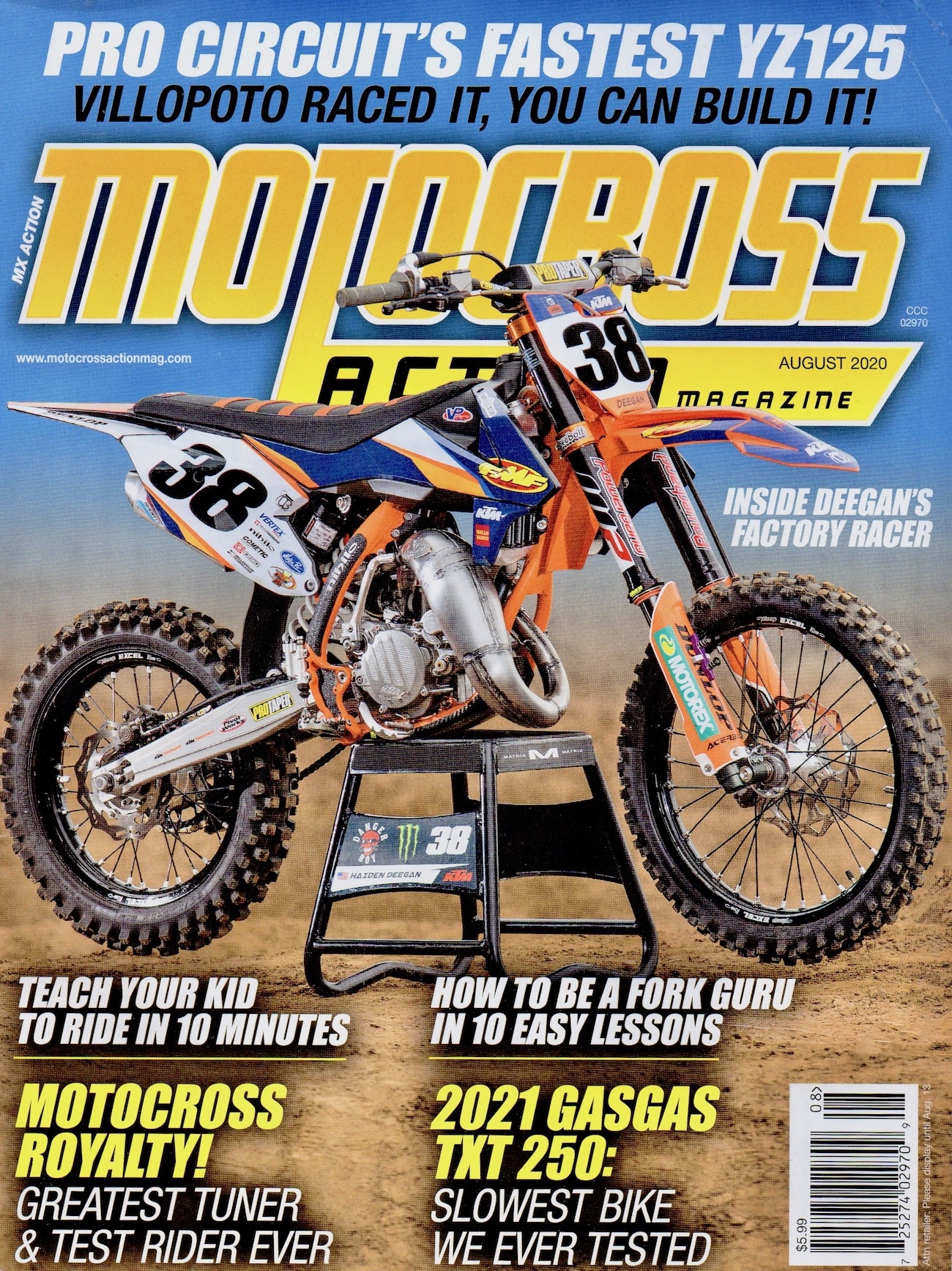 In this issue, out this week, we test a full race Pro Circuit Yamaha YZ125 that we built for the World Two-Stroke Championships. We also had Doug Dubach shepherd our GYTR-kitted YZ450F through its hop-up phase. Unwilling to leave well enough alone, we herded up a bunch of kids to help us test a Stacyc electric balance bike, we asked a kid to let us ride his full-race Supermini and not only did we resurrect a 2005 Honda CR125, but blew it up too. If that wasn't enough, we interviewed Rocket Rex Staten to prove that we weren't afraid of him.
HOW TO SUBSCRIBE TO MXA SO THAT YOU NEVER MISS ANOTHER ISSUE OR SPEND A PENNY
If you subscribe to MXA you can get the mag on your iPhone, iPad, Kindle or Android by going to the Apple Store, Amazon or Google Play or in a digital version. Even better you can subscribe to Motocross Action and get the awesome print edition delivered to your house by a uniformed employee of the U.S. Government. You can call (800) 767-0345 or Click Here (or on the box at the bottom of this page) to subscribe.
MXA TEAM TESTED: SPROCKET STUFF COUNTERSHAFT SPROCKET TOOL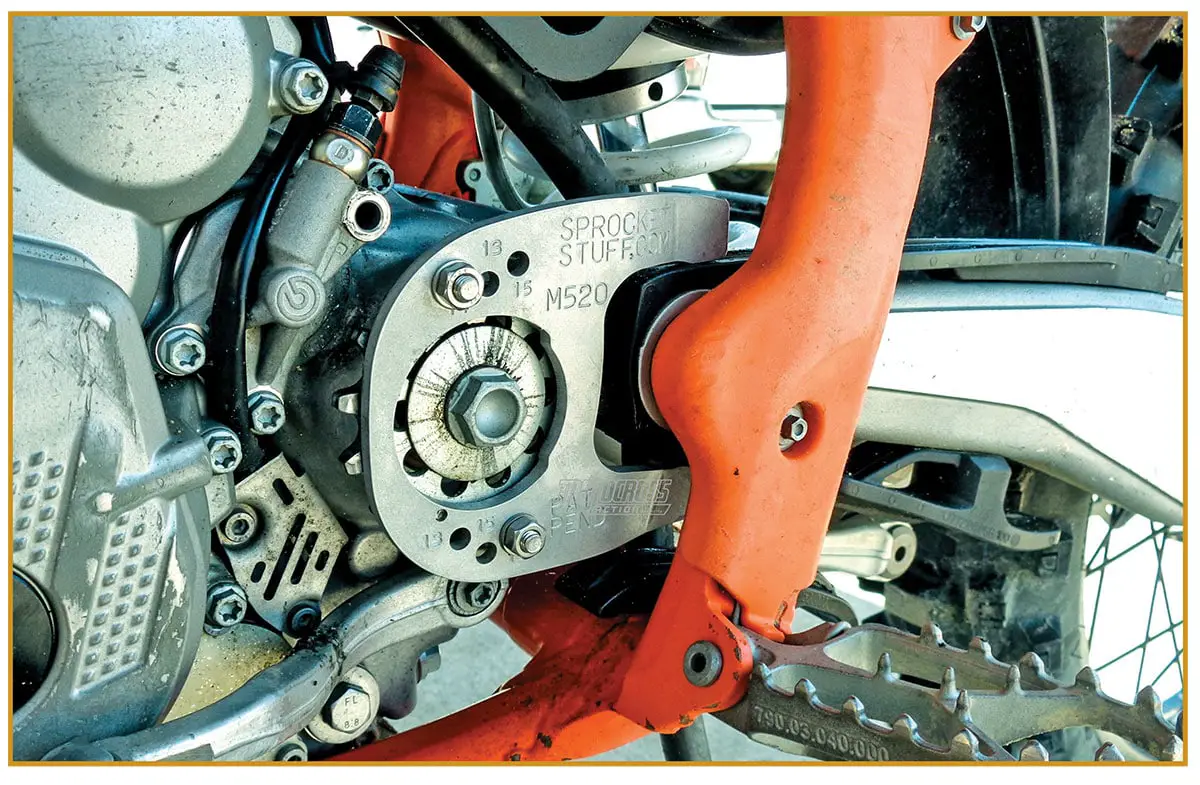 WHAT IS IT? Sprocket Stuff makes a very special tool that allows you to easily remove your bike's countershaft sprocket without having to stand on the rear brake or shove rags into the engine cases.
WHAT'S IT COST? $19.99.
CONTACT? www.sprocketstuff.com.
WHAT STANDS OUT? Here's a list of things that stand out with the Sprocket Stuff countershaft sprocket tool.
(1) Design. If you want to replace a worn-out countershaft sprocket or change your gearing, removing the old countershaft sprocket can be a hassle. It is typically corroded in place, and when you try to turn the sprocket, you typically turn the engine over (and the sprocket doesn't budge). Sprocket Stuff's countershaft sprocket tool is designed to lock your bike's countershaft sprocket to the swingarm so that it can't spin. The MXA wrecking crew has used this tool for years, but last week we were at the KTM Factory race shop and every mechanic had a Sprocket Stuff countershaft tool in his toolbox
(2) Updates. The original Sprocket Stuff tool had to be ordered in teeth sizes. For example, if you wanted to remove a 13-tooth countershaft sprocket, you needed the 13-tooth tool. That's all well and good, unless you were adding a 14-tooth sprocket in place of the 13; then you needed a 14-tooth tool to install it (or remove it when it was time to replace it). The new design now fits on 13- 14- and 15-tooth sprockets. All you have to do is move the pins that slip into the grooves between the sprocket teeth. Additionally, the new design is more compact, so you don't have to remove your engine's case saver.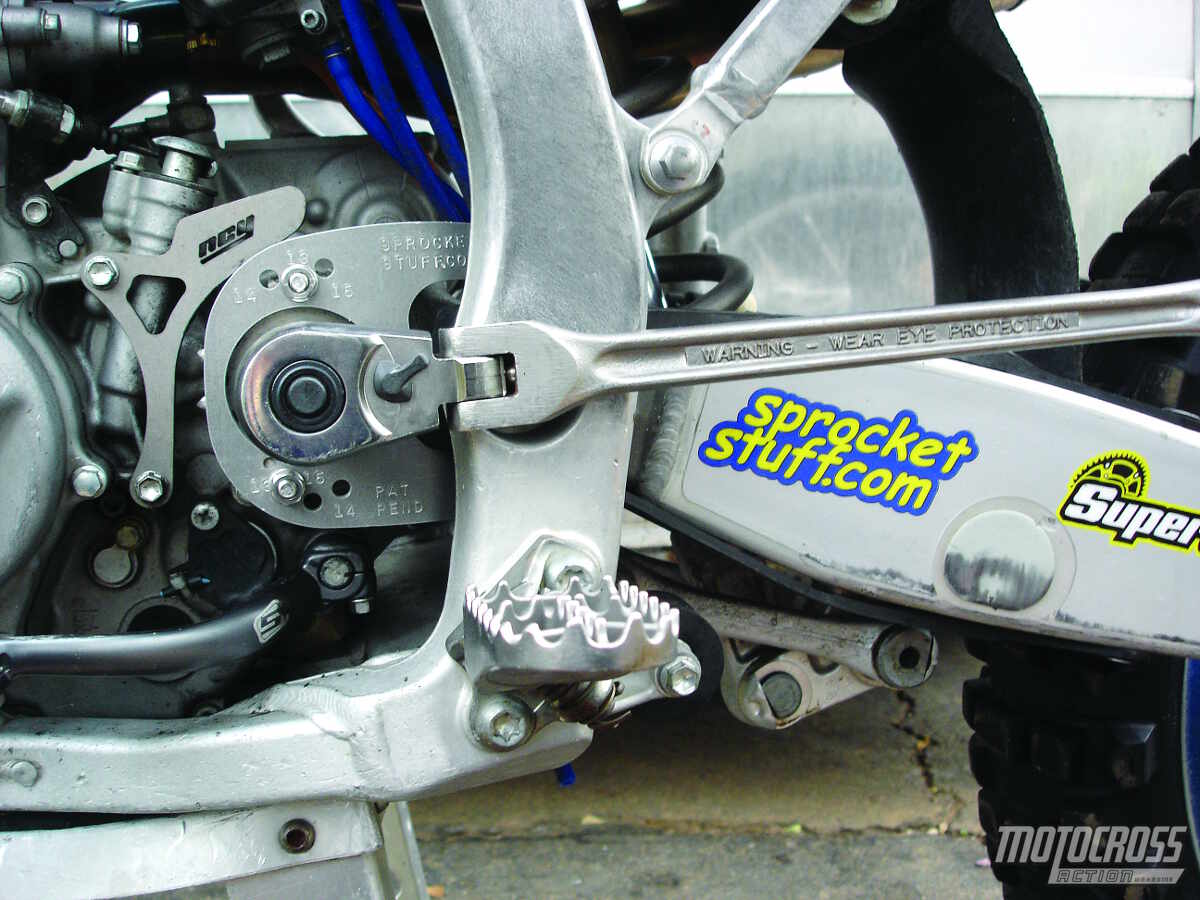 (3) Directions. In step one, you have to remove the chain. Why? Because the pins of the Sprocket Stuff tool have to fit into the teeth of the countershaft sprocket, and they can't do this if the chain is on the sprocket. At the KTM race shop, they often work on engines that are out of the frame, and the Sprocket Stuff tool is the best way to remove a countershaft on the workbench. Step two is to bend the locking tab away from the countershaft nut. Step three is to slip the Sprocket Stuff countershaft sprocket tool onto the sprocket with the two elongated arms positioned above and below the swingarm pivot. The arms lessen side load on the countershaft bearing. The final step is to put the proper size socket on the nut and turn it with a ratchet or breaker bar. Sprocket Stuff does not recommend using an air impact wrench for this job. To install a new countershaft sprocket, you simply reverse the direction of your motion. You can hand-crank it into place or, if you are smart, use a torque wrench to set it at the proper torque setting (found in your owner's manual).
WHAT'S THE SQUAWK? There are other homegrown ways to remove and install a countershaft sprocket that don't require a $20 tool, but most mechanics are tool junkies, and if a tool exists to do a job, they want it.
MXA RATING: If you don't work on engines, this is a tool that will mystify you, but for anyone who has struggled to split cases or get a frozen countershaft sprocket off, the Sprocket Stuff's countershaft tool is a must-have. We use this tool.
TAKE THE MXA 2020 READER SURVEY & HAVE A CHANCE TO WIN FREE THOR GEAR!

Score free head-to-toe Thor gear now! Complete our reader survey we'll take your input to help improve future web and monthly print content of Motocross Action. One lucky winner will be chosen at random to receive a free gear ensemble from Thor (style and/or color may vary). This year's Thor (www.thormx.com) gear giveaway includes the following: Prime Pro jersey and pants, Sector Split with MIPS helmet, Radial boots, Sniper Pro goggles, and Agile gloves. That's $750 worth of products, so don't miss this opportunity to win all this stylish gear for free! Fill out the entire survey!
ROGER DECOSTER INKS A TWO-YEAR CONTRACT EXTENSION AS DIRECTOR OF MOTORSPORTS IN NORTH AMERICA
Press Release: KTM is pleased to announce that legendary motocross icon Roger DeCoster has signed a two-year contract extension to continue his strategic role as Director of Motorsports in North America. Currently, in his 10th year with the KTM family, DeCoster's new agreement will extend through the 2022 race season.
As a five-time Motocross World Champion with a record 36 500cc Grand Prix victories in the 1970s, Roger DeCoster's legendary story spans across multiple generations making him arguably the most relevant icon in the sport. As a Team Manager, DeCoster led the first American team to win the Motocross des Nations in 1981 and since then, he has led the USA Team to 20 of the 22 event victories.
In 2011, DeCoster and his esteemed staff came to KTM alongside Ryan Dungey and the Belgian proved to be instrumental in elevating the Red Bull KTM Factory Racing Team to the position of champions. Over the last decade, DeCoster's role has continued to evolve and now with the U.S. SX/MX squad in the capable hands of Team Manager Ian Harrison, DeCoster has embraced a more senior position for all brands in North America.
Stefan Pierer, CEO KTM AG: "We are thrilled to continue an even stronger partnership with Roger as the backbone of our supercross and motocross division in North America. His ongoing commitment to push our brands to a winning stature is undeniable and we look forward to continuing the growth of U.S. motorsport strategy under Roger's supervision."
Pit Beirer, KTM Motorsports Director: "Now in the 10th year of a very effective working-racing relationship, Roger has cultivated a championship culture in the U.S. that began first with ground-breaking race-wins, then a first-time World Championship, and now a reputation of the highest regard as five-time AMA 450SX World Champions with Ryan Dungey, Jason Anderson and Cooper Webb. We are pleased to continue this successful relationship for another two years."
Roger DeCoster, Director of Motorsports, North America: "I'm happy to re-sign for another two years and I'm proud to continue working with a company who is so dedicated to their racing efforts. We are all very happy with the recent announcement of the 2020 Pro Motocross schedule and we can't wait to get back to racing this summer. I'd like to thank Mr. Pierer, Pit and all the guys who work so hard to allow us to be where we want to be."
MXA YOUTUBE CHANNEL | HIT THAT SUBSCRIBE BUTTON

The MXA wrecking crew is everything moto related. Check out our MXA YouTube channel for bike reviews, Supercross coverage, rider interviews and much more. And don't forgot to hit that subscribe button.
TALK MOTO WITH MOTO MINDED PEOPLE. JOIN MXA'S FACEBOOK GROUP CHAT

We love everything moto and want to bring all moto junkies together into one place to share their two cents, ideas, photos, bike fixes, bike problems and much more. To check it out first you must need to or already have a Facebook account. If you don't, it isn't much work and you could even have an alias so nobody knows it is you. To join click HERE. After you request to join we will accept your request shortly after.
CLASSIC MXA PHOTO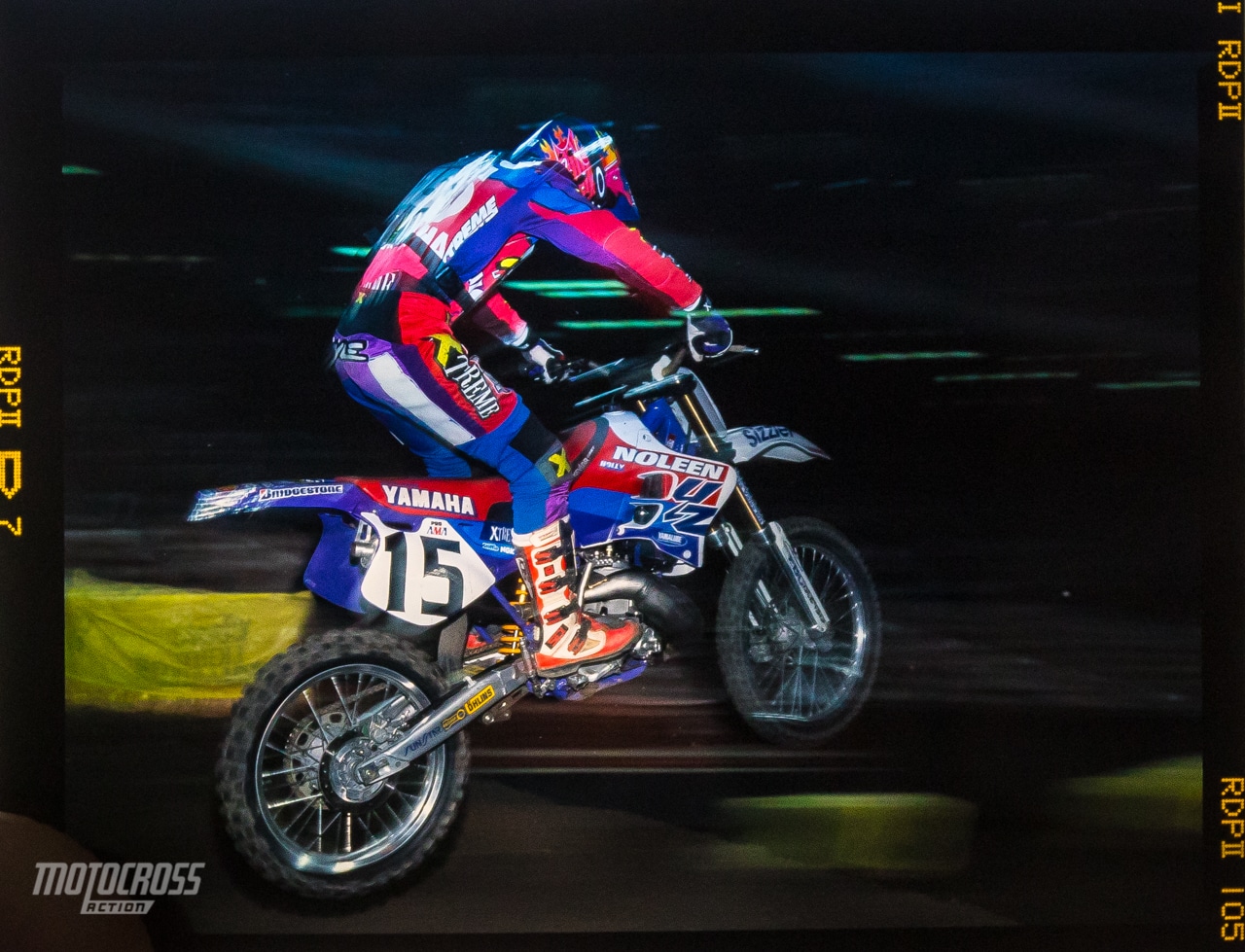 Tim Ferry back in 1995 aboard his Noleen YZ250.
---
Moto Trivia answer: Mike Metzger back in 1995.