MOTOCROSS ACTION MID-WEEK REPORT
#WHIPITWEDNESDAY
Rider: Justin Brayton
Bike: Moto Concepts Honda CRF450
Location: 2018 St. Louis Supercross
TWO-STROKE SPOTLIGHT: JAMES HICKS 2016 TC250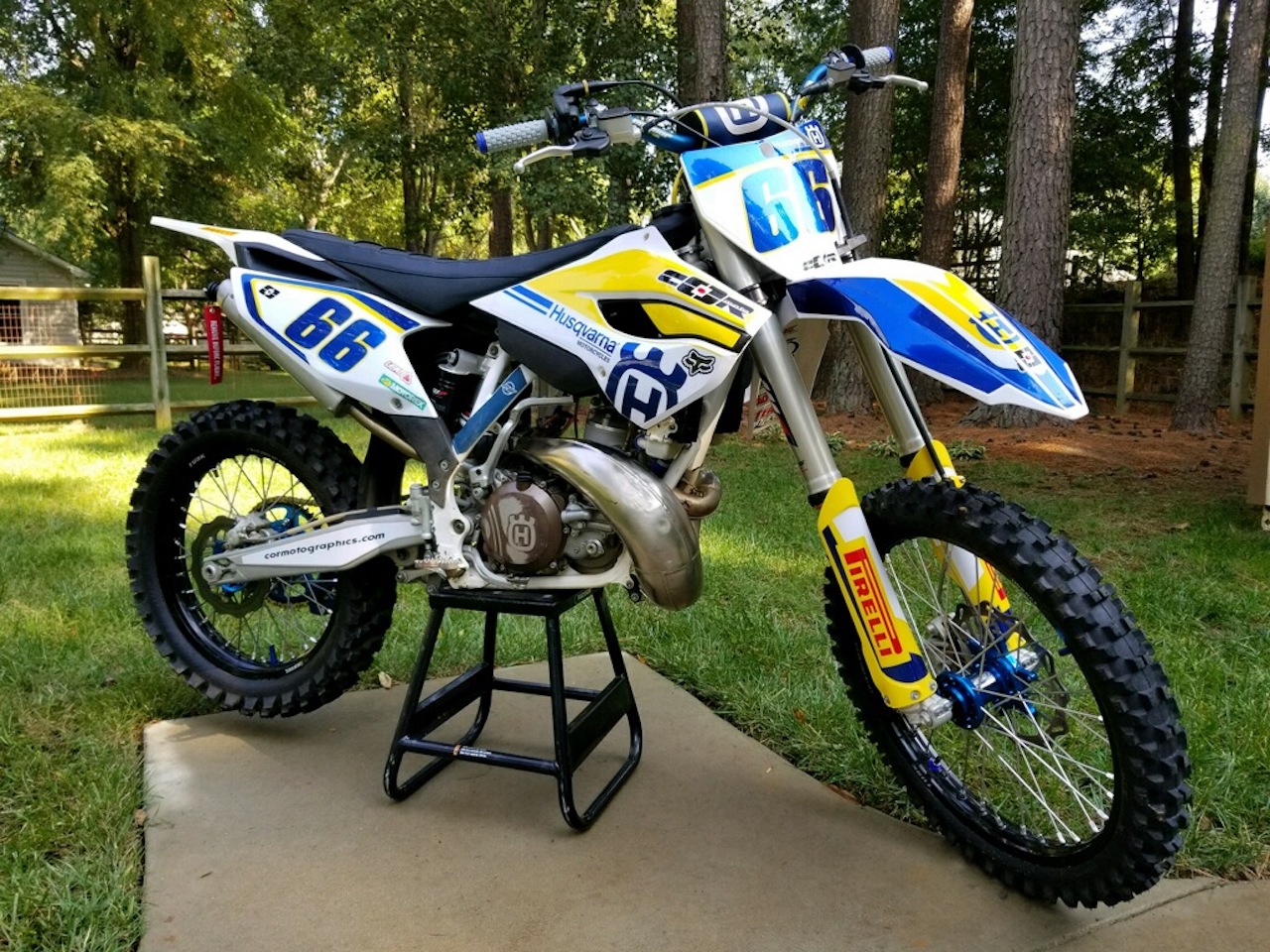 "This is my 2016 TC250. After several years on a four-stroke, I didn't have the same passion for riding. I suppose I was missing the nostalgia of what riding was like in my younger years on a two-stroke.
At 44 years old, I didn't have the need for a radical build, so it's mainly stock. Caleb Atkins did a complete overhaul/rebuild with Tusk Wheelsets, a flywheel weight, all new bearings and freshened up the engine.
One of the most unique aspects of the bike are the custom graphics done by CORMoto, which look stock, but are blue chrome. I've not seen anything like it out on the track. And hey, it's nice to at least look fast in the pits!" –Jim Hicks Charlotte, NC.
Editors Note: Please keep those submissions coming. If you would like your bike to be featured in the "Two-Stroke Spotlight," please email me at [email protected]. All I ask is that you give a breakdown of your bike and a detailed description of the build. Please also send a few photos of your steed. By submitting your bike for the "Two-Stroke Spotlight," you agree to release all ownership rights to the images and copy to MXA.
RIDE ENGINEERING'S 270mm WAVE ROTORS
The Ride Engineering Wave Rotors have been reduced to $150 (full kits with hanger bracket just $209.95).
Press Release: Ride Engineering's non-floating wave rotor (made by Galfer) is durable, very lightweight (1lb 1oz) and offers excellent stopping power. This is the same rotor used by top-level race teams Rocky Mt/ATV KTM and JGR Suzuki; and it's now available as a replacement rotor for all these models:
KAWASAKI: 2015-2020 KX250F/450F
YAMAHA: 2016-2020 YZ250F; 2016-2020 YZ450F/YZ125/YZ125X/YZ250/YZ250X; YZ250FX/WR250F/450FX 2016-2020 & WR450 2016-2020
SUZUKI: 2018-2020 RM450Z and 2019-2020 RM250Z
Add our precision machined hanger bracket and increase your stopping power from a 250mm/260mm rotor on these models:
HONDA: 2014-2020 CRF250R/450R/450RX/250X/450X/450L
KTM: 2009-2020 KTM SX/SXF/XC/XC-F 125/150/250/300/350/450/500
HUSKY:  2014 – 2020 HUSKY FC/TC/FX/TX 125/250/300//350/450/500
KAWASAKI: 2006-2014 KX250F/450F & 2007-2011 KLX450R
YAMAHA: 2007-2015 YZ250F; 2008-2015 YZ450F/YZ125/YZ250
SUZUKI: 2006-2017 RM450Z/450X; 2007-2018 RM250Z
Available through: www.rockymountainatvmc.com; www.motosport.com; www.btosports.com & www.ride-engineering.com
MOTO | TRIVIA
Name the rider. Answer at bottom of page.
2021 YAMAHA YZ450F FIRST RIDE
Josh Mosiman gets his hands on the 2021 Yamaha YZ450F. Sure there are no changes, save for the bold new graphics, however, in the last year, we have learned a lot about the bike. 
We have our first impressions video already in the bank, we are just waiting for Yamaha to lift their embargo on August 5th to post it on our YouTube channel.
What happened here, Josh? On the first few laps on the Glen Helen National track Josh had a weird crash that distorted the front fender. Lucky for us Yamaha had back up fenders for incidents like this.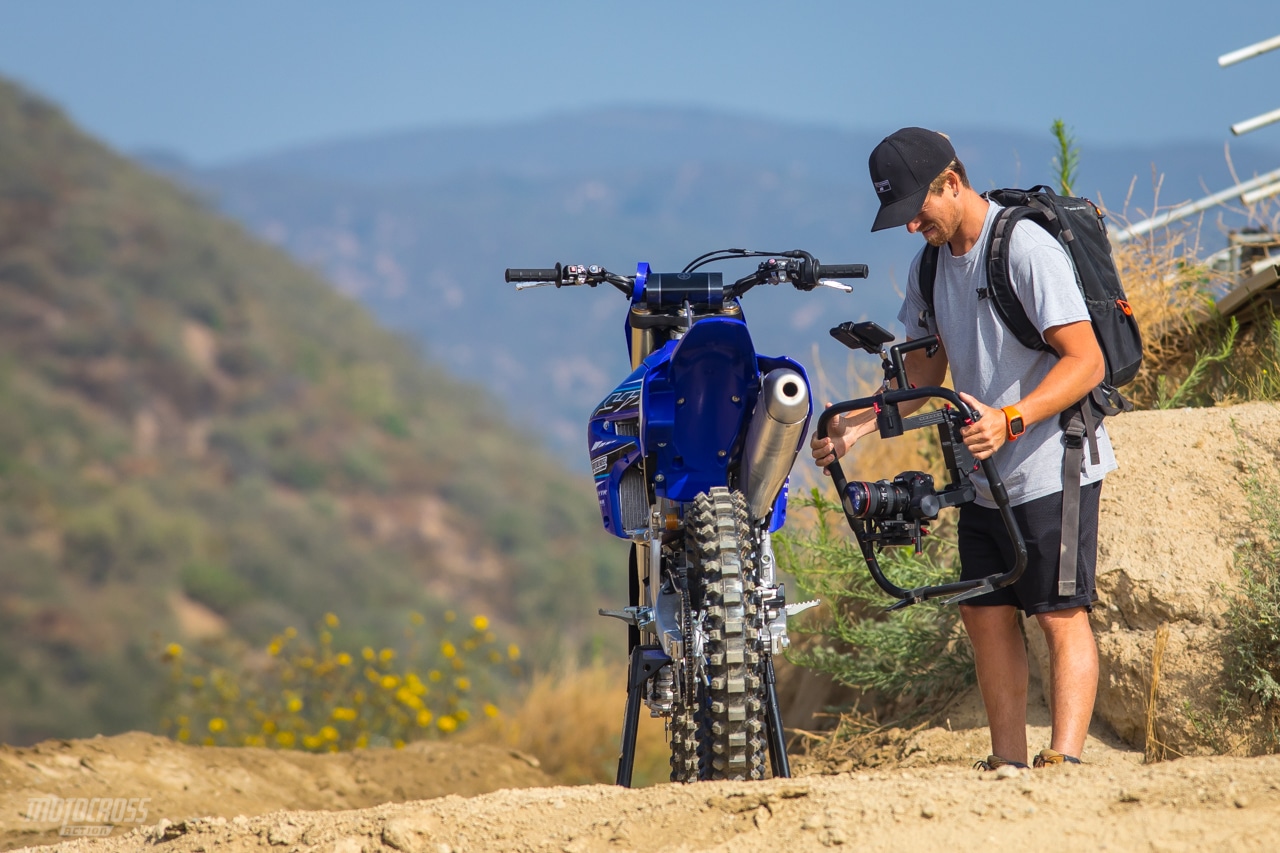 Our video guy, Travis Fant getting the beauty shots of the 2021 YZ450F. 
This is MXA test rider, Brian Medeiros' 2020 YZ450F. He has spent many hours on this bike and has worked out many of the bugs. Sure its Kayaba SSS forks are good, but you know what, Brian says the WP XACT Pro forks are even better. 
Brian is racing his 2020 YZ450F at Lorreta Lynn's this year. It will be the first time for Brian to race Loretta's. 
Josh at speed. 
PRO CIRCUIT 2020 TT-R EXHAUST SYSTEMS

Press Release: Yamaha TT-R trail riders who are looking for an increase in performance while out doing wheelies through sand whoops should look no further. Pro Circuit has recently released brand new T-6 Stainless Steel Exhaust Systems for the 2000-2020 TT-R125 and 2020 TT-R230 models that deliver the performance needed. The new exhaust systems offer improved performance and durability off-road riders will appreciate. Each exhaust is constructed of a stainless steel head pipe, aluminum canister and carbon fiber end-cap. A United States Forest Service approved spark arrestor also comes equipped making them easy to alternate between off-road and closed-course racing.
A DOLLAR SPENT IS A COLLARBONE REPAIRED
You don't need an X-ray to fix this collarbone, but your doctor does.

A DOLLAR SPENT IS A COLLARBONE REPAIRED
Dear MXA,
I think I broke my collarbone the other day. I don't have medical insurance. My friends said, "Don't worry about it." They had all broken their collarbones, and all their doctors did was give them that shoulder harness thing, which they all took off immediately. How can I tell if I actually broke it?
The best way is to get an X-ray, but it will cost you around $250 (if you plead poverty). If it doesn't feel better soon, or if you can't lift your arm up, bite the bullet and spend the money to see a doctor. The collarbone is the most commonly broken bone in the human body, and understandably so when you consider that it only takes 7 pounds of pressure to break it. In the world of motocross, there are two kinds of riders—those who have broken their collarbones and those who will. A collarbone can be cracked, broken or compound fractured. We are going to ignore the last two, because if you had either one of those, you'd know it. You could feel it, or the blood would be noticeable. That means that you most likely cracked it—if you did anything to it at all. The standard medical practice for a clean break is pain pills and a shoulder harness to draw the shoulders back so that the bones (previously a bone) will align. If you've ever worn a collarbone harness, you know how irritating it can be.
The good news is that most cracked collarbones heal well without surgery or serious medical intervention. A simple arm sling can be used to immobilize the arm for up to six weeks. Don't rush the healing process just because your buddy said he was back racing three weeks after breaking his collarbone. Bones don't weld together. In fact, they heal by having a bridge of calcium form across the gap of the two bones. The smaller the gap, the faster the bridge will form. The calcium bridge is quite unique. It sometimes produces a pronounced bump. That bump can be so large that it gets irritated, red and welt-like. Have no fear, the bump tends to go down in size with time (although it can take as much as a year to subside).
During the healing process, typically anywhere from three to five weeks, the calcium bridge is mushy. Falling down, getting jostled or not wearing the harness can allow the bones to move. Disturbing the mushy calcium will slow down the healing process. The calcium bridge can be seen on the X-ray, and the doctor can tell from the density of the film the progress of the healing. Don't ride until the calcium bridge has formed. Collarbones that don't heal properly lose their ability to knit back together, which is not pleasant.
MXA VISITS THE CALIFORNIA TRIALS INVITATIONAL
To showoff their latest purchase and help promote their new venture, the KTM group hosted their first ever Trials event last Friday in Murrieta, California.
With KTM's recent purchase of the GasGas brand also came their introduction to the Trials bike world. KTM has never had a Trials bike before so this was all-new to them. Luckily for KTM, Geoff Aaron, the American Trials riding icon, was willing and excited to stick with the GasGas brand as it moved under the KTM umbrella. Geoff now wears the hat as GasGas brand ambassador, Trials team manager and media guy and more. To help kickoff their new venture into the Trials bike market the KTM/Husky/GasGas group hosted their first ever competition right next to their two Supercross tracks on the "RD Field" behind the KTM and Husky headquarters in Murrieta, California.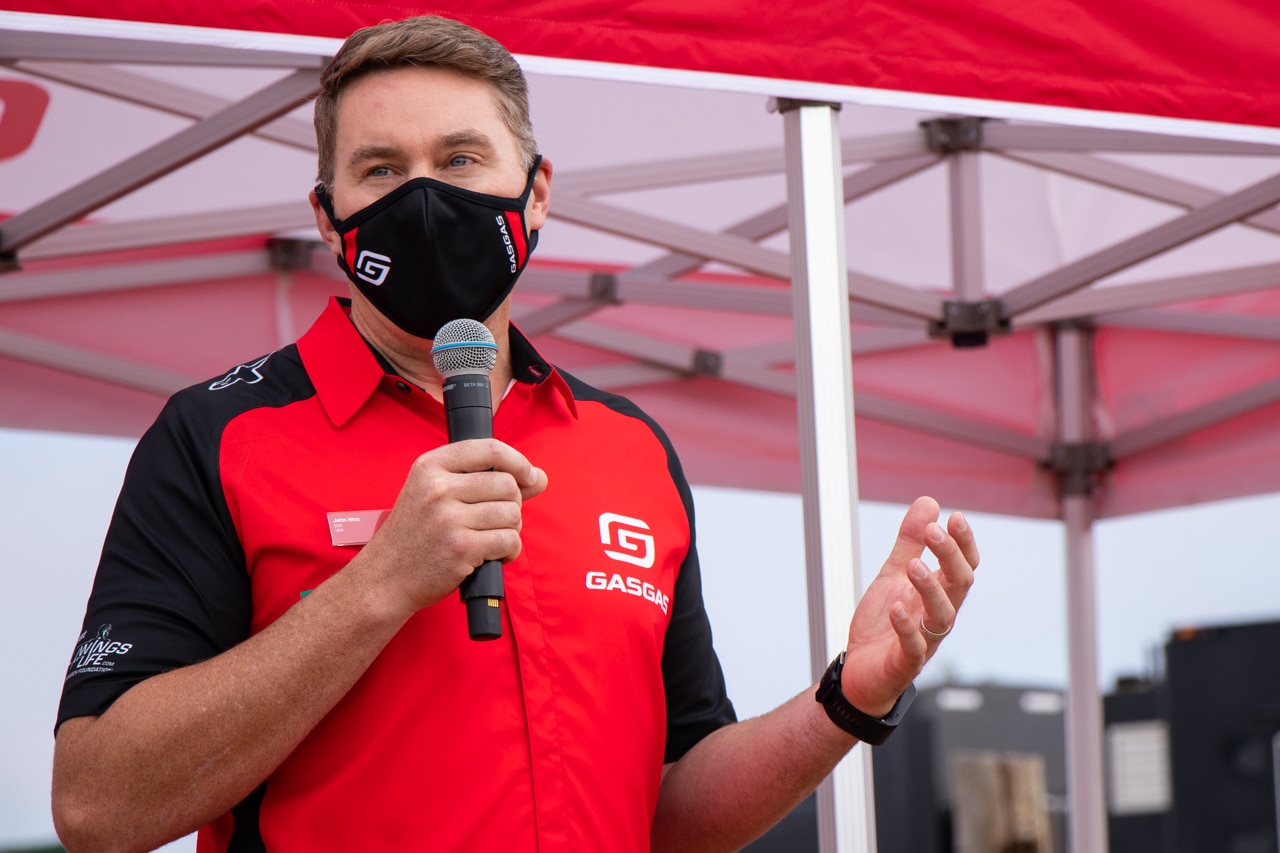 John Hinz, CEO of KTM North America, kicked off the day by welcoming everyone to the first ever GasGas presented Trials competition. The event was invite-only and masks were encourage to wear whenever you were within 6-feet of another person. 
At only 15-years-old, Alex Myers was the youngest competitor at the event and he was also the most exciting to watch. Alex had his fair share of crashes, but when he completed a section, he did it with style.
GasGas invited the top 3 women and top 7 men Trials riders in the country to come and compete and they came from all corners of the country. Some from Florida, Pennsylvania, Kentucky, the Pacific Northwest and more. 
Geoff Aaron (right), GasGas brand ambassador and Antti Kallonen (left), KTM off-road team manager, were the brains behind the inaugural event. 
KTM's Roger Decoster and Sel Narayana hung around to check out the the Trials competition as well. 
The course was very confusing for motocross riders to look at, but this looks normal for a Trials competition.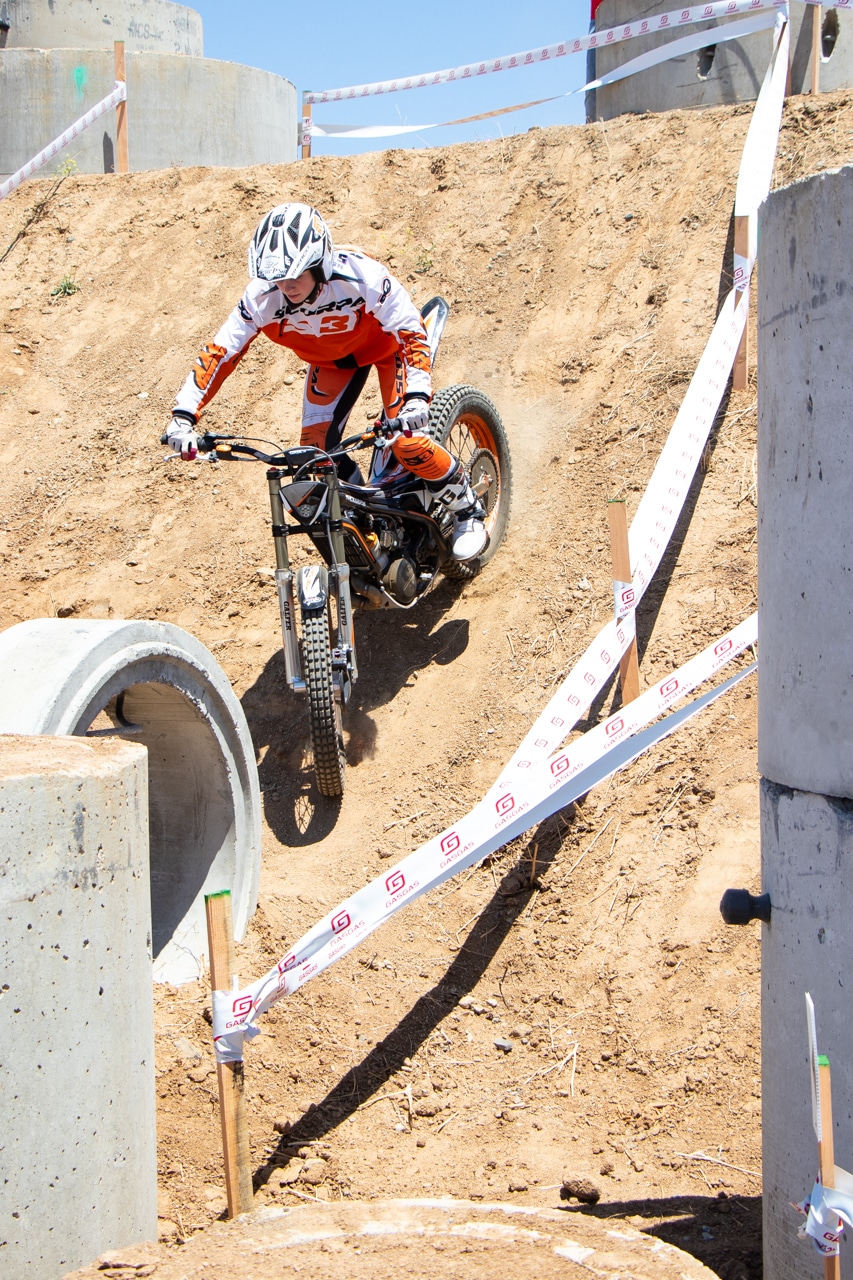 In each "test" there was a line for the women and a more advanced line for the men. But on fifth and final test of the loop, this particular obstacle looked harder for the women than the line was for the men.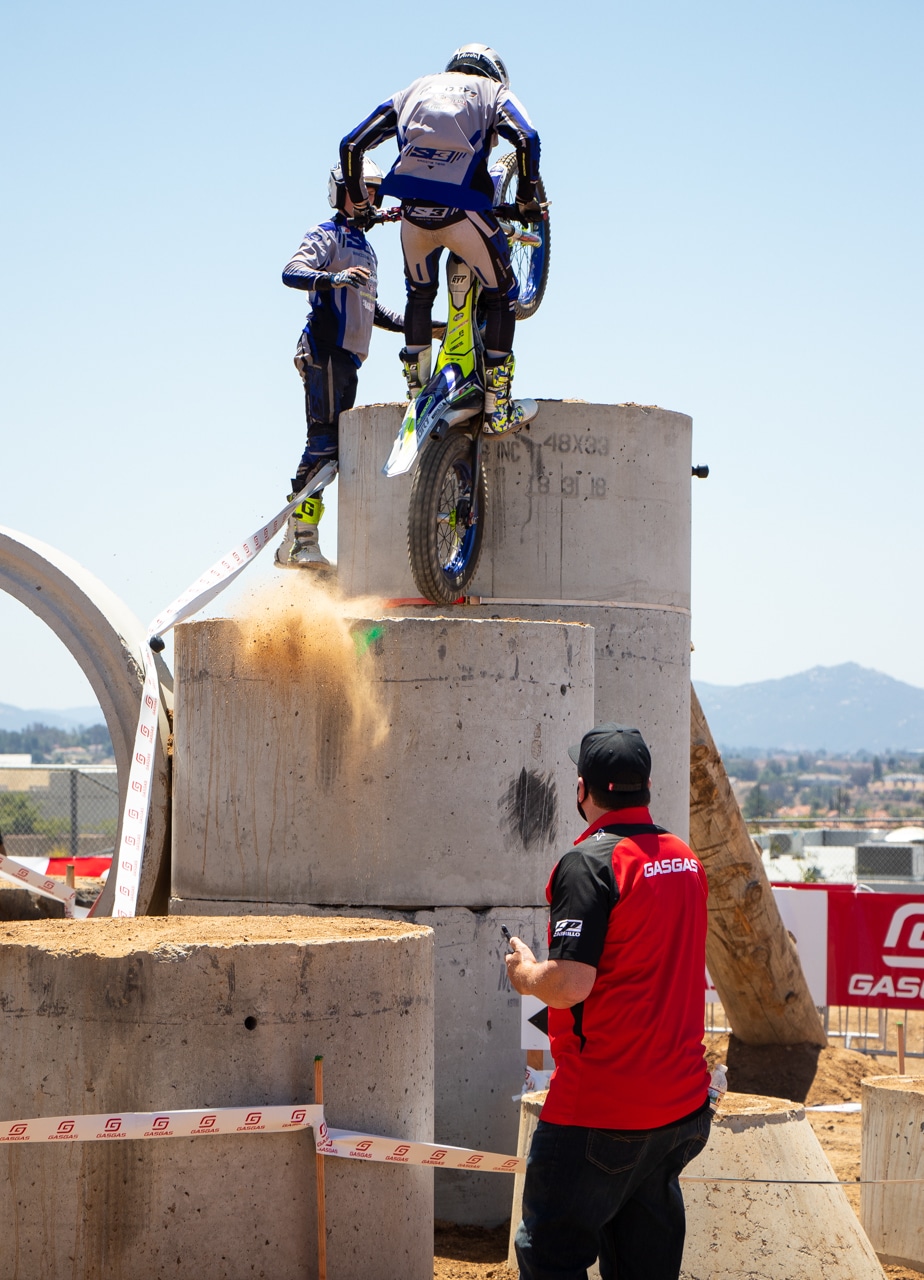 Sam Fastle making the leap to the top step. 
This obstacle on top of the man made mountain seemed to be one of the gnarliest of them all.
Karl Davis launching his way through the matrix section on the Endurocross track. Unlike most Trials events, Geoff Aaron decided to spice things up and send the riders for a qualifying lap around the Endurocross track. The lap time they logged would determine their running order for the test sections. The fastest rider was able to go last in the order which was a major advantage because they could study their competitors lines.
VIDEO FOOTAGE OF TIMED QUALIFYING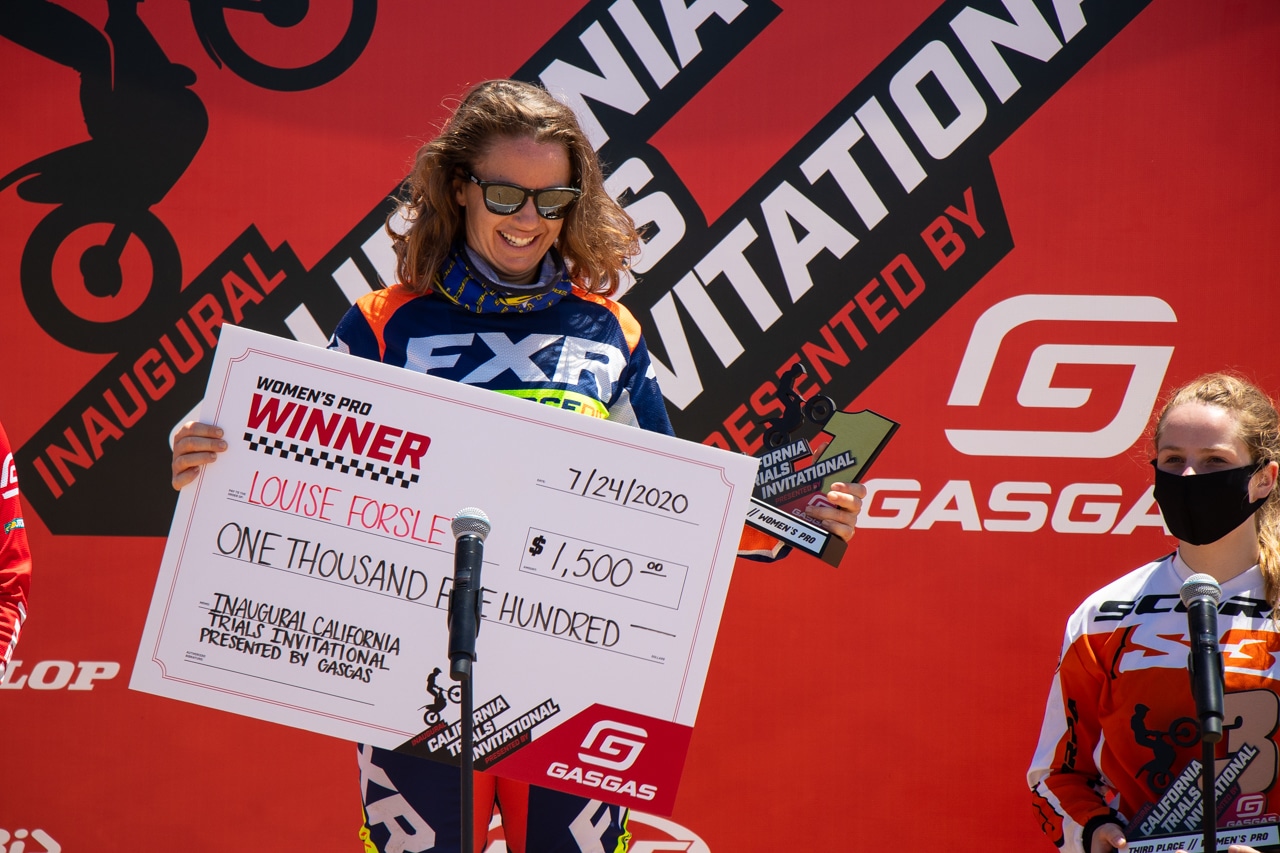 Louise Forsley won the Women's Pro class and took home $1,500. 
Karl Davis took home the win and $2,500 in the Men's Pro division. 
THE ONGOING UPDATED 2020 OUTDOOR NATIONAL SCHEDULE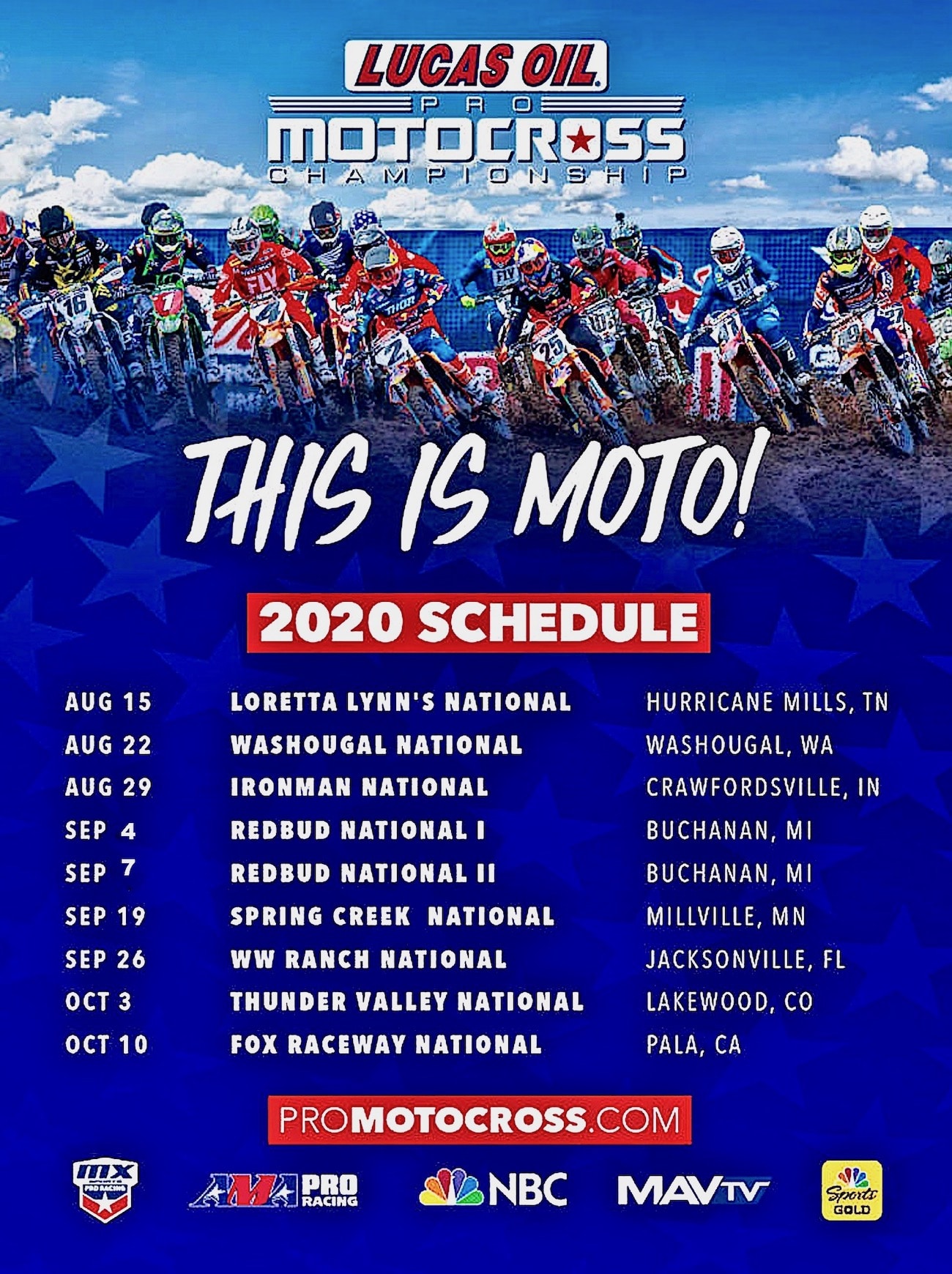 MXA RIDES A 660CC TM SIDECAR
TALK MOTO WITH MOTO MINDED PEOPLE. JOIN MXA'S FACEBOOK GROUP CHAT

We love everything moto and want to bring all moto junkies together into one place to share their two cents, ideas, photos, bike fixes, bike problems and much more. To check it out first you must need to or already have a Facebook account. If you don't, it isn't much work and you could even have an alias so nobody knows it is you. To join click HERE. After you request to join we will accept your request shortly after.
MXA TEAM TESTED | FUNNELWEB AIR FILTER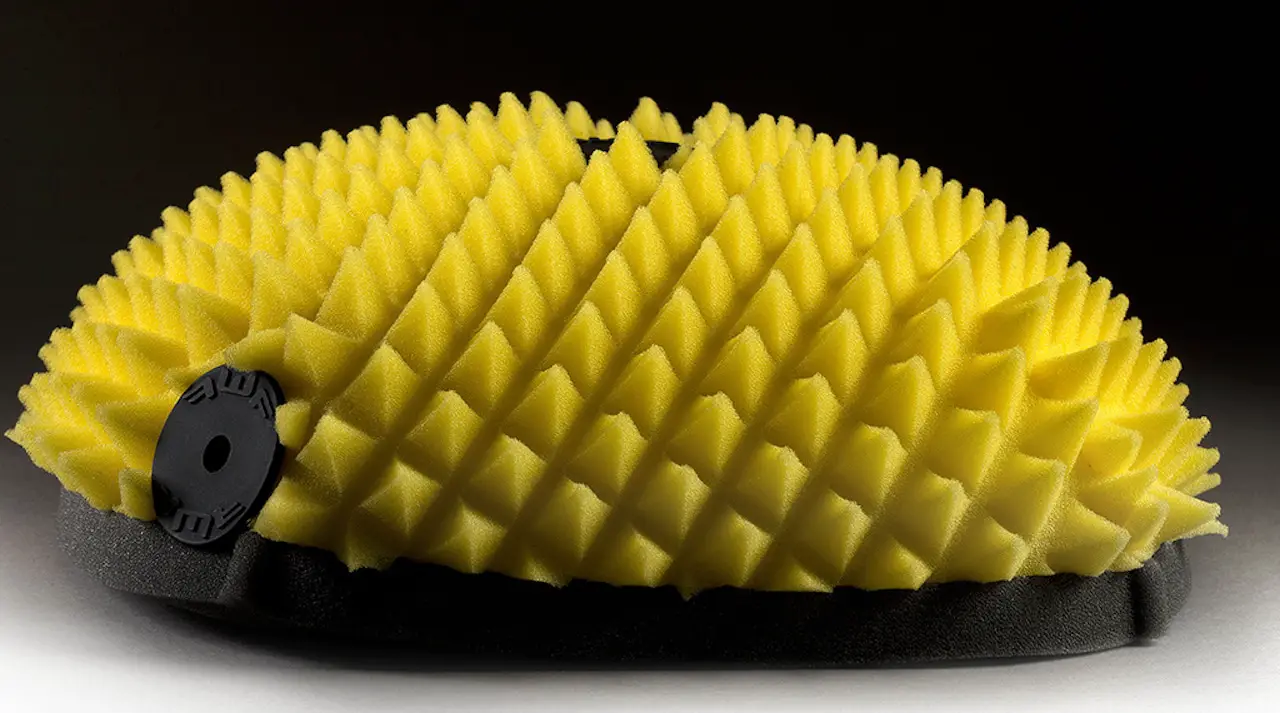 WHAT IS IT? FunnelWeb air filter is made in Australia and is known for its pyramid-like bumps, dome shape and single layer of single-density polyurethane foam. The funny shape has a purpose, as it increases the outer surface area to almost double that of a conventional air filter.
WHAT'S IT COST? $31.95.
CONTACT? Your local dealer or www.funnelweb-filter.com
WHAT STANDS OUT? Here's a list of things that stand out with the FunnelWeb air filter.
(1) Theory. Motocross bikes have used all manner of air filters over the last 60 years. There have been paper filters, fuzzy filters, multi-density filters, domed filters, pleated gauze filters, dual-layer filters, throw-away filters and green weenie filters. Regardless of its shape or construction, the goal of every air filter is to let air in while keeping dirt out. Air filters are one area of motocross development where there is still unlimited potential for creative entrepreneurs, as the FunnelWeb filter shows.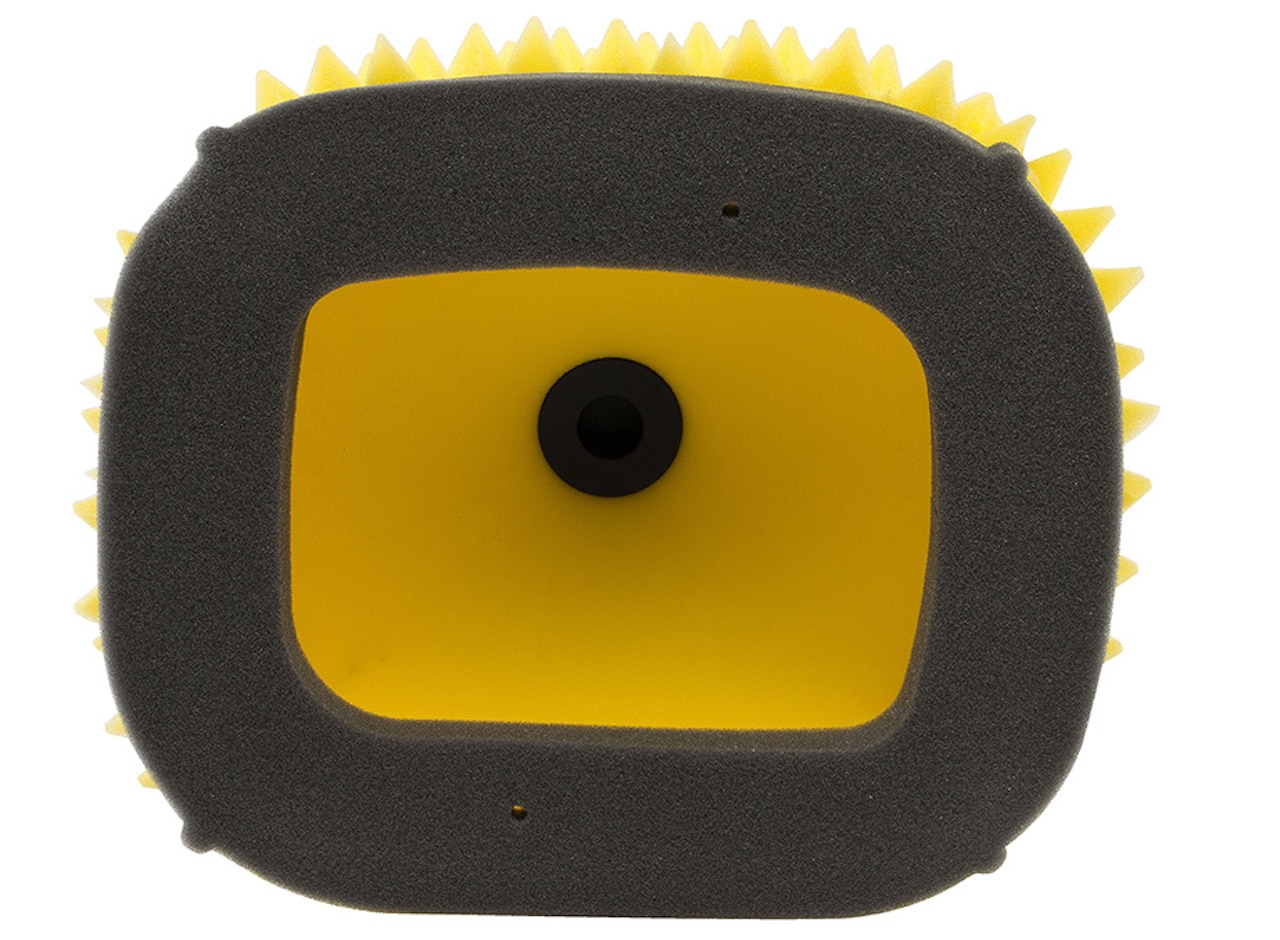 (2) Design. The one-piece, pyramid design provides a larger surface area than most filters. Increased surface area allows less dirt to penetrate the foam. It is easy to get confused about the relationship between filter size and airflow. While the FunnelWeb has twice as much surface area on its outer diameter, thanks to the 203 pyramids on the 2016 KTM filter, it is not any larger where the air filter cage mates to the intake tract. No matter how large the outer surface area, the air still must go through the same size intake tract. But all is not lost. The greater surface area of the FunnelWeb means that the chance of airflow being impeded as the filter gets clogged with dirt is reduced. There are more places for the air to get in, and this translates into longer service intervals.
(3) Construction. Why does FunnelWeb use a single-density, single-layer foam instead of the dual layers of other air filters? (a) The single-layer foam holds its shape better. (b) The single-layer foam does not get dirt stuck between layers, because there are no layers. (c) FunnelWeb believes that a thicker single layer of foam provides better dirt filtration than a filter that has one dense layer and one porous layer. Additionally, MSR's FunnelWeb filter is not flame-bonded together; it is sealed with a petroleum-resistant glue instead.
(4) Seal. To get the best seal possible between the air filter and the airbox lip, FunnelWeb injection-molds a urethane seal for a tighter fit to support a layer of dense foam seal between the cage and the airbox. MXA still puts grease on the seal for extra security.
(5) Performance. In MXA's tests, the FunnelWeb air filter did its job well. We tested it in extreme dust and sand at the back of the pack. There were no signs of dirt bypassing the oiled foam. The larger surface area was a plus on the maintenance side of things, but if there was a performance gain over the stock air filter, our test riders didn't notice it.
WHAT'S THE SQUAWK? The foam pyramids can be damaged by rough handling during cleaning and oiling.
MXA RATING: Since all filters are made of foam, designers can only change density, layers and shape. FunnelWeb's choices result in a filter that is durable and long-lasting.
HONDA TO MISS LORETTA LYNN'S AMID COVID-19 CONCERNS

Press Release: Due to an array of considerations stemming from the COVID-19 pandemic, American Honda today confirmed that they will not have an official presence during the upcoming AMA Amateur National Motocross Championship at Loretta Lynn's Ranch in Hurricane Mills, Tennessee. To help compensate for the lack of in-person support, Honda is extending a $250 Red Rider Rewards bonus to all Honda racers who have qualified for the prestigious event.
The decision was made in the context of a spike in COVID-19 cases, hospitalizations and deaths in California, the home state of American Honda and Factory Connection Racing (which operates the elite-level Amsoil Honda amateur racing effort). American Honda has not been untouched by the coronavirus, prompting the decision to limit travel for staff. By reducing the number of people on-site, Honda hopes to contribute to the safety of those for whom attendance is understandably more imperative.
"Missing Loretta's was a difficult decision that we made reluctantly, but it's what we genuinely hope is in everyone's best interest," explained Brandon Wilson, American Honda's Manager of Advertising & Motorcycle Sports. "Our activity at this event has always been about interacting with our customers, their families and the rest of the amateur MX community. Sitting it out this year is a product of circumstance and isn't a reflection of our support of amateur racing. We're extremely proud of every Red Rider who has qualified for Loretta's and we'll miss spending time with our friends and racers in the pits at the Ranch this year. We wish everyone there a safe and successful experience, and we look forward to seeing you and supporting you in person in 2021."
Honda riders who have qualified for the AMA Amateur National Motocross Championship and are not already signed up for Red Rider Rewards on XTRM can do so here.
CLASSIC PHOTO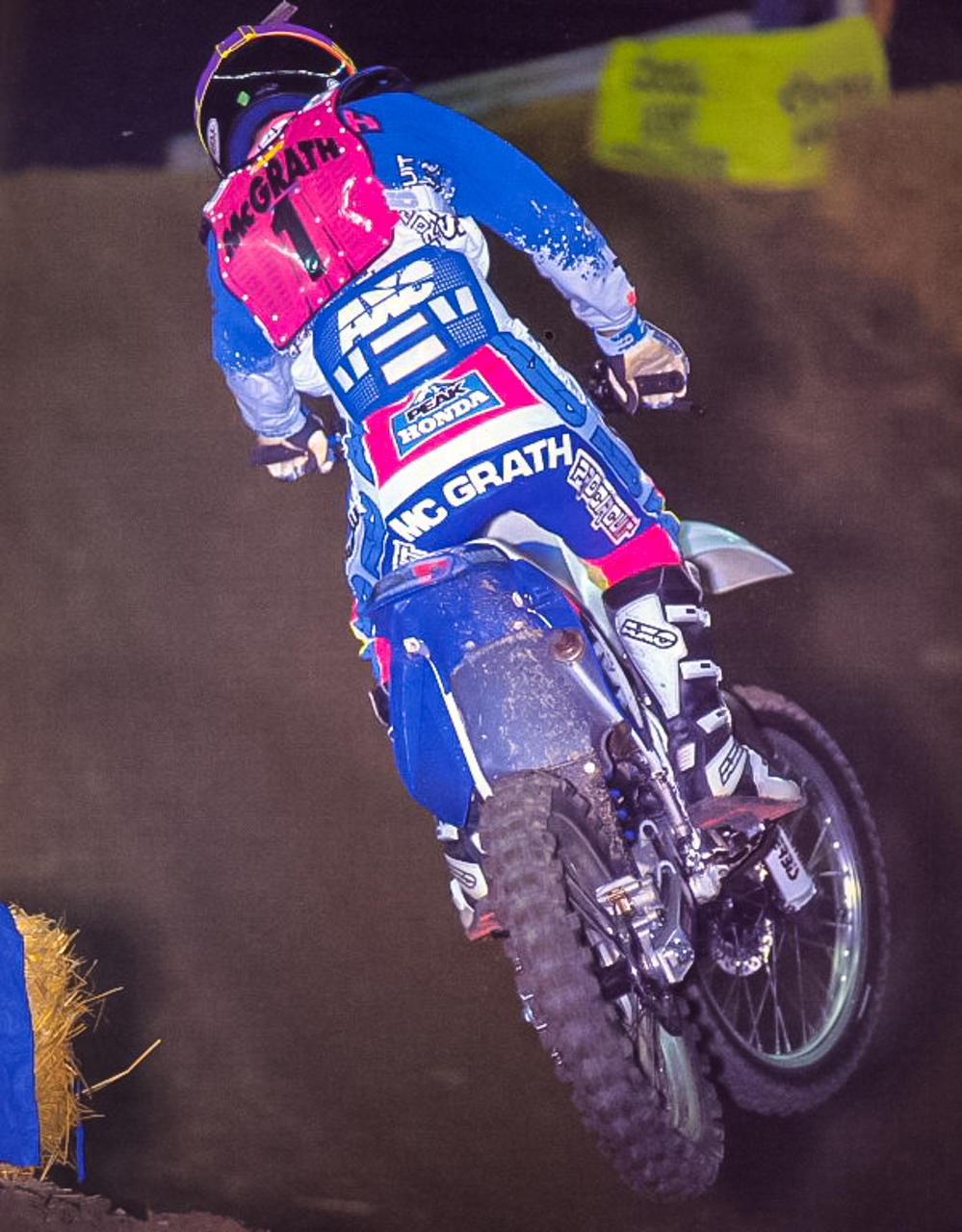 Jeremy McGrath on his Peak Honda CR125.
---
Moto Trivia answer: Jeff Emig