MOTOCROSS ACTION MID-WEEK REPORT (10/24/12)

MXA MINI VIEW: BROC SHOEMAKER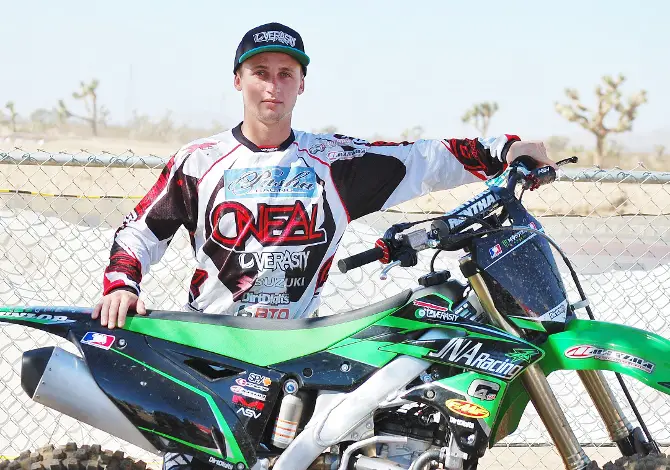 Broc and his JNA Kawasaki will be rookies on the AMA circuit.

Broc Shoemaker is a local fast-guy around SoCal and the son of the late Mike Shoemaker. When we saw him with his new bike and new sponsors we didn't recognize him. We were used to seeing him at REM on a Suzuki. We had to find out what was going on. Broc said he was riding for a new team and preparing for his first Supercross season, so we sat down with him and got the details.
MXA: Would you tell us about your racing career so far?
Broc: I started racing when I was five, but didn't really start taking it serious until I was about 13 on 80s when we started traveling the nationals. When I got on big bikes I won a C title at World Minis and Loretta's. I rode for Yamaha in the B class for two years. The last two year I raced amateur-pro. I turned pro in March last year. My first pro race last year was at World Minis. I got eighth in the 250 Pro. Then I did Mammoth. I did the Monster Energy Powder Mountain race and got a second in 250 pro. This year I did Mammoth and Loretta qualifiers. I qualified for Loretta's this year and last year, but I couldn't go because my dad was in and out of the hospital with cancer. He recently passed away. It was a lot to deal with going through that. I just pulled out of Loretta's and decided to regroup and try to get ready for Supercross. For 2013 I got on a team and we'll be racing West Cost Supercross.

What team did you land with this year?
I'm actually living with my team owner. His name is Chis Neis. His business partner is Ryan Hoffman who is a part owner of Tagger Designs. They decided to put together a team for 2013 West Coast 250 Supercross. He started talking with lots of people in the industry, bringing in outside sponsors and getting people to help out. I happened to run into Chris at a local race. After sitting down to talk, he asked me if I wanted to ride on the team. The other team member is Dustin Hoffman, Ryan Hoffman's little brother.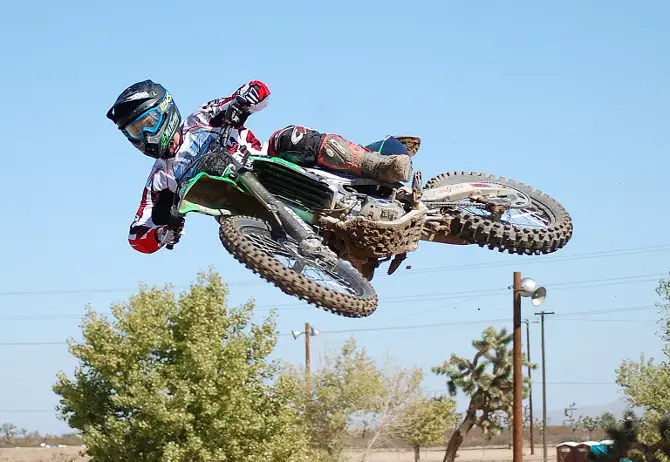 Broc starting getting comfortable in the air on his new bike.
So you'll be a new pro on a new team.
Yeah it's cool. Everything will be fresh and new. I'm riding new bikes. We're on Kawi's. I've never ridden Kawi's before but I'm liking the bike a lot and I'm already feeling great on it. We have a great motor-builder, Frenchie from C4 MX. He builds Leading Edge Kawasaki's bikes up in Canada. We have Graeme Brough doing our suspension and our first day of suspension testing is [Wednesday the 24th] at Milestone's Supercross track. It should be good, we will have good bikes and a good program put together. I'm excited.

Sicne you ar eliving with the team owner, are you involved with any of the team-building logistics?
A little bit. Chris and Ryan are putting the majority of it together. Some of the deals are sponsors who have help me out in previous years who wanted to continue to help me out and wanted to get involved with the team. Deals like that I've been involved with and help bring them to the team. We have a local Kawaski dealer helping us out with bikes, who knew my dad real well. He set us up with Team Green with help with some parts and stuff. We have a business relationship, but at home we're good friends and we can talk about things. Everyone on the team, including sponsors are close so we all want to help each other out. For the first couple rounds there are no expectations, it's just getting a feel for things and figuring out the pace. It's nice, because at most teams your pressured to do well right off the bat. It's serious, but it's laid-back at the same time.

Living with your team owner, does he yell at you if you eat a cheeseburger?
He's pretty strict on my diet. There's lots of cookies and stuff around the house, but he makes sure I'm not eating them [laughter].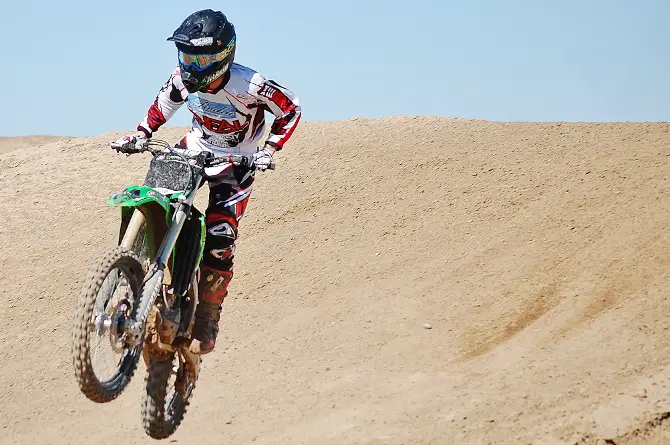 Broc ignored the downside of this table-top and jumped onto the flat every lap. His new team will be buying rims to replace his now square one.
Where will you practice for Supercross and train?
Tracks wise, I've know Blake Baggett for years riding amateur so I'll probably be riding his track with him. Also, we're like family with the Hansens. My dad and Donnie Hansen we're like best friends, so I'm going to stay with Josh for while. He's going to train me, give me tips for the tracks and ride with me. Other than that I'll ride the Supercross tracks at Milestone, The Ranch and I'll probably go check out Pala's track. Other then that, the closest tracks to me are Kyle Lewis' Supercross track or Racetown. I'm fortunate to be able to ride with Josh and Blake.

Does racing local races like REM help keep your racing instincts sharp during the off season?
Yeah. We train every day and ride five days a week, but I think it's still good to get behind the gate and get that reaction time down. And get that little race push to stay up up on my game, because everyone out there pushes a little harder when they race than when they practice. It's good to stay sharp.

What races will you do in 2013?
We're doing the whole West Coast 25 series and Vegas, but outdoors isn't decided yet. We're going to wait to see how Supercross goes and see how things are going, how I'm feeling on the bikes, how my fitness is and everything. If everything is good we'll go for it. If not, we'll probably just sit out and get ready for 2014 Supercross.

NEW PRODUCT: FLY VALOR NECK BRACE ENGINEERED BY LEATT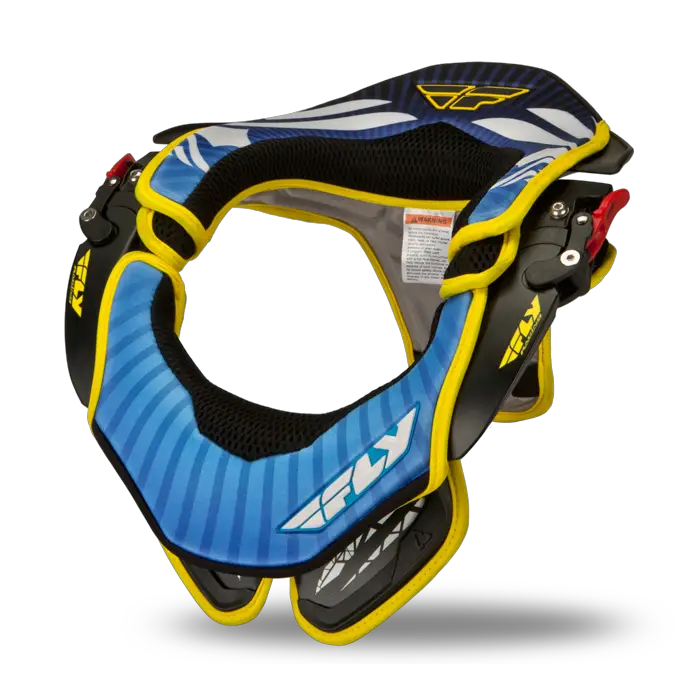 FLY Racing is proud to introduce the all-new second generation Valor Neck Brace engineered by Leatt. The Valor combines state-of-the-art Leatt neck brace technology with FLY Racing's cutting edge graphic design styling. The result: the next-level Valor neck brace.

New features:
-New sculptured, split front for improved comfort and fit
-New lower front section provides improved helmet clearance for looking down and to the sides
-New one-piece, fracture engineered CoreFlex rear thoracic strut for improved comfort and fit
-New on-board, 3-angle rear thoracic strut adjustment that requires no extra parts
-New body-matched rear thoracic strut angles: Size S-M 5ø, 10ø or 15ø; size L-X 0ø, 5ø or 10ø.

Other Features and Materials:  
-Four-Way adjustability for great comfort and fit
-Engineered collarbone cutout to help keep your helmet and brace away from one of your most fragile bones.
-Side mounted paramedical designed hinges that opens easy both left and right
-Height adjustable rear table to match different helmet clearance preferences and riding positions
-Redesigned optional clear strap included
-Removable clip-on padding for easy cleaning and maintenance
-Replacement parts and accessories available
-CE certified as personal protective Equipment 89/686/EEC
–Colors: Black/White, Red/Black, Blue/Black, and Orange/Black
–Sizes: Small/Medium or Large/X-large
–Price: $359.95
–For more info visit www.flyracing.com.
IMPROVE YOUR RIDING: LEARN FROM A CHAMPION!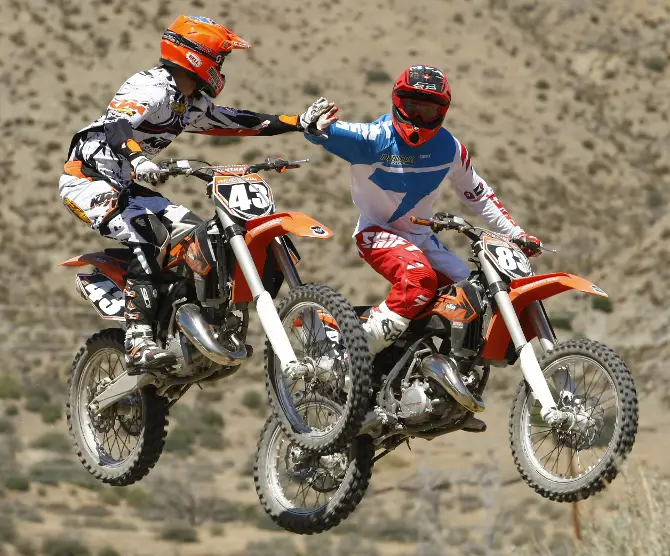 Kurt Caselli (left) and Darryl Ecklund (right) have tons of knowledge and experience and they'll share it with you!
Learn from a Champion! "Pursuit In Action" rider Kurt Caselli and trainer Daryl Ecklund will be doing a riding school this Friday, October 26, at AV Motoplex in Lancaster, California. The gate will be opening an hour early (at 1 p.m.) for bike setup and an introduction to the philosophy of proper body mechanics on the bike. The class will run until around 5:30 pm. Please bring a stand for your bike because the two Pros want riders to start practicing and understanding techniques while stationary. Don't worry, ther eis plenty of track time. The class will be $150 per person. Fee does not include gate admission. In addition you will also receive PIAs (Proper Nutrition Guideline) handout and a training log to track your progress and keep you moving to the top. Reserve your spot now for they are limited! Available to purchase through the website using Paypal. Accept Credit Cards, PayPal, check, or cash.
  For mot einfo or to sign up, contact [email protected] or call(661) 733-5455 or go to www.pursuitinaction.com

CRAZY VIDEO OF THE WEEK: IS IT A SHORT RIDE OR AN EVEN SHORTER BASE JUMP?


MXA PRODUCT SPOTLIGHT: CYCRA RACING KAWASAKI PLASTICS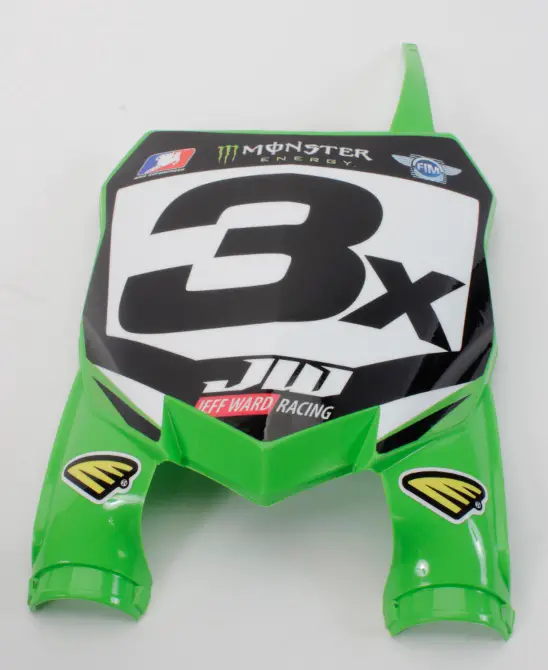 Cycra has decided to invest in molds for Kawasaki plastics, and Dean Wilson and Jeff Ward's team will run them in 2013. The line-up will include the following:
   -Powerflow shrouds designed to flow more air through the radiators.
   – Front number panels with extra protection coverage.
   -Side panels that are lighter than stock.
   -Fork guards that are stronger than stock (the stock ones break easily).
   -Powerflow rear fenders that allow more air to get into the air box
   -Front fenders with an integrated brace.
Cycra hasn't produced these yet, but they will soon. Keep an eye on www.cycraracing.com for when they become available.

ROGER DECOSTER ON RYAN DUNGEY'S AMAZING RIDE


We've seen can-cans and nac-nac, but Dungey's hand-shift was a new to everyone.
MXA: Roger, is there going to be a hand shifter option on the 2014 KTM?
Roger: You mean like on old Indians and Harleys? No. We are mystified because it is the same shifter that we ran throughout the 2012 Supercross and Nationals. We never had a problem with it before.
Do you run a steel shift lever?
No. It is aluminum. The problem for us is that we can't ignore it or say, ?well, we never had this problem before.' We have to analyze what went wrong and come up with a solution before the season starts.
Do you know what caused the problem both times?
Yes. Ryan hit a Tufblock both times.
The same Tufblock both times?
No, a different one in both motos. He hit the one going into the Talladega turn and another one in the tight turns in moto one.
Even though Ryan didn't win the race, he has done something in the sport of motocross that rivals all the heroics that came before. We've never seen a rider shift with his hand over a triple. We didn't even know it could be done. Did you?
It was amazing to think that he was calm enough to reach down in midair and shift the bike with his hand, but to shift it on the fast straight with both wheels on the ground was scary. I was afraid, not only that he would lose control with his head down like that, but that he would hit a bump and stick his hand into the chain.
Most of the people in the stands didn't know what was going on, but the people watching on TV got a really good look at it.
I don't think most people at the race knew what was happening. He would come around in front of the other guys and then come back into sight behind them. Initially we just assumed that he had made a mistake, but he kept doing the same thing. That is when we figured it out. I couldn't believe that it happened twice in the same night.
JAMES BONDS' CRF250 AND KRIEGA PACKS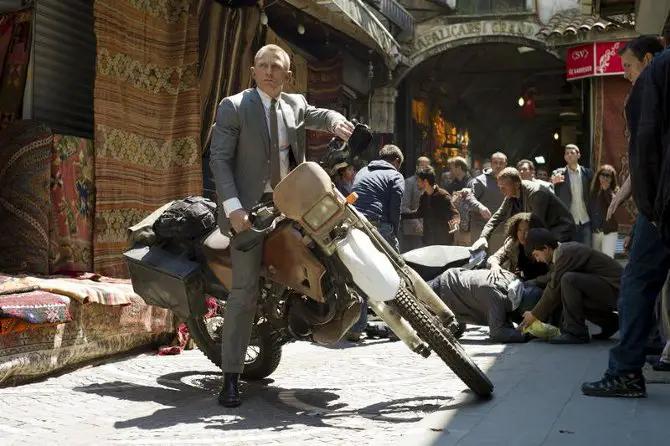 007's CRF250 sports Kriega's US-20 Tail Pack in the upcoming Bond film.
Who better to show off your equipment than the spy with all the coolest gizmos? Kriega makes a wide assortment of cargo packs for dual-sport and street bikes and Bond rides a CRF250 with their US-20 Tail Pack in the upcoming Bond film Skyfall. Attachment to the rear fender (via Kriega's ingenious Rack Loops) and the frame (via proprietary Alloy Hook 'ladder lock' Straps) of any dirt bike affords adjustable positioning so the rider can find the ideal weight distribution for their ride. The super low-profile Rack Loops mean that even rear fuel tank KTM and Husaberg owners can get in on the action. In fact, these fixtures can also play 'double agent', mounting Kriega US bike packs, from 5 to 30 liters (or any similarly sized item for that matter), to the tail, without any fuss. Details of the Overlander 30 pannier system, along with the entire Kriega range of epic adventure accessories, can be found in the 2012 catalog, available free of charge at www.kriega.us, via authorized Kriega Dealers. Catch Bond in Skyfall at cinemas everywhere from 9th November.

SHANE MCELRATH SIGNS WITH TROY LEE DESIGNS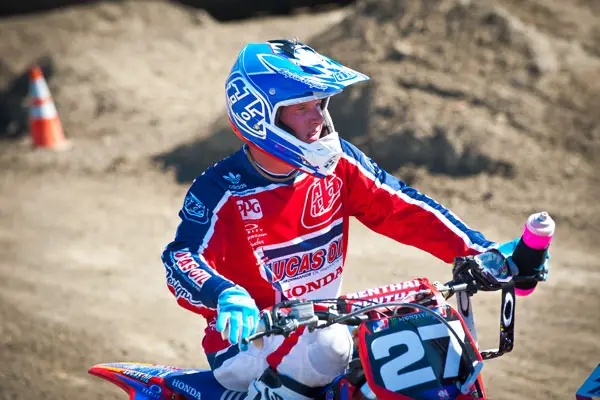 Shane.
If you watched the All-Star Amatuer Events at the Monster Energy Cup, Shane McElrath on the Troy Lee Designs ride surely caught you eye. His speed earned him a win in the first main event, and a fourth overall after having problems off the start of the second main. Troy Lee Designs recently announced the signing of rider Shane McElrath to the Troy Lee Designs / Lucas Oil / Honda Amateur Race Team. Shane was a break out star at Loretta Lynn's 2012, setting the fastest lap time of the week as well as finishing 2nd overall in both the 250 B Stock and 450 B Mod classes. He also performed well at the Annual Vurb Classic, winning 9 out of 9 motos in his first pro outing.
Team manager, Tyler Keefe, is looking forward to working with Shane. "Shane caught my eye when I was out at Loretta's looking for an amateur prospect. His corner speed and performance there is what made me want to make this happen." McElrath joins Cole Seely, Christian Craig, Jessy Nelson, Tarah Gieger and new amateur rider Justin Hoeft under the Troy Lee Designs / Lucas Oil / Honda tent.

DR.D WELCOMES RYAN HUGHES


Ryan and the Doctor have been mortal foes for years, but now they are teammates.
Dubach Racing Development (DR.D) is pleased to announce they have joined forces to work with Ryan Hughes aboard his RynoPower backed Suzuki RMZ-450. Ryan will be competing in the upcoming MTA Vet World Championship and gunning for his 5th title. Longtime competitor and owner of DR.D, Doug Dubach, will be working alongside Hughes for a change. Ryan talks about their future together, "It's going to be fun working with Doug, who is a racer like myself and is very passionate about the sport. He is hands on with his company and plays a huge role in the R&D behind his products."
The amount of experience and knowledge that "Ryno" brings with him is a great addition to the DR.D family. "We are very excited for this opportunity to work with Ryan.  It's always a pleasure to work with someone of his caliber" comments rider support manager Casey Huntley.  When you combine the years of knowledge between Ryan Hughes and Doug Dubach it will only further the advancement in the development of DR.D products. To learn more about DR.D and Ryan Hughes, visit www.dubachracing.com or www.rynopower.com
OUR FAVORITE RUSSIAN HIGHSIDES IN HOLLAND…THAT CRASH WOULD HAVE HURT A CAPITALIST

REM OCTOBERCROSS THIS SATURDAY AT GLEN HELEN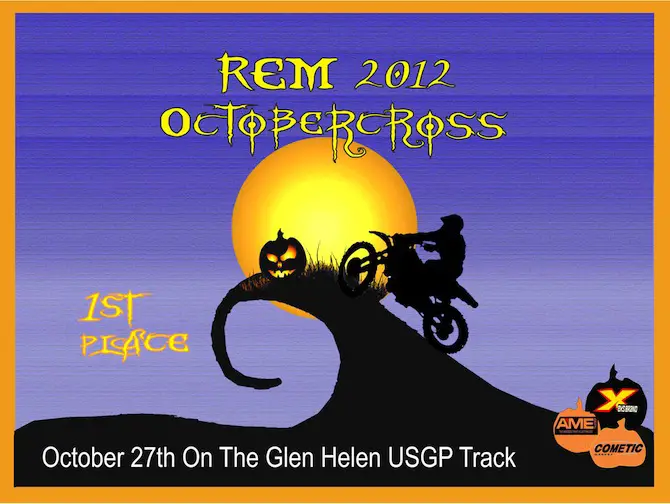 For more info go to www.remsatmx.com

JT$ FROM SX/MX TO DISTRIBUTOR SALES MANAGER


Jason Thomas retired from pro racing, but he won't be sitting on the couch, he's at WPS.
WPS (Western Power Sports, Inc.) is happy to announce Jason Thomas has joined the Fly Racing/Sedona Tire & Wheel sales family as its new International Distributor Sales Manager.
Thomas has been racing on the Supercross/Motocross circuit since 1997 and has always enjoyed venturing outside of the U.S.; and in his new role as International Distributor Sales Manager for FLY Racing and Sedona Tire & Wheel, he will now get to see even more of the world. Thomas has been involved with FLY Racing since 2003 and is a perfect fit now that his racing days are coming to an end. Seeing the worldwide growth of FLY Racing the last few years, Jason is more than excited: "While it was bitter-sweet to end a long racing career, Western Power Sports offered me the chance of a lifetime to work with a company that shares the values and character that I have always tried to exude.  Having worn Fly for many years now, I am blown away at how far it has come in every facet. I can't wait to be hands on in helping further that growth!" For more information about WPS visit www.wps-inc.com.
KAURITMOTO REHVI MONTEERIMISE T™™RIIST: THE LATVIAN VERSION OF HOW TO CHANGE A TIRE

NEW PRODUCT: DUBYA 2013 CRF450 WHEELS


Dubya USA has been working in partnership with Talon and Kite to bring you the ultimate in aftermarket wheels and wheel components for the newly redesigned 2013 Honda CRF450R, and is now offering Talon and Kite hubs and wheel sets for the latest iteration of Honda's 450 motocross machine. The 2013 Honda CRF450R utilizes an all-new rear hub design, and 2013 CRF450R owners should be aware that the rear hubs for 2012 and earlier CRF models are not compatible with the new version. For more technical details, contact Dubya at (714) 279-0200.
All Dubya wheels begin with a genuine Talon or Kite hub, which is then laced to a D.I.D or Excel rim by one of Dubya's experienced wheel builders in their Orange, California production facility. Pro motocross, supercross, freestyle, desert and supermoto riders around the world depend on the strength and performance of Dubya wheels, and now that performance is available for your new CRF450R. To see the complete list of Talon and Kite pre-made or custom wheel set options available from Dubya, visit their website at www.dubyausa.com.
RACE FLYERS: WHERE TO BE WHEN HE GATE DROPS
      Day In The Dirt


      Dirt Series

NEW WEBSITE: TROY LEE DESIGNS


Click HERE to visit the new site.