MOTOCROSS ACTION MID-WEEK REPORT
#WHIPITWEDNESDAY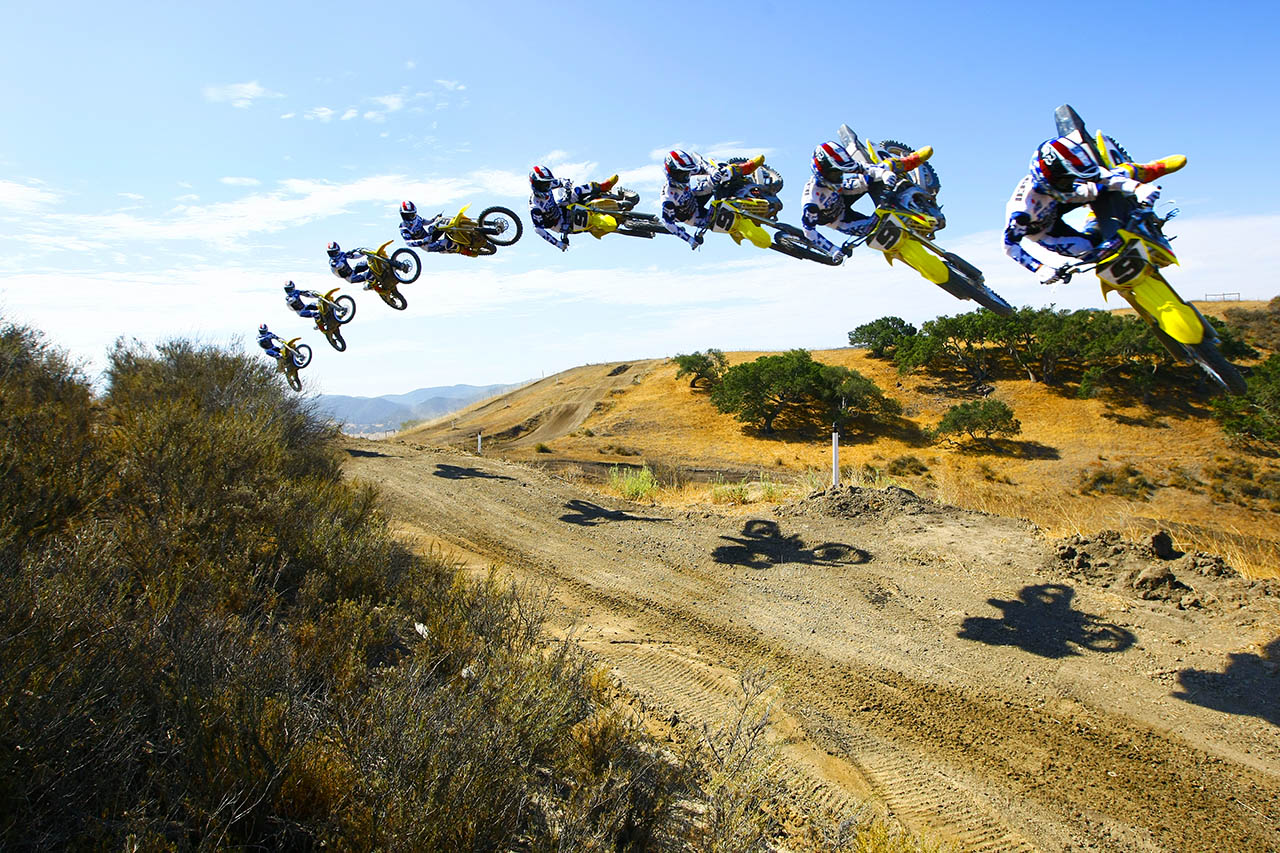 Rider: Ivan Tedesco
Location: Castillo Ranch
Focal length: 16mm
Exposure: 1/1000sec
F-stop: f/5
ISO: 250
Photographer: MXA Archives
TWO-STROKE SPOTLIGHT: MICHAEL KOLAR'S 2003 HONDA CR125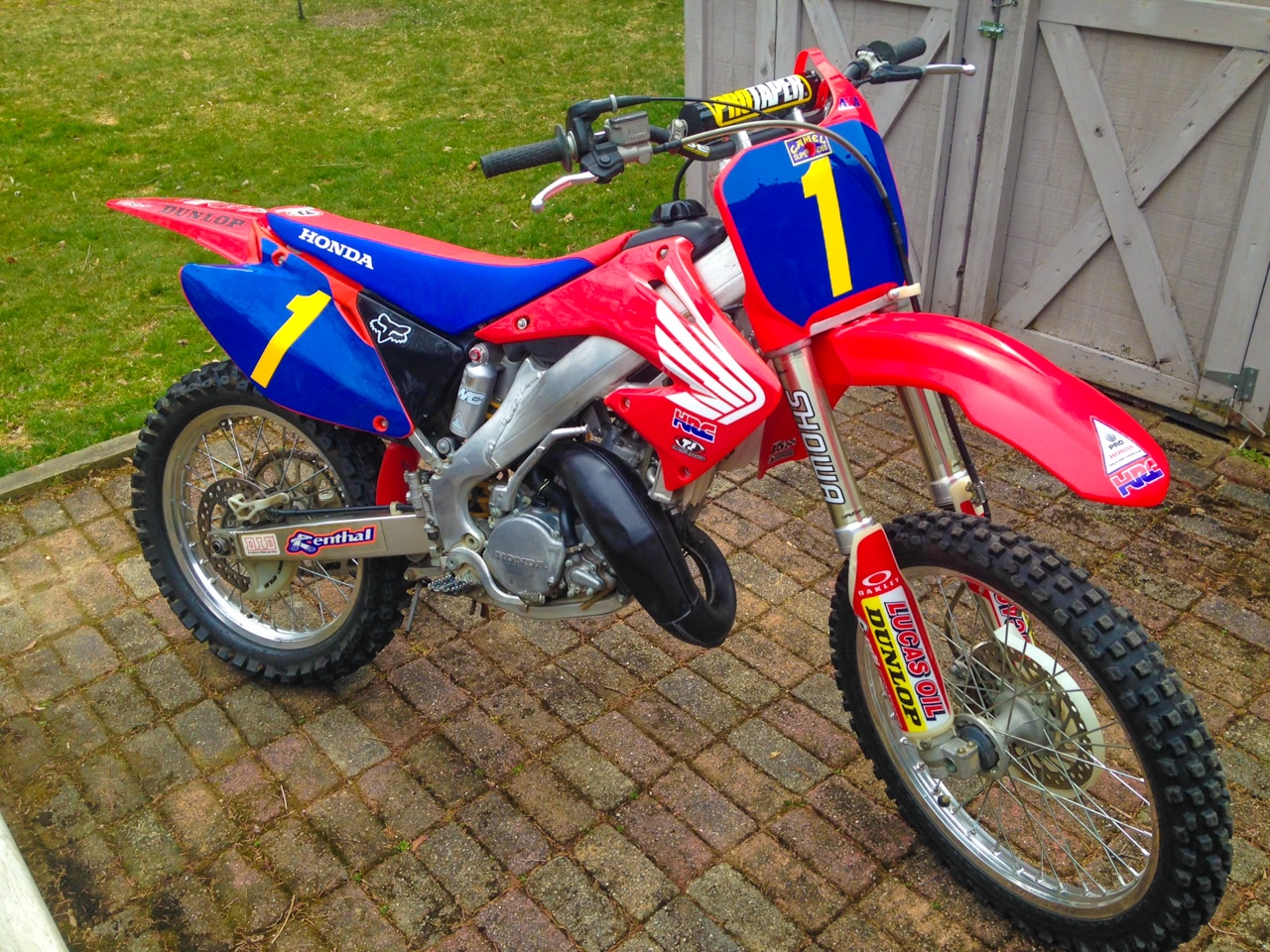 "It's a 2003 Honda CR125, but I am a big fan of the grand national Honda bikes of Bailey, Stanton, Bayle, and McGrath. It's a stock bike with the exception of the plastics, custom graphics and hand made number plate backgrounds." –Mike Kolar
EDITORS NOTE: Please keep those submissions coming. If you would like your bike to be featured in the "Two-Stroke Spotlight," please email me at [email protected]. All I ask is that you give a breakdown of your bike and a detailed description of the build. Please also send a few photos of your steed. By submitting your bike for the "Two-Stroke Spotlight," you agree to release all ownership rights to the images and copy to MXA. Please don't email me spam or try selling me Taylor Swift concert tickets or email me spam. I already celebrate T-Swizzle's entire collective, and there will be "bad blood" if you send me junk mail. See what I did there? Happy submitting your smoker.
MXA | MOTO | TRIVIA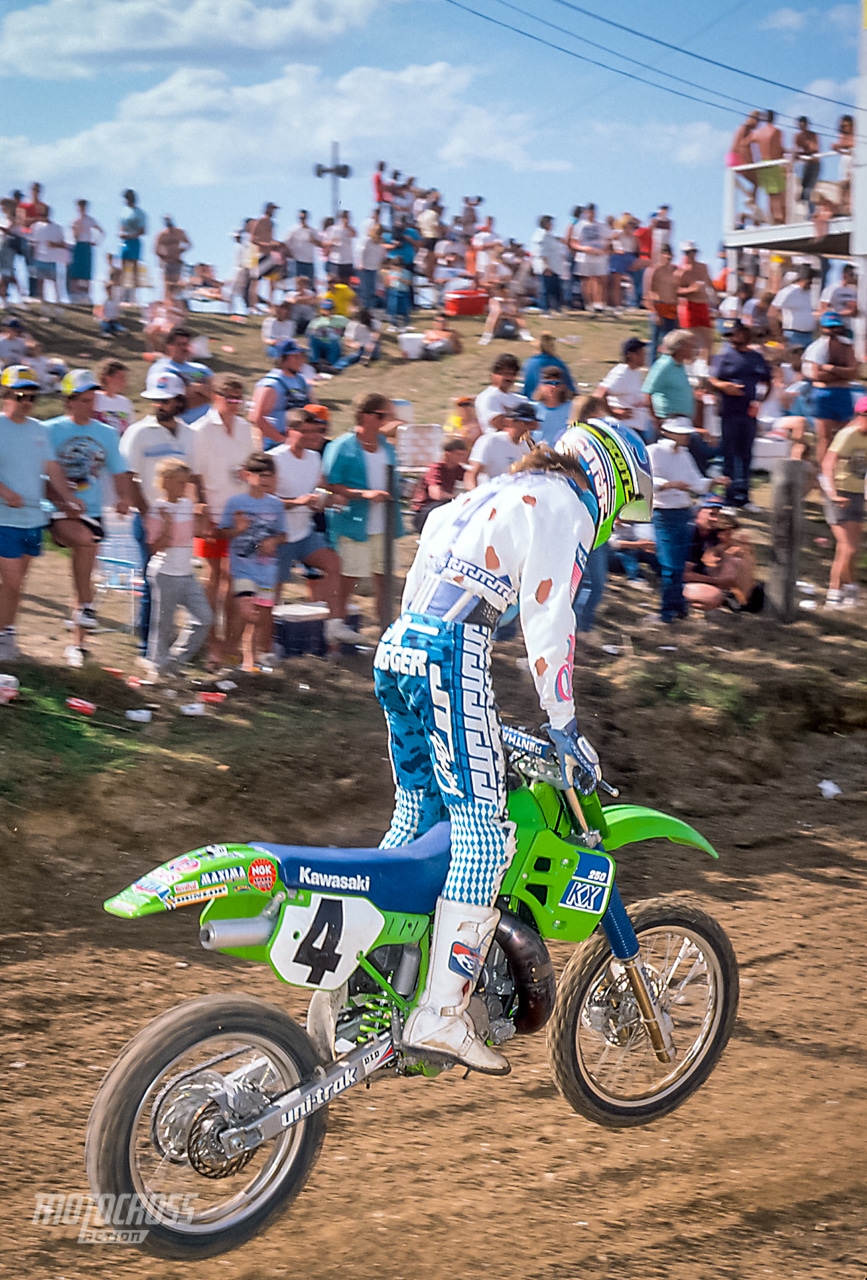 Who is the rider? Answer at the bottom of the page.
RIDE ENGINEERING THROTTLE MOUNTED START SWITCH

Press Release: This new product bolts right onto the throttle housing on electric start CRFs, KTMs and Husqvarna four-strokes. By mounting the button onto the stock throttle housing it's close enough to be reached with the same hand that rotates the throttle open.  MSRP $54.95 PN: MX-TS00B-AS

The main benefits of Ride Engineering's kill and start switches are to make more room on the handlebars for handguards, lap counters, stopwatches or to position your levers in the optimal location. A side benefit is making handlebar replacement faster and easier because there are less parts strapped to the bars that need to be removed (without the tiny Phillips screws). Installation is simple by splicing two wires. Also either switch style is 100% mechanical, so it's very simple to repair if it stops working, just unscrew the main ring to get at the internals. If you damage the switch in a crash, it's possible to lose the internals, and we have a rebuild kit available for $9.95. www.ride-engineering.com
LORETTA LYNN'S 2020 | THE CALM BEFORE THE RACING | photos by Dennis Stapleton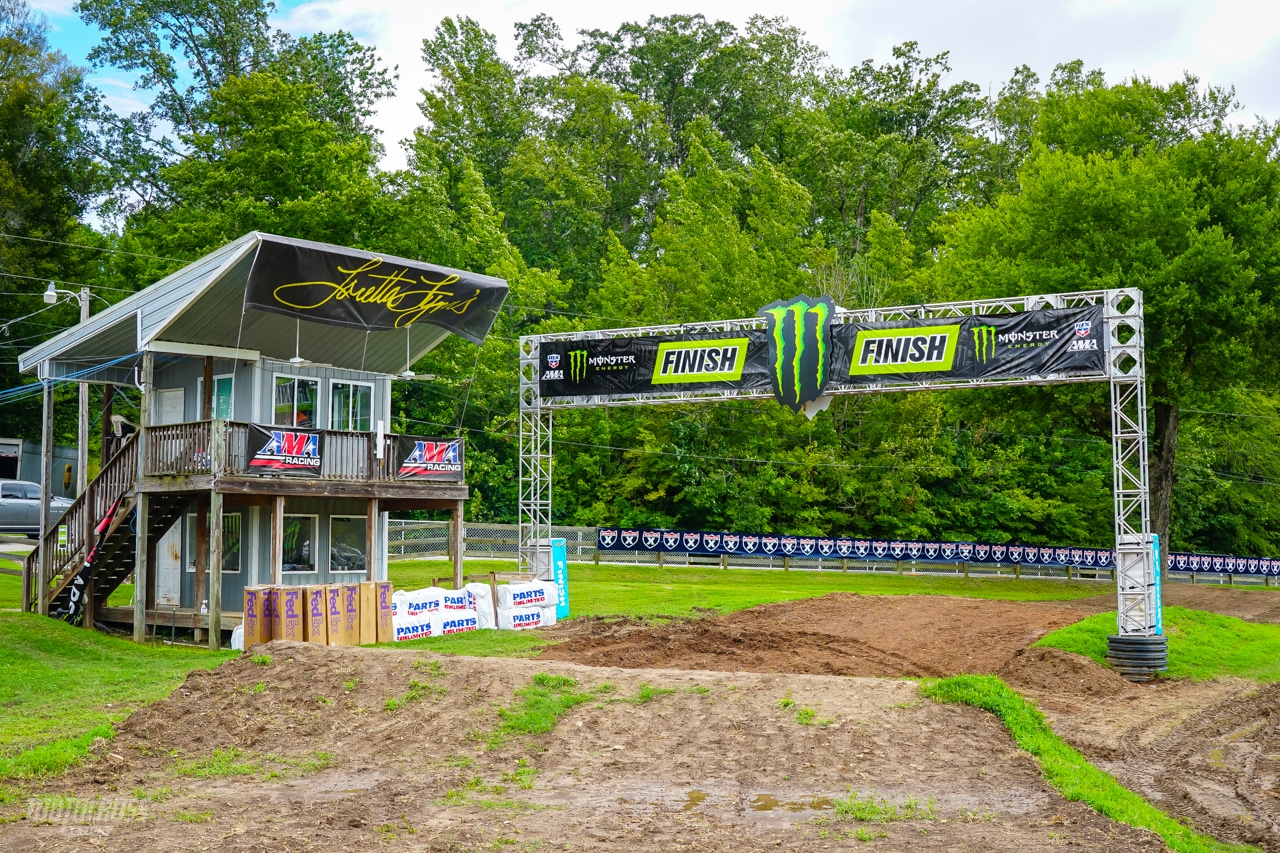 The famous finish line at the Loretta Lynn track. 
These photos were taken prior to the start of racing which started this Tuesday the 4th. It must have been an undertaking by MXsports to get the ball rolling to hold the event while most everything else in the country is closed. The amateur racing this week will get the track warmed up for the first round of the 2020 AMA Nationals on the 15th of August. It will be the first time in history that the Lorreta Lynn track will be used for an outdoor Pro National.
One of the most infamous parts of the LL track, the 10 commandments.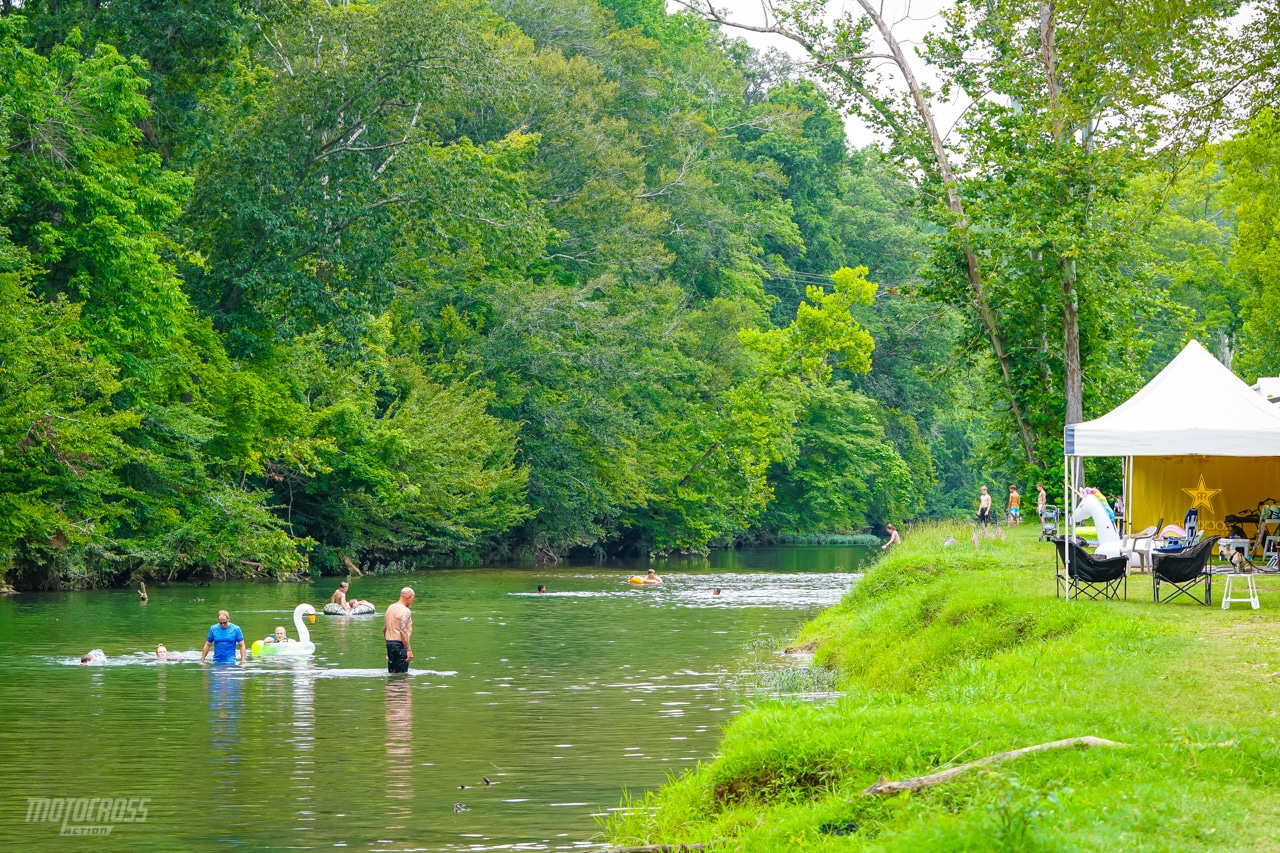 The kids are still being kids at the ranch.
The LL Ranch store. 
Jett Reynolds' Team Green Kawasaki KX250 ready for action. 

All the vendors are set up for foot traffic. 
HAVE YOU SEEN THE SEPTEMBER 2020 ISSUE OF MXA? SUBSCRIBING IS THE BEST DEAL IN  MOTOCROSS
In this issue, we test the KTM 350SXF that we wish they had built in the first place back in 2011. No worries! They didn't build the mid-size Open class bike that we wanted, but instead, they built a high-rpm, big-bore 250. We fixed that in this issue by ordering a  $650 Cylinder Works 366 kit. It changed the personality and peak horsepower of the KTM 350SX for the better.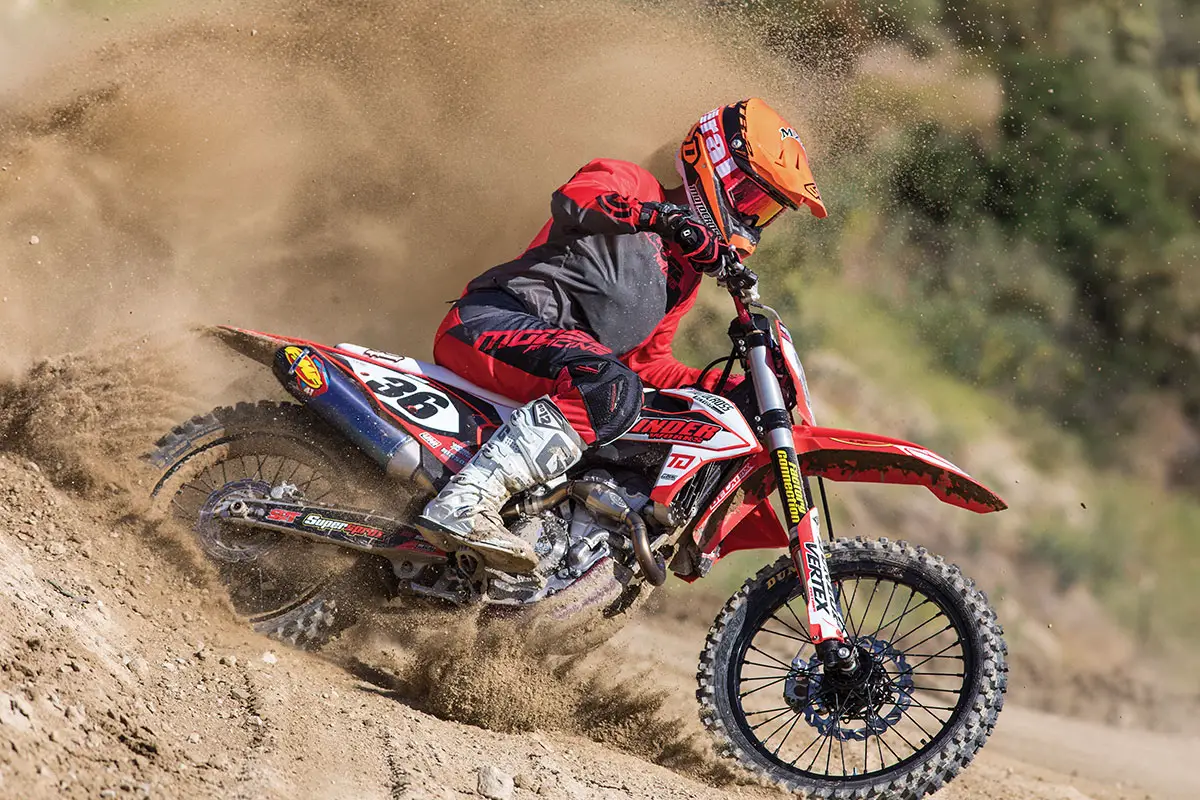 HOW TO SUBSCRIBE TO MXA AND GET A $25 ROCKY MOUNTAIN ATV/MX GIFT CARD—WHICH MAKES YOUR MXA SUBSCRIPTION BETTER THAN FREE
If you subscribe to MXA you can get the mag on your iPhone, iPad, Kindle or Android by going to the Apple Store, Amazon or Google Play or in a digital version. Even better you can subscribe to Motocross Action and get the awesome print edition delivered to your house by a uniformed employee of the U.S. Government. You can call (800) 767-0345 or Click Here (or on the box at the bottom of this page) to subscribe.
MXA'S JOSH MOSIMAN & CREW PREPARE FOR GLEN HELEN'S 10-HOUR ENDURANCE RACE THIS SATURDAY
Thanks to NitroMousse for getting MXA's Assistant Editor Josh Mosiman and his team setup for the 10-hour Endurance race this Saturday with their Nitrogen energized foam tubes that won't go flat. 
MXA's Josh Mosiman teamed up with off-road racer and Dirt Bike Magazine contributor Brandon Krause and former Supercross racer and now Columbia University Graduate Zac Commans to compete in the 10-hour endurance race this Saturday at Glen Helen. The track will have a Grand Prix style layout with approximately 12-15 minute lap times. The race starts at 4:00pm and goes until 2:00am. Brandon has competed in it before, but this race is all-new for Josh and Zac. The team also plans to race the 24-hour Endurance race at Glen Helen in November, so this weekend will be the perfect warmup for that.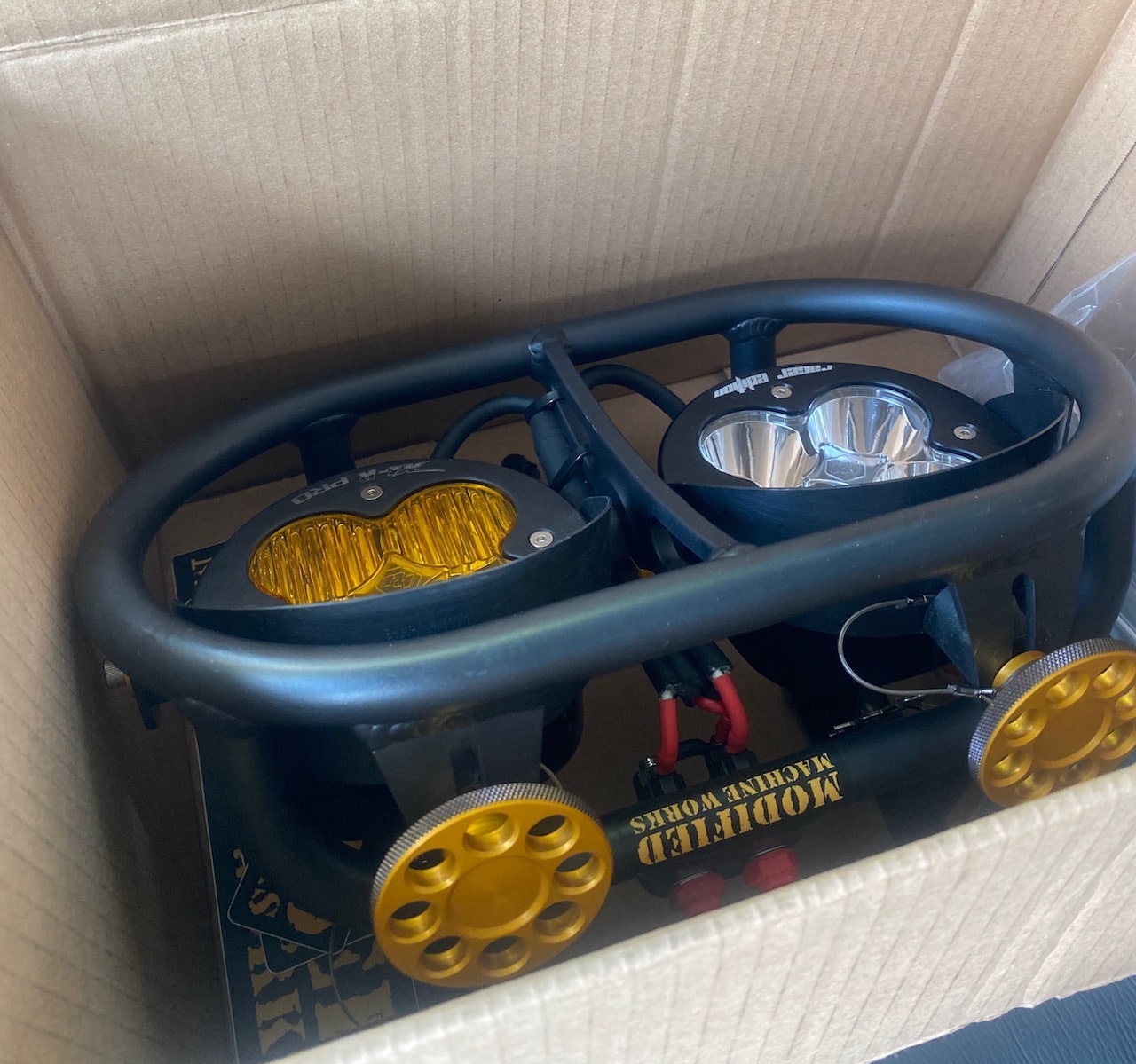 Josh, Zac and Brandon will be competing on Brandon's KTM 450SXF for the race and these are the headlights they'll be using. 
Before the NitroMousse tubes and new Dunlop tires are installed we made sure to add fresh rim tape.
ONE QUESTION WITH BROC TICKLE ABOUT MAKING THE SWITCH TO FACTORY YAMAHA | by Jim Kimball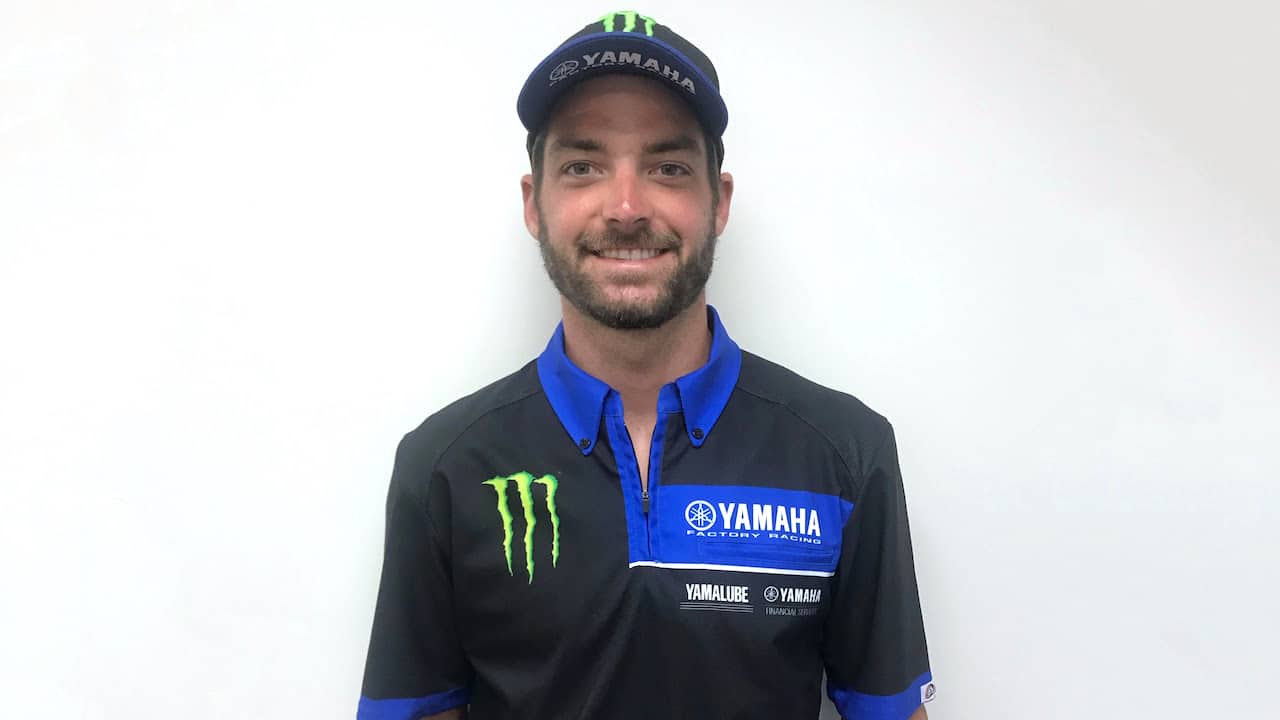 WHEN YOU GOT THAT CALL FROM YAMAHA, DID THEY IMMEDIATELY WANT TO SIGN YOU, OR DID YOU HAVE SOME TYPE OF AUDITION? I think that the majority of people thought for sure was that I was wrapped up with JGR outdoors, obviously, it looked that way. The program for me at JGR was basically a verbal agreement that they would help me with bikes, and I needed to figure out the rest on my own. Obviously, I was very grateful for that! I built some relationships with JGR, so it was a bitter-sweet deal. 2020 has been all over the place for me. I'm excited about being with Yamaha as I can basically be at home and do my normal program like I have done in years past with other teams. You have the whole Yamaha crew here where I live, so I am excited about it. I feel really comfortable on the bike and I know Sergio, who is a chassis guy, who understands suspension. I have worked with him in the past at RCH for a lot of years, along with some of the other Yamaha guys. There are some local faces around me, and I am excited.  It is not a major transition for me.
MXA TEAM TESTED: DUBYA CERAKOTE KTM WHEELSET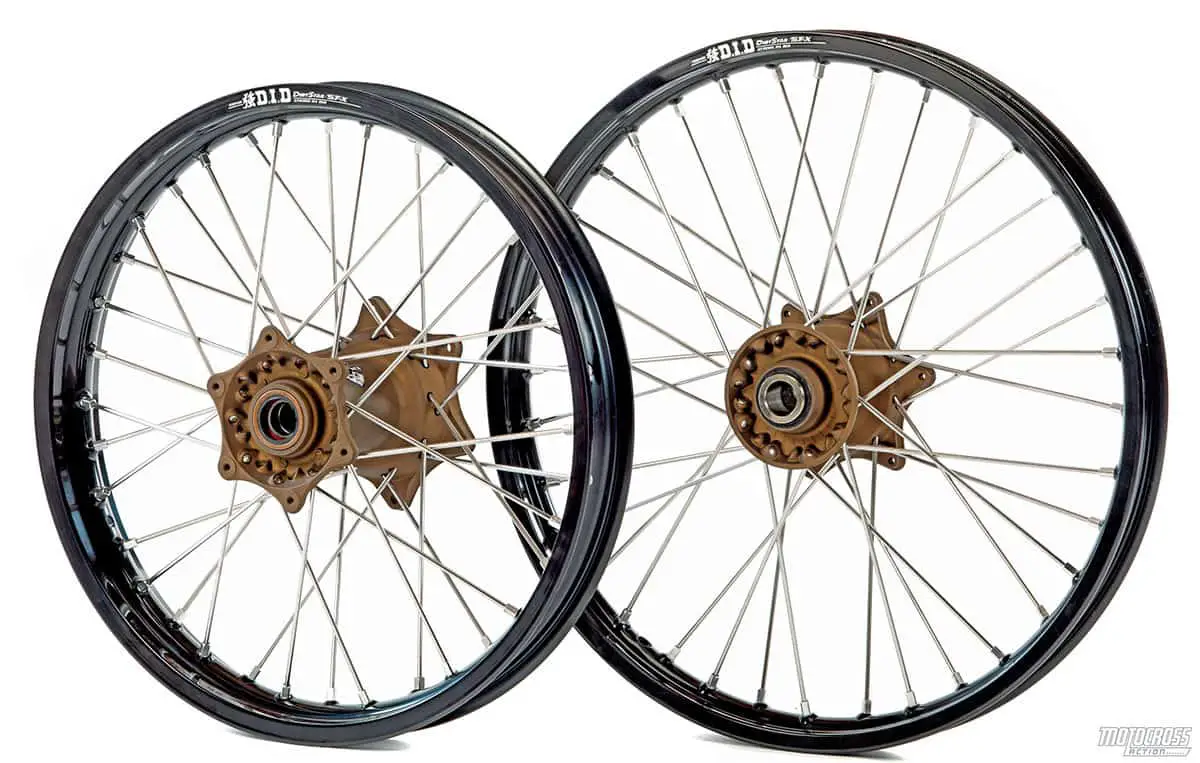 WHAT IS IT? It is a way to make your bike's hubs stand out from the crowd via a durable, corrosion-resistant coating that comes in four colors. Dubya USA can Cerakote your bike's hubs to suit your particular tastes or needs. Cerakote offers some of the visual effects of anodizing without the .002 build-up of material.
WHAT'S IT COST? $200.00 (Cerakote two hubs), $428.00 (two D.I.D. ST-X rims), $99.00/$95.00 (silver Bulldog spokes with spline drive or OEM aluminum nipples), $80.00 (lacing and truing).
CONTACT? www.dubyausa.com or (714) 279-0200.
WHAT STANDS OUT? Here's a list of things that stand out with Dubya USA's Cerakote wheelsets.
(1) Cerakote. What is Cerakote? Cerakote is a polymer-ceramic composite coating that can be applied to metals, plastics, polymers and wood. The coating enhances abrasion resistance, corrosion resistance, chemical resistance, impact strength and hardness. It is a spray-on compound that is applied in a sterile environment and baked in an oven between 250 and 300 degrees. There are two types of Cerakoting—H-grade and C-grade. Dubya uses H-grade, which is the most popular coating for firearms, knives, and other such items that require hardness and corrosion resistance. C-grade is generally used for high-heat applications. Cerakote creates a thinner layer than anodizing or powdercoating, which means that it doesn't change the tolerances of the bearing pockets; however, Dubya bead-blasts the hubs, removes the bearings and seals, and tapes off the hub's interior surfaces before applying the Cerakote. Additionally, unlike anodizing, which produces mixed results on cast aluminum compared to billet aluminum, Cerakote delivers a clean finish on cast hubs. It should be noted that Cerakote doesn't have the bright-dip look of shiny anodizing. The colors are more muted.
(2) Colors. Dubya can take your stock hubs and Cerakote them in magnesium, white, charcoal, titanium or desert sand colors. There are actually 90 different Cerakote color options, but Dubya specializes in the four that most racers request.
(3) Rims. Dubya USA offers Takasago Excel rims in black, silver, blue, yellow and gold, or D.I.D rims in black or silver. The MXA wrecking crew selected D.I.D ST-X rims in black. This is D.I.D's strongest rim. Dubya can build up your wheels in whatever combination of spokes, rims and nipples you choose. The Cerakoting is a service that is applied to your stock or aftermarket hubs to change their color.
(4) Spokes. MXA selected Bulldog spokes and traditional box-style nipples, but spline-drive nipples are available for the same price (although colored nipples do have an upcharge). Dubya USA uses full-length spokes that allow the threads to get a full purchase on the nipple. This reduces the odds of a nipple snapping at the stress riser caused by a short spoke.
(5) Performance. We would love to say that having our hubs Cerakoted added 2 horsepower and dropped our lap times by a full second, but that isn't what Cerakoting does. Although there are corrosion, abrasion, chemical and UV-light advantages to Cerakoting your hubs, there are no pragmatic reasons for doing it. The primary motive is that it makes them look more "factory."
WHAT'S THE SQUAWK? Every garage-queen project bike is outfitted with black rims. They look mean and aggressive, but they are really a very poor choice for a race bike. Why? Black rims are easily scratched by tire irons, salt-and-peppered by roost and look beat when silver rims still look new. So, why did we spec black rims? That's the only color that the D.I.D ST-X rims come in. As for the Cerakote hub? No complaints.
MXA RATING: Cerakoting your front and rear hubs is several hundred dollars cheaper than buying Talon or Kite hubs, but when you are done getting your hubs coated, rimmed, laced and spoked, what you have in the end is a fancy stock hub.
KTM ANNOUNCES DETAILS FOR THE 2021 KTM 50 SX FACTORY EDITION

Press Release: KTM North America, Inc. is excited to announce details for the 2021 KTM 50 SX Factory Edition, the clear choice for young racers looking to kickstart their championship-winning career. This mini weapon debuted during Opening Ceremonies of the 2020 AMA Amateur National Motocross Championship at Loretta Lynn Ranch, and is yet another example of KTM's ongoing commitment to support racing at the youth level and build future champions of the world.
KTM's Factory Edition models are the result of years of designing and developing factory race machines for some of the fastest riders on the planet. Hard-fought victories, title chases, lessons and experiences have led to the creation of a Factory Edition for the youngest shredders, and this purebred race machine offers the same competitive advantage as found in the full-sized Factory Edition thanks to a potent range of premium components.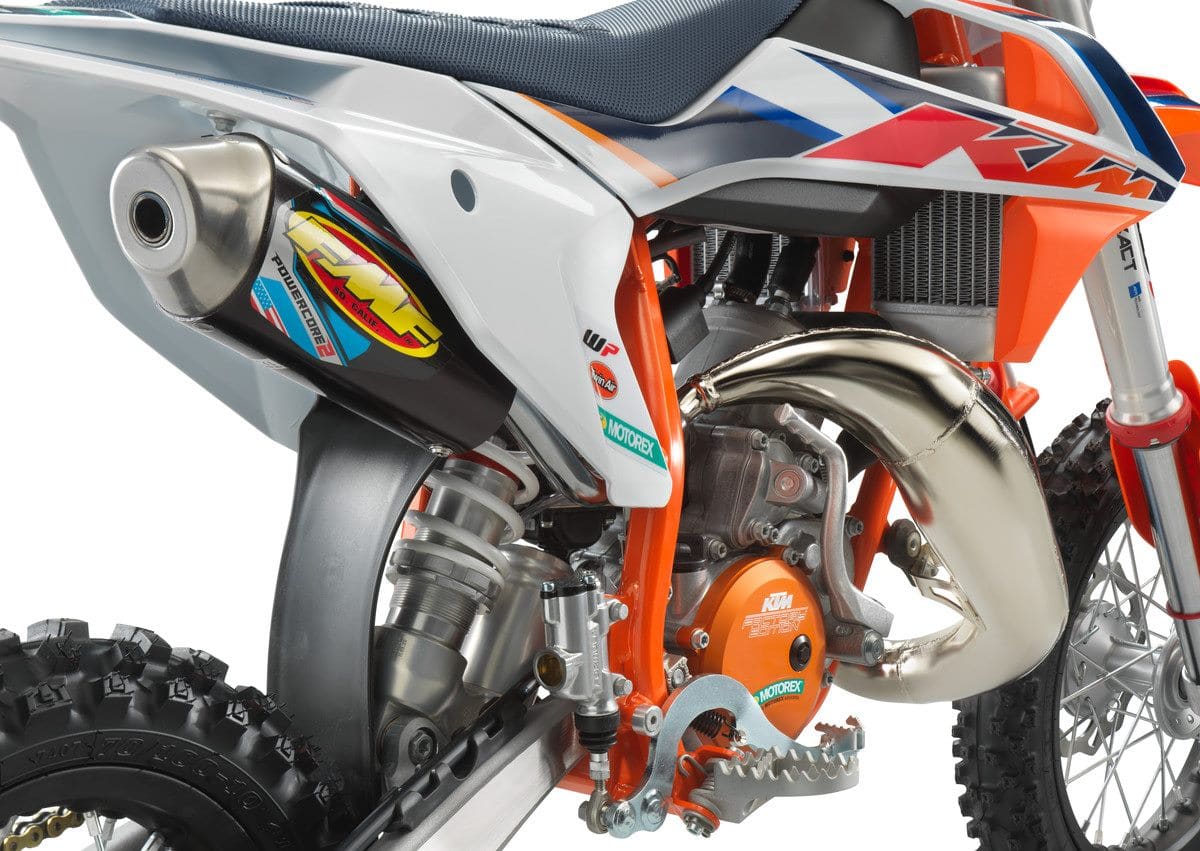 The list of specifically selected performance features includes a full FMF exhaust system, CNC aluminum ignition and clutch covers and high-performance Dunlop Geomax MX 53 tires. Designed for a wide variety of terrain, the MX 53 tires feature block-in-block technology and provide enhanced grip and control to offer the best race setup found on the showroom floor. Topping all this off with refinements to the engine and jetting, while wrapping everything in special Factory Edition graphics and a blue gripper seat, make the KTM 50 SX Factory Editionthe most 'READY TO RACE' 50 cc machine on the starting line.
KTM 50 SX FACTORY EDITION HIGHLIGHTS
-Factory graphics
-FMF pipe
-FMF silencer
-Blue gripper seat
-Smaller rear sprocket
-CNC clutch cover
-CNC ignition cover
-Reworked jetting
-Special clutch configuration
-Gray grips
-Chain guide
-Dunlop tires

This class-leading model was presented during Opening Ceremonies at Loretta Lynn Ranch on Sunday, Aug. 2 while the future AMA National Champions prepared for a week-long battle at the nation's largest amateur motocross event, the perfect backdrop to introduce KTM's latest race-focused machine.
The 2021 KTM 50 SX Factory Edition is slated to arrive in North American KTM dealerships this fall. For more information and to view a complete list of authorized KTM dealerships, please visit www.ktm.com/us/.
LOST BUT NOT FORGOTTEN | VERTEMATI MX500
MY ENGINEERING DEGREE IS BETTER THAN MXA'S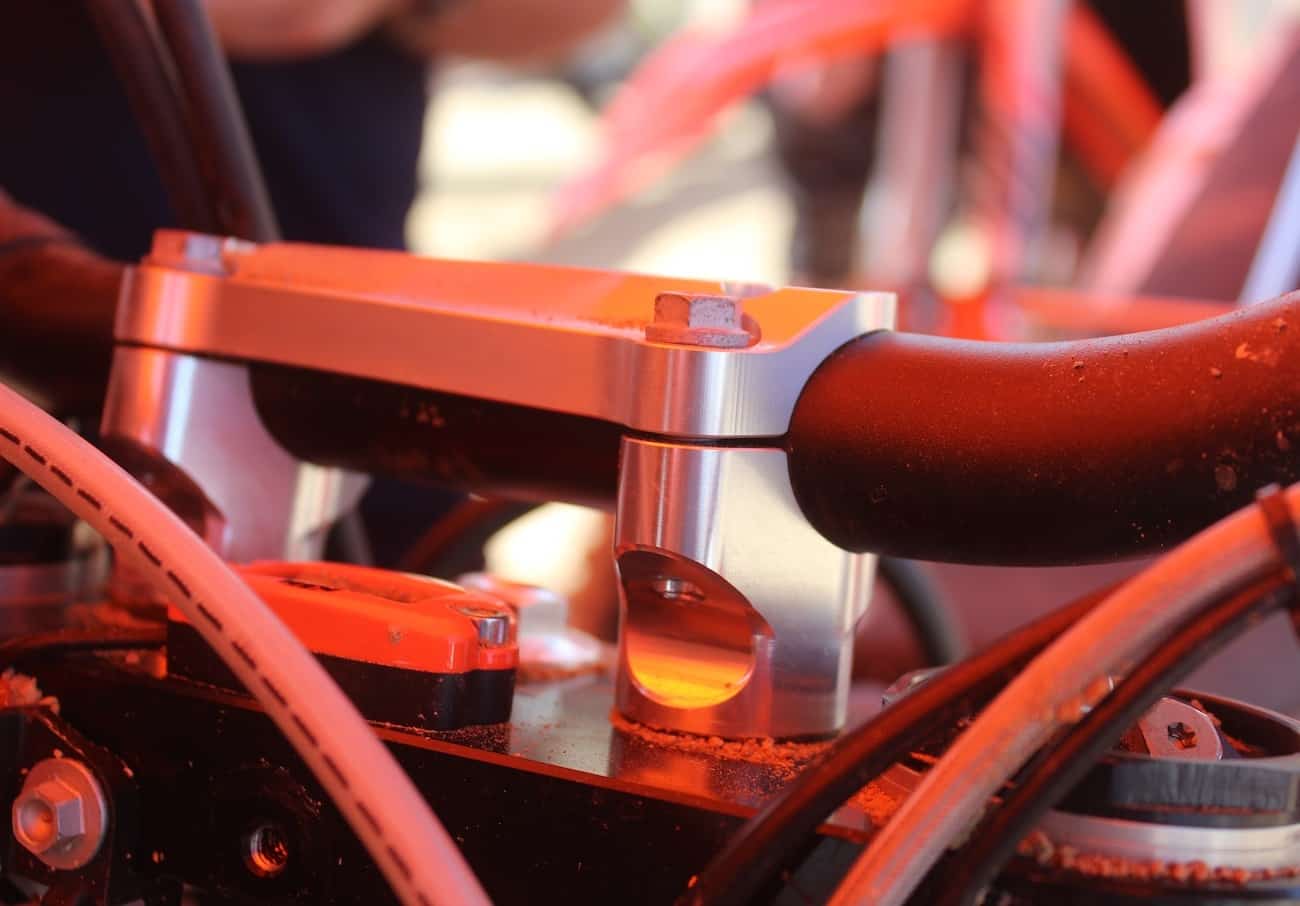 The 2017 KTM handlebar mounts bend, no matter what engineering school you go to.
Dear MXA,
I read in a recent test where you guys said that KTM's new one-piece top bar clamp wasn't going to stop the bars from twisting. I don't agree. It goes against everything I know about bar mounts. It is obvious that a one-piece clamp is stronger than two individual clamps. Do you have engineering degrees?
No, we have a master's in crashing motorcycles with a minor in straightening bar mounts. In 2016, KTM had a one-piece bar below the handlebars with separate bar mounts on top. In 2017, KTM had a one-piece bar mount on top with separate bar mounts underneath the bars. In our experience, we still twisted the bar mounts when we crashed, but now we tweaked the one-piece top mount at the same time. We don't think that KTM's (or Husqvarna's) one-piece top mount was strong enough to stop the bar mounts from twisting. Our best solution for the 2017 models was to run the 2016 bottom mounts with the 2017 top mounts. Riders with 2017's one-piece lower bar mount can run the 2017 top mount in conjunction with the 2016 bottom mount.
If you have a technical, political, emotion or historical question you want to be answered, send it to [email protected]
TALK MOTO WITH MOTO MINDED PEOPLE. JOIN MXA'S FACEBOOK GROUP CHAT

We love everything moto and want to bring all moto junkies together into one place to share their two cents, ideas, photos, bike fixes, bike problems and much more. To check it out first you must need to or already have a Facebook account. If you don't, it isn't much work and you could even have an alias so nobody knows it is you. To join click HERE. After you request to join we will accept your request shortly after.
CLASSIC PHOTO

Chad Reed and his 2005 Yamaha YZ450F.
---
Moto Trivia Answer: Ron Lechien