MOTOCROSS ACTION MID-WEEK REPORT
#WHIPITWEDNESDAY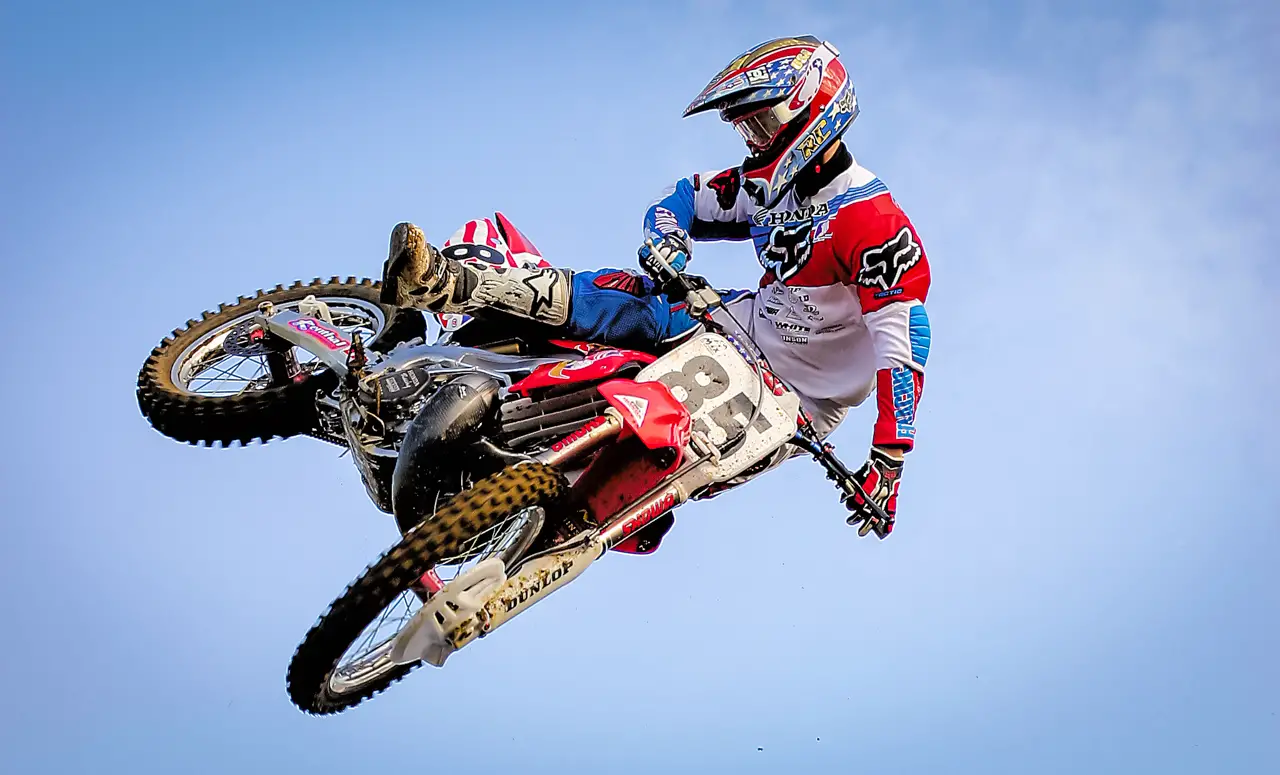 Rider: Ricky Carmichael
Bike: 2003 Factory Honda CR250
Location: Belgium Motocross des Nations
TWO-STROKE SPOTLIGHT: RED RIDERS 716'S 2003 HONDA CR125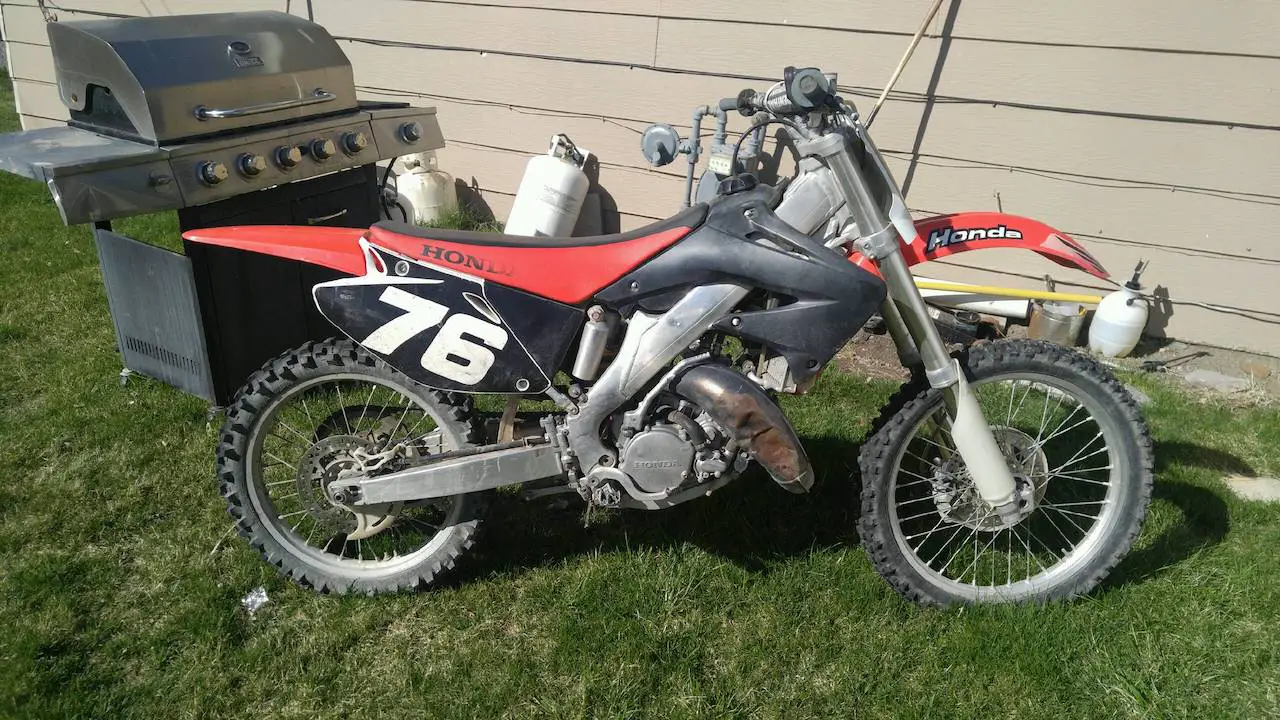 Before the transformation.
This is my 2003 Honda CR125. I bought it in pretty bad shape as it looked like it had been left outside for what seemed like its whole life. I ignored the trouble signs because I wanted a 125. I replaced all of the chassis bearings, replaced the top end and got her all ready to rip and on the first ride the crank gave up the ghost. Turned out the float level was set leaner than lean to allow the last guy to run sea level jetting at 6000 feet. Rather than just cut my losses I jumped in again. I sold the 450 I had and went all in. I ordered up a Hotrods crank, a new cylinder and another new top end. This thing is a blast and I've never had more fun on a bike than I have on this little old CR.
The Honda CR125 after some TLC. 
Editors Note: Please keep those submissions coming. If you would like your bike to be featured in the "Two-Stroke Spotlight," please email me at [email protected]. All I ask is that you give a breakdown of your bike and a detailed description of the build. Please also send a few photos of your steed. By submitting your bike for the "Two-Stroke Spotlight," you agree to release all ownership rights to the images and copy to MXA.
RIDE ENGINEERING ADJUSTABLE BRAKE LINES & BILLET MOUNTS
Ride Eng. started back in 2001 with one product: A YZ250 direct route braided steel brake line and special mounting bracket. Yes, these products are still available today as well as a full line of front and rear brake lines for Hondas, Yamahas, Kawasakis, Suzukis, KTMs and Husqvarnas through 2020. Furthermore all Ride Eng. brake lines are adjustable for a perfect fit so follow the instructions we provide.
Also, don't skimp on the mounting bracket as it is sized specifically to fit smaller diameter braided steel brake lines. A silver or black front line with a black, green, red or blue mounting bracket will cost $105 and might just be what your bike needs to improve brake performance. Braided lines don't expand when hot so the power and feel stays consistent from the beginning of the ride until the end. https://www.ride-engineering.com/moto.php
2020 HONDA CRF450 PROJECT BIKE COMING SOON TO PRINT
MXA's Dennis Stapleton is the only test rider that has enjoyed riding the new generation CRF450. For the first few laps, testers love the CRF450's powerful engine, however, when they almost get kicked off the bike due to its ill-handling, they don't touch the bike again. For Dennis, the bike seems to fit him. Why? He has raced and ridden Honda's most of his professional racing career. They have a homey feeling to him. Dennis wanted the other testers to like the unpopular CRF450 so much that he built one in hopes to suit the needs of the other MXA test riders. Meaning not to scare them.
Dennis had XPR Motorsports smooth the power out with customs maps via a Vortex Ignition. XPR downloaded Malcolm Stewart's 2020 SX map and Justin Brayton's 2018 Daytona Supercross winning maps into the ignition. We were shocked by the results.
A big part was dialing in the suspension to calm the chassis down. We had MX Tech set us up with their very own MXT National shock. This shock offers much more tuning capability and performance over the standard Showa shock.  
These might look like Showa forks, but MX Tech gutted out the internals to use their high tech MXT Lucky carbon system inside to allow the forks to ride higher in the stock and make for a plush ride. 
To top off the build we got ahold of Chad Reed's super short Pro Circuit exhaust system. Make sure to pick up the November issue of MXA to read about the whole build.
2021 THOR MX COLLECTION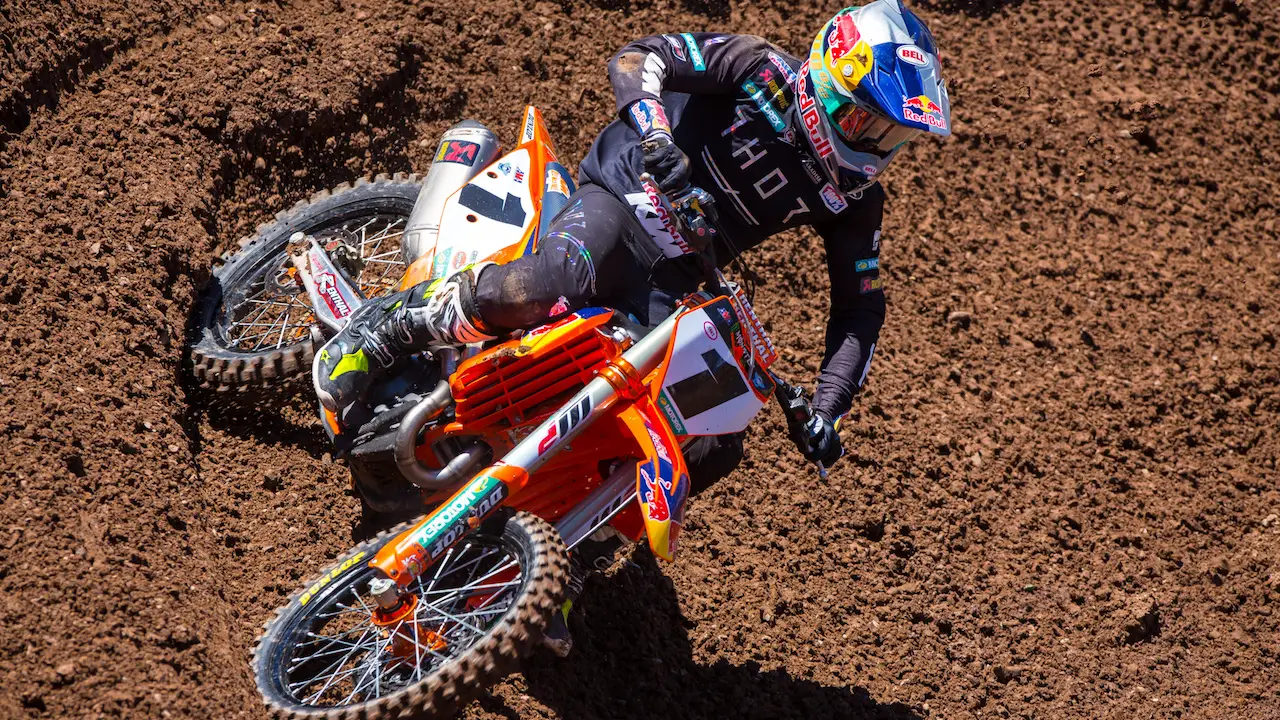 Press Release: Great challenges must be met with even greater advancements. For the 2021 season, Thor is very proud to announce key technical updates to our championship-winning racewear collection, alongside brand-new, progressive technical products designed to elevate riders and racers to reach their own next level of performance.

REFLEX HELMET
After years of research and development and first seen on the H.E.P. Suzuki team during the 2020 Monster Energy Supercross series, Thor's brand-new Reflex helmet embodies the infusion of style and technology. Available with carbon fiber or fiberglass composite shell, the Reflex offers Koroyd technology integrated into a premium dual-density EPS liner in conjunction with MIPS Brain Protection System. This unique combination of multiple technologies in a single helmet is what truly sets the Reflex apart from the competition.
PRIME PRO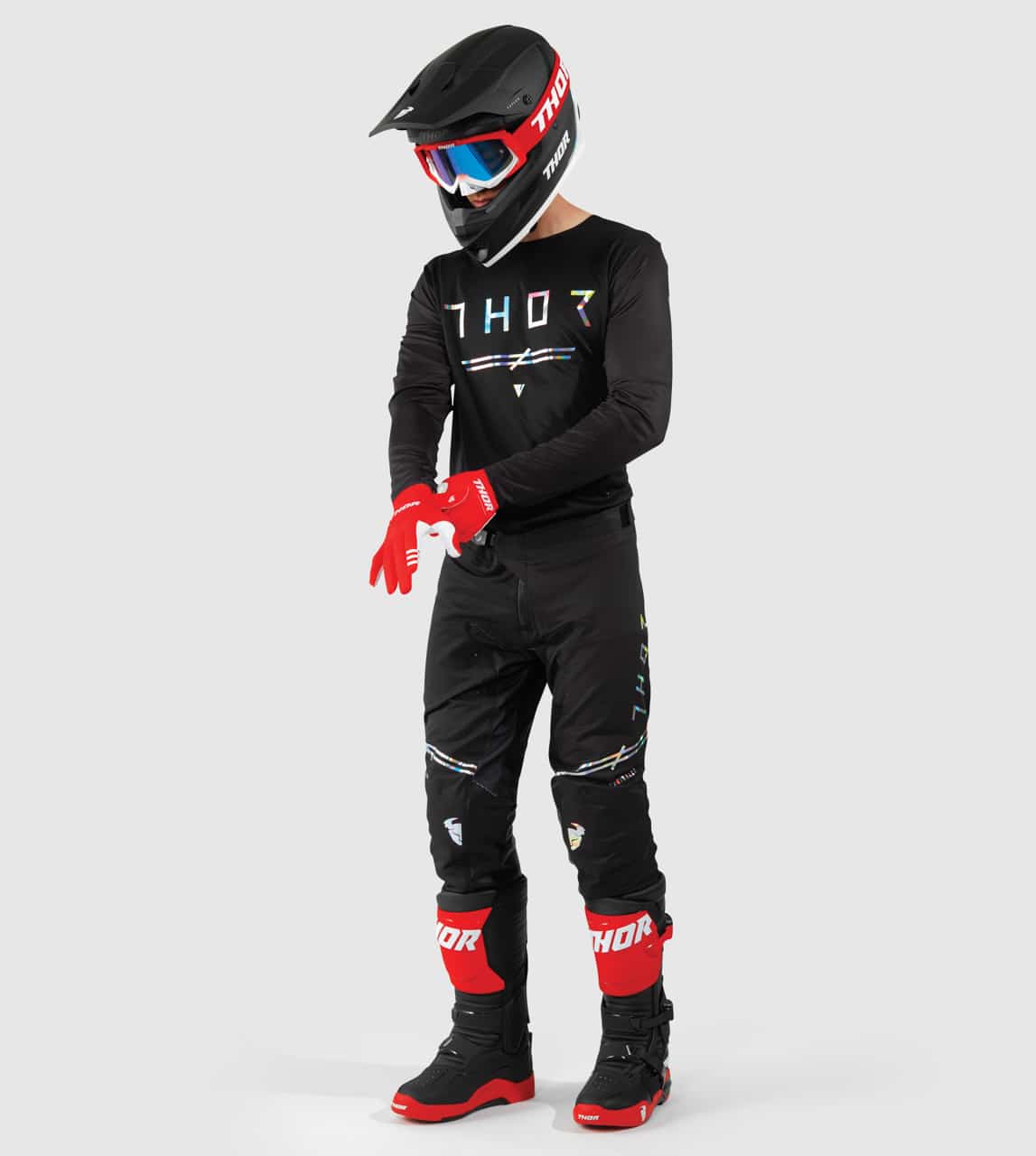 Factory Red Bull KTM ace Cooper Webb has preferred the Prime Pro chassis since it was launched in 2019. It was throughout Cooper's championship-winning season and strong 2020 series follow up that THOR gathered vital race day knowledge to enhance the Prime Pro for 2021. Featuring new lay-flat, inboard side cinches, amplified density In-Motion main chassis fabric and upgraded stretch mesh panels in critical areas, the revamped Prime Pro pant is ready to continue its winning ways.
PULSE

Never before has an update so clearly redefined what a product is tasked to achieve. Taking critical material and fit cues from Prime Pro, the all-new Pulse chassis continues a legacy rooted in materials designed for better abrasion resistance and extended wear, with focused integration of In-Motion materials at key locations to reduce weight and increase flexibility. Additionally, the Women's Pulse pant and jersey chassis received a fit refinement, resulting in a more athletic, performance-oriented appeal. No other kit on the market offers this level of tech and performance fit, at such a reasonable price.
PULSE AIR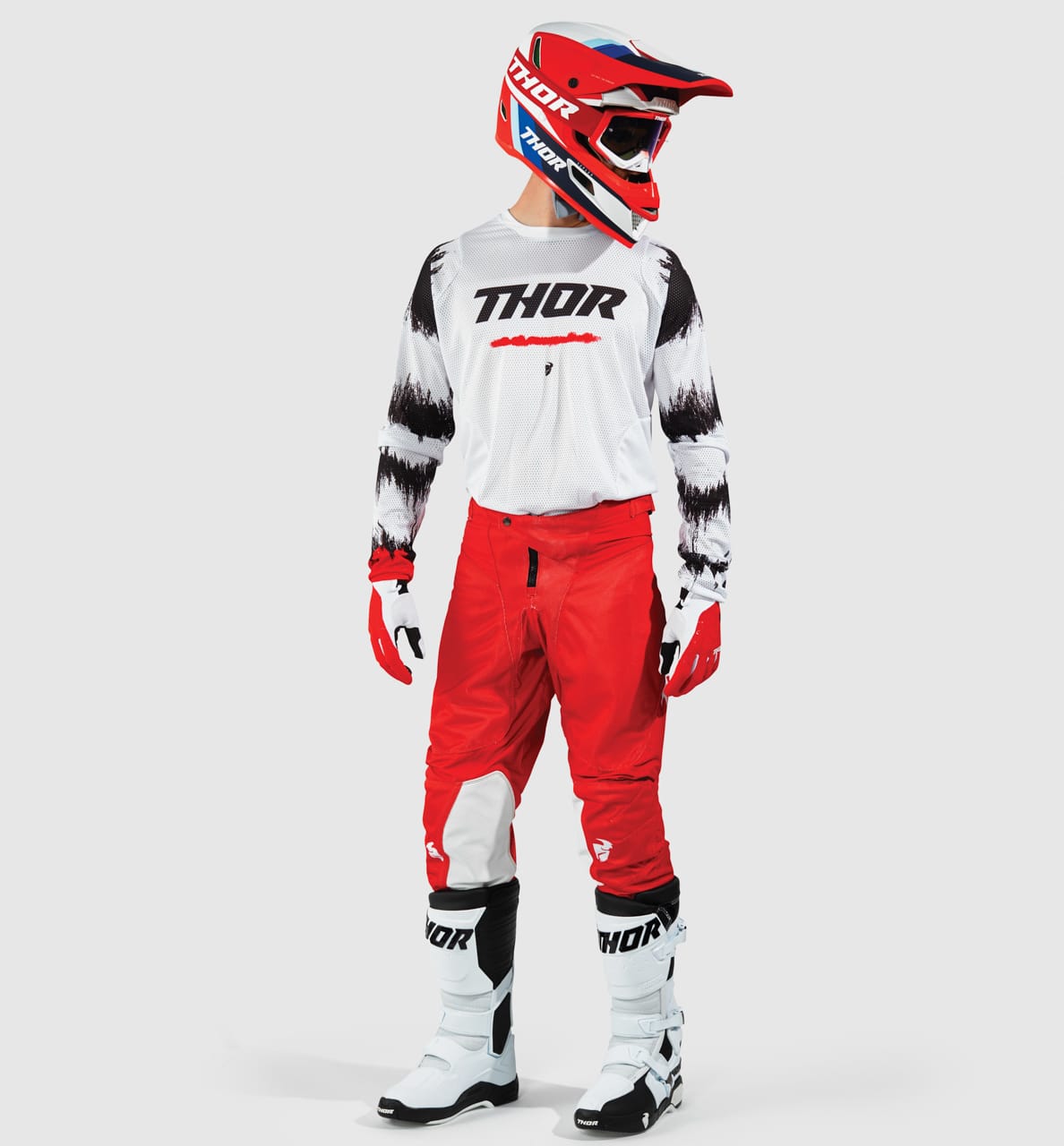 Heat leads to fatigue and fatigue leads to poor results. The all-new Pulse Air is purpose-built to combat troublesome heat with maximum airflow and elite functionality. The jersey offers a full mesh main chassis and engineered mesh panels strategically placed to enhance airflow and comfort. The pant boasts durable, fully breathable, "power mesh" panels incorporated with In-Motion materials to amplify performance.
TERRAIN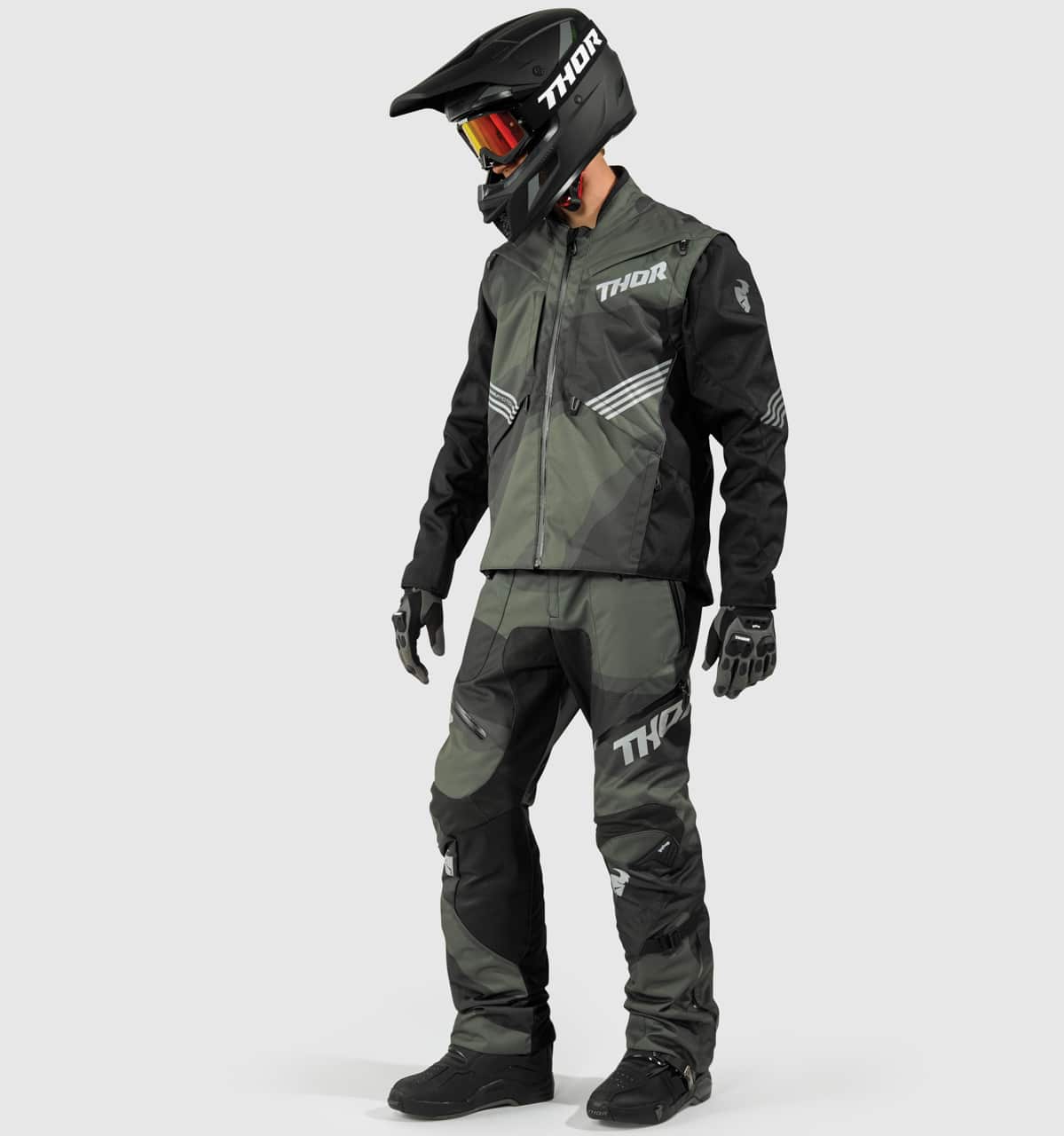 Longevity is the name of the game. Redesigned from the ground up, the Terriam collection truly embodies technical apparel that is well-constructed of premium materials tasked to last a long time, yet comfortable enough to be worn for long days on the bike. The Terrian jersey features all-new, ultralight ripstop sleeves, soft-touch collar to avoid chaffing and vented side panels to enhance airflow and moisture-wicking. The completely redeveloped Terrian jacket and pant feature a slightly more tapered fit, brand new Dura-Motion and 600D construction for long life, generous pockets, taped zippers and Hipora membrane + DWR coating for greater water resistance, removable sleeves and plentiful zippered vents for true multi-season usability.
AGILE PLUS GLOVE

An evolutionary step from the original Agile, the 2021 Agile Plus glove has become the spec piece for Thor's factory racers around the world. With a lightweight chassis design and single layer perforated palm, the Agile Plus provides premium cooling and precise feedback from the motorcycle.
ASSIST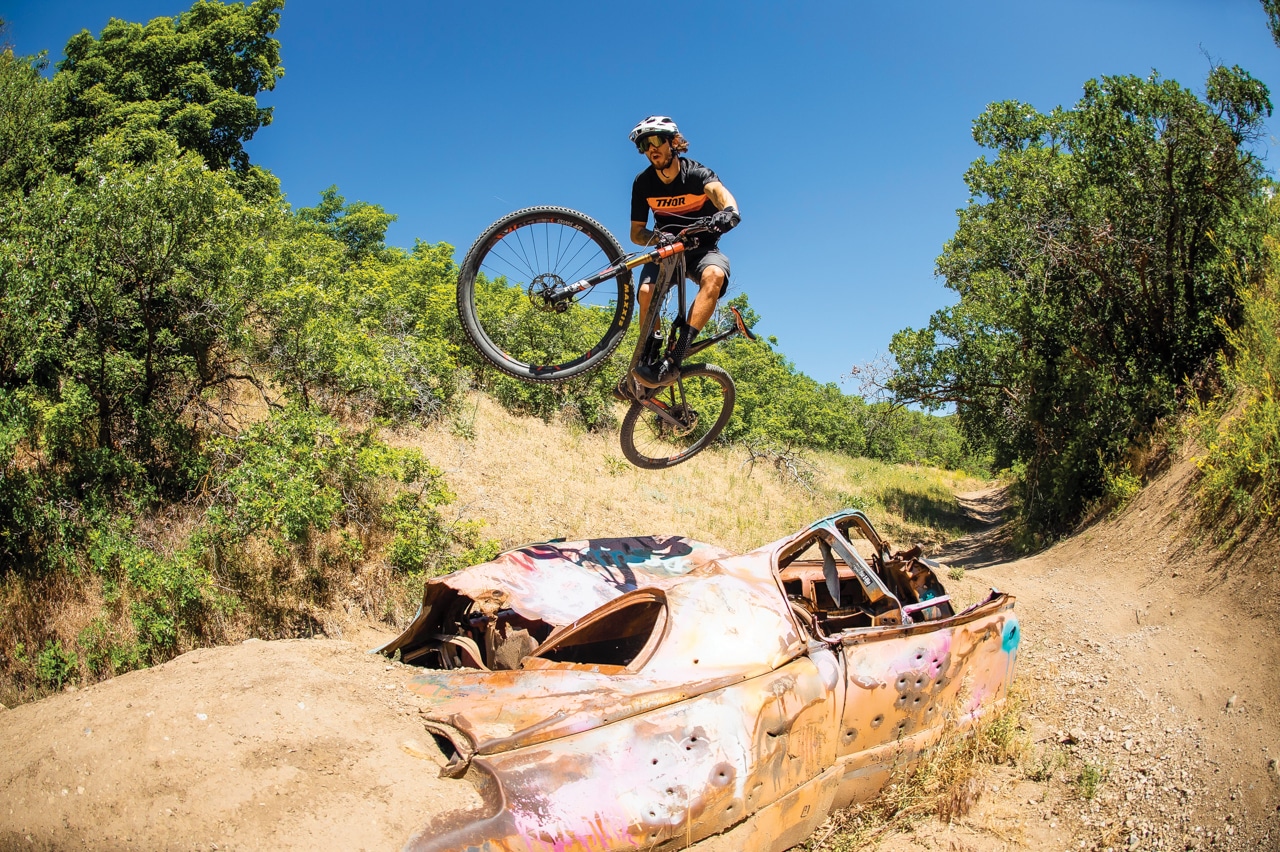 The eMTB revolution continues to grow and Thor is excited to be along for the ride. Whether the casual weekend peddler, the advanced cross-trainer or full-blown racer, the new Assist line is crafted to get you there. Using the technical DNA of Thor's championship-winning motocross apparel, this collection features moisture-wicking jerseys hosting durable polyester construction and hybrid sleeve design, while the shorts and pants proudly boast In-Motion main body fabric accompanied by strategic stretch panels for optimum mobility, snap or ratchet-style closures and lay-flat, inboard side cinches for fine-tuning fit.
For more details on the entire 2021 collection, head to www.THORMX.com or visit your local Parts Unlimited dealer.
MXA TEAM TESTED | 2017-2020 PRO CIRCUIT WORKS KTM 250SX PIPE/SILENCER
WHAT IS IT? The Pro Circuit Works pipe gives the KTM 250SX smoker more of what it needs without harming anything it already has.
WHAT'S IT COST? $249.95 (raw metal or chrome pipe), $329.95 (carbon fiber silencer), $134.95 (aluminum silencer).
CONTACT? www.procircuit.com or (951) 738-8050.
WHAT STANDS OUT? Here's a list of things that stand out with the Pro Circuit 2017 KTM 250SX pipe and R-304 silencer.
(1) Fitment. All the OEM KTM hardware transferred over to the Pro Circuit pipe and silencer. There are two things you need to do before installing the pipe. First, move the stock O-ring out of the OEM pipe and insert it into the Pro Circuit pipe. Second, the silencer needs the rubber grommets and aluminum spacers from the stock KTM silencer transferred over. Be careful not to lose any parts of the two-piece spacers; they have a tendency to fall out. The pipe fits perfectly.
(2) Silencer. If you are short on cash and want the most bang for your buck, just get the R-304 muffler. For some reason, since way back when Jeremy McGrath was at KTM in 2002, the Pro Circuit silencer has been magic with the stock pipe. It hits hard, pulls harder and revs further. Since you are a penny-pincher, we doubt that you will spend $330 on Pro Circuit's carbon fiber muffler, but if you do, be forewarned that carbon canisters have a finite lifespan that is one-tenth that of an aluminum canister.
(3) Performance. Every MXA test rider loved the 2017 KTM 250SX powerband; but, if given the opportunity to tune it to our tastes, we would want more top-end power and some added over-rev. The stock pipe delivers incredible midrange but falls off quickly after its peak at 8200 rpm where it was making 47.30 horsepower. With the Pro Circuit Works pipe installed, peak is moved to 49.60 horsepower at 8300 rpm. That is a 2.2-horsepower gain at peak, but most important, the pipe didn't fall off as quickly after peak as the stocker. The Pro Circuit pipe made the same power as the stock pipe from 5000 rpm all the way to 7200, then the Pro Circuit pipe made 1 horse more at 7500 rpm, 1.6 more at 8000 rpm and 4 horses more at 9000 rpm. Best of all, it kept all the good traits of the KTM 250SX and just added more power after 7200 rpm.
(4) Jetting. We increased the main jet from a 440 to a 450, which means you might have to go richer in cold weather. We also turned the air screw out 3-1/2 turns, which points towards a leaner pilot jet. We made these mods for the stock KTM pipe, and they worked well with the Pro Circuit pipe.
WHAT'S THE SQUAWK? No complaints.
MXA RATING: If you're in the market for a 2017 KTM 250SX, you are going to want this pipe and silencer to fill in the upper half of the powerband. Good stuff.
MOTO | TRIVIA
Name the rider and year. Answer at bottom of page.
BLAKE BAGGETT MOTOCROSS RESTART
WHAT'S THE DIFFERENCE BETWEEN RACE & FREE SAG
Dear MXA,
       I know very little about setting up the suspension. I tend to just ride my bike and live with whatever happens. But, as of late I've started to read MXA and realize that stupidity is not a positive attribute. I want to start with the basics and learn more about making my bike better. What do I need to know about setting the sag? And what is the difference between race sag and free sag?
Setting sag is the one thing that every rider thinks he can do but normally does wrong. You would think that making two measurements and subtracting one from the other would be simple. Not so! Here are some tips.
(1) Always measure the sag the same way. MXA test riders do not measure their sag with the riders standing up, preferring to sit down. However, you choose to measure the sag, do it the same every time. (2) Bounce on the suspension before measuring. (3) Sit where you actually ride, not some dream position. (4) Measure from the exact same location every time.

How do you measure sag? Put your bike on a stand with the rear wheel off the ground, and measure from the rear fender to the rear axle. Write that number on your buddy's forehead. Next, remove the bike from the stand (to level ground) and climb on board. Once you are positioned on the bike, have your buddy make the same measurement again. Subtract the new number from the one written on his forehead. The result should be 4 inches or 100mm (or whatever amount of sag you want), whichever comes first. Some bikes, most notably KTM work best with 105mm, but you can choose your own race number by experimenting.

What should you do if it isn't 100mm? Loosen the shock's preload ring and turn the collar in the proper direction to make the spring stiffer or softer. Then, measure again and again until you get the desired number.
When to check sag? We know this sounds like a broken record, but that is better than a broken bone, check your sag before each race! It changes. One caveat: do not check the sag when the shock is hot — and it gets hot very quickly. If you've just ridden your bike in the first practice and think that you should check the sag before the second practice, save yourself the trouble. The hot shock will not give you an accurate measurement. Wait until the shock cools down. You can use sag as a tuning tool. Jeremy McGrath liked to set his sag at more than 110mm. Why? He wanted the rear shock to feel dead in the whoops. On the other hand, setting the sag at less than 100mm can make your bike handle quicker in the turns, because it raises the rear of the bike, which steepens the head angle. As a rule of thumb, every MXA test rider stays chooses 105mm (except on the Honda CRF450, where we run from 107mm to 110mm).
What is free sag? Free sag is a measurement of how much the bike sags under its own weight (without you on it). Free sag can only be checked after race sag is set.
How do you check free sag? Once you have the preload set at 100mm, or your favorite number, for your weight, position the bike on level ground, grab the bike under the rear fender and lift up—like you are going to pick the bike up off the ground. Did you feel the shock move? How far could you lift the rear fender up before the rear wheel tried to leave the ground? Was it 25mm? Was it 3mm? The amount of slop in the rear end is called "free sag."
How much free sag should there be? Free sag should be between 30mm and 40mm. If you have more than 40mm of free sag, your shock spring is too stiff. Less than 30mm and your spring is too soft. This is so important and so basic that you need to repeat after us: if you have excess free sag, your shock spring is too stiff. Now ask yourself, why? That's simple; you haven't been eating enough. Gain weight and you will have to preload the shock spring more, which will take up the excess free sag. If you don't want to pork up, you should consider a lighter shock spring. If you have very little free sag (less than 30mm), your shock spring is too soft. Why? Because to hold your body up, the shock spring has to be preloaded way down into its stroke. It is overstressed, so overstressed that it is working overtime to hold up the bike; thus it has no jangle left in the rear end. The solution? Buy a stiffer shock spring (or go on a diet).
What if you have less than 30mm of free sag? Many times a rider will set the race sag at 100mm and find out that he has no static sag at all, but he wants to race the bike anyway. What should he do? Back the race sag off until there is at least 10mm of static sag. Free sag trumps race sag in this extreme condition.
HAVE YOU SEEN THE SEPTEMBER 2020 ISSUE OF MXA? SUBSCRIBING IS THE BEST DEAL IN  MOTOCROSS
In this issue, we test the KTM 350SXF that we wish they had built in the first place back in 2011. No worries! They didn't build the mid-size Open class bike that we wanted, but instead, they built a high-rpm, big-bore 250. We fixed that in this issue by ordering a  $650 Cylinder Works 366 kit. It changed the personality and peak horsepower of the KTM 350SX for the better.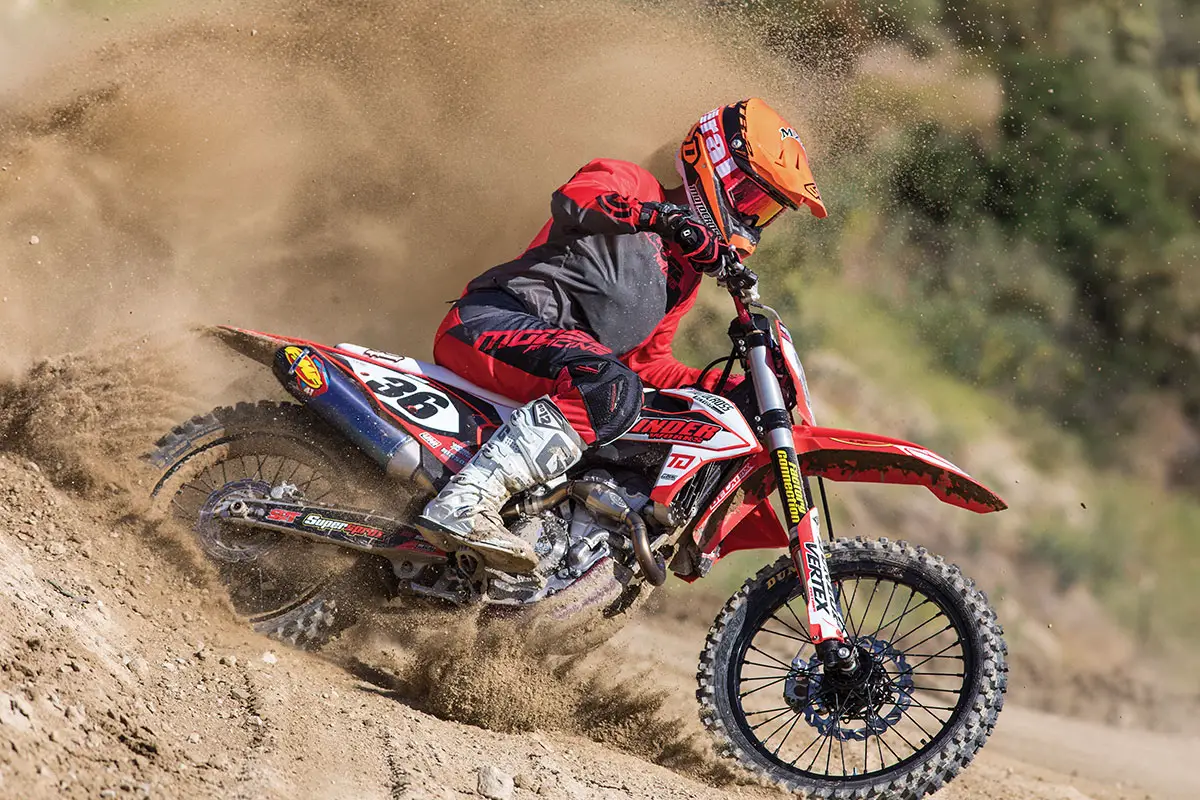 HOW TO SUBSCRIBE TO MXA AND GET A $25 ROCKY MOUNTAIN ATV/MX GIFT CARD—WHICH MAKES YOUR MXA SUBSCRIPTION BETTER THAN FREE
If you subscribe to MXA you can get the mag on your iPhone, iPad, Kindle or Android by going to the Apple Store, Amazon or Google Play or in a digital version. Even better you can subscribe to Motocross Action and get the awesome print edition delivered to your house by a uniformed employee of the U.S. Government. You can call (800) 767-0345 or Click Here (or on the box at the bottom of this page) to subscribe.
TALK MOTO WITH MOTO MINDED PEOPLE. JOIN MXA'S FACEBOOK GROUP CHAT

We love everything moto and want to bring all moto junkies together into one place to share their two cents, ideas, photos, bike fixes, bike problems and much more. To check it out first you must need to or already have a Facebook account. If you don't, it isn't much work and you could even have an alias so nobody knows it is you. To join click HERE. After you request to join we will accept your request shortly after.
2021 450 FIRST RIDE VIDEOS, THUS FAR
CLASSIC MXA PHOTO
Kevin Windham in 1997 aboard a factory Yamaha YZ250 busting out a heal-clicker.
---
Moto Trivia answer: Mike Brown on a 1998 Honda of Troy CR250