MOTOCROSS ACTION MID-WEEK REPORT
#WHIPITWEDNESDAY
Rider: Josh Grant
Year: 2015
Bike: TwoTwo Motorsports KX450F
Lens: 300mm
Focal length: 300mm
Exposure: 1/1600th
F-stop: 8
ISO: 400
TWO-STROKE SPOTLIGHT: MATT WELLER'S 1994 SUZUKI RM250
1992 Suzuki RM250 after its transformation. 
"Here is my 1992 RM250 build. Bike started out as a rusty rolling frame with no engine that I found in a field. Pretty much everything needed replacement. It was stripped down to the frame, repainted and built ground up with mostly new hardware along with all bearings. Most of my parts were purchased on eBay. Went a little over budget and the total project cost me $3500, parts add up quick!" –Ben Kowalski
The before photo. 
Here are the basics:
-Currently running a RMX250 bottom end/transmission. Went this route for the wide ratio transmission and heavier factory flywheel for smoother power delivery.
-Stock RM250 cylinder with RB Designs head setup for 100 octane fuel
–Boyesen Rad Valve
–Pro Circuit pipe
-Gold Pro Wheel Rims and spokes
–Pivot Works Suspension bearings
–Pro Taper bars and controls
Editors Note: Please keep those submissions coming. If you would like your bike to be featured in the "Two-Stroke Spotlight," please email me at [email protected]. All I ask is that you give a breakdown of your bike and a detailed description of the build. Please also send a few photos of your steed. By submitting your bike for the "Two-Stroke Spotlight," you agree to release all ownership rights to the images and copy to MXA. Please don't email me spam or try selling me Taylor Swift concert tickets or email me spam. Happy submitting your smoker.
MXA | MOTO | TRIVIA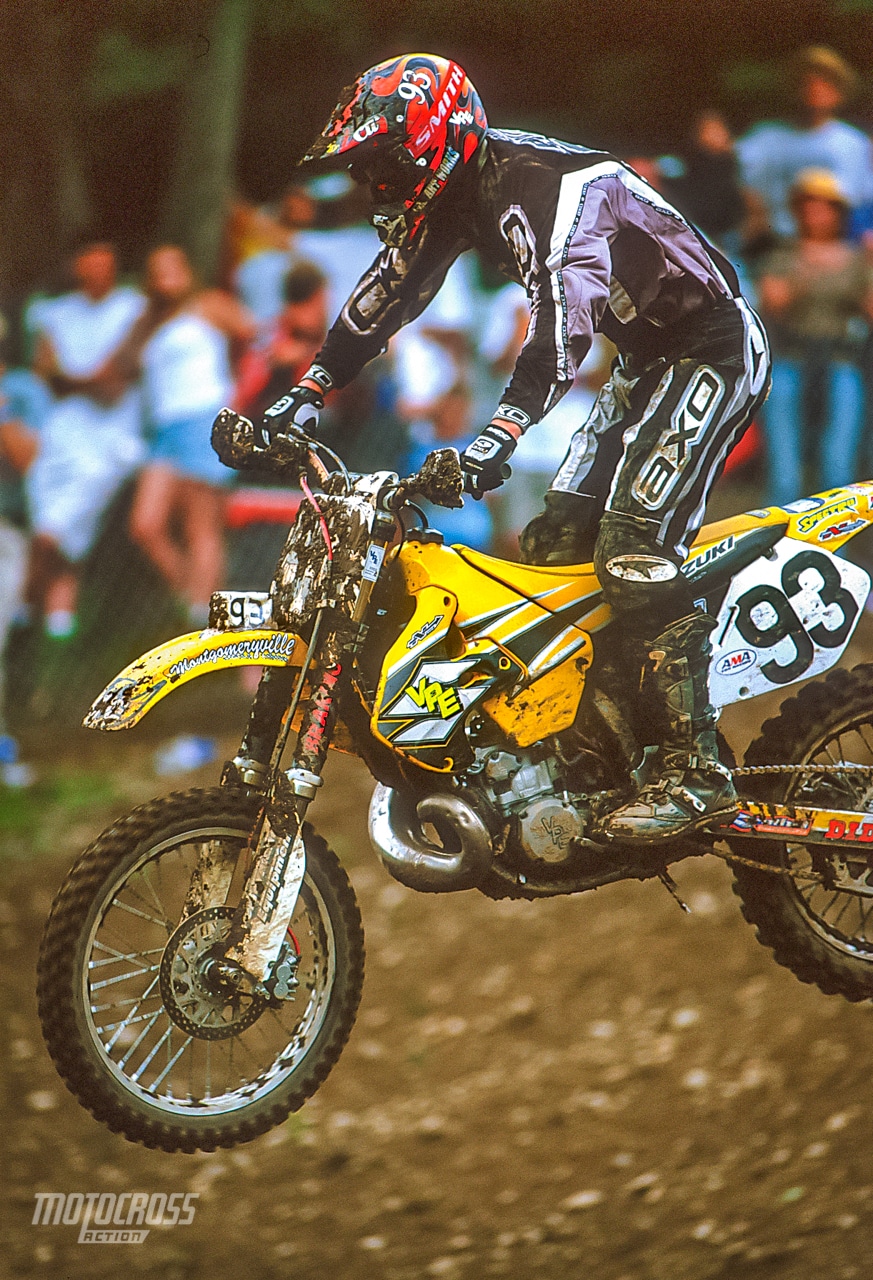 Who is this rider and year?
Customize the handling of your YZ, YZF, FX or WR with a set of Ride Engineering offset triple clamps. Full sets run $549.90. Call us for advice on what will work best for your weight, height and riding ability. Phil Nicoletti's OTSFF Rockstar Yamaha shown. Phil won the Rockstar Energy Triple Crown Series 450 class this weekend at Walton raceway. His teammate Shawn Maffenbeier got third. Phil runs our 23.5mm clamps, Shawn runs 20mm. Two completely different settings, both on the box -proof being comfortable with how your bike handles produce excellent results.
Get an extra handling advantage from our Showa Steering Damper kit. We offer several damper options: 20mm piston 5W or 10W oil, 24mm piston 5W or 20W oil. Dampers cost $250 – $350, the bracket $59.95
CONTACT INFO: www.ride-engineering.com or [email protected] (949) 722-8354.
THEY SAID IT | 2020 LORETTA LYNN PRO NATIONAL
Alex Martin: "It was exciting to be back at the races. I was happy with the speed we had, we just need to minimize the mistakes," A-Mart said after the dust had settled. "Three crashes throughout the two motos kept me from a podium. But I'm happy I could still manage a top five result for myself and the team."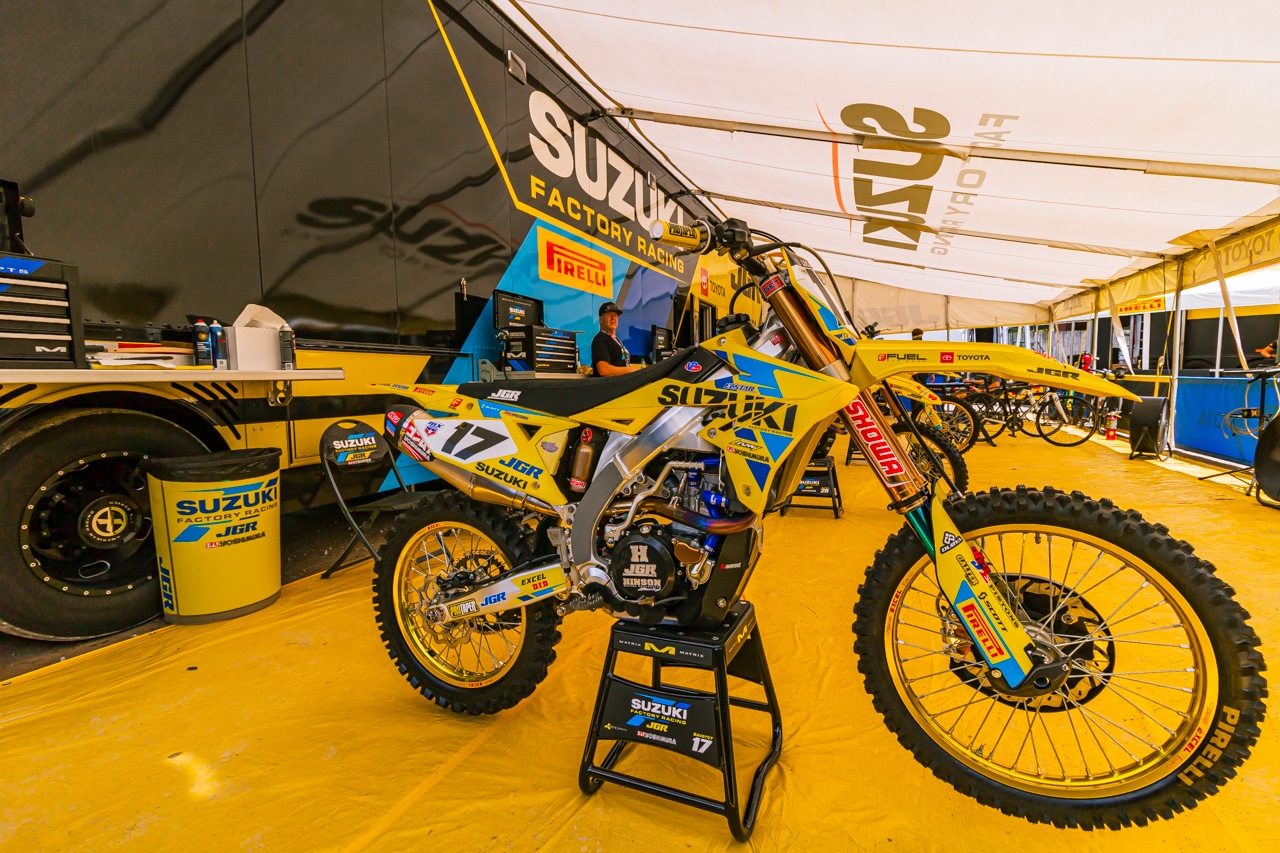 Joey Savatgy: "Yesterday was subpar for me. It was my first race back in almost a year and it got the best of me," Savatgy reflected. "There are some things I need to work on but my starts were good and that's a big piece of the puzzle. So it's now back to work this week and try it again next weekend."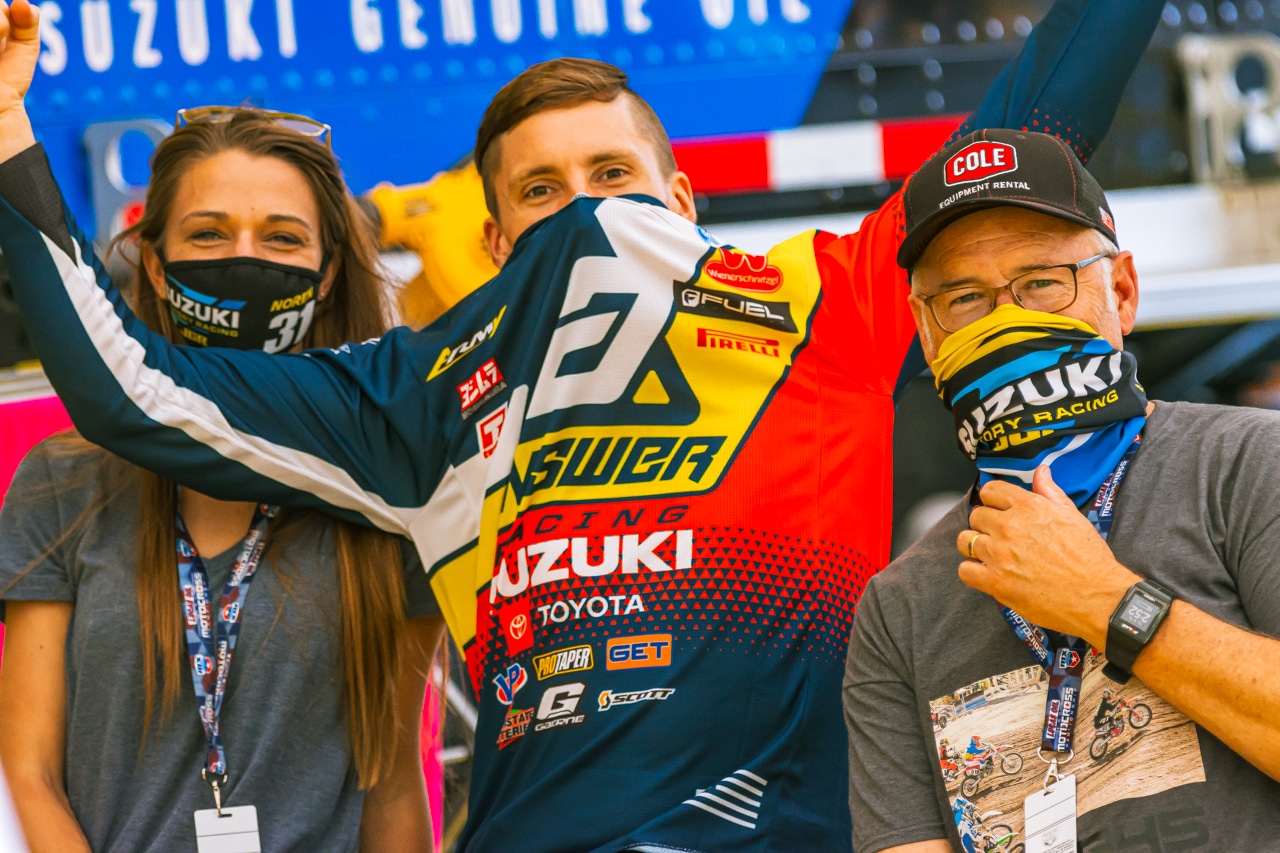 Freddie Noren: "I'm super pumped to be back racing!" Noren added, "I had great starts and I holeshot my first ever pro motocross start, so that was great. Unfortunately, I had pretty hard crashes in both motos which made the overall result for the weekend not very good. Now we'll regroup and recharge for next weekend!"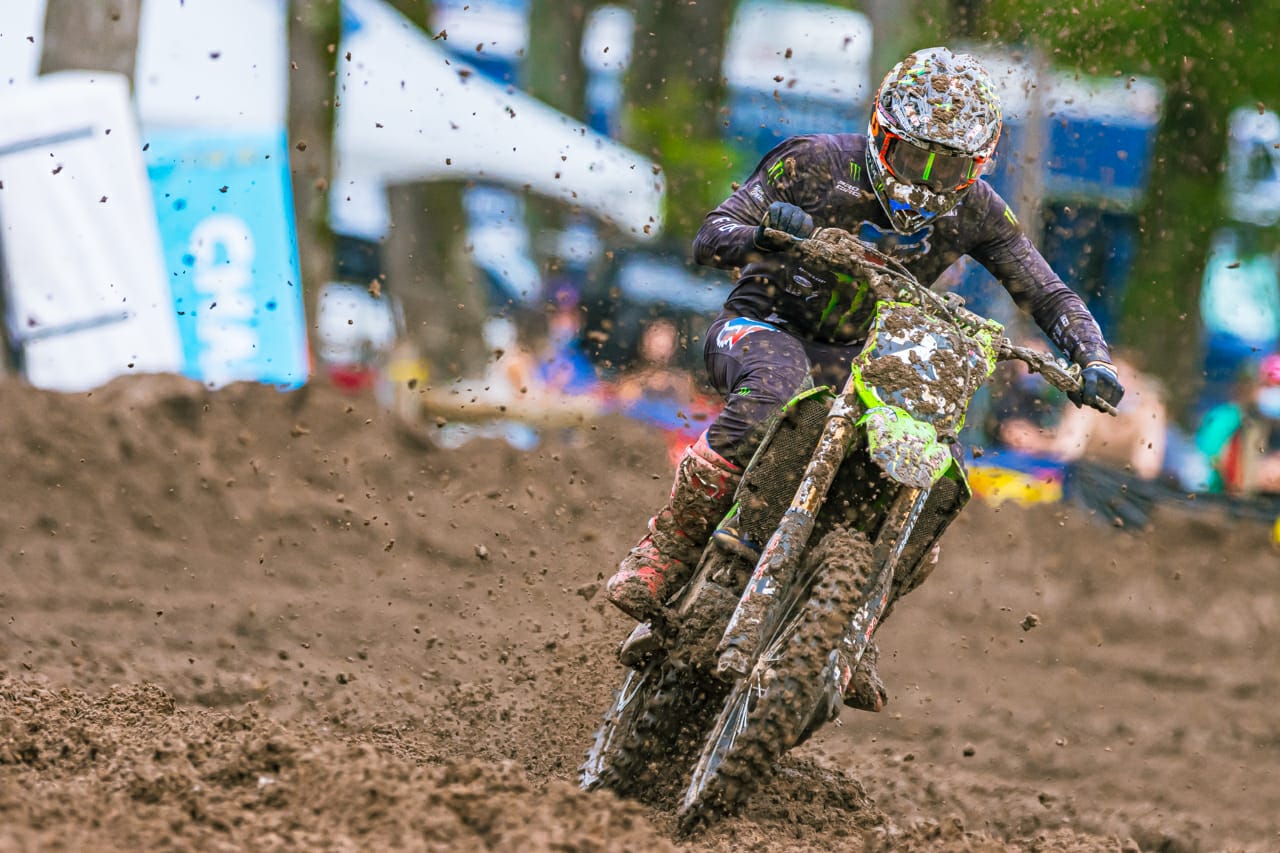 Cameron McAdoo: "The ruts were pretty crazy and each time you went out it felt like a different track," said McAdoo. "It was a lot about managing but also wanting to push forward. It will be nice to be able to come back and try it again next week to see if we can do even better."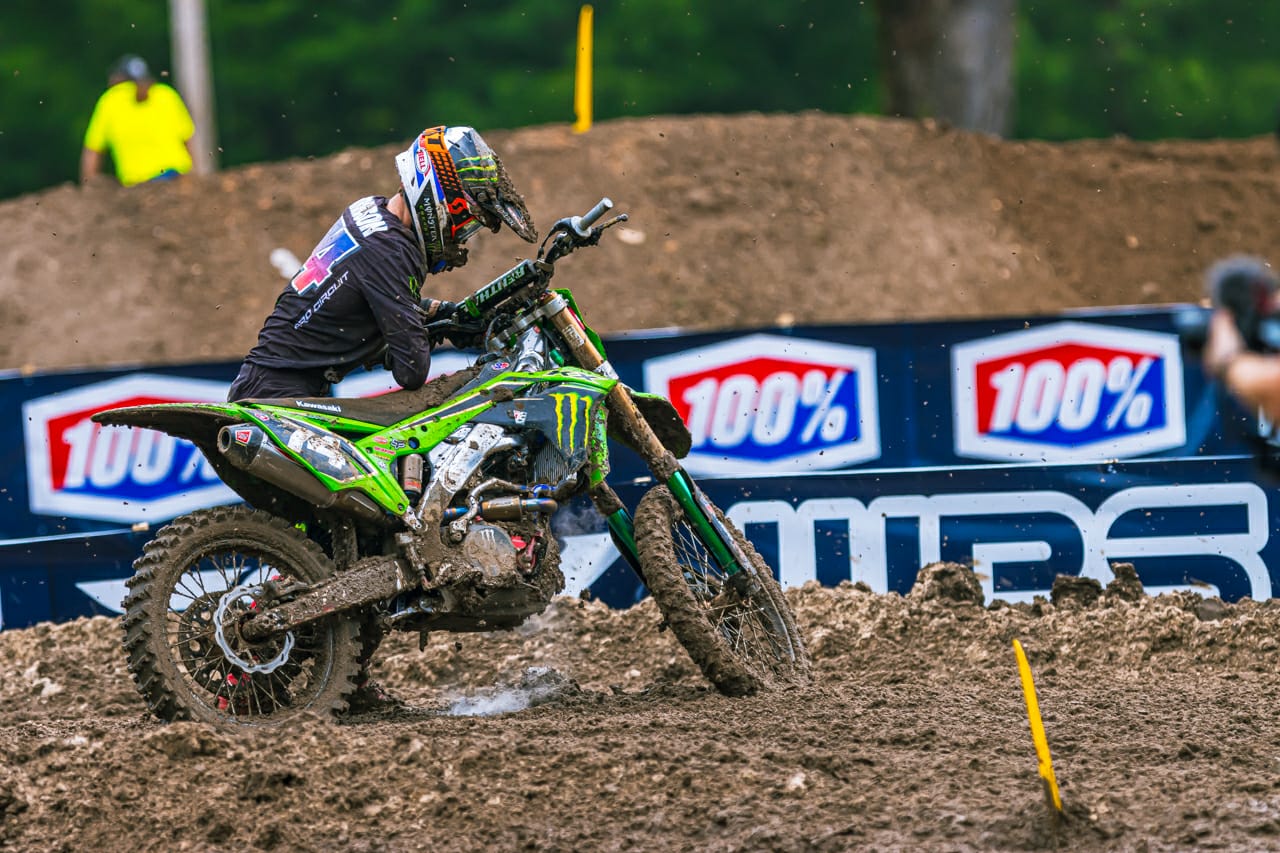 Mitchell Harrison: "Without that mistake, I was going to be able to put it in the top 10," said Harrison. "It's such a bummer, but I also look at it as a positive that I know my speed is there and I just need to minimize the mistakes. I am so thankful for the opportunity and I want to showcase how great this bike and team really is."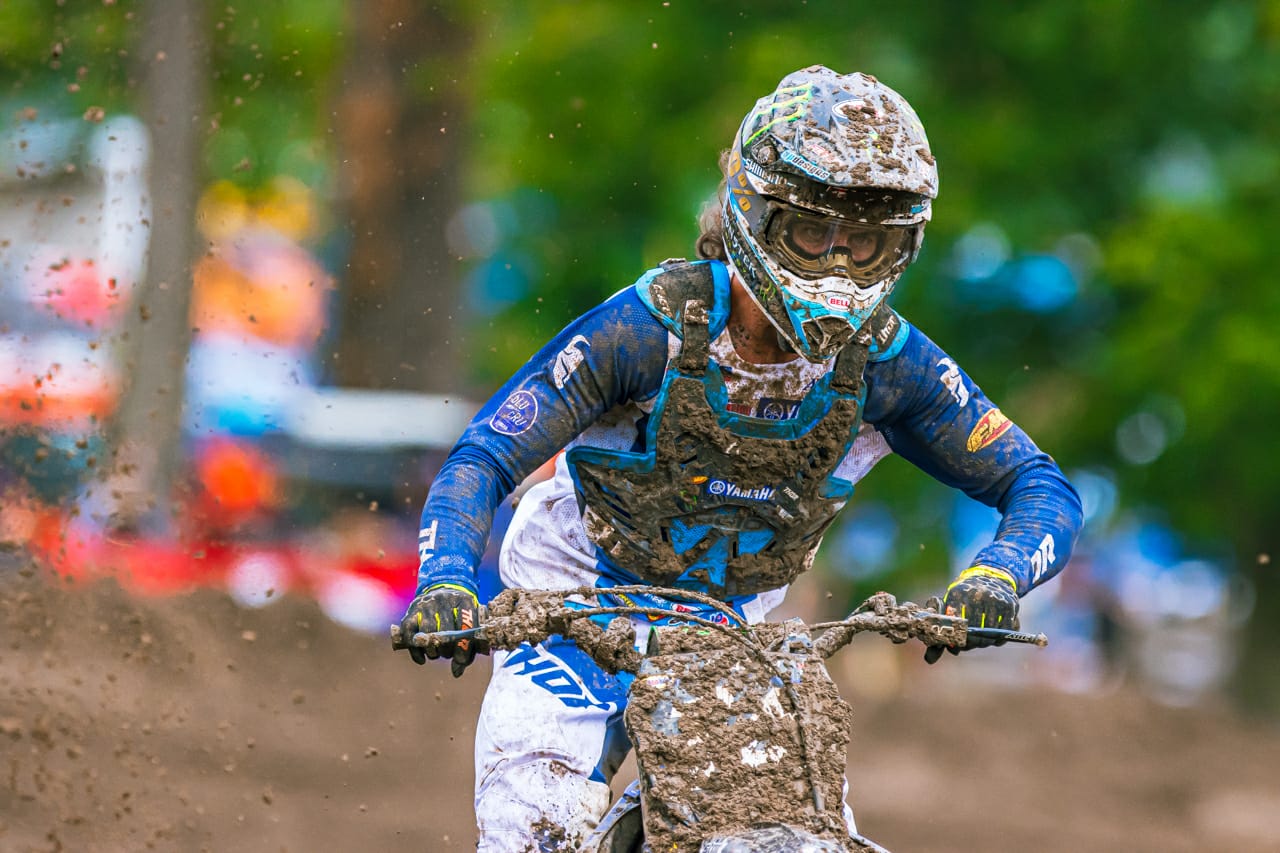 Dylan Ferrandis: "It's awesome. It was a perfect day. We got two good starts and were strong in both of the motos. There's always a little bit of an unknown when you don't race for a long time, and with the Outdoors, you never know where you are. We have a good setup on the bike, and with the team behind me, I feel like it's going to be a great year. For sure, I will have to stay healthy, but after today, I feel like we can go for the win every weekend."
Justin Cooper: "The track was really tough today. It was an up and down day for me. I had a bunch of crashes in the first moto that made me use up a lot of energy, and I was pretty fatigued for the second moto. All in all, I'm just happy to be back racing and to leave in one piece. There are only a few days on the bike before we race here again. We will be better for the next one."
Shane McElrath: "I'm happy to get out of this first round with some decent finishes. I got some good starts and led some laps, but we still have a lot of room to grow. I'm excited for next weekend!"
Marvin Musquin: "It's great to be back after almost a year since my last race at the Indiana National. I put in some good work and it gave me time to get ready, so I'm okay where I'm at. To be out there and to be competitive, that's exactly what I wanted. When you're not racing for a year like that actually, to be honest, I didn't know where I was going to be but overall, I'm happy. I wish I would have hung on to get on the podium, but it's my first race back and fourth overall, I'll take it."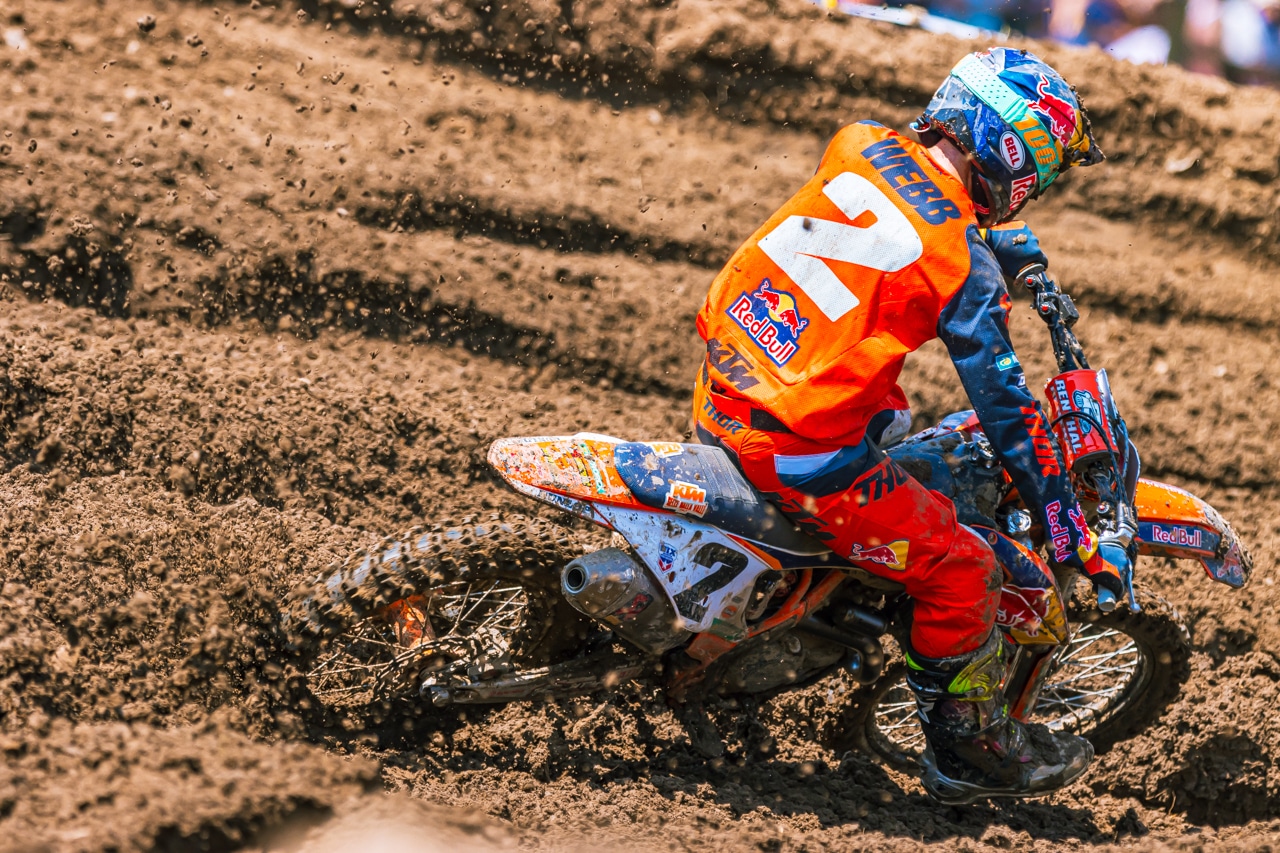 Cooper Webb: "It was a very up-and-down day for me. Practice went well and I was feeling good heading into the motos but I was riding pretty tight so I just kind of lost my flow about halfway through the first moto. The second moto, I had a bad start and on about the fourth lap I landed really weird and jammed my back, so I'm not sure what's going on but I was in a lot of pain for the rest of that race. I've been dealing with a pre-existing back issue from Dallas so I'm going to get it looked at this week so I can be ready to go next Saturday."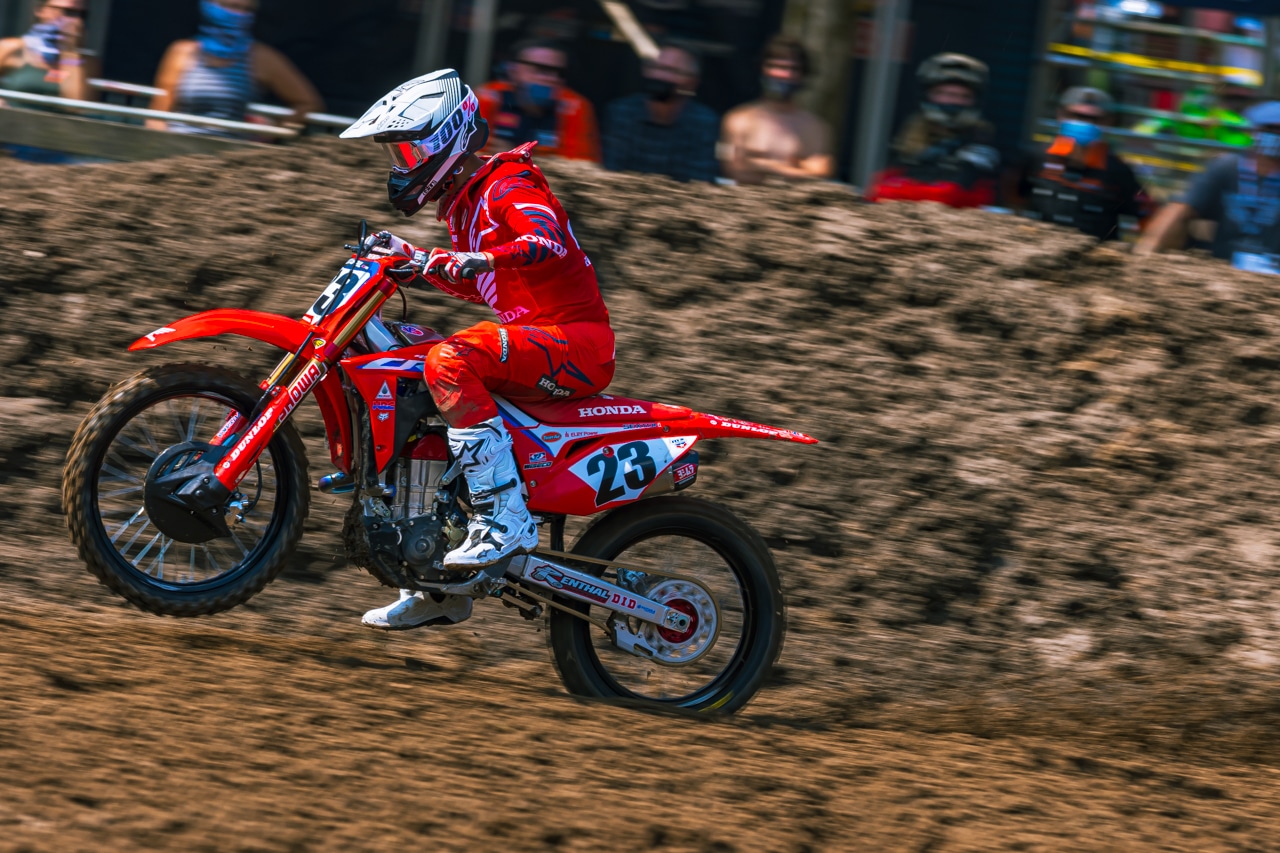 Chase Sexton: "This weekend was pretty good. I qualified first, which was a good confidence booster. In the first moto I came from 11th to third on the first lap and then I ran up there for probably half the race. I ended up going down and then from there on it kind of just went downhill; I fell about four or five times, so definitely not a great moto, but I showed I had a good speed. In the second moto I had a good start and was running third. Then Adam [Cianciurulo] fell, and I got into second but kind of got freight-trained by Eli [Tomac], [Jason] Anderson and [Marvin] Musquin. I just got on the back of those guys and made a run, getting Anderson and Musquin back which was good, and ended up third. I went 13-3 for eighth, but overall I showed really good speed and I'm happy with how it went."
Christian Craig: "The weekend started off pretty good when I qualified 10th. The track was super muddy in the beginning. I went into the first moto pretty confident in myself, but unfortunately I got off to a bad start and had to make my way through the pack. It was already pretty hot out there, so it took a lot of my energy to get up to where I was. Unfortunately, that was only 14th, but I went into the second moto refueled and ready to go. I had a better start and was making passes early on, but me and another rider got together and we both went down. Then when I was getting up I got hit by another rider. It was nobody's fault, just an unfortunate mishap on both of our parts. After that I just wanted to salvage what I could, and I came back to 14th again. My goals are to be inside the top 10, so we'll try again here next weekend."
Zach Osborne: "I've worked really hard to come back from my injury and to be here on this podium I'm blessed and so grateful to the people that have put this together to let us go racing in a very uncertain time. I knew we had a racehorse when we came here today because it's the bike I finished with at Indiana last year and when a team brings you a bike like that, it's hard to not do it justice."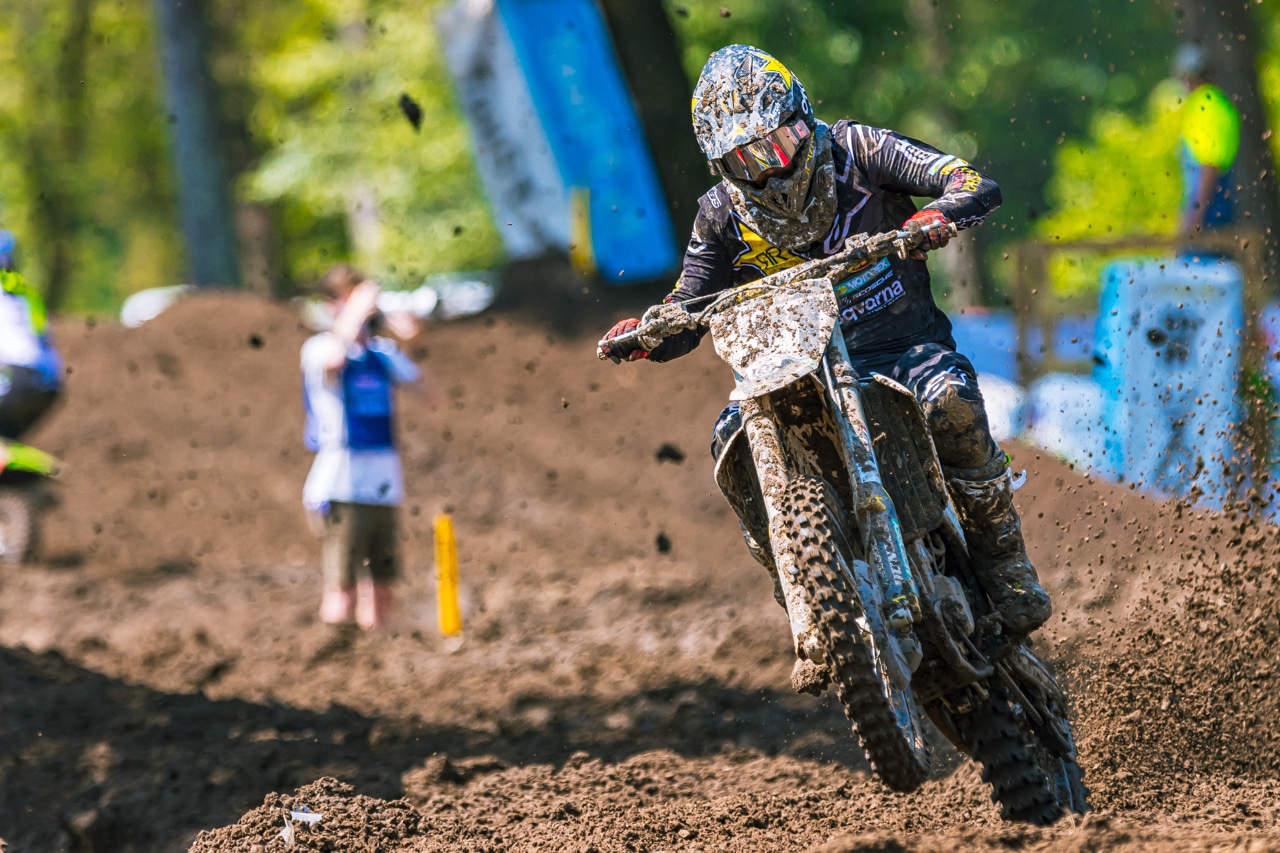 Jason Anderson: "I feel like my pace was good in the second moto but my arms pumped up and I was headed back with four to go. All-in-all, I'm out here and I'm on the podium so I can't be too bummed. I'm excited to get out here next weekend and try to redeem myself."
RJ Hampshire: "I wish we could have gotten a win but that felt good. I tried to hang on but Dylan was riding really good and I just had to settle in otherwise I would have been on my head. I'm happy to be up here, thankful to be here and ready to go for next weekend!"
Justin Barcia: "Loretta Lynn's was a good weekend overall. I had some good practice times and ended up qualifying fifth. I didn't get the greatest start in the first moto, but I had one of the greatest charges I've had in a long time. I charged all the way up to third but just ran out of time. In the second moto, I ended up going down two times. I just used a lot of energy in that first moto and unfortunately I wasn't able to get back up to the front, seventh was all I could muster up. There are definitely some positives on the weekend. I'm going to go back and work on a few things and be even better at Loretta's next weekend."
Broc Tickle: "Today was a positive day for myself. I haven't raced an Outdoor National in three years now. Yeah, the goal was to be in the top 10. I didn't manage to finish there but it was good to get our first race under our belt. We'll be back next week. We're in a good place and we have a direction now after racing. I'm looking forward to heading back to California this week and working with the team to make some improvements and come back next weekend to build off of today."
FXR CELEBRATES 25th ANNIVERSARY WITH THE LAUNCH OF 2021 MOTO COLLECTION
Press Release: FXR's Helium collection defines absolute performance, bringing the right combination of fit, features, and function to get you to the top step of the podium. The athletic fit of the jersey/pant, combined with perforated Omni-Stretch materials that are built on FXR's M-2 Motion Chassis, delivers an unrestricted experience that allows the rider to feel more connected to the bike an maintain focus on your riding. Through testing and continuous refinement, FXR has made numerous improvements to the Helium chassis, setting a higher standard for FXR's already industry-leading fit, finish, durability, and performance.

2021 Helium Jersey – $79.00
FXR's Helium Jersey features an athletic fit, constructed of lightweight polyester-spandex mesh combined with high-performance polyester knit that provides superior airflow and positive fit in the arms and shoulders.
2021 Helium Pant –  $219.99
For 2021, FXR has refined and improved the fit and performance of the M-2 Motion Pant chassis, dialing in the right amount of stretch to have positive fit, feel, and contact with the bike without restricting mobility.
An all-new industry first Auto-Buckle front closure system works with our fool-proof Hook & Loop side hip adjusters to further secure the waist closure and provide a positive feeling under hard acceleration or seat bouncing scenarios.
ZACH OSBORNE REWRITES HUSQVARNA HISTORY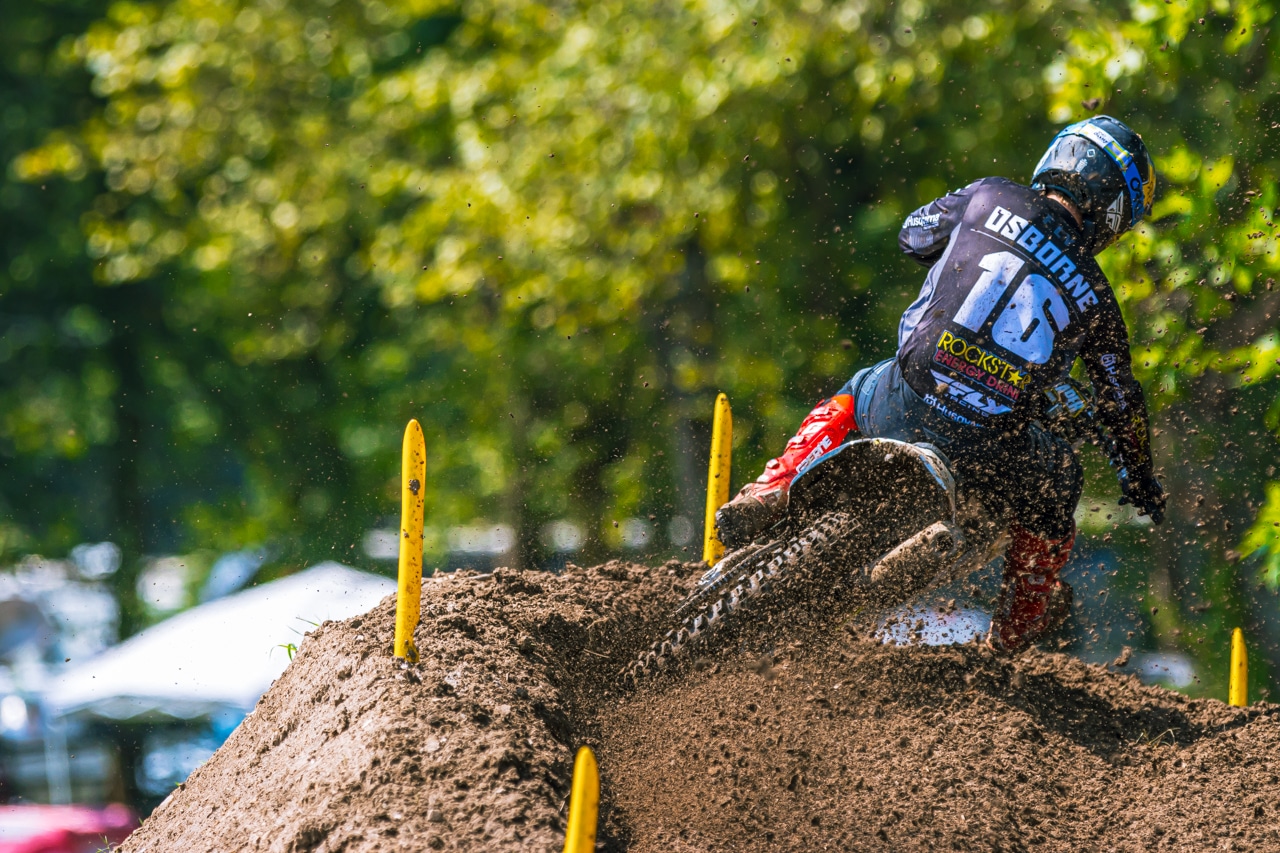 By Ben Bridges
Zach Osborne is rewriting the Husky record books.  He became the first Husky rider to get his first-ever 450SX race win at the last round, and then get his first-ever 450 Pro National win at round #1 in Loretta's in the same season. Osborne became the first Husky rider to win a Pro National overall in both the  250 and 450 National series on a Husky.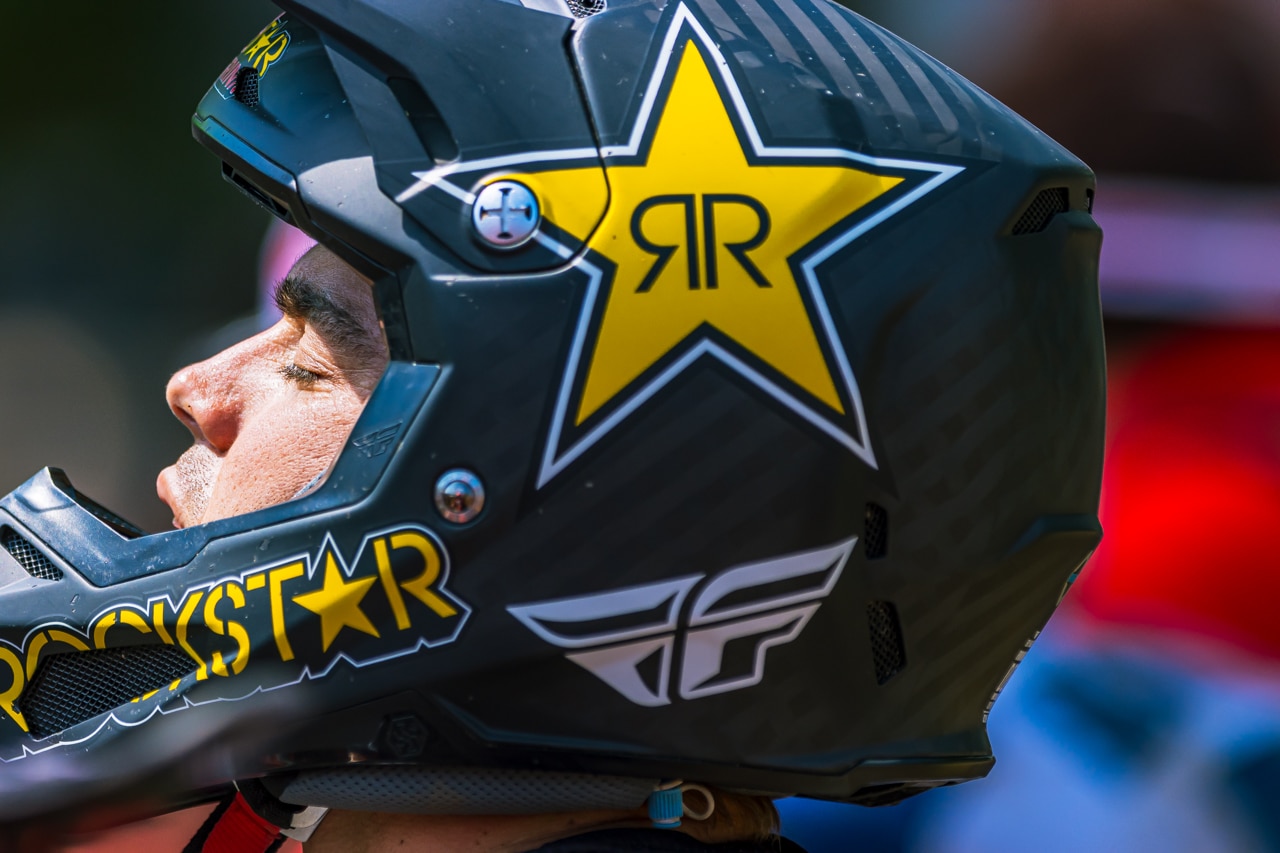 On April 6, 1975, coincidentally, it was round 1 at Hangtown, Howerton won the MX overall on a Husky. 45 years after Kent Howerton got Husky's last win in the premier class, Osborne made it happen again.  Between the win of Howerton and Osborne on a Husky there were 466 MX rounds raced from 1975 to 2020 of the 250/450.
THE FACTS ABOUT THE 2020 AMA NATIONAL TV PACKAGE
Note that Washougal, which was the second race of the abbreviated 2020 AMA National schedule is gone and a second Loretta Lynn National is scheduled. It will be have its second motos broadcast live on Saturday at 4:00 pm. (Eastern) on NBC.
SUBSCRIBE TO MXA AND GET A $25 ROCKY MOUNTAIN ATV/MX GIFT CARD—WHICH MAKES YOUR MXA SUBSCRIPTION BETTER THAN FREE
In this issue, MXA tested and built the KTM 350SXF that we wished KTM had built in the first place back in 2011. We wanted a mid-size Open class bike, not high-rpm, big-bore 250. KTM didn't give us that, so we built what we wanted with the help of a $650 Cylinder Works 366 kit. It changed the personality and peak horsepower of the KTM 350SX for the better.
Read all about MXA's KTM 366SXF in the September issue. It could be tucked away in your mailbox by an authorized U.S. government employee if you subscribed.

If you subscribe to MXA you can get the mag on your iPhone, iPad, Kindle or Android by going to the Apple Store, Amazon or Google Play or in a digital version. Even better you can subscribe to Motocross Action and get the awesome print edition delivered to your house by a uniformed employee of the U.S. Government. You can call (800) 767-0345 or Click Here (or on the box at the bottom of this page) to subscribe.
TALK MOTO WITH MOTO MINDED PEOPLE. JOIN MXA'S FACEBOOK GROUP CHAT

We love everything moto and want to bring all moto junkies together into one place to share their two cents, ideas, photos, bike fixes, bike problems and much more. To check it out first you must need to or already have a Facebook account. If you don't, it isn't much work and you could even have an alias so nobody knows it is you. To join click HERE. After you request to join we will accept your request shortly after.
PHOTO OF THE PAST: THE KX450F'S OF TWOTWO MOTORSPORTS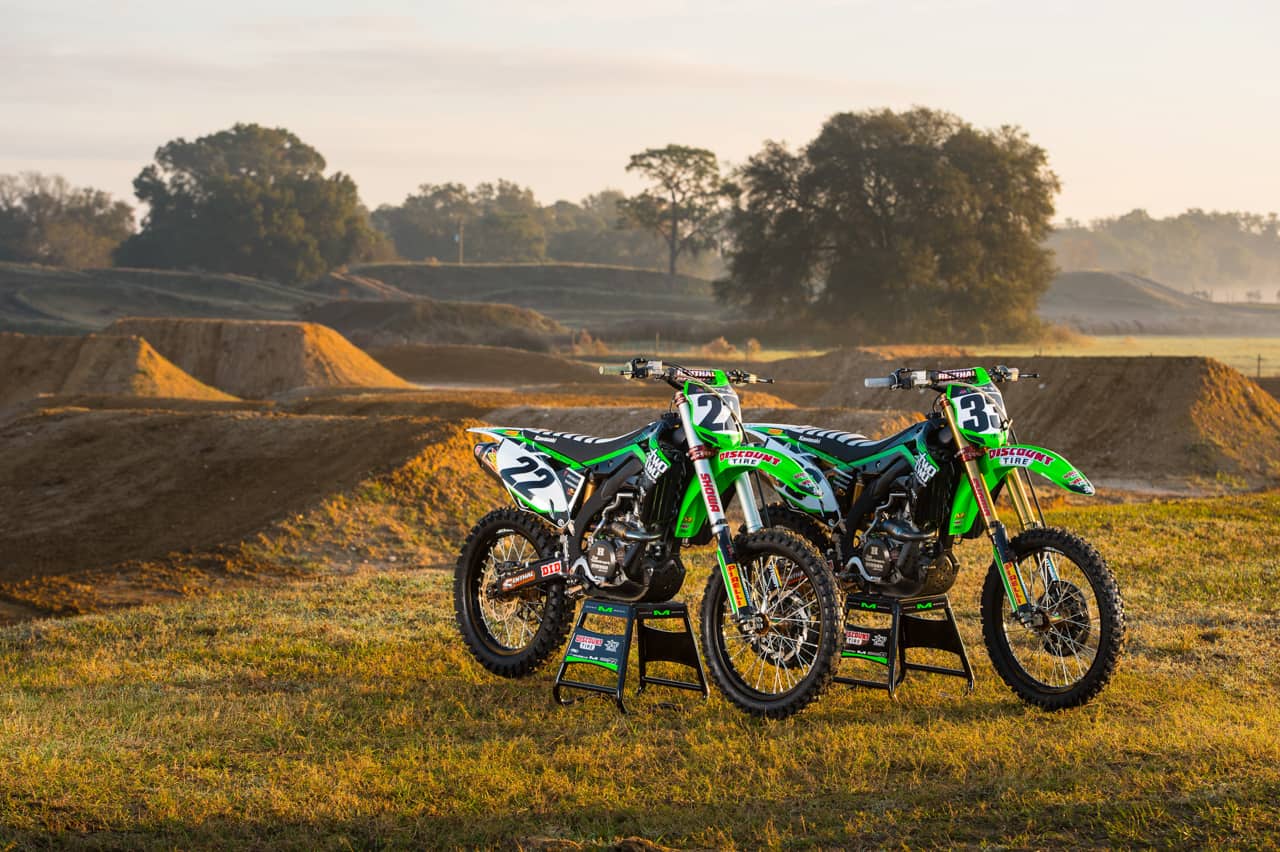 Back in 2015 the Chad Reed TwoTwo Motorsports team of Reedy and Josh Grant had the best looking bikes in the pits. Chad also had one Supercross win and two podium finishes that year. At the midway point of the 2018 outdoor Nationals the TwoTwo team ran out of resources and withdraw from the series with Chad folding the team.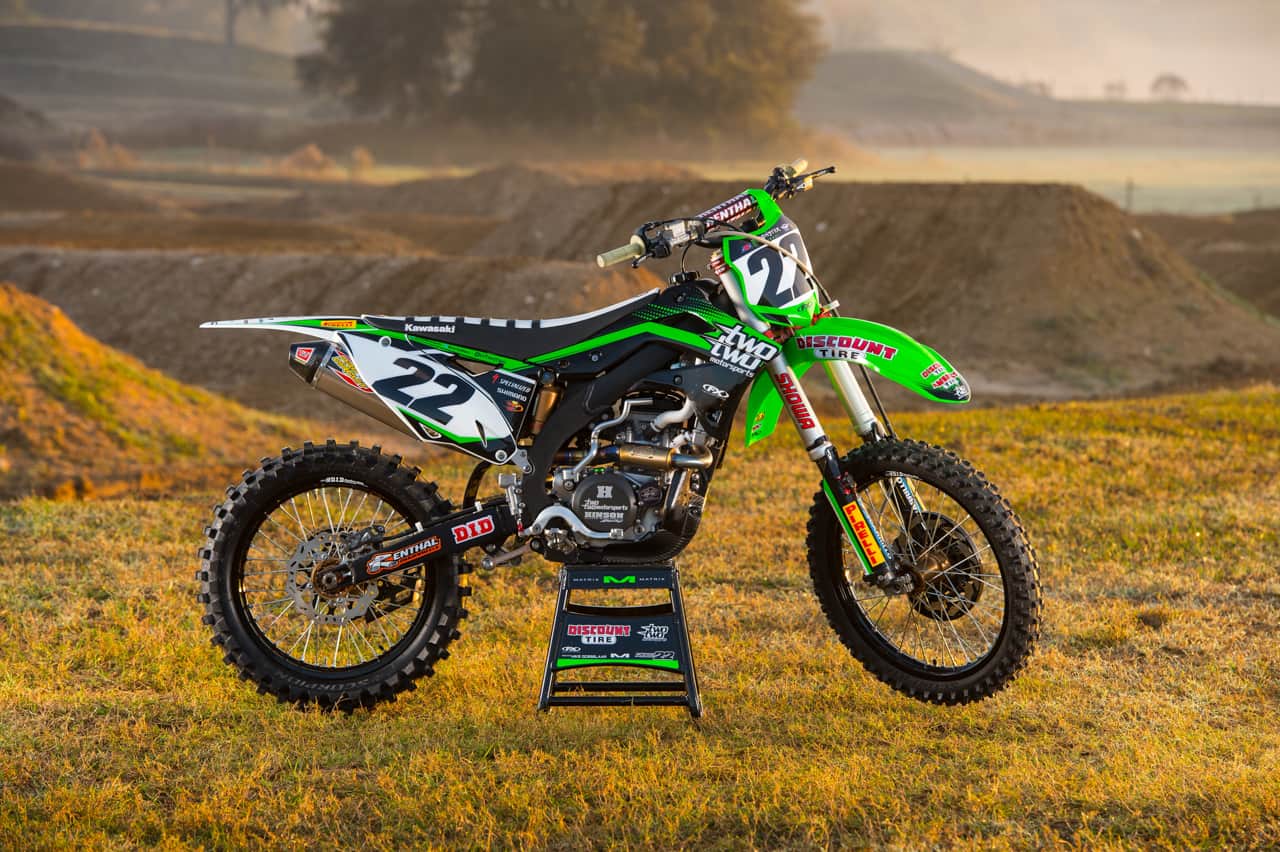 Close up of the 22. 
Josh Grant finished 11th in the 2015 Supercross series on the TwoTwo KX450F.
MXA YOUTUBE CHANNEL | HIT THAT SUBSCRIBE BUTTON

The MXA wrecking crew is everything moto related. Check out our MXA YouTube channel for bike reviews, Supercross coverage, rider interviews and much more. And don't forgot to hit that subscribe button.
LOST BUT NOT FORGOTTEN | JAMES STEWART'S 2016 FACTORY SUZUKI RM-Z450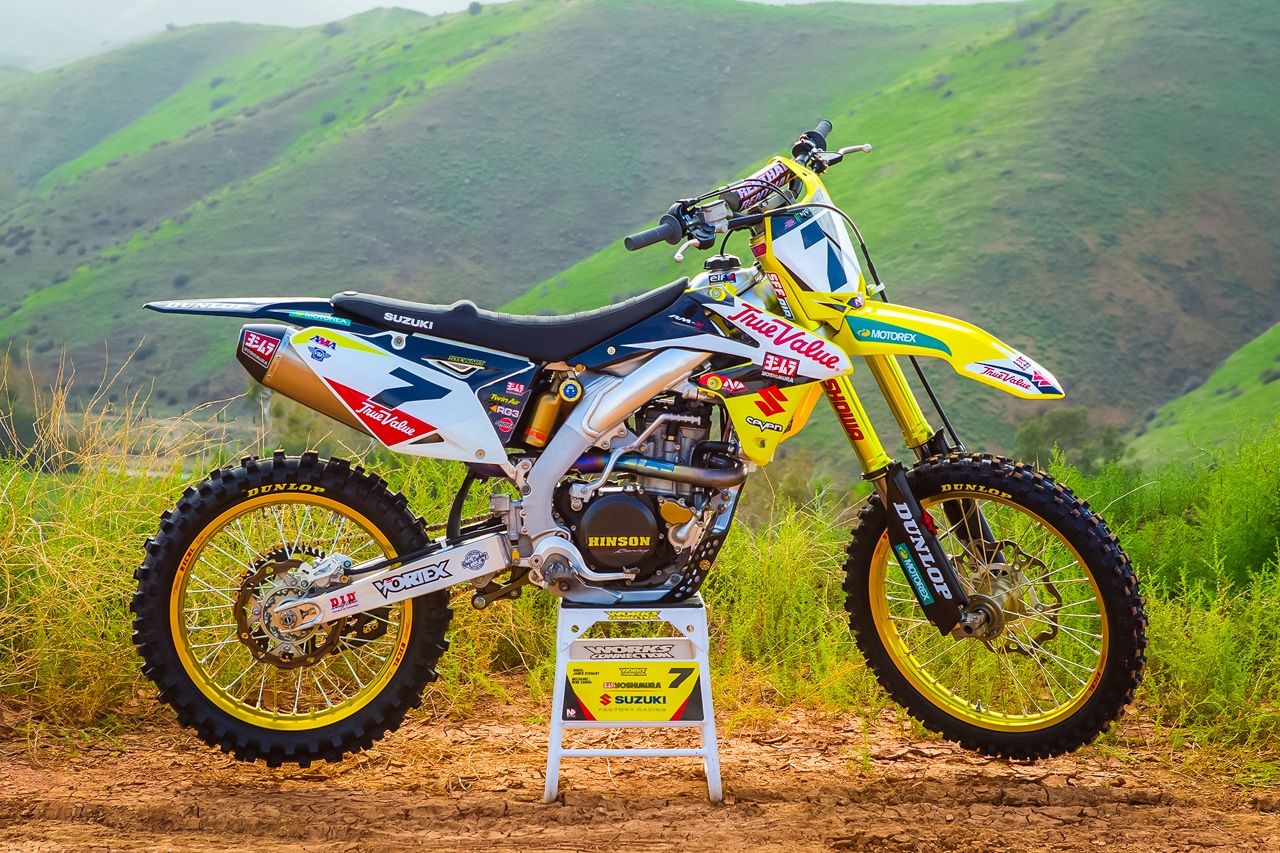 CLASSIC PHOTO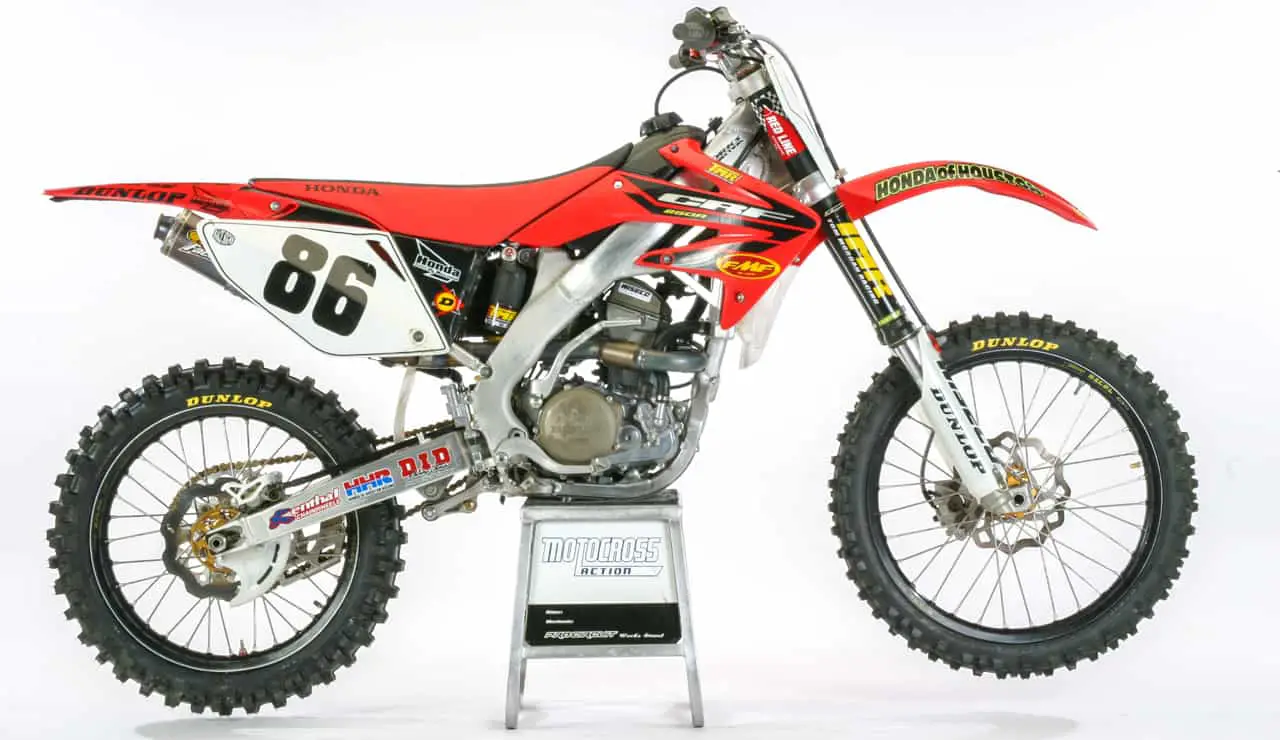 Josh Grant's amateur 2004 Honda CFR250 that we were able to get in the MXA studio and test. 
---
MXA Trivia answer: It is Damien Plotts from the 2000 National season.