MOTOCROSS ACTION MID-WEEK REPORT
#WHIPITWEDNESDAY

Rider: Nick Wey
Location: KTM test track
Date: October 29, 2007
Photographer: John Basher
Camera: Canon 30D
Lens: 70-200mm f/2.8
Focal length: 200mm
Exposure: 1/1600 sec.
F-stop: 3.2
ISO: 320
TWO-STROKE SPOTLIGHT: CURT WINTER'S JAPANESE BLEND

"Hi MXA, I saw your article on the Honda CR500 AF. I've built and owned several of those and have always been a Honda guy, but I wanted something different. 500 AFs are everywhere, so I built something different. I bought a well used 1987 Yamaha YZ490, stripped it down to the frame and started the build. I graphed on rear suspension from a 2007 Honda CRF250, including the rear disc brake.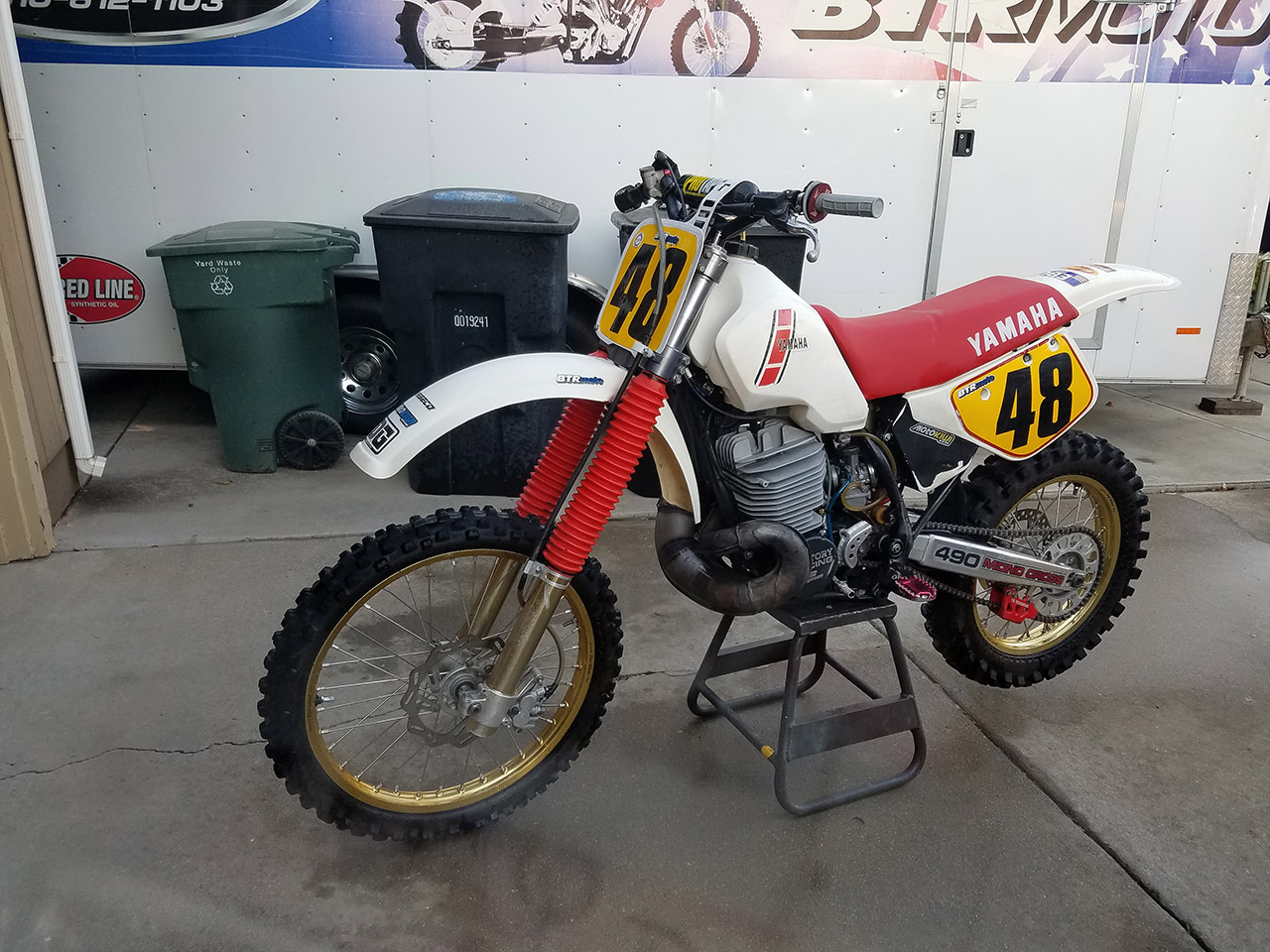 In an effort to retain the old school look I opted for a set of 1997 Suzuki RM250 forks. I rode and raced it for a while, but never really liked the shortcomings of the Yamaha motor. For that reason I installed the complete top end from a 1984 Honda CR500 (air-cooled) on a 1990 CR500 lower end and slapped that motor in the YZ chassis. Now it's got a motor worthy of the better suspension. I currently race it against modern bikes and have a blast. Truth be told, I was surprised how well it worked."
Editor Note: If you would like your bike to be featured in the "Two-Stroke Spotlight," please email me at [email protected]. All I ask is that you give a breakdown of your bike and a detailed description of the thing. Please also send a few photos of your steed. By submitting your bike for the "Two-Stroke Spotlight," you agree to release all ownership rights to the images and copy to MXA. Please don't email me spam or try selling me beachfront property in Arizona. Happy submitting your smoker!
ROUND 2 | LORETTA LYNN 2 RECAP | by Ben Bridges
 For the first time in 49 seasons of MX racing, the first 2 rounds were held at the same venue.  
250MX | MARTIN BROTHERS SHARE A PODIUM & FERRANDIS KEEPS RED PLATE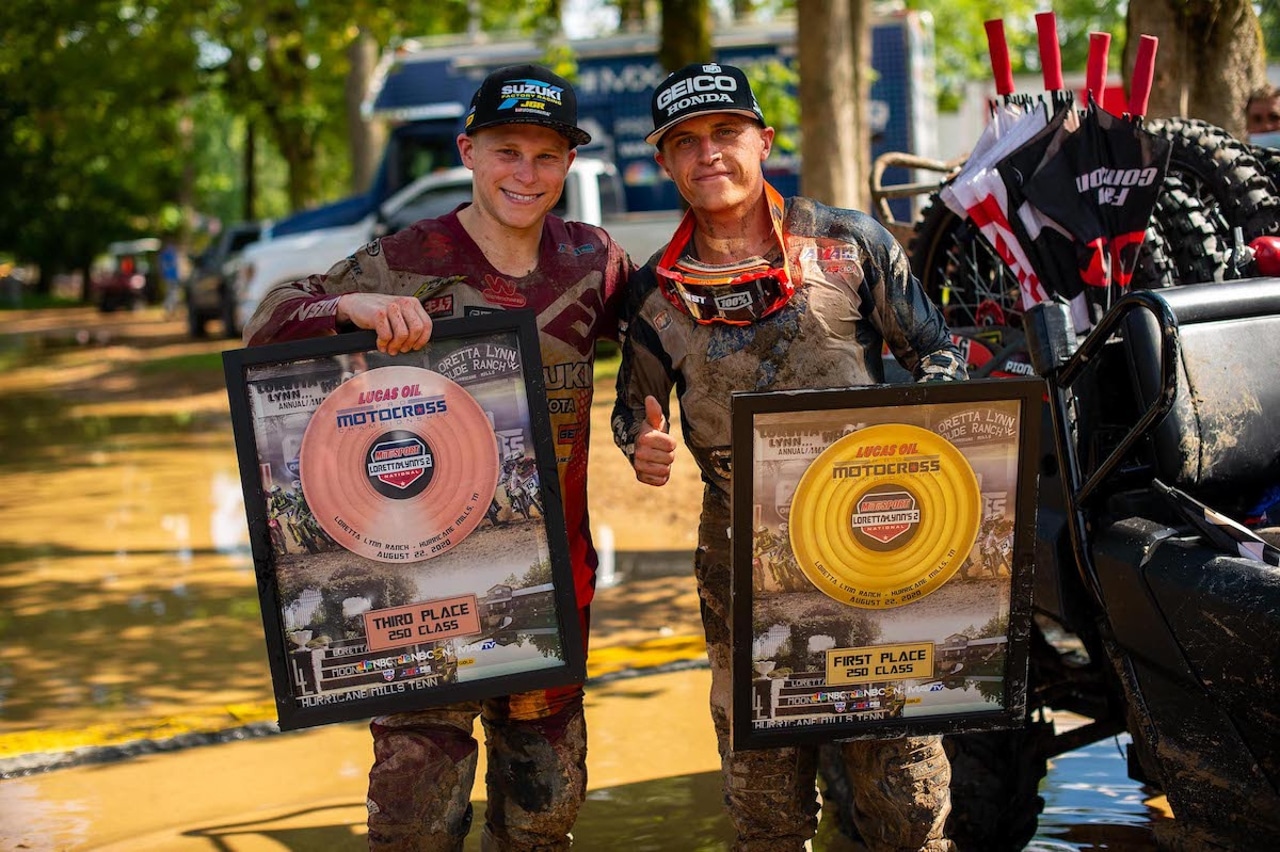 *Jeremy Martin earned his 1st victory in the 250MX class since June 2, 2018 in Thunder Valley, CO.  On 6/23 at Muddy Creek, 2 rounds later, Jeremy Martin was involved in a season-ending crash.
*Alex Martin, brother of Jeremy, gave Suzuki it's first 250MX moto win, when he won moto 2.  The last time Suzuki won a moto was July 25, 2009, when Ryan Dungey won moto 1 on his way to the 250MX title.
*Alex Martin snapped Suzuki's moto winless streak.  It had been 252 motos since Suzuki last won a moto.
*Jeremy Martin snaps a 14 round winless streak for Honda, with his overall win.
*R.J. Hampshire won the 1st moto on a Husky 250, Zach Osborne wins moto 2 in the 450 on a Husky at Loretta Lynns 2.  The last time that happened was June 24, 2017 at Muddy Creek, TN, when Osborne went 5-1 in the 250 class and Jason Anderson went 1-2 in the 450 class.

450MX | ZACH OSBORNE WINS BACK TO BACK
*After winning Round 1 last week, and joining Kent Howerton as the only 2 riders to win the opening round on a Husky.  Osborne now becomes the first rider to win Rounds 1 & 2 on a Husky.
*For the first time in 450MX history, a rider has won back to back overalls on a Husky.  It is the 3rd time a rider has won back to back MX overalls in any class on a Husky, with Zach Osborne being the rider with all these feats for Husky.  In 2017 he doubled up in Hangtown and Glen Helen, before winning Redbud and Southwick back to back in the 250MX class.
*Zach Osborne now has 17 career victories spread across 250/450SX and 250/450MX.  He has 7 250SX wins, 7 250MX wins, 1 450SX win, and 2 450MX wins.
*Osborne is now tied with Justin Barcia and David Vuillemin for 43rd in career victories (450SX plus 450/250MX) with 10.
*Osborne is the 23rd rider with a victory in all 4 of the major active AMA SX/MX series (450/250SX & 450/250MX).
*The 450 Class Top 6 overall standings included all 6 of the major brands.  HUS, KAW, KTM, YAM, SUZ and HON. It's very rare that all 6 brands finish in the Top 6.
*In 49 seasons the first 450 rider to win 2 overalls, went on to win the title 28 times.  41 times they would finish in the top 3 in the final points standings.  Defending 450 champion, Eli Tomac, had his 3 year streak of winning an overall in the first 2 rounds broken.  2017, 2018 & 2019, Tomac always had an overall win by Round 2.
*Tomac is 7th in the points after rounds, 40 points back from Osborne.  He has 7 rounds to make up those points.
2021 MOOSE RACING QUALIFIER GEAR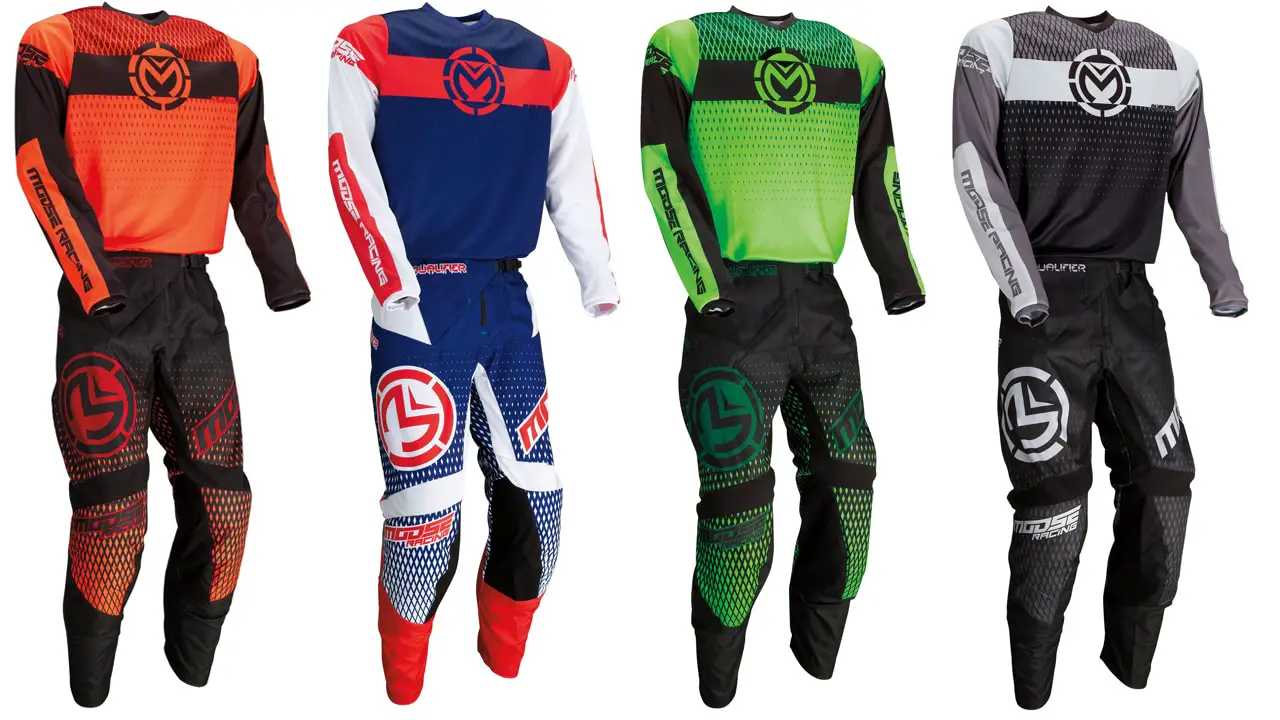 Press Release:  Moose Racing releases its 2021 Qualifier Racewear. The new 2021 Qualifier gear is still the best entry-level gear on the market, with the biggest size range in the industry. With jerseys ranging from SM – 5X and pants ranging from 28in – 54in you are sure to find the perfect fit.  Jerseys are made with a polyester chassis material with high quality sublimated graphics and a stretch collar for added comfort. Qualifier jerseys also feature a non-restrictive stretch mini cuff and a generous body pattering and sleeves. These features were designed for comfort and full range of movement.  The qualifier pants are made with a polyester chassis with double stitched seams. They also come with sublimated graphics that are breathable and non-fading. Other features include: reinforced high denier nylon inner knee panels, pre-bent ergonomic pant design with multiple stretch panels to maximize ease of movement, a high-quality YKK zipper, and a 3 point waist adjustment for the perfect fit. MSRP for the jersey is $29.95-$31.95 and for the pant, it's $79.95-$89.95. Head to your local dealer or to www.mooseracing.com to check out the entire 2021 line up!
THEY SAID IT | LORETTA LYNN 2 PRO NATIONAL
Alex Martin: "To be honest I was just kinda' in my own little world out there. It seems like every moto at Loretta's so far, these last two weekends, I've crashed every moto. Like last weekend, twice in the first moto, once in the second moto. And then that first moto [today] I crashed; I had the holeshot and then I crashed like three times, still finished seventh. I've been feeling really good coming in and the JGR Yoshimura bike has been on point, it's just up to me to keep it on two wheels. We did some testing this week up in Charlotte with the team and I feel the results reflect the changes made. I'm very excited to grab a moto win and come away with a third overall on the day. We're looking forward to keeping the momentum going heading into Indiana."
Max Anstie: "I'm really happy to get a third in moto two after leading most of the way and earning a fifth overall in our second race of the season. My team has done a great job to deal with the tough conditions and with the bike's set-up. I'm looking forward to a new track next week and to keep building from here."
Freddie Noren: "I'm pumped with my first moto. I got a great start and had my career-best moto so that felt really great. In the second moto I had a crash at the start but I got going good after that and made a lot of passes quickly. Unfortunately I had some issues due to the track conditions but I felt like we went in a good direction this weekend and have something to build off for sure, so I'm happy about that. I want to give a massive thank you to everyone on the team!"
Joey Savatgy: "It was a tough weekend for me. My riding in timed practice was a step in the right direction speed-wise but overall I'm still far from where I'd like to be."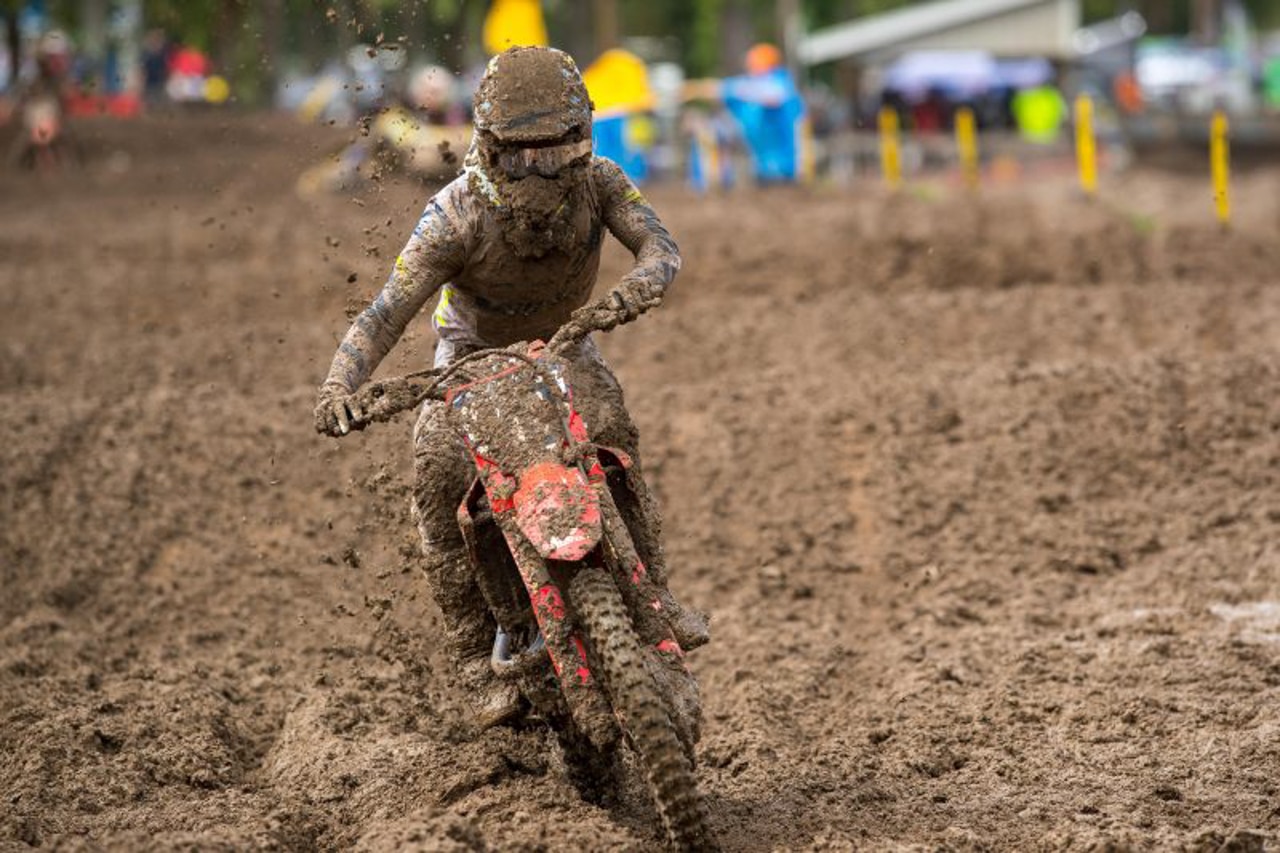 Chase Sexton: "My day started off really good. I was able to qualify ninth, which was better than last week. I felt good on the bike and we made some improvements during the week, so I was pretty happy going into the first moto. It rained before that and was pretty sloppy, but I had a decent start. I was fifth or sixth and then passed up to third and was pretty much riding on my own around there for a while. I ended up tipping over, got stuck there for a bit and that was kind of the end of that. I fell three more times, just little tip-overs that took a lot out of me. Somehow, I still got 10th with four falls. In the second moto I still got a pretty decent start and made some quick passes. I got up to sixth, battled with a couple good guys and ended up sixth overall, which was pretty good. It was one of my best results on the 450 overall, so I can't complain even with with how muddy it was. I was happy with my riding in the second moto. It's good to get a decent result and have something to build on for next week."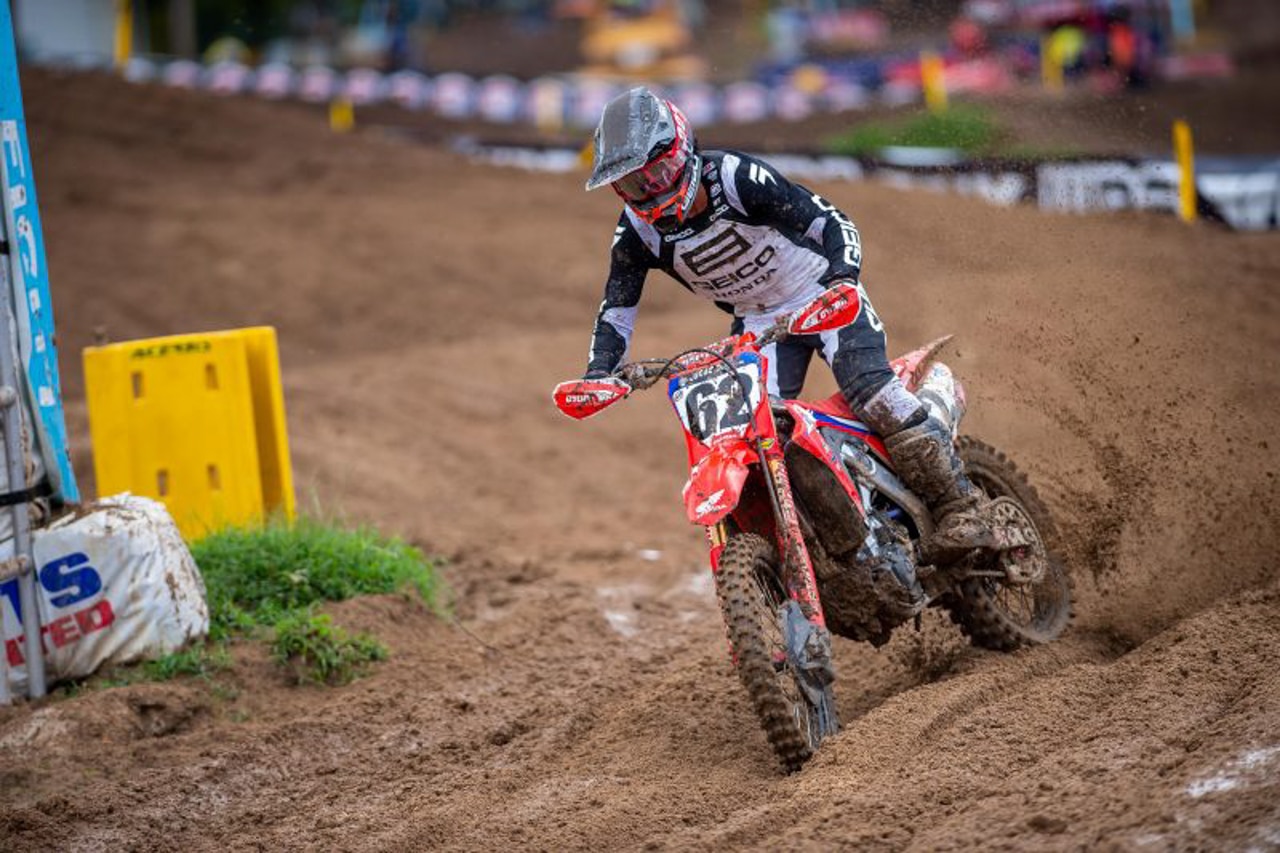 Christin Craig: "Today was an up-and-down day. It was pretty muddy from the rain the days before. In the only practice we got, I qualified sixth. I had a little bit of a get-off, but we were all good. In the first moto, I got a great start and was running second. I went down a couple times, putting me back to 11th, and then I made my way back up to sixth at the end–overall, not too bad of a first moto. Going into the second moto, I picked a gate that I thought was good, but I couldn't see the bottom of it–the gate was full of water. It ended up being a big hole and I sunk, so I didn't get that great of a start. I made my way up but ended up getting stuck for a lap. After that I was just trying to get back up as many positions as I could and got all the way back up to 13th. On the last lap my bike malfunctioned though, so it was a little bit of a rough day for me. I obviously wanted more, but we're just trying to learn this year. Going to Indiana, one of my favorite tracks, I'll try to get on the podium; I look forward to getting back to work this week and coming back swinging in Crawfordsville."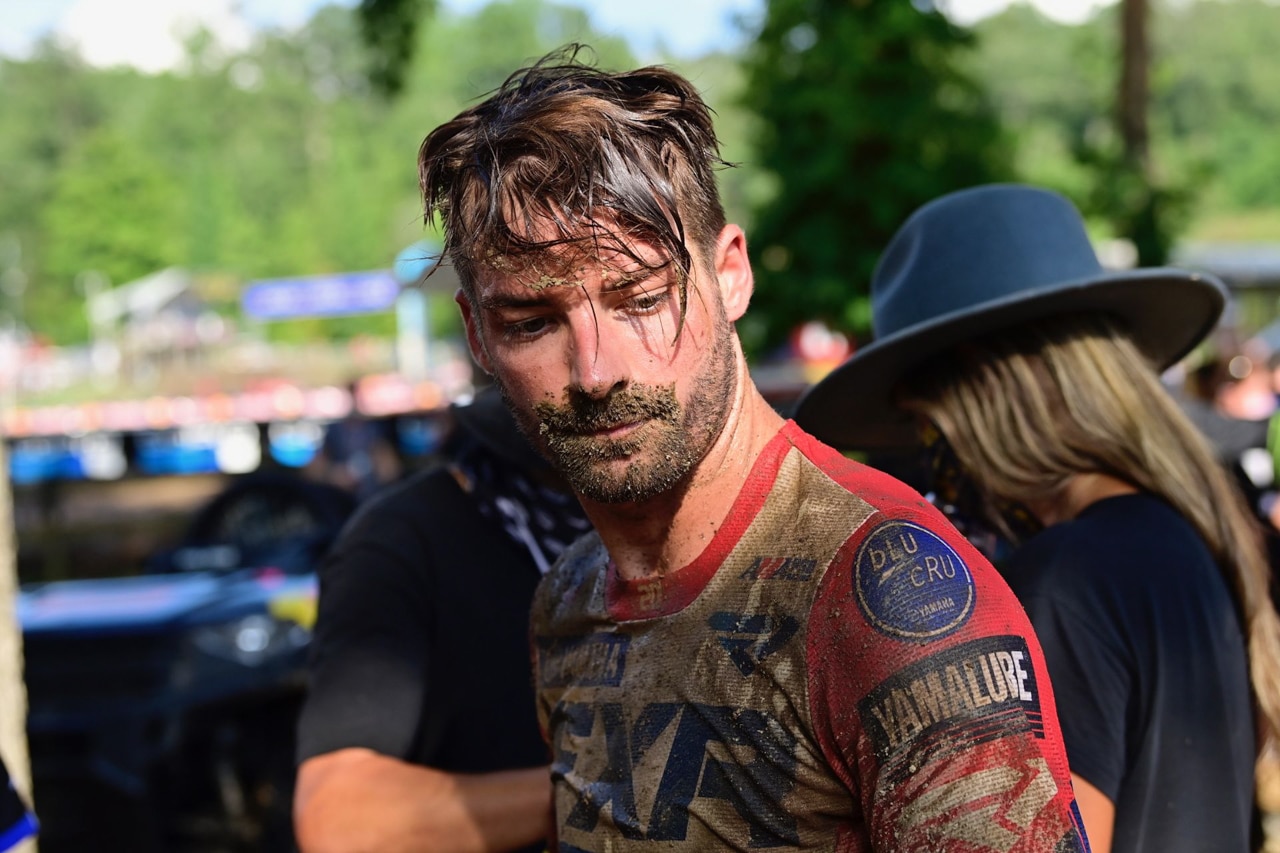 Broc Tickle: "Loretta Lynn's II was a huge step in the right direction for myself. The track conditions were really, really gnarly. The conditions in the second moto got a little better, but it was tough out there in both motos. I'm stoked with the progress we made throughout the day and during the week with the team. I'm getting more comfortable on the bike and learning what I like about it and what I need to do to make it more comfortable for myself. I trust everybody that I'm working with on the team. I think that's awesome to have the same goals and the same desire to keep pushing forward. I'm looking forward to Ironman as well. I've had decent results there in the past. 
Justin Barcia: "We had a great day going. I got the holeshot in the first moto and checked out to over a minute lead at one point. I won the race by a lot. It was a really good race. I felt awesome and everything was working well. The track conditions were brutal, it was super difficult. In the second moto, I had a little crash so I had to pull in and get some fresh goggles. I was putting on a good charge until we had an issue with the bike which was definitely a bummer. We won and then had a DNF. We need to work on that to give ourselves a better opportunity for the championship fight. I'm definitely looking forward to next week in Indiana."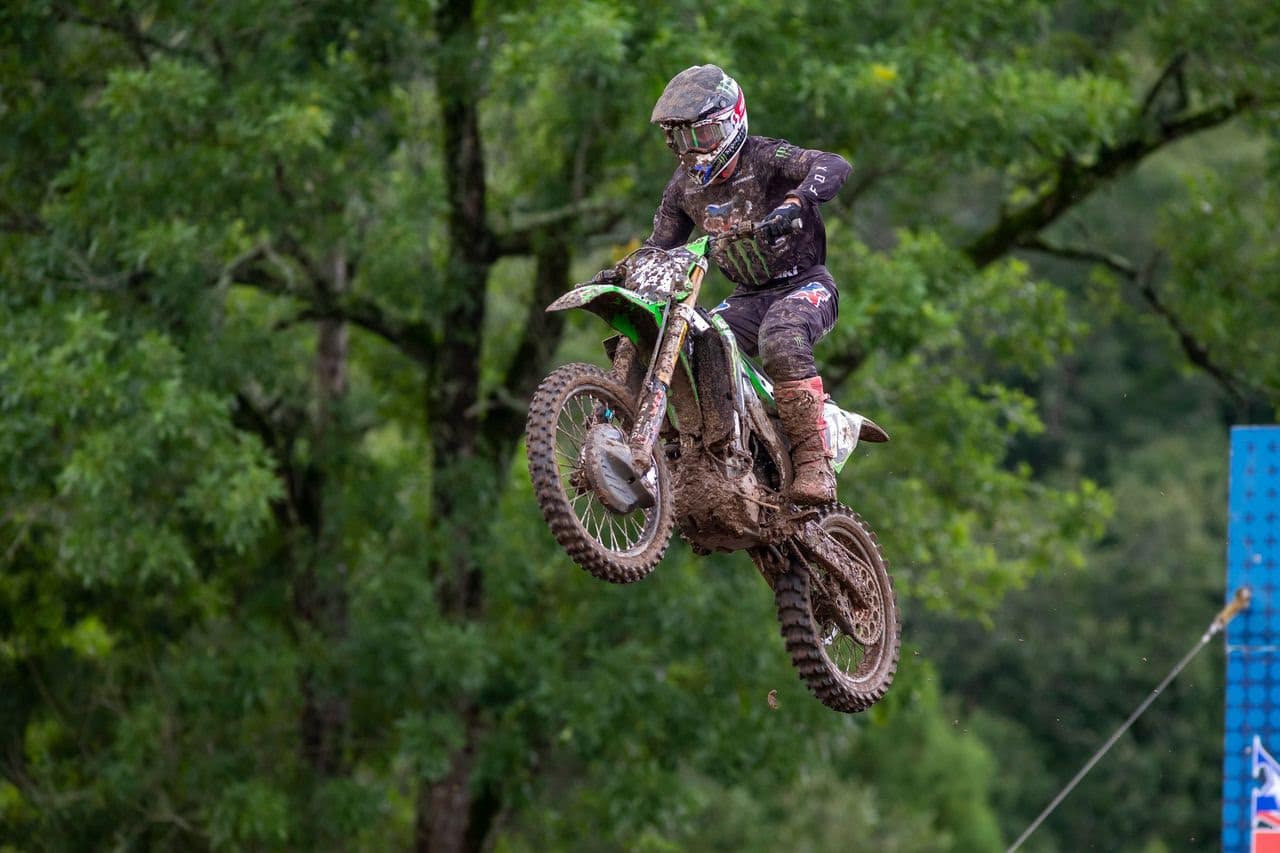 Mitchell Harrison: "The first moto was not bad thanks to a good start. I was able to keep it on two wheels and bring it home in sixth. I really wanted to back up that finish in the second moto, but found a sinkhole on the first lap. I can't believe I was able to get out, but had a lot of ground to make up. So 10th in that moto wasn't terrible, all things considered. Ironman (the next round) has been known to be muddy in the past, but hopefully we can get in a dry race next weekend."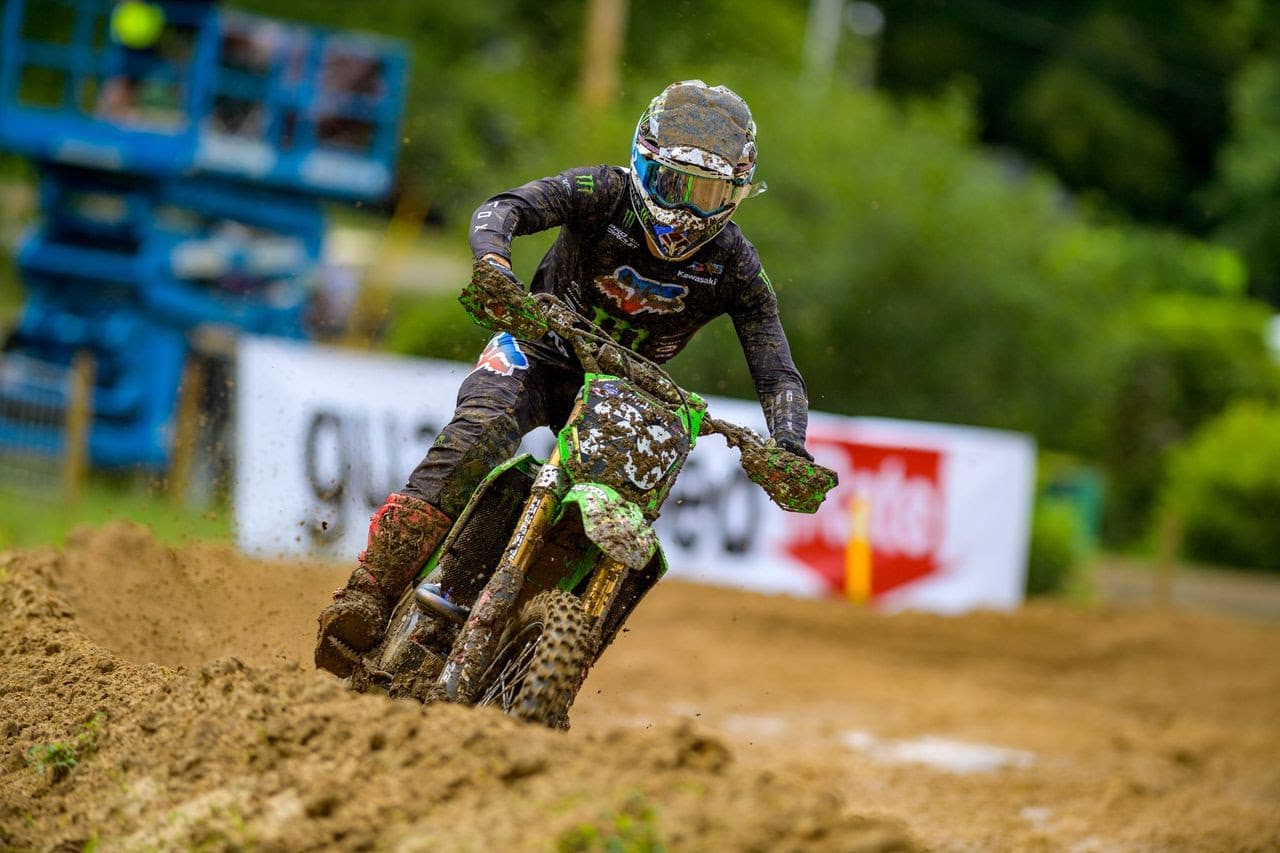 Cameron McAdoo: "Those races are pretty intense because there are a lot of factors you have to think abou. Not wanting to go down because getting back up is so much harder than normal and picking good lines when you're getting roosted are just a few things we think about. I was fortunate enough to get good starts, which made a world of difference today."
Marvin Musquin: "I'm pumped to be back on the podium for the second race, it's been a while. The conditions were tough, so it was my goal to be up front battling and I was able to do that in the second moto. I would have liked to be more consistent in both motos but that's racing, everybody was having issues and crashing. Also, you have to save the bike and my bike was running well today, I had no issues."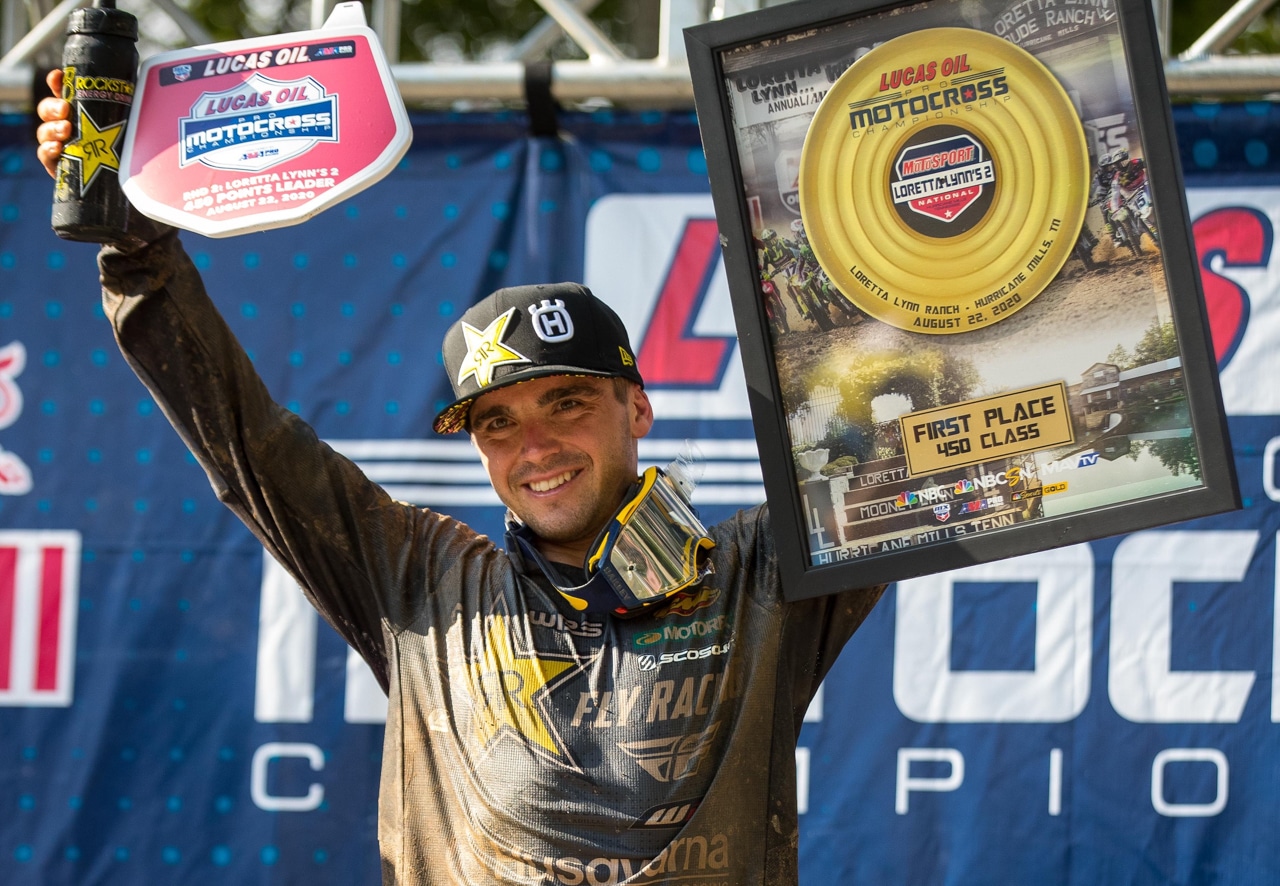 Zach Osborne: "It was a lot of turmoil to start off the day but we turned it around with a 5-1 and kept the red plate, which is really a testament to what we have as a group. Overall, it was a great salvage and a great day for myself and my team."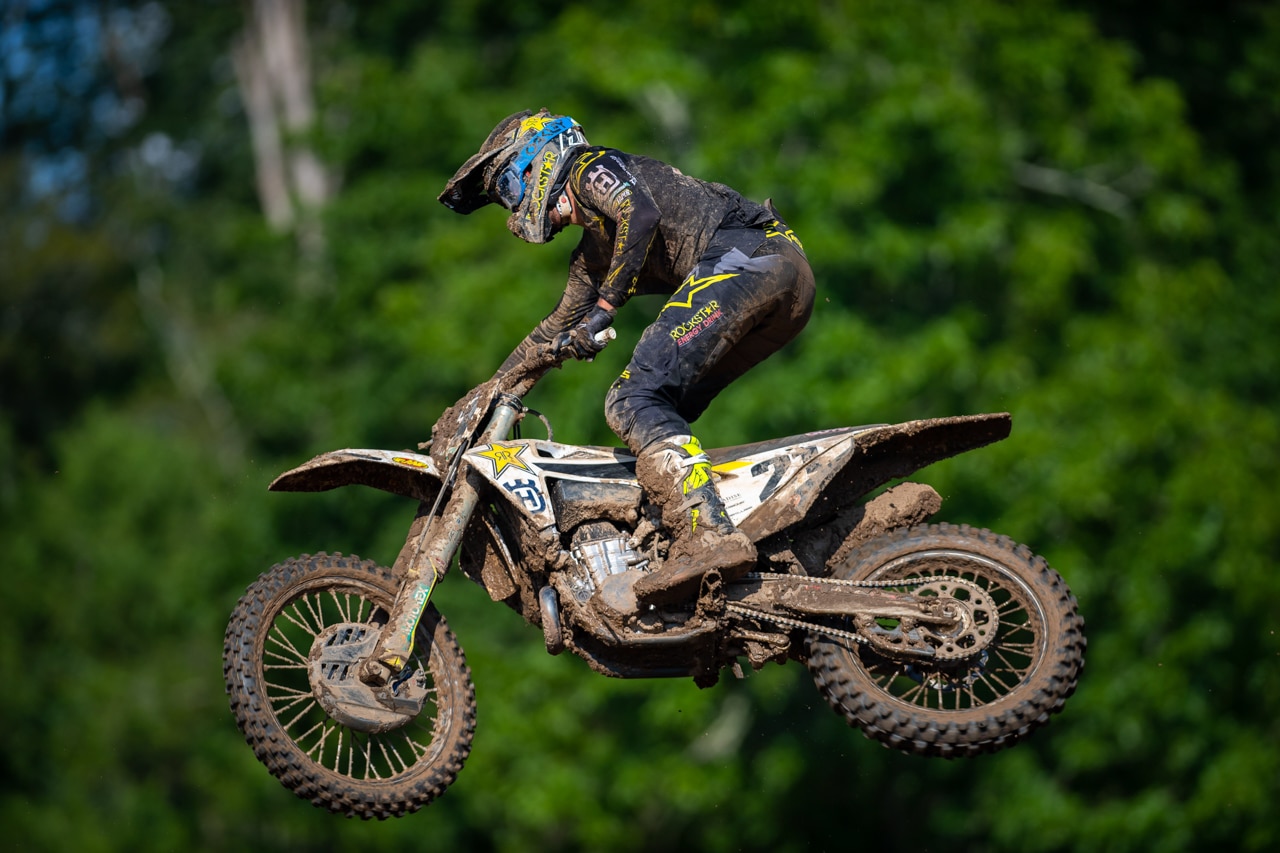 Jason Anderson: "The weekend was kind of rough but the second moto went much better and I was able to work my way up to fourth. I'm ready to move on to the next round and keep pushing."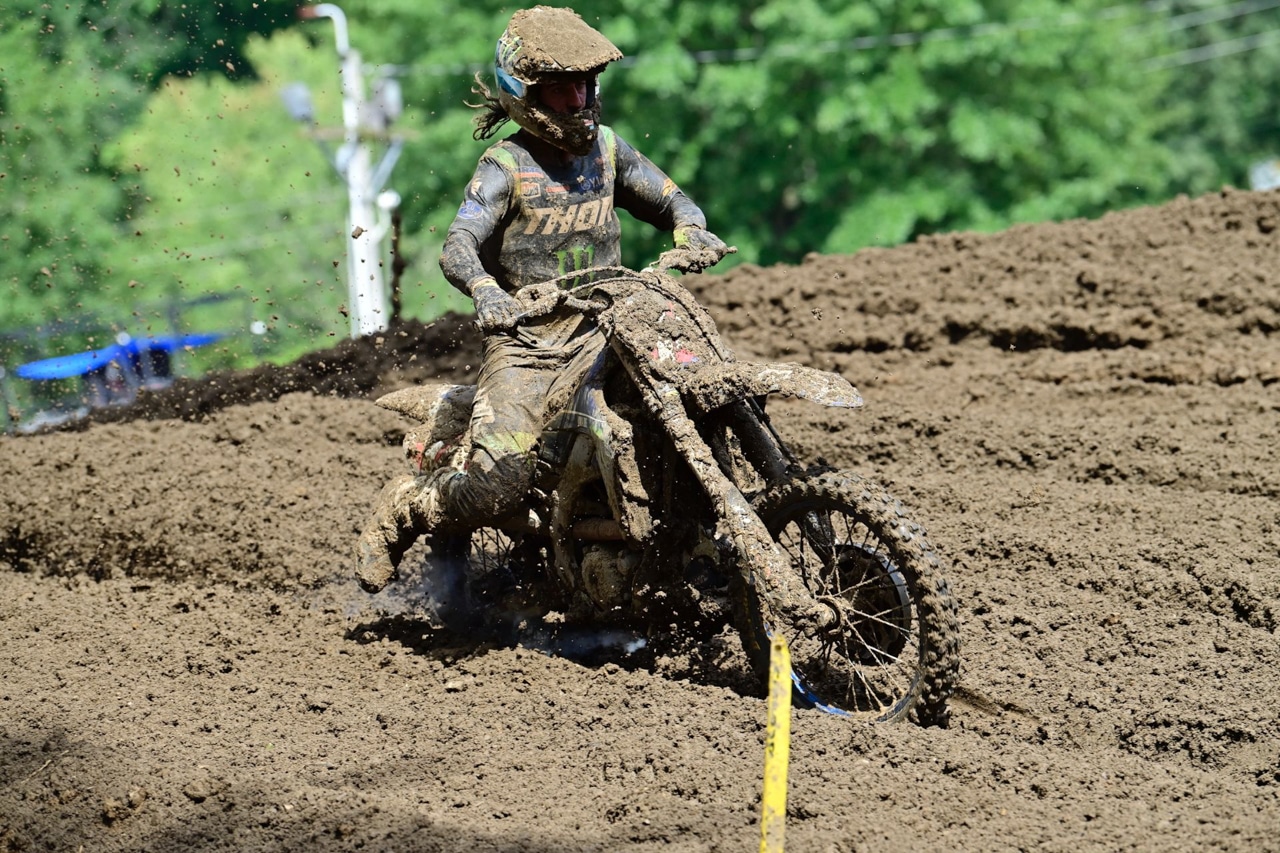 Dylan Ferrandis: "It was a difficult day in the mud, but I was still able to save some important points. The track was really difficult. I was hoping for another win, but I managed to keep the red plate so I'm really happy about that. On to next one!"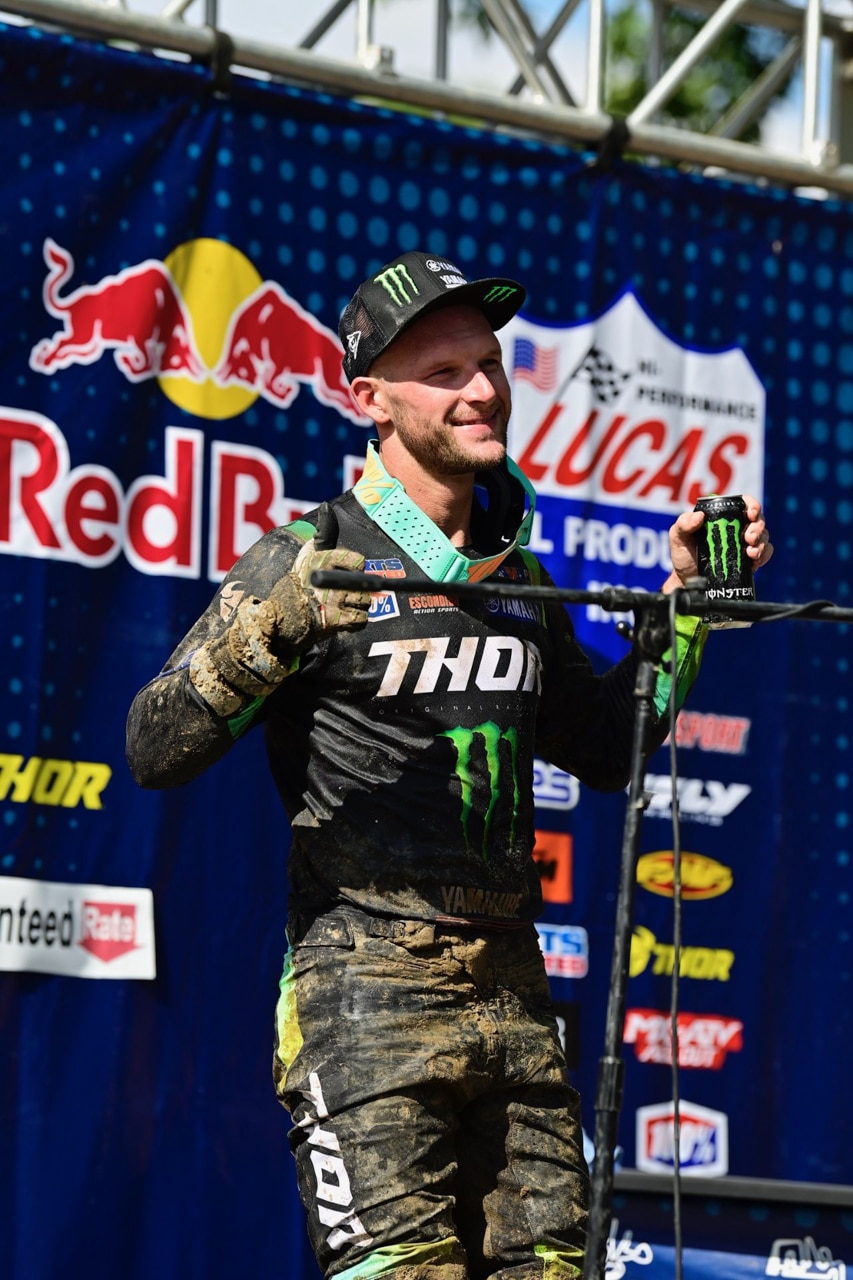 Shane McElrath: "It was a difficult day just to get around the track. We had a few crashes in the motos and had to come in for some goggles changes, but I came away with both holeshots and a moto podium. We will keep working and keep moving forward."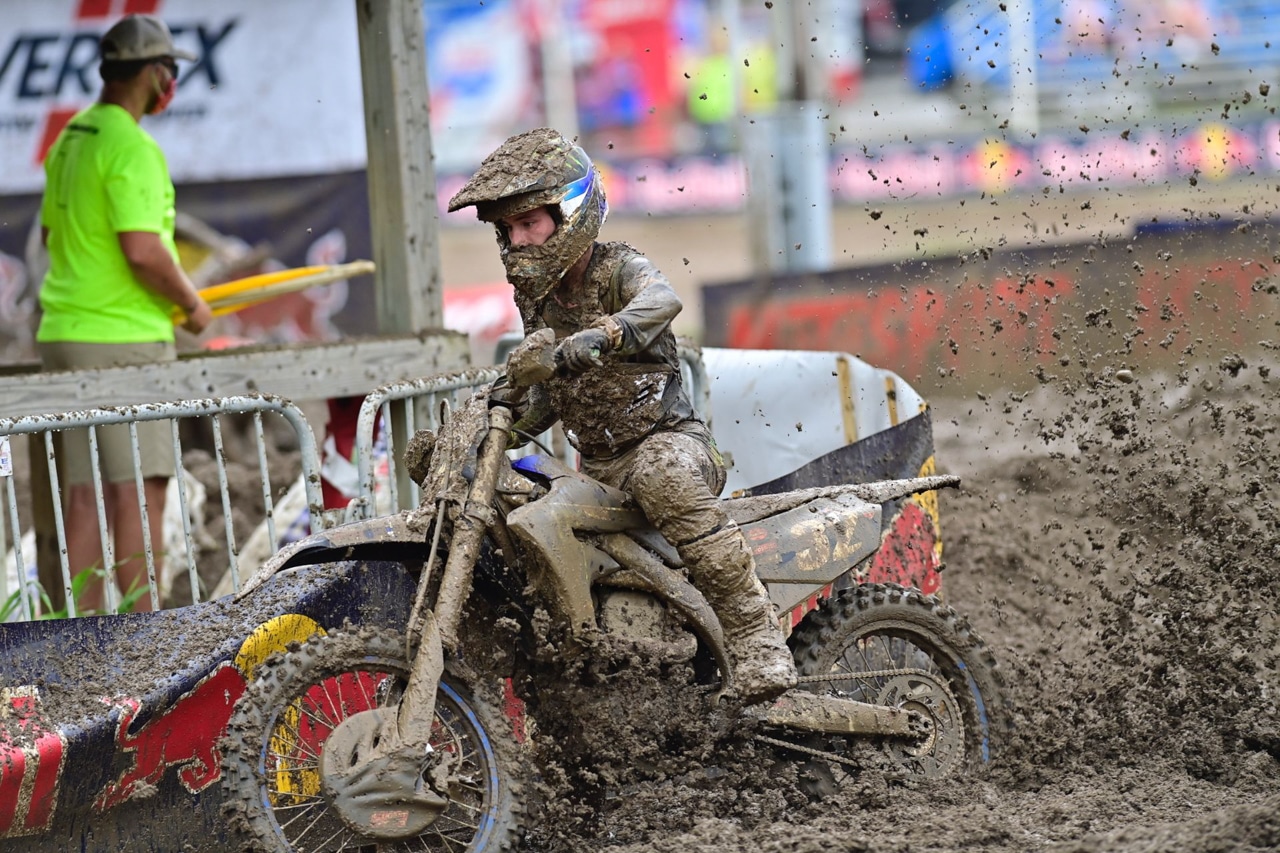 Justin Cooper: "It was very difficult conditions, with the track and the vision. There were a lot of pit stops for goggles today. It was a pretty disappointing day but we will keep staying positive, brush this one off and focus on next weekend to be where we belong."
MXA'S JOSH MOSIMAN BUILDS A KTM 300SX FOR THE TWO-STROKE WORLD CHAMPIONSHIP
MXA YOUTUBE CHANNEL | HIT THAT SUBSCRIBE BUTTON

The MXA wrecking crew is everything moto related. Check out our MXA YouTube channel for bike reviews, Supercross coverage, rider interviews and much more. And don't forgot to hit that subscribe button.
TEAM TESTED | ACERBIS X-MOVE 2.0 BOOT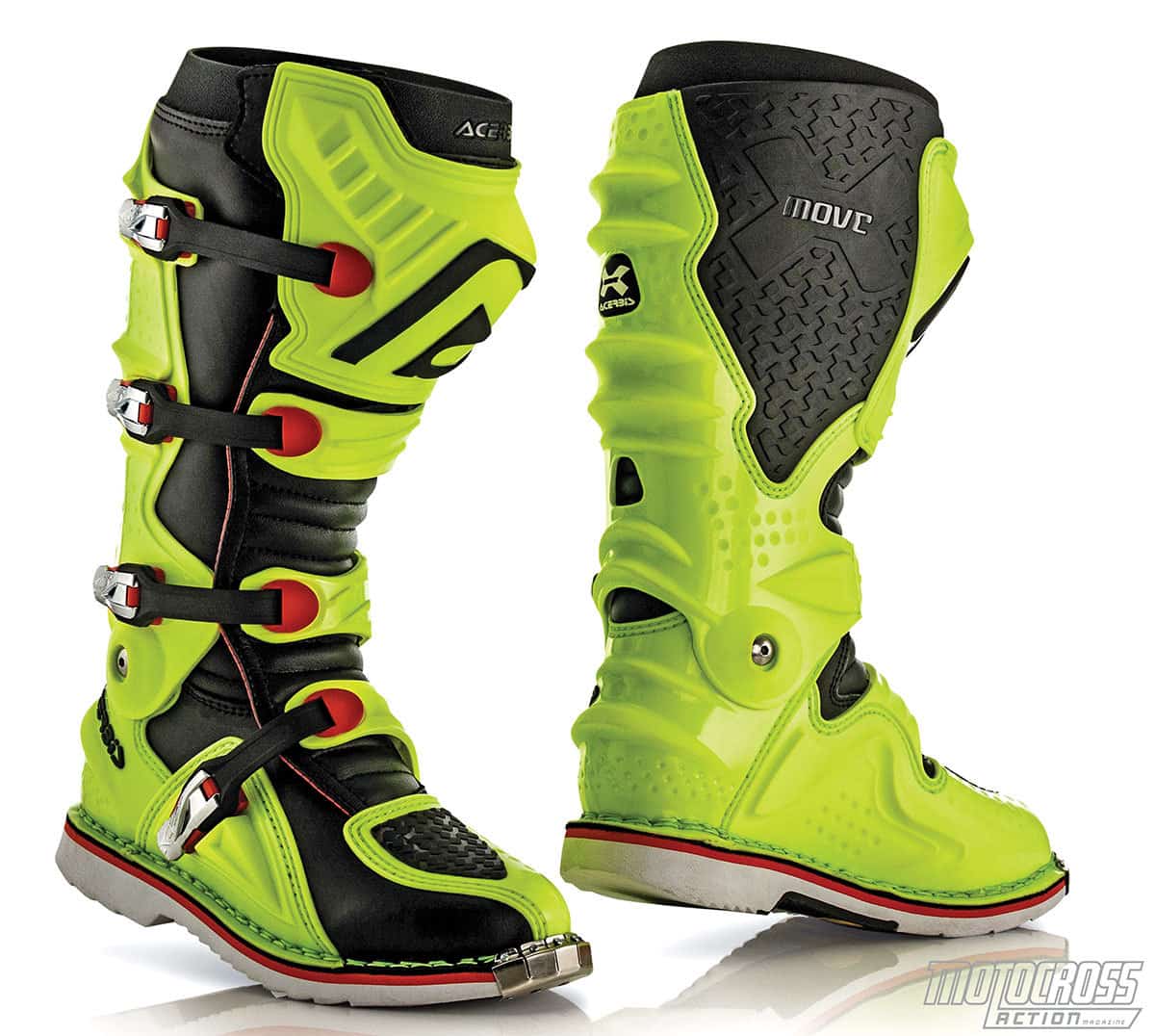 WHAT IS IT? The Acerbis X-Move CE-certified boot is off their top shelf and is designed in Italy. They come with the popular Vibram high-performance rubber soles, as well as all the other bells and whistles.
WHAT'S IT COST? $299.00.
CONTACT? www.acerbisusa.com or your local dealer.
WHAT STANDS OUT? Here's a list of things that stand out with the Acerbis X-Move 2.0 boots.
(1) Build. The X-Move boot brings together a mix of old school meets new school. It is a collaboration between two eras. The build of this boot reminds us of the old Sidi Crossfire boots (the ones where the plastic shell on the back of the leg detached from the leather, allowing you to fold it back to get your foot in with ease). The X-Move boot has the same type of design. The boot features a reinforced steel toe box, leather upper, vulcanized rubber gaiter, four aluminum buckles and a leather heat-resistant panel on the upper sections of the boot.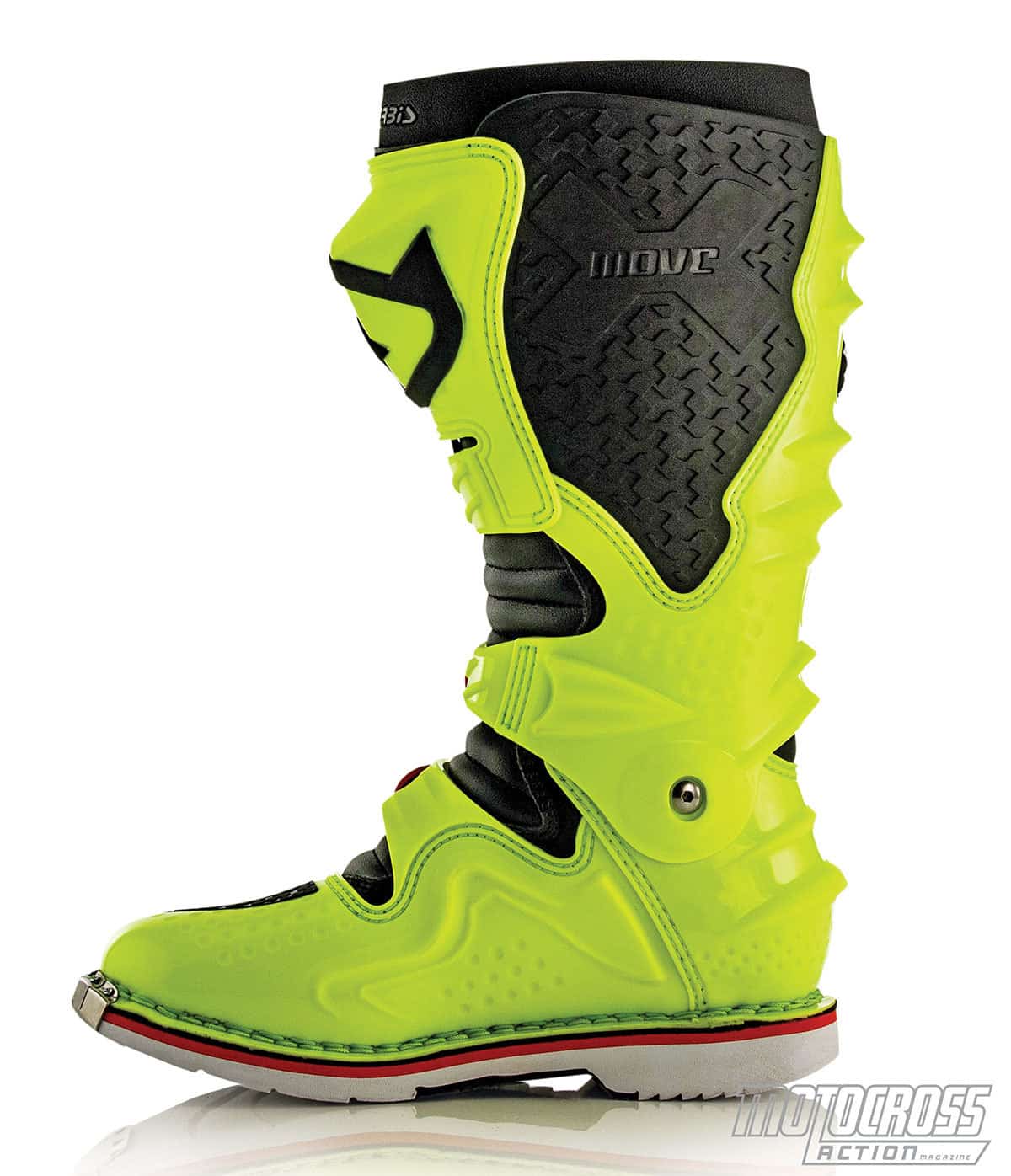 (2) Buckles. These aluminum buckles were a hit with all our testers. They have great ergonomics, offering a superb  grip to latch and release the buckles. They are equipped with a quick-release and locking system as well. These buckles made it easy for the rider to get in and out of the boots.
(3) Feel. This boot needs zero break-in time. It is comfortable from the moment you put them on. The leather and plastic are quite pliable unlike most top-of-the-line boots. When wearing the X-Move 2.0 boots, it felt like you were wearing sneakers rather than boots. They were super comfortable and on the roomy side. Once the boot was broken in, the sole started to have some flex. It wasn't a bad thing once we got used to it (and stayed away from Supercross tracks).
(4) Fit. The sizing is accurate. The internal hypo-allergenic fabric wraps around your feet and ankles with no pressure points. The toe box is on the roomy side, but nobody complained about it being too big.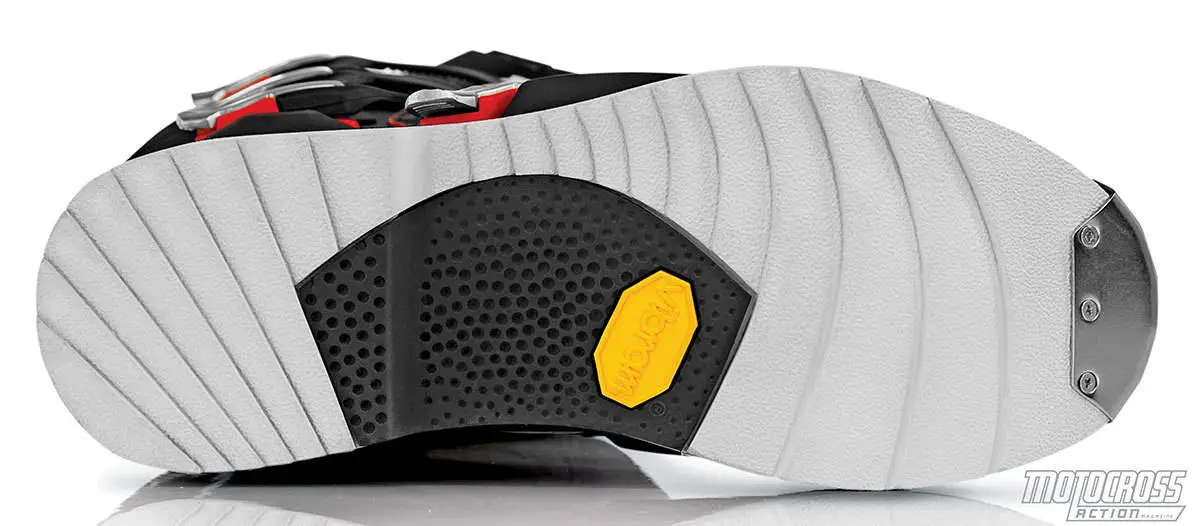 (5) Performance. The X-Move boot is on the soft side. It reminded our older test riders of old school leather Hi-Point boots. Obviously they have added protection, but the feel was similar. The Acerbis X-Move 2.0 boots are great for the average rider who likes to stay on the ground. Not the best choice for Pro riders who hit big jumps wanted more ankle support. This is one of the most comfortable boots on the market for the average offroad rider.
(6) Durability. For how pliable the boots were, we thought our testers were going to tear these boots apart. The Vibram sole held up well on top of the sharpest pegs on the market. The leather inner heat panel did its job against abrasion and heat. It also added extreme grip against the bike.
WHAT'S THE SQUAWK? We had two quibbles: (1) We would like to see some added ankle support. (2) The top left toe box could be a bit stiffer for shifting.
MXA RATING: This is a great boot at a fair price for a rider whose top priority for comfort and feel. If your priority is stiffness, move along.
 RIDE ENGINEERING 22MM OFFSET YZ125/250 TRIPLE CLAMPS AND PERFORMANCE LINK
Press Release:
Trying to keep up with your buddy on his KTM 2 stroke? This handling package will improve your corner entry and provide better traction on corner exit. Your YZ125 or YZ250 will be on fire. Plus you get soft polyurethane cones to isolate your hands from vibration with a one-piece anti-twist bar mount that keeps your bars straight in a minor crash. Got an X? This set up works great in the woods and you can swap the bar mount for our new off-road model that accommodates a Scott's or GPR steering damper. Clamps and link available in blue or black. Ride Eng. (800) 805-1516
https://www.ride-engineering.com/searchproducts.php?type=moto&area=bars&prodbrand=YZ&s=0&e=30&all=t
MXA | MOTO | TRIVIA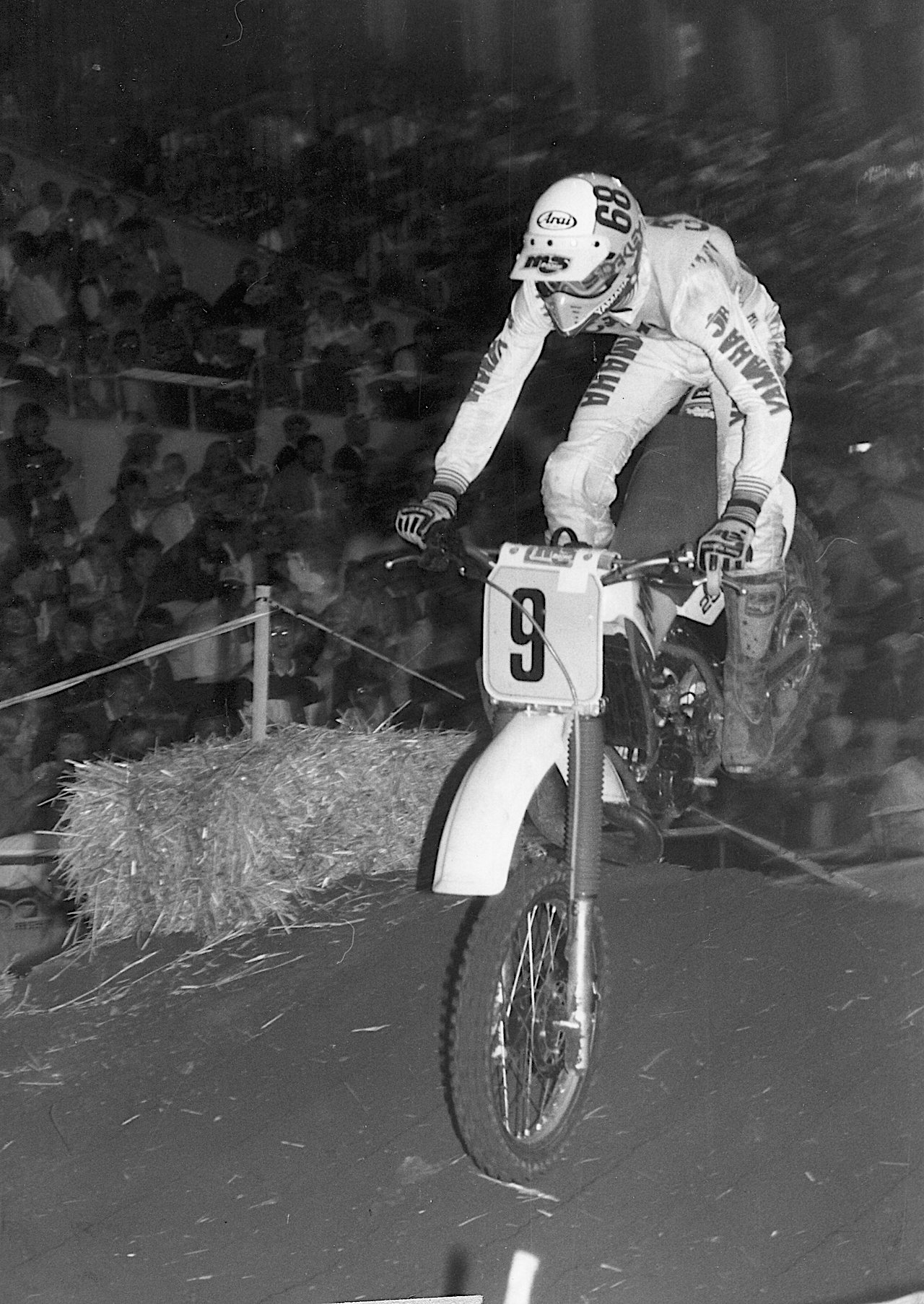 Who is this racer and what year was it taken. Answer at the bottom of the page.
TALK MOTO WITH MOTO MINDED PEOPLE. JOIN MXA'S FACEBOOK GROUP CHAT

We love everything moto and want to bring all moto junkies together into one place to share their two cents, ideas, photos, bike fixes, bike problems and much more. To check it out first you must need to or already have a Facebook account. If you don't, it isn't much work and you could even have an alias so nobody knows it is you. To join click HERE. After you request to join we will accept your request shortly after.
2021 KTM RACE CONTINGENCY
Press Release:
 Standing behind its 'READY TO RACE' commitment, KTM North America, Inc. has been hard at work adapting its 2020 race contingency program to provide orange bleeders with the most up-to-date scheduling and payout information in regards to the ongoing pandemic. As racing steadily recommences in the U.S., the brand is excited to also announce details for its 2021 race contingency on 
KTM.com
.
Supporting over 180 series nationally, KTM will continue offering competitive race rewards for amateur racers in KTM CASH dealer credit that can be used at any participating KTM Dealer; and for Pro racers, KTM offers a competitive earning potential in the form of a KTM Debit Card.
PRO MOTOCROSS AND SUPERCROSS
With many incentives to ride orange, the KTM brand continues to be a popular choice for professional racers in the AMA Supercross and Pro Motocross Championships and once again offers a competitive payout via the KTM Debit Card program.
AMATEUR NATIONAL AND REGIONAL MOTOCROSS/SUPERCROSS
In addition to its unwavered support of the KTM Orange Brigade Amateur Motocross program, KTM is proud to once again support KTM-mounted riders at amateur motocross events such as Daytona Amateur Supercross, Freestone Spring Championship, Mammoth motocross, Mini Olympics and the AMA Amateur National Motocross Championship at Loretta Lynn's. Additionally, the comprehensive contingency program supports many regional motocross series throughout the U.S. Please refer to 
KTM.com
 for the proposed 2021 series and payout schedules.
NATIONAL OFFROAD AND REGIONAL OFFROAD
With the return of many National offroad series, KTM is pleased to once again support orange riders in the Grand National Cross Country (GNCC) Series, Full Gas Sprint Enduro Series, National Enduro Series and World Off Road Championship Series (WORCS). Additionally, KTM has expanded its Regional offroad payouts to pay per race, rather than series end.
FLAT TRACK
The American Flat Track Series has resumed with a full 2020 schedule and KTM is offering competitive per-race contingency and overall championship bonuses for the AFT Singles Class, AFT Production Twins and AFT Supertwins class, in addition to providing support for the Flat Track Futures Series when it returns to racing.
ROAD RACING
While the MotoAmerica Road Race Championship Series has been put on hold, KTM will continue to support orange riders in American Federation of Motorcycles (AFM) Series, American Historic Racing Motorcycle Association (AHRMA) and the Motorcycle Roadracing Association (WMRRA).
The 2020 KTM Contingency program has not changed despite the recent schedule updates and postponements, therefore all eligible series and events will continue to be supported and riders who have raced in events while the program was closed will be awarded. Please check the events page for updated information as it is revised daily.
For more information on the full 2020 contingency program, payout structures and to sign up, visit 
www.KTMCash.com
. KTM offers incentives for amateur (dealer credits) and professional (cash) riders when they earn top finishes while riding KTM motorcycles at select events across the United States. Remember to visit 
KTM.com
 in preparation for the 2021 race contingency program.
PHOTO OF THE PAST: ERNESTO FONSECA FACTORY HONDA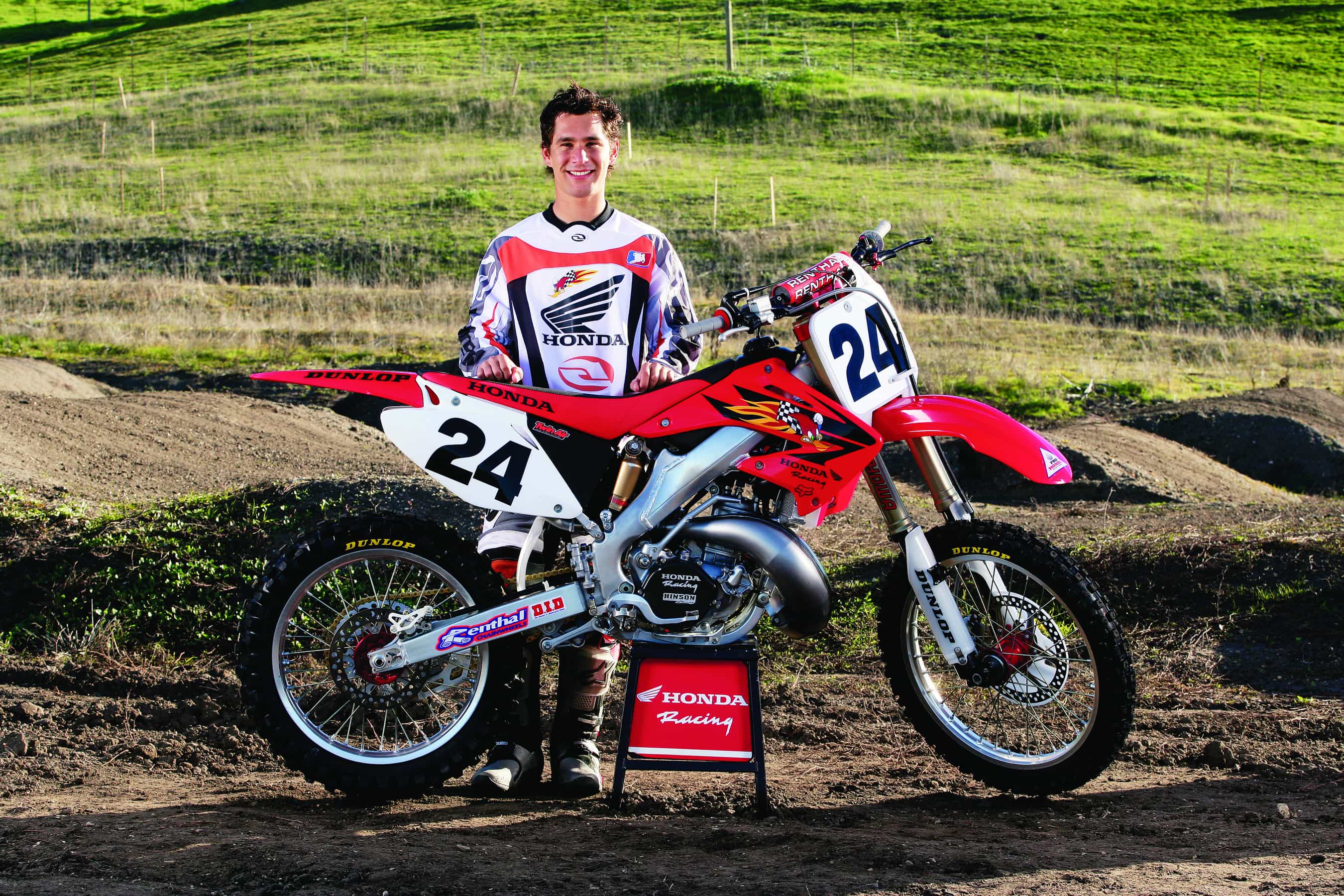 SUBSCRIBE TO MXA AND GET A $25 ROCKY MOUNTAIN ATV/MX GIFT CARD—WHICH MAKES YOUR MXA SUBSCRIPTION BETTER THAN FREE
In this issue, MXA tested and built the KTM 350SXF that we wished KTM had built in the first place back in 2011. We wanted a mid-size Open class bike, not high-rpm, big-bore 250. KTM didn't give us that, so we built what we wanted with the help of a $650 Cylinder Works 366 kit. It changed the personality and peak horsepower of the KTM 350SX for the better.
Read all about MXA's KTM 366SXF in the September issue. It could be tucked away in your mailbox by an authorized U.S. government employee if you subscribed.

If you subscribe to MXA you can get the mag on your iPhone, iPad, Kindle or Android by going to the Apple Store, Amazon or Google Play or in a digital version. Even better you can subscribe to Motocross Action and get the awesome print edition delivered to your house by a uniformed employee of the U.S. Government. You can call (800) 767-0345 or Click Here (or on the box at the bottom of this page) to subscribe.
FXR 2021 REVO MOTO COLLECTION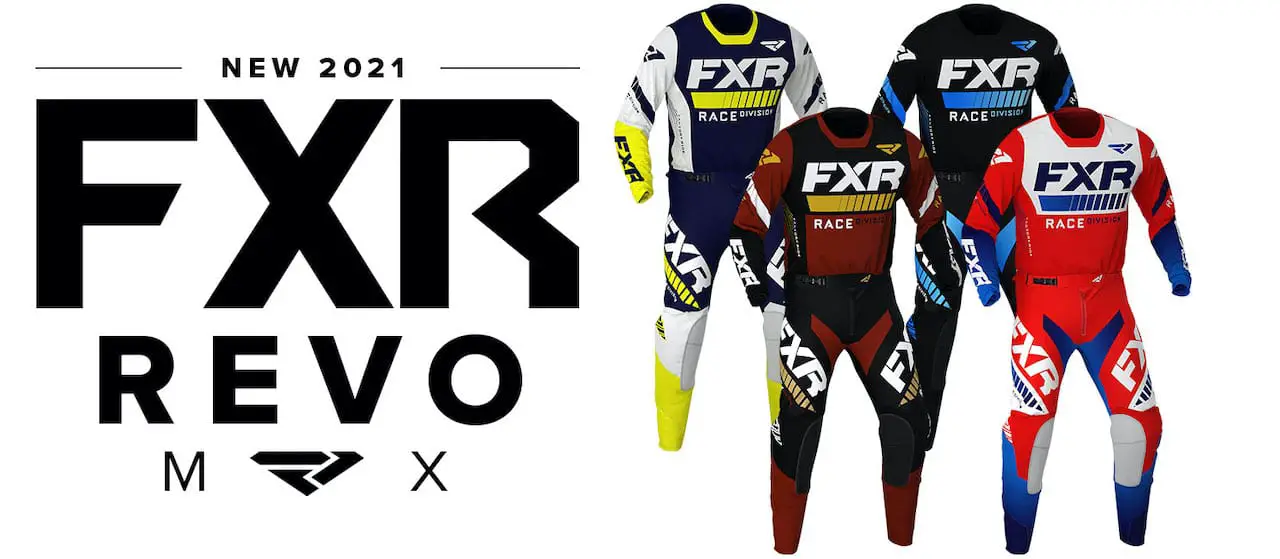 Press Release:  Known for its industry-leading comfort, our team of professional athletes across the globe wear off-the-shelf Revo gear because it fits and flows with the shape and movements of the next level motocross athlete. The road to the pro ranks is long and difficult, so Revo gear is also tough, not a tear-off. You won't find a better set of gear that fits and moves your body while you ride – no restrictions, no distractions, pure focus. Through testing and continuous refinement, FXR has made numerous improvements to the Revo chassis, setting a higher standard for FXR's already industry leading fit, finish, durability, and performance.

2021 Revo Jersey—$69.99.
The Omni-Stretch material in FXR's Revo jersey was developed to give riders the ultimate combination of 4-way stretch with the right amount of airflow.
The Revo jersey's hybrid vented material is constructed in a performance fit pattern that allows the jersey to flex and move without restriction while helping riders maintain lower core temperature.
2021 Revo Pant —$199.99.
For 2021, FXR has refined and improved the fit and performance of the M-2 Motion Pant chassis, dialing in the right amount of stretch to have positive fit, feel, and contact with the bike without restricting mobility.
An all-new industry first Auto-Buckle front closure system works with our fool-proof Hook & Loop side hip adjusters to further secure the waist closure and provide a positive feeling under hard acceleration or seat bouncing scenarios.
CLASSIC PHOTO | KEVIN WINDHAM PHOTO BLAST THROUGH THE YEARS
---
MXA Trivia answer: Keith Bowen from back in 1985.