MOTOCROSS ACTION MID-WEEK REPORT
#WHIPITWEDNESDAY
Rider: Ryan Villopoto
Bike: Factory Kawasaki KX450F
Year: 2014
TWO-STROKE SPOTLIGHT: HOGAN HAEBER'S HONDA CR500AF
The CR500AF after its resurrection. 
"I've wanted to build a CR500AF since I was probably 16 years old. I finally had the chance when I was 20, so I bought a 2006 rolling chassis from a buddy with the intention of someday building a 500AF. Tore it down to the frame and waited patiently until I found the right CR500 power plant. Finally found a good 2000 CR500 great running bike. Pulled the engine and began the swap.
Piecing the engine together. 
I ordered a CR500 conversion kit and got started. I cut the "Y" piece, got the engine bolted in with the swingarm bolt, got the head stay mounts all together, mocked up the new Billet Y piece and began trimming the rest of the frame to fit.  The engine fit and I liked the placement. I did the necessary, but simple exhaust mods. Fitted the aftermarket over sized radiators (which was probably my biggest challenge)m finished the air box mod, and assembled the bike again with a ton of aftermarket and performance goodies. It was an incredibly fun and challenging build. I'd love to build another in the near future."– Hogan Haeber from Roseburg, Oregon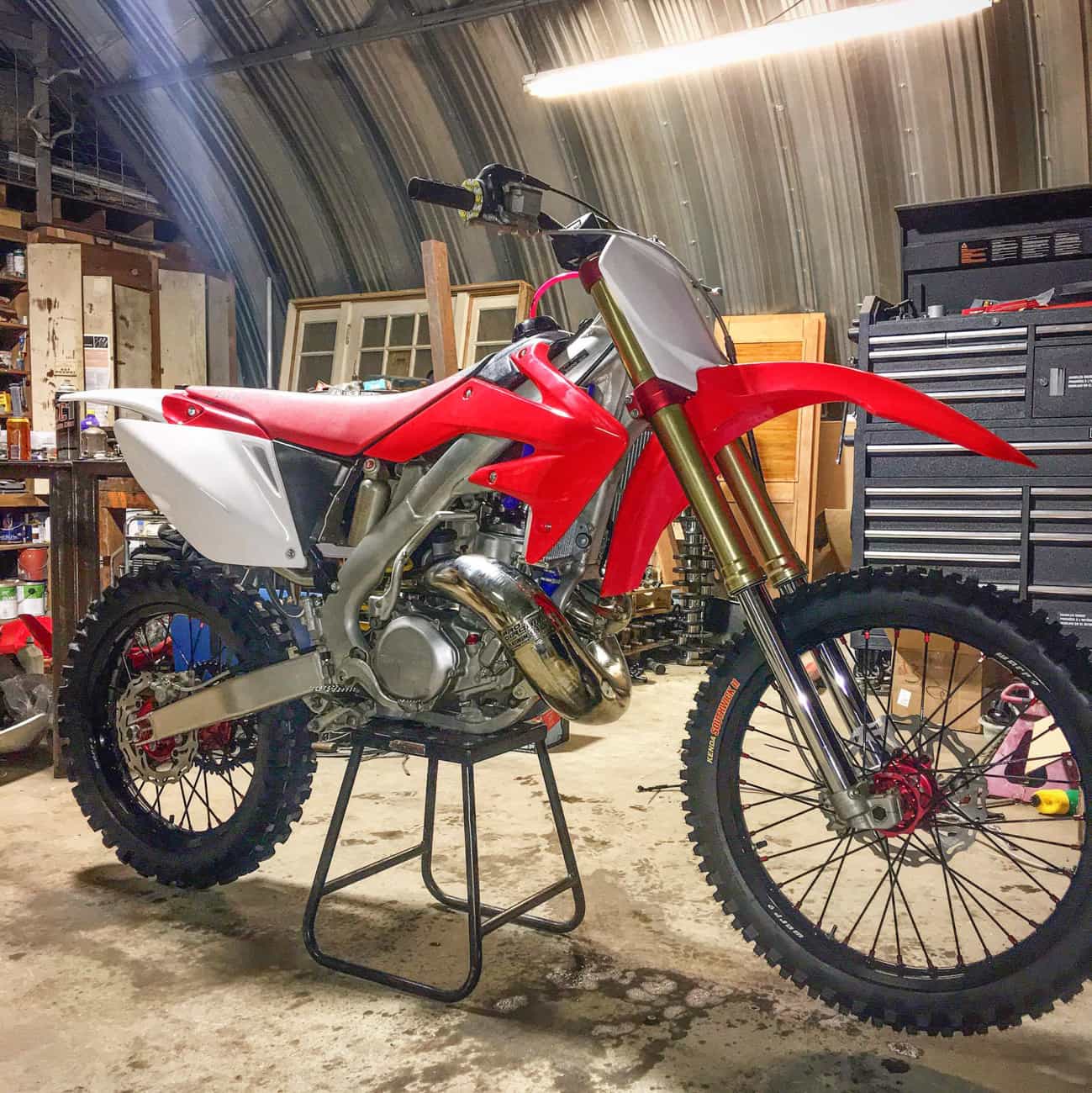 He went from red to green. 
The beautiful hand made Pro Circuit cone pipe. 
Editors Note: Please keep those submissions coming. If you would like your bike to be featured in the "Two-Stroke Spotlight," please email me at [email protected]. All I ask is that you give a breakdown of your bike and a detailed description of the build. Please also send a few photos of your steed. By submitting your bike for the "Two-Stroke Spotlight," you agree to release all ownership rights to the images and copy to MXA. Please don't email me spam or try selling me Taylor Swift concert tickets or email me spam. Happy submitting your smoker.
MOTO | TRIVIA
Name the rider. Answer at bottom of page.
 Press Release:
Most people know Ride Engineering makes a strong, lightweight replacement bar mount for stock rubber mounted triple clamps on KTM & Husqvarna motorcycles. At just $95 these are a must have product to replace the wimpy OEM mounts. Well now we've also added a kit with all the components that hold the bar mount onto the triple clamps. $60 will get you four polyurethane cones, two machined billet threaded sleeves and two new M10 cap screws. This is the same hardware used by Henry Miller (@h_miller48) on his 2020 KTM 450sxf. Henry was just awarded the FMF Privateer Power award for his 13
th
 overall at Redbud I which was preceded by a 12
th
overall at Ironman. These components can be found here:
PRO CIRCUIT ENGINE PLUG KITS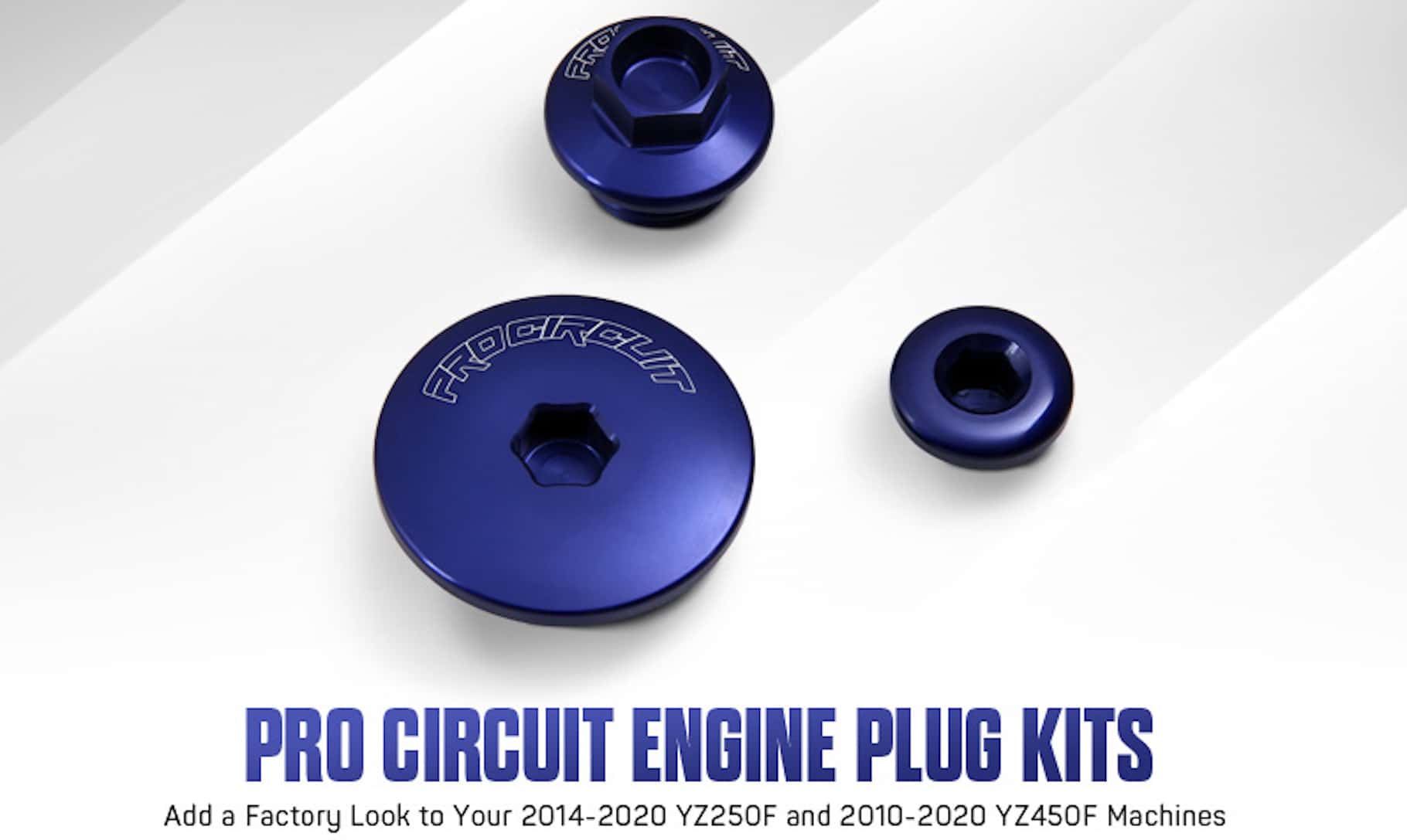 Press Release: At Pro Circuit, we are committed to providing our customers with high-quality accessories that are more durable than OEM and give your bike a factory look as well. This is why we're excited to release our new Engine Plug Kit for the 2014-2020 YZ250F and 2010-2020 YZ450F models. Machined from aircraft-grade aluminum, hand polished and anodized blue, these new plugs are a must-have for any rider looking to add a little flash to their YZF. Give your bike an upgrade with Pro Circuit accessories.
WILL MOTOCROSS BIKES SWITCH TO CARBON FRAMES IN THE FUTURE?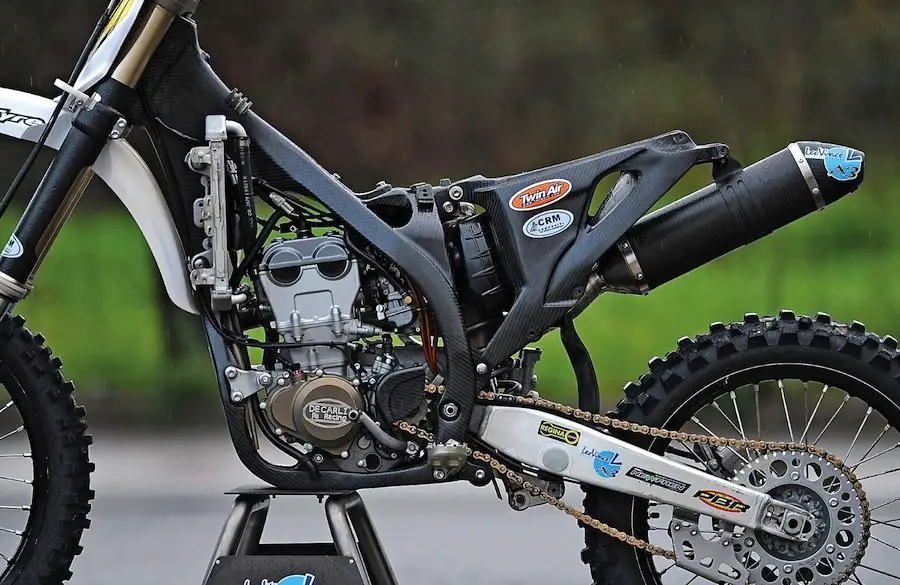 Dear MXA,
    Bicycles once came with steel frames, then aluminum and now carbon fiber. And Formula 1 used to have steel frames, then aluminum monocoques and now carbon fiber tubes. It seems obvious to me that motocross bikes will soon be switching to carbon fiber also. Am I right?
It depends on how much you hanker for a $20,000 production bike. As exciting as exotic materials may look on the sales brochure, motocross chassis are about feel, not materials. One of the reasons that KTM has made so much progress against the Japanese brands has to be attributed to the chromoly steel frame. Chromoly steel offers both tensile strength and the ability to flex in the right direction. It's the flex of a steel frame that makes a KTM a very good all-around handling machine. Steel may seem old fashioned, but for motocross frames, it is really a very high-tech solution. And, if you had the wherewithal to build a one-off race bike,  steel would be the place to start. The Japanese factory teams cannot race with steel frames without making their production bikes look suspect. Don't forget, Jeremy McGrath left Team Honda over this exact issue back in 1997.
Don't get too misty about aluminum frames. They have endured a very rocky history to get where they are today, largely because aluminum does not flex and, if it does, it tends to crack its large-grain composition. Starting with the original 1997 Honda Delta Box frame, aluminum produced frames so stiff that they lost feel and placed 100 percent of the suspension burden on the forks and shock. Over the last 18 years, the Japanese manufacturers have been tapering the aluminum extrusions, thinning the wall thicknesses and relying on the motor mounts and head stays to soften up the feel.
Aluminum, much like air forks, became the cause celebre in the factory accounting departments because it was cheaper to manufacture and didn't require any cutting, bending, mitering or gussetting. An aluminum frame is made up of eight cast, extruded or forged parts that plug together.
There are companies experimenting with molded carbon fiber frames. These builders tout carbon fiber's light weight and controllable stiffness. But, in a production frame, no manufacturer would take full advantage of carbon fiber's light weight for fear of a frame failure. Thus, they would lay the carbon fiber up well beyond the fail-safe level, and that would result in not only a heavier frame, but a stiffer one. Yes, it is possible to lay the carbon sheets up to get more flex, but with a risk level that the corporate lawyers would never sign off on. Think about carbon fiber handlebars. They first surfaced on mountain bikes back in 1986, but when racer Aaron Cox's carbon bars broke at a Big Bear race the same year, carbon fiber bars suffered a setback that they have never recovered from. The same risk applies to motorcycle frames, which do break, regardless of what they are made from, but a broken carbon fiber frame would be a death knell to carbon fiber's future in motocross.
Plus, motocross is not held on a pool-table-smooth F1 track or on a mildly bumpy Tour de France road. It is a gritty sport complete with shotgun blasts of roost, hard crashes and mechanically inept owners. A scratch could lead to carbon fiber failure. Spraying the wrong chemical on the carbon fiber could delaminate the cloth. The abrasion of a boot can eat through the welds on an aluminum frame; imagine what it would do to carbon fiber.
Carbon fiber may well be the brave new world of chassis design in boats, planes, bicycles and race cars, but the high cost of production and high premiums for liability insurance pretty well nix it for anything more exotic than skid plates, subframes and mufflers in motocross.
THE MXA WRECKING CREW TAKES OVER MIKE ALESSI'S BLENDZALL YZ134 & ESR YZ325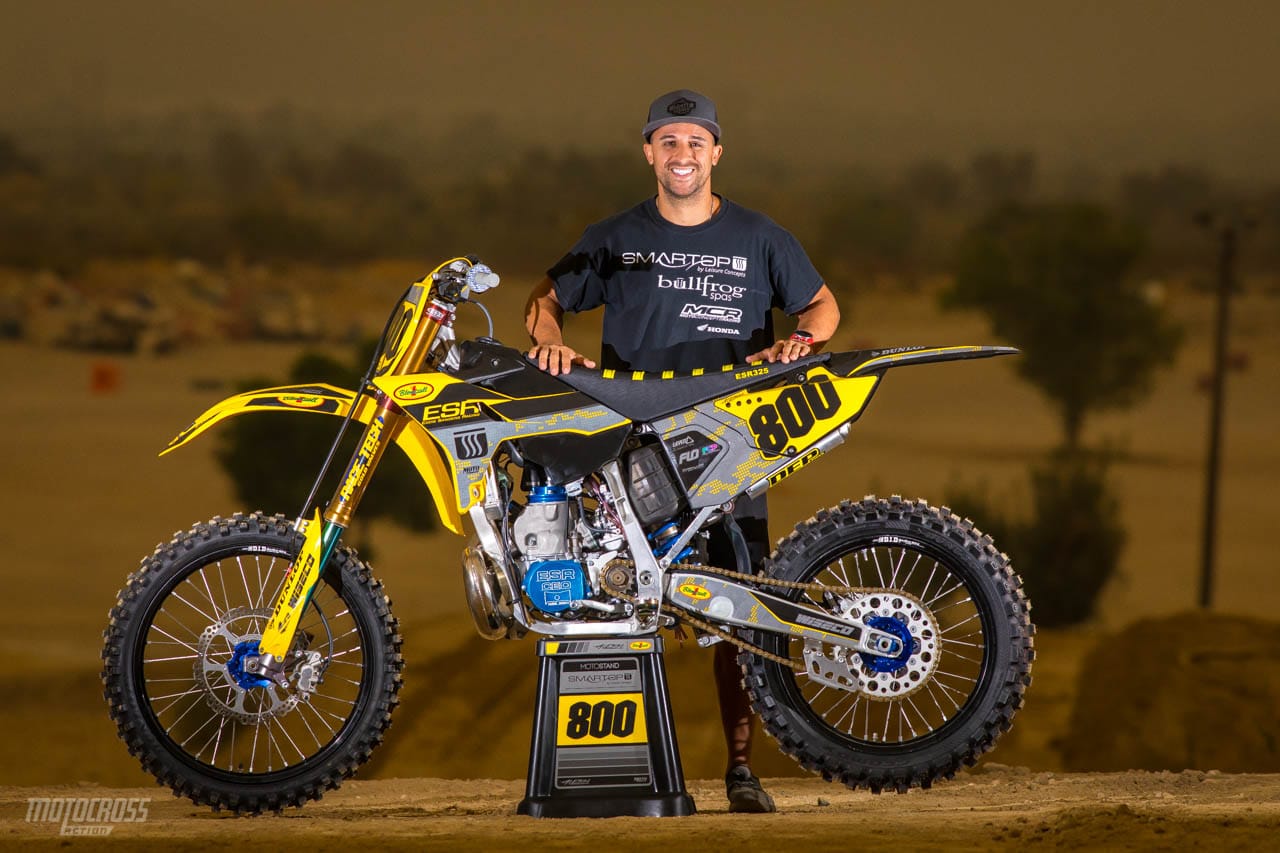 Mike Alessi and his ESR YZ325. Mike qualified for the Monster Cup Supercross with this bike.  The only two-stroke to qualify for any kind of Supercross event in probably over a decade or more. 
The ESR 325cc powerplant. You won't believe the affordable price to big bore your smoker. 
Josh Mosiman had a fun time riding the ESR big bore. The power was spread out and incredibly smooth. Look for the full write up in a future issue of MXA.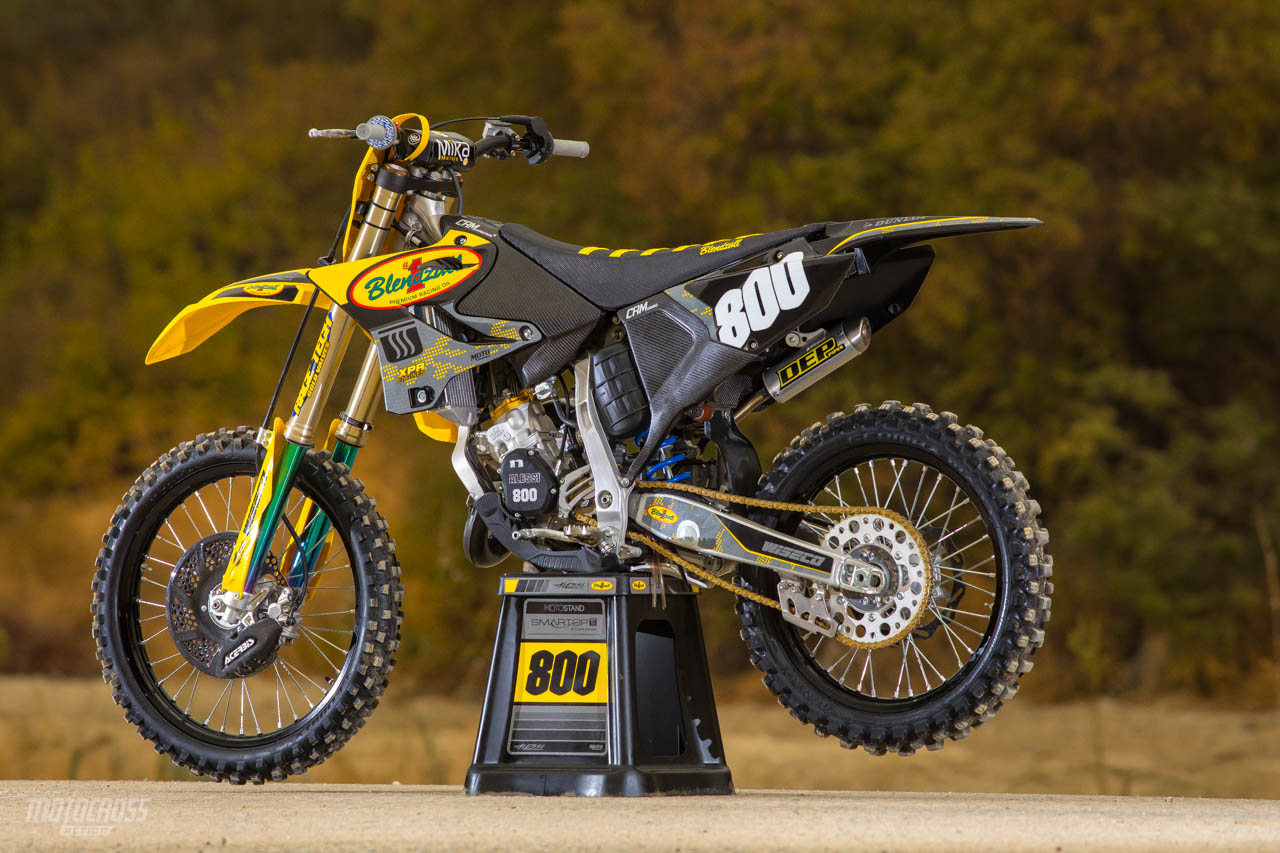 Next on the list was to ride Mike's Blendzall Yamaha YZ134. 
This engine is built of parts from around the world. Mike's dad, Tony Alessi, who is also the team manager of the Moto Concepts Supercross team, is a guy who knows a thing or two about building great race machines.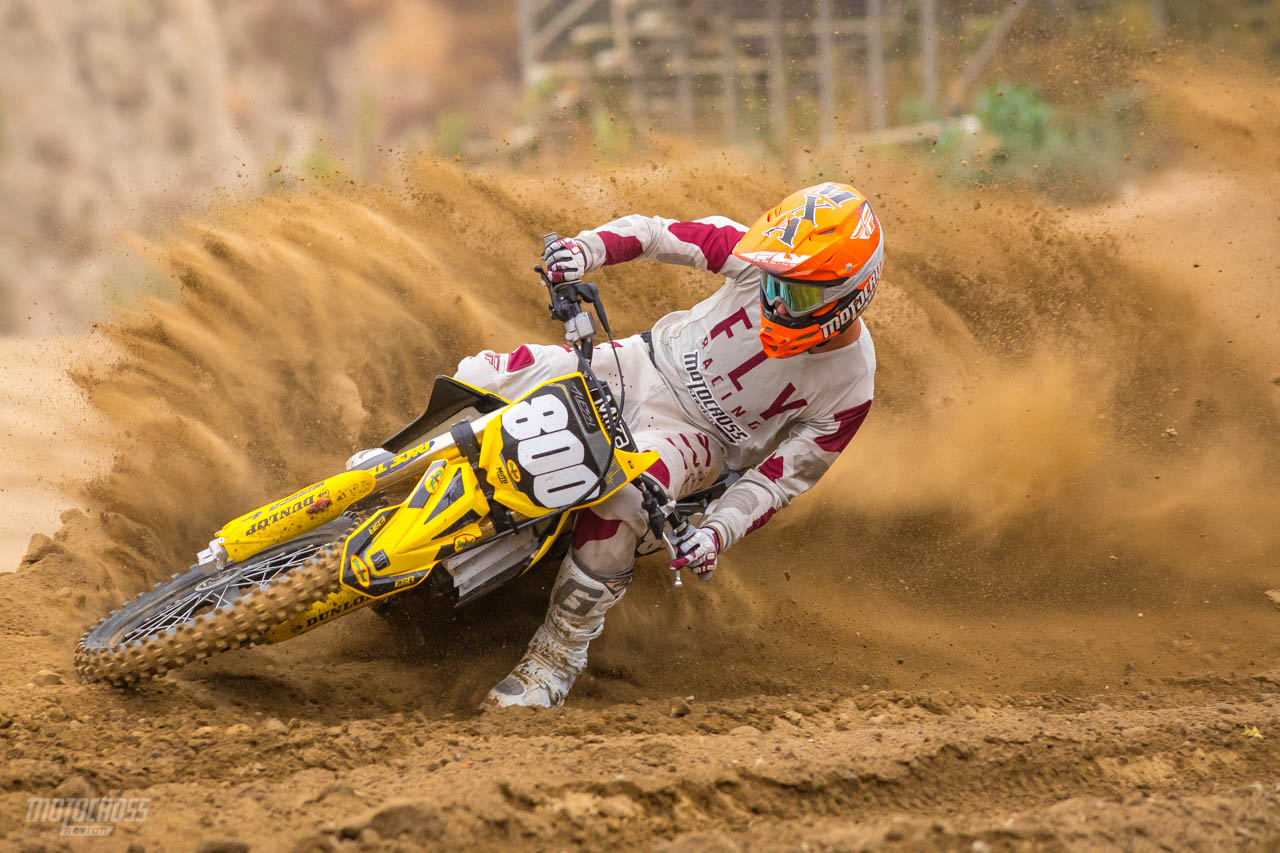 Have you seen a tiddler push around that much dirt before? We aren't going to give you the juicy details of Mike's YZ134 until it hits the magazine. Let's just say this puts Ryan Villoptoto's YZ125 to shame. 
Josh Mosiman was having some serious fun on the YZ134. 
Mike going over the basics with Josh before he hits the track. 
While we were taking a break from testing, Mike jumped on the bike himself to get in some laps. 
LOST BUT NOT FORGOTTEN | 1992 SUZUKI RM125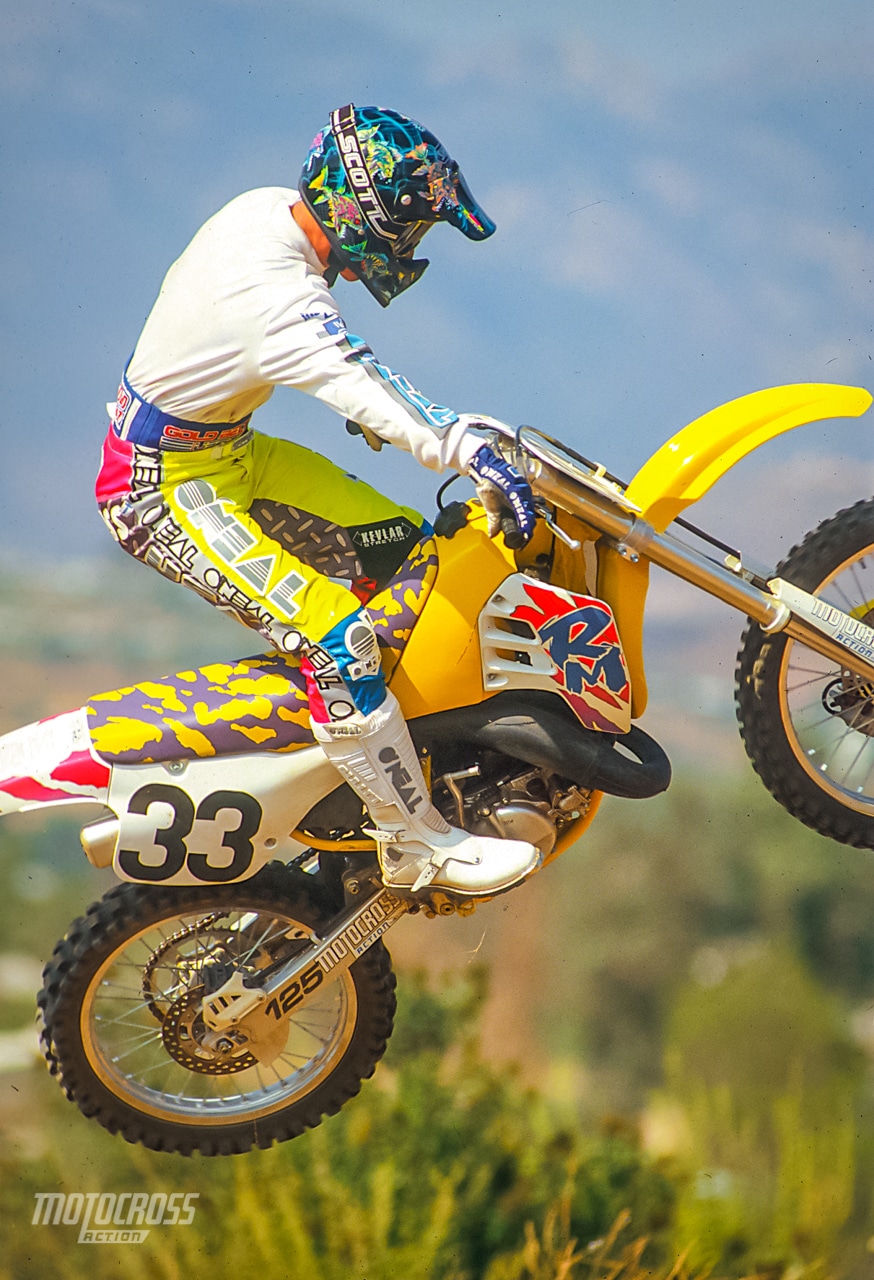 SUBSCRIBE TO MXA AND GET A $25 ROCKY MOUNTAIN ATV/MX GIFT CARD—WHICH MAKES YOUR MXA SUBSCRIPTION BETTER THAN FREE
MXA's October 2020  issue is waiting for you to crack it open—if only you had it.
If you subscribe to MXA you can get the mag on your iPhone, iPad, Kindle or Android by going to the Apple Store, Amazon or Google Play or in a digital version. Even better you can subscribe to Motocross Action and get the awesome print edition delivered to your house by a uniformed employee of the U.S. Government. Plus, you get a $25 Rocky Mountain ATV/MX gift card to more than cover the cost of the subscription. You can call (800) 767-0345 or Click Here (or on the box at the bottom of this page) to subscribe.
MXA'S TM 144MX PROJECT BIKE
INSIDE RYAN HUGHES' SPILTFIRE PRO CIRCUIT KX125 FROM 1994
TALK MOTO WITH MOTO MINDED PEOPLE. JOIN MXA'S FACEBOOK GROUP CHAT

We love everything moto and want to bring all moto junkies together into one place to share their two cents, ideas, photos, bike fixes, bike problems and much more. To check it out first you must need to or already have a Facebook account. If you don't, it isn't much work and you could even have an alias so nobody knows it is you. To join click HERE. After you request to join we will accept your request shortly after.
CLASSIC PHOTO
The best kind of Caddy is one that hauls dirt bikes. 
---
MXA Trivia answer: Eric Sorby