MOTOCROSS ACTION MID-WEEK REPORT
#WHIPITWEDNESDAY
Rider: Justin Brayton
Bike: Moto Concepts Honda CRF450
Photographer: Krystyn Slack
Location: 2018 St. Louis Sueprcross
TWO-STROKE SPOTLIGHT: JAMES HICKS 2016 TC250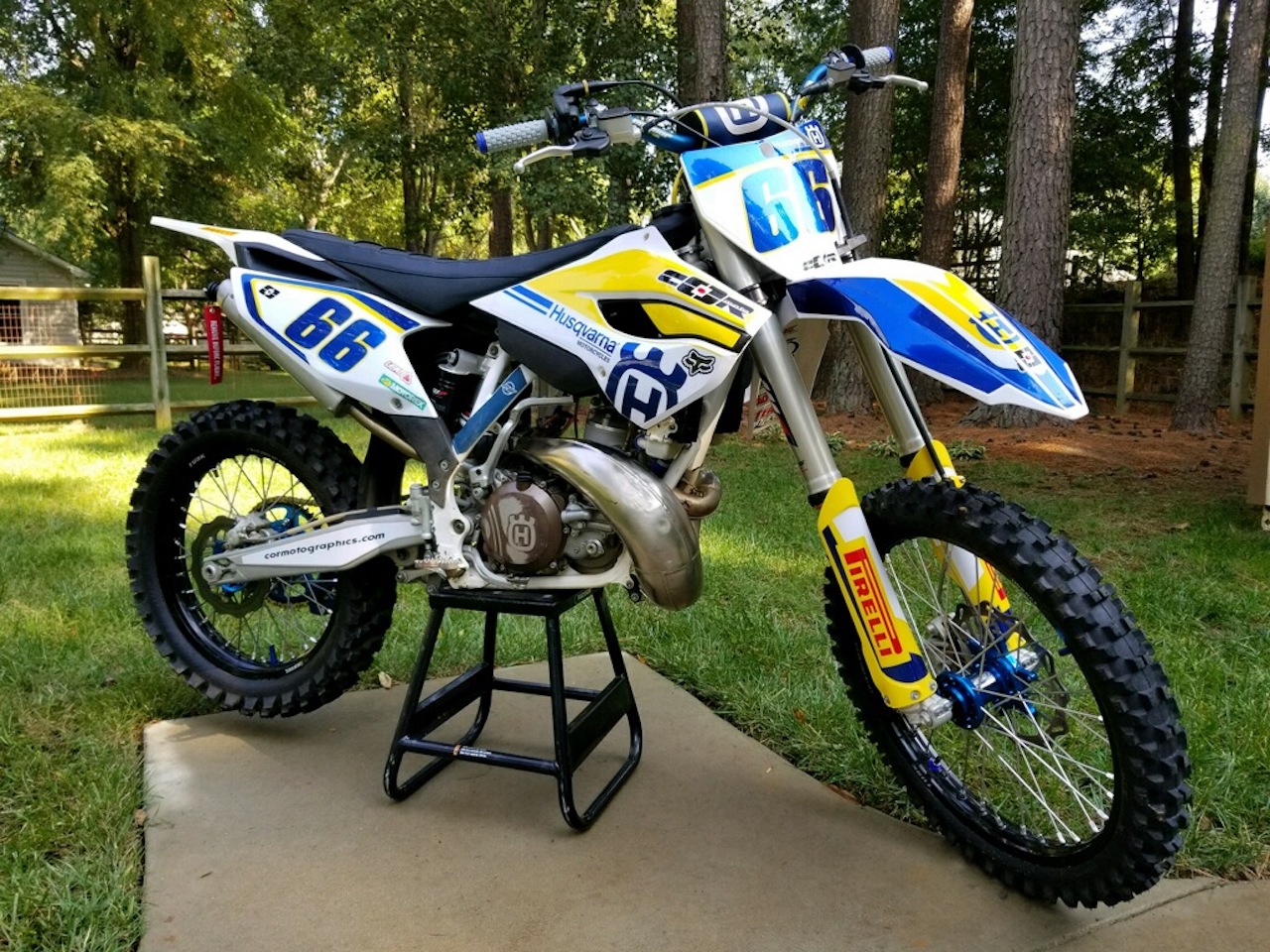 "This is my 2016 TC250. After several years on a four-stroke, I didn't have the same passion for riding. I suppose I was missing the nostalgia of what riding was like in my younger years on a two-stroke.
At 44 years old, I didn't have the need for a radical build, so it's mainly stock. Caleb Atkins did a complete overhaul/rebuild with Tusk Wheelsets, a flywheel weight, all new bearings and freshened up the engine.
One of the most unique aspects of the bike are the custom graphics done by CORMoto, which look stock, but are blue chrome. I've not seen anything like it out on the track. And hey, it's nice to at least look fast in the pits!" –Jim Hicks Charlotte, NC.
Editors Note: Please keep those submissions coming. If you would like your bike to be featured in the "Two-Stroke Spotlight," please email me at [email protected]. All I ask is that you give a breakdown of your bike and a detailed description of the build. Please also send a few photos of your steed. By submitting your bike for the "Two-Stroke Spotlight," you agree to release all ownership rights to the images and copy to MXA. Please don't email me spam or try selling me Taylor Swift concert tickets or email me spam. I already celebrate T-Swizzle's entire collective, and there will be "bad blood" if you send me junk mail. See what I did there? Happy submitting your smoker.

SHOT RACE GEAR INTRODUCES LIMITED EDITION VENTED RACE WEAR LINE
Press Release: MTA Distributing has announced the release of Shot Race Gear's 2018 limited edition vented gear line. Addressing the demands of riders looking for a competitive advantage in scorching hot conditions Shot Race Gear developed an all-new limited edition of their popular Aerolite Optica offering.
 The lightweight and extremely ventilated Aerolite Optica gear marks the first vented gear line for Shot Race Gear. Designed for warm weather and humid riding conditions, the Aerolite Optica vented pant paneling and flow through jersey offer maximum cooling and airflow for extended periods of time, while stretch material in key areas allows for unmatched comfort and fit. Lightweight design and solid construction for a long lasting, non fading vented gear set.
Look for Kyle Chisholm to wear this limited edition gear in the upcoming National Motocross series.
For more information visit www.shotracegear.com
JOIN MXA'S FLIPBOARD PAGE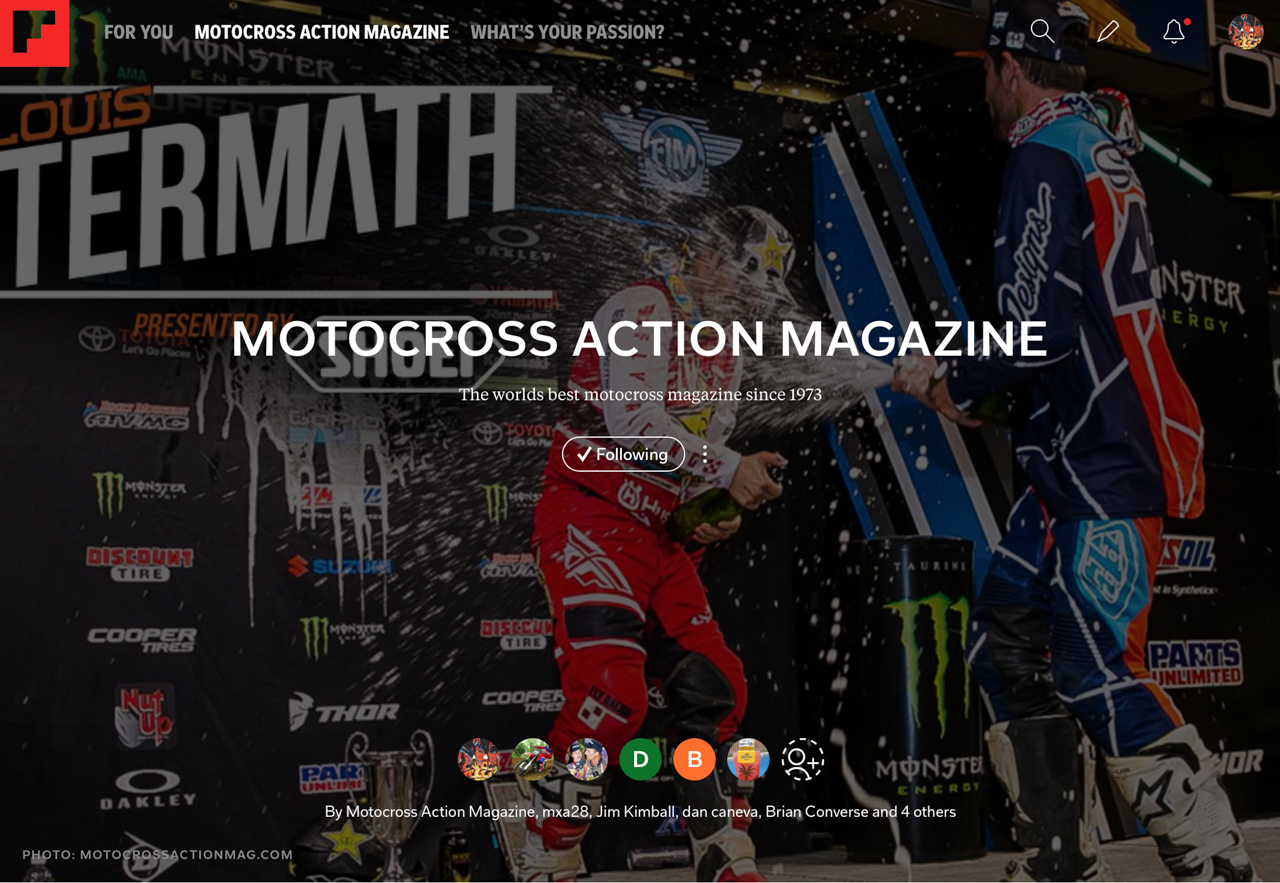 If you use Flipboard make sure to subscribe to the Motocross Action page for all the updates on our website. Click HERE to check out the page.
THEY SAID IT | ST. LOUIS SUPERCROSS
Weston Peick: "St. Louis went much better for me than the week before in Daytona, where I dealt with sickness and the crash in Atlanta. I rode well in practice. I came from 10th to 5th in the heat race. In the main event I wanted to be safe and stay on the inside, so I chose a gate that had a big pot hole in front of it. I didn't get the best drive, but I made some good passes and fought my way up. I held strong through the main event and ended the night in fifth. I felt strong and am back in the right direction to where I was in the early part of the series."
Kyle Chisholm: "I'm satisfied with my 450 results, I've been close to the Top 10 but this week was a bit off the pace. My plan all along was to keep the ball rolling from the 250 season and use this time to continue my training program and keep my body on race shape. We definitely did that and being at the races is still as fun as it's ever been. Today was difficult, I felt just a bit off the pace in every session and I feel like I should've been higher up on the board at the end. I'm excited to get back on the YZ250F and finishing out the season strong back on the west coast."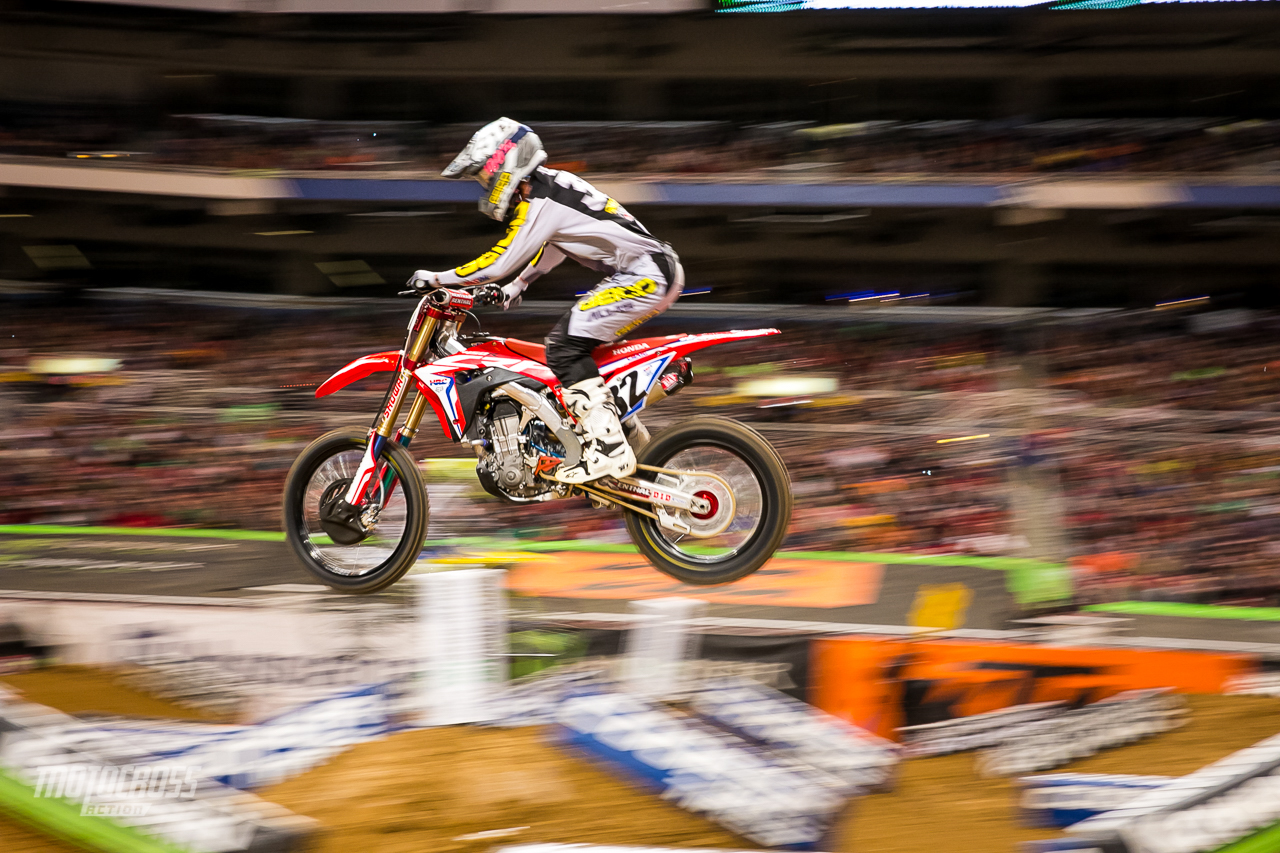 Christian Craig: "Today started off decent, but I struggled a lot with the track. I was pretty frustrated throughout the day, so just reset for the heat race, where I finished fourth, which was okay. I went into the main and was focused on trying to have fun but I just couldn't get a flow. I was just riding around—couldn't push and didn't have any intensity. Overall I was a little off today and it was frustrating, especially after two really good weekends. I wanted to keep the ball rolling, but a ninth place isn't the best. It's also not the worst though, so I'll just learn from this and regroup for next weekend."
Austin Forkner: "It was a frustrating night for sure, but it's one thing to dwell on what could have been and another to turn our focus to a great opportunity next weekend with the showdown. I made mistakes and then I also was involved in mistakes not my own doing, but everyone has their bad days and I'm hoping this is the worst I will encounter as we keep pushing forward toward the end goal."

Eli Tomac: "From the start of the day, I just felt like I was on. There's days where you're just on. I felt awesome all day. I left my motorcycle alone tonight, went out there, pulled the holeshot and ran away with it…These are the nights we like."
Zach Osborne: "I got a really good start finally; that's what I've been needing all year. It's just been a matter of me going out there and executing my start, so tonight I did that in the Main Event finally…I'm just super happy to take this win here in St. Louis. It feels amazing. I love this dirt. This stadium is awesome and loud."
Jordan Smith: "I got off to a pretty good start and was able to salvage what I could from an outside start. When I got into third, I settled in a little more than I think I should have and wish I would have pushed a little more to see if I could have challenged for second. I am happy with my result though and it's put me in position to see the top two guys in the points. There is still a lot of racing left and we'll see how the showdown comes into play next week."
TAG METALS REDESIGNED 
Press Release: After a year of development, refinement and testing we are ready to present the new Tag Metals. The all new redesigned Tag Metals product line will include a complete range of new hi performance race replica Handlebars in 3 models, 7 bends, 3 Grips, Countershaft and Rear Sprockets, Race Chains, Aluminum Throttle Tubes, and several new accessories to start. Several additional new products are planned for phase 2 in fall this year.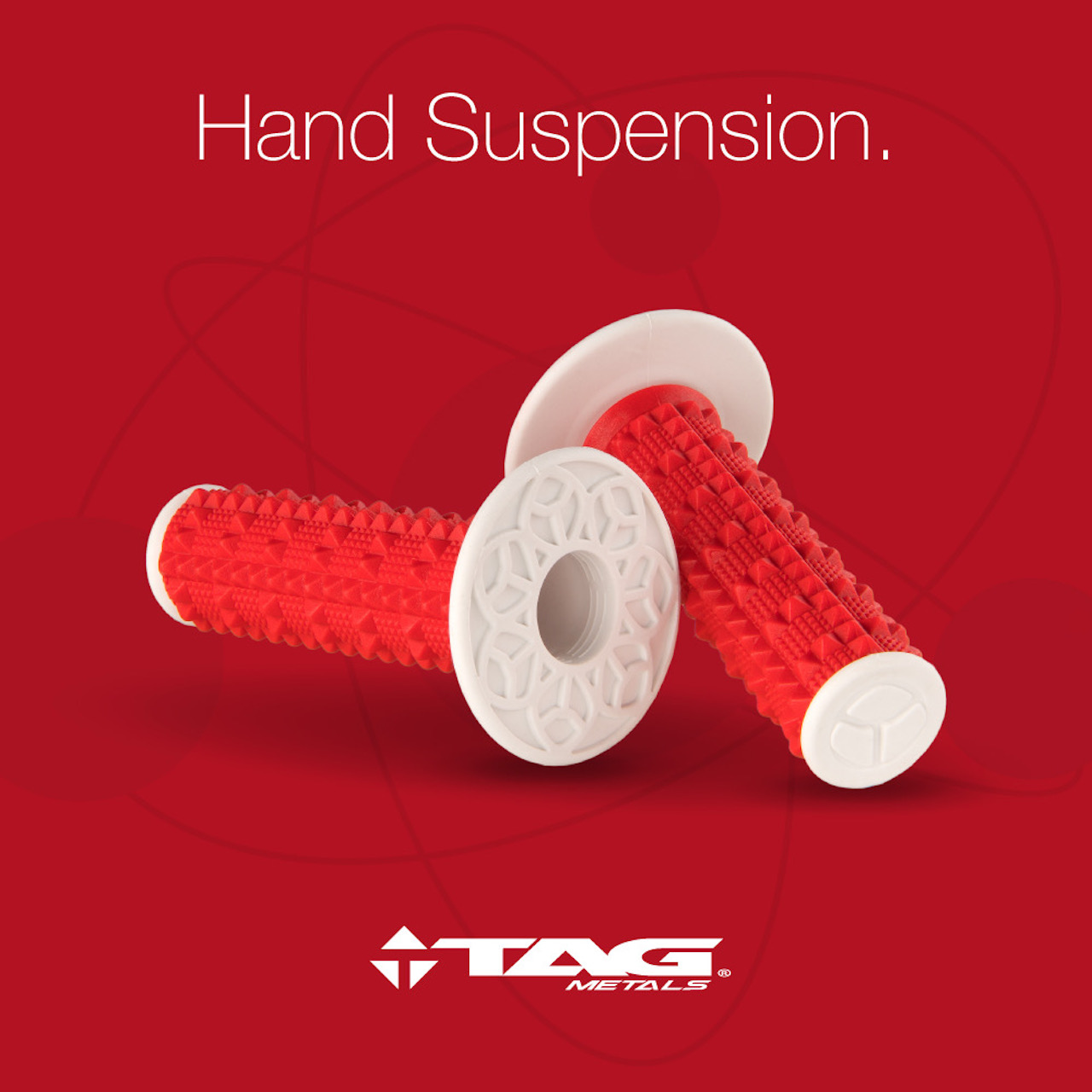 Tag Metals is now accepting 2018 USA rider resumes at 2 websites:
www.hookit.com/tagmetals/
www.mxsponsor.com/companies/tag-metals
About Tag Metals: Tag Metals was born from a passion for performance and innovative. Fueled and relaunched this year with that same commitment, the new Tag Metals offers a complete range of hi performance racing off road motorcycle handlebars, grips, sprockets, chains and accessories. Now part of the Group 6 USA family of brands that now include Matrix Concepts, Atlas Braces USA & Tag Metals; Based in Valencia, California. Our products are used and developed by the top MX/Off-Road/Cycling race teams in the world. For more Tag Metals information please contact us at [email protected] or telephone 661 253-1592. Visit us at: www.tagmetalsracing.com  In Canada contact: Matrix Concepts Canada at (604) 542-5661
Tag Metals bars.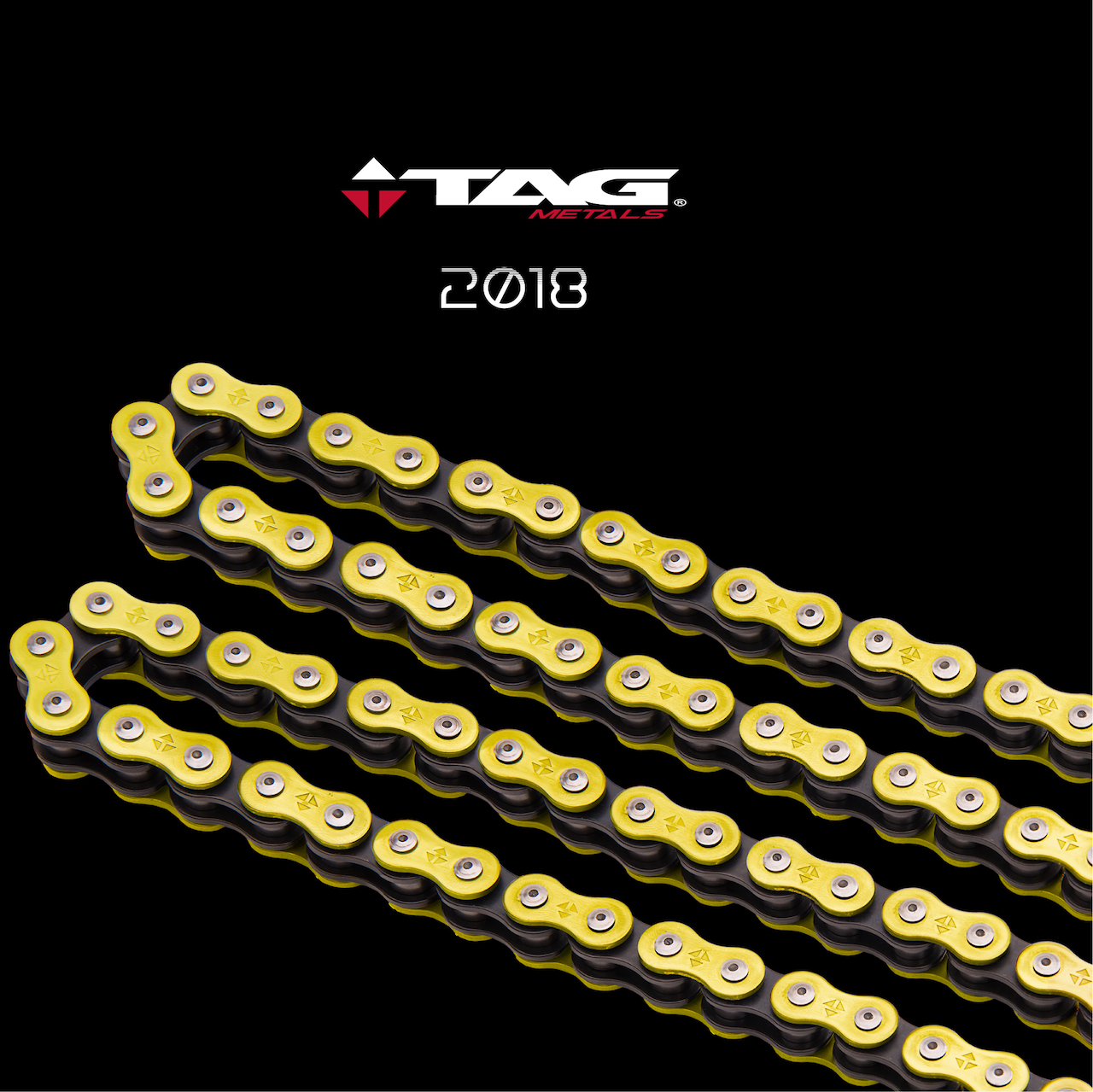 Tag Metals chain. 

ARENACROSS RESULTS ROUND 7 | DENVER, CO
The 250SX podium from left to right: Daniel Herrlein, Chris Blose, Gavin Faith. 
250AX Class Main Event Results
1. Chris Blose, Phoenix, Ariz. (1-2)
2. Gavin Faith, Fort Dodge, Iowa (2-1)
3. Daniel Herrlein, Bethesda, Ohio (4-3)
4. Isaac Teasdale, Robbinsville, N.C. (6-4)
5. Kyle Bitterman, Pelzer, S.C. (5-6)
6. Ryan Breece, Athol, Idaho (8-5)
7. Travis Sewell, Westville, Ind. (7-7)
8. Gared Steinke, Auburn, Calif. (3-13)
9. Kevin Moranz, Topeka, Kan. (9-8)
10. Lane Staley, Chillicothe, Ohio (10-10)
250AX Class Championship Standings
1. Gavin Faith, Duncombe, Iowa, Kawasaki (10)
2. Chris Blose, Phoenix, Ariz., Honda (9)
3. Jacob Hayes, Greensboro, N.C., Kawasaki (8)
4. Gared Steinke, Woodland, Calif., Kawasaki (7)
5. Kyle Bitterman, West Pelzer, S.C., Kawasaki (6)
6. Daniel Herrlein, Bethesda, Ohio, KTM (5)
7. Shane Sewell, Westville, Ind., Kawasaki (4)
8. Jacob Williamson, Swartz Creek, Mich., Kawasaki (3)
9. Heath Harrison, Silverhill, Ala., Honda (2)
10. Travis Sewell, Westville, Ind., Kawasaki (1)
VICTORY SPORTS AONIA PASS MX THIS WEEKEND. DON'T MISS IT
NON MOTO | TONI BOU CLINCHES 12TH X-TRIAL TITLE IN PARIS
MOTO | TRIVIA
Name the rider. Answer at bottom of page.
TM DESIGNWORKS BARE BONES SLIDE-N-GLIDE KIT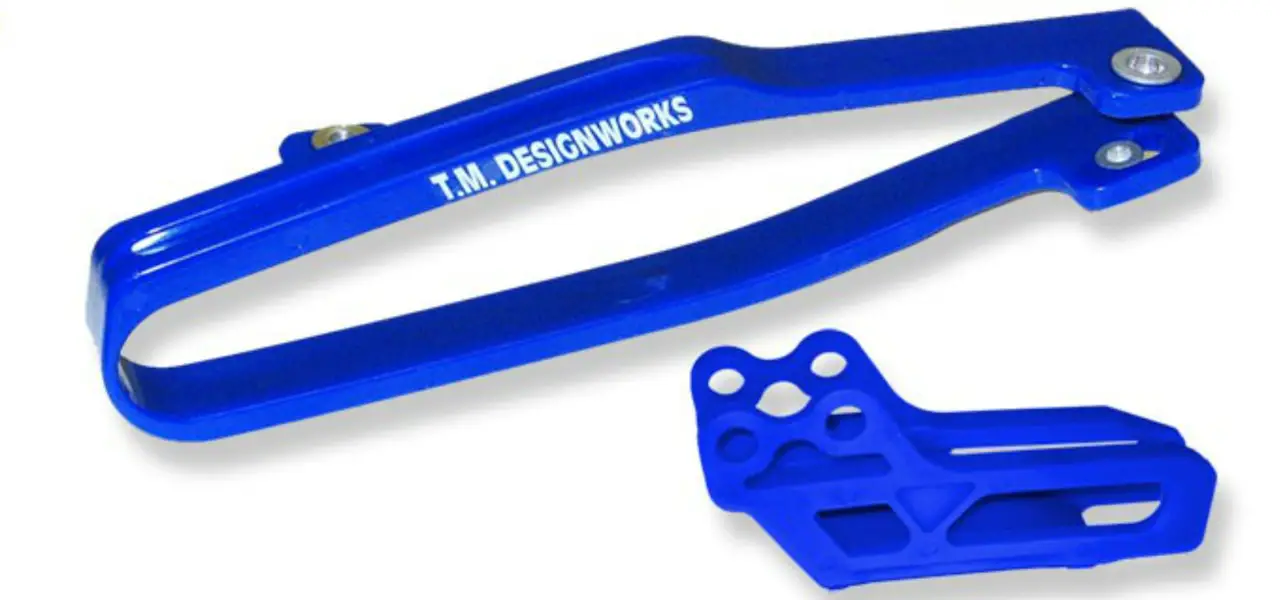 TM Designworks introduces its Bare Bones Slide-N-Guide Kit for 2018 models. With the performance of modern day bikes, evolving to meet current durability demands is a tough task due to the high horsepower numbers put out by these machines. To drastically enhance durability, and style, over stock OEM parts, the TM Designworks' minimalist kit replaces the high wear items of the Chain Slider and Inner Rub Block at an affordable cost. Stronger and less expensive than OEM replacement parts. The Bare Bones kit provides the high performance TMD Slider and inner rub block for smooth chain performance and increased power. Ample colors, ample protection and ample savings.
Price: $59.95+
Contact: 541-772-4161
Website: www.tmdesignworks.com
THOR MX SPRING_EIGHTEEN | PULSE KIT'N
JOIN MXA'S SNAP CHAT FEED
If you are a Snap Chat user then add us to your stories. Get sneak peaks of everything moto. Our Snap Chat name is motocrossaction. Or just take a Snap of the picture above and it will add MXA automatically to your feed.
TALK MOTO WITH MOTO MINDED PEOPLE. JOIN MXA'S FACEBOOK GROUP CHAT

We love everything moto and want to bring all moto junkies together into one place to share their two cents, ideas, photos, bike fixes, bike problems and much more. To check it out first you must need to or already have a Facebook account. If you don't, it isn't much work and you could even have an alias so nobody knows it is you. To join click HERE. After you request to join we will accept your request shortly after.
PRO CIRCUIT HIGH-COMPRESSION PISTONS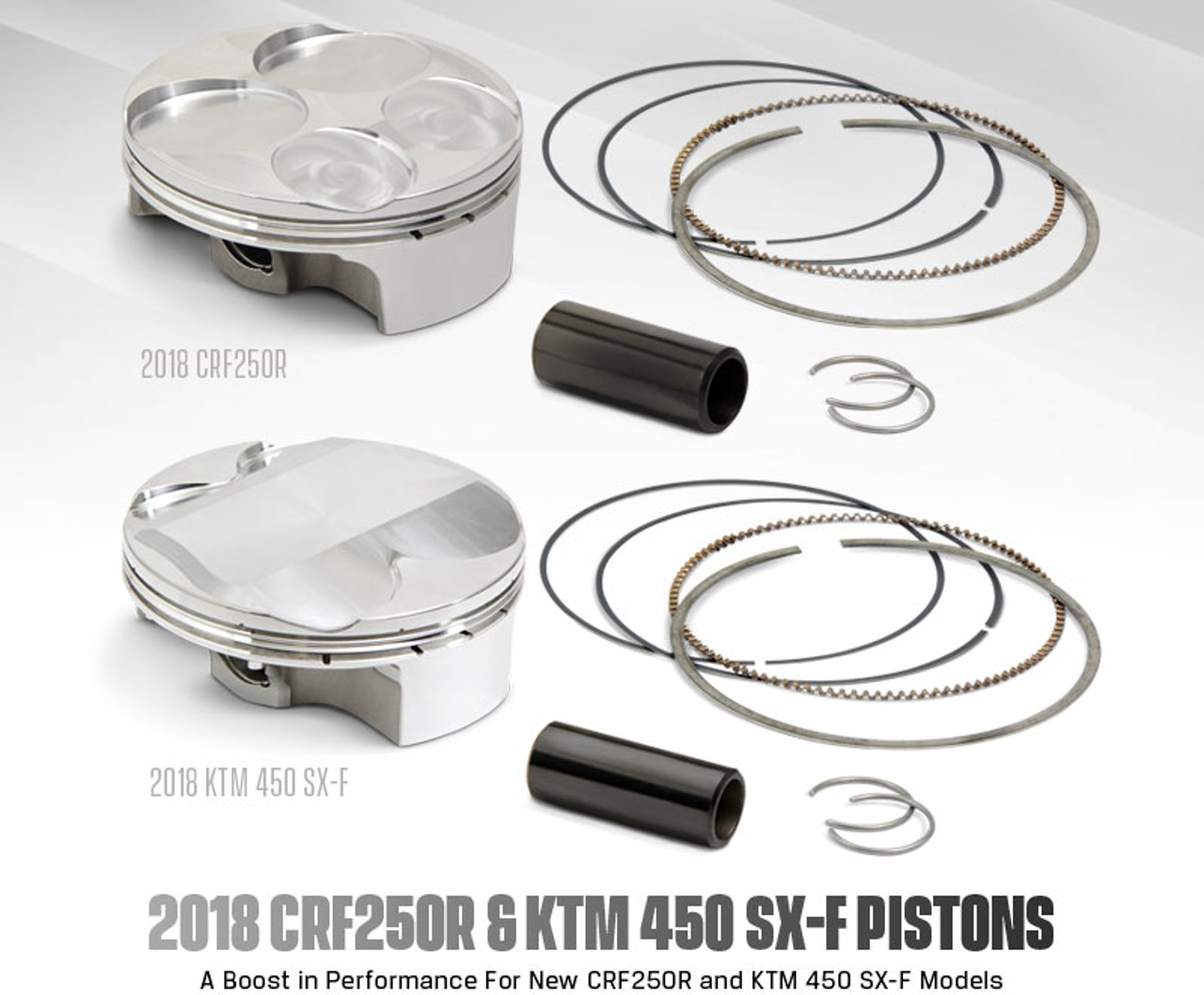 Press Release: Offering our customers only the finest performance parts available is what we're all about here at Pro Circuit. Our newest products are High-Compression Piston Kits for the 2018 CRF250R and 2018 KTM 450 SX-F. Manufactured by JE Pistons to our exact specifications, Pro Circuit pistons are forged from high-quality aerospace aluminum alloy using advanced CNC-machined technologies. The result is a significant gain in low-end torque and high-RPM performance. Pro Circuit High-Compression Piston Kits are designed for superior performance in either stock or modified engines and is a must-have engine component for serious racers.
CLASSIC PHOTO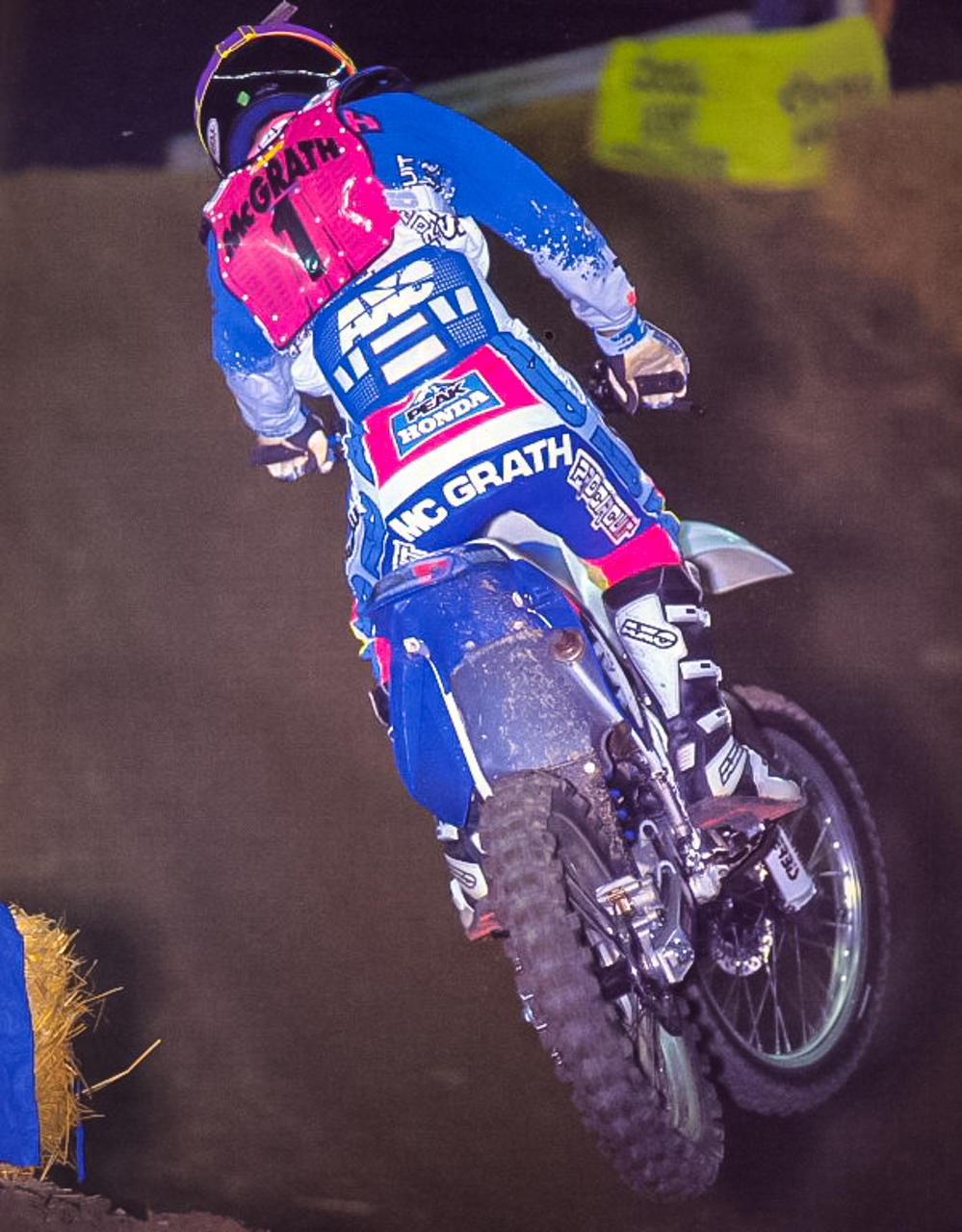 Jeremy McGrath on his Peak Honda CR125.
Moto Trivia answer: Jeff Emig